New York Yankees:

James Shields
October, 21, 2014
10/21/14
12:00
PM ET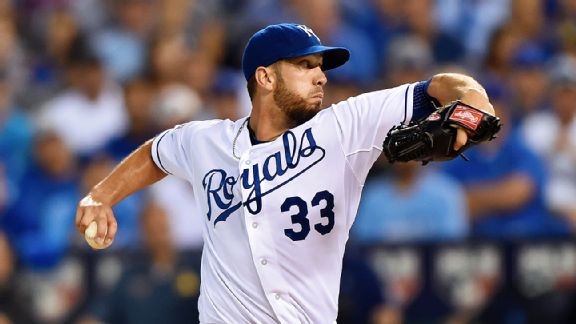 Peter G. Aiken/USA TODAY SportsShould the Yankees take a shot on James Shields?
This Yankees offseason has no $189 million goal, nor does it appear a half-billion-dollar spending spree is in the offing, but the team will likely make a few moves. As always, we like to be helpful at ESPN New York, so once again, we will aid the Yankees' decision-makers with a little game we like to call "Spend Hal's Money."
Today's Candidate:
James Shields
Position:
RHP
Age:
33 in December
Height:
6-foot-3
Weight:
215
2014 numbers:
$13.5 million salary, 14-8, 3.21 ERA, 227 IP, 1.22 WHIP
Pros:
The
Kansas City Royals
' World Series' Game 1 starter is a 200-inning machine. Check out the
innings' column on his statistics page
. In each of his eight full seasons in the big leagues, he has thrown more than 200 innings.
Shields is not a dominant guy, as his 3.72 career ERA demonstrates, but he is a reliable one. The idea of adding 200-plus innings to a staff with question marks surrounding
Masahiro Tanaka
(elbow),
CC Sabathia
(knee),
Ivan Nova
(elbow) and
Michael Pineda
(who knows) is pretty appealing.

The Yankees' starting pitching could be strong and deep next year, but it will need to rely on some luck -- otherwise known as health -- to have all its difference-makers. They do have
Shane Greene
,
David Phelps
,
Manny Banuelos
,
Bryan Mitchell
, Luis Sevirino and could re-sign
Brandon McCarthy
. There is some depth there, but they all come with uncertainty.
McCarthy, by way of comparison, has thrown 200 innings only once in his career. McCarthy would likely be cheaper, but the innings Shields eats helps in games he is not pitching because it preserves his team's bullpen.
Cons:
He has thrown 200 innings forever, so at some point he might break down. He is soon to be 33, so the Yankees don't want it to happen on their dime. This risk is always the case on big-time free-agent pitchers.
So the Yankees could be scared off by Shields' age and odometer, plus his reputation is not fully backed up by stats. His nickname is "Big Game," But that might have as much to do with the rhyme as it does with his success, considering his postseason ERA is 5.19 in nine playoff games heading into the World Series.
The verdict:
Just like
lefty
Jon Lester
, I say go after Shields.
A mistake teams make from year to year is to look at the previous season and say, "This part of our team was good, so we don't need to add there, while this other aspect must improve." It doesn't necessarily work that way. And while pitching, despite the injuries, was a positive for the Yankees in 2014, they would be wise to upgrade it even more if they want to make the playoffs in 2015.
Like Lester, I would have limits in what I was willing to do. But if they can limit a deal to four years, I would be very interested if I were the Yankees.
September, 3, 2012
9/03/12
10:00
AM ET
By
Mark Simon, ESPN Stats & Information
James Shields Stats To Watch
Shields is in the midst of a great stretch, a six-start run in which he's 4-1 with a 2.01 ERA, and 42 strikeouts to five walks in 44 2/3 innings pitched.
Opponents are hitting .160 against Shields, partly due to the high strikeout total, but also due to an incredible Batting Average on Balls in Play (.183).
In this run, Shields has allowed 50 ground balls and 44 of them (88 percent) have resulted in at least one out.
Prior to this stretch, the Rays had only been turning ground balls into outs for Shields at a 71 percent clip in 2012.
The killer pitch for Shields recently has been his changeup. He's gotten misses on 46 percent of the swings against it over his last six starts. He's allowed three hits with the pitch, but gotten 42 outs, 25 by strikeout.
The pitch has caused the most consternation for right-handed hitters, surprising since most pitchers don't throw the pitch often to righties.
Shields does. It's netted him 21 outs and yielded just one hit in this hot stretch.
It will be interesting to see how Shields pitches to
Robinson Cano
. Cano is 20-for-47 against Shields since 2009, including 7-for-11 in 2012.
Shields is extremely reluctant to throw a changeup to Cano (he's done so just eight percent of the time), but perhaps his strategy will change in this outing.
Cano typically averages a hit for every nine to 10 changeups seen. But he has only three hits and nine outs against the past 41 changeups thrown to him.
CC Sabathia Stats To Watch
For Sabathia, his success against the Rays will likely come down to the effectiveness of his slider.
The last time Sabathia faced the Rays, on June 7, he threw 42 sliders, and the Rays missed on 15 of their 25 swings, leading to seven outs, six of which were strikeouts.
Sabathia got eight strikeouts with his slider in his last start against the Blue Jays, but allowed three costly hits with it, including a two-run home run to
Yunel Escobar
in the sixth inning.
Sabathia is 3-7 against the Rays since 2009. The hitter who has given him the most trouble is
Evan Longoria
, who is hitting .394 with five home runs against him in that stretch. That leads us to the inevitable question ...
How do you get Evan Longoria out?
Longoria is 17-for-42 with five home runs against left-handed pitching this season, including 6-for-16 with three home runs since coming off the disabled list a little less than a month ago.
When Yankees lefties have gotten Longoria out, it has been with pitches on the inner-third of the plate or closer to him.
He's 2-for-11 when an at-bat against a Yankees lefty ends with a pitch to that spot over the past four seasons. He's 14-for-34 everywhere else.
Welcome back A-Rod
Alex Rodriguez likely returns to the Yankees lineup to play for the first time since July 24. In his absence, Yankees third basemen hit .309 with seven home runs and 17 RBI in 126 at-bats, but hadn't homered since August 13.
When we last saw Rodriguez, he was in the midst of an 11-game stretch in which he was hitting .349 with six extra-base hits. He's 6-for-his-last-18 against Shields with two homers.
July, 3, 2012
7/03/12
7:00
AM ET
By
Mark Simon, ESPN Stats & Information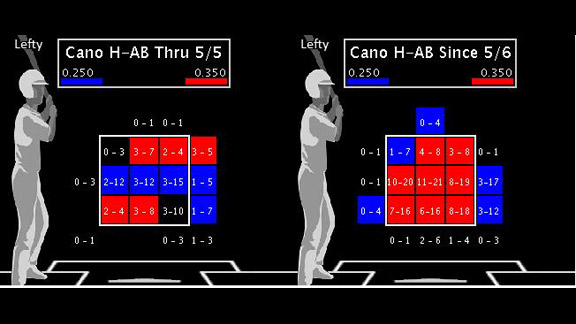 How Robinson Cano went from being a .255 hitter to being among the best hitters in baseball.
Nova Stats To Watch
Ivan Nova
would like to start July as he finished June (as was noted in yesterday's Yankeemetrics, he had the best ERA in a June by a Yankee in 54 years).
He may be due for a little bit of a luck reset, specifically against right-handed hitters, whom he's held to 7-for-49 in his past four starts. The opponents' batting average would be a little higher if a few line drives fell in. Of the last seven righties to hit a line drive against him, six have been retired.
Nova has been great in his two starts against the Rays this season. In fact, he's won his past four starts against Tampa Bay, with a 1.29 ERA against them in that stretch.
He's trying to become the second Yankees pitcher to win five straight starts against the Rays, allowing two runs or fewer in each.
Mike Mussina
was the first, doing so from 2004 to 2006.
Elias notes that Nova will make his 50th career start on Tuesday, entering the game with a 26-6 (.813) record. According to the Elias Sports Bureau, the highest winning percentage through a pitcher's first 50 MLB starts is .795 for Roy Oswalt (31-8). Nova can set the all-time mark with either a win or a no-decision.
Shields Stats To Watch
James Shields
has been repeatedly victimized this season by the defense that was so valuable to him in 2011. In his past nine starts, he has a 4.71 ERA, despite a strikeout-to-walk ratio of better than 3-to-1, and having yielded only five home runs in 57 1/3 innings. He's allowed a batting average on balls in play of .368 and had six more hitters reach via error.
What Shields does have going for him is being at home. The Rays have won five of his past six starts against the Yankees at Tropicana Field. They've also beaten the Yankees eight straight at home.
The thing to watch with Shields will be the effectiveness of his changeup. The Phillies hit a pair of home runs off that pitch two starts ago and the Tigers rapped seven hits against it in his most recent appearance, the most hits allowed by him on that pitch for the four years that we have pitch data.
No Explanation Needed
With two more hits Monday,
Robinson Cano
is hitting .345 since May 6 and the two images above show the difference in Cano from a before/after perspective.
We had
Wally Matthews
show Yankees hitting coach
Kevin Long
those heat maps yesterday, hoping for some sort of explanation as to the difference in Cano's performance. But none was forthcoming.
"He just got hot," Long said.
Cano is scalding against the Rays, with 12 hits in his last 25 at-bats against them. The Rays did combat Cano's success with a shift and got him out with it in his final turn on Monday.
They're almost certain to use the shift again with Shields on the mound. Cano has hit 20 ground balls against Shields over the past three seasons. Of them, all but one was hit either directly over second base, or on the first base side of the bag. He has nine hits on those 20 grounders.
Jeter Meter
Elias also shared this amazing
Derek Jeter
note.
Jeter has 99 hits this season. He has one game remaining to become only the third major-league player in the last 80 years to record 100 hits before the Fourth of July, when he was age 38 or older on Independence Day of that year. The two men who did that over the last eight decades were
Pete Rose
for the 1979 Phillies (100 hits, age 38 on July 4 of that year) and
Paul Molitor
for the 1996 Twins (110 hits, age 39).
Up now:
A Matthews
column on David Robertson
and the implications for the Yankees if he doesn't right himself. And a blog item on The Awful Tooth about
Raul Ibanez's
freak dugout injury.
On Deck:
Clubhouse opens at 3:40 for tonight's 7:10 p.m. start,
Ivan Nova
(9-2, 4.03) vs. RHP
James Shields
(7-5, 4.04).
Question of the day:
Do you think Robertson's problems are temporary? Or has Houdini run out of great escapes? Lets us know below, and as always, thanks for reading.
April, 6, 2012
4/06/12
9:30
AM ET
By
Mark Simon, ESPN Stats & Information
Let's take a snapshot look at the key matchups to watch against Thursday's Opening Day starting pitchers.
Matchups to watch vs CC Sabathia
The Rays best player,
Evan Longoria
, is their best hitter against CC Sabathia.

Longoria
Longoria is 10-for-30 with four home runs and 10 walks (four intentional) in his career against Sabathia. Longoria's four homers are the most he's hit against any pitcher. He homered in his last at-bat against the Yankees, which clinched the wild card for the Rays on the final day of the 2011 season.
The one thing Sabathia does have is that he's gotten Longoria to hit into four double plays against him, the most of any hitter he's ever faced.
Sabathia does dominate the Rays catcher, former Yankee
Jose Molina
, who is 0-for-14 against him. The only player with a worse 0-for against Sabathia is another former Yankee,
Hideki Matsui
(0-for-15).
Matchups to watch vs James Shields
Rays starter
James Shields
uses his changeup to neutralize left-handed hitters, and he's done so very well against two Yankees in particular –-
Mark Teixeira
and
Curtis Granderson
.

Shields
Teixeira is 6-for-41 in his career against Shields. Granderson is 3-for-43.
Over the last three seasons, Shields has thrown that pair of hitters 98 changeups. They've netted him 26 outs, and gotten Teixeira and Granderson no hits.
Teixeira will be looking to homer on Opening Day against a pitcher who owns him for the second straight year. Last season, he homered against future AL MVP
Justin Verlander
, against whom he was previously 1-for-17.
The Yankee who owns Shields is
Robinson Cano.
He's a .386 career hitter with four home runs (matching his most vs any pitcher) against Shields.
Cano was one of the best hitters in baseball against the changeup. He missed the pitch once every six swings, a rate well better than major-league average. His contact did damage, to a .373 batting average with three home runs.
That explains why Shields is hesitant to throw Cano a changeup. Since 2009, he's only thrown 11 to Cano (giving up two hits) out of 123 pitches.
Did you know?
Three fun tidbits about the Yankees and Opening Day…
1 -- Though
Derek Jeter
is the Yankees all-time hits leader, he's not their all-time hits leader on Opening Day.
Though records are not complete,
Baseball-Reference.com
dates back to 1918 and has three Yankees with more Opening Day hits than Jeter's 18--
Mickey Mantle
23,
Lou Gehrig
22, and
Babe Ruth
21.
2 --
CC Sabathia
will be the first Yankees pitcher to start four straight season openers since
Mel Stottlemyre
(1967-1970).
3 -- The Yankees have opened the season at Tropicana Field once before, losing 8-3 in 2004 to the Rays and Tampa starter
Victor Zambrano
. The Yankees have lost seven of the last 10 times they've opened a season on the road.
July, 10, 2011
7/10/11
5:37
PM ET
A towel full of pie splattered on one's face is usually only reserved for walk-off wins by the Yankees, as delivered from pitcher A.J. Burnett to whoever gets the winning hit.

Sunday at Yankee Stadium, the Yankees didn't have a walk-off hit in their 1-0 win over the Rays, yet Burnett brought out the towel anyway. CC Sabathia's dominating complete game shutout proved as good as any walk-off hit would have done.

"Why not?" Burnett said about the pie in the face to Sabathia. "Did you see what he did?"

Sabathia dazzled once again and turned in his best pitching performance of the season as he blanked the Rays 1-0 Sunday at Yankee Stadium in the Bronx. Sabathia picked up his league-leading 13th win of the season, the most he's had at this point in the career.

The southpaw, named to the All-Star team as a replacement Sunday, has now thrown 23.2 consecutive scoreless inning according to the Elias Sports Bureau. He recorded his 12th career shutout and is the first Yankees with 13 wins at the All-Star break since Andy Pettitte in 1996, according to Elias.

"It feels good, but it's even better for our team," Sabathia said. "To come up against a team that's going to be here until the end. To be able to come here and win two out of three before the break is pretty good."

Since being roughed up by Boston on June 9, Sabathia has been downright unstoppable to end the first half. He's 6-0 with a 1.77 ERA with 51 strikeouts over his last six starts, which includes three starts without yielding a run. He's 10-1 with a 2.20 ERA in his last 11 starts and 13-3 in his last 16 starts.

Matched against All-Star James Shields Sunday, Sabathia looked as good as he had all year against a Tampa Bay team he's struggled against as a Yankee. He had his whole arsenal working for him, whether it be his devastating slider or his fastball that clocked in on the radar gun in the high 90s in the ninth inning. Rays manager Joe Maddon said it's almost as if Sabathia toys with hitters out there.

"He has complete confidence out there and I have complete confidence when he's out there," catcher Russell Martin said. "Really, he makes my job easy because I can point any sign down and you know it's going to be a quality pitch. It makes my job easy."

The Rays stringed together three hits in the first four innings, including a pair of doubles, but Sabathia worked out of the mini-jams and got better as the game wore on. Over the final five innings, Sabathia yielded just one hit, an infield single to B.J. Upton on which he failed to cover first base. He ultimately retired the final seven hitters of the game.

While Sabathia and Shields matched zeroes, the Yankees finally cracked in the bottom of the seventh on two errors to give Sabathia the only run he would need on a beautiful sunny day in the Bronx

With just 99 pitches under his belt after eight, Yankees manager Joe Girardi left Sabathia in the game instead of bringing in closer Mariano Rivera. Before the inning, Yankees pitching coach Larry Rothschild asked if Sabathia still had something left in the tank and while Sabathia felt good, he told Rothschild that even if he didn't, he would've had to take the ball from him.

With the fans chanting his name and standing and applauding, Sabathia struck out Ben Zobrist looking on a 97-mph fastball for the second out and struck out Elliot Johnson on 98-mph gas for his ninth strikeout of the game to complete the shutout. Right after the strikeout, Sabathia moved his left arm up and down and screamed, showing raw emotion.

"It's the end of the game. Just letting out the emotion and everything you go through during the course of the game, it just felt good to do," Sabathia said.

As Sabathia celebrated on the field with his teammates after the game, the big screen in center flashed the news that Sabathia had been named to the All-Star team, replacing Shields. It had been a somewhat controversial decision to leave Sabathia off the roster as he leads MLB in wins and has a low ERA.

Sabathia won't be pitching in the game as he's ineligible because he pitched Sunday and had already book a vacation to the Bahamas, with his flight leaving at 5 p.m. Sunday, but he was grateful that he had been chosen to represent the American League.

After all, there might not be a better pitcher in the American League right now.

"I'm feeling pretty good right now," Sabathia said. "Hopefully I can keep it going."
July, 9, 2011
7/09/11
7:14
PM ET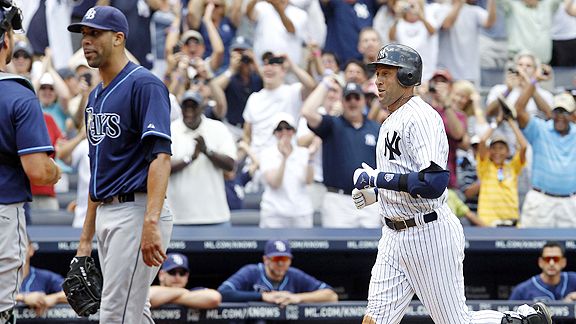 William Perlman/THE STAR-LEDGER/US Presswire
Derek Jeter rounds the bases after his historic homer, while David Price tries to comprehend what has just happened.
With
Derek Jeter
on the cusp of 3,000 hits entering Saturday's game, Tampa Bay starting pitcher
David Price
didn't have any qualms about potentially yielding Jeter's 3,000th hit --under certain conditions, of course.
Conditions that ultimately went wayside with a hanging 3-2 curveball to Jeter.
"I didn't really care if he got it off me as long as he didn't drive in a run or score a run," Price said. "He did all of those things in that one at-bat. Good for him."
Price gave up the home run that resulted in Jeter's 3,000th hit during the Yankees' 5-4 win against the Rays on Saturday. Jeter went 3-for-3 against Price with a single, double and home run in three plate appearances against the talented southpaw.
It's the second time Price and Jeter have made history together, as it was Jeter who had the first-ever major-league hit against Price -- a home run to right-center on Sept. 14, 2008 at the old Yankee Stadium.
"I wasn't happy for the guy but I was happy for the guy," Price said. "Obviously I would've loved for it to be a single or something but it tied the game. That's the type of player he is, he steps up in the big moments. That's what he did today, 5-for-5 with the game-winning RBI, that's a pretty good day."
Before the game, as Price walked through the tunnels under the stadium, he saw boxes of T-shirts congratulating Jeter on becoming the 28th player to achieve 3,000 hits in his career. On the mound, with the fans roaring and giving Jeter a standing ovation, Price noticed the different markings on the balls signifying how close the Yankees' captain was to the monumental hit. History surrounded him no matter where he looked.
"I'm just spinning out there," Price said.
While Rays manager
Joe Maddon
didn't think the circumstances of the game affected Price, the lefty struggled against the Yankees while also struggling to retire Jeter, who had been just 6-for-25 against Price entering the game. Price lasted just five innings, giving up seven hits and four runs in a no-decision.
Jeter led off the bottom of the first with an eight-pitch at-bat that ended when he hit a bouncer between third base and shortstop that got through to the outfield to notch hit No. 2,999. In his second at-bat, Jeter once again fouled off pitches and worked the count full, before Price hung a 3-2 curve that Jeter smashed to left field to tie the game at 1 in the third inning.
As soon as the ball left the bat, Price crouched to the ground and watched the ball travel and knew he had become part of history.
"There's not a park in the league that's going to hold that ball," Price said. "I knew it was a home run."
As Jeter trotted around the bases and celebrated with his teammates, Price walked to his dugout and cooled himself off with a towel. The pitcher said that it was Jeter's moment at the time, and he didn't want to stand on the mound because he would have felt like he was ready to pitch.
When he went inside the dugout, teammate
James Shields
, who will pitch Sunday, took the opportunity to try and lighten the mood with Price.
"He came over to the dugout to give them time to celebrate and I told him that was a bomb," Shields said. "So he kind of chuckled a little bit."
The Yankees shortstop doubled against Price in his last at-bat, attacking the first pitch and driving it down the line for hit No. 3,001. Price complimented Jeter on his first two at-bats for fouling off pitches before getting his hits, and called him one of the most professional hitters in the game for how he attacks every at-bat.
Price had come to the park on Saturday hoping to stick to his game plan and help the Rays inch closer to the Yankees in the American League East. Instead, by the end of the day, Price ended up as the answer to a trivia question: Which pitcher yielded Derek Jeter's 3,000th hit?
"I'd rather not be the answer to that trivia question but I am. It's tough," Price said. "He's one of the best players to ever play baseball so he was going to do it off somebody and it just so happened to be me. It's part of it."
May, 17, 2011
5/17/11
10:47
AM ET
By
Mark Simon
| ESPNNewYork.com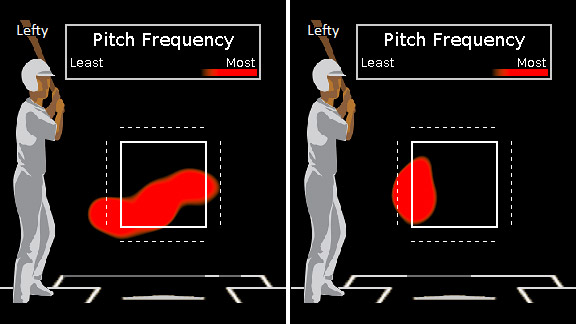 The image on the left shows where James Shields primarily located his breaking pitches against lefties in 2010. The image on the right shows the location of those pitches in 2011.
The
James Shields
that the Yankees will see when they face the Rays on Tuesday night at Tropicana Field is a much different one than they've faced in the past.
Shields, 3-8 with a 4.91 ERA for his career against the Yankees, has been among the very best pitchers in baseball in 2011. He allowed three runs in 19 innings against the Yankees at home last season and has been nearly duplicating that effort against
everyone
in 2011.
It will be a good test of skills for the pitcher known as "Big Game James" to see if he can match what he's done in his last six starts-- allow two earned runs or fewer while pitching seven innings or more. Among his challenges,
Curtis Granderson
, who incidentally is an .097 career hitter vs Shields.
The biggest difference in the Shields is the unpredictable nature of his pitch selection.
Stats & Information's Dan Braunstein, sifted through our pitch type data a few weeks ago and published his findings on the
Stats & Info blog
.
The key: Shields went from throwing a first-pitch fastball two-thirds of the time last season to throwing it half the time in 2011.
The other half of his pitches are mostly breaking balls, but he throws his changeup just often enough (about one in nine pitches to both righties and lefties) to keep hitters guessing.
And once hitters are thrown off by this, Shields has them right where he wants them.
The numbers still hold up, a few weeks after Braunstein's blog post.
Where does the first pitch unpredictability make such a big difference? As the at-bat gets longer.
When Shields gets two strikes on a hitter, he's much more effective than he was last season.
With a two-strike count, Shields mixes pitches the same way he did in 2010 … for every 10 pitches he throws with a two-strike count, he's throwing three fastballs, four changeups and two to three breaking balls.
Last season, Shields allowed 13 two-strike home runs, and about 25 percent of those he got in a two-strike count faced reached base.
This season, he's yet to allow a homer with two strikes, and his rate of allowing baserunners has dropped to 15 percent. That sort of performance is league-leader caliber.
The other thing Shields has changed from 2010 is how he locates his breaking pitches to left-handed hitters.
"James simplifyed his mechanics over the winter to allow himself to be more directional toward home plate, and this has allowed him to drive the ball downhill," Rays TV analyst Brian Anderson told us Monday. "(That) has enhanced the downward movement (sink) on both his fastball and change-up and has improved the break and consistency of his curveball."
The images at the top of this article are heat maps, garnered from our pitch performance data. The red shading indicates the areas of the most frequent location.
The image on the left shows where Shields most frequently located his curveballs to lefties in 2010. The image on the right shows where he's been throwing that pitch in 2011. You can see the change in location has shifted dramatically to where he's primarily locating to the inside corner.
That has worked. Shields is on pace to greatly increase his strikeout total with his breaking pitches from last season (26 in 2010, on pace for 40 in 2011) and the opponents batting average when they put the ball in play has dropped from .361 to .300 so far in 2011.
But again, the unpredictability is a big part of the story. Shields has struck out 12 lefties with his breaking pitches this season. But he doesn't get those with pitches on the inside corner. Seven of the 12 have come on pitches to the
outside
corner.
It's just another aspect of what makes Shields such a challenge for the Yankees tonight.
September, 16, 2010
9/16/10
11:08
AM ET
By
Mark Simon
| ESPNNewYork.com
Five quick statistical takeaways from watching the Yankees and Rays these last three days.
1. There's little difference between these teams
Within five minutes of this game ending, Stats and Information's Steven Glasser circulated an eye-popping note regarding just how even this matchup has been this season. In their 14 meetings, the Rays and Yankees are separated by two wins (Rays, 8-6) and two runs (Rays, 71-69)
Amazingly, within those matchups, the teams have the same number of hits and the same number of home runs.
Also worth noting: In the 14 games, the Rays have led at some point in 13 of them. They don't make it easy for anyone.
2. Joba Chamberlain looked good
Joba Chamberlain
threw 33 pitches over two outings, retiring seven batters, four by strikeout, without doing any damage. It's part of a seven-game stretch in which Chamberlain made one bad pitch (the one
Nelson Cruz
hit for a game-tying home run) and has a 1.17 ERA.
Other than that one mistake, Chamberlain's breaking balls have been more effective as finish pitches for him (Cruz's homer is the only hit he's allowed on a breaking ball this month). And he's been able to ratchet the fastball up with two strikes. In those seven outings, it's averaged 96.5 miles-per-hour in two-strike counts (up from 95.4 to that point).
3. Austin Kearns did not
The absence of
Nick Swisher
and
Brett Gardner
came at a particularly bad time, with Austin Kearns having all sorts of trouble at the plate recently.
Kearns whiffed seven times in the last two games of the series (the first Yankee this season with consecutive games of 3+ whiffs). Since August 20, he's 9-for-55 with a disturbing 24 strikeouts in 55 at-bats.
Get Kearns to two strikes and he's in big-time trouble. He's taken 40 two-strike swings in that span, missing twice as often (20 times) as he's put the ball into play (10 times). With breaking balls, he's been totally fooled (14 swings, eight missed, two put in play).
4. In an ALCS, the Yankees may see James Shields twice
My colleague in Stats and Info, Albert Larcada looked at the
Quality Pitching metric
he and a couple others devised (check out the link for an explanation) recently and found that
James Shields
was, on average, giving the Rays less than a 50 percent chance to win, based on his innings pitched/earned runs combinations by start.
But he's kept the Yankees off the board in his last two starts against them, allowing just one run in 13 2/3 innings (in the seven starts in-between, he has a 6.63 ERA).
The biggest issue, not a surprise, has been Shields' changeup, against which the Yankees are hitting .114 with a .318 OPS, according to our Inside Edge data. Only 8.7 percent of the balls they've put in play against it have been classified as "well-hit." The rest of baseball is .226/.555 against it, with 26.1 percent of the balls put in play falling under the "well-hit" umbrella .
Shields has the chance to do something rare when he pitches against the Yankees next week. In five starts this season, he's 2-0 and has yet to lose to them. No pitcher has finished a season with more than five starts and an unbeaten record against the Yankees since
Dizzy Trout
(father of unpopular former Yankee
Steve Trout
) for the 1944 Detroit Tigers.
5. The Yankees have a handle on Carl Crawford
File a a couple of these matchups away for October.
Phil Hughes
has retired
Carl Crawford
all six times he's faced him this season.
Boone Logan
has gotten Crawford out in their last five meetings.
Kerry Wood
has kept Crawford off the bases in all three confrontations between the two in 2010.
The Yankees kept Crawford off the bases in two of the three games in this series, and four times when he's started against them this season overall. The problem is that someone other than Crawford has found a way to beat them (as Dan Johnson did last night). In those four games, the Yankees are 0-4.