December, 12, 2013
12/12/13
11:30
AM ET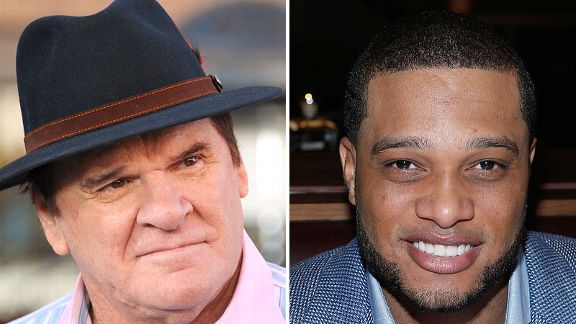 Getty ImagesPete Rose to Robinson Cano: Enjoy a stress-free October!
LAKE BUENA VISTA, Fla. -- There has been a lot of talk throughout the
Robinson Cano
negotiation and defection, but none of it has come from Cano.
That should change soon, as Cano is expected to be introduced as a Seattle Mariner on Thursday. The press conference is scheduled for 6 p.m. ET.
With his No. 24 off the board in Seattle for
Ken Griffey Jr.
, Cano will wear No. 22, his old number with the Yankees.
Meanwhile, everyone else continues to chime in.
Baseball's all-time hits leader, Pete Rose, went on ESPN New York 98.7 FM's "The Michael Kay Show" on Wednesday and took a little shot at Cano.
"He [Jay Z] got him a big raise, but he got him an extra 30-day vacation -- and it's called October," Rose said.
In Orlando,
Scott Boras went back to his analogies in talking about the 10-year, $240 million deal that Jay Z helped negotiate
.
"It's very different to be the creator of the umbrella versus those who stand under it," Boras said.
November, 19, 2013
11/19/13
11:58
AM ET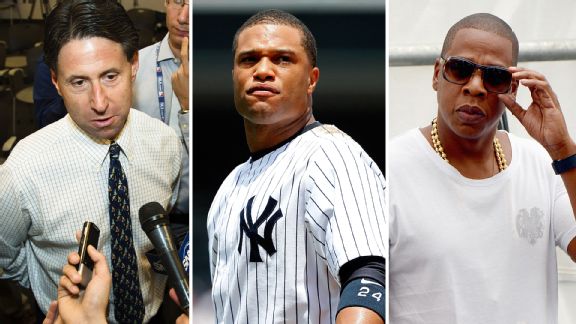 AP Photo, Getty ImagesJay Z took Jeff Wilpon and the Mets out to dinner -- likely to put pressure on the Yankees. But Robinson Cano is still very far from getting a $300 million-plus deal.
I'm not sure they serve
reality potion
at the 40/40 Club, but the Yankees have just sent a case over.
The Yankees won't meet with Robinson Cano's agent
until Jay Z drops the demand of a $310 million contract
. If the two sides are going to get together soon, they are going to do have to do so after Jay Z & Co. admit they were a bit rash.
"Until he gets a little more realistic, we have nothing to talk about," Yankees team president Randy Levine told ESPN New York's Wallace Matthews.

With those comments, Jay Z has the specter of Scott Boras looming larger over him. Jay Z entered the agent business
talking big
-- now he has to back it up.
Perhaps it will all work out for Jay Z and CAA, but at this point they appear desperate as the Yankees are standing strong. They
scheduled a dinner with the Mets
, a team with a $90 million payroll projection and a GM who doesn't want to spend $100 million, let alone three times that much.
It is all designed to make the Yankees move off their initial offer of $160-plus million. It is not working so far.
I do believe a market will develop for the 31-year-old Cano because he is the best player in free agency, so Jay Z may have the last laugh. But now, after the first quarter, it feels like Jay Z/Cano is down 25-15.
Jay Z has been successful in a number of fields. CAA's Brodie Van Wagenen is an accomplished agent, so maybe they have a run in them.
To win the negotiation, Cano's side must project correctly. If it waits it out -- Boras style -- it could get lucky because
Brian McCann
,
Carlos Beltran
,
Shin-Soo Choo
,
Jacoby Ellsbury
and several of the top free agents could eschew the Yankees. The Yankees, while still probably not going to $310 million, could be forced to fold.
But if the McCanns, Beltrans, etc., accept Hal Steinbrenner's money, then there are people in the Yankees' baseball operations department who are prepared to invest $180 million to $200 million -- money they are willing to spend on Cano -- elsewhere. In fact, they can make a pretty good argument that would be the smarter move.
Then Cano could be left without the money -- and the team -- he wants.
In the end, the Yankees do want Cano, but they want him to budge -- the sooner, the better. How do Jay Z & Co. do that and save face? It is not just about Cano's future; it is also about Jay Z's as a big-time sports agent.
Boras would be relishing the moment, having been there, done that. If Cano wanted $310 million, Boras' history shows he might've gotten it or close to it.
Jay Z/CAA is an unknown quantity. He has talked big, rapping, "Scott Boras, you over, baby.
Robinson Cano
, you coming with me."
He sure is.
November, 13, 2013
11/13/13
2:20
PM ET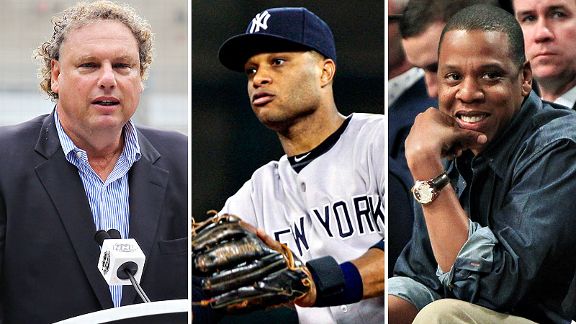 USA TODAY Sports"The clock ticks on both sides" for Randy Levine, Robinson Cano and Jay Z this winter.
The Yankees' hierarchy has a multitiered message for
Robinson Cano
and for Yankees fans:
From Brian Cashman
to
Hal Steinbrenner
and (now) Randy Levine, it is clear the Yankees have their talking points down.
1.
Fans, don't expect Cano to take anything less than the last dollar, whomever that is from.
2.
We want Robbie. We know it is going to take a while, but we are not going to wait forever.
3.
We are going to be disciplined in our approach. We will pay him big bucks (read: seven to eight years, $180 million to $200 million), but if he wants more than that, he can find it elsewhere.
4.
Jay Z? Yup, we know he is part of Cano's team, but we have not spoken to him on this matter.
Levine made his appearance in Orlando as part of the owners meetings Wednesday, and our own Adam Rubin was there to take in the highlights.
What is the timetable?
"I think the clock ticks on both sides. We're interested in a lot of players. I think from a player's point of view, he may be interested in a certain team. And that certain team starts filling other needs, there's obviously less money on the table. And the same with the team. The clock works both ways. If you're a team, you've got to fill up your needs. As much as you may want a great player, if choice two, three, four and five come into play, you've got to do it. I think that's in play for every one of these free agents here. It's part of the game. 'Game' is a bad choice of words. It's part of the process."
Oh, yeah, what about Alex Rodriguez? Do you think you'll have him?
"We're under the impression he's going to come back. That's the way we budget it. That's the way we think. We have no control over that. We've never had any control. The process is going on. And it will be over with by the end of the year. That's what I'm told."
Will Jay Z be in the negotiations?
"I don't know. We'll see. He's a pretty sophisticated guy. I think he knows how to handle himself. ... I've had no interaction. I think Robbie is their first baseball player. But they're professionals. I've met Jay Z. I know people in that organization. I'm sure they're competent to handle it. And CAA has been doing it for a long time. As I read all you guys' stories today, I think this is going to be about the money."
November, 5, 2013
11/05/13
3:37
PM ET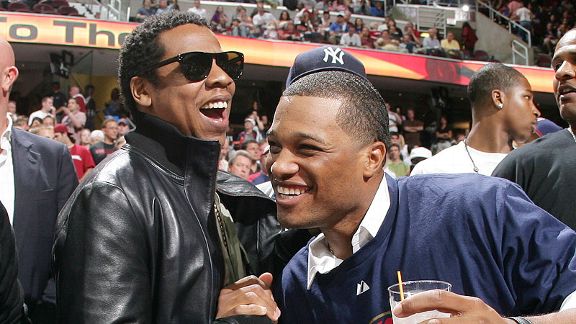 Jesse D. Garrabrant/NBAE via Getty ImagesJay Z could have his 100th problem after giving Robinson Cano a shiny new $33,900 watch.
The man who brought you
Holy Grail
with Justin Timberlake, now brings you Holy Graft with
Robinson Cano
. Teammate Jerry Crasnick has the story.
The Major League Baseball Players Association is investigating whether Jay Z might have violated the union's agent regulations for giving Robinson Cano a $33,900 watch during a recent birthday party for the New York Yankees second baseman in Belgium, sources told ESPN.com.

According to media reports and postings on Cano's Instagram account, Cano received a limited-edition Shawn Carter Classic Fusion watch by Hublot during an Oct. 22 party in conjunction with his 31st birthday. Jay Z, who helped to design the watch, performed in concert in Antwerp, Belgium, the previous night as part of his "Magna Carta Tour."
To read the rest of the story click here.
July, 3, 2013
7/03/13
7:37
PM ET
MINNEAPOLIS -- It may not be "Where have you gone, Joe DiMaggio, a nation turns its lonely eyes to you," but uber-agent Scott Boras
gets his own shoutout
in a new Jay-Z song, "Crown," off his upcoming album "Magna Carta Holy Grail."
The line goes like this: "Scott Boras, you over baby/
Robinson Cano
, you coming with me."
Cano, of course, recently left Boras to sign with Jay-Z's Roc Nation to negotiate his upcoming free-agent deal. So naturally, I called Boras to find out if he was flattered by the name-check.
"I'm a fan of jazz," he said, "And my favorite musician is
Bernie Williams
. What other musician could play center field for the Yankees and win four world championships?"
Presumably, not Jay-Z.
June, 25, 2013
6/25/13
6:00
AM ET
NEW YORK --
Robinson Cano
rolled down to 25th and Broadway in a black Lincoln Navigator. With his mother by his side, he emerged from the backseat wearing a blue suit, no tie and a million-dollar smile.
Broadway Cano was born on the red carpet at the 40/40 Club on Monday night.
This is the kind of scene Cano craves, and Jay-Z, his newly certified agent, put it all together.
[+] Enlarge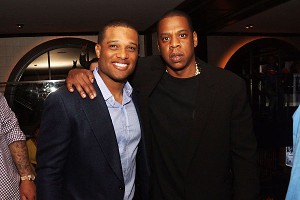 Johnny Nunez/Getty ImagesRobinson Cano is all smiles with new agent Jay-Z.
Jay-Z, the representative who is a bigger star than the stars his firm represents, arrived after Cano and speed-walked over the red carpet, declining to answer sports reporters inquiring if he was asking for "A-Rod money" from the Yankees, while celebrity paparazzi asked the father of Blue Ivy if he would weigh in on the merits of North West as a baby's name.
CC Sabathia
,
Kevin Durant
and Marvel Comic heroes like Spider-Man showed up for the RC24 Foundation domino tournament, too. But it was Broadway Cano's night.
With his agents on hand, the question hanging over Monday night -- and all of Cano's nights -- remains: Will he be playing in the Bronx in 2014?
"Honestly, I don't really pay attention to that," Cano said. "We've just got to focus on winning games. Either way, at the end of the season, I'm going to be a free agent."
Cano clarified that he could still reach an agreement with the Yankees before free agency. But each passing day makes it more and more likely he will hit the open market.
Cano and the Yankees could eventually meet in the $175 million to $200 million range. But first Cano, Jay-Z and Brodie Van Wagenen, his CAA rep, might flirt with the Cubs, Phillies and Dodgers to drive the price up.
[+] Enlarge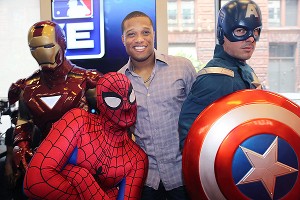 Johnny Nunez/WireImage/Getty ImagesRobinson Cano poses with Marvel heroes on Monday.
At the moment, with a bunch of understudies around him, Cano is hitting .276 with 16 homers and 45 RBIs. If he really wants to be a star who owns this town, he needs to be a star who carries a team to the playoffs.
Cano had his night on Monday on Broadway. It sounded as if it would benefit a good cause, helping to build a school in the Dominican Republic. Cano always seems to have his heart in the right place, looking to please.
If Monday was just a preview of the life Cano wants, then he must start stirring the drink in the Bronx.
UP NOW:
Alex Rodriguez
is
closer to returning
. Also,
Mark Teixeira
is
not
. I wouldn't be surprised if there is a Teixeira surgery announcement at some point, maybe even later Tuesday.
ON DECK:
I will be at Yankee Stadium as
Hiroki Kuroda
(7-5, 2.78) and
Yu Darvish
(7-3, 2.84) meet again.
QUESTION:
What is Cano worth in your mind?
June, 20, 2013
6/20/13
3:59
PM ET
By
Mike Mazzeo
| ESPNNewYork.com
Jay-Z officially became a certified sports agent on Thursday.
The hip-hop mogul's firm represents
New York Yankees
second baseman
Robinson Cano
.
Click here
for the full news story.
Cano is hosting a "Super Heroes" fundraiser and domino tournament to support his RC24 foundation. The event will take place Monday night at Jay-Z's 40/40 club in midtown Manhattan.
April, 2, 2013
4/02/13
11:52
AM ET
WHAT IT MEANS:
Well, this just made the fascinating question of
Robinson Cano
's Yankees negotiations much more interesting. Here is
the link to Buster Olney and Darren Rovell's story
.
[+] Enlarge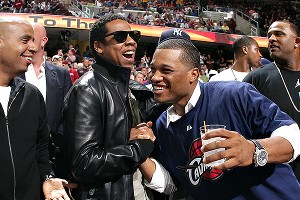 Jesse D. Garrabrant/NBAE/Getty Images Will the partnership of Yankees fan Jay-Z and Bombers second baseman Robinson Cano mean the slugger will stay in the Bronx?
SO DOES CANO STAY NOW?:
Let's focus on what we know. We know how Scott Boras would have likely handled the negotiations. From his history, Boras usually takes a client like Cano to free agency. In that scenario, the Yankees would likely find themselves in a bidding war this upcoming winter against the Dodgers, Phillies, Mets and others for Cano's services.
The Yankees and Boras hadn't exchanged new proposals in weeks, sources with knowledge of the talks said. The Yankees had made what GM Brian Cashman termed "a significant offer" during the spring, but Cano had not accepted it. At this point, the Yankees do not have a read on how the move from Boras to Jay-Z will impact future negotiations.
HOW ABOUT JAY-Z:
We don't know what the Jay-Z alliance with Creative Artists Agency (CAA) will produce in terms of tactics, which might be the same as Boras'. CAA is an experienced baseball group, so Cano will have an agent who knows what he is doing in Brodie Van Wagenen. The Yankees have done plenty of contracts with CAA.
The move would suggest that Cano may want to change how the negotiations were going. It may mean he wants to do a deal sooner rather than later -- and with the Yankees, of course. But that is speculation. For what it is worth, Jay-Z is a Yankees fan.
So a famous Yankees hat and $200 million or $300 million will probably get a deal done.
OFF THE FIELD:
Cano said he wants to do more off the field.
"At this point in my career, I am ready to take a more active role in my endeavors on and off the field," Cano said in a statement. "I am confident that the pairing of Roc Nation Sports and CAA Sports will be essential in helping me accomplish my short and long-term goals. I am making this important decision now so I can keep my focus on helping the Yankees succeed in 2013, while minimizing any distractions for me and my teammates."
He probably could have done that with Boras, too, but the Jay-Z connection has changed things. However it turns out, it will have a major impact on the future of the Yankees.
QUESTION:
Do you think this means Cano stays?
February, 22, 2013
2/22/13
11:28
AM ET
The Yankees announced that Jay-Z and Justin Timberlake will performing at Yankee Stadium on July 19th, which is during the All-Star Break. There is no information yet on where and when or how to buy tickets.
Jay-Z is known as a Yankee fan. He may have more Reggie than Jeter in him, considering he raps that he can make the Yankee hat more famous than the Yankees can. Timberlake, according to my Internet research, is a Dodgers fan. Maybe he will try to sweet-talk
Robinson Cano
.
QUESTION: Who else would you like to see perform at Yankee Stadium? (Keep it clean.)

NBA
NHL
COLLEGE BASKETBALL
MLB
NBA
NHL
COLLEGE BASKETBALL
MLB