New York Yankees:

Jeremy Hellickson
July, 26, 2013
7/26/13
12:48
PM ET
By
Mark Simon & Katie Sharp
| ESPNNewYork.com
Five things about the
Tampa Bay Rays
, other than their 19-3 record in the last 22 games, that turn this What2Watch4 into a What2Worry4.
Rays love lefties
The Tampa Bay Rays are 21-11 when the opposition starts a left-handed pitcher this season.
They lead the majors in batting average (.288), on-base percentage (.349) and slugging percentage (.437) against left-handed pitching this season. These are not in any way the Rays of 2012, who had a .238/.319/.385 average slashline. They've cut how often they miss on their swings from 25 percent to 21 percent.
Rays lefties are even hitting left-handed pitching. Last year, burdened with the bat of
Carlos Pena
, their lefties hit .176/.266/.290 against lefty pitching. This season, thanks largely to first baseman
James Loney
that line is .306/.356/.443.
Longoria vs Sabathia
Evan Longoria
is due.
Longoria is in a nasty slump, with 11 hits and 22 strikeouts in his last 67 at-bats. He's gone 18 straight games without a multi-hit game and has struck out in 15 straight games. He's got a seven-game hitting streak, but is only hitting .259 in it.
Seeing Sabathia should make Longoria happy though. He's 18-for-47 with 12 walks and six homers against Sabathia. He revels in seeing the Sabathia fastball-changeup combo, which has netted him 16 of those hits, eight of those walks, and five of those homers.
Hellickson rolling
Sabathia's mound counterpart,
Jeremy Hellickson
, is 5-0 with a 2.19 ERA in his last six starts, a major turnaround from his first 14 starts, in which he posted a 5.67 ERA.
Hellickson has succeeded recently in an area that has given Sabathia major trouble—getting outs with runners on base.
Opponents hit .344 with men on base against Hellickson during that troublesome stretch. They're at .176 (thanks to a 63 percent ground-ball rate) in his last six efforts.
Rookie sensation
The furor over Dodgers rookie
Yasiel Puig
has cooled down a little bit of late, but it might be just beginning for
Wil Myers
, baseball's best hitter
over the last two weeks
.
Myers is 18-for-36 (.500) with five extra-base hits in his last 9 games, having dramatically cut back on how much he was swinging-and-missing from the first three weeks of his career.
Myers was 5-for-13 with a grand slam (his first career homer) in his first trip to Yankee Stadium. We'll see what he has in store this time around.
Secret weapon
Yankees fans are probably familiar with the back end of the Rays bullpen, where the likes of
Jake McGee
,
Joel Peralta
and
Fernando Rodney
have flourished the last couple of seasons.
But they might not be aware of the Rays secret weapon—lefty
Alex Torres
.
Torres has unbelievable numbers this season. In 30 1/3 innings, he's allowed only one run and eight hits, and has allowed only two of 11 inherited runners to score.
Joe Maddon has gotten more comfortable with Torres to the point where he's changed Torres' role. In his first 10 games, he entered with the Rays tied or leading only twice (once they were up eight runs). The Rays have been tied or leading in six of his last eight appearances.
Expect to see him in key spots, perhaps as soon as tonight.
April, 8, 2012
4/08/12
8:30
AM ET
By
Mark Simon, ESPN Stats & Information
Phil Hughes Matchups to Watch
Likely Rays designated hitter Luke Scott is 8-for-15 in his career against Hughes. That .533 batting average is the highest among the 20 hitters who have at least 15 at-bats against Hughes.

On the other end of the spectrum, Ben Zobrist is 0-for-10 against Hughes, his second-worst 0-for against any pitcher.

Hughes has succeeded against Zobrist by avoiding pitching him down in the strike zone, or pitching him inside.

The only pitcher against whom Zobrist is worse is currently injured Yankee Joba Chamberlain (0-for-13).

Yankees fans will also be happy to know that Hughes has retired Carlos Pena (who has hurt the Yankees significantly in this series) in eight of their last nine confrontations.

The thing that will be interesting to watch will be if Hughes takes advantage of the big dimensions at Tropicana Field. He's only allowed 16 home runs in 215 2/3 road innings for his career, but has given up four in 23 innings in Tampa.

Jeremy Hellickson Matchup to Watch
Hellickson, the American League Rookie of the Year, will be tested by Robinson Cano, who has tagged him for five hits, including two home runs, in 11 at-bats.

Much like teammate James Shields, Hellickson is reliant on the changeup, but was reluctant to throw it to Cano (who hits changeups very well last season, doing so only five times in 41 pitches.

The changeup is a key to Hellickson's success and he's the rare right-hander willing to throw the changeup a lot to right-handed hitters. Last season, Hellickson got 12 Yankees out with changeups, including Russell Martin five times. and Derek Jeter three times.

Stewart's First Start?
With this being a day game after a night game, it would seem logical that this will be Chris Stewart's first start as Yankees catcher.

Joe Girardi said that Stewart had Yadier Molina skills behind the plate, which is significant praise. Stewart ranked third in the majors last season in catcher caught stealing percentage, throwing out 19 of 53 would-be basestealers (36 percent).

Also noteworthy: Giants pitchers had a 2.70 ERA in Stewart's 460 1/3 innings catching last season, compared to a 3.43 ERA with other catchers.

Stewart's vulnerability is at the plate. He hit only .204 in 162 at-bats last season. His one hot spot was middle-in. Two of his three home runs last season came on inside pitches.

0-3?
The Yankees haven't started 0-3 since 1998, a year in which they won 114 games and the World Series. The last 0-3 start prior to that was in 1985.

August, 13, 2011
8/13/11
10:00
AM ET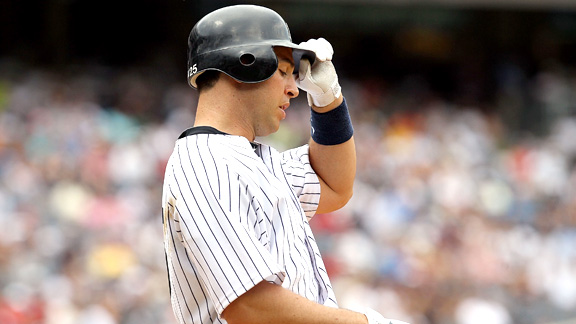 Getty Images/Jim McIsaacMark Teixeira has been left chagrined more often than not against Rays right-handed pitchers.
Phil Hughes What2Watch4
Though Hughes has allowed seven home runs in 34 innings against the Rays, most of that has been done by hitters not currently on the Rays roster. The one current Ray to homer against Hughes is
Matt Joyce,
who has gotten him twice in eight at-bats.
A pair of notable Rays hitters--
Casey Kotchman
and
Ben Zobrist
are each 0-for-7 against Hughes.
The Rays will may load an extra left-handed bat or two against Hughes. Lefties are hitting .370 against him this season, including two hits in Hughes relief effort against the Red Sox last Sunday.
Hughes may be due for some better fortune in one area. In his last three starts, he's allowed 10 ground-ball hits to left-handed hitters, who are now 16-for-26 when hitting a ground ball against him this season. That's not the Hughes of 2010, who held lefties to a .200 opponents batting average on ground balls, according to our pitch performance data.
Jeremy Hellickson What2Watch4
Hellickson beat the Yankees, 3-2, on July 19. The one thing the Yankees were able to do that day against him was run, netting four steals. Hellickson has not allowed a steal in three starts, spanning 19 1/3 innings since then.
Hellickson's changeup is one of the toughest in all of baseball for a left-handed hitter to square up. Lefties are hitting a major-league low .184 when they make contact with a Hellickson changeup.
In that start against the Yankees, Hellickson got nine outs with his changeup, the lone hit against it being a Mark Teixeira double.
Hellickson will be putting a 6-2 record and 2.56 ERA in day games this season against the Yankees 32-8 mark in day games. He'll also be looking to match
Ivan Nova
for the lead in wins by a rookie with his 11th.
Breakout Game2Watch4
Teixeira is in a funk. He's 4-for-31 in his last eight games, with one extra-base hit and nine strikeouts.
Teixeira has had major issues against Rays right-handed pitchers over the last two seasons, going 10-for-74 (.135 batting average) against them.
The Rays employ a very specific strategy when a right-handed pitcher faces Teixeira. When they throw a fastball, it's located on the outer-third of the plate, or beyond, two-thirds of the time (the average opponent throws it there at a slightly lower percentage).
Teixeira is almost certain to see changeups from Hellickson if he gets behind two strikes. In 2009 and 2010, Teixeira had 11 hits against two-strike changeups from righties, albeit with 99 outs.
This season, he has made 28 outs against changeups from righties. But he's managed just one hit.
Leadoff Spot What2Watch4
Brett Gardner
should be back in the leadoff spot, where he's been successful recently. He's 10-for-30 with eight runs scored in the last seven games in which he's hit leadoff.
Defensive Player(or in this case Position)2Watch4
Rays second baseman
Sean Rodriguez
had a good defensive day on Friday, throwing out a man at the plate after taking a throw from rightfielder
Ben Zobrist
.
The two have teamed up nicely this season, particularly at second base. Rays second basemen entered the weekend with 16 Defensive Runs Saved, the most for any team's infield position in the majors. Zobrist actually accounts for 12 of those as the team's primary second baseman.
July, 8, 2011
7/08/11
7:55
PM ET
Here's one pitcher who wouldn't mind being in the record book as the pitcher who gave up hit No. 3,000 to Derek Jeter.

"I guess it would have kind of been cool to give it up as long as it didn't cost me a run or anything," said Tampa Bay pitcher Jeremy Hellickson, who had his start rained out Friday. "I wasn't really planning on giving it up."

Hellickson actually has had a dog named Jeter since 2005, right after he signed with Tampa Bay. He said he liked Jeter while he was growing up and it led to the naming.

"It turned out that way, I really wasn't expecting this to happen when I named him that," Hellickson said. "I didn't think I was going to be in this position six years ago, but it's kind of funny the way things happen."
NBA
NHL
COLLEGE BASKETBALL
MLB
MLS