New York Yankees:

Joe Maddon
September, 16, 2012
9/16/12
2:40
PM ET
Tampa Bay Rays
manager Joe Maddon was ejected after arguing with home plate umpire Paul Emmel in the third inning of Sunday's game.
With the Yankees up 5-0 in the third, starter
Matt Moore
threw a pitch that sailed above the head of
Curtis Granderson
. Both benches were then warned by Emmel, which led to Maddon's argument. It's his fourth ejection of the year.
After not getting a hit the first two innings, the Yankees exploded for five in the third behind the bat of
Russell Martin
, who hit a three-run homer.
Derek Jeter
and
Alex Rodriguez
each added RBI singles.
December, 5, 2011
12/05/11
3:48
PM ET
Tampa Bay has been linked to Hideki Matsui to continue their buding tradition of having former Yankee Red Sox stars become DHs for them at the end of their career. They had Manny Ramirez and Johnny Damon, while they have often been linked to Jason Giambi and Gary Sheffield, though, neither ever signed there.

How about Matsui?

"He's a wonderful professional," Rays manager Joe Maddon said.

Maddon went on to call him a "clutch hitter" and a "good man." He said the Rays are just now discussing their plans for the DH spot. Damon is still an option.
July, 10, 2011
7/10/11
5:37
PM ET
A towel full of pie splattered on one's face is usually only reserved for walk-off wins by the Yankees, as delivered from pitcher A.J. Burnett to whoever gets the winning hit.

Sunday at Yankee Stadium, the Yankees didn't have a walk-off hit in their 1-0 win over the Rays, yet Burnett brought out the towel anyway. CC Sabathia's dominating complete game shutout proved as good as any walk-off hit would have done.

"Why not?" Burnett said about the pie in the face to Sabathia. "Did you see what he did?"

Sabathia dazzled once again and turned in his best pitching performance of the season as he blanked the Rays 1-0 Sunday at Yankee Stadium in the Bronx. Sabathia picked up his league-leading 13th win of the season, the most he's had at this point in the career.

The southpaw, named to the All-Star team as a replacement Sunday, has now thrown 23.2 consecutive scoreless inning according to the Elias Sports Bureau. He recorded his 12th career shutout and is the first Yankees with 13 wins at the All-Star break since Andy Pettitte in 1996, according to Elias.

"It feels good, but it's even better for our team," Sabathia said. "To come up against a team that's going to be here until the end. To be able to come here and win two out of three before the break is pretty good."

Since being roughed up by Boston on June 9, Sabathia has been downright unstoppable to end the first half. He's 6-0 with a 1.77 ERA with 51 strikeouts over his last six starts, which includes three starts without yielding a run. He's 10-1 with a 2.20 ERA in his last 11 starts and 13-3 in his last 16 starts.

Matched against All-Star James Shields Sunday, Sabathia looked as good as he had all year against a Tampa Bay team he's struggled against as a Yankee. He had his whole arsenal working for him, whether it be his devastating slider or his fastball that clocked in on the radar gun in the high 90s in the ninth inning. Rays manager Joe Maddon said it's almost as if Sabathia toys with hitters out there.

"He has complete confidence out there and I have complete confidence when he's out there," catcher Russell Martin said. "Really, he makes my job easy because I can point any sign down and you know it's going to be a quality pitch. It makes my job easy."

The Rays stringed together three hits in the first four innings, including a pair of doubles, but Sabathia worked out of the mini-jams and got better as the game wore on. Over the final five innings, Sabathia yielded just one hit, an infield single to B.J. Upton on which he failed to cover first base. He ultimately retired the final seven hitters of the game.

While Sabathia and Shields matched zeroes, the Yankees finally cracked in the bottom of the seventh on two errors to give Sabathia the only run he would need on a beautiful sunny day in the Bronx

With just 99 pitches under his belt after eight, Yankees manager Joe Girardi left Sabathia in the game instead of bringing in closer Mariano Rivera. Before the inning, Yankees pitching coach Larry Rothschild asked if Sabathia still had something left in the tank and while Sabathia felt good, he told Rothschild that even if he didn't, he would've had to take the ball from him.

With the fans chanting his name and standing and applauding, Sabathia struck out Ben Zobrist looking on a 97-mph fastball for the second out and struck out Elliot Johnson on 98-mph gas for his ninth strikeout of the game to complete the shutout. Right after the strikeout, Sabathia moved his left arm up and down and screamed, showing raw emotion.

"It's the end of the game. Just letting out the emotion and everything you go through during the course of the game, it just felt good to do," Sabathia said.

As Sabathia celebrated on the field with his teammates after the game, the big screen in center flashed the news that Sabathia had been named to the All-Star team, replacing Shields. It had been a somewhat controversial decision to leave Sabathia off the roster as he leads MLB in wins and has a low ERA.

Sabathia won't be pitching in the game as he's ineligible because he pitched Sunday and had already book a vacation to the Bahamas, with his flight leaving at 5 p.m. Sunday, but he was grateful that he had been chosen to represent the American League.

After all, there might not be a better pitcher in the American League right now.

"I'm feeling pretty good right now," Sabathia said. "Hopefully I can keep it going."
July, 9, 2011
7/09/11
7:33
PM ET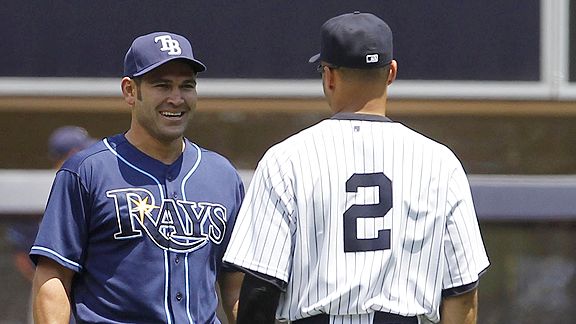 William Perlman/THE STAR-LEDGER/US Presswire
Derek Jeter's former teammate, Johnny Damon, got to witness No. 3,000 in person.
As
Derek Jeter
rounded first base in his home run trot for the 3,000th hit of his career, Tampa Bay first baseman
Casey Kotchman
tipped his cap to the Yankees shorstop. Like his teammates who came out of the dugout to applaud Jeter, Kotchman wanted to show appreciation for Jeter's accomplishment.
"I felt like that was the right thing to do out of respect for what he's done and what he means to the sport," Kotchman said. "On a single or a double I thought I'd have my chance to shake his hand and give him a hug and say congratulations first. When he went in the seats, that wasn't going to happen and I wasn't going to be able to shake his hand so I tipped my cap."
While Jeter recorded hit No. 3,000 against the Rays, the team and its manager were all respectful and congratulatory of Jeter's accomplishment following the Yankees' 5-4 win over the Rays.
"It was a great moment for Derek, his family and the history of the Yankees franchise," former teammate and current Tampa Bay designated hitter
Johnny Damon
said. "Derek stands for the good stuff in baseball. I'm proud of him."
Jeter secured hit No. 3,000 when he smashed a solo home run to left field off Rays starter
David Price
in the third inning to tie the game at 1. While the Yankees mobbed Jeter at home plate and the relievers ran to home plate from the outfield, the Rays waited for the Yankees to celebrate first before manager
Joe Maddon
asked Damon to bring the team out. A fair amount of Rays initially came out of the dugout to applaud Jeter, led by Damon, while others applauded from the top step of the dugout.
Maddon said it was a great day at Yankee Stadium, while saying it was unfortunate Jeter went 5-for-5 against his team, including the game-winning RBI in the eighth inning. He said his team will always remember being part of this game and he has an appreciation for what happened.
His players all seemed to bring up the word "respect" when discussing Jeter's milestone.
"I feel like everyone in this locker room has mutual respect for Derek Jeter, probably everybody in baseball, it's not like he's done anything to anybody to have not the same amount of respect as everybody else," Price said. "He's done it the right way and I know a lot of guys respect him."
Maddon joked that Jeter went above and beyond what he needed to do in his quest for 3,000 hits by having a perfect day at the plate and driving in the game-winning run in what will be remembered as a legendary performance.
Considering it was Jeter, the Rays weren't surprised.
"It's just special," Kotchman said. "His 3,000th hit is a homer and you come to expect nothing less from him. He's got that flair for the dramatic. Just to see the crowd's reaction, he just deserves it."
Added Damon in a joking manner: "Hopefully he can play himself in his own movie."
July, 9, 2011
7/09/11
7:14
PM ET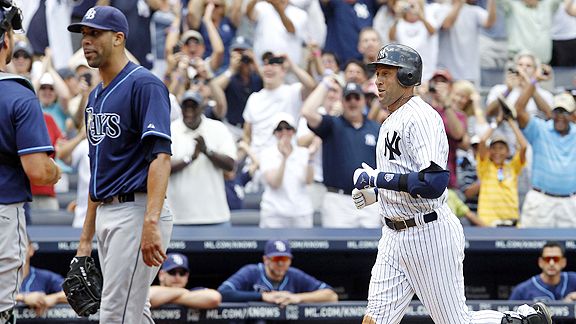 William Perlman/THE STAR-LEDGER/US Presswire
Derek Jeter rounds the bases after his historic homer, while David Price tries to comprehend what has just happened.
With
Derek Jeter
on the cusp of 3,000 hits entering Saturday's game, Tampa Bay starting pitcher
David Price
didn't have any qualms about potentially yielding Jeter's 3,000th hit --under certain conditions, of course.
Conditions that ultimately went wayside with a hanging 3-2 curveball to Jeter.
"I didn't really care if he got it off me as long as he didn't drive in a run or score a run," Price said. "He did all of those things in that one at-bat. Good for him."
Price gave up the home run that resulted in Jeter's 3,000th hit during the Yankees' 5-4 win against the Rays on Saturday. Jeter went 3-for-3 against Price with a single, double and home run in three plate appearances against the talented southpaw.
It's the second time Price and Jeter have made history together, as it was Jeter who had the first-ever major-league hit against Price -- a home run to right-center on Sept. 14, 2008 at the old Yankee Stadium.
"I wasn't happy for the guy but I was happy for the guy," Price said. "Obviously I would've loved for it to be a single or something but it tied the game. That's the type of player he is, he steps up in the big moments. That's what he did today, 5-for-5 with the game-winning RBI, that's a pretty good day."
Before the game, as Price walked through the tunnels under the stadium, he saw boxes of T-shirts congratulating Jeter on becoming the 28th player to achieve 3,000 hits in his career. On the mound, with the fans roaring and giving Jeter a standing ovation, Price noticed the different markings on the balls signifying how close the Yankees' captain was to the monumental hit. History surrounded him no matter where he looked.
"I'm just spinning out there," Price said.
While Rays manager
Joe Maddon
didn't think the circumstances of the game affected Price, the lefty struggled against the Yankees while also struggling to retire Jeter, who had been just 6-for-25 against Price entering the game. Price lasted just five innings, giving up seven hits and four runs in a no-decision.
Jeter led off the bottom of the first with an eight-pitch at-bat that ended when he hit a bouncer between third base and shortstop that got through to the outfield to notch hit No. 2,999. In his second at-bat, Jeter once again fouled off pitches and worked the count full, before Price hung a 3-2 curve that Jeter smashed to left field to tie the game at 1 in the third inning.
As soon as the ball left the bat, Price crouched to the ground and watched the ball travel and knew he had become part of history.
"There's not a park in the league that's going to hold that ball," Price said. "I knew it was a home run."
As Jeter trotted around the bases and celebrated with his teammates, Price walked to his dugout and cooled himself off with a towel. The pitcher said that it was Jeter's moment at the time, and he didn't want to stand on the mound because he would have felt like he was ready to pitch.
When he went inside the dugout, teammate
James Shields
, who will pitch Sunday, took the opportunity to try and lighten the mood with Price.
"He came over to the dugout to give them time to celebrate and I told him that was a bomb," Shields said. "So he kind of chuckled a little bit."
The Yankees shortstop doubled against Price in his last at-bat, attacking the first pitch and driving it down the line for hit No. 3,001. Price complimented Jeter on his first two at-bats for fouling off pitches before getting his hits, and called him one of the most professional hitters in the game for how he attacks every at-bat.
Price had come to the park on Saturday hoping to stick to his game plan and help the Rays inch closer to the Yankees in the American League East. Instead, by the end of the day, Price ended up as the answer to a trivia question: Which pitcher yielded Derek Jeter's 3,000th hit?
"I'd rather not be the answer to that trivia question but I am. It's tough," Price said. "He's one of the best players to ever play baseball so he was going to do it off somebody and it just so happened to be me. It's part of it."
July, 7, 2011
7/07/11
11:58
PM ET
Tampa Bay starting pitcher Jeff Niemann already has a place in history with Derek Jeter. On Sept. 9, 2009, Niemann gave up three hits to Jeter, which resulted in the Yankees shortstop tying Lou Gehrig for the most hits in franchise history.

With Jeter entering tonight's game three hits from 3,000 for his career, another opportunity presented itself for Jeter and Niemann to be connected with a historical hit.

"I knew he already tied one record off me, he didn't break it, he tied it, so I'm not the break guy on that one," Niemann said. "I knew I already had that one under my belt so I didn't want to have anymore milestones for at least a while."

While Niemann gave up a double to Jeter in his first at-bat, he did not yield hit No. 3,000 to Jeter in Thursday night's game. Jeter's next chance comes Friday against Tampa Bay's Jeremy Hellickson.

"Everyone knows what's going on, there's no secret," Niemann said. "You really kind of had to bare down because nobody wants that to be them."

In the first inning, Jeter hit a first-pitch double to center field for the 2,998th hit of his career. After that, Niemann took care of Jeter in each of the next three at-bats. He retired him on two grounders to third, one of which was a great diving stop by Sean Rodriguez, and another to short.

Niemann said he knew Jeter was being aggressive at the plate after he swung at the first pitch in the first at-bat. He said he focused on making good, quality pitches and the strategy worked.

"It was fun," Niemann said. "It's always fun to have that atmosphere in the stadium and it makes you really hone in as a pitcher I think. It was fun, it was enjoyable."

As much as Niemann postponed Jeter's historic hit for one night, Rays Manager Joe Maddon realizes it's likely to happen against his team. Still, he doesn't want his team focused or worrying about when or how Jeter gets hit No. 3,000.

"That is not anything that we're concerned about. It's inevitable, it's going to happen," Maddon said. "Whoever is the pitcher that throws it, he's going to get talked about a lot, his name is going to be in the book, it's probably going to be highlighted and read. It's OK. He's had 3,000 hits. He's had hits against a lot of guys. That's not what you worry about. If you worry about that stuff, my goodness, that is like inappropriate to emphasis there. It's about us playing our game properly and beating these guys and really shortening the lead going into the second half. With all due respect, he's going to get it and I think he's great and I respect him totally, but this is more about what we're doing."
July, 7, 2011
7/07/11
11:38
PM ET
As soon as Sean Rodriguez's throw across the diamond one-hopped into his first baseman's glove, resulting in the game-ending ground out from the bat of Derek Jeter, the Rays third baseman realized he had delayed history.

"I turned around and said, man he could have been at 3,000 right there," Rodriguez said. "Kind of told myself, not today though."

While Rodriguez grew up wanting to emulate Jeter, the Rays' utility player who started at third Thursday night kept Jeter from hit No. 3,000 with two great plays in the field in the Rays' 5-1 win against the Yankees at Yankee Stadium in the Bronx.

"I watched him a lot. You always tell yourself that you want to be that guy and then sure enough you end up taking hits away from that guy," Rodriguez said. "So it's pretty cool."

Rodriguez, who plays various positions for the Rays, started at third base while third baseman Evan Longoria served as the designated hitter with the usual designated hitter Johnny Damon out with an injury.

In the third inning, with Jeter just two hits away from 3,000 hits as he had doubled in the first, the Yankees shortstop hit a hard grounder down the third base line. Rodriguez dove to his left and snagged the ball, before getting up and firing first to retire Jeter.

Earlier in the at-bat, Jeter had flashed bunt, bringing Rodriguez a little closer to the plate. He ended up positioned off the line and it required the dive to stop Jeter from getting hit No. 2,999. Rodriguez said he didn't look at Jeter running and just got up and threw.

"It's just one of the many great plays we had tonight," Tampa Bay pitcher Jeff Niemann said. "It was an awesome play, full layout, he hops up and makes the throw, it's always nice to have that behind you."

In the ninth, with runners on the corners and Jeter still stuck at 2,998 hits, Jeter hit a soft chopper to third. Rodriguez came in, fielded the ball smoothly but he didn't get the best grip, which led to a one-hopper to first base where Casey Kotchman scooped the ball for the last out to secure the Rays' 5-1 win. Jeter finished the night 1-for-5.

"He had a great game at third base. He had a really good game at third base. Great play and on the other side, what about Kotch? My God. Kotch continually makes that play on the other side," Tampa Bay manager Joe Maddon said. "What can I say? (Kotchman) has been amazing for us this year."

As much as Rodriguez said he would like to see Jeter get his 3,000th hit, becoming just one of 28 players in MLB history to do so, as an opponent, he'd prefer if Jeter saved it for another team, perhaps when the Yankees head to Toronto after the All-Star Break.

For at least one night, Rodriguez kept his pitcher from becoming the answer to a future trivia question of who yielded Jeter's 3000th hit.

"If he gets it, obviously it will be exciting. I'm going to do everything I can obviously to not let him get it, but that's just like I will with anybody else. I don't want anybody to get hits," Rodriguez said. "He's definitely going to get it eventually and it's going to be something that's well deserved, a guy like him, the way he's always played the game. Just great example, a great role model for a lot of young kids that watch him and try and emulate him."
July, 7, 2011
7/07/11
6:27
PM ET
As Tampa Bay Manager Joe Maddon spoke to the media before Thursday's game, the skipper watched clips of a young Derek Jeter on the jumbo scoreboard in center field. As he viewed Jeter swing the bat in the video from nearly 20 years ago, he commented on how Jeter finishes his swing the same way now as he did then.

"The really good guys, pretty much look the same out of high school, whatever 15 years later," Maddon said. "That's pretty cool."

Maddon spoke highly of Jeter as the Yankees shortstop approaches 3,000 hits before Thursday's game as his team opened a four-game set against the Yankees. It's more than likely Jeter will reach the plateau against the Rays.

"He's a classy professional. He plays the game properly, always been impressed with how hard he runs to first base," Maddon said. "That always stood out to me. I've even seen him hurt with leg injuries, but for that 90 feet he would put it together and run hard to first base. I really appreciate that about a major league baseball player as much as anything, a position player, that guy chooses to run hard to first base all the time. That really impresses me."

Maddon also complimented Jeter on being a clutch hitter, saying that Jeter is a guy a team never wants to face in a big spot, as he is willing to go the other way with pitches or just continue to foul off pitches to stay alive. The manager also added that Jeter made the running jump throw to his right as well as anybody he's seen.

"Great baseball player but he did it in a way that really set him apart. The fact that he's the captain of this team says a lot too," Maddon said. "I've always been a big fan. If anybody deserved to do the 3,000 hit thing first with the Yankees it would be him. Not knowing the Babe (Ruth) personally or Lou (Gehrig). I still think he probably epitomizes what it's like to be a Yankee."

If Jeter gets his 3,000th hit against the Rays, it will be another memorable game between the two teams. Maddon remembered how the Rays have faced the Yankees on Old Timer's Day and played the Yankees on the night of the unveiling of the George Steinbrenner mural last season. Maddon didn't differentiate the potential 3,000-hit game from the other contests.

"I don't think it's anything more grand," Maddon said. "It's another significant event in the history of this franchise. It's going to be just as crazy as it always is."