New York Yankees:

Johan Santana
December, 19, 2013
12/19/13
6:00
PM ET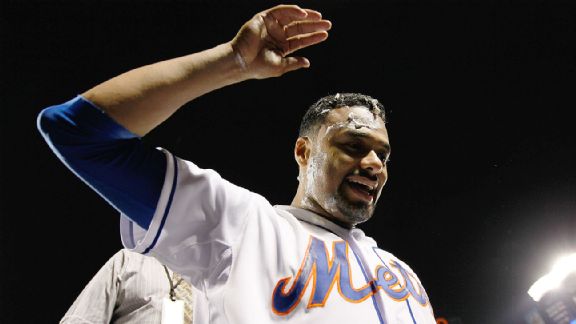 Mike Stobe/Getty Images
NEW YORK -- By just about any standard,
Johan Santana
is a terrible risk.
He has missed two out of the past three seasons due to injury. He will turn 34 a couple of weeks before Opening Day. And you can count the number of pitchers who have successfully returned to the major leagues after having not one, but two surgeries to repair a torn shoulder capsule, on two fingers. Provided those fingers are your thumb and index finger, forming a zero.

Still, what do the Yankees have to lose by offering him a minor league deal and a chance to prove himself in spring training?
It seems this is the way the Yankees will have to go now that it appears the Rakuten Golden Eagles plan to dig their talons deep into Masahiro Tanaka and not allow him to get away until they absolutely have to, which is two years from now.
Even by their own concession, the available starting arms in their system --
David Phelps
,
Michael Pineda
,
Vidal Nuno
and
Adam Warren
-- probably will compete for the No. 5 job. And with
Hiroki Kuroda
,
CC Sabathia
and
Ivan Nova
probably slotted 1-2-3, the Yankees are looking for a solid No. 4.
So why not Santana?
Of all the free-agent pitchers still out there on the board, Santana has the best portfolio: the highest winning percentage, the lowest ERA and WHIP, the highest career WAR. He even did something once thought to be impossible, which is pitch a no-hitter for the Mets.
Yes, he would be a risky proposition, and given the nature of his injury and the fact that it happened twice, perhaps doomed to fail.
But for those same reasons, he is likely to be quite affordable, and if he can make it back to being a serviceable pitcher again, could turn out to be a tremendously good investment.
In a way, there are parallels to
Bartolo Colon
, who had been out of baseball for a year when the Yankees, having received good reports on him from Tony Pena, their bench coach who had managed him in winter ball, gambled $900,000 and a spring training locker on him in 2011. He wound up not only making the team, but resurrecting his career; the Mets, of all teams, just decided he was worth 20 million of their scarce dollars over two seasons.
Santana also reminds you a bit of a left-handed
Pedro Martinez
, a once tremendously talented pitcher who probably still knows enough about how to continue to get big league hitters out on a consistent basis.
Obviously, because of his injury history, Santana can't be the only alternative -- the Yankees might want to extend a similar invitation to
Roy Oswalt
, whose recurring back injuries have rendered him nearly useless the past few seasons but as recently as 2010 went 7-1 with a 1.74 ERA for the Phillies. And they might do well to add a journeyman like
Paul Maholm
as insurance in case neither of them work out.
Because at their best, both Santana and Oswalt were much better pitchers than this year's "big-ticket" starters still looking for a home:
Matt Garza
,
Ervin Santana
and
Ubaldo Jimenez
. Garza's a career .500 pitcher and Ervin -- who allowed a league-leading 39 home runs two seasons ago -- will have you longing for the return of
Phil Hughes
. Jimenez is probably the best of the three but is probably seeking at least $15 million a season for three or more seasons, and the Yankees have made it clear they are not interested in investing that kind of cash this year in any pitcher not named Kuroda or Tanaka.
The Yankees can stock up on journeymen, retreads -- and comebackers like Santana and Oswalt -- at probably less than a million apiece and turn them loose in spring training to show what they've got left.
In the case of Johan Santana, that could be plenty, and plenty worth pursuing.
December, 11, 2013
12/11/13
10:14
AM ET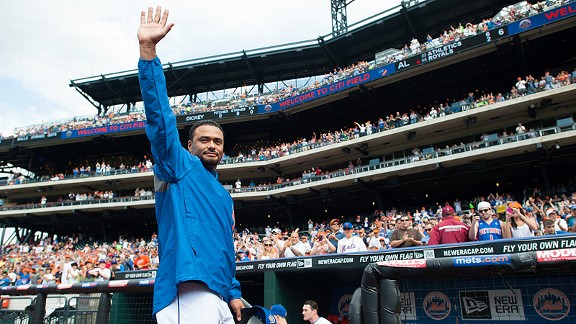 Rob Tringali/Sportschrome/Getty ImagesCould ex-Met Johan Santana be waving hello to the Bronx next year?
LAKE BUENA VISTA, Fla. -- The Yankees have joined the Mets among the total of eight teams that have expressed interest in
Johan Santana
for 2014, sources have told ESPN New York.
The talks with all the teams are in the preliminary stages.

Santana, 34, has not pitched in two of the past three seasons because of shoulder surgery. In 2012, he threw the first no-hitter in Mets history before injuring his shoulder again.
According to a baseball official, another of his former teams, the
Minnesota Twins
, has expressed interest in Santana. The other five teams are the
Tampa Bay Rays
, the
Baltimore Orioles
, the
Kansas City Royals
, the
Milwaukee Brewers
and the
Pittsburgh Pirates
.
Like other clubs, the Yankees could possibly offer Santana an incentive-laden non-roster invitee contract. Santana's agent, Peter Greenberg, has told teams Santana is interested in signing a contract now if a club separates itself from the pack. If not, Santana is expected to throw in January to showcase himself.
If he is willing to shave his facial hair, the Yankees could be a good match for Santana because they are in need of starters. As it stands right now, they have three starters in
CC Sabathia
,
Hiroki Kuroda
and
Ivan Nova
. Joe Girardi confirmed Tuesday that
Michael Pineda
,
David Phelps
,
Vidal Nuno
and
Adam Warren
will compete for the fifth spot.
The Yankees would be players for Masahiro Tanaka, if he is posted. At this point, they are not in on the top MLB free-agent pitchers, but could go after someone like
Paul Maholm
.
Back in 2007, before the Twins traded the lefty to the Mets, the Yankees and Minnesota had talks for Santana. The Yankees were hesitant to give up
Phil Hughes
in a possible trade. This offseason, Hughes signed a three-year, $24 million deal with the Twins. Santana was not fully keen on the Yankees because he likes facial hair.
It is possible now that Santana could be a replacement for Hughes in the Bronx.
June, 4, 2012
6/04/12
2:07
PM ET
The Mets just announced that Johan Santana, who pitched the first no-hitter in Mets history Friday night against the St. Louis Cardinals, will open the three-game series against the Yankees on Friday night in the Bronx.

Assuming the Yankees remain on rotation, Santana will be opposed by Phil Hughes, who pitched a gem of his own -- a complete-game four-hitter in Sunday's 5-1 win over the Tigers and Justin Verlander.
May, 23, 2010
5/23/10
1:57
AM ET
By
Mark Simon
| ESPNNewYork.com
The story of the two pitchers starting in Sunday night's game can be summed up in looking at how they've performed against Yankees shortstop Derek Jeter.

Jeter typically roasts left-handed pitching, especially against the Mets. We mentioned earlier this week that he entered the series with a .451 batting average in 102 at-bats against Mets lefties.

For his career, Jeter is a .335 hitter against left-handed pitching. Among the 106 active players who entered Saturday with 1,000 at-bats against lefties, the only ones with a better career batting average against southpaws than Jeter were Albert Pujols, Ichiro Suzuki, and Manny Ramirez.

"He fouls a lot of pitches and makes it tough. He hits off pitches you think are good pitches and that makes him tough to handle."

Those are the words of someone who knows Jeter as both friend and foe, spoken by CC Sabathia to our Andrew Marchand before Saturday's game.

Sabathia is glad that he doesn't have to worry about Jeter. Of the 185 hitters who have had 15 or more turns against Sabathia, only Ramirez hits him better than Jeter did.

Jeter is 13-for-26 against Sabathia for his career. He drove Sabathia particularly crazy in CC's first two seasons in the majors, going 6-for-12 with a pair of walks. One of those came in a 14-pitch at-bat. The other took eight pitches.

To get outs against Jeter, they had to be earned outs. In Game 3 of the 2007 ALDS, Sabathia got Jeter to go 0-for-3, only one of two times the former Cleveland ace coaxed Jeter into an 0-for. It took 18 pitches to get those three outs.

Keep this stat in mind, too: We did a segment on the "Baseball Today" podcast last Wednesday on the best pitchers at whiffing "tough-strikeout" hitters. Sabathia fared best in a study passed on by Ryan Clancy of Baseball Info Solutions, due to his success against Dustin Pedroia (25 PA, 8 K) and Joe Mauer (25 PA, 9 K), but he's only fanned Jeter three times in 28 meetings.

"I think he is one of the greatest hitters in the game. He covers the whole plate with that inside-out swing. He always puts the ball in play and he hits it the other way."

Those are the words of someone who knows he still has to try to get Jeter out, spoken to our Ian Begley on Saturday. Johan Santana will take his best shot at it Sunday night, though his best shot may not be enough. Jeter has a .423 career batting average against Santana, with hits in all three turns against him last season.

Prior to becoming a Met, Santana might have thought he had Jeter figured out. Not so much. Since Santana became a Met, Jeter is 6-for-9 with a walk against him. He's been better against Santana in Mets-Yankees games than he's been in the postseason against him (when Santana was a Twin). In those games, Jeter was only 4-for-10.

When you think about this matchup of Sabathia vs. Santana, you figure you're seeing two guys who are among the best at what they do in the game. But peer over Sabathia's right shoulder and you'll see a guy who's so good that he has the best of the game completely figured out. We'll see what his true impact is when we watch Jeter -- for one and against the other -- on Sunday night.