New York Yankees:

John Sterling
December, 8, 2013
12/08/13
10:00
AM ET
As we travel down to Orlando for the Winter Meetings, let's have some fun. We asked you on Twitter for some John Sterling home run calls for the new players. Here are some of the best ones -- and some others -- we got. Feel free to add your own in the comments:
@AndrewMarchand Obey-won-Jacoby forces one over the right field seats!

— David Ramos (@dmr711) December 7, 2013
@AndrewMarchand Ells buries that one in the bleachers

— John Massey (@JTMassey79) December 7, 2013
@AndrewMarchand Oh brian mc cann can can!

— derek sowards (@moriv42) December 7, 2013
@AndrewMarchand Ellsbury! Dough-BOY! He-hooo! Nothin says lovin like a homer in the oven!

— YoDamaggio (@YoDamaggio) December 7, 2013
@AndrewMarchand I have one for Beltran and McCann: "Carlos 'Belt's' one out of here!" and "Brian! Yes he 'McCann!"

— Delia Enriquez (@dfiregirl4) December 7, 2013
@AndrewMarchand Carlos crushes one! A Beltran blast!

— Bob Sismilich (@bobsis24) December 7, 2013
@AndrewMarchand "Light the McCanndles and say a prayer for that ball because it's gone!" #SterlingHRCalls

— Rob Kesack (@DaKEYIssue) December 7, 2013
@AndrewMarchand Brian goes deep fryin as he serves up a BigMac Yes he Can yes he Can he is #BrianMcCann #sterling #HRCall

— MIKE & DAWN (@MikeandDawnNY) December 7, 2013
@andrewmarchand The new #SterlingHRCalls For Cano "Oh Robbie Cano.....boy does he love dough!!"

— Mark Brown (@NYKfanInBK) December 7, 2013
October, 22, 2013
10/22/13
12:10
PM ET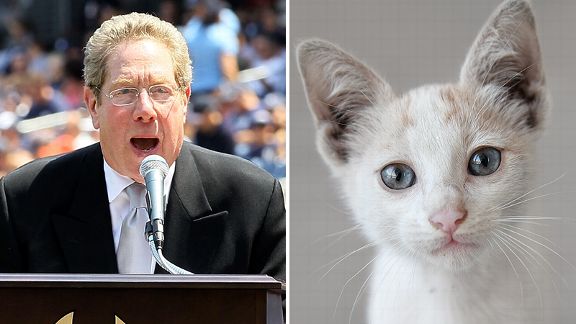 Getty ImagesAre you ready for some feline football? John Sterling is.
The radio voice of the Yankees, John Sterling, will apparently be calling the Kitten Bowl. Newsday's Neil Best
has the news
.
As far as I can tell, this is an actual thing: Hallmark Channel announced Monday that it will carry the first ever "Kitten Bowl" on Super Bowl Sunday, Feb. 2, with John Sterling on play-by-play and Beth Stern, wife of Howard, as host.

No, really. I think.

Kitten Bowl will be conducted in association with North Shore Animal League America, with all of the participating kittens guaranteed homes when the big event is over.

The news release for the event said it is part of the channel's "Pet Project" initiative, which is "devoted to celebrating pets and the incredible joy and enrichment they bring to our lives."

Ms. Stern is a long-time advocate of shelter pets. Sterling is . . . well, Sterling.
Have fun in the comments about what Sterling might say, but please keep it clean.
September, 11, 2013
9/11/13
3:48
PM ET
The Yankees will be heard on WFAN next season, the team announced on Wednesday.

The games will be heard on both WFAN's AM (660) and FM (101.9) signals. There is no word yet if John Sterling and Suzyn Waldman will continue to be the broadcast team. The Yankees have always had the right to choose their radio team in past contracts.

Newsday reported that the deal is for 10 years and worth $15-20 million per season. The Spanish-language broadcast rights were also included. The Mets will now have to find a new broadcast home.

The Yankees will be heard on WCBS-880 AM the rest of this season.
October, 28, 2011
10/28/11
3:49
PM ET
The Yankees announced today that they have signed a one-year deal with WCBS 880 to broadcast their games in 2012.

As part of the agreement, John Sterling and Suzyn Waldman will return as the radio broadcasters.
NBA
NHL
COLLEGE BASKETBALL
MLB
MLS