New York Yankees:

Josh Beckett
August, 25, 2012
8/25/12
6:05
PM ET
August, 19, 2012
8/19/12
3:12
PM ET
By
John Fisher
| ESPNNewYork.com
U.S. Presswire/Kevin JairajHiroki Kuroda has been among the best pitchers in the AL the last two months.
The pitcher to watch in the Sunday Night Baseball matchup is not who you might think it would be. Let's take a snapshot look at that and other things to keep an eye on heading into tonight's series-deciding clash.
The new-look Hiroki Kuroda
Hiroki Kuroda has found an unusual amount of success making the conversion from the National League to the American League.
He's tied with Felix Hernandez for the major-league lead in scoreless starts of at least seven innings this season with six, including a two-hit shutout of the Texas Rangers in his last appearance.
The strategy you'll see from Kuroda tonight will likely involve keeping the ball away from opposing hitters.
Of the hitters Kuroda has retired this season, 52 percent have gone down on a pitch away. That's the ninth-highest rate among the 101 pitchers who have currently qualified for the ERA title.
Kuroda has worked inside and outside with his fastball, slider, and splitter. He's established himself as the best in baseball at keeping the ball away from a hitter's sweet spot.
Only 18 percent of his pitches (in other words, about 18 to 20 per game) are over the middle-third of the plate, width-wise. That's the lowest rate in the majors (an average pitcher throws about 24 of 100 pitches to that area).
Beckett's fastball
Josh Beckett's plummeting fastball velocity has been a storyline throughout this season. The pitch that averaged 94 miles-per-hour in 2009 now clocks at 91 to 92 regularly.
In turn, opponents have hit it. They've gone from missing at a rate of about once every 5.5 swings to once every nine swings. When they do make contact, they do a lot of damage. They've raised their batting average against it from .230 in 2011 to .297 in 2012, and their slugging percentage has jumped from .356 to .459.
The one thing that Beckett has done to compensate appears to be keeping the ball down. Nearly 30 percent of his fastballs have been in the lower-third of the strike zone or below this season, a jump from 18 percent in 2011.
The Yankees touched Josh Beckett for six runs in five innings earlier this season. Keeping the fastball down didn't help. He yielded four baserunners and got just three outs with that pitch in that area.
The Yankees approach vs Dustin Pedroia
Why are Dustin Pedroia's slashline numbers (.280/.336/.428) all career-lows this season?
One reason is a decline in success against inside pitches.
The chart on the right shows how Pedroia has fared against pitches on the inner-half of the plate, or closer to him.
The Yankees seem to have taken notice. They've increased the percentage of inside pitches to him from 21 percent last season to 31 percent this year.
The fill-ins are working out fine
Just as the Red Sox didn't expect to use Pedro Ciriaco as much as they have, the Yankees certainly didn't expect to need Eric Chavez, Casey McGehee and Jayson Nix to play as much as they have. But Alex Rodriguez's injury necessitated that.
Rodriguez is hitting .276 with a .449 slugging percentage this season. The Yankees third-base trio listed above is hitting .370 with a .713 slugging percentage since July 25.
Chavez, who should start tonight, is 15-for-27 with four home runs against right-handed pitching the last two weeks. Much of that damage (eight hits, two home runs) has come against offspeed pitches.
July, 6, 2012
7/06/12
10:30
AM ET
By
Mark Simon & Katie Sharp
| ESPNNewYork.com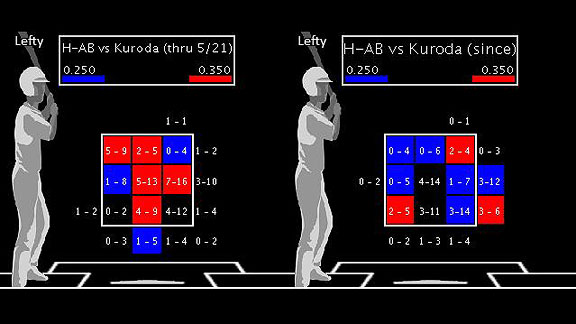 Hiroki Kuroda has excelled against left-handed hitters recently
Hiroki Kuroda Stats To Watch
Kuroda has pitched like an ace in his past seven starts, with a 1.65 ERA and 46 strikeouts in 49 innings.
He has held lefties to a .211 average with just one home run allowed during that span, after hitters posted a robust .330 average and slugged .530 against him in his first nine starts this season.
Also worth noting: Kuroda is 5-7 with a 4.08 ERA in 13 starts at night. In his three afternoon starts, he's 3-0 with no runs allowed in 23 innings.
Robinson Cano Stats To Watch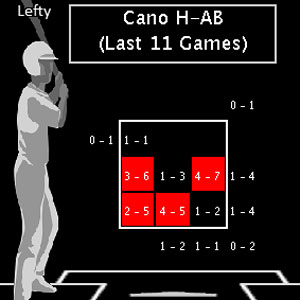 Robinson Cano during his hitting streak

Cano is in the midst of a tremendous tear, with an RBI in each of his last eight games.
If he can get an RBI in each of his next three, he'd match the Yankees record for consecutive games with an RBI, shared by Babe Ruth and Joe DiMaggio.
After getting off to a slow start this season, Cano is hitting .350 with 19 home runs since May 6.
He's also 20-for-his-last-45 with five home runs during an 11-game hitting streak.
Josh Beckett Stats To Watch
This will be Beckett's first start against the Yankees this season. He made five starts in 2011, winning four of them and getting a no-decision in the others. He's won five straight decisions against the Yankees overall. The last Red Sox pitcher with a longer winning streak against the Yankees was
Reggie Cleveland
(seven straight, 1975 to 1977)
Beckett returned from a two-week absence and allowed two runs in six innings in a no-decision against the Mariners.
The Red Sox have lost Beckett's last four starts, scoring only seven runs in those four games. That skid matches the longest that the Red Sox have had in Beckett's starts. They also had a four-game losing streak in Beckett starts in 2006.
One more loss for Beckett would be his eighth of the season. He hasn't had eight losses in a single season since 2008, when he had 10.
Beckett handled three Yankees very well last year.
Mark Teixeira
,
Nick Swisher
and
Alex Rodriguez
were a combined 1-for-30 (with four walks) against him. They missed on 14 of their 31 swings against Beckett's off-speed pitches.
David Ortiz Stats To Watch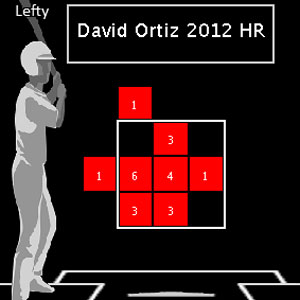 David Ortiz's home runs in 2012

The Yankees should avoid the inner third of the plate when pitching to Ortiz this weekend.
Ortiz has hit 22 home runs this year and 11 have come on pitches on inner-third of the plate or further inside.
Only two players --
Ryan Braun
and
Miguel Cabrera
-- have more homers on inside pitches this season.
Ortiz has torched the Yankees this year with six hits, including a homer and a double, and zero strikeouts in eight at-bats.
He's 0-for-1 with a walk and a sacrifice fly in his career against Kuroda.
Adrian Gonzalez Stats To Watch
Gonzalez has gone from being one of the best home-run hitters in baseball to minimal home run production in just two seasons. Gonzalez averaged 34 home runs a season for the Padres from 2007 to 2010. He hit 27 in 2011 and has only six in 2012.
The heat map below looks at the area in which Gonzalez was likely/unlikely to get an extra-base hit in 2010 versus the areas in which he was likely/unlikely to hit doubles, triples, and home runs in 2012. (Red being high likelihood; Blue being low likelihood -- based on Isolated Power by pitch location).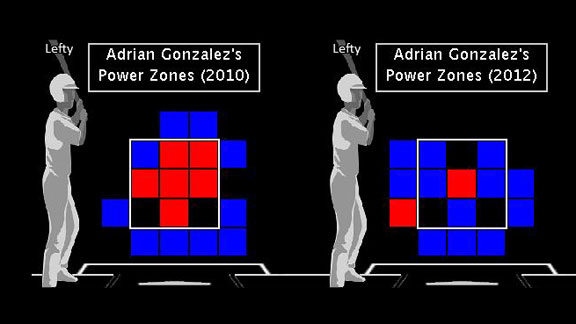 October, 12, 2011
10/12/11
4:53
PM ET
By
Joe Petruccio
| ESPNNewYork.com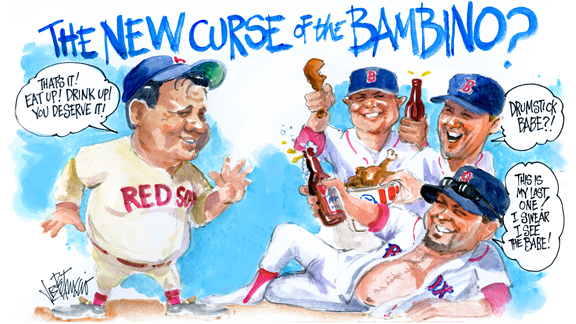 Joe Petruccio
Joe Petruccio, our favorite New York sports artist -- heck, our favorite New York artist, period -- is sketching for ESPNNewYork.com. We'll share his work with you in this space and elsewhere on the site from time to time. (And if you want more, please let us know!)
Here's a link to
Joe's Jets journal
.
June, 9, 2011
6/09/11
12:03
PM ET
By
Ian Begley
| ESPNNewYork.com
There are two losing streaks in play on Thursday night. One is the Yankees five-game skid against Boston. The other is CC Sabathia's two-game streak against Josh Beckett.

Sabathia will face Beckett on Thursday night as the Yankees look to avoid a sweep against Red Sox. Two of Sabathia's three losses this season have come in games in which he's faced Beckett, who has held the Yankees scoreless over 14 innings this year and leads the AL in ERA (2.01).


But he insists that won't be on his mind when he takes the mound Thursday night.

"I don't think about that guy," the Yankee ace said. "I'm not pitching against him, I'm pitching against their lineup so I try to go out and just keep them off the board."

If recent history is any indication, Sabathia shouldn't have a problem keeping pace with Beckett on Thursday.

The big lefty has won his last four starts, throwing at least eight innings in each of them while compiling a 1.60 ERA.

"I think my offspeed pitches have been pretty good … (that's) what's really let me go deep into the game," Sabathia said.

Beckett has also been dominant of late, compiling a 2-1 record with a 1.50 ERA in his last seven starts.

In addition to his personal run of dominance over Sabathia, Beckett will be looking to help the Sox extend their winning streak at Yankee Stadium on Thursday.

Boston has won five straight in the Bronx. The last time the Sox won five straight road games against the Yankees to start the season was 1912, the year they won the World Series.

So Sabathia has a chance to stop that streak on Thursday night - and his personal skid against Beckett.

"We need a big start out of him," Joe Girardi said.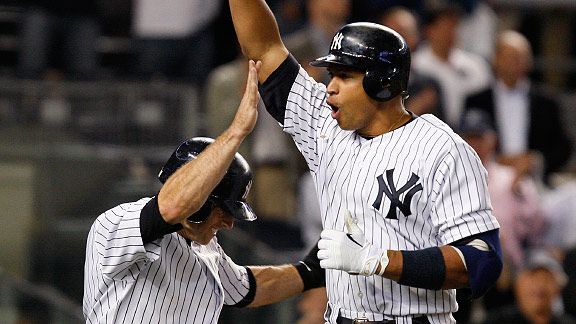 AP Photo/Kathy WillensAlex Rodriguez is looking for a little bit of hitting streak history this weekend against the Red Sox.
In the spirit of togetherness, with Yankeemetrics writer Katie Sharp on vacation this week, we fill in on the Yankees statistical beat with this set of notes (helped by
Baseball-Reference.com
). Before we review the week that was, let's look ahead to a few numerical angles of note heading into the weekend.
A-Rod on Track?
Alex Rodriguez
enters the weekend with hits in his last 16 games against the Red Sox. Only five Yankees have a longer hitting streak against the Red Sox in the Live Ball Era (since 1920) –
Joe DiMaggio
(33, 1937-1938),
Bob Meusel
(23, 1926-1928),
Lou Gehrig
(18, 1930-1931),
Gil McDougald
(18, 1952-1953), and
Derek Jeter
(18, 2007-2008).
Rodriguez's longest hit streak against an opponent is a 24-gamer against the Tigers from 2001 to 2004. His longest vs the Red Sox is 20 games, from 1996 to 1998.
A Potential Nemesis for Granderson
Curtis Granderson
has struck out 11 times in 24 career at-bats against
Josh Beckett
. That's two strikeouts shy of matching his most whiffs against any pitcher. He's fanned 13 times in the regular season against Mariners ace
Felix Hernandez
.
Granderson has whiffed in three of his last four at-bats against Beckett, but that's not as bad as his stretch from 2006 to 2008 when he fanned in six straight plate appearances against him.
Lester is More
Jon Lester
will be going for a little history on Sunday Night Baseball. Lester held the Yankees scoreless in his last two starts against them, going at least six innings in each. Only two pitchers since 1920 have had longer such streaks--
Britt Burns
(four straight, 1981-1982) and
Schoolboy Rowe
(three straight, all shutouts, 1934-1935).
Now for the week-in-review:
Friday, May 6-- 'Cary'ing The Load
Our obscure Yankeemetric reference of the week:
Ivan Nova
allowed just one run and two hits in seven innings. He's the first Yankee to pitch that well (two hits or fewer in seven-or-more-innings) in Texas against the Rangers since
Chuck Cary
allowed two hits in 8 2/3 innings in a 5-4 loss to the Rangers in 1989.
Saturday, May 7-- All Rhodes (eventually) Lead to Winning
Arthur Rhodes
got a rare win against the Yankees, improving to 5-9 against them. He'd lose on Sunday, reverting back to form by allowing two runs. Rhodes' ERA against the Yankees is now 7.52, worst among active pitchers with at least 30 innings against them.
Sunday, May 8-- Jeter in Elite Company
From Stats and Info teammate, Jason McCallum,
Derek Jeter
had four hits, two homers, three RBI and a stolen base. The only other player to do that in the majors in the last two seasons was Jeter's teammate,
Alex Rodriguez, who did it last season.
Tuesday, May 10-- Mariano Brings Royal Pain
The Elias Sports Bureau tipped us off that
Mariano Rivera
converted his 25th straight save chance against the Royals. That's impressive, but still eight save conversions shy of his best streak against an opponent, a run of 33 straight against the Rays from 1998 to 2005.
Wednesday, May 11-- What an Unusual Loss
A.J. Burnett
yielded only one hit in seven innings. It's the first time in the Live Ball Era (since 1920) that a Yankees starter allowed one hit in seven-or-more-innings at home, and the Yankees lost the game. The Yankees were previously 40-0 in regular season/postseason home games in which their starter performed as well as Burnett.
Curtis Granderson's
home run gave him 12, marking the 11th time in the Live Ball Era that a Yankees outfielder reached a dozen homers by the time of his teams 34th game. But the only other outfielders to do it for the Yankees are
Babe Ruth
(five times) and
Mickey Mantle
(once, in 1956).
This was the second time the Yankees allowed four hits in a HOME LOSS this season (also on April 15, a 5-3 loss to the Rangers). The last time they allowed four hits or fewer in two HOME LOSSES in the same season was 1982 (two losses in three days to Angels)
Since 1920, the Yankees have four home extra-inning losses in which they allowed four hits or fewer-- in 1958 (Orioles), 1964 (Twins), 2000 (Twins), and 2011 (Royals).
May 12-- No Whiff, No Win
The Royals won a series in Yankee Stadium for the first time since 1999 and did so in unusual fashion. The Yankees lost the game despite not striking out once.
The Yankees have now had three whiff-free losses in the last 25 seasons (ie: starting in 1987). The most recent was a 7-1 loss to the Tigers on June 19, 2001.
Since 2000, teams that don't strike out in a game are 100-49, so in two out of three instances, that should be a Yankees win. Instead, it's a loss that sends the team into a key series on a down note.
June, 21, 2010
6/21/10
6:24
PM ET
By
Mark Simon
| ESPNNewYork.com
Could tonight's Diamondbacks starter, Rodrigo Lopez, be the next pitcher to stymie the Yankees in the postseason?

Check out this funky stat: Lopez ranks as having the fifth-highest ERA against the Yankees, among the 177 pitchers whose careers have started in the last 50 years.

But check out the other names with whom Lopez has company. Three of the four others -- Josh Beckett, Derek Lowe , and Kenny Rogers -- all share the distinction of having shut the Yankees down in a noteworthy posteason performance (Beckett and Lowe for the Red Sox, Rogers for the Tigers).

So if Lopez gets traded to a contending team, the Yankees might want to be a little wary.
May, 7, 2010
5/07/10
10:12
PM ET
The Yankees seemingly could have every player on their team nicked up and still win every game.

At some point, it may hurt them more than just feeling, stiff, strained and bruised, but so far it has not. Will it now?

The biggest story of the post-game will be Robby Cano's knee. He took a 92-MPH Josh Beckett cutter off his left knee. It made a sound that could be heard throughout the stadium. Cano has been the Yankees' MVP so far.

Meanwhile, a player who certainly hasn't been the team's MVP, is Nick Johnson. Johnson is good at two things, it seems: walking and getting hurt. He did the latter on Friday night. He hurt his right wrist. This is not a new injury for Johnson.

Johnson, who has been on the DL nine times in his career, missed the entire 2000-year with a bad right wrist.

In other news, Phil Hughes is looking as if he is going from competing for fifth spot to a possible All-Star. The Yankees look so much better than the Red Sox. Of course, a year ago, the reverse was true and we know how that story ended.

Lastly, Joe West would love this game. Three hours and one-minute.