New York Yankees:

Josh Johnson
October, 28, 2013
10/28/13
10:00
AM ET
By
Mark Simon
| ESPNNewYork.com
AP Photo/The Canadian Press/Nathan DenetteDo you want this man pitching for the Yankees in 2014?
We all know Hal Steinbrenner has set a goal of cutting the Yankees' payroll to $189 million for 2014. Your duty as a Yankees fan is to make sure he doesn't achieve that goal, and our job at ESPNNewYork.com is to provide you with reasons to make sure he doesn't. Hey, it's Hal's money, not yours. With that in mind, we are going to examine potential free-agent and trade candidates in a feature we call, appropriately, "Spend Hal's Money."

Today's candidate:
Josh Johnson
Position:
Starting pitcher
Age:
Turns 30 on Jan. 31
Height:
6-foot-7
Weight:
250 pounds
2013 numbers:
2-8, 6.20 ERA in 16 starts with Blue Jays
Expected going rate:
Johnson made $13.75 million the past three seasons, but shouldn't get anything close to that this time around, considering the right-hander has been significantly hampered by injuries in two of the past three seasons.
Historically, oft-injured pitchers with a history of quality work (even if it's a distant history) get contracts with incentive packages, like the one the Mets gave
Shaun Marcum
last season ($4 million base).
Johnson's history rates better than Marcum's, so figure his base deal will be more than that. Fangraphs.com, which runs polls to project free-agent contracts (with a strong level of accuracy) had Johnson getting a two-year deal worth between $18.3 and $19.9 million.
The pros:
When Johnson is fully healthy, he is capable of being an ace, or something close to it.
In 2009 and 2010, he posted a 2.80 ERA and 3.5-to-1 strikeout-to-walk ratio in 61 starts.
Back then, his fastball clocked in at 95 mph and was impossible to hit for power against because he could locate it so well. Johnson's slider was also among the hardest in baseball (87 mph) over that two-year period.
Johnson is also not necessarily as bad as he looked in 2013. Though his ERA was 6.20, his strikeout-to-walk ratio and volume of fly balls allowed were more suggestive of a 3.58 ERA.
The cons:
Johnson has had a litany of injuries to his right arm that have limited him to an average of 19 starts per season over the past seven years, with three seasons in which he made fewer than 15 starts and another (2013) in which he only made 16.
In 2007, he had two separate disabled-list stints, then ended up undergoing Tommy John surgery. In 2011, he had right shoulder inflammation. In 2013, he had right-triceps inflammation and a strained forearm, then had an operation to remove a bone spur last month.
Johnson's average fastball was at 93 mph last season. Much like
CC Sabathia
, the lost velocity isn't something that would seem likely to come back.
The verdict:
Johnson is going to be one of the most intriguing free agents this winter because of the combination of tantalizing potential and legitimate risk. He probably makes the most sense for a team looking to go bargain-hunting.
The Yankees have enough resources that they don't need to invest in a pitcher of this nature. They can pursue pitchers with a bit more performance certainty.
Let someone else roll the dice on Johnson. Our call is to pass.
November, 14, 2012
11/14/12
11:09
AM ET
The blockbuster trade that will send
Jose Reyes
,
Josh Johnson
,
Mark Buehrle
and two other players to the
Toronto Blue Jays
for some talented, but unproven youngsters will have serious ramifications in the Bronx. Let's go through three of the reverberations.
[+] Enlarge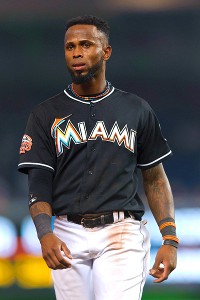 Steve Mitchell/US PresswireEx-Met Jose Reyes will return to New York ... when the Blue Jays visit the Yankees.
1. Alex Rodriguez, Yankees Lifer
The most conceivable place for the Yankees to rid themselves of Alex Rodriguez was always Miami. He is from there. He is loved there. Plus, at one point, it seemed as if that was the one place that A-Rod would waive his no-trade clause.
Now that is kaput. The idea we had earlier this offseason was to take on Reyes' and Buerhrle's contracts in a deal for A-Rod,
Ivan Nova
and
Eduardo Nunez
. If the Yankees packed in another $80 million in such a deal, maybe it could have happened. Probably not, but perhaps.
In recent weeks, we have heard rumblings that A-Rod would even decline a deal to Miami. Either way, it seems as if it is not an option anymore. Even if it were and the Marlins were interested, why would A-Rod even consider baseball's warm version of Siberia?
So it is pretty unimaginable that A-Rod will be dealt this offseason. He has five years and $114 million left on his deal.
2. Could the Yankees finish fourth in the AL East?
The day after, these huge trades are always won by the team that receives the bigger names. When the games are actually played, this is often not the case.
No one knows much about Jason Marisnick or Justin Nicolino. Even the scouts who compare them to this major leaguer or that one don't know if they will reach their potential.
But in 2013, the Jays would figure to be better. Reyes should be a triples machine in Toronto. Over the five guaranteed years left on his contract, I would be concerned about the Rogers Centre turf on his legs. But, if healthy, we all know he can be a difference-maker.
Where this deal really makes sense to me is with Johnson and Buehrle. They may have regressed as starters in recent years, and the AL East is a tougher animal than the NL East, but winning this tough division will likely have to do with depth. If the Jays are healthy, they could have some starting depth, which over 162 games is vital.
There is a long time between now and February. We don't even know who is going to be in pinstripes yet. The Yankees might win the division next year -- but with the Rays, O's and now the Jays, they could very well finish fourth. The Red Sox might get better, too.
It will not be an easy road.
3. How do the Yankees counter?
They don't. Yankees GM Brian Cashman won't make a move simply because another club does something. And Hal Steinbrenner won't change his philosophy on getting the payroll to $189 million.
So to those asking about
Josh Hamilton
or other long-term free-agent deals: The Yankees aren't doing that this year. Cashman is a stay-the-course GM. I believe he will surprise us all by the spring with a big trade, but he won't react specifically to what the Jays have done. It is not his style.