New York Yankees:

Justin Verlander
October, 15, 2012
10/15/12
4:34
PM ET
With the idea of shaking up the lineup going into Game 3 against Detroit Tigers ace
Justin Verlander
, Yankees GM Brian Cashman said that
Brett Gardner
could be a starting outfielder.
"He still might play a role in this thing," Cashman said on ESPN New York 98.7 FM's "The Michael Kay Show." "You could very well see Gardner in this big outfield that Detroit has. The way our offense is, it is a possibility. He deserves consideration considering what is going on right now."
Gardner could start in the outfield with
Nick Swisher
or
Curtis Granderson
or, in some arrangements, both sitting. Previously, Yankees manager Joe Girardi has said he is hesitant to play Gardner because he has only had three major league at-bats since April. Gardner missed most of the season with an elbow problem.
Gardner is 5-for-11 in his career against Verlander. Swisher is a .180 hitter (61 at-bats) against Verlander. Swisher has never been able to hit in the playoffs. Gardner could start in left with
Ichiro Suzuki
moving to right.
Girardi could also bench Granderson, putting the hot
Raul Ibanez
in right instead of at DH. This would allow
Eric Chavez
to DH. Chavez is a .360 hitter in 25 at-bats against Verlander.
"Does it mean we will make a change? It doesn't mean we will make a change," Cashman said. "Gardy is a tremendous, talented player, who can get on base, wreak havoc and play great defense. We'll see."
We will have a column up a little later, advising Girardi to sit Swisher and Granderson in Game 3.
April, 27, 2012
4/27/12
12:00
PM ET
By
Mark Simon, ESPN Stats & Information


Justin Verlander Matchups to Watch
Of the eight Yankees who have had at least 10 regular-season and postseason at-bats against Verlander, the only one with better than a .200 batting average against him is Derek Jeter (.364).

We'll get to Jeter in a moment, but one of the most interesting matchups in this game among those Verlander does well against, will be Verlander vs Nick Swisher.

Including postseason, Swisher is 2-for-his-last 31 against Verlander. He was 0-for-5 against Verlander in the 2011 regular season and then 0-for-4 against him in the playoffs.

Swisher put five balls in play against Verlander last season. The four that he hit in the air all shared a common bond-- lazy balls in the air along the third base or left field line.

The other Yankee against whom Verlander has a good history is Mark Teixeira (3-for-26 vs Verlander), though Teixeira had two hits, including an Opening Day home run against Verlander last season.

Ivan Nova Matchups to Watch
Nova will be trying to tie Roger Clemens' Yankees record for consecutive regular-season wins when he takes the mound on Friday. He's won his last 15 regular-season decisions, though he was charged with the loss in Game 5 of the 2011 ALDS against the Tigers in Yankee Stadium.

Nova has survived allowing 25 hits, including four home runs, in 19 innings this season, largely because of his 20 strikeouts and two walks. Opponents are 3-for-28 with nine strikeouts against Nova with runners in scoring position.

Nova's breaking ball has been particularly effective at getting hitters out in key situations. Seven of his nine strikeouts with runners in scoring position have come via the curveball or the slider. He has five strikeouts with those pitches in all other situations.

Jeter Watch
What's noteworthy about the Jeter-Verlander matchup is that Jeter doesn't get hits against Verlander the way he usually does. In the last three seasons, combining the regular season and postseason, Jeter has eight hits agaisnt the Tigers righty. All were to center field or left field.

Jeter enters the night with a 15-game hitting streak and a four-game multi-hit streak. The last time Jeter had that long a hitting streak was in 2009, when he had a 16-game hitting streak. The last time he had that long a multi-hit streak was last August, when he had a five-gamer.

Jeter has a .330 career batting average against the Tigers, but much of that was done earlier in his career. Over the last three regular seasons, he's just 16-for-81 (.198 batting average) against them.

The only two teams against whom he has a higher batting average are the Indians (.340) and the Angels (.333).

Well-Rested Setup Man
The Yankees will have a well-rested setup man for the Tigers series. David Robertson has only pitched once in the Yankees last five games, and didn't pitch at all in the series against the Rangers.

Robertson has pitched 7 2/3 scoreless innings against the Tigers, combining regular season and postseason work.
October, 6, 2011
10/06/11
6:03
PM ET
Tigers manager Jim Leyland absolutely ruled out an appearance by his ace, Justin Verlander, in tonight's Game 5, regardless of score or circumstances.

"It was not a hard decision for me,'' Leyland said during a most entertaining pre-game interview session. "One thing you have to remember, he went a little longer than CC (Sabathia) the other night. He was also throwing 100 miles an hour in the eighth inning. He's thrown a lot of pitches under stressful circumstances. Justin Verlander coming out of the bullpen tonight might make for a better story. But I don't think it's a common-sense thing to do long-term, to be honest with you.''

Just to make sure Verlander would not be available, Leyland had him throw a pre-game bullpen session of 56 pitches. His Yankees counterpart, Joe Girardi, held Sabathia back from his normal between-starts bullpen session so his ace woul dbe available tonight if necessary.

Said Leyland: "(Max) Scherzer is my Sabathia tonight. I think you're forgetting that Scherzer did a pretty good job against this team (on Sunday in Game 2), and he's rested better. That's just the way it is.''

By the way, the differences between the personalities of the two managers was obvious by the way they handled the same question. Told that Leyland had ruled Verlander out, a chuckling Girardi said, "I know what Jim said, but sometimes circumstances change. You get into a crazy game, he might be the last guy out there. I'm not saying Jim won't put him in there. But you get into an 18 inning game, you're not putting Wilson Betemit there, you know what I mean?''

Leyland, asked if he had considered decoying the Yankees by playing coy over Verlander's availability, said, "I don't play gamesmanship. There's no secrets here. I'm not pitching Justin Verlander tonight. I just don't think it makes sense.''
October, 6, 2011
10/06/11
5:56
PM ET
By
Ian Begley
| ESPNNewYork.com
Tigers manager Jim Leyland surprised many on Wednesday when he said staff ace and presumptive American League Cy Young winner Justin Verlander will not be available out of the bullpen for Game 5.

He explained his decision shortly before the first pitch of Game 5.

Said Leyland: "I don't think it's a wise decision. Like I said, those innings he pitched the other night, all the innings he's piled up this year, all the strikeouts, all the adrenaline, and the fact that he's throwing 100 miles an hour in the eighth inning [on Monday night], if he comes in this game tonight, there's no telling what he would be throwing with the way this crowd is going to be and everything. I just don't think it makes sense."

Verlander threw 120 pitches in eight innings in the Tigers' 5-4 win. He also tossed 25 in one inning on Friday night before the game was suspended due to rain.

Verlander has never pitched out of the bullpen in his career. Prior to his Game 3 start Monday following Friday's rainout, Verlander had never started a game on fewer than four days' rest.
October, 3, 2011
10/03/11
12:09
PM ET
By
Mark Simon, ESPN Stats & Information
CC Sabathia What2Watch4
Sabathia has made three starts in Comerica Park for the Yankees and he's lost all three games. Despite a 17-to-3 strikeout-to-walk rate, he allowed 14 runs in 21 innings in those three games.
Sabathia was great at Comerica Park early in his career winning his first six decisions there. But since then, he's just 1-5 with a 5.54 ERA
Justin Verlander What2Watch4
The primary advantage that comes in Comerica Park for Verlander is in how the ballpark minimizes his home runs allowed.
Verlander faced 462 batters at home in 2011 and allowed nine home runs, a rate of one for every 51 batters he faced.
On the road, Verlander faced 507 hitters and allowed 15 home runs, yielding one for every 33.8 batters faced.
In 32 2/3 career innings against the Yankees at home, Verlander has allowed just two home runs. The Yankees have countered that with the patient approach you saw in the first two innings of Game 1. In his last two starts against the Yankees at home, Verlander has walked eight in 12 2/3 innings.
Verlander tends to perform better against right-handed hitters in his home ballpark. This season, they are hitting .199 against him with a .222 on-base percentage, the latter 59 points lower than on the road.
Three for All
Comerica Park is one of the friendliest places in baseball for triples hitting. There were 44 triples hit in 81 games there, the third-most for any ballpark in the majors behind Coors Field (49) and Kauffman Stadium (49).
Austin Jackson
had the most of any Tigers player there with eight. Catcher
Alex Avila
ranked second with four. Jackson has done a great job at taking advantages of the ballpark configuration, among other things. His batting average on balls in play at home is .362, compared to .319 on the road.
Curtis Granderson
led the Yankees with 10 triples this season, followed by
Brett Gardner
(8) and
Robinson Cano
(7). Granderson hit 10 at Comerica Park for the Tigers in 2007.
The Yankees may need triples. In their last eight games at Comerica Park, they've managed only two home runs.
Jeter Watch
Derek Jeter
is a .250 career hitter at Comerica Park, though he went 4-for-13 there this season. That's the lowest batting average for Jeter at any of the current AL ballparks.
Weather2Watch4
Game-time temperature is supposed to be between 55 and 60 degrees, according to a check of Weather.com.
The Yankees did not fare well in those conditions this season, going 14-13, which we know thanks to neat recent additions made at
Baseball-Reference.com
. In fact, all three of their games in Detroit earlier this season were played in such temperatures. The Yankees lost all three. The Tigers were 19-16 in such conditions, 10-6 in their home ballpark.
September, 29, 2011
9/29/11
7:56
PM ET
CC Sabathia.

That's the message the Yankees are sending out as they head into Game 1 of the ALDS with all the talk revolving around Tigers ace Justin Verlander and his 24 wins.

"We got one of the best pitchers in the game out there for us and we love having him on the mound, we'll be behind him, he'll be ready to go," center fielder Curtis Granderson said. "You know you're going to get intensity, concentration, all the above and you couldn't ask for anybody better to go on the mound for us and he's done that for his first season here in 2009 and all of last year and through the course of this season."

While Verlander had one of the best statistical years of any pitcher in the last decade, Sabathia again led the Yankees with 19 wins and also was one of the best pitchers in the American League. In the playoffs, Sabathia has come up big for the Yankees with a 5-1 record. For as good as Verlander has been, Sabathia gives his team confidence that they can beat the potential MVP candidate in Game 1.

"He's our ace and we feel like we're going to win every game when he's on the mound," first baseman Mark Teixeira said. "At the very least he's going go give us a chance to win and that's all you can ask from your ace."

THE OTHER TIGERS MVP: Tigers first baseman Miguel Cabrera is the bat the Yankees are going to have to keep quiet if they want to advance to the ALCS. The Tigers other MVP candidate and the AL batting champ hit .343 with 30 home runs and 105 RBIs this season and has great numbers lifetime against Sabathia.

"When you think about him, you think about (Albert) Pujols, you think about Manny (Ramirez), you think about some of the real great hitters over the last century, he's really, really special," Yankees third baseman Alex Rodriguez said. "One of the things people probably don't give him enough credit for is what a smart hitter he is for being a young hitter. He understands all aspects of the game and I really have enjoyed watching him over his career, hopefully not too much over the next five to six days."

OPPOSITE TYPE: The two teams in this series both have great closers, although they go about it differently. Detroit's Jose Valverde went 49-for-49 for the most in the AL while doing it in a rather loud way, while New York's Mariano Rivera racked up 44 in his usual calm and composed manner.

"Aside from outcomes, they're pretty different people," former Yankees reliever and current Tigers starter Phil Coke said. "Valverde is very exuberant and Mo is very straight-laced, ready to go, does his job like he's got ice water running through his veins."

ROSTER: The Yankees will announce their roster Friday.
Don't forget about
September, 7, 2011
9/07/11
12:43
PM ET
In my chat on Tuesday, I received several comments complaining that
CC Sabathia
is being ignored in the Cy Young race. The main arguments for his case, compared to
Justin Verlander
's: CC has faced tougher competition and pitches in a bandbox. ESPN Insider Matt Meyers has a
piece up today

that brings up these same issues and Matt concludes his case by writing, "When put in the proper context, Sabathia has been every bit as good as, if not better than, Verlander this season."
It's a compelling argument ... but I'm going to gently disagree.
[+] Enlarge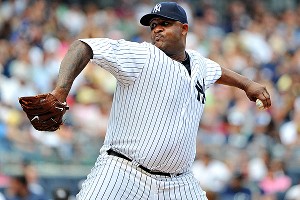 Christopher Pasatieri/Getty ImagesCC Sabathia has made more starts against the best competition than Justin Verlander has.
First off, the tougher competition argument makes some sense. Sabathia pitches in the AL East, he's faced the Red Sox five times; Verlander pitches in the AL Central and gets to beat up on the Twins and Royals and
Adam Dunn
. As Matt points out, Sabathia has made 13 starts against the top five offenses in the American League compared to Verlander's six. That may seem like a big difference, but there's another way to check this. Baseball Prospectus keeps tracks of the quality of opposition batters each pitcher has faced. Here's the aggregate batting line for each pitcher:
Sabathia: .265/.330/.424
Verlander: .263/.327/.412
So we're talking 15 points of OPS, which is notable by hardly sizable.
Now check out what each pitcher has allowed this season:
Sabathia: .249/.295/.353
Verlander: .192/.240/.310
Sabathia has allowed an
OPS
106 points lower than his aggregate average. Verlander has allowed an OPS 189 points lower.
There's also the matter of how Sabathia has pitched against those top offenses (Red Sox, Rangers, Tigers and Blue Jays): Not very good. In those 13 starts against the top offenses, he's posted a 5.03 ERA and allowed 97 hits in 87.2 innings. Verlander has made only six starts against those teams (plus the Yankees), but if we add in the Royals (who have scored only a few runs fewer than the Blue Jays), we get nine starts against the top offenses. In those nine games, Verlander has posted a 1.98 ERA with 40 hits allowed in 68.1 innings.
As for the ballpark, it's true that Yankee Stadium is a tougher park for pitchers than Comerica Park. However, keep in mind that Yankee Stadium helps left-handed batters much more than right-handed ones, due to the short porch. Sabathia, of course, faces far fewer lefties. Ballpark effects remain an imperfect science; each park is given an overall rating, but the "handedness" of each park isn't taken into account. (Fenway, for example, hurts left-handed pitchers more than right-handers.) So while you can argue that Sabathia is hurt by his home park, I'm not sure if that's completely accurate.
One final argument is that Verlander has been "lucky." As Matt points out, Verlander's .238 BABIP (batting average on balls in play) is the third-lowest in the AL this year and would be tied for seventh-lowest in the AL this century. Sabathia's BABIP, by comparison, is .314. Does this mean Sabathia has a worse defense behind him, or that his line drives are falling while Verlander's are being caught? I don't know if that's the case. FanGraphs rates the Yankees' defense as fifth-best in the majors and the Tigers 22nd. Baseball Info Solutions also ranks the Yankees' defense as slightly better.
I just have trouble downgrading Verlander's numbers based on the assumption that he's been "lucky." For example, Verlander has allowed 104 line drives this year. Opponents are batting .680 when they hit a line drive against him. Sabathia has allowed 124 line drives, with batters hitting .683. Sabathia has allowed a higher average on groundballs (.271 to .203). Is that because of
Derek Jeter
? But
Jhonny Peralta
is hardly Ozzie Smith, so are Verlander's ground balls just lucky enough to be hit at Peralta all the time? There are just too many variables there to conclude that Verlander has allowed fewer hits strictly due to luck.
Bring it all together, and I think the case remains clear: Verlander is the Cy Young front-runner.
March, 31, 2011
3/31/11
7:22
PM ET
When new Yankees catcher Russell Martin speaks about filling veteran Jorge Posada's shoes, he stresses being able to be a sound defensive catcher for the Yankees that can guide a pitching staff through the ups-and-downs of a long baseball season.

Apparently, he can also fill those shoes with speed rarely seen from Yankees catchers.

"While my legs are fresh early in the season, I try and get my bases there," Martin said. "September is a little harder but my legs feel good right now and I'm recovered from that hip and that knee incident I had and I feel good."

In his first game taking over for Posada as the Yankees starting catcher, Martin showed some wheels on the bases as helped guide the Bombers to a 6-3 win over the Tigers. Martin finished 1-for-3 while stealing third base and also beating a throw home on a sacrifice fly, in addition to calling a strong game that limited the Tigers offense to just three runs.

"I think it's more for the fans so the fans don't really get on me," Martin said about getting off to a fast start. "My main thing is to be here for the pitchers and make sure they're getting the best out of their potential. Jorge has done that well for a long time."

For the first time since 1999, Posada, one of the greatest offensive catchers in baseball history, didn't start behind the plate, with Martin taking over the duties after signing a one-year deal with the team in the offseason. Posada has now taken over as the team's full-time designated hitter.

As good a catcher as Posada has been, speed has never been part of his game, with just 20 stolen bases in his first 16 seasons in the majors. Thursday, Martin showed that he can nab a base here and there and isn't afraid to challenge outfielders.

After leading off the third inning with a single to left field in his first at-bat with the Yankees, Martin later stole third base to put runners on first and third with one out. Martin said he had the green light to steal and saw Detroit pitcher Justin Verlander execute two inside moves in a row. Knowing that Verlander does not have the quickest delivery to the plate, Martin took off for third, beating the throw.

Mark Teixeira hit a three-run home run on the next pitch to give the Yankees a 3-0 lead.

In the seventh, with the Yankees nursing a 4-3 lead, Martin successfully tagged on a shallow sacrifice fly to center field by Derek Jeter to give the Yankees a two-run cushion.

"It's a situation where you have to be aggressive at that point in the game," Martin said. "Rob [Thomson], our third base coach, told me to go and I tried to throw on the burners and I got in there."

When Martin didn't wreak havoc on the bases, he successfully helped his pitchers navigate a tough Tigers lineup. The Tigers managed just six hits on the day and did not get a hit in the final three innings against the Yankees' improved bullpen

"I thought it was great," starting pitcher CC Sabathia said. "We had a lot of communication during spring training and I think I shook him off one time. So our chemistry is pretty good."

While the frigid weather made for tough conditions during the game -- especially for Martin, who spent the first five years in the big leagues in Los Angeles -- the Yankees newest catcher couldn't stop smiling after a successful debut.

"The main thing on my mind was I wanted to get a win and that's pretty much my mindset every time I go out there," Martin said. "Obviously Opening Day there is going to be some jitters but after you get the first three outs in the first inning, everything settles down and you realize it's just baseball."