New York Yankees:

Los Angeles Angels
May, 5, 2014
May 5
1:56
PM ET
By
Katie Sharp & Mark Simon, ESPN Stats & Information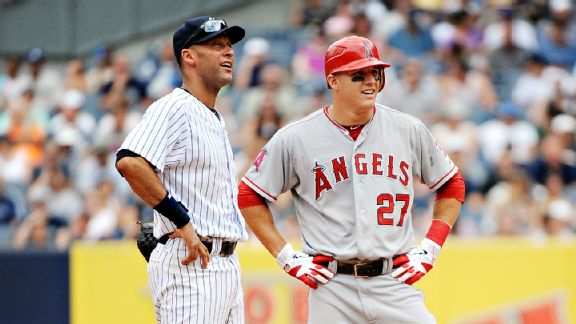 AP Photo/Tomasso DeRosaDerek Jeter gives some advice to Angels' outfielder Mike Trout.
All season we'll be tracking Derek Jeter as he prepares to play in his final series against each team. First up on the list is the Los Angeles Angels. The Yankees start a three-game series with the Angels on Monday.
BY THE NUMBERS
Jeter's regular season career vs. Angels
.331 BA/.405 OBP/.473 SLG
656 AB
217 Hits
17 HR
85 RBI
109 Runs
DID YOU KNOW?
• Jeter's first-ever hit and RBI at Yankee Stadium came off Shawn Boskie on June 3, 1995, in a 4-2 loss to the Angels. Jeter would eventually pass Lou Gehrig in 2008 for the most hits at the old Yankee Stadium.
• He has a career .405 OBP vs. the Angels, his highest OBP vs any AL team.
• In 1999, Jeter hit .474 in 38 at-bats against the Angels. The only Yankees player to have a higher batting average against them in a season (minimum 35 AB) is Don Mattingly in 1989 (.490).
• Jeter is one of two players with two separate hit streaks of at least 15 games vs the Angels. The other is his former teammate, Bernie Williams.
• The Captain has nine sacrifice hits against the Angels, tied with
Oakland Athletics
and
Toronto Blue Jays
for his most vs any team.
• His .335 career batting average at Angel Stadium is the highest by any player at the ballpark with at least 250 plate appearances.
• The Yankees are 78-86 all-time against the Angels in the regular season when Jeter plays, his worst record vs any AL team.
• Jeter's 1.038 OPS in 15 postseason games vs Angels is his highest vs. any team he's faced in more than one postseason series.
• His six postseason home runs, 22 postseason hits and 15 postseason runs vs. the Angels are all his most vs. any team in the postseason.
• Jeter also has the most postseason homers (6), hits (22) and runs scored (15) vs. the Angels of any major-league player.
THEY SAID IT
"He has played the game the right way since Day 1. A true ambassador of the game and the ultimate leader. His legacy will live on because he touched so many people. I looked up to him and am honored to have played against him."
-- Angels outfielder Mike Trout
JETER'S BEST
• June 3, 1995: The Yankees lost to the Angels, 4-2, but in the game a young shortstop named Derek Jeter recorded his first-ever hit at Yankee Stadium. Jeter lined an RBI double off Shawn Boskie down the left-field line in the fourth inning to give the Yankees a brief 2-1 lead.
• June 4, 1995: The day after his first hit at Yankee Stadium, Jeter played in his first win (the Yankees lost his first five games), an 11-3 victory over the Angels. Jeter was 2 for 4 with three RBIs that day. Yet the story in the next day's papers was of how Tony Fernandez could be returning soon, necessitating Jeter's return to the minors (he would be sent down a week later).
• August 26-27, 1998: Yankees win back-to-back games vs. the Angels in walk-off fashion and Jeter is a key part of each win. On August 26 in the second game of a doubleheader, Jeter has the game-winning hit on a full count with 2 outs in the bottom of the ninth inning. The next day, he draws a leadoff walk in the bottom of the 11th inning, and eventually scores the winning run on a Bernie Williams walk-off double.
• July 31, 2005: Jeter had 4 hits, including a game-tying single in the bottom of the eighth which capped a 4-run rally in that inning. The Yankees would eventually beat the Angels in the 11th inning on a Tony Womack walk-off single.
April, 27, 2014
Apr 27
4:44
PM ET
NEW YORK --
Derek Jeter
is back at short for
Masahiro Tanaka
's start. Here is the rest of your Sunday lineup with
Brett Gardner
getting the night off after being drilled on the foot Saturday.
Jacoby Ellsbury
, CF
Derek Jeter, SS
Carlos Beltran
, RF
Brian McCann
, C
Alfonso Soriano
, DH
Mark Teixeira
, 1B
Kelly Johnson
, 3B
Yangervis Solarte
, 2B
Ichiro Suzuki
, LF
Masahiro Tanaka, P
August, 15, 2013
8/15/13
5:06
PM ET
NEW YORK --
Phil Hughes
' nightmare of a season continues, the Yankees couldn't take advantage of a not-so-sharp
C.J. Wilson
and
Boone Logan
gave up a grand slam late on Thursday afternoon at Yankee Stadium.
What it means:
The Yankees failed to finish off a four-game sweep of the Angels, but still took three of four and went 5-2 on this homestand. The Yanks are now 62-58 -- in fourth place in the American League East, nine games behind the first-place Red Sox, and 5½ games out in the wild-card race.


The Angels, who improve to 54-66, are in fourth place in the AL West, 15½ games behind the Rangers.
Groundhog day:
Hughes pitching at Yankee Stadium is not a recipe for success. Entering Thursday's game, he was 1-8 in the Bronx this season with a 6.18 ERA.
Just eight minutes after Hughes fired the first pitch of the day, the Yankees were trailing.
J.B. Shuck
led off the game with a single, stole second base and scored on a
Josh Hamilton
single.
Hughes gave up two more runs in the fourth inning.
Erick Aybar
led off with a double and scored on a
Hank Conger
sacrifice fly, and then
Chris Nelson
blasted a 94 mph fastball into the Yankees' bullpen, making the score 3-1.
Hughes went six innings, giving up three runs on six hits -- that actually qualifies as a good outing for him, especially considering the location. Nevertheless, he fell to 4-12 on the season with a 4.98 ERA. He hasn't won a game since July 2.
Missed opportunities:
The good news is, the Yankees pounded out 15 more hits Thursday. The bad news is, they did very little with them.
The Yanks tied the game 1-1 in the third inning, when
Brett Gardner
smacked a one-out triple and scored on an
Alfonso Soriano
single (his 14th RBI in a three-day span). But later that inning, with the bases loaded and one out,
Vernon Wells
grounded into a 5-4-3 double play.
The Yankees had runners on base in every inning, with multiple runners aboard in the second and fourth. But they failed to drive any more home until the ninth, when they were down big.
Soriano continued his torrid stretch -- he went 4-for-5 (all singles) and is now 10-for-14 in the past three games.
Robinson Cano
had three hits, and
Alex Rodriguez
and
Eduardo Nunez
had two apiece.
Cano drove in the Yankees' second run, in the bottom of the ninth, with a single after a Gardner walk and Soriano single. Then Wells drove Soriano and Cano home with a two-out double.
The biggest blow:
After
Shawn Kelley
gave up a leadoff double to
Mike Trout
in the top of the eighth, Joe Girardi called upon lefty Boone Logan to face Hamilton. Logan struck out Hamilton and retired Aybar, as well, but then walked
Mark Trumbo
(intentionally) and Conger (unintentionally). Next up was Nelson, who drove the second pitch he saw from Logan, an 81 mph slider, into the left-field seats for a grand slam, making the score 7-1.
For Nelson, who played in nine games for the Yankees in May, it was his first career grand slam and first career multihomer game.
In mop-up duty,
Joba Chamberlain
surrendered one more run, on a
Grant Green
double and a Shuck single.
What's next:
The Yanks are headed to Boston for a three-game series against the Sox, starting Friday night.
Andy Pettitte
(7-9, 4.62) will pitch for New York, opposed by fellow lefty
Felix Doubront
(8-5, 3.66), with first pitch scheduled for 7:10.
August, 15, 2013
8/15/13
11:15
AM ET
NEW YORK -- Here is the Yankees' lineup for Thursday afternoon's series finale against the Angels. It's a day game after a night game, but
Alex Rodriguez
is back in there -- "He said he feels good," manager Joe Girardi said. First pitch is scheduled for 1:05 p.m.:


Brett Gardner
, CF
Alfonso Soriano
, LF
Robinson Cano
, 2B
Alex Rodriguez
, 3B
Vernon Wells
, RF
Curtis Granderson
, DH
Eduardo Nunez
, SS
Lyle Overbay
, 1B
Austin Romine
, C
Phil Hughes
, RHP
August, 12, 2013
8/12/13
11:49
PM ET
NEW YORK -- One by one, the Yankees all fawned over
Hiroki Kuroda
's stretch of masterpieces, punctuated by Monday night's dominant performance versus the Angels.
Reliever
David Robertson
called this stretch amazing. Outfielder
Curtis Granderson
described Kuroda's recent efforts as excellent. Manager Joe Girardi even joined the party.
[+] Enlarge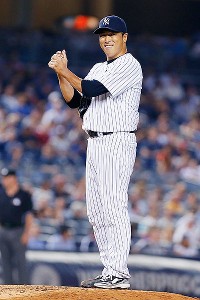 Mike Stobe/Getty ImagesHiroki Kuroda pitched eight shutout innings on Monday.
"He has been brilliant," Girardi said.
Kuroda has given his peers good reason to gush about his recent outings as his eight scoreless innings of three-hit ball powered the Yankees to a
2-1 win over the Angels
on Monday night at Yankee Stadium.
The 38-year-old veteran leads MLB with nine scoreless outings this season, including five in his past seven games.
"Every time he takes the ball it seems like he gives you seven, eight innings. He's exceptional out there," Robertson said. "His two-seamer was working out there, his splitter, his slider. Everything he threw was baffling their hitters tonight.
"He seems to be doing that the last couple of weeks and the whole season."
Kuroda has been magnificent all season, but he's been particularly great since July. Dating back to July 7 against Baltimore, he's now thrown scoreless games against the Angels, Orioles, Twins, Rangers and Dodgers and hasn't allowed more than three runs in those seven starts. He's yielded just five runs over his past 48 innings, pitching to a 0.94 ERA while going 4-1.
Monday, Kuroda dominated the Angels, limiting them to just four baserunners in eight innings. After surrendering a leadoff double to
Josh Hamilton
in the second, he didn't allow another hit until 17 batters later, when
Mike Trout
beat out an infield single to shortstop in the seventh.
The Angels never advanced a runner to third base against him and were 0-for-6 against him with runners in scoring position. On Kuroda's final pitch, the 107th he threw, he retired
Hank Conger
to end the eighth with a runner on second and the Yankees ahead 2-0.
Kuroda struck out seven batters, walked just one and has not allowed a homer in his past 51 innings, which is a career-high stretch, according to Elias.
"With the close games I wanted to avoid big home runs," Kuroda said through an interpreter after improving to 11-7. "I was able to keep the ball down."
With his recent stretch of scoreless starts, Kuroda leads MLB with 14 games of at least seven scoreless innings over the past two seasons. He's thrown those 14 scoreless games in just 57 starts with the Yankees, averaging one scoreless performance nearly every four starts.
Kuroda, who lowered his ERA to 2.33, said he doesn't feel any different during this stretch but acknowledged the improved results. Kuroda, normally reserved, even joked about the secret to this blistering stretch that has him throwing as well as anyone in baseball.
"I wish I knew the answer to that," Kuroda said with a laugh. "Hopefully, someone will teach me what it is that's working."
August, 12, 2013
8/12/13
10:06
PM ET
NEW YORK -- Where would the Yankees be without
Hiroki Kuroda
?
Kuroda continued his blistering stretch by dominating the
Los Angeles Angels
in the Yankees' 2-1 win Monday night at Yankee Stadium. Kuroda threw eight scoreless innings and gave up just three hits while striking out seven.
Kuroda the Hiro:
Kuroda turned in another brilliant start against the Angels and has now held opponents scoreless in five of his past seven outings. Kuroda has surrendered just five earned runs over his past 48 innings; he's 4-1 during that stretch. He allowed only four Angels to reach base, and they were 0-for-6 with runners in scoring position against him. He improved to 11-7.
No Mo:
Mariano Rivera
has blown his past three save chances and did not enter in the ninth inning Monday after throwing 23 pitches on Sunday. The fans chanted "We want Mo!" throughout the inning.
David Robertson
, Rivera's heir apparent, closed out the game, but not without some issues. The Angels loaded the bases with one out, but he retired
Mark Trumbo
and
Chris Nelson
.
Love-hate relationship:
More hate than love for
Alex Rodriguez
on Monday. While there was a mixture of cheers and boos once again for the third baseman, who went 1-for-3, Rodriguez was heavily booed after hitting into consecutive double plays. Rodriguez singled in his first at-bat, and, shortly after, in a moment of comedy, he stopped running to second on a stolen-base attempt when he realized he was toast. Rodriguez attempted to elude shortstop
Erick Aybar
but couldn't.
Granderson owns this guy:
Curtis Granderson
hit a solo shot in the seventh to make it 2-0 and now has three career homers off Angels starter
Garrett Richards
. He's 4-for-6 in his career against Richards. It marked Granderson's third homer of the season and just his fifth RBI. He batted 2-for-3.
Carrying the team:
Brett Gardner
, who finished 1-for-4, continued to be a run-producing machine when he drove in the team's first run in the third inning to put the Yankees up 1-0. Gardner had the walk-off single on Friday night and blasted a walk-off homer on Sunday against the Tigers.
Up next:
CC Sabathia
(9-10, 4.73 ERA) will try to win for the first time since July 3 when he opposes
Jason Vargas
(6-4, 3.65) at 7:05 p.m on Tuesday.
March, 26, 2013
3/26/13
1:57
PM ET
Vernon Wells
has a locker in the Yankees' clubhouse in Tampa, Fla. He has a number, 56, and is listed in the batting-practice group for Tuesday afternoon.
He will bat sixth and play left field versus the Astros; game time is 7 p.m.
So it looks like the deal with the Angels is complete.
More details to come after Wells speaks to the media.
May, 30, 2012
5/30/12
12:13
PM ET
By
Mark Simon, ESPN Stats & Information
Ivan Nova Stats To Watch
With one more home run allowed,
Ivan Nova
will match his total of 13 from last season.
Nova has gotten hurt more this year by the pitches he's left over the middle of the plate. In his past three starts, he's allowed eight hits and two home runs on pitches that our pitch system classified as middle-middle.
The typical major league pitcher allows a .330 batting average on such pitches, but Nova's opponents are an astounding 20-for-37 (.541) against him in 2012.
What is the best means for Nova to get out red-hot Angels left fielder
Mike Trout
?
One of Trout's few susceptibilities is an inside fastball. If you can jam him in, you can get him out.
Trout is 2-for-15 this season in at-bats that ended with a fastball inside and off the plate. But if you leave the ball over the plate, you could get in trouble. He's 5-for-15 against pitches that are over the inner-third.
Ervin Santana Stats To Watch
Ervin Santana
is giving up home runs at a ridiculous rate, which is the primary reason he has a 4.45 ERA this season. In 64-2/3 innings, he's already yielded 13 homers, more than halfway to last season's total of 24.
However, much of that came in his first four starts. He had a 2.25 ERA in his next five starts before a blip in his last outing, in which he allowed four runs in five innings in Seattle.
Yankees hitters have the ability to hit the long ball against Santana. They've done so many times before.
Those currently on the roster
have 24 home runs in 331 regular season/playoff at-bats against Santana.
Derek Jeter
,
Robinson Cano
,
Curtis Granderson
and
Alex Rodriguez
each have four.
Loaded for Bare
The Yankees are hitless in their last 20 bases-loaded plate appearances, though they do have two walks, a hit by pitch, and a pair of sacrifice flies in that stretch.
They also haven't had a bases-loaded, two-out hit since an A-Rod infield single on April 29.
The Yankees are hitting .151 for the season with the bases loaded.
Trumbo Trouble
Angels utility man
Mark Trumbo
is 6-for-14 against the Yankees this season, and a new approach may have something to do with that.
Last season, Trumbo was prone to the pitch in the upper-third of the strike zone and above, but as an article from our friends at
Fangraphs
showed, he's laying off that pitch more often now.
Last season, the Yankees worked Trumbo up 34 times, got him to swing 19 times, and got him out six of the nine times his plate appearance ended with a pitch to that area.
This season, the Yankees have thrown him 16 pitches to that area. He's only swung at six of them. The results? Two hits, two walks, and no outs.
Cano Conundrum
Cano is 1-for-13 in his past three games. Opponents have been attacking him in a weak spot, throwing pitches to the outer-third and further away at a 75 percent clip.
Cano is 1-for-his-last-14 in at-bats that ended with a pitch to that area. Four of his five outs Tuesday came on pitches away.
December, 8, 2011
12/08/11
11:38
AM ET
Early in the process, Albert Pujols' agent reached out to Brian Cashman to see if the Yankees had any room for his client. Cashman politely told Dan Lozano the Yankees did not.

Still, upon hearing that Pujols had agreed to a 10-year, $250 million contract with the Angels, Cashman's reaction was probably similar to yours.

"I just said, 'Wow,'" Cashman said.

While discussing Pujols' new deal, Cashman gave Jesus Montero, the Yankees' DH/backup catcher, one of the highest compliments. He said Pujols' production is "Montero-like." He didn't seem to be kidding around.

"He is obviously one of the greatest who has played," Cashman said of Pujols. "He makes everyone significantly better. If he played for anybody, he would make them all significantly better. I don't know him personally, but I see what he does with that and it is Montero-like.

"I always try to somehow promote the Yankees," Cashman added.

Cashman said he knew the Yankees would never be players for Pujols because the timing wasn't right.

"They touched based with me, but I said, 'No,'" Cashman said. "I gave a nice respectful no. We have made our commitments. ... Even though you could say he could fit on anybody's club, realistically, our money is spent in those directions. How do you add that with our commitments? How do you add that? You just can't. It is not feasible.

"They just checked in. ... But even Dan Lozano recognized [Mark] Teixeira, Alex Rodriguez, Montero. There is no vacancy here."

When asked if a talent like Pujols coming to the American League can impact how the way the Yankees do business this winter, Cashman again said no.

"I think we showed last year after we didn't get Cliff Lee and Boston did everything they did," Cashman said. "There is not more of a tempest situation created than that. It was like, 'Look what Boston is doing,' and we stayed firm and we didn't overreact.

"I remember back in the day, we ended up with Danny Tartabull because the Mets signed Bobby Bonilla. I didn't really work out that well for us so I don't want to do reactionary stuff."