New York Yankees:

Los Angeles Dodgers
July, 30, 2013
7/30/13
10:00
AM ET
By
Mark Simon & Katie Sharp
| ESPNNewYork.com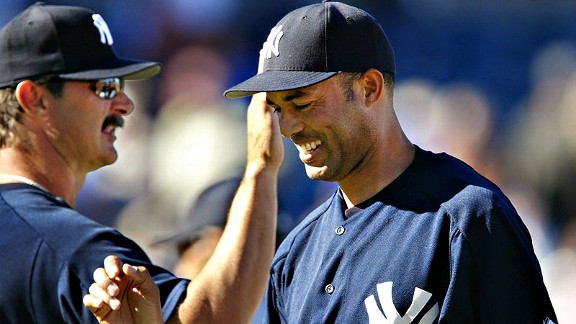 AP Photo/Kathy Willens
Mariano Rivera gets kudos from Don Mattingly after a spring training win in 2005.
For the remainder of the 2013 season, we will look ahead to Mariano Rivera's matchups against teams he will be facing for the final time in the regular season.

In this case, we'll look not only at Rivera's career against the Dodgers, but the Diamondbacks (the one team we skipped in writing this series) and a few teams he won't see this season (barring a World Series appearance).
By the Numbers
Rivera's career vs the Dodgers
4 appearances
1-0 win-loss record
5 innings
2 hits
0.00 ERA
2 saves
Did You Know?
• Rivera's nine strikeouts against the Dodgers are tied for his most against any team against which he has not issued a walk (matching his total against the Astros).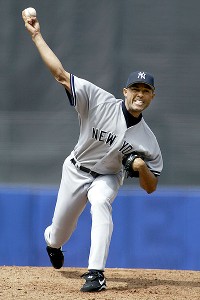 Rob Leiter/MLB/Getty Images
Mariano Rivera delivering a pitch against the Dodger Stadium backdrop
• The five scoreless innings vs. the Dodgers are just one shy of the team against which he has the most regular-season innings pitched without allowing a run, the Diamondbacks.
• Speaking of the Diamondbacks, Rivera has five regular-season appearances against Arizona, all of which came after the 2001 World Series, with four saves and a win.
One of the most impressive escapes of Rivera's career came against the Diamondbacks on June 23, 2010. The Diamondbacks loaded the bases with nobody out against him in the 10th inning, trailing by a run, but Rivera retired
Chris Young
,
Adam LaRoche
and
Mark Reynolds
on two popups and a strikeout to end the game and a 6-5 Yankees win.
• Rivera lost to the Mets already this season, but won't face the
Atlanta Braves
,
Miami Marlins
,
Philadelphia Phillies
or
Washington Nationals
in the regular season.
• Rivera allowed four runs to the Braves on July 16, 1999. They are the most runs he allowed in an interleague game. In his 16 other appearances against the Braves (including postseason), Rivera not only allowed only one run in 20 1/3 innings, he allowed none of the 11 runners he inherited to score. Four of Rivera's nine saves against NL teams that took fewer than 10 pitches came against the Braves (two in 1998, one in 2001, one in 2009)
Rivera made 13 appearances against the Phillies (including postseason) and allowed them to score only once (two runs in a game in 2000). In the other 12 games, he pitched 15 scoreless innings.
Rivera made 10 appearances against the Marlins, including postseason, and allowed them to score only once, two runs in a 6-5 loss on June 15, 1997. In the other nine games, he pitched 11 scoreless innings, though he did allow one inherited runner to score.
• The Nationals are the team in that quartet with whom Rivera had the most trouble. The Nationals and Mets are the only two NL teams that Rivera has lost to twice.
They Said It
"I was retired watching him and it was kind of like, 'Wow, this guy, nobody touches him.' I'd like to say I knew [he'd be great], but I didn't. I just didn't. Everything he does, he handles himself well. I think he's great the way he handles himself, and he's just a genuine person. I think he's a great ambassador for the game."
-- Dodgers manager Don Mattingly
Magic Moments
Rivera's most impressive save against the Dodgers came on June 25, 2010, when he struck out
Manny Ramirez
,
Matt Kemp
and
James Loney
on 13 pitches in the ninth inning to preserve a 2-1 Yankees win.
June, 19, 2013
6/19/13
4:36
PM ET
NEW YORK -- The Yankees, who suffered through a five-game losing skid on the West Coast, are now on a modest two-game win streak -- at the expense of both Los Angeles franchises -- after beating the Dodgers 6-4 at Yankee Stadium in the first game of a day-night doubleheader.
What it means:
That the Dodgers' return to the Bronx after a 32-year absence was not quite as pleasant as the last time they were here, celebrating the end of the 1981 World Series.
Good enough:
Hiroki Kuroda
got hit hard, allowing eight hits and several loud outs, but left the game in the seventh inning having allowed just two runs, helped in part by his own defense (see below). Kuroda improved his record to 7-5. His ERA stays at 2.78.
Ichi-bomb:
Ichiro Suzuki
's third homer of the year, a line drive just inside the right-field foul pole, gave the Yankees a 3-0 lead in the sixth.
Ichi-tap:
An inning later, Ichiro reached out and tapped a
Paco Rodriguez
offering just onto the grass in short left, scoring two runs to extend the Yankees' lead to 6-2. His three RBIs were one more than he had had in the previous 18 days of June.
Ichi-leap:
To cap off his big day, Ichiro made a leaping catch up against the right-field wall on
Adrian Gonzalez
's eighth-inning drive.
Lyle Overhead:
Lyle Overbay
's second-inning double, blasted over the head of Dodgers center fielder
Andre Ethier
, scored
Thomas Neal
and Ichiro (singles) to give the Yankees a 2-0 lead.
Comedy of errors:
Dodgers reliever
Ronald Belisario
provided some belly laughs in the seventh, committing two errors on one play that should have been an easy out. First, with runners on first and second and one out, Belisario misplayed
Vernon Wells
' soft pop fly back to the mound. Then, after hesitating, Belisario decided to throw to second for the force out -- and fired into center field, allowing the Yankees' fourth run to score and earning Belisario a rare two E's on one play.
Look what I found:
Kuroda and the Yankees got a lucky break when, after the Dodgers got runners to second and third on a hard-hit single by Gonzalez and a double by
Hanley Ramirez
, Ethier lined one back through the box that Kuroda was able to snag and fire to third for a crucial double play.
Juan Uribe
grounded out to end the inning and the Yankees escaped without allowing a run.
There is a K in Kelley:
A lot of them, in fact.
Shawn Kelley
, the pitcher with the highest strikeout ratio on the team, got a big one to end the seventh inning, blowing a 92 mph fastball on the corner past
Nick Punto
with Dodgers at first and second and the Yankees clinging to a 3-2 lead. Kelley now has 41 K's in 26 2/3 innings.
Wild man:
Called in to bail out
Preston Claiborne
in the eighth,
David Robertson
walked the first two hitters he faced before getting
Skip Schumaker
to foul out and
A.J. Ellis
to force out to end the inning.
Bronx cheers:
Dodgers manager Don Mattingly was treated like a returning hero by the sparse Game 1 crowd, his name being cheered in pregame intros and during a video tribute shown between innings. He also received that highest of compliments, a roll call from the Bleacher Creatures, who did the same for
Nick Swisher
on his return as a Cleveland Indian earlier this month.
Impact player:
Sensational rookie
Yasiel Puig
, who got the second-loudest Dodgers ovation after Mattingly's, scorched the ball in each of his first two at-bats, singling but getting thrown out when he ill-advisedly tried to stretch against
Brett Gardner
's throwing arm, and lining out deep to center to end the third inning. In the eighth, Puig successfully stretched another single, barely beating Gardner's throw to second. Even striking out for the last out of the game against
Mariano Rivera
(save No. 25), Puig was the most exciting player on the field all day.
Manly Ramirez:
Ramirez was 4-for-4, including a rocket of a two-run HR off Claiborne that cut the Yankees' lead to 6-4 in the eighth. Ramirez missed 52 games with a thumb injury suffered in the WBC and a hamstring strain suffered after he came back, but is hitting .343 with two homers and 12 RBIs in the 13 games he has played.
Dem Bums:
The Dodgers lived up to their advance billing, committing four errors and blowing several good scoring chances
What's next:
Game 2 in about three hours,
Phil Hughes
(3-5, 4.89) vs.
Chris Capuano
.
June, 19, 2013
6/19/13
10:11
AM ET
NEW YORK -- Here is the lineup for the first game of the Yankees' doubleheader against the
Los Angeles Dodgers
:
Yankees
Brett Gardner
, cf
Jayson Nix
, ss
Robinson Cano
, 2b
Vernon Wells
, lf
Thomas Neal
, dh
Ichiro Suzuki
, rf
David Adams
, 3b
Lyle Overbay
, 1b
Chris Stewart
, c
Hiroki Kuroda
, rhp
Dodgers
Nick Punto
, ss
Yasiel Puig
, rf
Adrian Gonzalez
, 1b
Hanley Ramirez
, dh
Andre Ethier
, cf
Juan Uribe
, 3b
Skip Schumaker
, 2b
A.J. Ellis
, c
Alex Castellanos
, lf
Hyun-Jin Ryu
, lhp
June, 18, 2013
6/18/13
3:40
PM ET
Tuesday's Yankees lineup
Brett Gardner
, CF
Jayson Nix
, SS
Robinson Cano
, 2B
Vernon Wells
, LF
Thomas Neal
, DH
Ichiro Suzuki
, RF
David Adams
, 3B
Lyle Overbay
, 1B
Chris Stewart
, C
Phil Hughes
, P
June, 18, 2013
6/18/13
11:00
AM ET
By
Mark Simon
| ESPNNewYork.com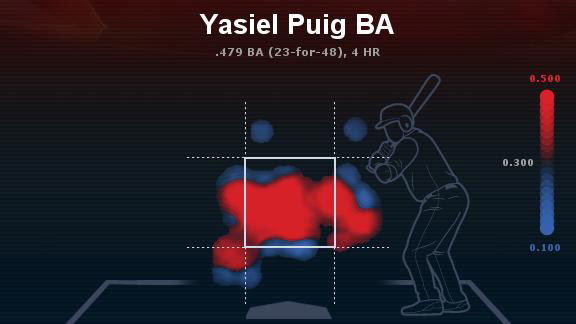 Yasiel Puig will be a big challenge for the Yankees this series.
A look at a few of the many statistical storylines for tonight's matchup between the Dodgers and Yankees in the Bronx.
The Dodgers finally come to New York
This will be the Dodgers' first regular-season game in New York after a pair of interleague series in Los Angeles, in which the teams split six games.
Their most recent meeting was June 27, 2010, a game in which the Yankees rallied from four runs down in the ninth inning against Dodgers closer Jonathon Broxton, then won in the 10th inning on Robinson Cano's two-run homer.
The Dodgers are currently dealing with some significant issues closing games, among their many woes this season. Their 15 blown saves are the most in the majors and they recently moved
Brandon League
out of the closer role in favor of
Kenley Jansen
.
The teams have a long and storied postseason history. The most memorable moments from that rivalry are listed in the chart on the right.
Phil Hughes stats to watch
The Yankees have lost Phil Hughes' last two home starts (12-2 to the Mariners and 11-1 to the Red Sox). Hughes has made six home starts this season -- three have been really good and three have been awful, matching the inconsistency he's shown this season.
Hughes had a weird quirk in his last start: He walked five batters, four of them on full counts. Hughes may have been overthrowing. He threw 29 pitches to the top of the strike zone or above and missed up and in, up and away, or over the top of the zone on 19 of them. That's an area where Hughes typically gets strikes two-thirds of the time.
Hyun-Jin Ryu stats to watch
Ryu is another impressive Dodgers rookie, though in a more modest way than Puig. He is 3-0 with a 1.94 ERA in his last six starts, in which he's only allowed two home runs.
Ryu is a pitcher with reverse platoon splits, meaning he actually fares better against right-handed hitters than left-handed hitters. He succeeds with four pitches, throwing his fastball to righties about half the time, mixing in very effective changeups and sliders, and a curveball.
Righties are hitting .177 with a .485 OPS against him in this six-start stretch, with lefties at .385 and .878.
That bodes alright for
Brett Gardner
and
Ichiro Suzuki
, both of whom have good numbers against left-handed pitching in the first two months.
Perhaps it also bodes well for
Robinson Cano
.
Cano is just starting to come out of his slump against left-handed pitching. He's 4-for-his-last-10 after a stretch in which he was 6-for-44. Cano has not homered in his last 54 at-bats against lefties after hitting four homers in his first 49 at-bats against them.
Yasiel Puig: newest MLB phenom
Cuban-born 23-year-old outfielder Yasiel Puig has made a major splash in his first 13 major-league games, with 23 hits, the same number that Yankees legend Joe DiMaggio had in his first 13 games. The Elias Sports Bureau notes that Puig's 23 hits are one shy of the most by anyone through 13 games in baseball's modern era (since 1900).
Puig has gotten hits everywhere but one area -- the upper-third of the strike zone (or above). He's 0-for-6 when an at-bat ends up there.
That's something that Hughes may be able to work to his advantage if he can maintain better control than his last start (as detailed above). Hughes throws pitches to that area against right-handed hitters at a 36 percent rate -- fifth-most often of any right-handed starting pitcher.
June, 27, 2010
6/27/10
7:21
PM ET
Post-Mortem: Yankees come back to win a game they had no business winning, not after playing one of their worst defensive innings in years and falling behind 5-0 after four innings. And yet, they chip away until Robby Cano, MVP candidate, knocks one out the yard for an 8-6 win in 10 innings. And the question remains, why don't we do this Yankees-Dodgers thing more often? Back with answers soon.

12:11: Carroll grounds out and that's a wrap, 4:02 of mostly thrilling baseball.

12:10: Mo strikes out Johnson and now it's Dodgers down to their final out, Jamey Carroll batting

12:06: Martin slams his bat down after getting punched out by HP ump Chris Guccione on a cutter, then gets tossed, second Dodger tonight, third in three games

12:05: Mo went 3-0 to Martin, now gets back to 3-2

12:03: Loney starts off the LA 10th with an infield hit over second base

11:59: Mo coming out to try and nail this one down in the 10th, will face Loney, Martin and Johnson

11:57: Cano hit a pretty good pitch, FB away, drove it the opposite way into left-centerfield seats

11:56: Cano crushes Sherrill's second pitch into the pavilion and the Yanks go up, 8-6.

11:53: Great play by Furcal to cut off A-Rod's grounder in the hole, get forceout on Teixeira at second. LHP Geo. Sherrill coming on to face Cano

11:50: Tex singles to right leading off

11:49: RHP Ramon Troncoso pitching the 10th, Tex, A-Rod, Cano due up

11:47: Mo strikes out Blake and we've got Bonus Baseball Tonight

11:45: Anderson was angered by not getting a call on a 3-1 pitch -- the same pitch, incidentally, that was called a ball when Broxton threw it to Curtis -- ands said something to the umps on his way to first

11:43: Someone's been ejected from Dodgers dugout. Looks like Garrett Anderson, who came into the game as a defensive replacement for Ramirez, has been run by HP umpire after flying out

11:36: Cervelli bounces out to end the inning but Broxton is booed off the mound for blowing 4-run lead. Now, it's Mo's turn to show how it's supposed to be done

11:31: On the 10th pitch, Curtis' grounder to first ties the game when Loney steps on the bag, then fires home too late to get Granderson. Jeter coming up but Torre will walk him and pitch to Cervelli instead

11:30: Now it's Curtis working an an 8-pitch AB. Yanks wearing out Broxton, who's thrown 37 pitches

11:28: Russell Martin saves a wild pitch, and the tying run, with a great stop of a slider in the dirt

11:27: broxton is an inch low with his 1-2 to Curtis and his torture continues

11:24: Huffman delivers a clutch two-run single to right, Granderson goes to third and the tying run is 90 feet away, Colin Curtis up with still only one out

11:22: Granderson walks and the Yanks have bases loaded for Chad Huffman

11:20: Now it's Granderson fighting Broxton, who can't put anyone away

11:19: Posada to second on defensive indifference

11:17: On the tenth pitch, Posada lines a single to right, Cano to third, Yanks have tying run at plate with Granderson up

11:16: Posada fighting Broxton through an eight-pitch AB so far

11:10: Cano grounds a double over first base, A-Rod scores, and now it's a 6-3 game with Posada batting

11:08: A-Rod, who's had a good night after clearing the Torre mess from his mind, singles to left. Cano at bat

11:07: tex down looking at a fastball for first out; fifth looking K for Yanks tonight

11:03: Belliard grounds out and now, Yankees need four runs, only have three outs with which to get them. Jonathan Broxton coming on to pitch the ninth

11:01: Furcal smacks Joba's next pitch for an RBI double down RF line, Dodgers up 6-2.

11:00: with Furcal batting, yankees pitch out, but Carroll still steals second

10:56: Carroll beats out a grounder to third

10:55: Joba gets Johnson to rap into 543 DP; Jamey Carroll up to bat for the pitcher

10:51: Joba in to pitch the eighth, starts off by walking Martin

10:46: Tex' grounder to first becomes a devastating 3-6 double play

10:43: Jeter beats out a roller to short and Yanks have Tex and A-Rod coming up with one out

10:42: Jeter shows bunt and Belisario comes up and in, Captain goes flying, crowd goes nuts

10:39: Colin Curtis PH for Marte leading off the eighth

10:39: Kerhsaw's out after 7IP, 4H, 2ER, 5Ks, RHP Belisario now pitching

10:37: Marte pitches a 1-2-3 seventh

10:32: Girardi leaves LHP Marte out to throw to RHHs Manny and Blake

10:28: Yankees down in order, and quickly, in the seventh

10:22: Marte strikes out Ethier and Yanks escape the sixth

10:16: Belliard grounder to third results in rundown that erases Johnson, still second and third but two out for Ethier, and Girardi is going to collect Robertson and bring in Marte

10:16: Now a wild pitch moves both runners up

10:15: Robertson's in a little jam here after an infield hit, a sacrifice and a walk. Two on, one out for Belliard in the sixth

10:08: Pettitte's out after 5IP, 5R (4 earned), 3BB, 5Ks, 1HR, his worst outing since May 20 vs. Tampa Bay. D. Robertson now pitching

10:04: A-Rod hits one to Mannywood and it's 5-2 Dodgers

10:01: Swisher goes down looking. 4 of Kerhsaw's 5 Ks have been lookers

9:58: Jeter leads off the sixth with a single to right. Injury update: Gardner left the game with a bruised right forearm; no X-rays, day-to-day.

9:57: official scorer (rightly) changes the scoring on Belliard's third-inning bunt to an error on Pettitte, not Cano

9:53: Pettitte strikes out Martin to escape the fifth without damage

9:49: First two batters of the fifth hit the ball hard off Pettitte; Manny line out to right, Blake singles to left

9:44: Girardi allows Pettitte to hit for himself in the fifth, doesn't want to waste much bullpen tonight

9:34: Girardi said on the ESPN telecast that Gardner has "wrist swelling.''

9:32: Belliard jacks Pettitte's 1-2 pitch into the LF pavilion and it's 5-0.

9:30: Furcal's sac fly to right gives LA a 4-0 lead

9:28: Kershaw lays down a bunt and this time, Pettitte learns his lesson, gets the easy out at first. Johnson goes to third

9:27: Reed Johnson is killing Pettitte tonight, gets his second double of the game leading off the fourth

9:26: Gardner, who got hit with a pitch in what appeared to be the right elbow in the second inning, has left the game and Chad Huffman is now playing left

9:24: Yanks down in order in the fourth, 3-0 Dodgers

9:15: Martin bounces out to end the third but Dodgers score thrice (one unearned) one one legitmate hit, three bunts, two walks and two astonishing errors by the Yankee infield

9:13: Pettitte walks Loney and the bases are loaded for Martin

9:12: Pettitte's command left town about three hous before he will. Now he goes 3-1 on Loney

9:11: Pettitte Ks Casey Blake for the second out, now must get past Loney

9:08: Pettite goes 2-0 on Manny and with first base open, Yankees decide to walk him, much to the scorn of the crowd

9:06: Ethier's sac fly to center scores the Dodgers third run of the game, Beliard alertly goes to third and here comes Manny

9:04: The Dodgers' third consecutive bunt, this one by Belliard, is another disaster for Yankees as Pettitte throws it away to Cano covering first. Another run scores, runners at second and third, still none out. Official scorer gives the error to Cano, but Pettitte's throw was low and difficult to handle

9:03: Furcal catches the Yankees napping, drops a bunt up the third base line, Dodgers have first and second, none out

9:01: Pettitte has a rare brain lock on Kershaw's sac bunt, firing wide to third in an attempt at getting the lead runner. Error allows Dodgers to take 1-0 lead

8:58: Kelly Johnson, starting in place of regular CF Matt Kemp, leads off the third with a double into the RF corner

8:53: Swisher grounds out and Yankees waste leadoff baserunner

8:52: Jeter goes down looking at a 3-2 fastball

8:51: Pettitte, who hardly ever gets a chance to hit, has to give himself up for the team, bunting Gardner over to second for Jeter

8:48: Kershaw plunks Gardner in the side leading off the third

8:44: Pettitte sets the Dodgers down in order, striking out 2. Cutter looks nasty so far

8:36: Kershaw pitches a clean second

8:28: Manny raps into a DP and that'll do it in the first. After two sell-outs, quite a few empty seats here tonight, esp. in the upper deck

8:23: Dodgers have first and third,one out for Manny after Ethier singles to right

8:20: Pettitte walks his first hitter, Rafael Furcal

8:15: Tex pops out, A-Rod force at second, Yanks down without scoring

8:13: Casey Blake makes nice snag of Swisher's shot down 3b line, forces Jeter at second, one out.

8:10: Jeter lines Clayton Kerhsaw's second pitch of the game into centerfield for a single

Here are the lineups for tonight's Yankees-Dodgers game, first pitch at 8:05 p.m.:

Yankees

Jeter SS
Swisher RF
Teixeira 1B
Rodriguez 3B
Cano 2B
Posada C
Granderson CF
Gardner LF
Pettitte LHP

Dodgers

Furcal SS
Belliard 2B
Ethier RF
Ramirez LF
Blake 3B
Loney 1B
Martin C
Johnson CF
Kershaw LHP
June, 21, 2010
6/21/10
7:43
PM ET
The Yankees have announced, as part of the plan to limit his innings, Phil Hughes' next turn in the rotation will be skipped.

Hughes is 10-1 with a 3.17 era on the year. He tossed seven innings in his most recent outing -- a 5-3 win over the New York Mets on June 15.

He will make his next start Tuesday, June 29 in Seattle.

The team also announced its rotation for the upcoming series against former manager Joe Torre and the Los Angeles Dodgers.

CC Sabathia will pitch Game 1, followed by A.J. Burnett and Andy Pettitte.

The three-game set will begin Friday, June 25-27 in Dodgers Stadium.

A trip backup catcher Chad Moeller will miss after being designated for assignment on Tuesday.