New York Yankees:

Luis Severino
October, 14, 2014
Oct 14
12:45
PM ET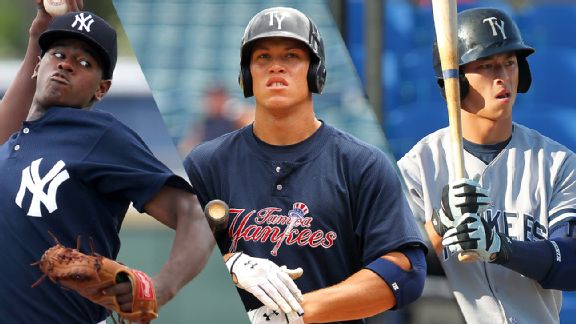 Icon SMILuis Severino, Aaron Judge and Rob Refsnyder could be Bronx Bombers -- or trade bait.
The Yankees' farm system improved in 2014. While it's still not great, there are a handful of players in the minors who could make a difference.
Let's take a look at 11 who could make a direct impact on the Yankees in 2015, be a big part of their future, or be traded to fill holes.
1. Luis Severino, RHP:
Severino may be the best prospect in the Yankees' system. Last winter, we told you
he could be the next big name
to emerge from the farm.
Severino lived up to the hype this season. He went 6-5 with a 2.45 ERA in 24 starts in Double-A and Class A. He struck out 127 and walked just 27 in 113S innings.
Severino won't start 2015 in the majors, but by late summer he might be an option. If all goes well, he could be a big part of the 2016 plans. Of course, he also could become the biggest piece in any blockbuster trade orchestrated by general manager Brian Cashman.
[+] Enlarge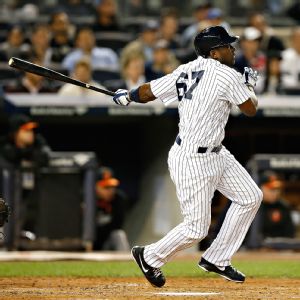 AP Photo/Kathy WillensJose Pirela could give Rob Refsnyder a run for his money at second base next season.
2. Aaron Judge, OF:
There are some in the Yankees organization who believe Judge may end up a 30-homer, 100-RBI guy. Just 22, he was impressive in his first pro season, hitting .308 with 17 homers and 78 RBIs in 131 Class A games. His OPS was .905.
Judge, the 32nd pick in the 2013 draft, is 6-foot-7, 230 pounds. A right-handed hitter and thrower, he plays the outfield and can be a DH.
It would be very surprising if he made it all the way to the majors in 2015, but he is a player teams will want in a big deal. I tend to doubt the Yankees will give him up, as he could be the right fielder -- if he develops properly -- by 2016 or 2017.
3. Rob Refsnyder, 2B:
Refsnyder, 23, has already been mentioned as possibly the starting second baseman if he can beat out
Martin Prado
or if Prado is needed at another spot. Refsnyder hit .318 with 14 homers and 68 RBIs in 137 games in Double-A and Triple-A in 2014.
The question on Refsnyder -- who was an outfielder on Arizona's 2012 NCAA championship team -- is if he can make the transition to the infield. If he doesn't win the second-base job, he has a chance to make the club as a utility player.
To read more on Refsnyder, click
here
for my story from early this year, or
here
for Mark Simon's take.
4. Manny Banuelos, LHP:
Banuelos may not be as hyped as he once was, but when spring training opens he will be just 23. Just as
Dellin Betances
did, Banuelos still has a chance to turn his potential into major league success.
The lefty, coming off Tommy John surgery, had a 4.15 ERA in three levels of the minors, but in his final 15 innings for Triple-A Scranton/Wilkes-Barre, he had a 3.60 ERA, striking out 13 and walking 10. While nothing spectacular, he may be going in the right direction. He will compete for a job (most likely in the pen) in spring training, but could be at Triple-A waiting for a call-up as a starter.
5. Gary Sanchez, C:
Just 21, Sanchez was young for Double-A and did OK. If he is going to be an elite player one day, he will need to hit better than .270 with a .743 OPS because there are questions about his defense behind the plate. If Cashman were to unload one of his top prospects, Sanchez might be the one to go. He has a lot of catchers in front of him and some developing to do, so it would seem he is still a long away from being a Yankee.
6: Bryan Mitchell, RHP:
Mitchell, 23, pitched 11 innings for the big club at the end of the season and gave up only three earned runs. He has a pretty good chance to make an impact in 2015 as either an extra starter or in the pen.
7: Jacob Lindgren, LHP:
The Yankees used their first pick in the 2014 draft on Lindgren, a lefty reliever. There was some thought he might be called up this year, but now he has an excellent chance to break camp with the big club as the main lefty in the pen. He is just 21.
8: Jose Pirela, 2B
: Pirela, 24, can hit, which allows him to compete for a roster spot and maybe even the starting second-base position this spring. The question is whether he can defend well enough. Like Refsnyder, he owns an infield and an outfield glove, which could earn him a trip north to begin the season.
9: Ian Clarkin, LHP
: The 19-year-old lefty, another first-rounder in 2013, had a strong season in Class A, striking out a batter an inning. He won't be a factor on the major league level in 2014, but his development will be one to watch.
10: Eric Jagielo, 3B:
Jagielo, the 26th pick in 2013, had a very respectable .811 OPS in Class A and Rookie ball in 2014. He is a 22-year-old third baseman. He also is highly unlikely to make an impact on the big league club in 2015.
11: Jose Ramirez, RHP:
Ramirez, 24, was a guy the Yankees were very high on going into spring training in 2014. Injuries derailed him, but he is a righty who might be able to make some leaps and help in the Bronx pen in 2015.
February, 5, 2014
Feb 5
12:00
PM ET
Just 19 years old, with a smooth delivery, he might turn into a major league starter one day. The Yankees signed Severino, out of the Dominican, two years ago for a mere $225,000.
"Last year, as an 18-year-old, he would have been a high school senior in the draft," said Mark Newman, the Yankees senior vice president of baseball operations. "He was pitching in the Gulf Coast League in Charleston, running it up there 96, 97. That gets you picked high in the draft. When we signed him, he was at 91."
Donny Rowland, the Yankees' international scouting director, liked Severino because of his easy delivery, Newman said. ESPN.com's Keith Law had Severino as the Yankees' ninth-best prospect. With a strong 2014, he could move up various prospect rankings.
"Severino intrigues me for a couple of reasons," Baseball America's Josh Norris, who has extensively covered the Yankees' farm system, said in an email. "First and foremost, he's shown very advanced qualities in terms of both stuff and ability at a very young age. He has a fastball that's touched as high as 97 miles per hour, which plays up because he gets good extension. He couples it with a solid-average changeup that's hit as high as 90 miles per hour, a big plus for someone his age. He also has a slider that flashes plus at times.
"Moreover, after dominating the Gulf Coast League [32 strikeouts and 16 hits over 26 2/3 innings], the Yankees saw fit to skip him over Staten Island and send him straight to Charleston in the South Atlantic League, where he fanned 21 in as many innings and walked just four. He has to prove it over a full season, obviously, and he's a bit on the smaller side, but three excellent pitches and command of the strike zone is an excellent recipe to start."
Law wrote about Severino: "[His] three-pitch mix might be three pluses out of the pen, and it's a grade-65 or 70 fastball even in the rotation. However, he's less than 6-foot, and he has to prove he can maintain his stuff over a full season when going six innings every time out."
The Yankees have developed some pitching in recent years, even if there have been no No. 1 starters. From
David Robertson
to
Phil Hughes
to
Joba Chamberlain
to
Ivan Nova
, they have had some success stories. Severino may be a big part of the next wave.
NEW YORK -- When the Yankees signed teenager Luis Severino in 2012, he threw 91 mph. In 2013, at Class A Charleston, he was touching 97. Like his fastball, Severino is a prospect on the rise.