New York Yankees:

Mark Reynolds
January, 7, 2014
Jan 7
12:22
PM ET
NEW YORK -- While awaiting arbitrator Fredric Horowitz's decision on the fate of
Alex Rodriguez
-- and by extension, that of the 2014 Yankees -- it is important to remember that there are three possible outcomes:
The first is that Horowitz upholds baseball's original 211-game ban, knocking A-Rod out for this season, part of next season, and quite possibly, for good. The second is that he rejects baseball's evidence and allows A-Rod to walk, freeing him to join the Yankees for spring training. The third (and probably most likely) is that Horowitz accepts enough of baseball's evidence to give A-Rod a reduced suspension of at least 50 games.
(There is a fourth scenario, of course, which holds that A-Rod's lawyers will be able to get an injunction against any suspension, allowing him to at least start the season with the Yankees, but I am not convinced this is a winning strategy.)
And even without handicapping the odds of one outcome over the other, this much is clear -- there is at least a two in three chance that the Yankess will begin the 2014 season without the player they had penciled in as their regular third baseman.
So what is the backup plan?
Right now, there isn't any.
Publicly, the Yankees have said they are proceeding under the assumption that
Alex Rodriguez
, and his $25 million salary, will be with them for the 2014 season.
Privately they may believe differently -- and you know which way they are rooting, for 189 million reasons -- but the truth is, they are taking no steps to protect themselves in the event Alex Rodriguez is unavailable on Opening Day. There simply is no urgency right now within the organization to come up with a backup plan if they need to replace A-Rod at third, which seems likely to happen.

According to baseball sources I have spoken with, who have knowledge of the club's thinking, the plan right now is to get by with
Kelly Johnson
and
Eduardo Nunez
at third if A-Rod is shelved by the arbitrator. The same goes if A-Rod is cleared to play, even though for the past three seasons he has shown no ability to play a full season at third base, or at anywhere near his former levels. And he will turn 39 in July.
All that being said, the odds are that when the Yankees open the season on April 1 in Houston against the Astros, the starting third baseman will be either Johnson or Nunez, unless the club chooses to re-sign
Mark Reynolds
or pursue, say, a
Michael Young
, both of whom are possibilities.
But I must emphasize that right now, the Yankees do not feel that making a contingency plan for the post-A-Rod Era, which could begin before anyone expected it to, is high on the priority list. Perhaps they believe their offseason pickups --
Carlos Beltran
,
Jacoby Ellsbury
and
Brian McCann
-- provide enough of an offensive boost that they can manage with a journeyman at third base.
Admittedly, the Yankees are in a holding pattern waiting both for Horowitz to make his decision, and for Masahiro Tanaka to make his. According to a source, Tanaka's agent, Casey Close, is still in the process of organizing details and has yet to field any serious offers. The negotiating window for Tanaka runs until Jan. 24, and considering Close's history of slow and private deliberations, it is likely to go the distance. Another source told me that if the Yankees land Tanaka, their free-agent shopping spree would be virtually finished and Hal Steinbrenner's wallet safely tucked away for the year.
That may answer the remaining questions about the Yankees' starting rotation, but it hardly provides an answer to a question Abbott and Costello wrestled with 75 years ago: Who's on third?
I don't know, they concluded, and right now, neither do the Yankees.
December, 17, 2013
12/17/13
9:58
AM ET
The
New York Yankees
have
agreed on a $2 million, one-year deal
with
Brian Roberts
, adding him to the post-
Robinson Cano
second-base mix. At this point,
the injury-prone Roberts will compete with
Dean Anna
and
Kelly Johnson
for the spot, with the position ultimately being manned by a combination of these players or a yet-to-be-added infielder.

But the Yankees could re-sign
Mark Reynolds
next, with the hope of platooning him with Johnson at third. The two would offer
Alex Rodriguez
suspension/injury protection.
With Reynolds starting against lefties and Johnson against righties, the Yankees would have a power-hitting but defensively deficient combo. Still, it might not be bad.
Here is an issue that will work itself out via trade and/or injuries by the end of spring training. You can only have 25 players on the roster. So let's take a look, going on the assumption the Yankees will have 11 pitchers when they break spring training and head north -- or west, as they begin the season in Houston. For this exercise, we will keep A-Rod suspended. This would be the rest of the projected roster, including Roberts and Reynolds.
12.
Brian McCann
, C
13.
Francisco Cervelli
, C
14.
Mark Teixeira
, 1B
15.
Derek Jeter
, SS
16.
Brendan Ryan
, SS/2B
17.
Carlos Beltran
, OF
18.
Jacoby Ellsbury
, OF
19.
Brett Gardner
, OF
20.
Alfonso Soriano
, OF
21.
Ichiro Suzuki
, OF
22. Kelly Johnson, 2B/3B/OF
23. Mark Reynolds, 3B/3B
24. Brian Roberts, 2B
25. Dean Anna, 2B/SS/3B
That would leave
Vernon Wells
off the team. Wells or Ichiro figure to be on the outs if Gardner remains with the club. They actually both could be off the roster because you don't need five outfielders; especially since Johnson can play out there, as well.
Who is going to pitch? That remains a question mark, but
maybe Masahiro Tanaka, if he is posted
.
December, 10, 2013
12/10/13
4:40
PM ET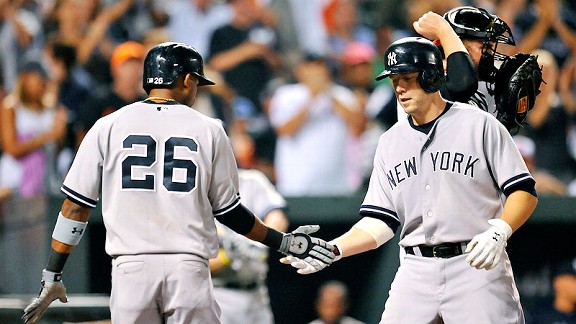 Joy R. Absalon-USA TODAY SportsMark Reynolds is still an option for the Yankees this offseason.
LAKE BUENA VISTA, Fla. -- We had our first state of the winter meetings address from Brian Cashman on Tuesday. Let's go over some of the things he said and what they mean.
Protection at third:
Cashman has
Kelly Johnson
in the fold and feels he could play second or third. He would like to have a right-handed platoon and said
Mark Reynolds
is a possibility.
"We had a lot of hard 'triers' last year," Cashman said. "We need to improve on the results."
Reynolds has a career .834 OPS against lefties, while Johnson is a .759 OPS guy against righties. Johnson is a little better (.770) against lefties, but in nearly one-third of the at-bats.
No. 6 to be retired:
Joe Torre made the Hall of Fame on Monday. On Tuesday, Cashman said Torre's No. 6 will be retired.
"We haven't given it out for a reason," he said. "It has been tucked away for quite some time. At some point, that will happen, no doubt about it."
Show me the money:
Cashman said he would have taken the money, just like Robinson Cano did. Here is
my news story
.
A good offense is a good defense:
Cashman said he wants to get back to being a high-scoring offense.
"I'm trying to get our offense to where we are used to having it," Cashman said. "The top two or three offenses in the game. We need more work."
The Yankees were 16th in runs scored in the majors last season.
Cashman thinks they will be better at first (
Mark Teixeira
), the outfield (
Jacoby Ellsbury
and
Carlos Beltran
, pending all the fine details to work out) and catcher (
Brian McCann
).
Cashman said he doesn't know who will play second or third yet.
"It is still going to be a question mark at shortstop, even though we know who the player is," Cashman said in reference to
Derek Jeter
.
Gardner talks:
Cashman said he is listening on trade proposals for
Brett Gardner
, but he is not alone.
"That boomerang came around quick," Cashman said. "Everybody's made phone calls on Gardy. We have an obligation to hear what anybody's interest happens to be, but we are not shopping him."
Cashman said teams are calling about
Ivan Nova
,
Gary Sanchez
and
J.R. Murphy
. Nova is the only one of three definite starters on the Yankees' roster right now, so it seems hard to move him. Sanchez and Murphy are both catchers that the Yankees like but could be used to sweeten the right deal.
Jacoby in left?
I doubt it, but Cashman said that he and Joe Girardi haven't decided who would play center if Gardner remains. I would think it would be Ellsbury in center.
On $189M:
It is evident that unless
Alex Rodriguez
's suspension is upheld, the Yankees are not going under $189 million. Cashman said to "go to the archives" and check Hal Steinbrenner's comments, implying that $189 million has only been a goal, not a mandate.
Pineda & Banuelos:
Michael Pineda
is "healthy," but Cashman doesn't know what they will see.
Manny Banuelos
, coming off Tommy John surgery, is slated for Triple-A.
Pineda will compete for the No. 5 spot in spring, while Banuelos, at best, could be up late in 2013. He is more likely a 2015 starting candidate. Banuelos turns just 23 in March.
September, 12, 2013
9/12/13
11:34
PM ET
BALTIMORE -- Wild is the only word to describe this game, and wild is the only word to describe the end of this season as the Yankees continue to claw their way into a possible playoff spot. Tonight's 6-5 win over the
Baltimore Orioles
, their third win in four games here, doesn't pull them any closer to their goal -- the
Tampa Bay Rays
beat the
Boston Red Sox
tonight 4-3 -- but it keeps them within one game of the second AL wild-card spot with 15 games left to play.
Wildman:
Orioles closer
Jim Johnson
, a perennial Yankees foil, singlehandedly gave them the lead in the ninth inning, allowing a leadoff single to
Brendan Ryan
, throwing away what should have been an easy forceout on
Chris Stewart
's bunt and finally wild-pitching the go-ahead run home.
Major meltdown:
The O's torched
David Robertson
for three eighth-inning runs to tie the game at five on a long home run to left center by
Danny Valencia
, just three batters after
Alfonso Soriano
had saved him a run by pulling one back into the park (see below). The outburst was made worse by the fact it came with two outs and by the fact that manager Joe Girardi had hoped to avoid using
Mariano Rivera
after having used him two nights in a row and three of the past four. Of course, Girardi had to go to Mo once again, and the Incomparable One turned in a 1-2-3 ninth.
Quick hook:
Joe Frazier would have been envious of the way Girardi used his hook on
Phil Hughes
when he pulled the starter just one batter into the fourth inning after
Adam Jones
reached on an error by
Eduardo Nunez
. In his brief appearance, Hughes allowed one run, walked one and struck out three on three hits. He can't feel too good about his manager's faith in him.
Get Huffy:
Girardi went to
David Huff
, his other option to start this game, to relieve Hughes in the fourth, and Huff gave him three strong innings of one-hit ball until
Nick Markakis
led off the seventh with a home run to cut the Yankees' lead to 5-2. At that point, Girardi started wearing a path to the mound, replacing Huff with
Adam Warren
and Warren with
Cesar Cabral
to get through the inning without further damage.
No Wei out:
The Yankees put up five runs on Orioles starter
Wei-Yin Chen
.
Curtis Granderson
chased him with a massive solo home run with one out in the seventh. Previously,
Vernon Wells
had singled in two runs in the third, but then Chen settled in to retire the next 13 Yankees and struck out nine overall. It was only a temporary reprieve, however, as Granderson drove an 0-1 fastball onto Eutaw Street on one hop.
Reynolds raps:
Former Oriole
Mark Reynolds
showed how much he liked playing at Camden Yards in the second inning, belting Chen's 2-0 fastball into the left-field seats with Nunez on first to give the Yankees and Hughes an early 2-0 lead. It was Reynolds' fourth home run since joining the Yankees on August 16 and 19th overall this season.
Sori, Manny!:
Soriano made an incredible leaping catch to rob
Manny Machado
of a home run to lead off the eighth inning, pulling himself over the top of the fence with his right hand and reaching behind it to pull the ball back. For a second, it was impossible to tell he had made the catch, and Machado was halfway to second before Sori showed the ball and flipped it back in, drawing a two fists in the air salute from Robertson.
Gardner out:
Brett Gardner
left the game following his first at-bat, a strikeout on a check-swing after which he was seen to wince and touch his left side. He was replaced in center field in the bottom of the first inning by Granderson. It was later announced Gardner had a left oblique strain, an injury that could potentially keep him out of the last 15 games of the season and possibly some early playoff games. There was no immediate word on how long he is expected to be out.
Better late than never:
The first pitch was delayed an hour and 18 minutes due to a thunderstorm that brought heavy rain and some spectacular lightning to Charm City for about two hours, from 5:30 to 7:30 p.m.
What's next:
In Game 1 of a crucial (aren't they all?) three-game series with the Red Sox at Fenway Park,
Hiroki Kuroda
(11-10, 2.99 ERA) opposes RHP
John Lackey
(9-12, 3.48). The first pitch is at 7:10 p.m.
August, 30, 2013
8/30/13
11:41
PM ET
NEW YORK -- If
Alfonso Soriano
were to continue his home run pace with the Yankees over 162 games, he would finish with nearly 61 in a season. As it is, in his 32 games as a Yankee, Soriano has 12 homers, 35 RBIs and six stolen bases.
"He's playing like an MVP," Joe Girardi said after the
Yankees' 8-5 win
over the Orioles Friday night. "When you look at the month of August and what he has done in the month of August, they are MVP type of numbers if you put them over six months. He is stealing bases, playing really good defense. He has been a complete player."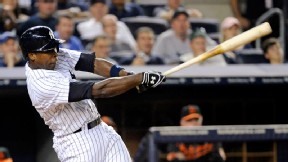 AP Photo/Bill KostrounAlfonso Saoriano has hit 12 homers in 32 games with the Yankees this season.
With
CC Sabathia
,
Phil Hughes
and
Hiroki Kuroda
struggling, the Yankees may have to hit their way to the playoffs in the final 28 games. The lineup is improved; Friday was the fifth game that the Yankees had eight or more runs and 12 or more hits in August. In the previous four months, they had a total of six, according to YES researcher Jeff Quagliata.
"I feel our lineup is a lot deeper," Girardi said.
One of the newest reasons why may be the emergence of
Mark Reynolds
. Reynolds suddenly looks like a different player from the one that Cleveland sent to the Yankees for nothing in return.
Yankees hitting coach Kevin Long convinced Reynolds to abandon the toe tap that had preceded his swings dating back to his time at the University of Virginia. This has allowed him to improve his timing.
On Friday, Reynolds had his second consecutive three-hit game. He has done that only twice before in his career. It appears as if he will be the everyday first baseman until further notice.
"If you would have told me five, 10 years ago that I would be playing for the Yankees with
[Derek] Jeter
and A-Rod [
Alex Rodriguez
] and all these guys I watched growing up, I wouldn't have believed you," the 30-year-old Reynolds said. "It has been a whirlwind."
On Friday, Reynolds and his teammates picked up Sabathia by scoring five runs in the fifth. Each of the team's first seven batters reached safely.
Curtis Granderson
doubled, Reynolds doubled, Ichiro Suzuki homered,
Austin Romine
doubled,
Brett Gardner
singled, Jeter walked and
Robinson Cano
singled. The Yankees had not started an inning with four straight extra-base hits since April of 2012, according to Elias.
So this is a different lineup. Does it have enough to
follow the road map to the playoffs
? With Soriano and Reynolds able to carry a team when they are hot, maybe it does.
August, 28, 2013
8/28/13
10:07
PM ET
TORONTO -- OK, losing two of three to the
Tampa Bay Rays
at their dome is understandable.
But losing two of three to the
Toronto Blue Jays
? Not acceptable, anywhere, at any time, under any circumstances.
And especially when wins are as important as they are to the Yankees right now.
With their 7-2 loss to the Jays tonight -- a game that was over practically before it started -- the Yankees drop to 5½ games out in the AL wild-card race with just 29 left to play. And, needless to say, the games against teams like the Blue Jays are the ones they absolutely, positively have to win if they are ever going to close that gap.
Worst of all? With the season-long mediocrity of
CC Sabathia
and the recent deterioration of
Hiroki Kuroda
, the Yankees are now officially playing without a full deck.
A deck without an ace.
Hiroki Corroding?:
After allowing seven runs in his last outing, Kuroda was nicked for four in the first inning tonight, and seven overall, though only five were earned. Through his first 24 starts of the season, Kuroda's ERA was 2.33. Over his past three, it is 8.09 (15 ER in 16⅔ IP).
Two-run strikeout:
Here's something you don't see every day -- a strikeout that results in two runs scored and no one retired. With runners on first and second and one out, Kuroda threw a third strike past both catchers on the same pitch -- Jays catcher
J.P. Arencibia
at the plate, and his own,
Chris Stewart
, behind it. The passed ball allowed
Brett Lawrie
(double) to score from second, and Stewart's throw to first went awry, allowing
Rajai Davis
(walk) to score from first.
HRoki is back:
Kuroda gave up a career-high four home runs in his last outing against the Rays and gave up another one, a bomb by
Edwin Encarnacion
, in the second inning with a man on to increase the Jays' lead to 6-0.
A-Clutch:
Alex Rodriguez
delivered an RBI single, just the Yankees' second hit of the game, in the fourth inning to put the Yankees on the board 7-1.
A-Plod:
One batter later, A-Rod inexplicably tried to score from first on
Mark Reynolds
' double and was thrown out easily at the plate, shortening what could have been a big inning for the Yankees.
Robbie Who?:
Filling in at second base, a position he had not played regularly for more than seven years, Reynolds did quite well, especially on a diving stop on
Jose Reyes
' grounder in the sixth. He also had three hits, including the RBI double on which A-Rod got thrown out at the plate.
Fan dance:
The Yankees struck out 13 times tonight, led by
Alfonso Soriano
and A-Rod with three each.
Brett Gardner
and
Derek Jeter
whiffed twice each.
What's next:
A flight home, followed by a day off before the Yankees plunge into a stretch of 17 straight games -- the next nine of which are at home -- starting with three against the
Baltimore Orioles
over the weekend. The Incomparable One, Andrew Marchand, will have you covered on the off day. I'll see you all next week.
August, 28, 2013
8/28/13
6:49
PM ET
TORONTO -- The Yankees have used a lot of different players at a lot of different positions, but until last night, they had used only two second baseman --
Robinson Cano
, and four times when Cano was the DH,
David Adams
.
And then, suddenly, they needed three second basemen in one game -- Cano, who left in the first inning after being hit by a pitch;
Eduardo Nunez
, who lasted until the top of the ninth, when he was forced to leave with a knee injury, and
Mark Reynolds
, who finished up and even turned the game-ending double play.
Well, Reynolds -- who has played all of three innings at second in his entire career -- is the starting second baseman tonight now that Nunez was a late scratch after pregame warmups.
"I'm comfortable there," Reynolds said. "I came up [at second], played in the Fall League there, a lot in the minor leagues there. Whatever they need, I'll be ready to go."
Joe Girardi, who has used Reynolds at third and first so far, calls him "Mr. Everything."
• Girardi said the Yankees are still on rotation for the weekend series against the Orioles at home, meaning
Phil Hughes
is still scheduled to make his start on Sunday. But Girardi left open the possibility that that could change. "We could address it," he said, "But right now, that's what I have."
• Girardi, who gave
Alex Rodriguez
a day off after playing two straight games on the Tropicana Field turf -- which has a conventional skin infield -- is starting A-Rod for the third straight game on the Rogers Centre turf, which covers the infield except for small sliding boxes. "Well, I mighta done something different today if we were not in the situation we're in," Girardi said.
• Girardi said
Michael Pineda
, who was shut down a couple of weeks ago after experiencing some shoulder soreness, would throw a side session in Tampa, but
David Phelps
, who has a sore right forearm, has yet to throw a ball. It is highly unlikely either of them will be among the September callups when rosters expand on Saturday.
• Slightly better news about
Travis Hafner
(shoulder) and
Zoilo Almonte
(ankle). Girardi said both have progressed to "tee and toss," and would move on to live batting practice later this week. Almonte had a minor setback when he needed to have four wisdom teeth pulled, but Girardi said he expects both to be recalled in September.
•
Hiroki Kuroda
is 4-1 with a 3.03 ERA lifetime versus the Blue Jays, including eight shutout innings against them at Yankee Stadium in May. Blue Jays starter
Todd Redmond
has never faced the Yankees.
August, 16, 2013
8/16/13
11:49
PM ET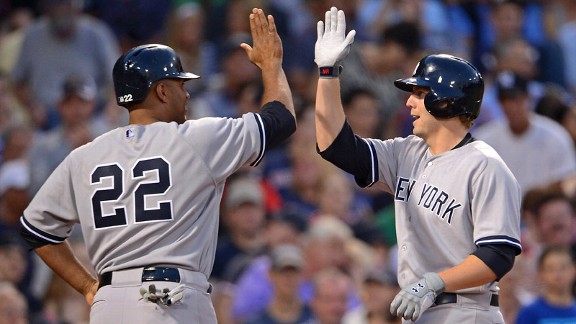 Michael Ivins/Boston Red Sox/Getty ImagesMark Reynolds, who was acquired Thursday, homered in his first at-bat as a Yankee.
BOSTON --
Mark Reynolds
began his Yankees career in style, hitting a home run in his first at-bat.
What was the key? He didn't pick up a bat after being released a little more than a week ago by the Indians.
"Not a one," Reynolds said after the Yankees' 10-3 win over the Red Sox on Friday night. "A lot of golf swings. I did lift weights. I threw to keep my arm loose. As far as hitting, I really just cleared my head. I hung out with the kids and the wife and kind of cleared my head."
Reynolds joked, "Maybe I need to sit on the couch and come out and play."
Reynolds finished the night 2-for-5 with the home run and three RBIs. It has been a decade since a Yankee has had a debut with two hits and three RBIs in a game.
Todd Zeile
, in 2003, was the last to do it.
August, 16, 2013
8/16/13
7:14
PM ET
Mark Reynolds
is at first and batting eighth. Reynolds hit 15 home runs in the first half and had an OPS of .693, did not hit a homer in 10 second-half games and has an OPS of.535. The
Cleveland Indians
let him go and the
New York Yankees
have picked him up to platoon with
Lyle Overbay
.
"I just got into a bad skid and it just kept going," Reynolds said. "But I'm happy to be here now. It's great just to get out there and relax and just play some ball. Try to turn my season around."
Reynolds said that if
Kevin Youkilis
had chosen the Indians, then he thinks he would have signed with New York this past offseason.
PRESTON OPTIONED:
Preston Claiborne
was optioned because the Yankees felt they needed some length in the pen with this series and then Tuesday's day/night doubleheader with Toronto. Why Claiborne over the struggling
Joba Chamberlain
? Claiborne has options.
JETER ON TUESDAY:
Joe Girardi seemed pessimistic that
Derek Jeter
will return from the DL on Tuesday.
"I don't know," Girardi said. "It might be pushing it. We'll go day-by-day. Today is already Friday. He has not necessarily played in a simulated game or anything of that nature, so we'll just have to see. For me it's as soon as we can get him."
CRUZ OUT OF CONTROL:
Luis Cruz
was designated for assignment.
October, 7, 2012
10/07/12
12:12
PM ET
By
Mark Simon
| ESPNNewYork.com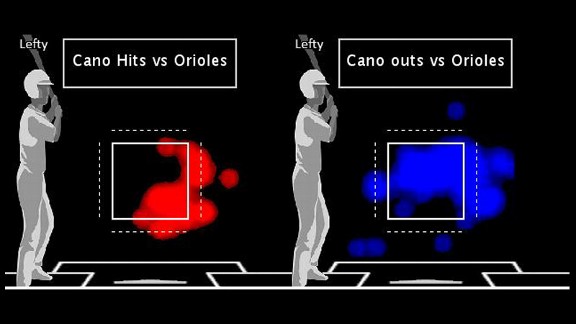 Almost all of Robinson Cano's hits vs the Orioles this season have come on outside pitches.
CC Sabathia Stats To Watch
The slider that makes Sabathia such a tough pitcher worked great for him in his last three appearances this season, netting him 27 outs and yielding only four baserunners.
The Orioles were able to hit this pitch, a little better than most teams, with an outs-to-baserunner ratio of 23-to-7 against in his three starts against them.
The Orioles missed on Sabathia's slider at a rate of about one of every three swings. Other teams in the majors missed it at a 45 percent rate.
The Orioles have three hitters who have historically given Sabathia trouble.
Adam Jones
is a .341 hitter in 41 at-bats against him, with three home runs and (only) six strikeouts.
Robert Andino
is 8-for-23 in his career against him with a home run.
J.J. Hardy
is 7-for-17 against Sabathia, with a home run and three doubles. Hardy was 6-for-10 against Sabathia this season.
Jeter in Game 1
Derek Jeter
has
great
numbers in the opening game of a playoff series. He's hitting .378 for his career in Game 1s, with five home runs and 27 runs scored.
Those numbers are even better when you narrow it down to his last nine Game 1s. In those, he has 19 hits in 38 at-bats.
Jeter hit .403 against the Orioles this season, including .375 against their right-handed pitchers. He's 7-for-22 in his career against
Jason Hammel
.
It will be interesting to see if the Orioles change their strategy against Jeter. They threw 78 percent fastballs (including cutters and sinkers) against him this season.
Robbie Cano, don'tcha know
No batter in baseball finished the season stronger than Yankees second baseman
Robinson Cano
, whose streak of nine straight multi-hit games is tied for second-longest by a Yankees player in the Live Ball Era (
Bernie Williams
had a 10-game streak in 2002) and the longest by any player since
Kevin Youkilis
had a nine-gamer for the 2007 Red Sox.
The Orioles had a very specific approach for pitching to Cano, working him away, away, and further away. The heat map above shows that Cano was able to make that work, with 15 of his 20 hits coming on pitches on the outer-third of the plate or off the outside corner.
The Orioles actually had success when they changed course and worked him inside. Cano was 0-for-11 when an at-bat ended with a pitch on the inner-third of the plate, or off the inside corner. Oddly, he was also 0-for-9 on "middle-middle" pitches (belt-high, middle-third of the plate). He hit .282 with three homers and eight RBI in 18 games against the Orioles this season.
Cano is 8-for-23 with a home run in his career against Hammel.
Reynolds' all-around game
Orioles first baseman
Mark Reynolds
was a Yankees killer in 2012, hitting .294 with seven home runs, five doubles and 14 RBI in 15 games against them.
Reynolds doesn't have the best history defensively, but his defensive success at first base at the end of the season was a significant boost to the Orioles.
The
folks at Baseball Info Solutions
, who chart defensive stats, had Reynolds with 58 "Good Fielding Plays," in the second half of the season. That's the most of any player in baseball.
The Orioles had 16 Defensive Runs Saved (a stat that factors in the ability to turn batted balls into outs with other skills, such as turning double plays and defending bunts) in September, fourth-most of any team in the majors.
Baltimore's defense had been charged with -21 Defensive Runs Saved from April to August.
September, 7, 2012
9/07/12
12:11
PM ET
By
Mark Simon, ESPN Stats & Information
Phil Hughes Stats To Watch
Hughes has lost two of his three starts against the Orioles this season, and not surprisingly the bugaboo was a pair of homers in each of those games.
Hughes is 4-1 with a 3.32 ERA in seven starts against the Orioles in which he didn't allow a home run. He's 1-3 with a 8.78 ERA in the six starts in which he has allowed at least one home run against them.


Thursday's hero,
Adam Jones
has a history of struggles against Hughes. He's 6-for-31 against him, including 2-for-23 over the last three seasons.
Of the 21 times Hughes has gotten Jones out in that span, he has been most effective at finishing him off inside. Nine of the 23 outs came on pitches over the inner-third of the plate, or further inside on Jones.
How do you get Mark Reynolds out?
The current Orioles roster has nine home runs in 156 at-bats against Hughes. Reynolds is the only one with two. He's 3-for-9 in his career against Hughes.
Reynolds has eight home runs in his last seven games and three multi-homer games in his last four games against the Yankees.
How do you get him out?
The Yankees have actually done the right thing. They've attacked Reynolds' weakness on the outer-half of the plate. In his last four games against the Yankees, they've thrown him 66 pitches, 44 of which have been to the outer-half of the plate.
The problems are two-fold. One is that Reynolds has three hits against those pitches in this span (he's typically a sub-.200 hitter when an at-bat ends with that pitch) and is missing on a lower percentage of his swings (29 percent) than he usually does(40 percent season rate against outer-half).
The other: On pitches thrown to the inner-half, Reynolds has twice as many homers (four) as he does swings-and-misses (two) in those four games.
Playing the Binder
It will be interesting to see where
Russell Martin
hits in this lineup after his success in the No. 5 spot against
Matt Moore
on Wednesday.
Martin is 5-for-his-last-39 against left-handed pitching, but was 2-for-4 against Moore and reliever
Jake McGee
.
Martin is 1-for-6, albeit with two deep flyouts and a reached-on-error vs. Chen in his career.
Elias Sports Bureau Stats of the Day
In case you missed it,
Alex Rodriguez
played in his 2,500th game last night. He and
Derek Jeter
are the first teammates to have played at least 2,500 games in the majors since
Barry Bonds
and
Omar Vizquel
(2007 Giants).
Rodriguez, who hit his 299th home run as a Yankee on July 23, will likely become the sixth player hit 300 home runs for the club; he'll join Babe Ruth (659), Mickey Mantle (536), Lou Gehrig (493), Joe DiMaggio (361) and Yogi Berra (358). The Yankees are currently tied with the Braves and Red Sox for the most such players in history.