New York Yankees:

Melky Cabrera
November, 4, 2014
11/04/14
12:00
PM ET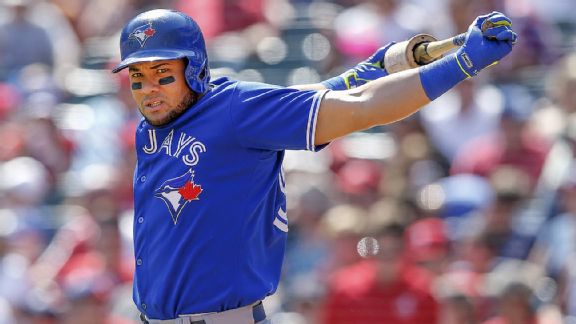 Kevin Jairaj/USA TODAY SportsCan ex-Bomber Melky Cabrera deliver again for the Yankees?
The Yankees went into last winter with a publicly stated goal of keeping their payroll below $189 million. They came out of it having committed more than $400 million for four new players. This winter, there are no such payroll limitations, at least to our knowledge, but there is still plenty of need. And since there is nothing more fun than playing with another guy's cash, we at ESPN New York will once again aid the Yankees' decision-makers with a little game we like to call "Spend Hal's Money."
Today's Candidate:
Melky Cabrera
Position:
Outfielder
Age:
29
Height:
5-foot-10
Weight:
210
2014 Numbers:
$8 million salary, .301-16-73, .351 OBP, .808 OPS, 3.1 WAR
Pros:
He's probably the most attractive free-agent outfielder in an admittedly weak market this winter, preferable to
Nelson Cruz
because of the four-year age difference and probable longer shelf life as an outfielder. Melky put up excellent numbers in three of his past four seasons, even if two of them were tainted by PEDs. He has averaged .313 with 15 HRs and 73 RBIs in his past three full seasons, and he won't turn 30 until next August. He's not a great outfielder, but he's acceptable, and with
Jacoby Ellsbury
and
Brett Gardner
alongside him, he would be plenty good enough. He's a switch-hitter -- always a plus, but even more desirable at Yankee Stadium with its short right-field porch.

Cons:
Since this is his big chance to cash in, Melky will undoubtedly turn down the Blue Jays' qualifying offer, and he is thought to be seeking three -- maybe four -- years at between $12 million and $14 million a year. And of course, getting the qualifying offer means the Yankees, who do not have a protected pick in the 2015 draft, would have to lose a draft pick in order to sign him. Signing him would accomplish one goal -- he makes them a bit younger -- but his bat, while potent, wouldn't add a whole lot of power to a unit that provides them very little to begin with. (The Yankees got just 47 HRs and a .714 OPS from their outfielders in 2014.) If
Carlos Beltran
can remain healthy in 2015, is Melky really necessary?
The Verdict:
Probably not. He's good player but not a potential game-changer like Cruz or
Victor Martinez
, both of whom are older but are also likely to demand fewer years, if not fewer dollars. And with the market for outfielders being so weak this year, there will probably be at least one team willing to go to a fourth year. Cabrera had two injuries last season: a broken finger and a potentially more troubling benign tumor that was surgically removed from his spine. All things considered, pass the Melk.
February, 18, 2013
2/18/13
5:23
PM ET
[+] Enlarge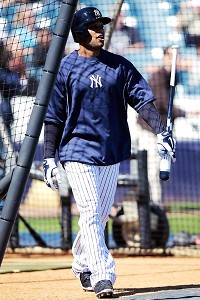 AP Photo/Matt SlocumRobinson Cano hit the batting cage on Monday.
TAMPA, Fla. --
Robinson Cano
is pals with
Alex Rodriguez
and
Melky Cabrera
. A-Rod has been a mentor to Cano. Cabrera has been one of his best friends in the game.
In media reports, Rodriguez and Cabrera have been linked to Anthony Bosch, the Miami man accused of having supplied performance-enhancing drugs to players. Cano said he stands behind his friends and is not involved.
"They are still my friends," Cano said Monday. "You have to be with your friends in the good times and the bad times. I have to stay with my friends. I don't have any reaction. I would say that is a personal matter and let them handle it."
Cano was asked directly if he had ever used PEDs or was tied to Bosch in anyway.
"The first time I heard about that was when the thing came out," Cano said. "It doesn't matter who you are hanging out with. Everybody has their personal lives and they do whatever they want with their lives."
August, 15, 2012
8/15/12
4:57
PM ET
Robinson Cano
and
Melky Cabrera
weren't just teammates with the Yankees.
They were best friends.
And that made it even harder for Cano, who was "100 percent surprised" when he heard the news that Cabrera, now with the San Francisco Giants, had been suspended 50 games for violating Major League Baseball's Joint Drug Treatment and Prevention Program.
[+] Enlarge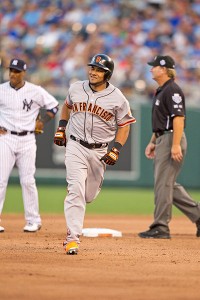 Kyle Rivas/MLB Photos/Getty ImagesMelky Cabrera was MVP of the All-Star Game in July.
"It's really sad. He's having a great year," Cano said of Cabrera, who tested positive for testosterone. "But I'm his friend and I'm gonna be there for him."
Cabrera, 28, who was named MVP of the All-Star Game and ranked second in the majors with a .346 batting average, addressed the situation in a statement.
"My positive test was the result of my use of a substance I should not have used. ... I am deeply sorry for my mistake," Cabrera said.
"I saw where he made a statement; that is always a good first step and sometimes the hardest," said
Alex Rodriguez
, who has admitted taking a banned substance while playing for the Texas Rangers.
"I think he has an opportunity, being a young player. With that said, it is also going to be a challenge. I hope that he takes the bull by the horns and does some great things. I'm a believer and a friend. In times like this, I will definitely not turn my back and I'm here to support him."
Joe Girardi
, Cabrera's former manager in New York, called the news disappointing.
"Obviously Melky means a lot to all of us and was part of our (2009) championship," Girardi said. "He provided some really good moments here, and it's something that everyone has to deal with and it's something that baseball is trying to stay away from, but it happened."
Derek Jeter
said he was surprised.
"That goes without saying," Jeter said. "He was a great teammate. I enjoyed being around him, playing with him and seeing him get better. It's too bad."
Cabrera played four seasons in New York (2006-09) before being traded to Atlanta for
Javier Vasquez
.
August, 15, 2012
8/15/12
3:06
PM ET
By
mmazzeo
| ESPNNewYork.com
The Melk Man delivered ... a positive test for testosterone.

Major League Baseball announced Wednesday that former Yankees outfielder Melky Cabrera has been suspended 50 games -- essentially the rest of the season -- for violating the Joint Drug Prevention and Treatment Program.

Cabrera, 28, who was named MVP of this year's All-Star Game, plays for the San Francisco Giants and ranks second in the majors with a .346 batting average.

"My positive test was the result of my use of a substance I should not have used. .. I am deeply sorry for my mistake," Cabrera said in a release from MLB.

April, 26, 2012
4/26/12
10:30
AM ET
The Cash Register is a regular feature of the blog in which we chart how former Yankees who were traded away are faring this season.

The former Yankees

" Seattle catcher Jesus Montero: Montero is batting .281 with two home runs and 11 RBIs. He's not walking much or hitting for power, but he's been one of the top two bats for Seattle.

" Seattle starter Hector Noesi: Noesi has struggled as a starter, going 1-2 with a 9.49 ERA. Noesi gave up six runs in 1 1/3 innings last time out against Chicago.

" Arizona pitcher Ian Kennedy: Kennedy is 3-0 with a 3.86 ERA, continuing his excellence from last season. He gave up three runs over seven innings in a win against Atlanta on Sunday.

" Detroit center fielder Austin Jackson: Jackson is hitting. 261 with three home runs and five RBIs. He owns a .363 on-base percentage, an increase from his career average.

" Detroit reliever Phil Coke: The lefty is enjoying a solid start as he has a 2.45 ERA. He's averaging more than a strikeout per inning and has given up just two runs in 7 1/3 innings.

" San Francisco left fielder Melky Cabrera: Cabrera continues his hot hitting since he left the Bronx as he's at .301 with a .386 on-base percentage. He has one homer and 11 RBIs.

" Miami reliever Mike Dunn: After a rough outing against the Mets Wednesday, Dunn's ERA is 6.23. He has pitched just 4/13 innings but has given up four runs (three earned) this season.

" Boston reliever Mark Melancon: Melancon had a 49.50 ERA before being demoted to AAA. In three games with Pawtucket entering Wednesday he had yet to give up a run.

" Atlanta pitcher Arodys Vizcaino: Vizcaino, a minor leaguer, is going to miss the season after undergoing Tommy John Surgery. He is one of the top prospects in baseball.

" San Francisco reliever George Kontos: Kontos had pitched to a 2.35 ERA with Fresno (AAA) this year. He has given up just two runs in 7 2/3 innings spanning seven relief appearances.

The trades

" Montero/Noesi for Michael Pineda/Jose Campos

" Kennedy/Coke/Jackson for Curtis Granderson

" Cabrera/Dunn/Vizcaino for Javier Vazquez/Boone Logan

" Melancon/Jimmy Paredes for Lance Berkman

" Kontos for Chris Stewart

Editor's note: Are there any prospects the Yankees traded away that you'd like to be considered for this list? Please let us know in the comments section below.


May, 10, 2011
5/10/11
5:34
PM ET
Melky Cabrera is back at Yankee Stadium this week for the first time since he was traded to the Atlanta Braves following the 2009 season.

Cabrera is now the starting center fielder for the Kansas City Royals, and is hitting .283 on the season with three home runs and 21 RBIs.

"I think he'll get a very good reaction [from the fans]," Yankees manager Joe Girardi said before Tuesday's series opener. "Melky brought a lot of energy to our club. He was well-liked."

Cabrera came up with the Yankees, and played four full seasons with the club from 2006 through 2009. In his final season in pinstripes, he helped the Yankees win the World Series, batting .274 with 13 homers and 68 RBIs in 154 games played.

Cabrera was dealt in Dec. 2009 along with Mike Dunn and Arodys Vizcaino for starting pitcher Javier Vazquez and reliever Boone Logan.
May, 10, 2011
5/10/11
5:25
PM ET
Yankees manager Joe Girardi is not surprised that the Kansas City Royals are off to such a good start this season -- 18-16, in second place in the American League Central, 4 1/2 games behind the even more surprising Cleveland Indians.

"No I'm not [surprised]. They're much more aggressive than they used to be, with all the stolen bases and the things that they're doing," Girardi said before Tuesday's series opener in the Bronx. "They have a bullpen that we haven't seen a lot of, when you look at all the new faces that they added. ... They're pitching, they're playing well, they're running."

The Royas have already stolen 42 bases this season, which leads the major leagues. Eleven different players have swiped at least one -- Mike Aviles and Jarrod Dyson lead the team with eight apiece.

"Melky [Cabrera] is having a good start, [Jeff] Francoeur is playing extremely well, Alex Gordon as well. So they're getting a lot of production out of their outfield," Girardi said.

Gordon is batting .309 with three homers and 23 RBIs; Francoeur, the former Met, is batting .302 with eight homers and 24 RBIs; and Cabrera, the former Yankee, is batting .283 with three homers and 21 RBIs.