New York Yankees:

Melky Mesa
July, 25, 2013
7/25/13
12:47
AM ET
ARLINGTON, Texas -- The Yankees lost 3-1 to the
Texas Rangers
on Wednesday for the same reason they have suffered most of their 48 losses this season: They didn't hit.
But you knew that already.
Here are five things you might not have known:
1.
Brett Gardner
, who thought he had gone 1-for-4 with a run scored, received a pleasant surprise after the game when he learned the scoring had been changed on the sixth-inning play that resulted in the Yankees' only run of the game.
[+] Enlarge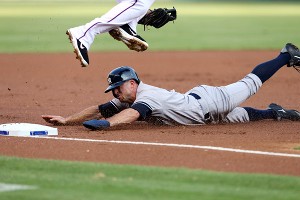 Layne Murdoch/Getty ImagesBrett Gardner advanced to third on a two-base error in the sixth inning. He scored the Yankees' lone run.
Gardner made it all the way to third when hit hit a comebacker to Rangers pitcher
Matt Garza
, who first bobbled it, then fired the ball into right field. The play was originally scored a three-base error on the pitcher, but afterward, the official scorer changed it to a single and a two-base error. Gardner grinned when he found out -- "I was only halfway to first when he picked up the ball," he said -- and chuckled when asked how seriously he had considered trying to score on the play.
"Not at all," he said. "I was gassed."
Gardner wound up scoring on
Robinson Cano
's single to right.
2.
Shawn Kelley
might have allowed Texas' insurance run on pinch hitter
David Murphy
's towering eighth-inning home run, but Kelley is also by far the stingiest member of the Yankees' bullpen when it comes to allowing inherited runners to score. He stranded two more Wednesday and has allowed just two of 25 inherited runners to score.
3. This was Joe Girardi's explanation for stopping on the way to the mound to collect
Andy Pettitte
when he saw Rangers manager Ron Washington emerge from the Texas dugout to argue with home plate umpire Lance Barksdale: "I just wanted to make sure that the hitter wasn't coming back to hit. I wasn't exactly sure what was going on so I'm not going to go out there and signal and maybe he calls the hitter back, something happened, somebody calls time out. I wanted to make sure that the play was standing. Ron Washington came out, he got a hit, what if he calls it back someone that called time out and I go like this."
No, I don't get it, either.
4.
Travis Hafner
sat for the second straight game against a right-handed starter, although Girardi did send him up to hit for
Chris Stewart
in the eighth inning. Hafner grounded out to first. His future with this team might be in jeopardy.
5. When
Melky Mesa
made his major league debut Tuesday night, he became the 46th player to play in a game for the Yankees this season, surpassing last year's total of 45 in just the 100th game of the season. The franchise record is 51, last accomplished in 2008. That mark seems destined to fall this season.
February, 21, 2013
2/21/13
4:26
PM ET
In addition to
Mark Teixeira
(USA) and
Robinson Cano
(Dominican Republic), five more Yankees will be leaving camp to play in the World Baseball Classic: infielders Gil Velasquez and Walter Ibarra, who will play for Mexico, outfielder
Melky Mesa
and pitcher
Juan Cedeno
, both of whom will play for the Dominican Republic, and two-handed pitcher Pat Venditte, who will play for Ambidextria. I mean Italy.
Joe Girardi said that Teixeira would play in five of the first eight preseason games and Cano would play in six of the eight before leaving the club on March 3. Mesa will start in center field in the spring opener on Saturday in Kissimmee, and Girardi said he would try to get Velasquez some game at-bats before he leaves.
October, 2, 2012
10/02/12
12:12
AM ET
The Yankees officially control their own destiny.
After winning 10-2 on Monday night, the Yankees are in sole possession of first place heading into the final two games of the year. If the Yankees win both games, they will win the AL East outright and avoid a playoff game on Thursday against the Orioles to determine the division champ.
A one-game playoff would occur if the Yankees win one of their final two and Baltimore beats the Rays twice, or the Yankees fall twice while the Orioles win one. The Yankees lose the division and play in the wild card play-in game if they lose both games to Boston and Baltimore takes two from Tampa Bay.
"That's what you want," Yankees manager Joe Girardi said of the Yankees controlling their own fate. "That's what you hope that you have all the time when you're playing this game that you can control your own destiny and we have to go out and win a ballgame tomorrow."
With the win, the Yankees put the pressure on the Rangers for home field in the AL. If the Yankees finish tied with the Rangers, as they are now after Monday's Rangers loss, they would get home field while the Rangers would be the No. 2 seed and face Detroit. The Yankees would face the Tigers in the first round if they win the division but fall behind the Rangers.
GARDNER BACK:
Brett Gardner
grounded out in his first at-bat since April 17 as he spent several months on the disabled list after injuring his elbow. Gardner had been a pinch runner and a defensive replacement since being activated off the disabled list on Sept. 25, but he finally got back to the plate against the Red Sox.
Girardi said Gardner can be a complete player for the Yankees going forward but the challenge will be getting him at-bats. The manager added that he's not going to make Gardner the full-time left fielder, since he doesn't have the at-bats over the course of the year.
He also said that having Gardner bat gives the outfielder more of a reason to be on the postseason roster.
"It's definitely something you have to think about now," Girardi said. "Even when you talk about a playoff roster, sometimes you have one slot for that runner, but now that he's a full player, it's a little bit different."
Gardner said his elbow felt fine and there was no discomfort after the game. He's not placing pressure on himself to do more to make a case for for the postseason roster.
"If they call on me in certain situations I'll do my best to be as prepared as I can be to help the team win and that's all I can really worry about," Gardner said. "I feel good, I'm healthy, and (I'm) tak(ing) things one day at a time."
MELKY DELIVERS:
Melky Mesa
had an RBI single in the first at-bat of his career. He clapped after seeing the ball get through the hole between third and short, and was handed the lineup card by Girardi after the game, along with a hearty handshake.
"Just an exciting moment," Mesa said. "I can't explain how good I feel right now."
September, 23, 2012
9/23/12
7:46
PM ET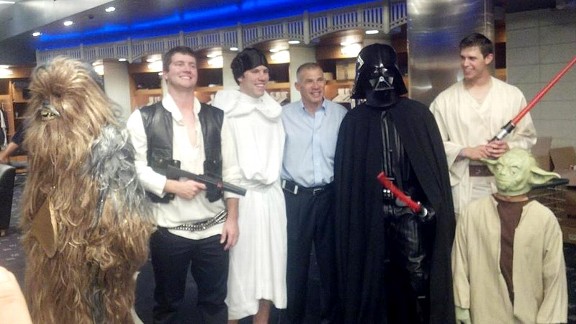 Mike Mazzeo
The Yankees are known as "The Evil Empire."
So it was only fitting that they hazed their rookies by making them wear Star Wars costumes leaving for a road trip after Sunday's 5-4 loss to the A's.
The roster (from left):
Mark Littlefield (training staff): Chewbacca
Adam Warren
: Han Solo
David Phelps
: Princess Leia
Joe Girardi
Melky Mesa
: Darth Vader
Cody Eppley
: Luke Skywalker
Kenji Nimura (Hiroki Kuroda's translator): Yoda
September, 22, 2012
9/22/12
9:30
PM ET
What's the first thing that comes to your mind when you think about
Eduardo Nunez
?
Errors, right?
The infielder, after all, is known for his shaky glove.
On Saturday, though, Nunez actually benefited from an error. In a big way.
With two outs and the bases loaded in the 14th, Nunez hit a grounder to first that A's first baseman
Brandon Moss
couldn't handle. Nunez reached first safely, allowing
Ichiro Suzuki
to score the game-winning run in the Yankees' 10-9 come-from-behind win.
"It feels great. ... I never had a walk-off in my life," an ecstatic Nunez said after the game.
Nunez raised his hands above his head as he crossed first and was mobbed by teammates.
The win was even more sweet given the fact the Yanks trailed by four runs in the 13th but stormed back thanks in part to a two-run shot from
Raul Ibanez
.
The victory allowed the Yanks to stay a game ahead of Baltimore in AL East race.
"We needed it a lot," Nunez said. "... So we put it together."
Nunez also helped get rookie
Melky Mesa
off the hook.
Making his major league debut, Mesa made what could have been a costly mistake when he missed the bag rounding third on
Alex Rodriguez
's single with one out in the 14th.
Had he hit the bag, Mesa would have easily scored the winning run.
Instead, he had to scamper back to third. Shortly thereafter, he was gunned down at the plate on a force out.
"I just missed third base," Mesa said afterward. "[It was] bad [timing], a mistake."
All was forgotten, though, after Suzuki scored the game-winner.
"That would have been a tough one for this kid to swallow," a relieved Girardi said after the game.
Perhaps realizing the enormousness of the moment for Mesa, Girardi gave him the lineup card from the game. Mesa seemed a bit caught off guard when Girardi handed it to him at his locker.
Will he hang on to it? Maybe hang it on his wall?
"Oh yeah," Mesa said with a smile. "I'm supposed to."