New York Yankees:

Miami Marlins
March, 16, 2014
3/16/14
1:32
PM ET
By
Marly Rivera | ESPNDeportes.com
PANAMA CITY -- To the rhythm of thousands of vuvuzuelas, fans at Rod Carew National Stadium received the
New York Yankees
and
Miami Marlins
with a Panamanian-style welcome on Saturday night, as both teams visited Panama City for the first Major League Baseball games since 1947.
And to the tune or "Enter Sandman," former Yankees closer
Mariano Rivera
entered through the doors in center field to a rousing standing ovation before the game.
[+] Enlarge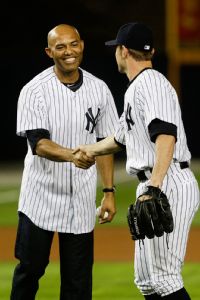 AP Photo/Arnulfo FrancoMariano Rivera officially passed the torch to David Robertson on Saturday night.
"When the Panamanian people were singing the national anthem and I was standing in the outfield, a dream that I hadn't been able to celebrate in my life was fulfilled," said Rivera, a proud Panama native, after throwing out the first pitch.
"It was something incredible and experiencing it in a sold-out stadium with everyone on their feet and that ovation, it's priceless."
David Robertson
had the honor of serving as Rivera's catcher for the ceremonial first pitch.
"I wanted to do it so that it could serve as a transfer to my successor ... I handed my legacy," Rivera said. "It was like passing the torch, and we expect that he will do a good job with what's being entrusted to him.
"Everything has a beginning and an end and now here we end the story at home. It has come full circle today and what was supposed to happen was fulfilled and now it has been sealed because it was at home and there's nothing better than that in your own home. I'm Panamanian and as a Panamanian you wish and it's in your blood to be part of this and that's how it was fulfilled."
For Robertson it was an unforgettable experience to be in Panama, where Rivera is an idol.
"It's obvious that everyone was excited to see Mariano and being his catcher for the first pitch was incredible. Not everyone in the world can say they've done that," the 28-year-old closer said.
"I think it was something like passing the torch being that things are lining up in that manner, but I still haven't pitched in a regular season game so it will be interesting."
The Bronx Bombers couldn't extend the pregame ceremony's grandeur to the ballgame itself, as four Marlins pitchers, led by starter
Brad Hand
and relievers
Steve Cishek
,
A.J. Ramos
and
Arquimedes Caminero
, combined to no-hit the Yankees, 5-0. Even though it was an exhibition game, Joe Girardi was a little chagrined. "The ceremony was incredible and I'm sure it was very special for Mo, but it wasn't the type of historic night we expected," Girardi said. "It takes a little bit away from the event because we obviously would have like to have [gotten] some hits and runs but the Marlins pitched excellently and it doesn't matter what game is played and at what level, you never want to leave without getting hits."
July, 28, 2013
7/28/13
3:47
PM ET
By
ESPN.com news services
MIAMI --
Tino Martinez
resigned as the
Miami Marlins
' hitting coach, hours after complaints by players that he verbally abused them became public.
Martinez was in his first year as a professional coach. He was in the dugout for Sunday's 3-2 win over the
Pittsburgh Pirates
, then met with Marlins officials and resigned.
"I want to apologize to the Marlins organization for my behavior," Martinez said. "I have made some comments to certain players at certain times that I thought was more constructive criticism. Obviously, they didn't feel that way, and it kind of backfired on me."
Martinez said he once touched a player in anger, grabbing rookie
Derek Dietrich
by the jersey in the batting cage early this season. Dietrich, recently demoted to Triple-A New Orleans, was among the players to complain about Martinez.
Martinez, 45, was a member of four World Series championship teams during his seven seasons as the
New York Yankees
' first baseman.
Click here for the entire story.
Information from The Associated Press was used in this report.
April, 1, 2012
4/01/12
7:00
AM ET
Every new venue wants to book a blockbuster act for its opening night, and the Miami (nee: Florida) Marlins are no exception.

So of course, they invited the Yankees to help them open Marlins Park (a/k/a The Fish Tank), their brand-spanking-new, half-a-billion dollar retractable roof ballpark, with two games here beginning this afternoon.

And not only do they get the Yankees, they get the whole schmear: CC Sabathia starting today, the entire regular starting lineup, and even Mariano Rivera, who hasn't made a road trip since back in the 1900s, will be in the bullpen in a gray uniform, ready to go.

And it marks the return to Miami of one Joseph Elliott Girardi, who managed here for one season -- in dreary a old yard known at the time as Dolphin Stadium, which in previous lives had been known as Joe Robbie Stadium, Pro Player Stadium and now goes by Sun Life Stadium -- won 78 games and the Manager of the Year Award but still managed to get himself fired after telling his boss, Jeffrey Loria, to shut up.

A lot has happened to Girardi and the Marlins since then, and even though he misused the word "anxious'' to describe his feeling about his return, it was clear that he meant he was eager to revisit the site of his first managerial job.

"They really needed it,'' he said of the new park, which will seat 37,000, the third-smallest capacity in the major leagues. But then, when Girardi worked here, the Marlins could barely put 14,000 people into a joint built to hold 75,000.

"The stadium lease that they had wasn't great and it was hard for them to keep their players that they, you know, were grooming, as they got to higher salary levels,'' he said. "They just couldn't do it. Maybe this will help.''

A big part of the problem, of course, is the subtropical South Florida weather, which is always wet and often intolerably hot. Presumably, the retractable roof solves that problem and the addition of players such as Jose Reyes, Mark Buerhle, Carlos Zambrano and new manager Ozzie Guillen does the rest.

Girardi chose to share only fond memories of the place when we chatted about it Saturday morning. "The year I was there, it wasn't like that,'' he said of the Brazilian rainforest-like conditions. "It was unbelievable. We only had a couple of rain delays. I think people have always talked about the threat of rain and the heat as concerns about going to the ballpark. But all those problems are cleared up now. Just as long as the AC works all the time.''

The question: With a new ballpark, new manager and a new-look roster, do you think Miami can finally become a baseball town?

Up Now: My column on why anyone who thinks the Yankees got duped in the Michael Pineda for Jesus Montero trade might be jumping the gun a little bit. Also, all the news out of Kissimmee, where the baseballs were flying like saucers and one Yankee prospect, Dante Bichette Jr., had the day of his baseball life. So far.

On-deck circle: Traffic and parking are supposed to be a nightmare at the new park so hopefully I'll get there in time for the opening of the clubhouse this morning. I'll be blogging all day from the game, then it's off to Sun Life for Wrestlemania XXVIII with Alex Rodriguez, Mike Tyson and a cast of 75,000 others. (OK, so we'll all be there, but maybe not together). Full report coming.



December, 5, 2011
12/05/11
7:30
AM ET
I had a dream last night, I woke up at the winter meetings and the Yankees had
turned into the Marlins and the Marlins had become the Yankees.
Goodness,that was some strong NyQuill!
In the dream, Miami signed a hotshot shortstop for more than $100 million, while the Yankees GM wore an
elf costume and scaled a building on the other side of the country. He wasn't even at the meetings yet.
Weird, right?
In fact, the GM of the Yanks wasn't showing up until late in the afternoon on
Monday. His flight was scheduled to take off at 12:30p.m. ET.from New York.
Wait, all that is true?
The Yankees are going to sit around listening and not spreading the wealth. As they
think about 2014
and the
luxury tax
.
It is
boring, but smart
.
Check back often all day, we will blog what we hear and what we see.
At 9 a.m., I will post our question of the day.
In advance, let me say, thanks for your time. We appreciate it, as always.
Time to wake up.