New York Yankees:

Mickey Mantle
February, 27, 2013
Feb 27
1:31
PM ET
In the Arizona Fall League, a scout watched Slade Heathcott and compared him to a more athletic
Todd Hollandsworth
. That same scout thought Heathcott was the best player in the Fall League.
The 22-year-old Heathcott, a Texan, is in major league camp for the first time. When he speaks, he sounds like an outfielder cut out of the 1950s or '60. With a past that includes his own battle with alcohol, it makes sense that Heatchott says one of the players he looks up to is the late Mickey Charles Mantle.
[+] Enlarge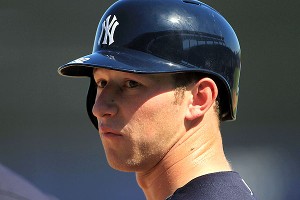 John Munson/THE STAR-LEDGER via USA TODAY SportsSlade Heathcott
"He played hard," Heathcott said. "He is from Commerce, Oklahoma, which is about 15 minutes from where my family is. The Commerce Cowboys, actually. Just the way he played. He was a five-tool athlete, a stud, did his best to handle things and came out on top. I like hearing that."
Heathcott said he has read two Mantle bios. "That's how I became of fan of his," Heathcott said.
Heathcott, 6-foot-1, 190 pounds, is a ball of excitement as a player. In fact, the biggest knock on him might be that he plays too hard, which has resulted in two shoulder surgeries.
"What I like to say is I have to play a little smarter," said Heathcott, whom the Yankees selected with the 29th pick in 2009. "I'm never going to back off my game. I just need to learn what situations call for it and what situations don't. That's definitely something I'm working on."
Heathcott is slated to begin the year at Double-A Trenton, but he has a chance to skyrocket all the way to the Bronx at some point this season.
January, 22, 2013
Jan 22
12:14
PM ET
Buster Olney ranks the Top 10 outfields in baseball history today. The '61 Yankees, featuring CF Mickey Mantle and RF Roger Maris, are No. 1. Can you name the primary left fielder that year?
Also, there's one other Yanks outfield on the list.
To check out the piece,
click here
(Insider).
December, 13, 2012
12/13/12
3:02
PM ET
ESPN's Hall of 100 -- a performance-centric look at the greatest players of all time -- has Babe Ruth No. 1 on the list, beating out Willie Mays and
Barry Bonds
.
No surprise there. But what about No. 7 Roger Clemens ahead of No. 9 Mickey Mantle?
You can join the debate by
clicking here
. Of the Top 25, nine are former or current New York players.
Alex Rodriguez
is 18th all-time, according to our experts, a few pegs behind
Rickey Henderson
at No. 14. The rest of the New York representatives in the Top 25 shake out like this:
1. Babe Ruth
2. Willie Mays
7.
Roger Clemens
9. Mickey Mantle
11. Lou Gehrig
14. Rickey Henderson
18. Alex Rodriguez
21. Joe DiMaggio
23.
Randy Johnson
24. Tom Seaver
What do you think? Where did we get this right or wrong?
July, 10, 2012
7/10/12
10:08
PM ET
With his first inning single, Derek Jeter passed Mickey Mantle for the most All-Star hits in Yankees history. Jeter has 11.

The infield single deflected off third baseman Pablo Sandoval's glove before Rafael Furcal handled it in the hole. Furcal fired a strike across the diamond, but Jeter beat the throw. Jeter went 1-for-2 on the night. He was pinch-hit for in the fifth.

Jeter, whose .440 Midsummer Classic batting average is tied with Ken Griffey for fifth all-time, needs one more All-Star Game hit to crack the career Top 10, though he's unlikely to break Willie Mays' mark of 23. (For the record, Jeter's childhood idol, not to mention Hall of Famer and former Yankee, Dave Winfield, is among the Top 10 with 13 All-Star Game hits, though four of those came while a member of the San Diego Padres.)

Meanwhile, the fans in Kansas City are not through with Robinson Cano, choosing to boo him every chance they get. They first booed Cano during the Home Run Derby for the crime of not picking the Royals' Billy Butler, even though Butler did not deserve to be on the team. Cano indicated at one point he might take Butler so that got the Kansas City fans further in a tizzy.

Cano had a single in two-at-bats. He was also pinch-hit for in the fifth.

As for Curtis Granderson, he went 0-for-2.
May, 27, 2012
5/27/12
12:14
PM ET
By
Mark Simon, ESPN Stats & Information
Theme of the Matchup
Both of Sunday's starters,
Hiroki Kuroda
and
Tom Milone
, rank among the pitchers who most frequently leave their fastball in a danger spot over the middle of the plate height-wise.
Kuroda's rate of fastballs thrown to that area typically is around one-third of those thrown. That's upped to 41 percent this season, and those couple of extra pitches have been hit hard.
Opponents are slugging .538 against those mid-level fastballs from Kuroda this season, up from .381 in 2011.
Milone's numbers are better, but that may be a product of his home ballpark. Opponents are 4-for-20 in at-bats ending with a mid-level fastball vs Milone in Oakland, 9-for-24 with three homers elsewhere.
Hiroki Kuroda Stats To Watch
From
Yankeemetrics
writer Katie Sharp: Kuroda has lost each of his first four road starts, posting a 6.23 ERA over 21S innings. His four-start road losing streak is tied with
Steve Trout (1987)
for the third-longest such streak to start a career as Yankee in the Live Ball Era.
The only Yankees pitchers with longer streaks to begin their pinstripe careers are
Monk Dubiel
(1944) and
Steve Barber
(1967), who lost their first five road starts as Yankees.
Look out for the Changeup
Milone's signature pitch is his changeup and that could pose a problem for two potential Yankees hitters today. Russell Martin and Andruw Jones have the same numbers against changeups from lefties since the start of last season.
Each is 3-for-28 when that pitch ends an at-bat, with a home run and 10 strikeouts.
Three's Company
The Yankees have hit three home runs in three straight games. The only time in the Live Ball Era that they had a streak of four in a row was in 1956. Their opponents were the Athletics (then based in Kansas City) and the Indians. Their homer hitters in the fourth game were
Mickey Mantle
(with two) and
Billy Martin
.
The last team in the majors to hit at least three home runs in four straight games was the 2009 Blue Jays.
Jeter Meter
Derek Jeter is tied for 14th all-time on the career hits list with
George Brett
at 3,154. After Jeter passes Brett, his next target is
Cal Ripken Jr.
at 3,184.
Jeter is at 66 hits through the Yankees first 46 games. His high for most hits in the Yankees first 50 games of a season is 73, done in 1999.
If he averages two hits a game in the next four games, he'll have the most hits by a Yankee through the team's first 50 games since Mickey Mantle had 75 in 1956.
You're on the Mark
Mark Teixeira
has three home runs in the Yankees last two games. He'll be trying to bust out of a slump against lefties today. Teixeira is 2-for-15 against left-handed pitching dating back to May 6.
August, 8, 2011
8/08/11
12:05
PM ET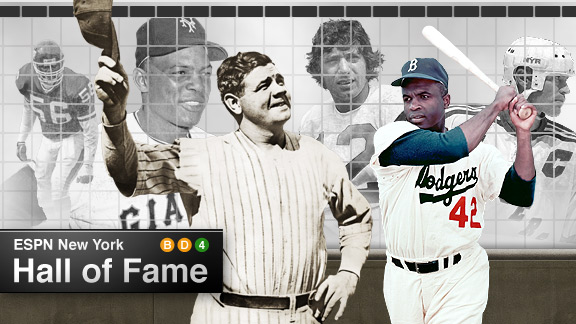 ESPN.com illustration
Vote: Pick the ESPN New York Hall of Fame class »
In honor of ESPN New York's inaugural
Hall of Fame ballot
, let's review our choices for the top Yankees of all time:
1. Babe Ruth
We disagreed on Nos. 2-50, but every ballot had the same No. 1: The Babe. Ruth embodied both Yankees dominance and excess, from his Curse to his curves, outhitting entire teams en route to a Hall of Fame career he began in Boston as a superstar pitcher.
2. Lou Gehrig
The Iron Horse saw his consecutive games streak end as ALS ravaged his body and ultimately took his life. But No. 4 found the strength to call himself "the luckiest man on the face of the earth." He was also the greatest first baseman in baseball history.
3. Joe DiMaggio
While Boomers boast about Mantle, The Commerce Comet, their fathers crow about Joltin' Joe, a three-time MVP who drove in 1,537 runs despite losing three prime years to World War II. The Yankee Clipper didn't just catch fly balls, he snagged Marilyn Monroe, too.
4. Mickey Mantle
In our closest race, The Mick was edged out of the top three by just a few points, but the switch-hitting Hall of Fame center fielder -- and hero of Baby Boomers from the Bronx and beyond -- is a top-fiver with three MVPs, a 1956 Triple Crown and seven rings.
5. Mariano Rivera
To be a top-five Yankee, you must be legendary, the dominant player at your position for a decade or more. Perhaps no one has owned his position like Mr. Automatic, the greatest closer ever. His five rings, 42 saves and a 0.71 ERA in October say it all.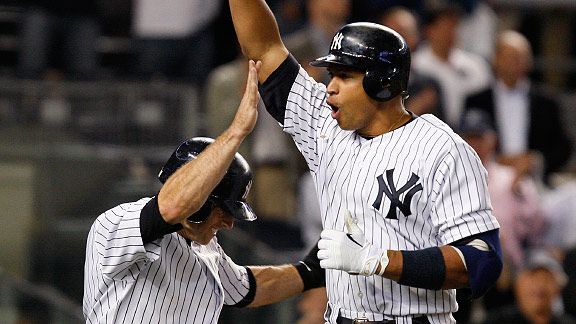 AP Photo/Kathy WillensAlex Rodriguez is looking for a little bit of hitting streak history this weekend against the Red Sox.
In the spirit of togetherness, with Yankeemetrics writer Katie Sharp on vacation this week, we fill in on the Yankees statistical beat with this set of notes (helped by
Baseball-Reference.com
). Before we review the week that was, let's look ahead to a few numerical angles of note heading into the weekend.
A-Rod on Track?
Alex Rodriguez
enters the weekend with hits in his last 16 games against the Red Sox. Only five Yankees have a longer hitting streak against the Red Sox in the Live Ball Era (since 1920) –
Joe DiMaggio
(33, 1937-1938),
Bob Meusel
(23, 1926-1928),
Lou Gehrig
(18, 1930-1931),
Gil McDougald
(18, 1952-1953), and
Derek Jeter
(18, 2007-2008).
Rodriguez's longest hit streak against an opponent is a 24-gamer against the Tigers from 2001 to 2004. His longest vs the Red Sox is 20 games, from 1996 to 1998.
A Potential Nemesis for Granderson
Curtis Granderson
has struck out 11 times in 24 career at-bats against
Josh Beckett
. That's two strikeouts shy of matching his most whiffs against any pitcher. He's fanned 13 times in the regular season against Mariners ace
Felix Hernandez
.
Granderson has whiffed in three of his last four at-bats against Beckett, but that's not as bad as his stretch from 2006 to 2008 when he fanned in six straight plate appearances against him.
Lester is More
Jon Lester
will be going for a little history on Sunday Night Baseball. Lester held the Yankees scoreless in his last two starts against them, going at least six innings in each. Only two pitchers since 1920 have had longer such streaks--
Britt Burns
(four straight, 1981-1982) and
Schoolboy Rowe
(three straight, all shutouts, 1934-1935).
Now for the week-in-review:
Friday, May 6-- 'Cary'ing The Load
Our obscure Yankeemetric reference of the week:
Ivan Nova
allowed just one run and two hits in seven innings. He's the first Yankee to pitch that well (two hits or fewer in seven-or-more-innings) in Texas against the Rangers since
Chuck Cary
allowed two hits in 8 2/3 innings in a 5-4 loss to the Rangers in 1989.
Saturday, May 7-- All Rhodes (eventually) Lead to Winning
Arthur Rhodes
got a rare win against the Yankees, improving to 5-9 against them. He'd lose on Sunday, reverting back to form by allowing two runs. Rhodes' ERA against the Yankees is now 7.52, worst among active pitchers with at least 30 innings against them.
Sunday, May 8-- Jeter in Elite Company
From Stats and Info teammate, Jason McCallum,
Derek Jeter
had four hits, two homers, three RBI and a stolen base. The only other player to do that in the majors in the last two seasons was Jeter's teammate,
Alex Rodriguez, who did it last season.
Tuesday, May 10-- Mariano Brings Royal Pain
The Elias Sports Bureau tipped us off that
Mariano Rivera
converted his 25th straight save chance against the Royals. That's impressive, but still eight save conversions shy of his best streak against an opponent, a run of 33 straight against the Rays from 1998 to 2005.
Wednesday, May 11-- What an Unusual Loss
A.J. Burnett
yielded only one hit in seven innings. It's the first time in the Live Ball Era (since 1920) that a Yankees starter allowed one hit in seven-or-more-innings at home, and the Yankees lost the game. The Yankees were previously 40-0 in regular season/postseason home games in which their starter performed as well as Burnett.
Curtis Granderson's
home run gave him 12, marking the 11th time in the Live Ball Era that a Yankees outfielder reached a dozen homers by the time of his teams 34th game. But the only other outfielders to do it for the Yankees are
Babe Ruth
(five times) and
Mickey Mantle
(once, in 1956).
This was the second time the Yankees allowed four hits in a HOME LOSS this season (also on April 15, a 5-3 loss to the Rangers). The last time they allowed four hits or fewer in two HOME LOSSES in the same season was 1982 (two losses in three days to Angels)
Since 1920, the Yankees have four home extra-inning losses in which they allowed four hits or fewer-- in 1958 (Orioles), 1964 (Twins), 2000 (Twins), and 2011 (Royals).
May 12-- No Whiff, No Win
The Royals won a series in Yankee Stadium for the first time since 1999 and did so in unusual fashion. The Yankees lost the game despite not striking out once.
The Yankees have now had three whiff-free losses in the last 25 seasons (ie: starting in 1987). The most recent was a 7-1 loss to the Tigers on June 19, 2001.
Since 2000, teams that don't strike out in a game are 100-49, so in two out of three instances, that should be a Yankees win. Instead, it's a loss that sends the team into a key series on a down note.
April, 17, 2011
4/17/11
4:23
PM ET
Tonight marks the 60th anniversary of Mickey Mantle's first major-league game - and Bob Sheppard's first game as Yankee Stadium PA announcer. Mantle went 1-for-4 with an RBI single in the Yankees 5-0 win over the Red Sox. Here's the lineup sheppard announced tha night:

Jackie Jensen, LF
Phil Rizzuto, SS
Mickey Mantle, RF
Joe DiMaggio, CF
Yogi Berra, C
Johnny Mize, 1B
Billy Johnson, 3B
Jerry Coleman, 2B
Vic Raschi, P


April, 17, 2011
4/17/11
10:32
AM ET
By
Jeremy Lundblad & Mark Simon
| ESPNNewYork.com
Sunday marks the 58th anniversary of one of the most famous home runs in Yankees history,
Mickey Mantle'
s 565-foot blast off Washington Senators pitcher Chuck Stobbs at Griffith Stadium, a home run so long it landed in the backyard of a house located beyond the ballpark.
The Yankees longest home run last season didn't quite reach that length-- a 455-foot shot by
Curtis Granderson
n against Josh Beckett on Opening Day.
The Yankees will be challenged to go tape-measure against Rangers starter Alexi Ogando on Sunday Night Baseball at 8 tonight.
Ogando's high fastball has been very effective. Review of Pitch F/X data shows that hitters have swung at 24 of his fastballs in the upper-third of the strike zone and above this season. They've missed 11 of them, which gives him a miss rate among the highest of anyone in the majors (45.8 percent) with that pitch. He's also thrown his slider for strikes 72 percent of the time.
For more nuggets to know on tonight's contest, check out the
Stats and Info blog
.
March, 30, 2011
3/30/11
1:41
PM ET
ESPN.com Illustration
ESPNNewYork.com named the 50 Greatest Yankees -- not an easy task, considering the Bombers have 27 World Series titles, 40 American League pennants and enough Hall of Famers to fill their own wing in Cooperstown.
The List

Rank 'Em »
•
Matthews:
My top three? Ruth, Gehrig, Rivera »
•
Here's the method to our madness »
October, 9, 2010
10/09/10
9:00
AM ET
By
Mark Simon
| ESPNNewYork.com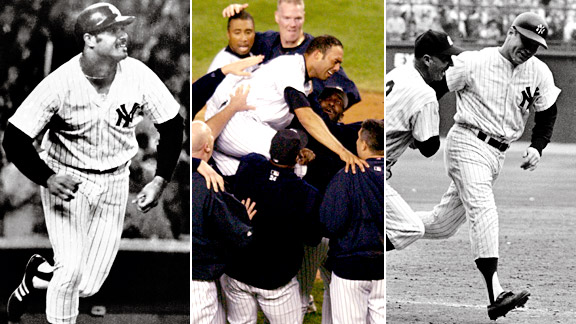 AP Photo
Chris Chambliss, Mariano Rivera and Mickey Mantle are among the most valuable clinching-game players in Yankees history.
With clinching feeling like an inevitability at this point, today seemed like a good day to look back through Yankees history at the best performances in a postseason series-clinching win.
How to do that? It feels like a combination of statistical analysis and common sense is the right way to go.
We'll let the stat Win Probability Added, available on the research godsend,
Baseball-Reference.com
serve as the initial guide.
Win Probability Added measures the impact of every plate appearance on the chance a team has to win a game.
Each plate appearance is worth percentage points, based on the increase or decrease that teams have historically shown to win in those situations. A tie-breaking home run in the ninth inning nets a lot more points than a home run in a 10-0 blowout.
WPA measures value, so there's a bias to those whose late-game heroics were difference-makers over those who were accumulators over the course of a game. So we'll reserve the right to overrule the WPA tally when it seems appropriate.
Let's do this in a position-by position format to create an All-Yankee Clinchers Team.
Catcher --
This one isn't too hard, advanced metrics or not. In Game 7 of the 1956 World Series,
Yogi Berra
was Superman, hitting two-run home runs in each of his first two at-bats against
Don Newcombe
, to put the Yankees up 4-0 after three innings. The Dodgers would intentionally walk Berra the next two times up, and the second time
Moose Skowron
buried them with a three-run home run. The Yankees won 9-0 to avenge their World Series loss the previous year.
First Base --
Chris Chambliss'
performance in Game 5 of the 1976 makes this another not-so-tough choice. Not only did Chambliss hit the walk-off home run in the ninth inning, but he also had a game-tying sacrifice fly in the first inning and a go-ahead RBI groundout in the third.
Through the quirks of the Win Probability system, Chambliss actually lost points for the latter two (since he made outs each time), but his home run more than makes up for that. He gets tabbed ahead of the aforementioned Skrowron, a very valiant runner-up, who had four-RBI games in Game 7 of both the 1956 and 1958 World Series.
Second Base --
Let's go with sentiment over mathematics here, our choice being
Brian Doyle
, for his efforts in Game 6 of the 1978 World Series. For those unfamiliar, Doyle had only 54 regular season at-bats that year, but was called to duty when
Willie Randolph
got hurt.
Doyle ended up going 7-for-16 in the series with four runs scored. In the clinching sixth game he went 3-for-4 with two RBIs, driving in the tying run in the second inning with a double, and a lead-padding run with a sixth-inning RBI single.
The math says to take
Billy Martin
(walk-off hit in 1953 World Series) or
Tony Lazzeri
(a three-hit, two-homer game in 1932), but we like a good story, so we'll pick Doyle.
Shortstop --
WPA says to go with Doyle's double play mate,
Bucky Dent
, but we'll overrule in favor of the next guy on the list. In Game 7 of the 1947 World Series,
Phil Rizzuto
was the Yankees' unsung hero.
With the Yanks trailing 2-0 early, Rizzuto drove in their first run in the second inning. He then kept a rally alive with a two-out fourth inning single, which led to the Yankees taking the lead later in the inning. Then in the sixth inning he bunted for a hit, stole a base, and scored on a two-out hit to put the Yankees up 4-2. And as a bonus, he started the series-ending double play.
For those wondering,
Derek Jeter's
best series-clinching games fall a little short, statistically speaking. Perhaps he's due for a big one today.
Third Base --
Amazingly, the individual game that scores highest of any Yankee-clincher Win Probability-wise, is one which
Alex Rodriguez
didn't even drive in a run.
Rodriguez earns the honor for the events of the 2004 ALDS Game 4 clincher against Minnesota, in which he reached base four times in six turns. He didn't have the winning hit, but he did the next best thing. In the 10th inning, he doubled with one out, then stole third (a play increasing the Yankees' chance of winning by 11 percent by itself) and scored on
Kyle Lohse's
wild pitch.
Left Field --
A more distant memory than
Reggie Jackson's
three-homer game (which we'll get to in a moment) is
Babe Ruth's
series-clinching trifecta in Game 4 of the 1928 World Series. Twice Ruth homered to tie the game and he added a put-away blast with the game out of reach in the eighth.
This one actually doesn't score highest on the WPA chart --
Bob Meusel
(1923 WS),
Elston Howard
(1958 WS) and
Dave Justice
(2000 ALCS) rate higher, but the power of the Bambino overrules in this instance.
Center Field --
This was one of the harder ones to pick, but we'll go with
Mickey Mantle's
clutch hitting against the Dodgers in Game 7 of the 1952 World Series. His sixth-inning home run gave the Yankees the lead and his seventh-inning RBI hit gave the Yankees a two-run cushion.
If you want to stump your friends with some good clinching trivia, ask them to name the only Yankee center fielder with four hits in a clinching game. It's not Mantle,
Joe DiMaggio
,
Bernie Williams,
or even Hall of Famer
Earle Combs
, the latter three of whom all had games that could have been picked here -- it's
Mickey Rivers
, in Game 5 of the 1976 ALCS.
Right Field --
Reggie Jackson
, Game 6, 1977 World Series. Three swings, three home runs. End of discussion.
DH --
Also fairly simple:
Hideki Matsui
tied a World Series record with six RBIs in last year's clincher against the Phillies. WPA says he's the pick too.
Mid-game replacement --
We'll call it a tie, and I think our Baseball Tonight colleague
Aaron Boone
will agree that trying to pick between his walk-off home run in Game 7 of the 2003 ALCS and
Luis Sojo's
series-clinching hit in Game 5 of the World Series is too tough. So let's call it even. There's room on the bench for both.
Starting Pitcher --
The performance that rates highest among all Yankees, regardless of position, for Win Probability Added in a series clincher --
Ralph Terry
. People of my age talk about
Jack Morris'
Game 7 1-0 win for the Twins in the 1991 World Series. People my father's age speak of Terry, who overcame the stigma of allowing
Bill Mazeroski's
series-ender two years prior.
Terry allowed no runs and four hits in a 1-0 win in San Francisco. Yes, he was fortunate to escape a ninth-inning jam when
Willie McCovey
lined out with runners on second and third to end the series, but it speaks highly to his value that his manager felt confident enough in him to stick it out in the ultimate pressure-cooker moment.
Another one with which to stump your friends: The last Yankee to pitch a complete game in a series-clincher?
Mike Torrez
, better known for giving up the famous homer to
Bucky Dent
, did it in Game 6 of the 1977 World Series (it rates a distant 30th on the WPA list).
Relief Pitcher --
Mariano Rivera
has been on the mound to get the last out of 14 different postseason series (trivia buffs note:
Gabe White
and
Ramiro Mendoza
are the other two Yankees to get series-clinching outs in the Rivera closer-era), but rising above those on the WPA scale and our list is one in which he didn't celebrate the final out -- Game 7 of the 2003 ALCS.
Rivera pitched three shutout innings against the Red Sox that day, bravely keeping the game tied until Boone's winning home run. It's the ultimate game in the legacy of one of the greatest Yankees of all time.
Now, as to which is better: three scoreless innings or three home runs? You can make the call on that.
April, 30, 2010
4/30/10
12:56
AM ET
To a man, the Yankees are happy to be home. Here are the weekend storylines.
Can
Robinson Cano
become the first Yankee to hit .400 with eight homers in April?
Babe Ruth, Joe DiMaggio and Mickey Mantle never did it
.
How will
Javy Vazquez
do on Saturday? Ian O'Connor with an excellent piece to get you ready. He
talked with Eddie Lee Whitson
.
And
Mark Teixeira
will be the happiest person on Saturday, though, he will refuse to admit it. The calender turns to May.