New York Yankees:

Mike Mussina
January, 8, 2014
Jan 8
2:27
PM ET
NEW YORK -- A trio of new members
were added to the Hall of Fame today
--
Greg Maddux
,
Tom Glavine
and
Frank Thomas
-- but it was a shutout for ex-Yankees, as
Mike Mussina
was named on just 20 percent of the ballots in his first year of eligibility.
It comes as no surprise that Mussina didn't make it -- his support was soft in the ballots that were publicized in the days leading up to the announcement -- but it is a surprise that he didn't get more support. He has 270 wins and a winning percentage of .638, which would place him among the top 12 of pitchers already in the Hall.
Plus, for you Sabermetricians, Mussina's WAR (83) was higher than Glavine's and his WHIP (1.192) was lower. Perhaps his mediocre postseason numbers and the fact he never won a Cy Young Award worked against him.
What does it mean?:
That Moose's chances for election are slim at best. It's tough to rally from 20 percent to the 75 percent needed for election.
Here's to the winners:
Maddux, Glavine and Thomas were slam dunks going in, all well-deserving candidates who were rightfully elected on their first ballot.

And one near-miss:
Craig Biggio
missed election by just two votes, having fallen just 0.2 percent shy of election in his second year of eligibility. I voted for Biggio and will vote for him again next year, when I would bet a week's pay he will get in.
No juice:
Once again, the voters strongly rejected players tainted by the steroid scandal --
Barry Bonds
,
Roger Clemens
and
Sammy Sosa
-- and
Rafael Palmeiro
, who strongly denied his PED use before Congress only to be revealed as a liar, fell off the ballot completely.
Last at-bat for Donnie Baseball:
In his 14th year of eligibility, Don Mattingly failed to get in and has just one more shot with the voters before heading into the realm of the Veterans Committee.
Who are these people?:
Somehow, 16 voters found a reason to leave Maddux off their ballots. I'd love to hear from them.
Inching up:
In his second year of eligibility,
Mike Piazza
's vote percentage went up from 57 to 62, but he's still a significant distance from the needed 75 percent. I voted for him, too, and will again next year.
Batting .300:
I voted for all three of the inductees, but the other seven I voted for -- Biggio,
Jeff Bagwell
, Mussina, Piazza, Tim Raines,
Curt Schilling
and
Larry Walker
-- fell short. Still, hitting .300 is good enough to get me into Cooperstown, isn't it?
QUESTION: What kind of job do you think the Hall of Fame voters did this year? Should they have elected more players, and if so, who?
January, 8, 2014
Jan 8
11:22
AM ET
Let's do some Wednesday morning notes as we wait for the Hall of Fame announcement at 2 p.m.:
1. MOOSE & MATTINGLY:
The Yankees probably won't have any players joining Joe Torre in Cooperstown this summer. While
Mike Mussina
and Don Mattingly are on the ballot, neither is expected to get in. Mussina, in his first year, seems like a guy who could eventually make it, however his percentage may not be impressive this time around because of the overload of qualified candidates.
Mattingly is up for the 14th time. In 2001, he received 28 percent of the vote. In 2012, he was at 13.2 percent. A player needs 75 percent to be elected and five percent to remain on the eligible list.
Still, even without the Hall, Mattingly does have
some good things going on in his career
.
2. THE WAITING GAME:
The
Alex Rodriguez decision
is not expected to come down until Friday, at the earliest. Baseball doesn't want to interfere with the Hall of Fame announcement and reaction. If not Friday for A-Rod, Monday seems like a good bet.
As for Masahiro Tanaka, the Yankees are in on him, but no decisions are near. The two sides are expected to talk in the next few days, if they haven't already.
Ian O'Connor says the Yankees should do
everything in their power to snare Tanaka
.
3. WELLS WEIGHS IN:
Vernon Wells
, who lives in Texas and once signed a letter of intent to play football and baseball for the Longhorns,
chimed in on the Red McCombs controversy
.
Red McCombs sounds like a racist, my opinion. A black QB can win you the BCS but a black man can't coach your team. #CmonMan

— Vernon Wells (@VernonWells10) January 8, 2014
December, 30, 2013
12/30/13
3:43
PM ET
Filling out a Hall of Fame ballot is always stressful, never fun, and often brings the voter nothing but criticism, even from the guys who benefit by it.
[+] Enlarge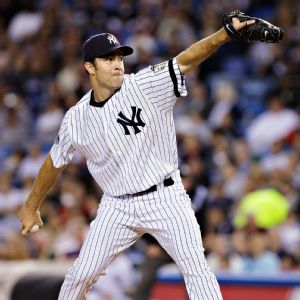 AP Photo/Julie JacobsonMike Mussina is one of 10 players our Yankees beat writer voted into the Hall of Fame this year.
Two years ago, on a Midwestern road trip with the New York Yankees, I was shocked to overhear a pitcher who had recently been voted into the Hall -- with somewhat borderline credentials, I might add -- ridiculing a group of baseball writers heading down to the clubhouse at the end of a game.
In a lot of ways, voting for the Hall of Fame is a thankless task. Nobody ever seems satisfied with your ballot, including in many cases yourself.
And without going into detail for the umpteenth time, I did not vote for Barry Bonds, Roger Clemens, Rafael Palmeiro or Sammy Sosa this year, and probably never will. In short, if I can't trust the numbers, I can't vote for the player.
In that spirit, and knowing that no matter who I voted for I was sure to come under fire from someone, here is my ballot (in alphabetical order) for Cooperstown's Class of 2014:
Jeff Bagwell:
A career WAR of 79.5 -- the average Hall batter's WAR is 69 -- and a career slash line of .297/.408/.540 and OPS of .948 compares favorably with such Hall of Fame first basemen as Orlando Cepeda, Willie McCovey, Johnny Mize, Eddie Murray and Tony Perez.
Craig Biggio:
I voted for him last year, and will vote for him again next year if he doesn't get in. His WAR is slightly below average -- 64.9 -- but only one eligible Hall of Famer with 3,000-plus hits isn't in (Rafael Palmiero) and that is for other reasons. Biggio played for 20 years, rolled up 3,060 hits, and while his other numbers come up slightly short, longevity and durability are talents that deserve to be recognized, too.
Tom Glavine:
A tough call for me, because I never felt he was even the best pitcher on his team, which is understandable when your teammate is Greg Maddux. And Mets fans will hate him forever for his first-inning blowup in that must-win game back in 2007. But Glavine's numbers are impossible to overlook -- 305 wins, 3.54 ERA, WAR of 81.4.
Greg Maddux:
See above. Same as Glavine, only right-handed and better. His career WAR of 106.8 is better than all but five pitchers in the Hall, and a shade better than Tom Seaver's.
Mike Mussina:
Another tough call. Never the best pitcher in the league, but Moose still rolled up some impressive numbers -- especially his winning percentage (.638), which would place him in the top 12 of pitchers already in. His WAR (83) is higher than Glavine's, and his WHIP (1.192) is lower.
Mike Piazza:
Another one I voted for last year, and will vote again for next year if necessary. Say what you will about his defense, and his WAR is a relatively unimpressive 59.2, but his offensive numbers compare favorably with Hall of Famers Yogi Berra, Roy Campanella, Gary Carter, Bill Dickey and Carlton Fisk.
Tim Raines:
This is a player I have overlooked in the past, but not this time. Raines, a marvel for 23 seasons, has numbers that stand up with those of Lou Brock, Ralph Kiner (minus the power), Ducky Medwick and the breakfast cereal twins, Jim Rice and Zach Wheat.
Curt Schilling:
Yankees fans will hate me for this one, but hey, I went for Mussina, too. Schilling's win total (216) may be low, but his winning percentage is above average, his WAR (79.9) is almost the same as Glavine's, and his WHIP (1.137) is significantly lower. I voted for him last year, too.
Frank Thomas:
A no-brainer. The Big Hurt put up 521 home runs, along with a career .301 batting average and a .974 OPS over 19 seasons; the average Hall of Famer's OPS is .837.
Larry Walker:
Another player I've overlooked in the past, but Walker gets my vote this year. Walker's career numbers over 17 seasons stack up with those of Hall of Fame right-fielders Andre Dawson, Enos Slaughter, and yes, both Mr. May, Dave Winfield, and Mr. October, the one and only Reginald Martinez Jackson.
The guys who didn't make it? Edgar Martinez, whose numbers are excellent -- although for a player who had nothing to do but hit, they are not significantly better than those of Piazza, who had to squat behind the plate for most of his 16 seasons. Jack Morris, a player I've voted for in the past, but who got squeezed by the sheer numbers -- just 10 spots on the ballot, and three new starting pitchers who were clearly, in my opinion anyway, better than him. And Jeff Kent, who had the lowest WAR of the 13 players I gave serious consideration to. Rather than vote for two second basemen, I gave my vote to Biggio. Maybe next year for Kent.
QUESTION:
What would your Hall of Fame ballot for 2014 look like?
November, 26, 2013
11/26/13
3:09
PM ET
NEW YORK -- The 2014 Hall of Fame ballot
was released today
, and 19 new names will be on the ballot, including apparent shoo-ins like
Greg Maddux
and almost-definite throwaways like
Armando Benitez
.
But the name of interest to Yankees fans is also the one name that is likely to give some voters the most trouble:
Mike Mussina
.
Moose, who went 270-153 in 18 seasons for the
Baltimore Orioles
and
New York Yankees
, is a strong candidate but by no means a slam dunk. Of the nine categories I looked at this afternoon -- wins, winning percentage, ERA, seasons played, innings pitched, home runs allowed, hits allowed, WAR and WHIP -- Mussina scores better than the "average" Hall of Famer in six of them.
His 270 wins is 19 better than the average; his winning percentage of .638 is bettered by only 11 other pitchers in Cooperstown. His WHIP (1.192) is slightly better than that of the average Hall of Famer (1.199) and his career WAR (82.7) is significantly higher than the average (69) and compares favorably to that of Bob Gibson (81.7), Jim Palmer (68.1) and Bob Feller (65.2).

On the negative side, Mussina allowed nearly twice as many home runs (376-189) as the average Hall of Famer, no doubt a result of having pitched in the Steroid Era, and his ERA (3.68) is higher than all but two of 70 pitchers in the Hall: Red Ruffing, who needed 18 tries and a runoff election to finally get in in 1967, and Hank O'Day, who got in via the Veterans Committee last year -- as an umpire.
Moose never won a Cy Young, although he did finish second in the voting in 1999 as an Oriole, and of course someone is sure to make the argument that he was never considered the best right-hander in the league.
On balance, and only having glanced over the stats today, I'm thinking I will vote for him, but I can guarantee there will be plenty who won't, for various reasons.
QUESTION: Putting Yankees loyalty aside, would you vote for Mussina for the Hall based solely on his statistics and merit as a player?
June, 14, 2013
6/14/13
1:17
PM ET
Mike Mussina
always said he wanted to coach high school basketball after he finished playing. Now, he will.
From the
Sun-Gazette
:
The Montoursville school board on Tuesday night approved the hiring of Mike Mussina as the school's new head varsity boys basketball coach at its June meeting.

Mussina's hiring passed by an 8-0 vote.

Mussina becomes the third Montoursville coach in the past five years and replaces Mark Molesky. Molesky will remain on the staff and become Mussina's first assistant -- a new position created for the 2013-14 school year.

Mussina will be paid a stipend of $4,170 and Molesky $4,100.
Mussina will not be at
Old Timer's Day on June 23rd
.
March, 15, 2013
3/15/13
5:52
AM ET
There is a prevailing thought that the horror of
Alex Rodriguez
's 10-year, $275 million contract (plus bonuses) could scare the Yankees into taking a more cautious free-agent approach with
Robinson Cano
.
It certainly might give them some pause, but agent Scott Boras could point to the deal for
CC Sabathia
as one that has been a great, multiyear, $100-plus million contract for the Yankees.
[+] Enlarge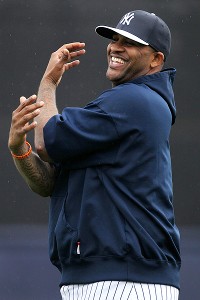 John Munson/USA TODAY SportsIs CC Sabathia the best free-agent signing the Yankees have ever made? He might be.
It might just become the greatest free-agent deal the Yankees have ever made. Sabathia, who starts Friday (his first start this spring), signed in 2009 for seven years and $161 million. Through his first four seasons, Sabathia has averaged an 18-7 record and a 3.22 ERA. In 2009, Sabathia's playoff heroics, on three days' rest, made it possible for Rodriguez to have his breakout postseason. So CC has already led a parade.
Sabathia is a star with a lunch pail. He has not only showed up big in almost all his postseason starts, but he grinds through the regular season. As a Yankee, he has averaged 226 innings per season.
If you classify a quality start as a six-inning, three-run outing, then a team needs 972 starter innings over 162 games. In 2012, Sabathia's 226 made up 23 percent of those innings, and he averaged better than a quality start.
In turn, Sabathia saves the bullpen by giving it days off, while allowing his manager to have his relievers ready when lesser starters are on the mound.
Sabathia is 32 years old, so his bill may be coming due. It is, of course, the back half of these contracts that take their toll, and the Yankees have added two more years because of the threat of his opting out. Sabathia did go on the DL twice in 2012 and had to have bone spurs cleaned up in his left elbow.
Still, thus far, Sabathia's deal is rivaling Reggie Jackson's, Goose Gossage's and Mike Mussina's as the best big-money contracts the Yankees have ever handed out.
Jackson, in 1977, received $3.5 million for five years and smashed three homers in Game 6 of that year's World Series. He led them to the 1978 title, as well.
Gossage, in 1978, got $2.8 million for six years. He saved the Bucky Dent game and the World Series clincher his first year and closed the door with style on his way to the Hall of Fame.
Mussina, in 2001, received a seven-year, $88.5 million deal. While Mussina missed out on a championship, he saved the Yankees in the 2003 ALCS against the Red Sox and averaged a 15-9 record with a 3.88 ERA in what turned out to be eight seasons in the Bronx. He punched the clock every year, throwing, on average, 194 innings per season.
Sabathia, despite the enormity of his deal, could end up topping all three.
UP NOW:
Wallace Matthews
witnessed the Yankees' horror show against the Blue Jays
on Thursday. I asked who would you rather have --
Cano or David Wright
?
ON DECK:
Wally is in Tampa for CC's first start. The game is at 1 p.m. ET on YES.
QUESTION:
With Sabathia's career still incomplete, what do you think is the best free-agent contract in Yankees history?
January, 9, 2013
1/09/13
10:10
PM ET
By
Mark Simon, ESPN Stats & Information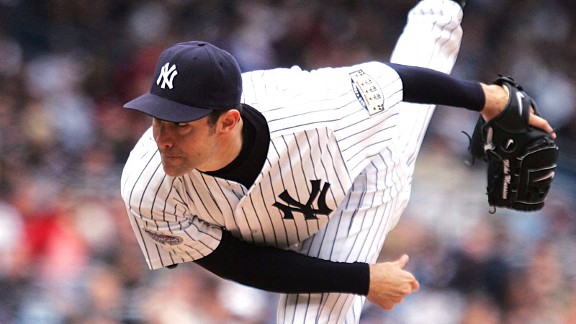 Mike Mussina's numbers rank among the best of his era.
The other day I generated a list on
Baseball-Reference.com
of the top pitchers in wins above replacement in my lifetime (since 1975).
The first four names on the list made perfect sense:
Roger Clemens
,
Greg Maddux
,
Randy Johnson
and
Pedro Martinez
.
The fifth is a pitcher who will be on next year's Hall of Fame ballot, whose name you might not expect to see that high -- ex-Yankee
Mike Mussina
.
The Hall of Fame ballot is going to be vastly overcrowded, with all the holdovers from this year's ballot, and the first-year eligibility of Maddux,
Tom Glavine
,
Frank Thomas
and
Jeff Kent
.
You easily could fill out a ballot next year that includes those four, Clemens,
Barry Bonds
, Tim Raines,
Mike Piazza,
Craig Biggio, and Jack Morris, which means someone such as Mussina could get left out in the cold.
He shouldn't be.
Mussina has an excellent Hall of Fame case, and his Yankees career plays a significant part in that.
Stretch our pitcher WAR list back to 1961 (the start of the expansion era), and Mussina still ranks 10th, right on par with Hall of Famers Steve Carlton (ninth), Ferguson Jenkins (T-11th), Nolan Ryan (T-11th) and Bob Gibson (14th).
Stretch it back to 1920 (the start of the live-ball era), and Mussina is in the No. 12 spot.
Mussina was a pitcher who was even better than his basic stats. And his basic stats are pretty good.
Although he didn't win 20 games until his final season, Mussina won 15 games or more 11 times, and they were well-earned wins -- nine of those seasons, his ERA, pitching in the American League East, was 3.51 or less.
He won seven Gold Gloves, and although he was in the top three in Cy Young voting only once, he was in the top three in the AL in WAR five times.
The one ding on Mussina's record is that he gave up a lot of home runs (376). But he offset that with a strikeout-to-walk rate of about 3.5-to-1 over more than 3,500 innings. For those wondering, he rates 15th best in the live-ball era in FanGraphs' version of WAR (which is based primarily on strikeouts, walks and homers), just about even with
Curt Schilling
and
John Smoltz
.
Mussina doesn't have the signature postseason numbers Schilling and Smoltz do, but he had a few very good moments.
Had the 1997 Orioles won the World Series, Mussina's postseason run of seven two-hit innings, seven three-hit innings with 15 strikeouts and eight one-hit innings with 10 strikeouts would be put alongside Schilling's 2001. Instead, it's not the first that comes to mind when memorable-performance lists are made.
Mussina also might be on a higher pedestal had the 2003 Yankees won the World Series. Mussina came through with three huge scoreless innings in relief of Clemens in Game 7 of the AL Championship Series and put the Yankees up 2-1 on the Marlins by winning Game 3 in Florida.
Mussina's Yankees career might have been better than his 3.88 ERA with the team gives him credit for. He's not a first-tier Yankees great, in the class of
Mariano Rivera
, Whitey Ford,
Andy Pettitte
and Ron Guidry, but it's reasonable to put him in the next grouping with some pretty good company.
Mussina has the 12th-most wins and sixth-most strikeouts in Yankees history, and his 4.0 strikeout-to-walk rate is second among the 87 pitchers who have thrown at least 500 innings for the Yankees (two one-hundreths of a point behind Rivera).
Mussina had five seasons with the Yankees in which he was worth four or more wins above replacement (four is generally considered a hair below All-Star level), tied with Guidry and Ford for the most in club history. Mussina also has the same number of five-WAR seasons as Pettitte (two).
In short, Mussina was a
really
good Yankee. And a great pitcher. We'll see at this time next year how well people choose to remember that.
March, 31, 2011
3/31/11
1:51
PM ET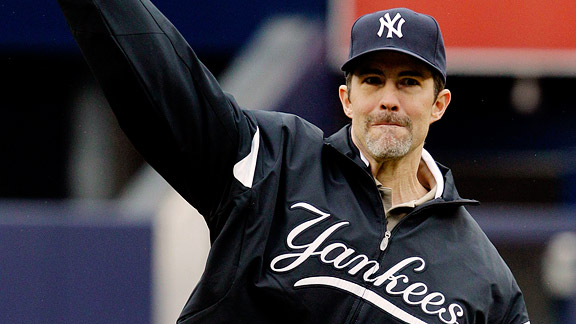 AP Photo/Kathy Willens
Mussina is now on a prestigious list of ex-Yanks to throw out the Opening Day first pitch in the Bronx.
Mike Mussina
felt the pressure.
In his 18 years in the major leagues, the retired pitcher saw his fair share of Opening Day first pitches. And he saw those pitches take many different paths and trajectories toward home plate, some not even reaching their destination.
Being a former player, never mind a pitcher, Mussina didn't want his first pitch before the Yankees' home opener on Thursday to be memorable for all the wrong reasons.
"I haven't thrown a lot [recently]. I've thrown a little, but not a lot," Mussina said before throwing out the first pitch. "I just want to get it somewhere in the ballpark someplace, and kind of be on target."
After heading out to the mound to a chorus of "Moose" chants, wearing a Yankees hat and jacket, Mussina put his worries to rest as he delivered a high pitch, close enough to the strike zone. Crisis averted.
Mussina, 42, became just the 10th former Yankee to throw out an Opening Day pitch for the Bronx Bombers, joining
Bernie Williams, Yogi Berra, Reggie Jackson
and others.
"It's really cool," Mussina said. "To have them think of me as part of this organization still and part of this family of the New York Yankees and have me out here, it's really something special, and I think it's great."
Mussina played the final eight seasons of his career with the Yankees, amassing a 123-72 record in that span. He previously pitched for 10 seasons with the Orioles.
Mussina called it quits in 2008, following the only 20-win season of his career.
With Thursday's game marking the start of his third season of retirement, Mussina says he has no regrets about leaving. He said winning 20 games in his last season was a "good way to finish it."
He said the non-playing factors like time away from his family, the constant traveling and the hectic lifestyle were what wore him down and led to his retirement at the age of 39.
"To not have to live out of my suitcase for half of the six months, to just slow the pace down, it was just really a welcome change," Mussina said. "Eventually you just tell yourself it's time to do something different, and I was really enjoying something different. And everybody says this -- and you don't know how it's possible, how you can be busier when you retire -- [but] I'm busier than when I played."
Mussina now devotes his time to coaching his two sons, ages 8 and 12; he coaches baseball, football and basketball. He doesn't see himself moving up the coaching ranks at the higher levels of the sport.
"I probably would stick with high school and younger," Mussina said. "I don't think recruiting college would really be in my future. I just don't see it. Professionally, I don't think that's there either. I like being asked my opinions or stuff or philosophies and I love talking about it, but I don't know if I could do it every day for the same amount of time these guys have to go play in a year."
With regards to former teammate
Andy Pettitte
, who recently retired, Mussina admits he was surprised to see him leave the game.
"I think everybody has their circumstances and he felt it was his time," Mussina said. "I know what it feels like when your mind and your body tells you it's just time, and there were a lot of other issues that can go along with playing baseball and living this lifestyle and being away and the pressure and the expectations and the demands and the preparations. It's a lot of things.
"Eventually you just say, 'I've had enough and I'm good with what I've done.' And you move to the next thing."
March, 30, 2011
3/30/11
1:41
PM ET
ESPN.com Illustration
ESPNNewYork.com named the 50 Greatest Yankees -- not an easy task, considering the Bombers have 27 World Series titles, 40 American League pennants and enough Hall of Famers to fill their own wing in Cooperstown.
The List

Rank 'Em »
•
Matthews:
My top three? Ruth, Gehrig, Rivera »
•
Here's the method to our madness »