New York Yankees:

Mike Napoli
October, 31, 2013
Oct 31
10:00
AM ET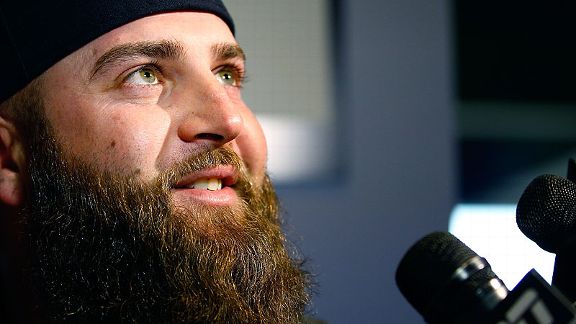 Jared Wickerham/Getty ImagesItching to see Mike Napoli trim his Boston beard for an arrival in the Bronx?
We all know Hal Steinbrenner has set a goal of cutting the Yankees' payroll to $189 million for 2014. Your duty as a Yankees fan is to make sure he doesn't achieve that goal, and our job at ESPNNewYork.com is to provide you with reasons to make sure he doesn't. Hey, it's Hal's money, not yours. With that in mind, we are going to examine potential free-agent and trade candidates in a feature we call, appropriately, "Spend Hal's Money."

Today's Candidate:
Mike Napoli
Position:
1B/C
Age:
Turns 32 on Thursday
Height:
6-0
Weight:
220
2013 numbers:
.259-23-92, .842 OPS in 139 games for the
Boston Red Sox
.
Expected going rate:
Napoli played on a one-year deal in 2013 for a bargain-basement $5 million in guaranteed salary, but incentive bonuses based on playing time boosted his paycheck to $12 million. He had a pretty good ALCS to go along with a productive year, so he probably won't need any incentive clauses to make more than that next year.
The pros:
He's a right-handed power bat with the versatility to play first, catch or serve as a DH. He served as a potent addition to the Red Sox lineup, was fairly clutch all season -- he batted .458 with the bases loaded and hit three grand slams, one fewer than the entire Yankees team in 2013. He's an adequate fielder who hit well -- .333 with three HRs in 36 at-bats -- in limited DH duty. His 73 walks in 2013 would have led the Yankees and his .360 OBP would have been second only to
Robinson Cano
's .383, but he was hitting in a much deeper and more dangerous batting order.
The cons:
Napoli's chronic hip condition keeps him from being a full-time catcher again, and the Yankees already have a better option at first in
Mark Teixeira
, who is signed through 2016. Napoli struck out an unacceptable 187 times last season. Also, his BABIP -- that's Batting Average on Balls in Play for you non SABR-geeks -- was an inordinately high .367 (the league average was .298), meaning either he was hitting the ball extraordinarily well, or in extraordinary good luck. And, oh yeah, he would have to shave.
The verdict:
If Napoli could be persuaded to spend half the season behind the plate and the other half as a DH, he might well be worth a serious look. But the likelihood is low, as the avascular necrosis in his hips -- the same injury that ended Bo Jackson's career -- has ended his days as a catcher. In that case, there's no spot on the field for him. Certainly, he would make a better right-handed DH than
Vernon Wells
, but Wells is signed for another year. A reluctant pass.
July, 22, 2013
Jul 22
1:07
AM ET
BOSTON -- The
New York Yankees
were hurt by another poor start by
CC Sabathia
. They fought back in this extremely long game, but finally lost when
Mike Napoli
hit a mammoth game-winning home run off
Adam Warren
in the 11th inning. It was Napoli's second homer of the game.
WHAT IT MEANS:
The Yankees lose two of three in Boston. They are seven games behind the
Red Sox
in the AL East. It was a disappointing end to a four-hour, 46-minute marathon.
ACE-LESS
: Looking to reboot his season after what he called a
"terrible" first half
, Sabathia had more of the same on Sunday night. Given a three-run lead after two innings, Sabathia gave it right back and then some.
In the third, Sabathia allowed four runs, three of which came on a Napoli homer that traveled over the Green Monster and out of the stadium. In the fourth, Sabathia gave up another two runs. In the fifth,
Jonny Gomes
took him deep. By the sixth, Sabathia was gone.
Sabathia's line was U-G-L-Y. He went five innings, allowing seven runs on nine hits. He struck out five and walked two. He also hit a couple of batters. He has now allowed a career-high 23 homers in a season. We are not even into August.
TYING IT UP:
After falling behind 7-3, the Yankees came back, putting up two spots in the sixth and the seventh. In the sixth,
Brett Gardner
and
Robinson Cano
nailed RBI singles. The Yankees could have had more, but
Lyle Overbay
hit into a bases-loaded double play to end the inning.
In the seventh,
Chris Stewart
took advantage of inexperienced Red Sox third baseman
Jose Iglesias
, bunting for a hit. Iglesias ended up throwing the ball away, allowing a run to score.
Luis Cruz
's RBI groundout tied the game.
Again, the Yankees could have had more. After Gardner's incredible 15-pitch walk,
Ichiro Suzuki
grounded out with runners on the corners to end the inning.
A LITTLE HELP:
The Yankees scored two in the first inning thanks in large part to the Red Sox defense. After Gardner singled to lead off, Ichiro hit into what could have been a possible double play. Instead
Ryan Dempster
threw the ball into center field. The Yankees had first and third and no outs.
Next,
Jarrod Saltalamacchia
threw a ball into center field as Ichiro stole second. Gardner came home. After a Cano walk and an out,
Vernon Wells
singled home another run.
With Cano on second,
Travis Hafner
-- who is almost an automatic out these days -- struck out and
Eduardo Nunez
grounded out.
In the second, Cano hit an RBI single to give Sabathia his 3-0 lead to work with.
GARDNER'S NIGHT:
It ended up not leading to anything, but Gardner's 15-pitch walk in the seventh against
Junichi Tazawa
took almost 10 minutes.
Gardner reached base five times at Fenway, becoming the first Yankee to do that since Mickey Mantle, according to ESPN researcher Katie Sharp.
NO CONFIDENCE:
Hafner, who is only on the team to hit, was pinch hit for with
Brent Lillibridge
against lefty
Craig Breslow
in the seventh. Lillibridge is a career .206 hitter. He popped out.
HOUDINI:
In the eighth with the game tied,
David Robertson
loaded the bases, with help from an error by Cruz. Robertson escaped by forcing a Napoli double play.
OVERDONE:
In the 10th, Gardner and Cano got on against
Drake Britton
with one out. Overbay hit into another double play.
NOT TOO MANY HOMERS:
The Yankees didn't homer in the series. Last time that happened here? Eighteen years ago.
ON-DECK:
Johnette Howard will write a column on the problems with Sabathia and
Alex Rodriguez
. I'll patrol the clubhouse looking for all the news that is fit to put on the Internet.
June, 1, 2013
Jun 1
11:47
PM ET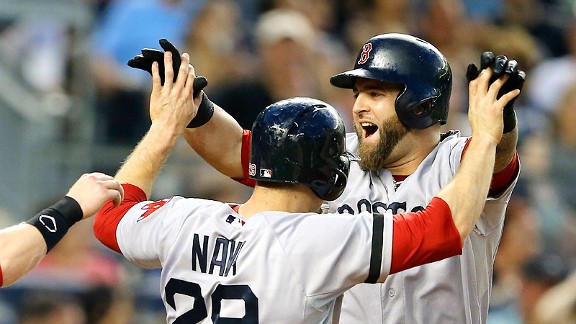 Al Bello/Getty ImagesMike Napoli punished the Yankees with a game-changing grand slam in the third.
Joe Girardi went for the strikeout.
The Red Sox answered with a grand slam.
And the Yankees' chance of winning vanished into the hot night.
Girardi's decision to intentionally walk
David Ortiz
to load the bases and face
Mike Napoli
with one out in the third inning backfired as Napoli blasted a grand slam in the Red Sox's 11-1 win on Saturday night. Napoli turned a 1-0 game into a 5-0 game with his home run off the struggling
Phil Hughes
.
"To me, you're looking for a strikeout in that situation and Napoli struck out a lot more," Girardi said. "He wasn't able to strike him out."
Entering Saturday's game, Ortiz had struck out 16 times in 138 at-bats, while Napoli had fanned 78 times in 207 at-bats. Both hitters, however, had great career numbers against Hughes.
Ortiz entered the game with a career. 450 batting average against Hughes, while Napoli entered hitting a robust .429. Napoli also led Boston in RBIs, making him a dangerous at-bat, no matter his strikeout total.
The Yankees' downfall began as Boston opened the third with three straight hits to go up 1-0 before Hughes rebounded to strike out
Dustin Pedroia
. With first base open and Ortiz coming to the plate, Girardi made the call to walk the Yankee-killer and face Napoli. Ortiz struck out in his first at-bat, while Napoli had singled.
Hughes got ahead of Napoli 0-2 before the first baseman eventually evened the count at 2-2. In the sixth pitch of the at-bat, Hughes left a 94-mph heater over the middle of the plate and Napoli planted it beyond the right-center seats to give Boston a game-changing cushion.
"It was in a spot he could handle and he saw a lot of fastballs," Hughes said. "Just one of those things, it got a little bit more of the plate than I wanted."
Napoli is now 5-for-9 with two homers in his career against Hughes. The pitcher didn't have any problems with opting to face Napoli instead of Ortiz.
"He has a history of handling me pretty well and with the base empty, it's not really much to argue there," Hughes said.
November, 13, 2012
11/13/12
11:46
AM ET
With a half dozen teams interested in
Russell Martin
, it's no slam dunk that Martin, who the Yankees like very much despite his subpar 2012, will be returning to the Bronx next year.
And since this is a particularly weak year for free-agent catchers, their best alternative seems to be
Mike Napoli
, who hit 24 HRs for the
Texas Rangers
this season. (
A.J. Pierzynski
, the other "name" catcher on the market, is soon to be 36 years old and presumably not a candidate for a multiyear deal).
[+] Enlarge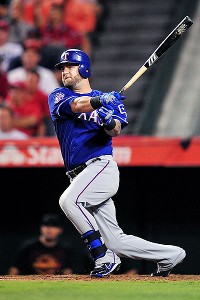 Gary A. Vasquez/US PresswireMike Napoli
So which do you choose?
Here's a quick comparison:
Napoli just turned 31, is a career .259 hitter and has hit 146 home runs and driven in 380 runs in seven big-league seasons. His career on-base percentage is a respectable .356. He made $9.4 million last season.
Martin will turn 30 in February. He is a career .260 hitter with 93 HRs and 418 RBI in seven seasons, and his career OBP is a just-as-respectable .352. He made $7.5 million last year.
Obviously, they are remarkably similar offensive players, with the edge in power going to Napoli, although as a right-handed hitter he might not hit as many home runs in Yankee Stadium.
And each hits left-handed pitching equally well: Napoli .273, Martin .271.
The one significant difference between the two is defense. Martin is a better catcher: He has thrown out a higher percentage of would-be base-stealers, 30 percent to 24 percent, and has allowed 37 passed balls in 851 games as a catcher to Napoli's 29 in just 485 games. Perhaps more importantly, Martin is a full-time catcher, catching at least 117 games every season, with a high of 149.
Napoli is slightly more than a part-time catcher -- he has never caught more than 96 games in a season, splitting the rest of his time between DH and first base. You have to wonder if his bat, and body, would hold up to the kind of daily grind Martin has shown himself to be up for.
So the question of the day to you is, if you are the Yankees, which one would you sign?
Not always so easy playing GM, now, is it?
July, 22, 2010
7/22/10
9:00
AM ET
By
Mark Simon
| ESPNNewYork.com
You may have heard a reference on Tuesday's
Baseball Tonight
about
Mike Napoli
having the best OPS (on-base percentage plus slugging percentage) ever against the Yankees.
That's a fact, alebit one in which we tinker with the numbers a bit, lowering the qualifiers to 90 plate appearances such that the list provided by the Elias Sports Bureau puts Napoli ahead of the likes of all-time legends
Ted Williams
and
Hank Greenberg
, even after an 0-for in Wednesday's Yankees win.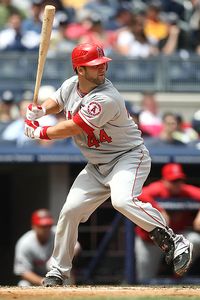 Nick Laham/Getty Images
The Yankees shut down Mike Napoli on Wednesday, a rare occurrence for them against the Angels catcher/first baseman

What's more interesting for us though is that it's a discussion starter to the topic of the best Yankees-killers of all-time.
We did this for pitchers a few weeks ago
when
Roy Halladay
took a turn against the Yankees. Now, we'll look at some hitters.
With the Royals in town, it would seem to be the easy way out to take Hall of Famer
George Brett
and be done with it. Brett hit .307 with 29 home runs against the Yankees, but isolate most of the heart of the Yankees-Royals rivalry and you're looking at a .366 batting average and 39 RBI in 37 regular season games from 1977 to 1980.
He's right in there statistically speaking with the likes of Williams, Greenberg,
Manny Ramirez
, and
Edgar Martinez
, and even
Babe Ruth
, whose stats against the Yankees were ridiculous as both pitcher and hitter prior to his acquisition.
Williams numbers, made available in full publicly by Retrosheet.org within the last couple of weeks are particularly staggering. He hit .350 against the Yankees after just entering his 20s as a rookie in 1939, then hit .350 against them in his early 40s to conclude his career in 1960.
In sum, the greatest hitter who ever lived was arguably the greatest against the Yankees -- a .345 batting average, an 1.103 OPS and 62 home runs -- basically average numbers for a guy who had a 1.000 OPS against every team he faced, but herculean numbers for anyone else.
But not everyone can be Ted Williams, and the more fun thing to do, is to find some of the more obscure names on the list. Thanks to the folks at
Retrosheet
and
Baseball-Reference.com
, we can do that.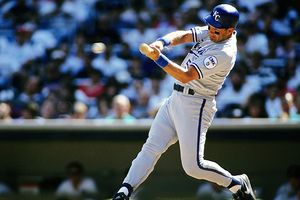 Ronald C. Modra/Sports Imagery/Getty Images
Hall of Famer George Brett makes the all-time list of Yankees-killers, having racked up numerous big hits against them in the 70s, 80s, and 90s.

Who were the Mike Napoli's and Ted Williams' of their time? Here are a few ...
Geronimo Berroa
-- In the earliest days of the current iteration of the Yankees dynasty, few hitters gave
Buck Showalter
and
Joe Torre
agita like this journeyman outfielder, who hit .328 with 14 home runs, 44 RBI, and a 1.028 OPS against them.
Berroa had 20 RBI in 13 games for the Athletics against the Yankees in 1995, with one stretch in which he homered five times in seven games. Those who thought that was a fluke were greeted rudely on May 22, 1996 when Berroa dinged the Yankees for three home runs.
From 1994 to 1997, he had 20 multi-hit games against the Yankees, more than anyone else in the major leagues.
Dan Pasqua
--A promising left-handed power-hitting prospect for the Yankees in the late 80s, Pasqua took out his frustrations on the Bronx Bombers after they traded him to the White Sox prior to the 1988 season.
As the Yankees faltered, Pasqua, a Yonkers native, relished beating up his former team to the tune of a .349 batting average and 1.050 OPS, to go with eight home runs.
After getting pummeled by Pasqua a few times too many in 1992, the Yankees finally gave up. In their last two meetings with his White Sox, they walked him four times, and the strategy worked -- the Yankees won both.
Pasqua isn't the only former Yankee who hit his team hard after being dealt away.
Jay Buhner
(.957 OPS, 28 HR) dealt the Yankees their fair share of punishing blows from 1988 to 2001 after being traded to the Mariners for
Ken Phelps
.
Former Yankee
Oscar Gamble
(.344 BA, .992 OPS vs Yankees) burned them both before his acquisition (.433 BA, 4 HR in 1977) and after he was dealt away (he reached 12 times in 20 plate appearances in 1979) before the Yankees wised up and brought him back.
Jim Spencer
-- Speaking of former Yankees, this first baseman got the Yankees pretty good before they finally brought him to New York. Every year for six straight seasons from 1970 to 1975, Spencer hit .300 or better against the Yankees, including four seasons in which he managed an OPS greater than 1.000.
Spencer came to the Yankees in trade prior to the 1978 season and though his best days were behind him, he helped the team to a World Series title with a steady bat and some strong defensive play.
Rip Radcliff
-- Peel back to the first half of the 20th century and you come across some great baseball history lessons, and we'll round out this list with one, an aptly named hitter who cranked out a .340 batting average and 12 home runs against the Yankees from 1935 to 1943.
A wonderful biography on the
Society for Baseball Research's website
tells of how Radcliff was an amazing contact hitter, one who the Yankees fanned only 14 times in 614 plate appearances. as a member of the White Sox, Browns, and Tigers. He hit .383 against them from 1935 to 1938, a stretch in which the Yankees won three World Series. A number of other teams surely could have used him then.
Mark Simon is a researcher for Baseball Tonight. Follow him on Twitter at @msimonespn
July, 20, 2010
7/20/10
1:01
PM ET
By
Mark Simon
| ESPNNewYork.com
How long has it been since the Yankees last beat the Angels in a regular season series?
It was so long ago that
LeBron James
hadn't even begun his NBA career yet.
By winning both games in this series from the Angels, the Yankees would end up on the positive side of the ledger against them for the first time (and we remind you regular season, not postseason) since 2003.
Since 2004, the Angels are 38-26 against the Yankees, 3-3 in 2010. They're the only AL team against whom the Yankees have a losing record in that span.
Somehow, they've managed to dominate the Yankees while struggling against the Blue Jays (27-28 against them), but that's neither here nor there.
What do the Yankees have to do to beat the Angels? It's actually really, really, really simple. Shut down their bats.
The constant in this run of Angels success is that they've slugged with the Yankees, and then some. And the numbers are really impressive. Here are two sets that jump off the page:
• The Angels have scored at least seven runs in 22 of their 64 meetings (34 percent of the time) and they've averaged 5.56 runs per game. The only team against whom the Yankees have allowed more runs per game in this span is the Red Sox, and it's by a hair -- 5.64.
• Since 2004, there are 14 different Angels who are hitting .300 or better against the Yankees (minimum 30 plate appearances). The other three teams in the AL West -- Rangers, Athletics, and Mariners -- have combined for 13 players who hit .300 against the Yankees in that same time period.
That's a group led by
Kendry Morales
, whose .400 batting average and six home runs in 60 at-bats, the Yankees won't have to worry about since he's out with a broken leg, and
Howard Kendrick
, who has hit the Yankees like he's
Ty Cobb
.
We say that last note seriously: My eagle-eyed Stats and Info colleague, Katie Sharp checked into it last season after noting Kendrick's amazing numbers, and the folks at the Elias Sports Bureau reported back with some ridiculous findings, since updated in the chart to your right.
Kendrick ranks second to only Hall of Famer
Ed Delahanty's
.383 for the best batting average against the Yankees EVER.
The good news for the Yankees is that most of the bats that have done damage against them are no longer wearing an Angels uniform.
Garret Anderson's
.358 batting average and 30 RBI in 36 games are on the other side of the city with the Dodgers.
Vladimir Guerrero's
.330 batting average and 41 RBI in 50 games are with the Rangers. Chone Figgins (.327 BA, .393 OBP) is now a struggling Mariner.
And
Mark Teixeira's
on the right side of things now, after hitting .355 with 10 RBI in nine games as an Angel against the Yankees (but is only hitting .167 with four RBI in 16 games as a Yankee against the Angels).
Instead, the Yankees merely have to figure out how to get the likes of Kendrick,
catcher Mike Napoli
(.375 with a herculean 1.142 OPS), and
shorstop Erick Aybar
(.316 BA) out, and you'd figure the law of averages will catch up with some of those guys eventually. It already has with Kendrick, who is 2-for-18 against the Yankees this season.
The Yankees do have one thing going for them, at least tonight -- they have an Angels stopper on the mound.
Phil Hughes
is 3-0 against the Angels, the best record for any Yankees pitcher in this not-so-divine stretch.
Mark Simon is a researcher for Baseball Tonight. You can follow him on Twitter at @msimonespn