New York Yankees:

Mike Trout
April, 27, 2014
4/27/14
9:00
AM ET
By
Danny Knobler | Special to ESPNNewYork.com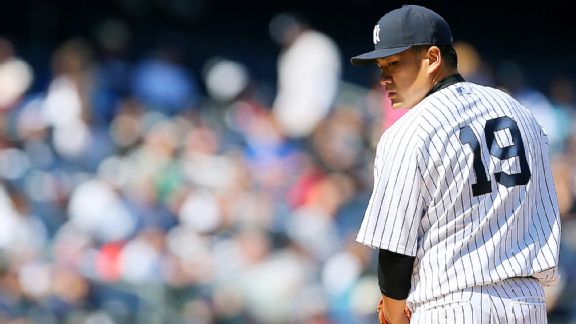 Adam Hunger/USA TODAY SportsNothing seems to faze Masahiro Tanaka. Will Mike Trout and Albert Pujols do the job?
NEW YORK -- In his first month with the
New York Yankees
,
Masahiro Tanaka
hasn't seemed to be bothered by anything, whether it was his major league debut, his Yankee Stadium debut or even his first rivalry game at Fenway Park.
Tanaka has impressed with his arm but also with his ability to make a big stage or a big challenge seem perfectly normal.
Now, he gets
Mike Trout
and
Albert Pujols
and the national TV stage of ESPN's "Sunday Night Baseball."
It's hard to know if Tanaka considers any of that a big deal. As with almost anything else that has happened in his first season in the major leagues, he downplayed it.
"I did know that [Trout and Pujols] were good batters," Tanaka said Saturday through his interpreter. "But just as I've said with all the other teams we've faced, I've been playing in Japan the last seven years. I'm not that familiar with any of the batters."
With the attention Trout and especially Pujols receive (even in Japan), Sunday's meeting could be a bigger deal than Tanaka lets on. It's hard to blame him for playing it down, given how that strategy has worked for him so far.
Tanaka has watched video of Pujols and Trout, as he does with any team he's about to face. He's also been able to see what they can do in person the past two days, with Pujols hitting a home run off
Hiroki Kuroda
on Friday night and Trout homering off
Vidal Nuno
on Saturday afternoon.
Tanaka said Saturday that seeing two games before he pitches makes no difference, though.
"I feel it's no advantage," he said.
In any case, Tanaka said he tends to follow the lead of catcher
Brian McCann
and also to watch how batters react to his pitches. That's what he has done through his first four major league starts, and with a 3-0 record and 2.15 ERA, there's not yet any reason to change.
Besides, it's no doubt harder for the hitters seeing Tanaka for the first time live than it is for him having seen them only on video.
He watches plenty, and, yes, he paid attention to the first baseman and the center fielder when he was preparing to face the Angels.
"I can tell they're really good batters," Tanaka said. "But the truth is I haven't had a chance to face them yet, so it's really hard to make any assessment. But looking on film, I can tell they're really good batters."
Looking at their career stats, and even just their April numbers this season, anyone can tell that.
Now, they're the latest challenge for Tanaka as he begins his big league odyssey. Maybe he considers it a big deal, or maybe he's as unexcited about it as he'd have us believe.
Through four starts, what we've learned about Tanaka is that he's unlikely to be overwhelmed by the challenge.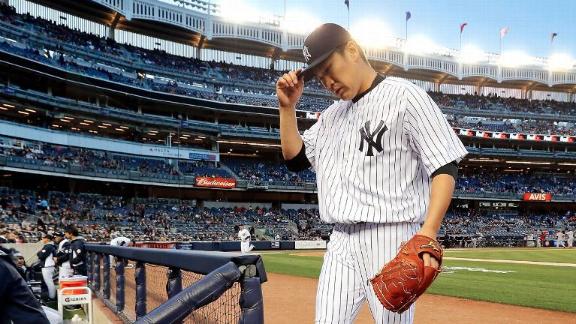 July, 8, 2013
7/08/13
12:00
PM ET
By
ESPN Stats & Information
Who should
Robinson Cano
select to participate in the 2013 Home Run Derby? You can see the selections announced on "SportsCenter" at 6 p.m. ET.
Here is the ESPN Home Run Tracker analysis of the top choices.
Mark Trumbo, Los Angeles Angels of Anaheim
Although Trumbo ranks ninth in the AL with 19 home runs, nine of those went at least 425 feet, the most in baseball. His average home run distance is 417.7 feet, fourth in the majors (minimum 10 home runs), and all but three of his home runs would have been out of Citi Field.
His
475-foot home run
off
Dan Straily
on April 29 is tied for the longest home run of the year.
Chris Davis, Baltimore Orioles
Davis leads the majors with 33 home runs, showing power to all fields.
Davis has not hit a home run longer than 440 feet this season, but seven have gone at least 425. His eight home runs to center field are the most in baseball.
Nelson Cruz, Texas Rangers
Cruz has 22 home runs this season, including ones that went
450
feet and
445
feet. Nineteen of those homers would have been out of Citi Field.
Although Cruz's average home run distance is 410.4 feet (12th among players with at least 10 home runs), his average home run distance is 419 feet when excluding his opposite-field home runs.
Other AL options:
Miguel Cabrera, Detroit Tigers
: It is hard to keep Cabrera off this list, as he is second in baseball with 27 home runs. However, his average home run distance is "only" 406.7 feet, 25th in the majors (minimum 10 home runs).
Raul Ibanez, Seattle Mariners:
Ibanez has 21 home runs, but his average home run distance is 383.6 feet, the lowest in the AL (among those with at least 10 home runs). Only four of those 21 were longer than 400 feet, and nine would not have been homers at Citi Field.
Adam Dunn, Chicago White Sox:
Despite having 23 home runs, including six of at least 430 feet, Dunn ranks 17th in average home run distance.
Mike Trout, Los Angeles Angels of Anaheim:
Trout has the third-highest average home run distance in baseball (419.5 feet), but his 14 home runs were not enough to make the top three.
Edwin Encarnacion, Toronto Blue Jays:
Encarnacion has 23 home runs, but only one over 430 feet.
July, 13, 2012
7/13/12
10:30
AM ET
By
Mark Simon, ESPN Stats & Information
Hiroki Kuroda Stats To Watch
Kuroda got in trouble in his last start because he gave up an unusually high number of fly balls and line drives. He yielded 16 against the Red Sox, one shy of his career-high.
That may have been due to Kuroda's throwing more hittable pitches to lefties, who were 8-for-17 with a homer and three doubles against him. They had hit .218 against him in the five starts prior to that one.
Kuroda held Angels lefties to three hits in 13 at-bats in their first meeting, in which he pitched eight scoreless innings. Kuroda kept the ball in the strike zone more often than he usually does, but the Angels didn't take advantage. He had his highest rate of called strikes in this game, getting 24 on 62 takes (39 percent).
After posting a 4.14 ERA in the second half of his rookie season, Kuroda has had a post-break ERA below 3.10 in each of the last three seasons.
Kuroda's history is that he tends to be more of a strike-thrower in the second half of the season. He averages about 2.6 strikeouts per walk prior to the break, but has averaged better than a 4-to-1 rate in the second half of each of his four seasons.
Jeter Meter
Derek Jeter
closed the first half strong by going 12-for-28, with five multi-hit games in his last six games. He took advantage of pitches over the heart of the plate, getting five hits on the nine pitches he saw that were over the middle-third of the plate width-wise, and in the middle-third of the strike zone height-wise.
Jeter has shown some vulnerability recently to being jammed inside. Of the last 67 pitches he's seen on the inner-third of the plate or closer to him, he's gotten just one hit and made 14 outs.
Jeter has historically been a better performer in the last two and a half months of the season. He's had a better second-half batting average and OPS in 11 out of 16 seasons since 1996.
Maybe not a breakout day for A-Rod
Alex Rodriguez
is 1-for-16 in his career in the regular season against
C.J. Wilson
and 2-for-21 against him including playoffs. That .067 regular-season batting average is his second-worst against any pitcher against whom he's had at least 20 plate appearances. (he's .056 against
Darrell May
.)
Trout Line
The way Angels center fielder
Mike Trout
played in the first half of the season, he could be on his way to being the third player to win Rookie of the Year and MVP in the same season, along with
Fred Lynn
(1975, Red Sox) and
Ichiro Suzuki
(2001, Mariners).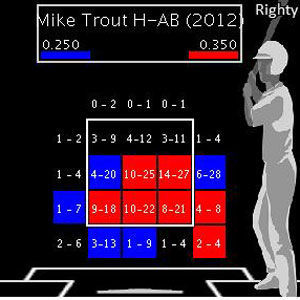 Mike Trout by pitch location in 2012

As one of my Stats & Info colleagues, Micah Adams, checked into the other day, Trout is one of four AL players to hit at least .340 with 10 home runs by the All-Star break and make the All-Star team. One of those was a Yankee --
Joe DiMaggio
in 1936.
Trout's speciality is hitting pitches in the lower-third of the strike zone or below. The average major leaguer hits .222 with a .632 OPS in plate appearances that end with pitches there. Trout is .361/.920. The .361 is the best mark in baseball, and the .920 OPS ranks fourth-best.
Pujols Watch
Angels first baseman
Albert Pujols
has established himself as a player who gets better as the season progresses. His career numbers after the All-Star break: .337 batting average and .1.053 OPS -- 21 points and 49 points higher than his first-half numbers.
Kuroda will want to be careful early in the count against Pujols. Since May 6, Pujols is 28-for-62 with eight home runs in at-bats ending within the first two pitches. Pujols is 4-for-18 lifetime against Kuroda.
May, 30, 2012
5/30/12
12:13
PM ET
By
Mark Simon, ESPN Stats & Information
Ivan Nova Stats To Watch
With one more home run allowed,
Ivan Nova
will match his total of 13 from last season.
Nova has gotten hurt more this year by the pitches he's left over the middle of the plate. In his past three starts, he's allowed eight hits and two home runs on pitches that our pitch system classified as middle-middle.
The typical major league pitcher allows a .330 batting average on such pitches, but Nova's opponents are an astounding 20-for-37 (.541) against him in 2012.
What is the best means for Nova to get out red-hot Angels left fielder
Mike Trout
?
One of Trout's few susceptibilities is an inside fastball. If you can jam him in, you can get him out.
Trout is 2-for-15 this season in at-bats that ended with a fastball inside and off the plate. But if you leave the ball over the plate, you could get in trouble. He's 5-for-15 against pitches that are over the inner-third.
Ervin Santana Stats To Watch
Ervin Santana
is giving up home runs at a ridiculous rate, which is the primary reason he has a 4.45 ERA this season. In 64-2/3 innings, he's already yielded 13 homers, more than halfway to last season's total of 24.
However, much of that came in his first four starts. He had a 2.25 ERA in his next five starts before a blip in his last outing, in which he allowed four runs in five innings in Seattle.
Yankees hitters have the ability to hit the long ball against Santana. They've done so many times before.
Those currently on the roster
have 24 home runs in 331 regular season/playoff at-bats against Santana.
Derek Jeter
,
Robinson Cano
,
Curtis Granderson
and
Alex Rodriguez
each have four.
Loaded for Bare
The Yankees are hitless in their last 20 bases-loaded plate appearances, though they do have two walks, a hit by pitch, and a pair of sacrifice flies in that stretch.
They also haven't had a bases-loaded, two-out hit since an A-Rod infield single on April 29.
The Yankees are hitting .151 for the season with the bases loaded.
Trumbo Trouble
Angels utility man
Mark Trumbo
is 6-for-14 against the Yankees this season, and a new approach may have something to do with that.
Last season, Trumbo was prone to the pitch in the upper-third of the strike zone and above, but as an article from our friends at
Fangraphs
showed, he's laying off that pitch more often now.
Last season, the Yankees worked Trumbo up 34 times, got him to swing 19 times, and got him out six of the nine times his plate appearance ended with a pitch to that area.
This season, the Yankees have thrown him 16 pitches to that area. He's only swung at six of them. The results? Two hits, two walks, and no outs.
Cano Conundrum
Cano is 1-for-13 in his past three games. Opponents have been attacking him in a weak spot, throwing pitches to the outer-third and further away at a 75 percent clip.
Cano is 1-for-his-last-14 in at-bats that ended with a pitch to that area. Four of his five outs Tuesday came on pitches away.