March, 17, 2014
Mar 17
12:39
PM ET
Will Kuntz, not even 30 yet, knew how good he had it. As the Yankees manager of professional scouting, he reported to assistant GM Billy Eppler and had the ear of GM Brian Cashman, giving him a voice in the team's major moves for
Mashiro Tanaka
,
Brian McCann
and beyond.
[+] Enlarge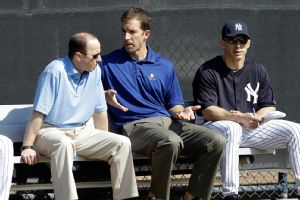 AP Photo/Charlie NeibergallGM Brian Cashman (left), Billy Eppler, and manager Joe Girardi during spring training in 2011
"He had a seat at the table," Cashman said.
It was a dream job until Kuntz received a text during the Tanaka press conference in January. The 6-foot-6 Kuntz played basketball at Williams College and was already working in professional baseball, but he loved soccer. A buddy of his told him about the job as the Director of Player Relations for Major League Soccer.
"It was the one opportunity outside of baseball that would make me leave here," Kuntz said.
Kuntz cobbled together a resume for the first time in more than a decade and applied for the job. He got it and now will be working with a handful of MLS teams, managing their rosters, while doing prep work for the new collective bargaining agreement.
Raised in Brooklyn by a
an accomplished judge
and
doctor
, Kuntz first entered the Yankee picture by writing George Steinbrenner, a proud Williams grad, a letter about an internship in 2003.
From there, despite going to law school at night, he rose up the Yankees' ranks, just one position below earning a full-fledged picture in the media guide, which goes to assistant GMs and above.
Before Kuntz took the MLS job, Cashman told him, he could have a long-term career in baseball. "He is an extremely talented guy," Cashman said.
But is he a loyal one? Some in Kuntz's own family have questioned that. It turns out, he grew up a die-hard Mets' fans, which his sisters never let him forget. So who will he root for now?
"I've been through too much to not want success for the Yankees and the people I am leaving," said Kuntz, who still roots for the Mets to do well. "So I'll just pray for no Subway Series."
Kuntz, though, doesn't sound as if he would change a thing as he picked up a World Series ring in 2009 and sounded extremely appreciative of the chance to go after the best players year after year.
Cashman said he has promoted Steve Martone, who had been the assistant of Baseball Operations, to Kuntz' position. Cashman first said Kuntz was leaving in
article in the New York Post
.
May, 21, 2013
5/21/13
2:44
PM ET
I just got off a conference call with Yankees president Randy Levine, MLS commissioner Don Garber and Mancester City FC CEO Ferran Soriano. Here are the five things you need to know about
the Yankees' involvement as MLS owners
.
1.) Will there be soccer games at Yankee Stadium?
In the interim, it is possible, Levine said. The MLS team is to begin play in 2015 and will not have a new stadium built by then. Levine mentioned Citi Field as another possible site.
That would be an interesting development, considering the Wilpons were part of negotiations to bring another MLS team to the New York area before the Yankees made their deal.
2.) What are the long-term goals for a stadium?
The goal is to have a new stadium. There have been talks about one in Flushing Meadows, which, of course, is the Mets' backyard. Levine said that is also still possible.
3.) Will the games be on YES?
It is possible. Levine said they have not discussed it, but I'd bet
Alex Rodriguez
's salary that the local games are on YES.
4.) What else do the Yankees bring to the deal?
Levine pointed out the team knows how to market and foresees some "cross-polinization" between Man City fans and Yankee fans. Levine said the Yankees' and Man City's philosophies are in in line.
"This is about the sport," Levine said. "It is about putting together a championship-quality soccer team for the fans of New York."
4.) Which members of the Yankees' brass likes soccer?
Levine said Hal and Hank Steinbrenner are big soccer fans, and so was their father, longtime Yankees owner George Steinbrenner.
5.) Who owns the most amount of the team?
Man City does, but the Yankees will be "an active member of the ownership group."
6.) How much does an MLS team cost?
Less than A-Rod has remaining on his contract. For $100 million, you too can own a soccer team in the States. There is no word how the money is being divided, but the Yankees are surely paying less than half since they are not the majority owners.
May, 21, 2013
5/21/13
1:15
PM ET
The New York Yankees are going into the soccer business.
The Yankees are partnering with Manchester City to own Major League Soccer's 20th team, an expansion franchise, which will be called New York City Football Club and plans to start play in the 2015 season.
Manchester City, owned by Sheik Mansour bin Zayed bin Sultan Al Nahyan, will be the majority owner of the team.
While MLS has been negotiating with New York to build a stadium in Flushing Meadows Corona Park, near the home of the New York Mets, NYC FC will start play at an interim home and will consider other sites for a stadium.
"We are very aware of the Queens negotiation," Manchester City CEO Ferran Soriano said of a 13-acre plot of the Flushing Meadows-Corona Park that has been previously discussed for a stadium. "This is not about finding a stadium. This is about finding a home that will be successful from a commercial, and soccer perspective as well as a community perspective."
Yankee Stadium is hosting Manchester City on Saturday for a friendly vs. Chelsea FC. The Champions League final between Bayern Munich and Borussia Dortmund will also be shown on the big screen.
The new team is intended to spark a rivalry with the New York Red Bulls, who play in Harrison, N.J.
Click here to read the rest of the story