New York Yankees:

Nelson Cruz
October, 29, 2013
10/29/13
10:00
AM ET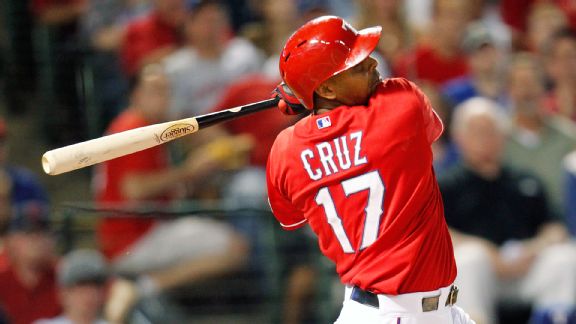 AP Photo/Tim SharpWould Nelson Cruz be a hit in the Bronx?
We all know Hal Steinbrenner has set a goal of cutting the Yankees' payroll to $189 million for 2014. Your duty as a Yankees fan is to make sure he doesn't achieve that goal, and our job at ESPNNewYork.com is to provide you with reasons to make sure he doesn't. Hey, it's Hal's money, not yours. With that in mind, we are going to examine potential free-agent and trade candidates in a feature we call, appropriately, "Spend Hal's Money."

Today's candidate:
Nelson Cruz
Position:
Outfielder (RF)
Age:
Turns 34 on July 1
Height:
6-2
Weight:
230 pounds
2013 numbers:
.266-27-76 with an .833 OPS in 109 games for the
Texas Rangers
Expected going rate:
Avoided arbitration by signing for $10.5 million last winter, is expected to seek a deal for three years at about S11 million per. Not outrageous and probably less than the Yankees would have to spend to hold onto
Curtis Granderson
.
The Pros:
Tough to judge off his abbreviated 2013 season, but his power numbers were in line with his career averages. Not a great RBI guy -- his high is 90 in 2012 -- but his OBP (.327) would have been third-high on the injury-depleted 2013 Yankees, and his OPS was better than any Yankee not named
Robinson Cano
. Doesn't hit for average (.268 career hitter), but on the plus side, isn't terrible against righties (.262), eliminating need for a platoon. Should be well-rested after sitting out his 50-game suspension for involvement with Biogenesis.
The Cons:
A right-handed batter, which means he will probably not benefit from the cozy right-field porch at Yankee Stadium. A subpar outfielder -- can you imagine how Yankee fans would have reacted if he blew the last out of a potential World Series clincher the way he did in Game 6 of the 2011 Series for Texas? -- whose offensive contributions might be negated by his defensive liabilities. Strikes out a fair amount. Not Granderson-type K numbers, but can be counted on for 120 or so whiffs in a full season and was averaging a K a day until he got suspended in August, with 109 Ks in 109 games.
The verdict:
An intriguing possibility, especially since the price tag may not be prohibitively high, and if the Yankees weren't already committed to $6.5 million for
Ichiro Suzuki
would be worth a look. But there might be better, and even cheaper, options out there. Pass.
July, 8, 2013
7/08/13
12:00
PM ET
By
ESPN Stats & Information
Who should
Robinson Cano
select to participate in the 2013 Home Run Derby? You can see the selections announced on "SportsCenter" at 6 p.m. ET.
Here is the ESPN Home Run Tracker analysis of the top choices.
Mark Trumbo, Los Angeles Angels of Anaheim
Although Trumbo ranks ninth in the AL with 19 home runs, nine of those went at least 425 feet, the most in baseball. His average home run distance is 417.7 feet, fourth in the majors (minimum 10 home runs), and all but three of his home runs would have been out of Citi Field.
His
475-foot home run
off
Dan Straily
on April 29 is tied for the longest home run of the year.
Chris Davis, Baltimore Orioles
Davis leads the majors with 33 home runs, showing power to all fields.
Davis has not hit a home run longer than 440 feet this season, but seven have gone at least 425. His eight home runs to center field are the most in baseball.
Nelson Cruz, Texas Rangers
Cruz has 22 home runs this season, including ones that went
450
feet and
445
feet. Nineteen of those homers would have been out of Citi Field.
Although Cruz's average home run distance is 410.4 feet (12th among players with at least 10 home runs), his average home run distance is 419 feet when excluding his opposite-field home runs.
Other AL options:
Miguel Cabrera, Detroit Tigers
: It is hard to keep Cabrera off this list, as he is second in baseball with 27 home runs. However, his average home run distance is "only" 406.7 feet, 25th in the majors (minimum 10 home runs).
Raul Ibanez, Seattle Mariners:
Ibanez has 21 home runs, but his average home run distance is 383.6 feet, the lowest in the AL (among those with at least 10 home runs). Only four of those 21 were longer than 400 feet, and nine would not have been homers at Citi Field.
Adam Dunn, Chicago White Sox:
Despite having 23 home runs, including six of at least 430 feet, Dunn ranks 17th in average home run distance.
Mike Trout, Los Angeles Angels of Anaheim:
Trout has the third-highest average home run distance in baseball (419.5 feet), but his 14 home runs were not enough to make the top three.
Edwin Encarnacion, Toronto Blue Jays:
Encarnacion has 23 home runs, but only one over 430 feet.