New York Yankees:

Old-Timers Day
June, 23, 2013
6/23/13
1:55
PM ET
By
Mike Mazzeo
| ESPNNewYork.com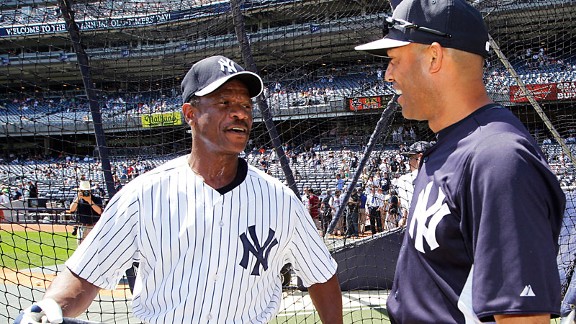 AP Photo/Kathy WillensRickey's magnetic presence returned to the Bronx on Sunday.
NEW YORK -- The Bombers beat the Clippers, 2-1, in the Old-Timers' Day game, which lasted five innings, on Sunday at Yankee Stadium.
Charlie Hayes put the Clippers ahead 1-0 with a sacrifice fly in the second, but the Bombers countered with a two-run single off the bat of Rickey Henderson in the third and never looked back.
Other highlights:
• Pat Kelly was robbed of an extra-base hit by Todd Greene, who made a fabulous over-the-shoulder catch in left. Greene then chest-bumped the Rays' bullpen catcher.
• After David Wells jokingly threw over the head off Paul O'Neill, O'Neill responded with a booming single off the right-field wall.
• Orlando "El Duque" Hernandez pitched ... and played shortstop.
June, 23, 2013
6/23/13
1:17
PM ET
By
Mike Mazzeo
| ESPNNewYork.com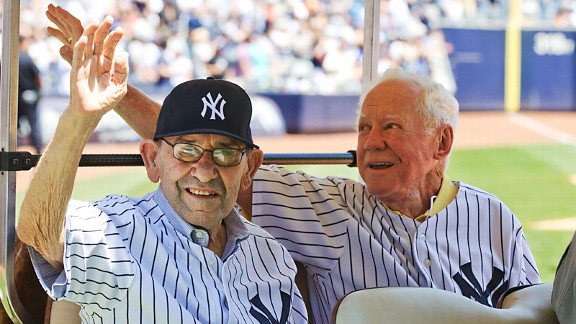 William Perlman/The Star-Ledger/USA TODAY SportsYogi and Whitey Ford returned to Yankee Stadium for Old-Timers' Day.
NEW YORK -- It was deja vu all over again, as Yankees Hall of Famer Yogi Berra received yet another huge ovation from the crowd after his latest Old-Timers' Day introduction on Sunday at Yankee Stadium.
Berra, now 88, came in on a golf cart along with Whitey Ford, 84, out of the center-field gate. He waved to the crowd but did not leave the cart. A video tribute was played in his honor.
Berra is currently using a cane, but Yogi Berra museum curator Dave Kaplan said he is doing OK.
This is the second game Berra has attended this season. He also attended a game in May in a suite.
June, 23, 2013
6/23/13
1:01
PM ET
By
Mike Mazzeo
| ESPNNewYork.com
NEW YORK -- Assuming
Mariano Rivera
retires at the end of the season, and the Yankees closer has said he intends to, Sunday will mark his final Old-Timers' Day as an active player.
"I look forward to this day every year," Rivera told reporters after chatting with several old-timers on the field at Yankee Stadium. "Even last year I was hurt and I was here. I just want to make sure that I see my guys and make sure they're OK and that everything is going well.
"I make sure that I say hello obviously because you never know what can happen. I like to be there to just chitchat with the guys that I played with, the ones that I saw playing and just have a good time with them."
Rivera said he doesn't know if he'll pitch in next year's Old-Timers' Day.
"I don't make any plans, I haven't thought about it," he said.
Rivera said there's nothing like Old-Timers' Day.
"When you wear the
New York Yankees
pinstripes and you come to Yankee Stadium, you're part of a legacy," Rivera said. "It means so much to me, and I think the whole world agrees with me. It's wonderful."
• Orlando "El Duque" Hernandez, participating in his first Old-Timers' Day, received a loud ovation when he was introduced.
Others receiving huge ovations during intros:
Bernie Williams
, Paul O'Neill, Ron Guidry, Goose Gossage, Reggie Jackson, Don Larsen, Yogi Berra and Whitey Ford. Berra and Ford, who came in on a golf cart out of center field, sported jerseys over their street clothes. Berra is currently using a cane to get around.
• O'Neill drilled a home run into the right-field seats during batting practice, prompting a loud response from the crowd.
•
Derek Jeter
bantered with the other old-timers in the dugout.
• Manager Joe Girardi thinks Old-Timers' Day is a special time.
"I love it. It's one of my favorite days," Girardi said. "You see guys start to roll in. I've seen Goose, Lou Piniella, Yogi. It's special what these guys have meant to the Yankees organization and being able to play alongside some of them, its great."
What's Girardi's favorite part of the day?
"I think you like seeing the collection of all the guys," he said. "I'm not sure of everyone who is coming, there's always one new guy, in a sense, who has become an Old Timer, and it's always fun to see. This year, it's Flash [John Flaherty], also
Andy Phillips
)."
June, 25, 2012
6/25/12
3:32
PM ET
Old-Timers Day is this Sunday at the Stadium. Roger Clemens is not on the official list the Yankees released today. Neither is Jorge Posada.

The pre-game ceremony and the Old-Timer's game, which start at 11:15 a.m., will be shown on YES. The Yankees and White Sox start at 2:05 p.m. Sunday.

Joining the Hall of Famers and former Yankees on the baselines will be the widows of five legendary Yankees -- Arlene Howard, widow of Elston Howard; Helen Hunter, widow of Jim "Catfish" Hunter; Jill Martin, widow of Billy Martin; Diana Munson, widow of Thurman Munson and Kay Murcer, widow of Bobby Murcer.

Here is the official list. (The asterisk denote first-timers).

Luis Arroyo
Jesse Barfield
Yogi Berra
Ron Blomberg
Dr. Bobby Brown
Homer Bush
Jerry Coleman
David Cone
Bucky Dent
Al Downing
Brian Doyle
Cecil Fielder
Whitey Ford
Oscar Gamble
Jake Gibbs
Joe Girardi
Rich "Goose" Gossage
Ron Guidry
Charlie Hayes
Rickey Henderson
Sterling Hitchcock*
Arlene Howard
Helen Hunter
Reggie Jackson
Tommy John
Pat Kelly
Don Larsen
Graeme Lloyd
Hector Lopez
Jill Martin
Tino Martinez
Lee Mazzilli
Stump Merrill*
Gene Monahan*
Diana Munson
Kay Murcer
Matt Nokes*
Paul O'Neill
Joe Pepitone
Lou Piniella
Willie Randolph
Bobby Richardson
Mickey Rivers
Aaron Small
Mel Stottlemyre
Darryl Strawberry
Tanyon Sturtze*
Ralph Terry
Joe Torre
Bob Turley
Roy White
Bernie Williams















June, 24, 2011
6/24/11
6:58
PM ET
By
Mike Mazzeo
| ESPNNewYork.com
Tino Martinez
has been added to the Yankees' 65th Old-Timers' Day roster, the team announced Friday.
Bernie Williams
,
Joe Torre
and
Lou Piniella
will all be making their Old-Timers debuts Sunday.
Trainer
Gene Monahan
, who has been with the team for 49 years and will retire at the end of the season, will throw out the ceremonial first pitch.
Here's a full list of the participants:
• Luis Arroyo
• Jesse Barfield
•
Clay Bellinger
• Yogi Berra
• Ron Blomberg
•
Brian Boehringer
• Dr. Bobby Brown
•
Homer Bush
• Jose Cardenal
• Rick Cerone
• Jerry Coleman
•
David Cone
• Al Downing
• Brian Doyle
• Cecil Fielder
• Whitey Ford
• George Frazier
• Oscar Gamble
• Joe Girardi
• Dwight Gooden
• Rich "Goose" Gossage
• Ron Guidry
•
Charlie Hayes
• Arlene Howard
• Helen Hunter
• Reggie Jackson
• Pat Kelly
• Don Larsen
•
Graeme Lloyd
• Hector Lopez
• Kevin Maas
• Jill Martin
•
Tino Martinez
• Lee Mazzilli
•
Ramiro Mendoza
• Gene "Stick" Michael
• Diana Munson
• Kay Murcer
•
Jeff Nelson
• Graig Nettles
• Joe Pepitone
• Lou Piniella
• Mickey Rivers
• Charlie Silvera
• Bill "Moose" Skowron
•
Aaron Small
• Mike Stanley
• Mel Stottlemyre
• Darryl Strawberry
• Joe Torre
•
David Wells
• Roy White
•
Bernie Williams