New York Yankees:

Opening Day
March, 29, 2013
Mar 29
3:31
PM ET
WASHINGTON, D.C. -- On Opening Day, Lou Piniella will throw out the first pitch. If the Yankees have a few more injuries, he may play left field.
Here are the Yankees' plans for Monday, from the team's news release:
The New York Yankees will play their 111th Opening Day game in franchise history on Monday, April 1 vs. the Boston Red Sox at 1:05 p.m. at Yankee Stadium.

Gates will open to fans with valid tickets beginning at 11 a.m., with festivities slated to begin at approximately 12:30 p.m. with the introduction of both teams on the baselines. The Yankees ask their fans to please budget ample time when planning their trip to the Stadium and urge their fans to use public transportation.

Lou Piniella, who will be honored with the "Pride of the Yankees Award" at the 2013 Homecoming Dinner following the Opening Day game, will throw out the Opening Day ceremonial first pitch. He will become the 12th former Yankees player to receive the Opening Day honor. A Tampa native, Piniella played his final 11 major league seasons with the Yankees (1974-84) and was a pivotal piece of their World Series championship teams in 1977 and 1978. He also managed the Yankees from 1986-87, and took over as the Yankees' general manager for the 1988 season and also resumed his manager's role in June of that year.

As previously released, the Yankees and the Red Sox will stand together in dedicating the 2013 Opening Day game to the victims of the Sandy Hook school shooting, their families and the greater community of Newtown. Pregame ceremonies will feature joint honor guards of Newtown police and firefighters, along with a moment of silence, during which a list of the Sandy Hook victims' names will be recognized on the center-field video board.

The Yankees and Red Sox will also wear a special ribbon on their uniforms for Opening Day to honor those lost and those affected by the tragedy.

Constantine Maroulis, Tony nominee and star of the "Jekyll & Hyde" Broadway musical scheduled to open on April 5, will sing the national anthem. In addition, a giant American flag will be unfurled by 75 West Point Cadets.

During the seventh-inning stretch, Alli Mauzey of the Broadway hit "Wicked" will perform "God Bless America."
March, 30, 2012
3/30/12
3:10
PM ET
The Yankees and Rays start things off in 2012 at 3:10 p.m. on Friday, April 6.

Who do you think are going to be tougher competition in the AL East for the Yankees? The Rays or the Red Sox? Or the Jays?
March, 31, 2011
3/31/11
1:51
PM ET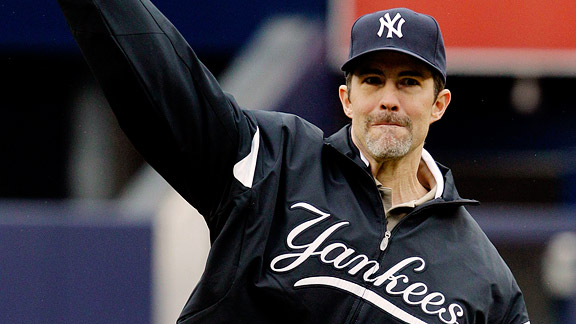 AP Photo/Kathy Willens
Mussina is now on a prestigious list of ex-Yanks to throw out the Opening Day first pitch in the Bronx.
Mike Mussina
felt the pressure.
In his 18 years in the major leagues, the retired pitcher saw his fair share of Opening Day first pitches. And he saw those pitches take many different paths and trajectories toward home plate, some not even reaching their destination.
Being a former player, never mind a pitcher, Mussina didn't want his first pitch before the Yankees' home opener on Thursday to be memorable for all the wrong reasons.
"I haven't thrown a lot [recently]. I've thrown a little, but not a lot," Mussina said before throwing out the first pitch. "I just want to get it somewhere in the ballpark someplace, and kind of be on target."
After heading out to the mound to a chorus of "Moose" chants, wearing a Yankees hat and jacket, Mussina put his worries to rest as he delivered a high pitch, close enough to the strike zone. Crisis averted.
Mussina, 42, became just the 10th former Yankee to throw out an Opening Day pitch for the Bronx Bombers, joining
Bernie Williams, Yogi Berra, Reggie Jackson
and others.
"It's really cool," Mussina said. "To have them think of me as part of this organization still and part of this family of the New York Yankees and have me out here, it's really something special, and I think it's great."
Mussina played the final eight seasons of his career with the Yankees, amassing a 123-72 record in that span. He previously pitched for 10 seasons with the Orioles.
Mussina called it quits in 2008, following the only 20-win season of his career.
With Thursday's game marking the start of his third season of retirement, Mussina says he has no regrets about leaving. He said winning 20 games in his last season was a "good way to finish it."
He said the non-playing factors like time away from his family, the constant traveling and the hectic lifestyle were what wore him down and led to his retirement at the age of 39.
"To not have to live out of my suitcase for half of the six months, to just slow the pace down, it was just really a welcome change," Mussina said. "Eventually you just tell yourself it's time to do something different, and I was really enjoying something different. And everybody says this -- and you don't know how it's possible, how you can be busier when you retire -- [but] I'm busier than when I played."
Mussina now devotes his time to coaching his two sons, ages 8 and 12; he coaches baseball, football and basketball. He doesn't see himself moving up the coaching ranks at the higher levels of the sport.
"I probably would stick with high school and younger," Mussina said. "I don't think recruiting college would really be in my future. I just don't see it. Professionally, I don't think that's there either. I like being asked my opinions or stuff or philosophies and I love talking about it, but I don't know if I could do it every day for the same amount of time these guys have to go play in a year."
With regards to former teammate
Andy Pettitte
, who recently retired, Mussina admits he was surprised to see him leave the game.
"I think everybody has their circumstances and he felt it was his time," Mussina said. "I know what it feels like when your mind and your body tells you it's just time, and there were a lot of other issues that can go along with playing baseball and living this lifestyle and being away and the pressure and the expectations and the demands and the preparations. It's a lot of things.
"Eventually you just say, 'I've had enough and I'm good with what I've done.' And you move to the next thing."
March, 31, 2011
3/31/11
12:28
PM ET
Though it's cold and windy in the Bronx, the grounds crew is preparing the infield and the field appears to be ready for today's season opener between the Yankees and the Tigers. Fans have trickled into the Stadium and are starting to take their seats.
March, 31, 2011
3/31/11
9:56
AM ET


ESPN's Buster Olney, reporting from a rainy Yankee Stadium on the morning of Opening Day, describes getting the game in as "iffy." First pitch between the Detroit Tigers and New York Yankees is scheduled for 1:09 p.m.
March, 31, 2011
3/31/11
9:16
AM ET


First pitch 1:09 p.m. Weather right now cold and rainy, field is covered, parking is $35. Play ball!

Tigers

Jackson cf
Rhymes 2b
Ordonez rf
Cabrera 1b
Martinez dh
Raburn lf
Peralta ss
Inge 3b
Avila c
Verlander rhp

Yankees

Gardner lf
Jeter ss
Teixeira 1b
Rodriguez 3b
Cano 2b
Swisher rf
Posada dh
Granderson cf
Martin c
Sabathia lhp
NBA
NHL
COLLEGE BASKETBALL
COLLEGE FOOTBALL
NBA
NHL
COLLEGE BASKETBALL
NFL