New York Yankees:

Preston Claiborne
March, 26, 2014
Mar 26
5:58
PM ET
TAMPA, Fla. -- The Yankees lost 10-6 to the
Toronto Blue Jays
in Dunedin on Wednesday, but
Preston Claiborne
, a useful piece of the Yanks' bullpen last season, may have lost something a lot more valuable than a preseason game: the confidence of his manager.
"The stuff has not been the same for whatever reason," Joe Girardi said after Claiborne faced five batters and got none of them out in an eight-run fifth inning. "When we got him up last year, he had been on a roll and he was throwing the ball very well. He has not been able to do that this spring, and it's something that we've looked at."
[+] Enlarge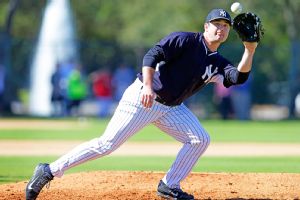 AP Photo/Charlie NeibergallYankees reliever Preston Claiborne hasn't been the same this spring.
Claiborne, who took the loss, allowed four hits and a walk and was charged with six earned runs. Obviously, he is not a candidate for one of the remaining bullpen jobs, of which there is probably just one remaining.
David Robertson
,
Shawn Kelley
,
Matt Thornton
,
David Phelps
and
Adam Warren
are in, and
Dellin Betances
should be. The last spot could go to a second lefty (
Vidal Nuno
or
Cesar Cabral
) or perhaps to
Fred Lewis
, although he did not pitch well Wednesday, either, allowing two runs in two-thirds of an inning.
"I think we look at taking our best team when we leave," Girardi said. "In saying that, we have some tough decisions to make over the next three days, and it's really less than that because we leave in three days."
Left-handed complement:
Having a second lefty in the bullpen once seemed like a certainty for the Yankees. But it has become more unclear maybe now that Nuno and Cabral have had some rough outings.
"We always want to have two lefties, no question about that," general manager Brian Cashman said. "Our manager especially likes to do the matchups, so I think the way he runs the late-inning situations, two lefties are, in theory, a mandatory interest for us. It might not always work out that way, but it is something we will definitely shoot to have."
"We don't feel that we necessarily have to," Girardi said. "But it's nice having a couple of lefties."
Jeter's back:
To back, that is. For the first time all spring, the Captain played a day game after a night game at shortstop, something he will have to do repeatedly during the regular season. Jeter went 1-for-2 (a single) and scored twice. He also played five innings in the field after having played six innings Tuesday night.
"I feel good where I'm at right now," said Jeter, whose spring average is up to .143 after hitting a low of .114 before Tuesday night's game. "For me, every spring it's pretty much the same thing. First you want to make sure you're seeing the ball. Then you want to make sure you're swinging at good pitches. Then it's contact and driving balls in the air is usually the last thing that comes. This year, maybe it's taken a little bit longer than other ones, but I think that's understandable, considering I haven't played in quite some time."
Ace in the hole:
CC Sabathia
will make his final spring start Thursday afternoon against the Pirates, in Bradenton, in what is expected to be an abbreviated (four innings or fewer) outing in preparation for his Opening Day start against the Astros in Houston on Tuesday. Sabathia is 2-1 with a 1.59 ERA this spring.
September, 8, 2013
9/08/13
6:24
PM ET
By
Ian Begley
| ESPNNewYork.com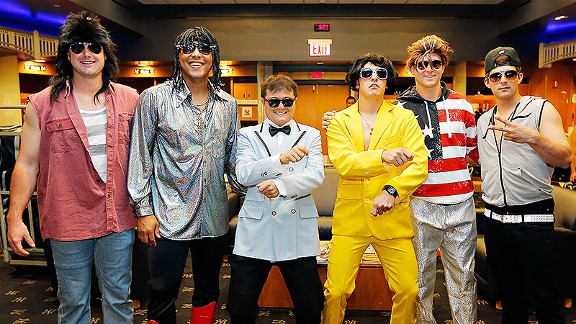 New York Yankees
NEW YORK -- There was a little levity in the Yankees' clubhouse on Sunday evening.
Following a time-honored tradition, Bombers veterans made the rookies dress up as music artists and dance around the clubhouse.
The veterans, led by
Joba Chamberlain
, forced Yankees rookies to dress up as the following stars:
Preston Claiborne
(as Billy Ray Cyrus),
Cesar Cabral
(as Rick James), interpreter Jiwon Bang (as Psy),
Brett Marshall
(as Yoo Jae-Seok, one of the dancers in Psy's "Gangnam Style" video),
David Adams
(as Vanilla Ice) and
J.R. Murphy
(as Justin Bieber).
The rookies posed for pictures, and Marshall and Bang briefly performed Psy's "Gangnam Style" in the clubhouse.
July, 13, 2013
7/13/13
12:00
AM ET
NEW YORK -- Here's a quick look at the
New York Yankees
' 2-0 win over the
Minnesota Twins
Friday night at Yankee Stadium:
First, the Yankees announced
the bad news
about
Derek Jeter
's quad. Then they started playing a game under rainfall that grew progressively worse.


Play was finally suspended at 8:42 p.m., with the game scoreless and one out in the bottom of the fourth inning.
When play resumed at 9:55 p.m., it was raining again after a brief respite. And it rained for most of the rest of the game. But a damp, dreary night in the Bronx at least ended on a happy note for the few fans who stuck around to see the conclusion of
a 2-0 win
.
What it means:
The Yankees win the opener of their final series before the All-Star break. They improve to 51-42 and have won nine of their last 12 games. But they're still in fourth place in the American League East, six games behind the first-place Red Sox.
Surprise decision:
When the game resumed, the Yankees were at the plate, and the Twins had a new pitcher on the mound: Righty
Ryan Pressly
replaced lefty
Scott Diamond
, who started for Minnesota.
However, Yankees manager Joe Girardi sent
Hiroki Kuroda
back to the mound for the top of the fifth, despite the 73-minute delay -- rather unusual considering the length of the stoppage.
Kuroda wasn't particularly sharp in his four innings prior to the delay. But he managed to post four zeroes, working around five hits and a walk, using 72 pitches. The Twins had a runner in scoring position in every frame, yet couldn't push one across.
He only pitched one more inning after the delay. And he again had a runner in scoring position after a two-out double by
Joe Mauer
, which was followed by a
Justin Morneau
walk. But then Kuroda induced
Ryan Doumit
to ground out to second on his 90th pitch of the night.
Girardi pulled Kuroda for
Preston Claiborne
in the top of the sixth, but by that time Kuroda was in line for his eighth win of the season (see below). Kuroda's ERA dropped to 2.65, which is tops in the American League.
At long last:
The Yankees had just one hit off Diamond -- a single by
Lyle Overbay
. But they scored twice in the bottom of the fifth, off Pressly and
Brian Duensing
.
Luis Cruz
led off the frame with a single, went to second on a bunt by
Chris Stewart
and was driven home on a
Brett Gardner
single. Then Gardner scored on a single by
Robinson Cano
(which pushed Cano over the .300 mark for the season). That was all the offense the Yanks would need.
Seventh heaven:
Claiborne gave up back-to-back singles to open the top of the seventh, and then gave way to
Boone Logan
. The lanky lefty did throw a wild pitch, allowing the runners to advance to second and third. But Logan ended up striking out the side, including K's of Mauer and Morneau to end the threat.
David Robertson
pitched a 1-2-3 eighth, with two strikeouts.
Mariano Rivera
collected career save No. 638 with a 1-2-3 ninth.
What's next:
The middle game of this three-game series. It'll be
Phil Hughes
(4-8, 4.55) for the Yanks, opposed by fellow righty
Samuel Deduno
(4-4, 3.90). First pitch is at 1:05 p.m.
June, 15, 2013
6/15/13
6:00
AM ET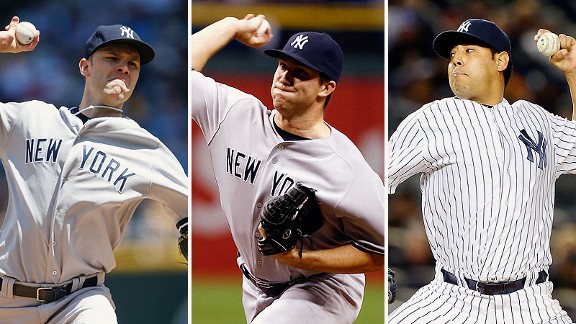 Getty ImagesDavid Phelps, Adam Warren and Vidal Nuno could be the future of the Yanks' starting staff.
Saturday's starter
David Phelps
has solidified the No. 5 spot. In eight starts since May 1, Phelps, 26, is 3-2 with a 3.38 ERA in 45 1/3 innings.
Adam Warren
, 25, posted a 3.12 ERA in 34 2/3 innings as the long man.
Preston Claiborne
, 25, has walked just one batter and allowed only two earned runs in his first 21 innings in the bigs.
Vidal Nuno
, 25, had a 2.25 ERA in 20 innings, which included three solid starts.
There is no
Matt Harvey
among them, but young, controllable pitching has emerged in 2013 and beyond. Phelps could move up the starting food chain in the next year or two, while Nuno and Warren could head into next spring fighting for the No. 5 spot. When the Yankees formulate their plan around a $189 million 2014 payroll, Phelps, Warren, Claiborne and Nuno could be important names.
Quietly, you can see how the Yankees will replace
Phil Hughes
and
Joba Chamberlain
, if they depart as free agents after this season. Hughes, Chamberlain and the long-gone
Ian Kennedy
were the face of the last young Yankees pitching influx in 2008.
Manny Banuelos and
Dellin Betances
were supposed to be the next wave. Banuelos, recovering from Tommy John surgery, is still just 22 and might have a big future. Betances, who will be out of options next spring, will try to make the team as a reliever in '14.
Phelps, Warren and Nuno could be in the mix in a 2014 rotation that will include
CC Sabathia
, for sure.
Andy Pettitte
and
Hiroki Kuroda
will have to decide if they want to pitch in the Bronx for one more season.
If
Michael Pineda
is healthy, he will be in the rotation. So there should be, at least one, if not more, spots open for Phelps, Warren, Nuno and
Ivan Nova
.
By next spring, some of the names above won't be in pinstripes anymore, but a beneath-the-surface story emerging from this 2013 season is how the Yankees are developing some young, contractually controllable pitching that figures to be a significant part of their upcoming $189 million plans.
UP NOW:
Wally Matthews with everything you need to know from Friday night's game in Los Angeles.
ON DECK:
Phelps (4-3, 3.90 ERA) vs.
Tommy Hanson
(3-2, 4.12 ERA). Game time is 7:15 p.m. ET.
QUESTION:
Do you believe in Phelps, Claiborne, Nuno and Warren?
June, 8, 2013
6/08/13
3:29
PM ET
SEATTLE -- Of all the eye-popping stats rookie reliever
Preston Claiborne
has compiled in his 13 appearances so far this season for the Yankees -- just one run and 13 hits allowed in 18-2/3 innings, 14 strikeouts and an ERA of 0.49 -- the one that has caught the most attention from his manager and teammates is this: Claiborne has yet to walk a batter.
That is why, when he went to 3-2 on
Kelly Shoppach
in the eighth inning of Friday night's 4-1 loss to the Mariners and the next pitch hit Shoppach on the leg, the joke around the clubhouse was that the 25-year-old righty would do anything to avoid besmirching his record with that first BB.
"A few people have asked me that," Claiborne said, laughing, in the Yankees clubhouse this morning. No, I was just trying to get a ground ball. I just threw a two-seamer and it sailed on me. That's my story and I'm sticking to it."
Joe Girardi had another story, one he remembered about a reliever who had an incentive clause in his contract that involved walks, so that whenever the count reached three balls, the reliever's next pitch would almost invariably hit the batter.
"I can't remember the guy's name," Girardi said. "But I know that clause isn't in [Claiborne's] contract."
Turns out the pitcher in question was Stan (Big Daddy) Williams, who had a 14-year career with the Dodgers, Yankees and Twins from the late 50s through the early 70s. So far, Claiborne's major-league career has spanned barely a month, having been recalled from AAA to replace
Joba Chamberlain
when he went down with an oblique strain.
But already, Claiborne has accomplished something no Yankees pitcher has done since 1916 -- that was the last time a Yankees pitcher succeeded in not walking a hitter through his first 13 appearances -- and considering the way Girardi has been using him, he may start assuming some of Joba's innings, too.
In the seventh inning Friday night, with the Yankees trailing but three and the Mariners with a runner on second, Girardi replaced starter
Hiroki Kuroda
with Claiborne needing to keep the score at 4-1. Claiborne retired the next two hitters on harmless fly balls, and worked around a single and that interesting hit batsman to put up a zero in the eighth as well.
"You try to get their feet wet slowly, and then you try to give them more and more," Girardi said. "As long as they keep passing tests, you give them more."
And by the manager's admission, Claiborne has aced all his tests so far. "He really hasn't done anything wrong," Girardi said. "He's been really, really good."
Girardi said he has been especially impressed by Claiborne's faith in his own stuff, regardless of the count. "He's throwing 3-2 changeups, 3-2 sliders as a young kid," he said. "You don't see that too often."
"I'm glad that skip has the confidence in me to go in there," Claiborne said. "I obviously have it in myself to keep the game close in all spots. That's what I just try and do, keep the score the way it is. And obviously, if you walk guys, you won't have success."
June, 2, 2013
6/02/13
12:48
AM ET
As the Yankees offense has become fond of scoring one run per game, it hasn't left the team worried about what's suddenly become one of the American League's lowest-scoring units.
"I'm not concerned. We're what, two games out of first place and it's June 1," Yankees center fielder
Brett Gardner
said. "I don't think anybody in this room is concerned."
[+] Enlarge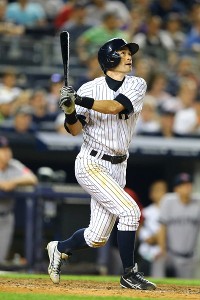 Al Bello/Getty ImagesThe Yankees offense has failed to score more than four runs in any of the past eight games.
Following Saturday's 11-1 loss to Boston, the Yankees have now scored one run in four of their past six games dating back to Monday, losing all four of those games. In their last eight games, they have not topped four runs, tallying a total of just 19 runs in that stretch while going 2-6.
"Tomorrow is a new day. One of the biggest things I've learned from being here and being around guys like
Derek Jeter
is once the game's over with, show up tomorrow and it's a brand new day and try to win the series," Gardner said. "We got whooped up on tonight pretty bad and didn't get much going on offense, they hit a couple of long balls that really hurt us, and just not a good game."
Saturday, the Yankees had just six hits, and despite working
Felix Doubront
over the first two innings, offered little resistance. The Yankees left two men on base in each of the first two innings, but couldn't get much going over the final seven frames. Their lone run came in the fourth on a sacrifice fly, but even then they weren't able to capitalize on back-to-back singles to start the frame.
"That guy [Doubront] was on his game tonight against us. Just tip your hat to him," Yankees catcher
Chris Stewart
said. "We felt like we put good at-bats together. The first three innings he was up to 60-something pitches so we're making him work at least and he was able to get out of some situations and able to settle down after that. There's not much you can really do at that point. We went about our game plan early and it just didn't work tonight."
NO WALKS:
Reliever
Preston Claiborne
became the first Yankees pitcher since 1916 to not walk a batter in his first 11 career appearances coming as a reliever only. Claiborne pitched 1⅔ scoreless innings, striking out a pair of hitters.
"He's been really good," Yankees manager Joe Girardi said. "Every situation we've put him in he's been really good and he's thrown strikes, and he's throwing strikes with three different pitches. His velocity is good. His location has been good. He's just got the job done."
NO CONCERN FOR VERNON:
Vernon Wells
went 0-for-4 on Saturday and is now hitting .127 over his last 14 games dating back to May 16. Wells is mired in a 7-for-55 slump.
"He'll come out of it, I'm not concerned about that," Girardi said. "I think Vernon's going to come out of it. He swung the bat pretty good last night for us."
Wells got off to a hot start, hitting 10 homers and 23 RBIs by May 15, but he has just one RBI since then and has struggled to get on base.
May, 30, 2013
5/30/13
6:00
AM ET
By
Mike Mazzeo
| ESPNNewYork.com
Mark Teixeira
and
Kevin Youkilis
are expected back with the Yankees on Friday.
Given that the Yankees, who have lost four straight, can't score many runs right now, that's a good thing.
Andy Pettitte
is supposed to join them sometime next week.
That said, who do you think should go to make room for the veteran trio?
Of note: Manager Joe Girardi said he wants to carry 12 pitchers. The Yankees are currently carrying 13, which means two hurlers have to be subtracted to meet that number.
Here are the likely candidates:
Vidal Nuno:
Nuno, a 25-year-old left-hander, gets the start on Thursday night against the Mets. He is 1-1 with 1.93 ERA in four games (two starts). With Pettitte returning to the rotation, Nuno is the obvious candidate to be pulled out.
Preston Claborne:
Claborne, a 25-year-old right-hander, retired all five batters he faced in place of an ineffective
David Phelps
Wednesday night. Claborne has allowed just one run over 14 2/3 innings since his promotion from the minors, which equates to a 0.61 ERA. It would be tough to send him down, but with
Joba Chamberlain
back, he may have to go.
Ivan Nova:
Nova, 26, was impressive in relief of Phelps, allowing just one run and striking out six over five effective innings. His season ERA is down to 5.16. It was a great step toward eventually returning to the rotation. But would Nova be better-served starting every five days in Triple-A?
Reid Brignac:
Brignac is hitting just .071 since being acquired by the Yankees. His versatility on defense is nice, but that's about it.
David Adams:
Adams, 26, has played quite well since being called up, hitting .265. He can't play shortstop but can man third, second and first base if necessary. Doesn't look like he's going to stick around with a glut of corner infielders already on the roster.
Again, what moves do you think the Yankees should make? Let us know in the comments section below.
UP NOW:
Wallace Matthews writes that Teixeira and Youkilis coming back is nice, but their returns won't fix all the Yankees' problems. I did a blog which mainly focuses on Phelps' poor outing. And Kieran Darcy has the latest on the surging Metropolitans.
ON DECK:
Andrew Marchand, Adam Rubin and Ian O'Connor have you covered for ESPNNewYork.com as the 2013 version of the Subway Series comes to a close Thursday night in the Bronx. It'll be Nuno (1-1, 1.93 ERA) for the Yankees going against Mets righty
Dillon Gee
(2-6, 6.34). First pitch is slated for 7:05 p.m.
May, 25, 2013
5/25/13
8:24
PM ET
ST. PETERSBURG, Fla. -- A fine starting pitching performance by
Vidal Nuno
, a stirring ninth-inning rally and a game-saving catch by
Ichiro Suzuki
set the stage for a dramatic 11th-inning home run by
Lyle Overbay
that provided the
New York Yankees
with a most-unlikely
4-3 win
over the
Tampa Bay Rays
at The Trop.


Lyle, love it:
Overbay's home run, No. 8 of the season, into the right-field seats off
Josh Lueke
with two out in the 11th, was the game winner. If this is the last week of Overbay's tenure as the Yankees' starting first baseman -- and it certainly looks as if
Mark Teixeira
will return soon -- then he left Yankees with one to remember him by.
Great escape:
David Robertson
got himself into trouble right away in the bottom of the ninth, walking leadoff hitter
Matt Joyce
, who went to second on
Jose Lobaton
's sacrifice bunt. But Ichiro made a spectacular sliding catch on
Yunel Escobar
's slicing drive to right to save the game, and Robertson slipped a 94 mph fastball past
Desmond Jennings
to strand Joyce at second.
Gardy-an angel:
Brett Gardner
reached out and tapped a 1-2 pitch from Rays' closer
Fernando Rodney
to score
Brennan Boesch
from second, tying the game at three with two out in the ninth. But with
Robinson Cano
at the plate with a chance to put the Yankees ahead, Gardner got himself thrown out trying to steal second to end the inning. Cano just stood at home plate staring out at the field for a long time after the play.
By gosh:
Boesch, recalled from Triple-A Scranton to replace
Curtis Granderson
on the roster, got the call to pinch hit for
Austin Romine
with two out in the ninth and made it a one-run game when he served an opposite-field double into left off Rodney, scoring Overbay (walk) to cut Tampa's lead to 3-2.
Close shave:
Ivan Nova
's first appearance as a relief pitcher nearly ended in disaster when he loaded the bases in the 10th on two singles and a walk, but he struck out
James Loney
on a honey of a slider and got Joyce to tap out to second to kill the threat. But thanks to Overbay, Nova comes away with the win, his second of the season.
Presto!
Just when the game seemed to be spinning out of control on the Yankees after neither
Shawn Kelley
nor
Boone Logan
could do their jobs in the seventh inning, rookie
Preston Claiborne
came on to stop the bleeding with a groundout and a pair of strikeouts, stranding runners at first and third and keeping the game close enough -- 3-2 -- to enable the Yankees to tie it in the ninth.
Vidal decision:
Nuno virtually matched Rays' ace
Matt Moore
for six innings, but things unraveled for the Yankees when manager Joe Girardi sent him out to start the seventh. Nuno allowed a leadoff single to Loney -- which looked playable by
David Adams
at third base -- after which Girardi pulled him for Kelley; from there, the wheels came off as the Rays went on to score twice. Still, Nuno turned in another excellent performance -- six-plus innings, five hits and two runs, one of which was Loney scoring on a hit allowed by Logan.
No Moore:
Despite handcuffing the Yankees on five hits and one run over six innings, Moore had the plug pulled on him by manager Joe Maddon after 104 pitches, and lefty
Jake McGee
came out to pitch the seventh. That insured Moore's second no-decision of the season; he had won eight of his previous nine starts, and this was the sixth time this season Moore had held an opponent to one run or fewer. McGee got into immediate trouble when
Jayson Nix
led off with a single and stole second with one out -- and got out of it again when he caught both Romine and Gardner looking at fastballs to end the inning.
Nicked up:
Add Nix to the list of bloodied but unbowed Yankees. He was apparently spiked on the right forearm by Rays' first baseman Loney while diving back to first on a pickoff attempt by
Jose Molina
and was treated by trainer Stevie Donohue, who was wearing biohazard gloves while stanching the bleeding. But Nix shook it off -- and stole second, complete with head-first slide, on the next pitch.
What's next:
The series finale on Sunday afternoon.
CC Sabathia
(4-3, 3.43 ERA), who has had a terrible time winning at Tropicana Field -- he is 3-6 with a 4.07 ERA in 15 lifetime starts, his lowest winning percentage at any visiting park -- goes up against
Alex Cobb
(5-2, 2.73 ERA). First pitch at 1:40 p.m.
May, 21, 2013
5/21/13
11:58
PM ET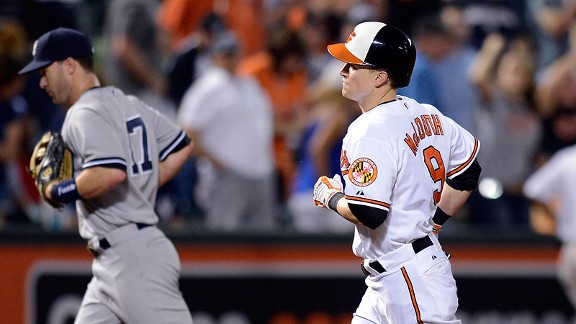 AP Photo/Nick WassNate McLouth pounced on Vidal Nuno's third pitch of the 10th in the Yanks' first loss when scoring first.
Vidal Nuno
represents what
Phil Hughes
once did. The thing about a rookie is that the slate is completely clean and fans can let their imaginations loose to dream.
Hughes was supposed to be a No. 1 and is now more a No. 4 or 5. Nuno is an out-of-nowhere story, the first Vidal to make the majors, and he had not given up a run in his initial eight big league innings.
On Tuesday night, the
New York Yankees
lost 3-2 in 10 innings to the
Baltimore Orioles
. It happens. Before Tuesday, the Yankees had never lost a game this season after scoring first. They had been 19 for 19, which was the longest such steak since -- strangely enough, according to the Elias Sports Bureau -- the 1992
New York Mets
, better known as "The Worst Team Money Could Buy," went 18 games to begin a season.
In the process of Tuesday's loss, the imagination of what could be for Nuno and Hughes was chipped away a little -- and they really didn't do that much wrong.
Nuno, 25, threw just three pitches in the 10th inning. One of them, a cutter that stayed flat and rode over the plate, was driven over the wall by
Nate McLouth
for the game-winning, walk-off homer.
"You can't be perfect," Nuno said. "If everyone could be perfect, everyone would be a Hall of Famer."
Three lockers away and just a year older than Nuno, Hughes sounded disappointed with his six innings of two-run ball. Yes, it was better than his two-thirds against the
Seattle Mariners
on May 15, but his pitch count got too high, too early and ex-Yankee
Chris Dickerson
drilled him for two solo shots.
Hughes kicked himself because if he wasn't at 102 pitches so quickly, maybe he lasts into the seventh.
"Every time out there, you want to be as perfect as you can," Hughes said. "Obviously, you look at the last start and this was obviously better, but I feel like I can still take some strides forward and do a better job of just commanding the baseball a little bit better and not forcing myself into high pitch counts so early. It seems like it happens a lot if I don't have my plus-command. My goal the next time out is to give us a little bit of a deeper start."
This is what Hughes is as he enters free agency. Is he young enough to make a leap in his career? Sure, he is. But there has yet to be any evidence that he is about to take the next step in his career.
Too many nights end like Tuesday, with Hughes saying he needs to do better because something was not quite right. He explained he felt like he was out of rhythm in the windup. Still, there doesn't seem to be a lot of reasons to believe he will be what the Yankees projected him to be six years ago. He doesn't dominate.
"He gave us a chance to win the game," Joe Girardi said.
That is all you can ask of a No. 4 or No. 5 pitcher. The Yankees' bullpen picked it up from there.
Boone Logan
,
Shawn Kelley
,
David Robertson
and the impressive rookie
Preston Claiborne
held the Orioles scoreless over the next three innings. To start the 10th, Girardi wanted to go lefty on lefty with Nuno versus McLouth.
Three pitches later, one of which that was not so good, Nuno had to face the media after the first earned run of his career. He did it like an old pro.
"It was one pitch and it cost us the game," Nuno said. "You have to forget about it."