New York Yankees:

Red Sox
April, 13, 2014
4/13/14
9:00
AM ET
NEW YORK -- You may hate
Alex Rodriguez
. In fact, most of you seem to. But you have to miss him a little this weekend.
A-Rod is the
biggest figure in the Yankees-Red Sox rivalry since George Herman Ruth
.
Without him some intensity is lost from the rivalry. There is a little less intrigue and a lot less hate.
The tug-of-war between love and hate is what really makes rivalries special.
It is difficult to have much angst when everyone is making nice. The Red Sox, following basically every other player ever,
all love
Derek Jeter
. Before Thursday's game,
David Ortiz
asked to meet
Yangervis Solarte
, and gave the kid some advice on how to have a long big league career.
Even when there is an
apparent incident
, the managers and players basically just ignore it, even if fans and media don't.
Kevin Millar
told the
New York Post
the Yanks-Red Sox rivalry has become a little softer, saying:
The rivalry between the Red Sox and Yankees got a little softer, a little friendlier. I think you see more of a rivalry with the Rays (and Red Sox). The one with the Yankees seems to be a little marshmallow-ish. You saw that kind of with (Mariano) Rivera last year, and now you've got (Derek) Jeter's going-away tour. When's the last time we've seen a good squabble between the Red Sox and Yankees?"
Well, last year actually.
Ryan Dempster
drilled Rodriguez on purpose for being, among other things, A-Rod. Rodriguez answered Dempster's deed later in the game with a towering homer, complete with a fist-pumping trot around the bases set to a soundtrack of Fenway boos. It was classic Yanks-Red Sox, love-hate stuff.
Now, Rodriguez is gone from the rivalry -- maybe forever. But he was the villain who stirred up both sides.
Ruth's last game as a Yankee and Rodriguez's first were seven decades apart. It may be another 70 years until there is another character as large as Ruth or Rodriguez in this rivalry. And for that reason, A-Rod is sorely missed.
On deck:
On ESPN's Sunday Night Baseball,
Ivan Nova
(1-1, 8.68) vs.
Felix Doubront
(1-1, 9.00 ERA). The Yankees are off on Monday.
Got you covered:
Kieran Darcy, Gordon Edes and I will be there.
Question:
Do you miss not having A-Rod in the rivalry?
April, 20, 2012
4/20/12
7:00
AM ET
It is the 100th anniversary of Fenway Park. The Yankees and Red Sox will be wearing cool, old-school uniforms. But it is something that you can't see that makes the rivalry extra special.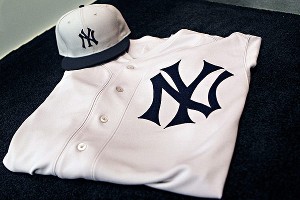 New York YankeesThese are the uniforms the Yankees will wear Friday in Boston for the 100th anniversary of Fenway Park.
"I love playing Boston because of the intensity,"
Russell Martin
said. "It makes you forget about everything. It is just about winning games when you play them. I love that atmosphere. That is how it should be all the time. But when you play Boston, the only thing you care about is playing good baseball. So that is the mindset."
The intensity is what makes the Yankees-Red Sox rivalry so much fun. It is why
Bobby Valentine
, who may be hated more in Boston than he is in the Bronx right about now, adds to the festivities. Valentine's words and actions are a new chapter in the century of games at Fenway. The players care because they love the added energy, which starts with people like you, who read this blog.
"It starts with the fans," Martin said. "It has that playoff atmosphere."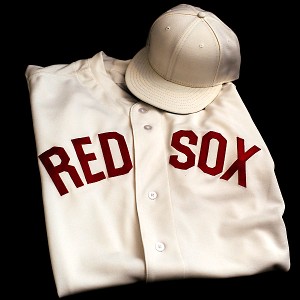 Boston Red SoxThese are the uniforms the Red Sox will wear.
Martin even went as far as to say last year that he hates the Red Sox.
"Do I still hate them?" Martin said. "I never really hated them. It made for good paper."
Valentine said the
same thing
at the Winter Meetings in the offseason. It made for good copy. Now, they play for the first time in 2012. Enjoy.
UP NOW:
I detailed
Curtis Granderson's
night,
the anti-Reggie's big night
.
Johnette Howard
says the Red Sox
are like the Boss' Yankees
.
The Binder
took a loss
in the first inning.
Matt Ehalt
goes into detail on
Phil Hughes
and
Derek Jeter
.
ON DECK:
The pitching matchups for the weekend series are as follows: Friday,
Ivan Nova
(2-0, 4.15 ERA) vs.
Clay Bucholz
(1-0, 9.82); Saturday,
Freddy Garcia
(0-1, 6.97) vs.
Felix Doubront
(0-0, 5.40); Sunday,
CC Sabathia
(1-0, 5.59) vs.
Daniel Bard
(0-2, 4.63)
IN THE HOLE:
We have you covered all day and night. At 9:40 a.m., I will post the most memorable moments from Yankees-Red Sox at Fenway. At 10:30,
Joe Girardi
will share his favorite moment from Fenway. Around 11,
Mark Simon
will have his What2Watch4.
Wallace Matthews
and
Ian O'Connor
will be in Boston. I will be joining them for Saturday's and Sunday's games. Let me say it is great to have Wally back, and if you haven't read his
touching column
about his father, you should.
QUESTION OF THE DAY:
Do you think the Yanks and Sox will be fighting it out for the AL East title come September?
July, 25, 2011
7/25/11
11:00
AM ET
By
Mark Simon
| ESPNNewYork.com
Stat of the Day
Courtesy of the brilliant statkeepers at the Elias Sports Bureau: The Yankees will be playing a team with a losing streak of at least 15 games for the first time since September 7, 1926 against the Red Sox, who entered with a 16-game losing streak. The Yankees won, 4-2. The last time the Yankees lost to a team that had lost 15+ in a row was on September 8, 1926, when they lost to those same Red Sox, 5-2
Jason Vargas Stat To Watch
Vargas has had trouble finishing off Yankees hitters when he's gotten to a two-strike count. In his last three starts (dating back to last season), the Yankees are 11-for-30 against him in two-strike situations, including three hits that plated four runs in a 7-1 Yankees win on May 29.
Other opponents are hitting .186 against Vargas in two-strike situations since 2010.
A caution to the Mariners: The last four times an opponent has started a left-handed pitcher in Yankee Stadium, they've lost the game. The last lefty starter to beat the Yankees in the Bronx was
Jon Lester
on June 7.
Freddy Garcia Stat To Watch
Garcia has not allowed a home run in his last seven starts, the best run of his career to date.
However, one thing to keep in mind is that five of those seven starts came on the road (he survived homer-friendly Cincinnati and Toronto). He's gone two straight at home without yielding one.
In those five road starts, Garcia yielded 58 balls that our batted-ball system classified as fly balls without letting one leave the ballpark. That's tough to do.
He's given up 69 fly balls at Yankee Stadium this season, with five going for home runs (two line drives cleared the fences as well).
By the way, one odd quirk about Garcia pitching against his former team. He's 4-3 against them. He went 0-3 against them as a member of the World Series champion White Sox in 2005, but has won three straight decisions against them since then.
How much do the Yankees miss A-Rod?
Since Alex Rodriguez went down, the players who have replaced him within the starting lineup (
Ramiro Pena
,
Eduardo Nunez
and
Brandon Laird
) are a combined 8-for-46. Laird is 0-for-5 in his two-start stint.
Ichiro Suzuki Stat To Watch
Suzuki is a .370 career hitter against Garcia and has never struck out against him.
Via Baseball-Reference.com
, that's his third-most at-bats against a pitcher without a strikeout. He never struck out in 35 at-bats against
Nate Robertson
and has not whiffed in 32 at-bats against Twins pitcher
Scott Baker
.
Suzuki might want to teach something to struggling teammate
Chone Figgins
, who is 3-for-32 against Garcia with 12 whiffs.
Suzuki is in the middle of a rough season by his standards, partly attributable to one interesting stat through our pitch-performance data. Check out the chart on the right, which shows his dramatic decline when he makes contact with a pitch deemed by ballpark Pitch F/X tracking to be out of the strike zone
Don't forget about…
Mariners shortstop
Brendan Ryan
was 5-for-10 with two walks in the first series between these teams this season. He cooled off soon after. In his first 45 games after that series, Ryan hit .249 with a .606 OPS. But then Sunday, he had two hits and five RBI, including a grand slam, in a loss to the Red Sox.
April, 4, 2010
4/04/10
2:58
PM ET
There are few things in the world I like more than matchups. Who is better? Who is worse? To me, that is why we love talking sports.
So when one of my first assisgnments on the new site was
matching up the Red Sox and Yankees
rotations, I was psyched. I gave the Red Sox the slight edge because of the three questions I asked execs.
If you could have one pitcher, whom would it be? If you have one rotation for the regular season, whom would pick? And if you could have one young starter from each team whom would choose?
I kept it to the regular season, because it is silly to talk about the playoffs when we have no idea about injuries or whom the teams will trade for by then.
CC
, to me, is clearly the best starter, but I did like what one GM said about
Jon Lester
possibly challenging him. Lester is by far the best young starter.
That leaves us with which rotation is better for the regular season. You could go either way, but I think the Yankees' rotation is a little more fragile and, while much deeper than last year, not as deep as the Sawx.