New York Yankees:

Reid Brignac
June, 21, 2013
6/21/13
4:54
PM ET
NEW YORK -- Joe Girardi and Brian Cashman don't have many options so they are shaking things up where they can.
The main transaction Friday:
Reid Brignac
is out and
Alberto Gonzalez
is back in.
What it means, according to Girardi, is that
Jayson Nix
will now be the everyday shortstop and
David Adams
will be the guy at third.
Still, the biggest news in the the new lineup might be the addition of
Zoilo Almonte
.
The switch-hitting Almonte, who just turned 24, is making his first career start on Friday night -- and has a chance to make many more.
As you know, Girardi is loath to make any firm declarations, but it sounds as if Almonte may be given an opportunity to take
Vernon Wells
' playing time. Wells is hitting .107 in June and .221 overall. Girardi would only say that he would take it "day by day."
If Almonte hits, he will stay in the lineup.
At Triple-A this season, Almonte was batting .297 with a .789 OPS. He is 1-for-2 as a major leaguer.
Adams will receive a further look at third with
Kevin Youkilis
possibly out for the rest of the year and
Alex Rodriguez
not due back until about a month from now, at the earliest. Adams is hitting .200 with two homers and seven RBIs in 23 games. Girardi said that Adams has done, "OK," but indicated the league has adjusted to him after his initial quick start.
Brignac came in with a reputation for not being able to hit a lick -- and lived down to it. He was designated for assignment with a .114 average in 44 at-bats. Gonzalez had three hits in nine at-bats in his first go-around with the Yankees. He was hitting .224 in 23 games for Triple-A Scranton-Wilkes Barre.
As for going from a mini-shakeup
to a Manny-shakeup
, Girardi declined to talk about
Manny Ramirez
, saying that it was a front office question. Cashman did not return a text seeking comment.
The Yankees picked up two pitchers on Friday, as well.
Yoshinori Tateyama
, who was with the
Texas Rangers
' Triple-A team, is a 37-year-old righty. He had a 4.24 ERA for Round Rock.
MLBTradeRumors.com
reported the Yankees also acquired
Mike Zagurski
from the Pirates. Zagurski, 30, is a lefty, who made six appearances with Pittsburgh this season. He had a 2.14 ERA at Triple-A in 21 innings. Zagurski had been designated by the Pirates.
Both Tateyama and Zagurski will go to Triple-A Scranton.
June, 21, 2013
6/21/13
12:14
AM ET
NEW YORK -- Even when the Yankees do score runs these days, it's ugly.
Don't be fooled by that 8-3 final score. The Yanks looked just as anemic against the Rays on Thursday as they looked against the Dodgers the night before.
The Bronx Bombers -- and we use that term loosely -- had just six hits against Tampa Bay. Five of them were singles -- two of the infield variety. The only extra-base knock? A ground-rule double by
Lyle Overbay
in the seventh inning.
The Yankees (39-33) have now lost seven of nine and have scored just 15 runs combined in those seven defeats.
[+] Enlarge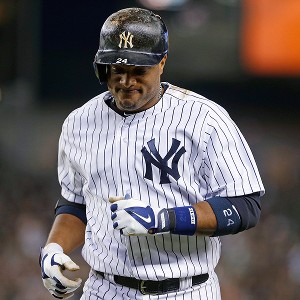 AP Photo/Frank Franklin IIThe Yankees had just six hits in Thursday's opener.
"We're in a little funk right now, and we need to get out of it," center fielder
Brett Gardner
said.
The Yanks were facing a tough pitcher in
Matt Moore
, who was 8-0 with a 2.18 ERA in the first two months of the season. But he'd been awful in his first three starts of June, giving up 19 runs in 12⅓ innings and losing all three.
Moore was better on Thursday -- at least in the Yankees' eyes.
"He's got a fastball that's 93, 94, 95 [miles per hour], but it plays up a little harder than that. And he's got a real good breaking ball," Gardner said. "When he's able to command his pitches and throw strikes, he's as good as it gets."
The Yankees did score three runs off Moore in the fourth inning -- but it was the weakest three-run inning you'll ever see. They had just one hit in the frame, a leadoff single by
Reid Brignac
. Gardner and
Jayson Nix
both walked to load the bases with nobody out. Brignac scored on a wild pitch, Gardner scored on a sac fly and Nix scored on a groundout to short.
Not exactly an offensive explosion.
Joe Girardi shook up the lineup, using
Travis Hafner
, even though the Yanks were facing a lefty. Hafner went 0-for-4, dropping his batting average on the season to .216 and his June average to .128.
Vernon Wells
went 0-for-3 after going 0-for-7 in Wednesday's doubleheader. He's down to .221 overall, and .107 this month.
"I think the biggest thing is just getting good at-bats, and I don't think we've done that consistently like we were," said Overbay, who was 1-for-3 with a pair of strikeouts. "It seems like we're just kinda swinging at their pitches and not ours."
Girardi defended his team, saying the slump does not stem from a lack of effort.
"We got guys that are working their butts off," the manager said. "And, unfortunately, we haven't been scoring a lot of runs lately, and it's cost us some games. But these guys are working, and they're doing everything that we're asking them to do."
The truth is, this team hasn't been very good offensively all season. The pitching has carried the way. The Yanks have the fourth-best team ERA in the American League (3.75), but they're 12th in runs scored (276) and second to last in team batting average (.239).
Why? Because they have a bunch of stars on the disabled list and are relying on guys like Hafner and Wells -- once very productive major league players but on the decline for some time.
Remember, Hafner batted just .228 for the Indians last season, and Wells hit just .230 for the Angels.
So, should we really be surprised?
The Yankees' pregame notes Thursday touted the team's 22-0 record when scoring five or more runs this season. That's the best record in the major leagues.
But they've now had more than twice as many games -- 50 -- in which they've scored four runs or fewer, and they're just 17-33 in those games.
There could be plenty more to come.
June, 20, 2013
6/20/13
10:33
PM ET
NEW YORK -- A quick take on the
New York Yankees
' 8-3 loss to the
Tampa Bay Rays
on Thursday at Yankee Stadium:
What it means:
The Yankees' offense continues to sputter. And
Andy Pettitte
wasn't as sharp as usual.
The result? An ugly loss in the opener of this four-game series.
The Yanks have now dropped seven of nine to fall to 39-33 -- third place in the American League East, 3½ behind the first-place Red Sox.
The Rays improved to 38-35 -- fourth place, five games back.
Early trouble:
Pettitte worked around a leadoff double in the first inning but wasn't as fortunate in the second and third.
Wil Myers
led off the second inning with a single, eventually scoring on a sacrifice fly by
Jose Lobaton
. Pettitte had a wild pitch in the inning, which allowed Myers to advance from second base to third.
In the third inning,
Desmond Jennings
and
Sean Rodriguez
led off with back-to-back singles. Jennings later scored on a
Ben Zobrist
single, and Rodriguez scored on an
Evan Longoria
sac fly.
Pettitte didn't allow a hit in the fourth or fifth but surrendered a leadoff home run to Longoria in the sixth.
More of the same:
After garnering just three hits against the Dodgers in the nightcap of Wednesday's doubleheader, the Yankees had just six on Thursday against the Rays -- five singles (two infield) and a double.
Tampa Bay starter
Matt Moore
had a brilliant April and May but had lost his past three starts, getting shelled in the process. He got back on track against the Yankees, holding them to just two hits through the first five innings.
Trailing 4-0 entering the bottom of the sixth, the Yankees put three runs on the board to get back in the game. But don't be fooled -- the Yanks had just one hit in the inning, a leadoff single by
Reid Brignac
. That was followed by back-to-back walks to
Brett Gardner
and
Jayson Nix
to load the bases with no one out.
Remarkably, the Yankees pushed three runs across without a single hit from there. Brignac scored on a wild pitch, Gardner scored on a sac fly and Nix scored on a groundout to shortstop. Not exactly impressive.
Finishing touches:
Pettitte gave up one more run -- in the seventh -- courtesy of back-to-back doubles by Jennings and Rodriguez, before being sent to the showers.
Joba Chamberlain
was victimized in the eighth, when Longoria launched his second homer of the ballgame. And
Boone Logan
gave up the Rays' final two runs, on a
Matt Joyce
double followed by a
Yunel Escobar
long ball into Monument Park.
What's next:
The second game of this series, Friday at 7:05 p.m.
David Phelps
(4-4, 4.08 ERA) will start for the Yankees, opposed by
Roberto Hernandez
(4-7, 5.02 ERA) -- the artist formerly known as Fausto Carmona.
May, 19, 2013
5/19/13
2:42
PM ET
Reid Brignac
, the newest Yankee, said what a lot of new Yankees have said on their first day in the home clubhouse in the Bronx, that
Derek Jeter
was one of his boyhood idols.
Now, Brignac, acquired in a trade with the
Colorado Rockies
on Saturday, will be the latest player to hold down the Yankees' shortstop position until Jeter returns from his broken ankle sometime after the All-Star break.
"I think Jeet's probably the biggest role model for most kids," Brignac said. "He was for me, growing up as a kid, idolizing him and stuff. So to be able to play with him -- and there are several guys [like that] in this clubhouse -- it's an honor. It really is."
Brignac, 27, did not have the honor of seeing Jeter on Sunday in the clubhouse, and with the game rained out, Yankees fans did not get the chance to see Brignac play in pinstripes. He was penciled into the No. 8 spot in the lineup for the game that never happened with the Blue Jays and
R.A. Dickey
.
But Joe Girardi made it clear the left-handed-hitting Brignac will get plenty of playing time, especially against right-handed starters.
"I've seen him have some good days and I've seen him have some good years," Girardi said. "I think he's a really good defender. I think he's a got a little pop in his bat. I think there's some good talent there, so we'll see what he can do. This ballpark might play well for him."
Brignac is a career .228 hitter with 11 home runs and 73 RBIs in parts of five seasons with the
Tampa Bay Rays
and 28 games this year with Colorado. he has hit especially well against the Orioles at Camden Yards, the Yankees' next stop -- .320 with three homers in 12 games -- and the Yankees believe his familiarity with the pitchers of the AL East from his days in Tampa will help him with a move that admittedly came as a bit of a shock to him.
"It's been a roller coaster of emotions to be honest, said Brignac, who flew to New York on Saturday night and found himself in the Yankees' starting lineup Sunday morning. "I was in a pretty good place with Colorado, so I was a little upset, and slightly disappointed in the circumstances. But to be traded for, picked up, by the Yankees, I'm very excited to get started, and to help this team continue winning, because that's what this team does."
May, 18, 2013
5/18/13
11:44
AM ET
The Yankees have acquired
Reid Brignac
.
Brignac, who was designated for assignment by the
Colorado Rockies
, is a utility man who will add to the Yankees' infield depth. The Yankees will send Colorado cash. Buster Olney reported it will be $75,000.
The Yankees have designated
Alberto Gonzalez
for assignment.
Cashman liked Brignac over Gonzalez because he is a left-handed bat who plays all the infield positions other than first base.
"He is a fly ball hitter, so we will see if we can take advantage of the left-handed bat with Yankee Stadium here a little bit," Cashman said. "He is a very good fielder, more so than a bat."
Brignac, 27, hit .250 with one homer and six RBIs for the Rockies.
He will not be able to make it for Saturday's game.
"It is not the way we wanted it to work out," Cashman said. "When I hung the phone up last night, we thought we would have this player here today."
Cashman has heard the calls for
Ben Francisco
to be let go, but it is not forthcoming -- at least, not yet.
"In terms of your fans' comments section, just say, 'I'm holding on to him to piss everyone off,'" Cashman said. "If you are dealing with the feedback, 'Why is this guy here?' Just tell them that, just to shut them up."
CBS Sports first reported the Brignac acquisition.
NBA
NHL
COLLEGE BASKETBALL
MLB