New York Yankees:

Roy Oswalt
December, 20, 2011
12/20/11
2:06
PM ET
The agent for Roy Oswalt says his client is only looking for a one-year deal so he can have a chance to show he is healthy and then try free agency again next year.

Oswalt, 34, would be willing to talk about coming to the Bronx, if the Yankees would oblige.

"He'd be interested," Oswalt's agent, Bob Garber, told ESPNNewYork.com.

At this point, there is no evidence that the feeling is mutual. Garber and Yankees GM Brian Cashman have not spoken in weeks.

The Yankees have concerns about Oswalt's back, and earlier this winter a source told ESPNNewYork.com's Wallace Matthews the Yankees weren't going to go after Oswalt.

Even with Oswalt's demands lowered, a source on Tuesday reiterated that stance to ESPNNewYork.com on Tuesday.

Oswalt went 9-10 with a 3.69 ERA last season for the Phillies. If healthy, he could be a legit No. 2 starter. Although he will cost more and will demand a major league contract, there are some similarities between him and Yankee reclamation projects Freddy Garcia and Bartolo Colon last season.

ESPN.com's Jerry Crasnick first reported that Oswalt had lowered his demands to just a one-year deal. Garber confirmed the report.
November, 3, 2011
11/03/11
6:33
PM ET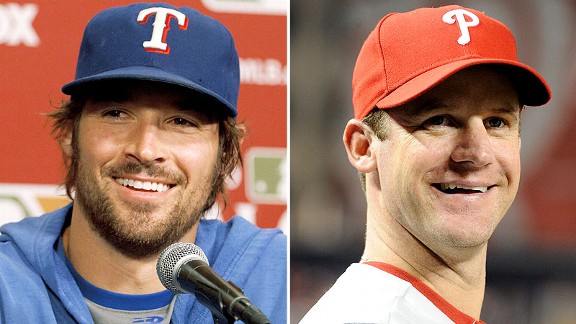 Rick Osentoski/US PresswirePitchers C.J. Wilson and Roy Oswalt are big fans of the Big Apple -- at least according to their agent.
It remains to be seen how seriously Yankees GM
Brian Cashman
will pursue Texas Rangers free agent
C.J. Wilson
and Philadelphia Phillies free agent
Roy Oswalt
, but one thing is clear from the outset: both pitchers have interest in the Yankees.
Wilson and Oswalt share the same agent,
Bob Garber
, who described the opening day of free agency as very busy with some "surprising" teams in play. Garber declined to disclose which clubs had called.
Wilson, 31, is considered the No. 1 major league free agent pitcher on the market. He went 16-7 with a 2.94 ERA this past season. He has an outgoing, media friendly personality, which might transition well to the Bronx.
"He is one of those guys, who would fit in there very well," Garber told ESPNNewYork.com. "He would fit in most places pretty well. New York, I think he would thrive in a city like that.
"His No. 1 priority is that he wants to play for a winning team. The Yankees have as good or better a reputation of that than anybody. It is very early in the process. We're just waiting and sitting back to see how it plays out."
Often with the top free agents, decisions are not made until around December's winter meetings. Garber did not want to put any timetable on the process.
"I don't have a crystal ball to answer that question," Garber said.
Oswalt, 34, went 9-10 with a 3.69 ERA this year. In 2010, the Yankees nearly traded for Oswalt, according to Garber.
"It was real close," Garber said.
Ultimately, the Astros dealt Oswalt to the Phillies. Garber said there is "no question" Oswalt would be interested in playing for the Yankees.
"I know Roy is very good friends with
Andy Pettitte
and they have talked about the Yankees over the years," Garber said. "That's a situation I'm sure Roy would fit in very well, too."
Oswalt is looking for a multiyear contract. Garber said Oswalt's back is fine.
"It was just a matter of figuring out how to manage his back situation," Garber said.
A source told
Wallace Matthews
on Wednesday that the Yankees
may be hesitant to go after Oswalt
because of his back issues.
The Yankees are expected to have interest in both players, but Cashman plans on being "conservative," which likely means they will not get into a bidding war for either player; especially if Wilson ends up getting five years and Oswalt receives more than two.
The Yankees could pursue the Chicago White Sox free agent
Mark Buehrle
and may bid for Japanese standout
Yu Darvish
. They also may try to retain
Freddy Garcia
.
October, 25, 2011
10/25/11
1:53
PM ET
With the Phillies declining the option of Roy Oswalt
, he is a free agent and someone the Yankees will have to consider.
Oswalt is 34 and often, but not chronically, injured. He could be a good fit on a one- or two-year contract.
Last season, he went 9-10 with a 3.69 ERA for the Phillies. He pitched nearly 140 innings.
In 2010, the Yankees had talks with the Astros about trading for Oswalt, but GM
Ed Wade
dealt Oswalt to the Phillies. During the stretch run, Oswalt went 7-1 with a 1.74 ERA.
Oswalt is 159-93 with a 3.21 ERA for his career. He is 5-2 with a 3.74 ERA in 13 postseason games (11 starts).
Here is the question: If you started the playoffs next year, whom would you rather have after
CC Sabathia
--- Oswalt or
C.J. Wilson
?
Oswalt is cheaper and probably better.