New York Yankees:

Ryan Dempster
August, 26, 2013
8/26/13
8:18
PM ET
TORONTO -- Or, if you prefer, the Yankees over
Ryan Dempster
. Again.
A online "Power of 2" fund-raising competition between the Yankees
David Robertson
and the Red Sox' Dempster was won by Robertson, who raised $13,797 for his "High Socks for Hope" foundation, outraising the Dempster Family Foundation by $196. For that, Dempster is forced to wear a Captain America outfit when the Red Sox come to Yankee Stadium in September. Had he lost, Robertson would have had to dress up as Batman.
Can't wait to hear Captain America have to answer questions about drilling A-Rod.
August, 22, 2013
8/22/13
11:48
AM ET
NEW YORK -- It is newsworthy that
David Ortiz
supported
Alex Rodriguez
and not his own teammate,
Ryan Dempster
, after Dempster intentionally drilled A-Rod. But the comment that might have been as interesting as Big Papi supporting his buddy, A-Rod, was the one in which he warned that
Dempster might have awakened the Yankees
.
"You saw how the game ended up," Ortiz told USA Today. "
CC Sabathia
was throwing 91 (mph) and started throwing 96. Alex later hit one way out there. You're talking about a good team that you can't wake up. But we learn from our mistakes."
Back in 2004, a lot of folks felt like when
Jason Varitek
shoved A-Rod at Fenway that it sparked the Red Sox. They went on to win 46 of their final 66 and a championship.
Do you think Dempster drilling A-Rod has sparked the Yankees?
August, 21, 2013
8/21/13
6:00
AM ET
NEW YORK -- What is the going rate for multimillionaire pitchers to take a free shot at
Alex Rodriguez
? Apparently it's $2,500 and no missed starts. Well, that should deter opponents who have issues with A-Rod, right?
I don't think so.
By setting the precedent that -- to use baseball's official language from its press release -- "intentionally throwing at and hitting Alex Rodriguez of the New York Yankees" won't cost a pitcher a start and just means the loss of some pocket change could encourage other players to go for some frontier justice of their own.

MLB has set the bar and it is not a high one. Understandably, Joe Girardi is concerned that A-Rod could become target practice for pitchers the rest of the year.
In Dempster's case, he didn't show any guts. No matter what you think of A-Rod, there is no honor in throwing a baseball 90-plus mph at a defenseless batter. In the AL, where the pitcher doesn't bat, there is no chance of direct retaliation.
ESPN New York 98.7 FM's Robin Lundberg made an interesting point the other night that it might be more offensive to fire a ball at a defenseless batter than to take performance-enhancing drugs. (That is another Hot Button issue for another day.)
When a player is suspended for an on-the-field issue, he essentially receives a paid vacation. Dempster will not lose anything from his twice-monthly checks on his $13.25 million salary. Just a measly $2,500, which bought him a standing ovation from misguided Boston fans as he left what would be a seven-earned run performance on Sunday.
A-Rod might not be targeted again, but there is not much of a deterrent to prevent it, at least based on Tuesday's MLB ruling.
UP NOW:
Johnette Howard's column from Tuesday night. My blog on
Jayson Nix
. And Ian Begley's news story on
Joe Girardi's strong feelings about
Ryan Dempster
.
ON DECK:
Kieran Darcy and I will be out at the Stadium for Warren vs.
R.A. Dickey
(9-11, 4.49).
QUESTION:
Do you think pitchers will throw at A-Rod?
August, 20, 2013
8/20/13
7:01
PM ET
By
Ian Begley
| ESPNNewYork.com
NEW YORK -- Both Joe Girardi and
CC Sabathia
are disappointed
Ryan Dempster
may not miss a start during his suspension for hitting
Alex Rodriguez
.
Dempster
received a five-game suspension
and was fined for intentionally hitting A-Rod on Sunday night, Major League Baseball senior vice president Joe Garagiola Jr. announced Tuesday.
But Dempster may not even miss a start during his ban because the Red Sox have two off days over the next seven days.
Girardi and Sabathia questioned that logic after the Yankees' win over Toronto on Tuesday afternoon.
"If you suspend a position player three games, he misses three games. You can suspend a pitcher five games, even six games and they may not miss a start if the off days come into play," Girardi said. "That's why I think the off days have to be taken into account when you make a suspension."
Added Sabathia: "I don't think it was fair that he got five games. I think he should miss a start. ... If it happens again, hopefully somebody will see that this isn't enough and the guy gets suspended longer."
Girardi was fined $5,000 and Dempster $2,500, a source told the Associated Press.
Initially, the Yankees' manager declined comment when asked about Dempster's suspension on Tuesday afternoon. But when pressed about the length of the suspension, he opened up.
Girardi was also asked if he thought the Dempster suspension would give pitchers the incentive to drill A-Rod intentionally.
"We'll find out," he said. "I sure hope not."
ICHIRO ONE AWAY FROM 4K:
Ichiro Suzuki
, who isn't in the Game 2 starting lineup, went 2-for-5 with two runs scored in the first game of Tuesday's doubleheader and is one hit shy of 4,000 for his career in the US and Japan. He had 1,278 hits in Japan.
"I didn't have 4,000 hits my whole career going back to T-ball," Girardi said with a smile. "To me, it's an incredible feat and he's some kind of hitter."
SEMI-SUPER NOVA:
Ivan Nova
(9 H, 4 ER in 6.1 IP) has held opponents homerless in his last 42 2/3 innings pitched. That streak continued on Tuesday. But his seven-start streak of throwing at least seven innings in each start was snapped.
August, 20, 2013
8/20/13
3:42
PM ET
By
Ian Begley
| ESPNNewYork.com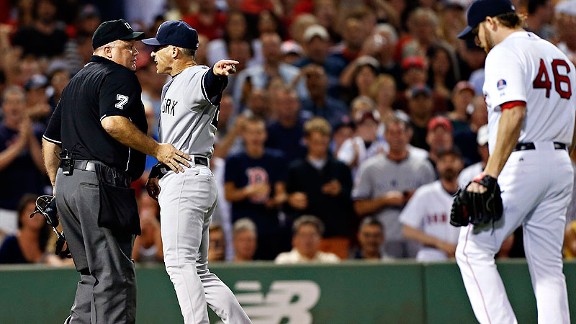 AP Photo/Michael DwyerJoe Girardi said Sunday was the most upset he's been on a baseball field.
NEW YORK -- Major League baseball has fined Joe Girardi for his reaction on Sunday night to Boston's
Ryan Dempster
hitting
Alex Rodriguez
intentionally. MLB also suspended Dempster for five games for his actions.
After Rodriguez was hit on Sunday night, Girardi sprinted onto the field, screaming at home-plate umpire Brian O'Nora for not ejecting the pitcher. Girardi was tossed as the benches and bullpens emptied. Girardi said it was the most upset he's been on a baseball field.
"One of the reasons I was so upset is ... I mean that baseball is a weapon," he said. "It's not a tennis ball or it's not an IncrediBall that's soft. It's a weapon and it can do a lot of damage to someone's life."
Girardi had lobbied for Dempster to be suspended. MLB did not disclose the amount of the fine.
Click here for more on the story.
July, 21, 2013
7/21/13
3:35
PM ET
By
Will Cohen
| ESPNNewYork.com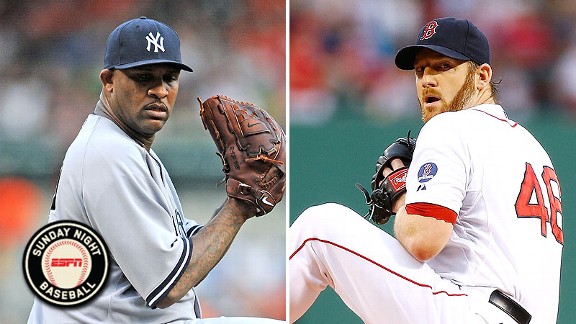 Getty Images CC Sabathia will face Ryan Dempster on Sunday Night Baseball.
The
New York Yankees
and
Boston Red Sox
will meet Sunday night in the rubber game of a three-game series at 8 ET on ESPN/WatchESPN.
Here are five stats our broadcast crew will likely be talking about a lot during Sunday night's contest.
1.
The Yankees' first four series out of the All-Star break are against the division-leading Red Sox, the team with the fifth-best record in the AL (
Texas Rangers
), a
Tampa Bay Rays
team that entered Sunday having won 19 of 23 and a Los Angeles Dodgers team that entered Sunday with 19 wins in their last 24 games.
The Yankees are averaging 3.9 runs per game and have a .243 batting average, .307 on-base percentage and .376 slugging percentage. Each of those stats, if they hold through to season's end, would be their worst in those categories since 1990.
2.
Red Sox hitters have had a very sound approach this season. They lead the majors in pitches seen per at-bat (4.04).
Thirty percent of the balls they've hit this season have been to the opposite field, the highest rate in the majors.
The Red Sox are hitting .196 in two-strike counts, ranking third in the majors. Second baseman
Dustin Pedroia
leads the AL with a .294 batting average in two-strike counts in 2013.
3.
CC Sabathia
has thrown more than 42,000 pitches since 2001, the most of anyone in the major leagues. He's thrown 1,637.1 innings since 2007 (including the postseason), more than 100 more than any other pitcher.
Sabathia's fastball is averaging 90.6 mph, down 1.6 mph from last season, and down more than 3 mph from 2011. Opponents are hitting .300 against the pitch this season
He enters with a 5.44 ERA in seven starts at Fenway Park with the Yankees, his highest ERA in any ballpark since joining the team.
Sabathia will be trying to be the first Yankees starter to win a game on his birthday (he turns 33 today) since Joe Cowley in 1984. Before Cowley, Ron Guidry did it in 1977 and 1981.
4.
Ryan Dempster
enters this start with an 0-5 record, a 7.29 ERA and a 1.050 opponents' OPS in six career starts against the Yankees. Since posting a 2.93 ERA in his first seven starts, Dempster has a 5.08 ERA. He's gone six straight starts with fewer than five strikeouts. He hasn't had a stretch of seven straight starts since 2002-03.
5.
New York Yankees closer
Mariano Rivera
earned his 57th regular-season save against the Red Sox on Saturday, giving him 30 more than the pitcher with the next-highest total against the Sox (Rick Aguilera).
Rivera has a 2.58 ERA and 35 regular-season saves at Fenway Park. There are only two visiting ballparks at which he's had more saves: Camden Yards (41) and Tropicana Field (36).
July, 31, 2012
7/31/12
4:32
PM ET
WHAT IT MEANS:
The Yankees don't do anything major. They do add a first/third baseman,
Casey McGehee
from the Pirates. He's a right-handed bat and helps them with
Alex Rodriguez
and
Mark Teixeira
out.
DEMPSTER IN THE DUMPSTER:
The Yankees did have conversations on
Ryan Dempster
, but he ends up with the Texas Rangers. For the Yankees, it is unclear how much of an upgrade he would be over what they already have. We get into the details
here
.
WHAT THEY DID:
They traded
Chad Qualls
to Pittsburgh for McGehee. Qualls had no place on the roster with
Joba Chamberlain
due back real soon. The trade also means
Ramiro Pena
's days are numbered. In 2010, McGehee hit .285 with 23 homers and drove in 104 with Milwaukee. (Sadly, he was at .230/8/35 so far this year.) He will play first and third in A-Rod's absence.
THEY ALREADY MADE THEIR BIG DEAL:
Getting
Ichiro Suzuki
to play the outfield was the Yankees' big deal before the break. Ichiro's acquisition looks pretty good at the moment; especially with
Mark Teixeira's injury
. Though Teixiera doesn't appear to be hurt badly, Ichiro presence makes it easier for
Joe Girardi
to shift
Nick Swisher
to first base.
WHERE WAS THE NEED?
If you wanted to argue the Yankees needed to improve their pitching, I don't think even
Brian Cashman
would argue. Though that has been a strength, Cashman is always thinking pitching. But the Yankees were out of
the Cliff Lee game
and there was no obvious upgrade over what they have right now. When Cashman talks, we'll find out how seriously they considered Dempster.
QUESTION OF THE DAY:
Are you satisfied with this Yankee team?
July, 31, 2012
7/31/12
3:02
PM ET
UPDATE:
Reports out of Los Angeles say the Dodgers are out of the Ryan Dempster talks. Buster Olney says Dempster is going to the Rangers
A source confirmed to ESPN New York that the Yankees and Cubs
have had discussions about Ryan Dempster
. Dempster, as a 10-5 player, has the ability to block any deal. Dempster told ESPN Chicago's
Bruce Levine
that he would allow a trade to go through to the Yankees.
The same source with knowledge of the Yankees' thinking still believes that Dempster will end up with the Dodgers.
"We'll see," the source added.
If the Yankees were to make a trade for Dempster, they'd probably demand money from the Cubs to encourage them to give up a top prospect. Dempster is 5-5 with a 2.25 ERA. Although he has tremendous numbers this season in the NL Central, it is unknown how he would do pitching in the AL East or even if he would be used before
Hiroki Kuroda
,
Ivan Nova
or
Phil Hughes
in a potential postseason rotation. If the Yankees were to make a trade for Dempster, it might indicate that they are concerned about whether
Andy Pettitte
will return.
Pettitte had a slight setback last week in his recovery from his fractured fibula, but the Yankees insisted it is not a real issue in his plan to return next month.
ESPN's
Jayson Stark
has reported that the Yankees have used assistant GM
Jim Hendry
to recruit Dempster to New York. For this to happen, Yankees GM
Brian Cashman
would have to receive permission from his Cubs President
Theo Epstein
to have a Yankee official contact a player on another team. As Cubs GM, Hendry negotiated Dempster's contract, which calls for him to make $14 million in this his final year of the deal.
Cashman could also be doing a favor for his buddy, Epstein. Dempster's first choice is to go to Los Angeles. Cashman could be helping to drive up the price for Epstein.
July, 31, 2012
7/31/12
2:52
PM ET
NBA
NHL
COLLEGE BASKETBALL
MLB
NBA
NHL
COLLEGE BASKETBALL
MLB
MLS
NBA
NHL
COLLEGE BASKETBALL
MLB