New York Yankees:

Scott Boras
November, 19, 2013
11/19/13
11:58
AM ET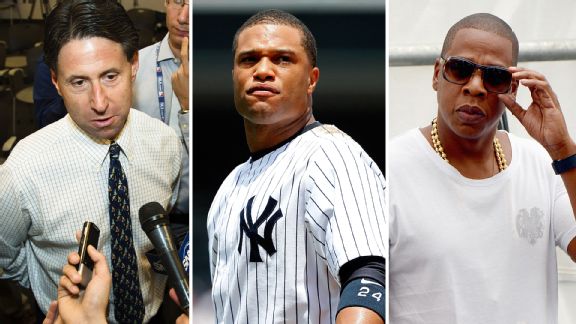 AP Photo, Getty ImagesJay Z took Jeff Wilpon and the Mets out to dinner -- likely to put pressure on the Yankees. But Robinson Cano is still very far from getting a $300 million-plus deal.
I'm not sure they serve
reality potion
at the 40/40 Club, but the Yankees have just sent a case over.
The Yankees won't meet with Robinson Cano's agent
until Jay Z drops the demand of a $310 million contract
. If the two sides are going to get together soon, they are going to do have to do so after Jay Z & Co. admit they were a bit rash.
"Until he gets a little more realistic, we have nothing to talk about," Yankees team president Randy Levine told ESPN New York's Wallace Matthews.

With those comments, Jay Z has the specter of Scott Boras looming larger over him. Jay Z entered the agent business
talking big
-- now he has to back it up.
Perhaps it will all work out for Jay Z and CAA, but at this point they appear desperate as the Yankees are standing strong. They
scheduled a dinner with the Mets
, a team with a $90 million payroll projection and a GM who doesn't want to spend $100 million, let alone three times that much.
It is all designed to make the Yankees move off their initial offer of $160-plus million. It is not working so far.
I do believe a market will develop for the 31-year-old Cano because he is the best player in free agency, so Jay Z may have the last laugh. But now, after the first quarter, it feels like Jay Z/Cano is down 25-15.
Jay Z has been successful in a number of fields. CAA's Brodie Van Wagenen is an accomplished agent, so maybe they have a run in them.
To win the negotiation, Cano's side must project correctly. If it waits it out -- Boras style -- it could get lucky because
Brian McCann
,
Carlos Beltran
,
Shin-Soo Choo
,
Jacoby Ellsbury
and several of the top free agents could eschew the Yankees. The Yankees, while still probably not going to $310 million, could be forced to fold.
But if the McCanns, Beltrans, etc., accept Hal Steinbrenner's money, then there are people in the Yankees' baseball operations department who are prepared to invest $180 million to $200 million -- money they are willing to spend on Cano -- elsewhere. In fact, they can make a pretty good argument that would be the smarter move.
Then Cano could be left without the money -- and the team -- he wants.
In the end, the Yankees do want Cano, but they want him to budge -- the sooner, the better. How do Jay Z & Co. do that and save face? It is not just about Cano's future; it is also about Jay Z's as a big-time sports agent.
Boras would be relishing the moment, having been there, done that. If Cano wanted $310 million, Boras' history shows he might've gotten it or close to it.
Jay Z/CAA is an unknown quantity. He has talked big, rapping, "Scott Boras, you over, baby.
Robinson Cano
, you coming with me."
He sure is.
July, 3, 2013
7/03/13
7:37
PM ET
MINNEAPOLIS -- It may not be "Where have you gone, Joe DiMaggio, a nation turns its lonely eyes to you," but uber-agent Scott Boras
gets his own shoutout
in a new Jay-Z song, "Crown," off his upcoming album "Magna Carta Holy Grail."
The line goes like this: "Scott Boras, you over baby/
Robinson Cano
, you coming with me."
Cano, of course, recently left Boras to sign with Jay-Z's Roc Nation to negotiate his upcoming free-agent deal. So naturally, I called Boras to find out if he was flattered by the name-check.
"I'm a fan of jazz," he said, "And my favorite musician is
Bernie Williams
. What other musician could play center field for the Yankees and win four world championships?"
Presumably, not Jay-Z.
March, 15, 2013
3/15/13
5:52
AM ET
There is a prevailing thought that the horror of
Alex Rodriguez
's 10-year, $275 million contract (plus bonuses) could scare the Yankees into taking a more cautious free-agent approach with
Robinson Cano
.
It certainly might give them some pause, but agent Scott Boras could point to the deal for
CC Sabathia
as one that has been a great, multiyear, $100-plus million contract for the Yankees.
[+] Enlarge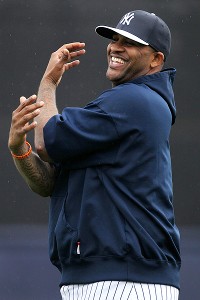 John Munson/USA TODAY SportsIs CC Sabathia the best free-agent signing the Yankees have ever made? He might be.
It might just become the greatest free-agent deal the Yankees have ever made. Sabathia, who starts Friday (his first start this spring), signed in 2009 for seven years and $161 million. Through his first four seasons, Sabathia has averaged an 18-7 record and a 3.22 ERA. In 2009, Sabathia's playoff heroics, on three days' rest, made it possible for Rodriguez to have his breakout postseason. So CC has already led a parade.
Sabathia is a star with a lunch pail. He has not only showed up big in almost all his postseason starts, but he grinds through the regular season. As a Yankee, he has averaged 226 innings per season.
If you classify a quality start as a six-inning, three-run outing, then a team needs 972 starter innings over 162 games. In 2012, Sabathia's 226 made up 23 percent of those innings, and he averaged better than a quality start.
In turn, Sabathia saves the bullpen by giving it days off, while allowing his manager to have his relievers ready when lesser starters are on the mound.
Sabathia is 32 years old, so his bill may be coming due. It is, of course, the back half of these contracts that take their toll, and the Yankees have added two more years because of the threat of his opting out. Sabathia did go on the DL twice in 2012 and had to have bone spurs cleaned up in his left elbow.
Still, thus far, Sabathia's deal is rivaling Reggie Jackson's, Goose Gossage's and Mike Mussina's as the best big-money contracts the Yankees have ever handed out.
Jackson, in 1977, received $3.5 million for five years and smashed three homers in Game 6 of that year's World Series. He led them to the 1978 title, as well.
Gossage, in 1978, got $2.8 million for six years. He saved the Bucky Dent game and the World Series clincher his first year and closed the door with style on his way to the Hall of Fame.
Mussina, in 2001, received a seven-year, $88.5 million deal. While Mussina missed out on a championship, he saved the Yankees in the 2003 ALCS against the Red Sox and averaged a 15-9 record with a 3.88 ERA in what turned out to be eight seasons in the Bronx. He punched the clock every year, throwing, on average, 194 innings per season.
Sabathia, despite the enormity of his deal, could end up topping all three.
UP NOW:
Wallace Matthews
witnessed the Yankees' horror show against the Blue Jays
on Thursday. I asked who would you rather have --
Cano or David Wright
?
ON DECK:
Wally is in Tampa for CC's first start. The game is at 1 p.m. ET on YES.
QUESTION:
With Sabathia's career still incomplete, what do you think is the best free-agent contract in Yankees history?
March, 1, 2013
3/01/13
11:54
AM ET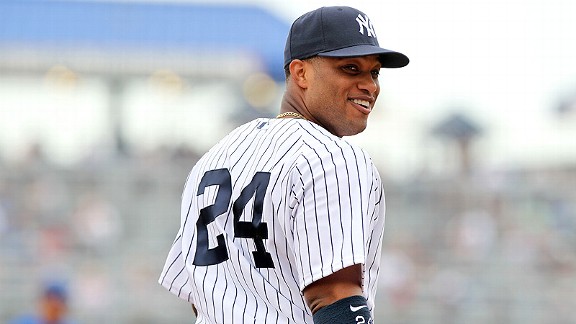 Kim Klement/USA TODAY SportsCould Robinson Cano end up in Queens? Don't hold your breath, Mets fans.
The Yankees and
Robinson Cano
's agent, Scott Boras,
are talking about a new deal
, but it is hard to find anyone who thinks a contract will be agreed upon before Opening Day. For that to happen, the Yankees would need to make an overwhelming offer to overcome Boras' history of taking his players to the market. But they are in discussions, so there is a chance.
Boras knows the landscape as well as anyone, and there are teams that could put pressure on the Yankees. With Hal Steinbrenner's $189 million goal, there is a perception that the Yankees are becoming cheap. This is an unfair term, because $189 million is a lot of dough, but the Bombers have a strong brand built on stars and have to be mindful of the blurring of perception and reality. Even if there is sound judgment behind it, losing a bidding war on Cano will signal to many that the Yankees are no longer the Yankees.
With that said, let's take a look at some of the leverage Cano potentially could have if he does not make a deal now. Here are some of the teams who could have interest in Cano next winter:

1. LOS ANGELES DODGERS:
The Dodgers have already become Yankees West, supplanting the Bombers with the largest payroll ever. If their blueprint works this season, it seems very reasonable they may just pluck another star into their system. Yankees pride versus Dodgers green is an emotional East Coast-West Coast bidding battle that Boras would love.
2. NEW YORK METS:
The Wilpons are broke, you say. Well, they only have guaranteed deals with
David Wright
and
Jon Niese
for 2014. The Mets could very well be involved, and the Yankees have to take that seriously.
That said, the Wilpons are experts at winning silver and bronze medals in free agency. Sandy Alderson isn't the type to go eight-to-10 years on a 31-year-old second baseman, but the threat of the Mets is a tool I'm sure Boras would enjoy using.
3. PHILADELPHIA PHILLIES:
Chase Utley
is due $15 million in the final year of his contract, so the Phillies have that large salary slot opening up. More importantly, the Phillies will be the next team to receive a mega cable deal.
4. CHICAGO CUBS:
Darwin Barney
is a slick-fielding second baseman, but he is half the player Cano is. Cano can match his defense and is one of the best offensive players in the game. The Cubs could be players.
5. BOSTON RED SOX:
The Red Sox have
Dustin Pedroia
on a favorable contract that includes an $11 million option for 2014. I would put Boston as a long shot, but guys can switch positions if the money is right. I don't think you can totally count the Sox out. The Red Sox might just help Boras force the Yankees to overpay even more.
6. MYSTERY TEAM:
Every team in baseball would love to have Cano. We named five, but if Cano reaches free agency, teams not mentioned here will be hot and heavy for him. That is why -- unless Boras is concerned about injury or an off-the-field controversy hurting Cano's value -- it is hard to imagine Cano and Boras agreeing to a deal now.
QUESTION: WHAT WOULD YOU OFFER ROBINSON CANO NOW?
February, 7, 2013
2/07/13
7:00
AM ET
We continue our countdown to Feb. 12, the day pitchers and catchers report to Yankees spring training camp in Tampa. Each day between now and then, Wallace Matthews, Mark Simon and I will present a list dealing with a specific issue facing the Yankees this season. Wally had previously looked at why Robinson Cano might stay a Yankee after becoming a free agent. Today, I look at why he might go.
WHY CANO MIGHT GO
1. THE LA DODGER$:
Dodger blue? More like Dodger green. The new Yankees? Call them what you want, but the Dodgers are lurking on the Cano front. The Yankees will be most interested in keeping tabs on teams in the AL this season, but they might want to keep one eye out West. If the Dodgers' plan works this season, why would they stop? Their second baseman right now is
Mark Ellis
. Cano loves the prestige of being a Yankee, but the Dodgers have their own tradition, including the man Cano was named after -- the original No. 42.

2. THE HIGHEST BIDDER:
You don't go to Scott Boras to cut coupons. Love him or hate him, he makes his players rich. You don't switch to Boras unless you are looking to get the last dollar. So, as much as Cano likes being a Yankee, he is not taking any hometown discounts. The $189 million mandate will not matter to him, nor should it.
3. ROARING 30s:
The Yankees will have to decide if paying guys past their primes is a necessary evil. From their current contracts, highlighted by
Alex Rodriguez
, it is obvious that the big bucks that come at the end of these deals are not worth it. Cano will be 31 by the time he signs his next contract. Could he have another five or six top seasons? Possibly, but if he gets eight or more years, you can't expect Cano to be the same Cano. Still, can the Yankees afford to let arguably their best player go?
4. HOLDING UP THE OFFSEASON:
Boras will hold all the cards because the Yankees plan on dropping below the $189 million threshold, while possibly trying to fill holes in the outfield, at catcher, at third base, in the starting rotation and at closer. That is a lot to do on a budget. Boras is not known for taking quick deals unless they are overwhelmingly in his favor (see
Jayson Werth
).
5. WAR-IOR:
Boras hasn't produced his binder on the merits of Cano, but he won't have to reach to find superlatives for Cano as an elite all-time second baseman. You can get on Cano for not hustling all the time -- he doesn't -- but if you believe in WAR you believe in Robbie. His 7.8 WAR, according to FanGraphs, was the fourth best in baseball in 2013. That is hard to replace.
QUESTION: WILL CANO GO?
December, 5, 2012
12/05/12
7:21
PM ET
NASHVILLE, Tenn. -- Let's go to the rumor mill, as we wait for the Yankees to do something, anything.
1. In a media scrum, I just asked Scott Boras what he thinks of what the Yankees are doing or aren't doing.
"Well, I think it would be more the latter," Boras said. "I just had a meeting with [Brian Cashman] and he just said he is not in on a lot of players that he liked. He would like to be in on more, but right now he is working with ownership to see where he can go. I don't think any final decisions have been made, but at this point in time he is working through it."
2. It never seemed possible the Yankees and Boras client,
Robinson Cano
, could reach a deal before the season. They won't: Cano is headed for free agency after 2013.
"I think the Yankee policy is very clear, they always walk through the contracts and then address them," Boras said. "As they did with (Derek) Jeter and other players."
Plus, this close to free agency, with the Dodgers flush with money, Boras has the baseball world right where he wants them.
3.
Raul Ibanez
could be returning home. Joel Sherman of The New York Post tweeted that the Mariners are making a heavy push for Ibanez. Ibanez wants to return to the Yankees, but -- apologies for mentioning this again -- the Yankees are watching their nickels. Stay tuned.
October, 23, 2012
10/23/12
1:53
PM ET
This year's crop of free-agent pitchers is a particularly weak one. But, one starter who is expected to be shopped hard to the Yankees is righthander
Kyle Lohse
, who took the loss in last night's NLCS Game 7 for the
St. Louis Cardinals
. Lohse, who has had two excellent years in St. Louis -- 14-8, 3.39 in 2011 and 16-3, 2.86 in 2012, is a Scott Boras client and Boras is expected to give the Yankees the hard sell on him over the winter, especially since the Yankees have concerns about
CC Sabathia
's elbow, don't expect
Michael Pineda
back until next June and have both
Andy Pettitte
and
Hiroki Kuroda
heading into free agency. Plus, they have doubts about
Ivan Nova
.
Since the Yankees have already expressed their reservations about
Zack Greinke
's fitness to perform in New York considering his history of anxiety-related emotional problems, Boras will present Lohse as the best-available option on the free-agent market for starting pitchers. In four postseason starts this year, Lohse went 2-1 with a 3.98 ERA, a number skewed by his Game 7 performance, in which he was charged with five runs in just two innings.
January, 13, 2012
1/13/12
3:23
PM ET
After the slumber of their quiet offseason, the Yankees are strongly considering adding payroll in a deal to bring in a starting pitcher via free agency or a trade, a baseball official with knowledge of the team's thinking told ESPN New York.

The official said that with prices coming down as spring training approaches, the odds were "60-40" that the Yankees will become more aggressive and add to a roster that has been unchanged from last year's club. A source predicted that things will heat up next week.

Yankees owner Hal Steinbrenner met with agent Scott Boras to discuss starter Edwin Jackson, but he is not the only free agent on the team's radar. Hiroki Kuroda may turn out to be their top choice over Jackson. Roy Oswalt seems more unlikely, but can't be completely ruled out.

The key to any contract will be the length. The Yankees are looking to make a one-year deal. A source said that while Boras is no longer looking for five years for Jackson, he is still asking for a multi-year contract. If Boras doesn't come down further, it seems highly unlikely the Yankees will sign Jackson.

A source termed a two-year offer unlikely, but didn't completely rule it out. The Yankees will not go three years because they want to get beneath the $189 million luxury tax number by 2014. This would cut their payroll tax more than half, down to 17 percent, if they were able to do so.

Kuroda, who turns 37 next month, has been a pitcher the Yankees have had interest in dealing for, but he has been hesitant to leave Los Angeles. However, with the Dodgers not having room for him, he may be more open-minded about coming to the east coast. Kuroda may also return to Japan.

Oswalt's agent, Bob Garber, said last month that Oswalt will accept a one-year offer. Sources have indicated the Yankees are not as high on Oswalt's ability at this point as they are on Kuroda and Jackson.

Yankees GM Brian Cashman is still working the phones and a trade can not be ruled out either. If Steinbrenner wanted Cashman to create payroll flexibility, then right fielder Nick Swisher could be made available. Swisher can become a free agent after this season. He will make $10.25 million. ESPN's Buster Olney reported earlier this winter that the Yankees have been quietly shopping Swisher.

Of course, if they dealt Swisher, the Yankees would need a right fielder and unless they changed course and went hard after Yoenis Cespedes, there doesn't seem to be a match.

Overall, this seems like a cosmic shift, setting up what could be an exciting week in what has been a dull winter.
January, 12, 2012
1/12/12
10:59
AM ET
Last year at this time, superagent Scott Boras executed a nifty end run on Yankees GM Brian Cashman, cutting out the level-headed middleman and selling Rafael Soriano directly to Hal Steinbrenner, via team president Randy Levine. Presumably, Boras knew Cashman would never buy Soriano as a set-up man at a closer's salary -- three years at $13.5 M per. That is exactly the deal Boras sold to Steinbrenner/Levine and precisely the reason why Cashman admitted he was against the deal at Soriano's introductory news conference.

Now, according to Jon Heyman of CBSSports.com, Boras is trying it again, going directly to Hal in an effort to sell him Edwin Jackson, one of the few remaining frontline starting pitchers on the free-agent market. Cashman is said to like Jackson but not Boras' asking price -- last week it was in the neighborhood of 5 years at $15 million per year -- so it looks like this could turn out to be Sori, Wrong Number Part II.

Neither Cashman, Levine nor Steinbrenner has yet to return a phone call but if it happens, the press conference could very entertaining indeed.
January, 2, 2012
1/02/12
11:32
AM ET
As we head into the final weeks before the arrival of pitchers and catchers, Edwin Jackson is one of the few free-agent pitchers left on the market.

Over nine seasons, the 28-year-old righty is a .500 pitcher -- 60-60 --with a fair-to-middling 4.46 ERA. But Jackson had a good season in 2011 despite switching teams, and leagues, moving from the White Sox the St. Louis Cardinals at the trade deadline, going 12-9 with a 3.79 ERA overall and 5-2, 3.58 with the Cardinals.

Perhaps more importantly, he racked up his third straight season of 200 innings (he fell 1/3 of an inning short in 2o11) so he's not only improving with age, but getting more durable.

So it would appear Jackson would be an ideal candidate for the Yankees rotation, which is still a card or two shy of a full deck, right?

Wrong. Once again, the reason is that five-letter word that has repeatedly reared its ugly head this off-season: M-O-N-E-Y.

Sources tell me that Jackson's asking price -- a five-year deal at approximately $12 million per -- takes the Yankees out of that hunt, just as it did wth C.J. Wilson, Mark Buerhle and every other free-agent pitcher this winter not named CC Sabathia. The Yankees like Jackson, but not at that price.

Next?
March, 2, 2011
3/02/11
9:38
AM ET
Mark Teixeira is the latest Yankee to fire Scott Boras. (Can;t remember the name of the other one, but I believe he's an infielder). Teixeira gathered the Yankee beat writers around his locker in the clubhouse this morning and made the announcement that he had decided to cut ties with the agent who negotiated the eight year, $180 million contract that brought Teixeira to the Yankees in 2008.

"There's lots of reasons,'' Teixeira said. "There's no reason to get into specifics right now. I've known Scott for 12 years and sometimes business relationships just run their course.''

Teixeira said he had been considering making the change for a year and has not yet hired a new agent. "There's plenty of time for that,'' said Teixeira, who will be paid $22.5 million a year every season between now and 2016.
January, 6, 2011
1/06/11
5:08
PM ET
It doesn't appear that there has been any movement in Johnny Damon returning to the Yankees, but his agent, Scott Boras, said that Damon is still interested in coming back.

"As Johnny has said he is more than willing to return to New York," Boras said.

The issue likely will come down to money. Damon would begin as a backup, if he were to sign with the Yankees. He would be mainly a DH/pinch-hitter with a chance to play some outfield. But he would mostly be insurance.

Damon probably won't sign until the end of the month or in February so this is something that is still possible, but not imminent.
May, 25, 2010
5/25/10
8:25
PM ET
With the bankrupt Rangers owing Alex Rodrgiuez around $25 million, I asked A-Rod what he thought would happen.

It is lawyer stuff," Rodriguez said. "I don't get into accounting. It should be OK."

Umm, something tells us, A-Rod may have called Scott Boras about the situation. Anyway, from what we're told, A-Rod should get his money.