New York Yankees:

State of the Binder
February, 22, 2013
2/22/13
2:35
PM ET
TAMPA, Fla. -- Last day of workouts before the games begin and Joe Girardi seems happy about that. As he said today, "I've seen enough bullpens." Tomorrow, he gets to see the real thing. Here's the highlights of his post-workout session:
MO LOOKS "NORMAL":
And that's good enough for Joe, who stood behind
Mariano Rivera
during his 20-pitch live BP session and came away impressed. He also got a kick out of Mo saying to Rob Segedin, the first hitter he faced, "You better swing because all you're going to see are strikes," after the kid let the first two pitches go by. And he cracked up when told that after Segedin lined the next pitch into center,
Andy Pettitte
cracked from the bench, "That'll shut him up." Joe thought Pettitte, who preceded Mo on the mound, looked good, too.
DON'T COUNT OUT JORGE:
He was at least half-kidding, but Girardi refused to rule out the possibility that
Jorge Posada
, in camp for a few days as a guest instructor, could be seduced by the spring training atmosphere and decide to end his retirement. "I know there was a lefthanded pitcher that said he wasn't coming back, either," Girardi said, referring to Pettitte. "He came to camp, sat in on a few meetings and all of a sudden he was back a couple weeks later. Any time we have a guy that is doing what Jorge is doing, people are going to speculate. And I think it's fair to do that."
HUGHES IMPROVES:
Phil Hughes
said his back felt "significantly better" after three days of anti-inflammatories for a bulging disk, but Joe tempered his enthusiasm somewhat. "It's still too early. I think you have to see him get on the mound to feel that you're through it and that it's not going to be an issue that pops up all the time. But that's a good sign," he said.
COOL ON AARDSMA:
Joe was curiously restrained in his praise of
David Aardsma
, who is trying to work his way back from Tommy John surgery. when asked how Aardsma looked in his live BP, which preceded Pettitte's, Girardi said "
Pretty
good," with emphasis on the word "pretty. And when he was asked if Aardsma, a former closer with the
Seattle Mariners
, was reasonably assured of a bullpen spot, the manager said, "I think we have some pretty good competition here for some spots. I like to say all our guys have to earn their spots. That's the way I look at it. He's a guy that has closer experience and a lot of experience. You would expect that to pay off." We'll see.
February, 21, 2013
2/21/13
4:23
PM ET
TAMPA, Fla. -- The Binder was on display in all its glory today when Joe Girardi finally decided to do what he has been hinting at all spring, flip-flopping
Curtis Granderson
and
Brett Gardner
in center and left. That topic consumed most of the manager's post-workout interview and there is a
news story
that deals with this in detail. Here are the leftover tidbits:
1. NO, JOSH HAMILTON IS NOT WALKING THROUGH THAT DOOR:
Girardi acknowledged he did not announce the position shift earlier in the spring, or during the winter even, because he was still waiting to see who was going to be on his roster. "You make a couple of signings, then you have to change, so you kind of have to wait and see who you're going to have," he said.
2. LOOK AT THE BRIGHT SIDE:
Girardi was a witness to
Hiroki Kuroda
's live BP session, in which both
Juan Rivera
and
Ichiro Suzuki
hit long home runs, after which Ichiro elaborately doffed his helmet and bowed to the cheering crowd and said "Thank you" in English. Girardi didn't mention the home runs but did say, "Hiroki threw strikes." He certainly did.
3. HUGHES FEELS BETTER:
So says Girardi, who added, "That's a good sign for me." Hughes did not appear in the clubhouse during media access today.
4. WE'RE GOING TO DISNEYWORLD!:
That would be
Mark Teixeira
,
Robinson Cano
and
Eduardo Nunez
, the only three regulars Girardi named as making the trip to Kissimmee for the preseason opener against the Braves on Saturday. Tex and Cano, both of whom are leaving to play in the WBC the first week of March, will play in most of the games between now and then, including road games.
February, 20, 2013
2/20/13
3:49
PM ET
TAMPA, Fla. -- Eventful day:
Phil Hughes
out for two weeks with a back injury, two near disasters in batting practice, and Joe Girardi demonstrates how to do a muscle-up for a suitably impressed beat crew. Here are the highlights:
JOE PHILS GOOD ABOUT HUGHES:
Girardi, who had his share of back problems as a player -- he rattled off three different disk injuries in all three regions of the spine -- said he was encouraged that Hughes felt better Wednesday than he did on Monday, but still conceded that he could not say for sure that his No. 4 starter would be ready for the opening week of the regular season.
NO ONE CATCHING ON YET:
Joe said it was too early to designate anyone the front-runner in the what is expected to be a three-man competition for the starting catcher's job among
Chris Stewart
,
Francisco Cervelli
and
Austin Romine
. Girardi also said that once the games start, offensive production will have very little to do with his decision. He's looking for a defensive catcher, period.
DANGEROUS CAGES:
Girardi was a witness to the near-beheading of
Eduardo Nuñez
by
Joba Chamberlain
in live BP on the main field, but missed an even scarier incident on the back field, where
Curtis Granderson
lined one off the left (non-pitching) arm of prospect Kelvin Perez. Perez finished his turn, but left the complex with his arm heavily wrapped in a compression bandage.
AND THE GOLD IN MEN'S GYNASTICS GOES TO:
Joe Girardi, age 48, who performed a muscle-up on the rings for team strength coach Dana Cavalea, who wanted to learn the technique, and the nosy beat crew, which stood by to watch. I got it on videotape but, out of modesty, Girardi requested I not post it. So you'll just have to take my word for it that it was quite impressive to see.
February, 19, 2013
2/19/13
3:49
PM ET
TAMPA, Fla. -- Joe Girardi's daily news conference was moved back to the cozy confines of the manager's office as much of the media throng that descended on The Boss for Monday's first day of full-squad workouts has dispersed. He spoke for just over 11 minutes today, and here are the highlights:
HUGHES DOWN:
Phil Hughes
, penciled in as the No. 4 starter, complained of some upper-back stiffness after Monday's PFP drill and will be shut down for a few days. More details in my news story on the website.
PHELPS UP:
Too early to tell if it means anything in the competition with
Ivan Nova
for the No. 5 spot in the rotation, but Girardi said
David Phelps
, who pitched two simulated innings this morning and nearly lost his head to a Ronnier Mustelier line drive, will get the ball for Saturday's spring training opener against the Braves in Kissimmee.
WARREN, TOO:
Adam Warren
will start the second preseason game, on Sunday, Feb. 24 against the Blue Jays at The Boss. No starters designated beyond that yet.
NUNEE COULD THROW IT ALL AWAY:
Girardi has high praise for
Eduardo Nunez
as an offensive player ("He provides a lot of excitement") but said there was no guarantee he'll be on the big league roster when the team goes North. "He's got to earn it," Girardi said. "That's the bottom line." He said Nunez would play "a substantial amount" at shortstop until
Derek Jeter
is ready to reassume his role later this spring.
JOE DROPS THE F-BOMB:
No, not
that
one. F as in "fail," a word he used to describe Ivan Nova's 2012 season. "I think any time someone goes through a substantial period of struggles, confidence can become an issue. No one likes to fail," he said, before catching himself. "I know that's a big word, 'fail,' but he didn't pitch to his ability."
JOE REALLY LIKES PRETZEL CRISPS:
"I know this because there are literally cases of them stacked up in his office. And he didn't seem very pleased to see the team publicist, Jason Zillo, wolfing down a whole bag of them during the press conference.
February, 18, 2013
2/18/13
5:16
PM ET
TAMPA, Fla. -- Joe Girardi spoke for a bit longer than usual today -- nearly 12 minutes -- in the tent before a crowd bloated by a large contingent of Japanese media that turned out for
Ichiro Suzuki
's group press conference. But quantity didn't necessarily mean quality; listening back, it was a whole lot of nothing. The "highlights:"
JETER IS GOOD:
Joe watched
Derek Jeter
field some grounders and take his first official BP swings of spring training -- he had already been doing both at the minor-league complex across the street -- and liked what he saw.
BUT NOT GOOD ENOUGH YET TO RUN THE BASES OR STRETCH IN PUBLIC:
Girardi said Jeter is not quite ready to run the bases yet, and he did not come out with the rest of the squad for stretching. The manager said he was "being stretched inside." He added that both baserunning and public stretching ''are coming soon enough."
HE DOESN'T HAVE A LINEUP YET:
Shocking, since there are only 42 days until Opening Day. Girardi sidestepped questions about whether Robby Cano will be the everyday cleanup hitter with
Alex Rodriguez
out, and whether some combination of
Brett Gardner
, Ichiro and Jeter will comprise his 9, 1 and 2 hitters.
JOE LEARNS ABOUT TWITTER:
Girardi loves to renmind all of us that he neither blogs nor Tweets, but did admit that he has heard a lot of news is broken on Twitter these days.
SPEECH! SPEECH!:
Girardi said his pep talk to the team "went well" this morning, although he expressed regret that the pitchers and catchers, who heard it last Monday, had to sit through it again.
JOE IS STRONG:
The maintenance crew installed a pair of steel rings of the type used by gymnasts hanging from the ceiling outside the Yankees clubhouse, and the beat crew assumed it was for a new routine instituted by team strength guru Dana Cavalea. Turns out they were installed for Girardi, who uses them as part of his Crossfit exercise program. He does something called "muscle-ups, in which you pull yourself up like a chin up and then continue pushing until the body ends up in a dipping position. Girardi says he does them every day. I tried and couldn't do a single one.
February, 16, 2013
2/16/13
1:53
PM ET
TAMPA, Fla. -- Plenty of action today but not much talk out of the manager, whose interview session ran a grand total of 5:50, including about a minute-and-a-half of chitchat about the weather. Here are the highlights from Joe Girardi's brief encounter with the media:
CC OK:
Girardi didn't make it down to the bullpen to watch his ace,
CC Sabathia
, throw off a mound for the first time this spring, but was satisfied with the report pitching coach Larry Rothschild gave him: "He told me CC looked normal."
MO TOO:
Girardi didn't make it to this one, either, but since it was
Mariano Rivera
's second time off the hill, there was somewhat less urgency. Besides, the manager said he's not worried about Rivera's arm; what he really wants to see is the 43-year-old closer's ability to pounce on balls hit in front of the mound and to cover first in game action following knee surgery last June.
NO RUSH:
The games begin Feb. 23 this spring, but Girardi said not to expect to see either CC or Mo pitch in one until March.
SNOW GOOD:
Talk quickly turned to the weather, which is expected to turn cool here Sunday morning. Well, cool for here, anyway. That led Girardi to reminisce about snow tubing with his kids back in New York after last weekend's big storm, and how much fun he had clearing his driveway of 15 inches of snow. "No shoveling for me," he said. "I got a snow-blower."
February, 15, 2013
2/15/13
2:46
PM ET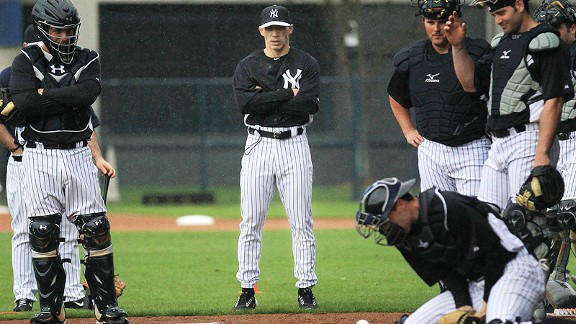 John Munson/US PresswireJoe Girardi has a lot of new names and faces to match up this spring.
TAMPA, Fla. -- Joe Girardi's office is getting less crowded each day as more of the "casuals" peel off, leaving us, the wretched dozen beat writers plus a handful of columnists, to chronicle the progress of the 2013 Yankees. Here are Friday's highlights:

YOUK TOO EARLY:
Girardi said he had no problem with
Kevin Youkilis
' comments about the Red Sox -- "I know he's happy to be here, I know he's excited to be here and I know he's going to bring it every day." -- and joked that this only happened because Youkilis came to camp early, before the Yankees PR staff presents its annual Media Training video.
MOUNDS OF OPTIMISM:
Girardi watched
Michael Pineda
and
Cesar Cabral
, both of whom missed last season with injuries, throw off the mound Friday morning and came away "pleasantly surprised." Neither has a shot of pitching in a game this spring but Girardi seemed encouraged that one or both could contribute to the big club in the second half of the season. Cabral, a left-handed reliever, was on the way to making the team last spring before suffering a stress fracture in his elbow.
GUEST OF HONOR:
Girardi said he did not know when
Jorge Posada
, who is slated to attend camp as one of the many "Guest Instructors," would arrive in Tampa. "Our guest instructors kinda make their own schedule," he said. "And a lot of guys usually like to wait until the games start, too."
NUMBERS GAME:
Girardi admitted that even he is overwhelmed by the sheer number of players in camp this year -- the Yankees will have 84 in all when the regulars report on Sunday -- and revealed that he carries, and glances at, a team roster out on the field just to keep track of who's who. "I'm learning names and faces," he said. "I know names better than faces, but I'm starting to put them all together." The fact that there are two players assigned each number from 87 to 99 doesn't make it any easier.
February, 14, 2013
2/14/13
3:42
PM ET
TAMPA, Fla. -- Joe Girardi moved his daily media briefing out of the big tent and back to the comparatively cramped confines of the manager's office at The Boss today. Here are few of the highlights:
THREE FOR FIVE:
The manager hinted that
David Phelps
and
Ivan Nova
might not be the only candidates for the fifth starter's job, although he did concede they probably were the front-runners because of their big-league experience. "But you never know who might emerge," he said.
Adam Warren
, maybe?
Dellin Betances
?
CC ON SATURDAY:
Girardi said it was his understanding that
CC Sabathia
would not throw his first bullpen until Saturday, contrary to what Sabathia had said on Tuesday about throwing one this morning. "There might have been a little confusion," he said. "There's nothing wrong with him, though."
WHO'S THAT BEARDLESS MAN?:
Girardi got his first look at his new third baseman,
Kevin Youkilis
, and was pleased by what he saw. "Clean-shaven and everything," Girardi said. "Looks good.Looks good."
February, 13, 2013
2/13/13
4:52
PM ET
TAMPA, Fla. -- Here are some highlights from Joe Girardi's brief (9 minutes) media briefing today:
MO CAN SHAG:
Only not in Kansas City. Girardi had his little joke but then said
Mariano Rivera
, who tore up his knee chasing batting practice flies in KC last May, can go back to shagging this year if he likes. "That's part of who he is. That's part of his game that has made him great. It's his time to relax, have fun and prepare for the day, so I don't want to take that away from him."
NO ROAD TRIPS:
The manager said Mariano, who rarely makes spring training road trips, would not make any this spring despite a slightly-heavier workload to rehab his knee. "I busted his chops about it. I said, 'We're going to be gone two days March 7-8 in Jupiter); what are you going to do?' I'm sure he'll have it strategically planned that neither one of those days are his throw days."
EXPECT MO-MENTUM:
"I don't think that Mo is going to be any different than he would have been if he didn't have the injury. What he was going to be in 2013 if he played 2012 is what we're going to get in 2013. I don't think his knee injury is going to hinder his ability or who he is."
THE DAILY CERVELLI:
Girardi said he doesn't think the Biogenesis affair is distracting Cervelli, but "I'll watch as we start to play games and we go through all this in spring training. If I feel he's distracted, I'll say something to him, but I watched him go about his work today and he seemed pretty good to me."
February, 12, 2013
2/12/13
2:11
PM ET
TAMPA, Fla. -- In this recurring feature of the blog, we will distill Joe Girardi's daily briefing session with the media into some salient bite-sized nuggets. We kick it off today with highlights from the manager's 30-minute address on the first day of training camp.
ON DEREK JETER'S COMEBACK:
"I think he can, just knowing Derek. I think he can. But I think you have to see it to take away that trepidation you might have about it. And that's true for any injury, when a guy comes back from a hamstring, there's concern until you see him go through a week, maybe two weeks and how he responds. If he plays three days in a row, does he get sore? In my mind, I believe he's going to be an everyday shortstop for us, but you still want to see it."
ON MARIANO RIVERA:
"I would be more concerned with Mo if it was his arm than his knee. If he would have had a shoulder surgery, or if he would have had an elbow surgery, I would have been concerned. But I feel pretty good about Mo, and my guess is everyone in that room does."
ON LOSING RUSSELL MARTIN:
"Time will tell how big of a hole it is. It's an opportunity for some players to step up."
ON THE CATCHING SITUATION:
"
Chris Stewart
is probably going to play a bigger role this year. It's an opportunity for a young guy like
Austin Romine
. I know he missed a lot of last year, but he still has an opportunity here. (
Francisco Cervelli
) has a big opportunity in front of him. It's hard to quantify how many runs a catcher can save. I believe we have two catchers that can do a lot of that, the two that we take will save a lot of runs for us. Those are RBIs in my mind. Those are the types of catchers we're probably going to have this year."
ON THE AGE OF HIS ROSTER:
"It's always a concern, but that's been something that we've been talking about for the last 10 years. Last year we were old and we won 95 games. This team has a lot of character. You might have to give a day off here and there more than you would if you had a bunch of 25 year olds. We have a lot of guys that are extremely experienced, understand what it's like to play in this division, understand that it's like to play in New York because of their experience. And I like that."
ON HEADING INTO THE LAST YEAR OF HIS CONTRACT:
"My faith is that God is going to put me where he wants me. That's what I believe. I don't worry about where I'm going to be next year. I'm not worried about next year's payroll. I'm worried about the next 162 games and getting to the playoffs and getting to the World Series. That's my concern."
ON HIS EXPECTATIONS FOR THE 2013 YANKEES:
"This team could win 95 games and get to the World Series. There's a lot of talent in that room. If we play up to our capabilities, I believe we're a very good team."