New York Yankees:

Stephen Drew
August, 4, 2014
Aug 4
9:00
AM ET
BOSTON -- It could be just a mirage -- the
Boston Red Sox
, after all, have one of the worst records in the AL and their pitchers gave the
New York Yankees
12 free baserunners over the past two nights -- but it certainly appears as if the Yankees trade deadline acquisitions have revitalized what was looking like a tired, beaten roster just a couple of days ago.
Sunday night,
Stephen Drew
, a player no one seemed to want all winter and one the Red Sox gave up just four days ago, knocked in four runs, and
Esmil Rogers
, cut loose by the
Toronto Blue Jays
around the same time, threw three nearly spotless innings to earn his first win since last Sept. 8. Throw in
Chase Headley
, who has played a better than good third base since being acquired in a trade for
Yangervis Solarte
on July 22, and the Yankees look like a better team than they were even at the beginning of the season, when all the shiny, new, expensive toys in their roster were healthy and functioning.
[+] Enlarge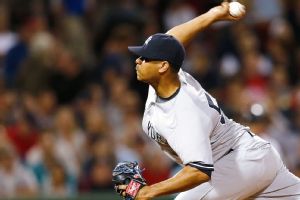 Jim Rogash/Getty ImagesNew Yankees, such as Esmil Rogers, look like they have revitalized the Yankees.
Whether they make enough of a difference to sweep the Yankees into October, or at least keep them in the race long enough for help, in the form of
Michael Pineda
and maybe even
Masahiro Tanaka
, to arrive, remains to be seen.
But for the first time all season, the Yankees seemed to have plugged a few of the holes in both their lineup and their infield.
Drew, who was hitting just .176 after missing the first three months of the season while waiting for some team to acquiesce to Scott Boras' demands for a multi-year deal, had an RBI double, a two-run single, and a groundout that drove in a fourth run in the Yankees 8-7 win over the Red Sox in the series finale. And for a guy who hadn't played second base since he was a 10th grader, Drew has looked better than adequate there, as well.
"This is a good player," Joe Girardi said, and Drew is more than that. He is a good player playing for another free-agent contract, and the Yankees will need a second baseman next year. That's motivation aplenty.
Same goes for Rogers, whose fastball touched 95 mph Sunday night on strikeouts of
Mike Napoli
and
Xander Bogaerts
, and whose 86 mph slider completely fooled
Yoenis Cespedes
in the seventh inning. Rogers, who had been a starter last year for Toronto but control problems and HRs sent him to the minors this May. The Yankees dusted him off, and in his first outing, he gave them more than they probably could have hoped for.
Now, with
David Phelps
probably missing at least one start with inflammation behind his right elbow, the Yankees might even ask more of him.
"He's obviously built up," Girardi said when asked if Rogers might be the man to make an emergency start. "Obviously we've got some time to think about it."
"I was starting in Triple A, and I'm healthy," Rogers said. "I'm just here for the opportunity, no matter what. Doesn't matter what I'm gonna be, I'll be ready."
[+] Enlarge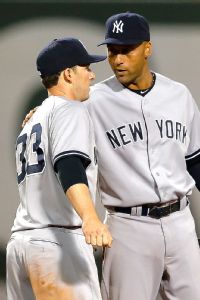 Jim Rogash/Getty ImagesStephen Drew has been a standout at second base.
Rogers admitted to feeling "like some butterflies" when he realized he would be going into a game the Red Sox were leading, 7-4, after four innings, but when asked if he was nervous on the mound, he said, "No. Why?"
Like Drew, Rogers has nothing to lose over these next 52 games, and everything to gain.
Martin Prado
, perhaps the best of the Yankees' trade-deadline additions, has yet to start hitting -- he was 0-for-3 Sunday night and has one hit in his first eight at-bats as a Yankee -- but made an excellent running catch on a fifth-inning
Daniel Nava
drive to right, a position he had played for all of two innings in his previous nine seasons.
But it has been Drew who has been the standout so far, playing second base as if he hadn't really been a shortstop his whole life, and making more impact with his bat in three games than it seemed as if
Brian Roberts
had in the previous 107.
"I feel like my timing is coming around," said Drew, who tried to stay sharp during his three-month exile by hitting against high school kids. "My numbers for the last three weeks are better. I don't even worry about looking at the board, I'm just trying to have consistent at-bats."
On the whole, the just-completed Texas-Boston road trip was not a success -- splitting six games against two last-place teams is unsatisfactory, especially since the Yankees desperately need wins and the Red Sox quite publicly ran up the white flag on their season on Thursday by dumping three of their starting pitchers -- but they head home now for a tough four-game series against the Tigers, and their three former Cy Young-winning starters, on the mini-roll of a two-game winning streak.
"Obviously we would have loved to do better," Girardi said. "But it could have been worse, too."
Without the help of three players with something to prove, it surely would have been worse, a lot worse.
Now, for the first time in months, the tired blood pulsing through the Yankees roster looks as if it might have gotten a shot of adrenaline.
The trick now is to make it last another 52 games.
August, 1, 2014
Aug 1
6:42
PM ET
BOSTON -- Contrary to popular belief,
Stephen Drew
-- the career shortstop picked up by the Yankees from the Red Sox in exchange for
Kelly Johnson
on Thursday -- has played some second base.
"I played two months in 10th grade at second base on varsity," Drew said on Friday. "It was kind of ironic."
Or, at least, coincidental. Because for the next two months, Drew will be the Yankees' everyday second baseman as they attempt to sneak into the postseason spot after their final 55 games.
Yankees infield coach Mick Kelleher, whose responsibility it will be to help Drew become a second baseman, called Drew's new assignment "O-J-T" -- which is, of course, shorthand for "on-the-job training," something that is not normally done in Major League Baseball, and almost never by teams making a playoff push.
"There's different throws, different angles, different breaks, different reads off the bat. Double plays, pivots, cuts and relays, shifts. All that stuff," said Kelleher, a former infielder who played 160 of his 622 big-league games at second base.
"He's a really good shortstop, so I don't anticipate him having too much problems," Kelleher said. "But I guarantee you'd sure like to get him on the field for a little practice."
Drew got precious little practice before his first game as a Yankee -- just a few grounders on the infield before Friday night's series opener at Fenway Park.
"I think just getting adjusted over there playing second, it's going to be a challenge a little bit because I've been playing short my whole big-league career," Drew said. "I took pride in defense all my life, and being a really good shortstop I think for the past three years, top-rated there in fielding and everything else, it will be a challenge, but I don't think it will be an issue. I think I'll be able to do it."
Drew, of course, missed more than a third of the season after entering free agency and failing to get an acceptable multi-year deal in the offseason. Since coming back in June, Drew has hit just .176 with a .583 OPS, but has performed better the past two weeks.
Although Drew said he would not have done anything differently, he did acknowledge that the layoff hurt him in his second go-round with the Red Sox.
"It does affect [you]. It's not normal for a guy to come in, and these guys basically have three months of the year already going," he said. "I'm kind of just getting out of spring training."
Drew said he worked out extensively during his absence, although in a rather haphazard fashion.
"You don't hit against big-league pitchers, obviously, so I was trying to make due with anything," he said. "High school pitchers, college pitchers if they had a chance. And that wasn't every day. I had to try to find a mix of guys coming in, and were they able to throw to me? It might have been three times a week, four times a week."
He also took between 80-100 grounders a day, seven days a week. But not one of them at second base.
He'll probably get his first one Friday night.
February, 14, 2014
Feb 14
2:07
PM ET
TAMPA, Fla. -- There has been some Internet chatter that in light of the
Derek Jeter
retirement news, the
Yankees
might go after
Stephen Drew
.
The idea is that Drew could play second and third base this season and then become Jeter's replacement in 2015. As a hypothesis goes, it is not terrible.
However, a source told ESPN New York the Yankees still aren't interested in Drew. It didn't sound as if they are going to change their minds, either.
The Yankees could hope that hitting coach Kevin Long can turn the slick-fielding
Brendan Ryan
into a better hitter. If that doesn't work, they could always go into free agency (
J.J. Hardy
after this season) or make a trade for
maybe someone like
Troy Tulowitzki
or
Jose Reyes
.
Maybe Drew signs a one-year deal and the Yankees go after him after the upcoming season.
Numbers never lie
:
Robinson Cano
's No. 24 will be worn by nonroster invitee Scott Sizemore.
I'm no Mo
:
David Robertson
made it clear he is not trying to live up to any legendary expectations. He might be the next Yankees closer after
Mariano Rivera
, but he is not replacing the all-time saves leader.
As Robertson praised Jeter, he drew the comparison to the to-be-determined 2015 Yankees shortstop and his position now.
"Obviously, they are not going to be Derek Jeter," Robertson said. "Whoever takes over, they'll have big shoes to fill. It is kind of like my situation with Mo. I don't expect to step in and be Mariano Rivera. I'm not. Everyone knows that."
Robertson played down the idea that there is much of a difference between pitching the eighth and the ninth. While on a technical level each require three outs, many baseball people -- including Yankees GM Brian Cashman -- believe the final ones come with a different set of mental hurdles.
"If you make mistakes in the ninth, it costs you the game. If you make mistakes in the eighth, it costs you the game," Robertson said. "It is nice to know sometimes you can get away with making a mistake in the eighth and Mo can come in and close it."
As for Jeter, Robertson echoed the universal praise.
"Right now, I'm thinking about the first time I saw him do his jump throw," Robertson said. "We were playing the Florida Marlins, and I come in the dugout and I'm like, 'I can't believe he got to that ball, jumped and threw it.' And I got to see it in person and I'm on the field with him. It [is] memories like that that I'm going to hold on to and cherish."
Robertson added Jeter said hi to him as a rookie, which made him feel a little more at ease in the clubhouse.
Impressions
:
Michael Pineda
looks as if he is in great shape -- a huge contrast from two years ago. He will compete for the No. 5 spot in the rotation. …
Alex Rodriguez
's
locker is vacant
.
Tanakapalooza
:
Masahiro Tanaka
was given the honor of taking Rivera's old locker. Tanaka said he didn't know if he were worthy. Tanaka also said he will try to adapt to the American way of doing things. That will be part of his transition to the majors. Tanaka said that
Hiroki Kuroda
just advised him to be himself.
McCann can't
:
Brian McCann
was cordial in his first spring training meeting with the media, but he didn't say much. He did express that he doesn't think he will be the next face of the Yankees after Jeter.
My best prediction for that honor is Tanaka because of his youth and the fact he has not played for any other major league teams. Plus, if you look at the next five seasons of the Yankees, he might be the most important player -- well, until they spend their next half billion or so.
October, 25, 2013
10/25/13
10:00
AM ET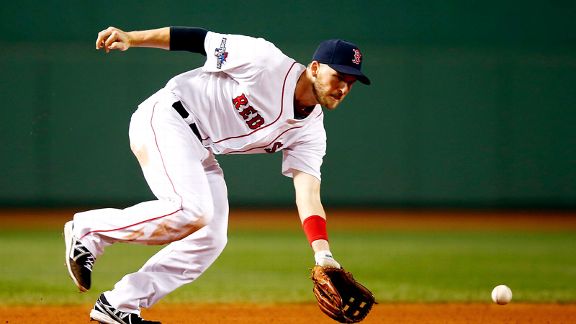 Jared Wickerham/Getty ImagesWould Stephen Drew want to deal with the drama in the Yankees' infield?
Hal Steinbrenner's "serious goal" is to have the Yankees' payroll fall below the $189 million salary threshold. With that in mind, here at ESPN New York, we are going to examine potential free-agent and trade candidates in a feature we call "Spend Hal's Money."

Candidate:
Stephen Drew
Position:
SS
Age:
30
Height:
6-0
Weight:
190
2013:
.253, 13 HRs, 67 RBIs, .777 OPS
SHOULD THE YANKEES SPEND HAL'S MONEY?:
Last winter, Stephen Drew reportedly accepted less money to join Boston instead of becoming a Yankee. Drew would have had to move to third in place of a then-injured
Alex Rodriguez
. He also would have provided insurance for
Derek Jeter
.
Instead, Drew chose the Red Sox and their $9.5 million offer because he wanted to be a shortstop. So now, even if the Yankees went after him hard, why should anyone think Drew would want any part of the Bronx?
The Yankees, an official with knowledge of their plans said, are going to target the left side of the infield, realizing they still have great uncertainty in that area. But Drew would need to have a high tolerance for drama if he was to sign with the Yankees.
Drew would have to deal with the Jeter and A-Rod situations. Jeter plans on coming back and playing a lot of shortstop. If he can, Drew would not be able to play the position he covets. If Jeter is unable to go out there, Drew would have to deal with being the guy who replaced Jeter. Why would he want to do that, if he has options?
What could really make Drew a nonstarter for the Yankees is if the Red Sox were to give Drew a qualifying offer. He would then cost them a first-round pick, which would add to his price tag.
With a lagging farm system, the Yankees can't afford to lose a high draft choice for what is essentially a luxury item.
VERDICT:
Pass. Drew is a good player, but he is a Plan-B guy, in my opinion. If the Yankees strike out on
Robinson Cano
and have a lot of money to spread out, maybe he comes into the picture as the team tries to put together a more complete roster. Until then, I don't see it.