New York Yankees:

Stephen Drew
January, 16, 2015
Jan 16
9:00
AM ET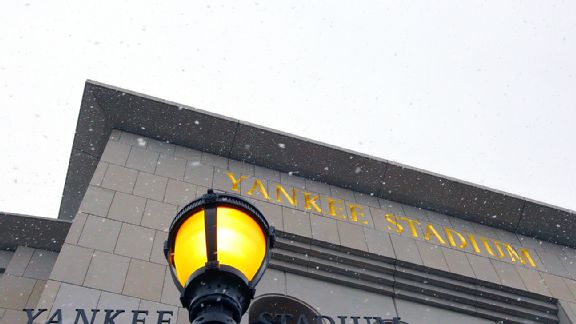 Nate Shron/Getty ImagesSo how have the Yankees weathered the winter so far?
NEW YORK -- In the post-Jeter era, the Yankees are in a yet-to-be defined transition stage in their history. Are they retooling?
Rebuilding?
Or just plain regressing?

They haven't made the playoffs in two years and, if they are going to return to the postseason, it very well could be on the backs of newcomers like
Andrew Miller
,
Nathan Eovaldi
and Sir
Didi Gregorius
.
No one knows what will happen in 2015, with 13 new faces and
Alex Rodriguez
showing up in Tampa next month, but we asked scouts and executives to give us their take on the Yankees' offseason so far.
For the most part, they like what they've seen.
"I think this is a step in the right direction," one scout said. "Are they at the top of the perch? No, but they are going in the right direction."
So let's delve a little deeper into the bigger moves of an offseason that has featured mostly small ball.
Didi Gregorius, SS
Scouts' take:
Sir Didi is Sir Defense. Everyone raves about his glove. Listening to scouts, it is apparent Gregorius is going to be slick in the field. The question is: Can he hit enough? And can he handle the Bronx?
"I've heard people say that
Omar Vizquel
and Maury Wills couldn't hit, then they did," one veteran scout said. "So I don't think he is necessarily just a glove guy. Can he take the pressure to perform in New York? If he can, I think he could do well."
Gregorius is still developing, which is something fans are unaccustomed to witnessing at short in the Bronx. One aspect to watch is Gregorius' work ethic, because, according to one West Coast source, it hasn't been Jeter-esque.
Nathan Eovaldi, RHP
Scouts' take:
Eovaldi is a test case for pitching coach Larry Rothschild. Scouts love Eovaldi's 24-year-old arm, which allows him to bring the octane to the high 90s. The problem is he doesn't throw enough strikes and doesn't have enough (any?) secondary pitches. He sounds a lot like a young
Phil Hughes
. Hughes had success when he added a secondary pitch, but never could add a third as a Yankee.
One scout said of Eovaldi, "What a great arm. I've always liked him. If they can work some magic, get him to throw strikes and a breaking ball, they will have something with him."
A second scout countered, "I don't love him. He needs to add another trick to his repertoire. He needs that second pitch to get through lineups a few times as a starter."
At the end of the day, it will likely come down to Rothschild, and one insider was encouraged. "Eovaldi and Rothschild are a match made in heaven. Larry is a master of psychology with big-arm guys. He gets them to believe in their secondary pitches."
Andrew Miller, LHP
Scouts' take:
As one scout said, if Miller and
Dellin Betances
pitch like they did in 2014, the Yankees will have the best back of the bullpen of any team in baseball. Miller was amazing last season, posting a 2.02 ERA and striking 15.3 batters per nine innings.
Miller has supposedly matured in recent years, even if he has remained a bit quirky.
"He's a good guy, but he is a lefty -- which I mean in a good way," one scout said.
Miller is a failed starter, like Betances. Both guys could never find the consistency to pitch six or seven innings.
Miller now has a four-year, $36 million contract to live up to. If his head stays right, Miller (6-foot-7) could combine with Betances (6-8) to be the Yankees' biggest weapons, in more ways than one.
Justin Wilson, LHP
Scouts' take:
Scouts really like the 27-year-old Wilson, feeling he can be a high-end setup guy. One did wonder why his ERA doubled from 2.08 in '13 to 4.20 in '14 and wondered if the Pirates maybe know something the Yankees don't.
Still,
Francisco Cervelli
-- as popular as he seemed to be -- was an extra piece for this Yankees team. Wilson could be a major part of a successful Yankees season.
"He could be a younger version of
Matt Thornton
," a scout said. "Good, power arm."
Thornton was an All-Star in 2009.
Chase Headley, 3B
Scouts' take:
Nearly every scout contacted began his review of Headley by saying he is not a star, but he is a good player.
"He is not a carry-your-team guy, but he is a good complement," said one scout, speaking for the industry's view of Headley.
Baseball people liked the Headley signing for the Yankees. While it is en vogue to downgrade makeup as an attribute, the scouts are still gung ho about it. They think Headley has the right temperament to be a winning ballplayer, though he hasn't been on many winning ballclubs.
Interestingly, one scout wondered how well Headley's defense will hold up. None other than Brian Cashman also noted Headley was only an average defender on Headley's first day as a Yankee. So that is something to watch.
Stephen Drew, SS
Scouts' take:
There are some strong opinions on Drew. The negative ones say he is a dispassionate player whose skills are diminished. Others, though, are willing to give him the "no spring training, no production" excuse.
"I have to believe he is going to be closer to what he was than he what he showed in '14," an NL executive said.
The executive pointed out that the Yankees have adroitly added insurance for Sir Didi without people really focusing on that aspect. Drew, though, must hit if he is going to play at second over Rob Refsnyder and
Jose Pirela
. If he does not, the Yankees will simply cut him.
Still, most scouts thought signing Drew for $5 million plus incentives was a smart, no-lose move for the 2015 Yankees.
January, 15, 2015
Jan 15
9:00
AM ET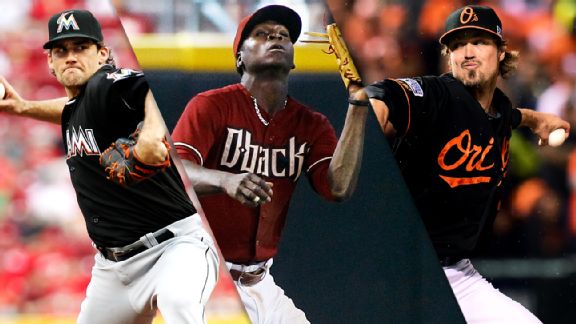 USA TODAY Sports, Getty ImagesGoodbye Derek Jeter, hello Nathan Eovaldi, Didi Gregorius and Andrew Miller.
NEW YORK -- For the better part of the past two decades, most Yankees teams arrived in the Bronx fully formed, made up of either longtime Yankees, established veterans (read: stars) from other clubs, or highly-touted and sought-after rookies and imports from other leagues.
Now, there's the 2015 Yankees.
Gone from last year's roster are no fewer than 20 big league-caliber players, including
Derek Jeter
. In their place will be 14 (relatively) new faces, 13 of which were acquired through free agency or trades, and one of which,
Alex Rodriguez
, is a very familiar face that hasn't been seen on a baseball field in more than a year due to a drug suspension.

Ring out the old, ring in the new. Call it rebuilding, retooling or reloading, it will be a very different Yankees team that takes the field in Tampa for the first full-squad spring training workout on Feb. 27, and who knows what the team will look like by the time it gets to Yankee Stadium on April 6.
"This year will be different, that's for sure," general manager Brian Cashman said this week. "This spring will be more important than most because there's a lot of new guys and a lot of guys we don't know all that much about. There's a lot of players we have to get to know. Clearly last year there was a big focus on our captain, who's no longer here. This year the focus will be on all the new guys."
The Yankees are loathe to use the term "rebuilding" -- Goliaths, of course, do not rebuild -- but they can't run from the reality that with Jeter, the last member of the legendary Core Four, in retirement, this team will have no on-field links (other than manager Joe Girardi) to the glory days of 1996-2000, and less than a handful --
CC Sabathia
,
Mark Teixeira
,
Brett Gardner
and A-Rod -- to the team that won the 2009 World Series over the
Philadelphia Phillies
.
"For people to say [the Yankees] are rebuilding with the second-highest payroll, it's silly," said a baseball executive who requested anonymity. "I think every team constantly tries to get better and that's what they're trying to do."
But have the Yankees actually done that?
In addition to Jeter, the 2015 Yankees will be without
David Robertson
, who statistically was among the top 10 closers in MLB last year;
Hiroki Kuroda
, arguably the most consistent starter on their staff the past three seasons;
Shawn Kelley
, a useful middle reliever;
David Phelps
, whose versatility was valued by the Yankees both as a starter and a reliever;
Francisco Cervelli
, a spark plug of a backup catcher;
Brandon McCarthy
, who performed well as a starter after a midseason trade with the Diamondbacks;
Ichiro Suzuki
, a future Hall of Famer who stepped into a full-time role when
Carlos Beltran
got hurt; and
Shane Greene
, who showed promise as a starter after being thrust into emergency duty due to the rash of injuries to the rotation.
[+] Enlarge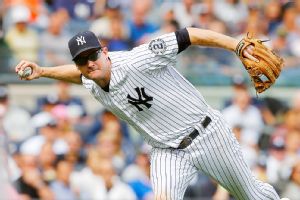 Jim McIsaac/Getty ImagesChase Headley will be back at third base, while Alex Rodriguez remains a (very expensive) wild card.
They also parted with
Martin Prado
, a trade deadline acquisition who had previously been prized by the Yankees for his ability to play several infield positions as well as the outfield.
They have added
Nathan Eovaldi
, a young right-hander with a big fastball;
Andrew Miller
, a lefty who has had a phenomenal season-and-a-half as a setup man and closer;
Justin Wilson
, who is expected to be the main situational lefty out of their bullpen;
Didi Gregorius
, a young shortstop who is being asked to replace Jeter; and
David Carpenter
, another live arm for their bullpen, in exchange for young left-hander
Manny Banuelos
, formerly the jewel of the Yankees' farm system.
In addition, they re-signed
Chase Headley
to be their everyday third baseman;
Chris Young
to be their fourth outfielder, replacing Ichiro; and -- as yet to be officially announced --
Stephen Drew
, who unless displaced by either
Jose Pirela
or Rob Refsnyder in spring training, becomes the next second baseman to try to follow
Robinson Cano
. They also added journeyman INF/OF
Garrett Jones
and a handful of young arms to their bullpen, which right now looks like the strongest unit on the club.
But a year after the Yankees spent nearly a half-billion dollars on four free agents --
Masahiro Tanaka
,
Jacoby Ellsbury
, Beltran and
Brian McCann
-- there was no big-ticket free agent under the Yankees' holiday tree this winter.
Jon Lester
,
Victor Martinez
,
Nelson Cruz
,
Pablo Sandoval
and yes, Robertson, all signed elsewhere this winter.
Max Scherzer
and
James Shields
are still out there, but the Yankees insist they have no interest in either.
"I think ever since they renewed [Cashman, who received a new three-year contract], he's had some ideas about building the team, getting younger and more versatile, and I think they've done that," said the baseball executive. "Does it work? Who knows? I think the whole season comes down to two questions: The starting pitching and the hitting."

There's no question about the latter, especially with Tanaka, Sabathia and
Ivan Nova
coming off major injuries and
Michael Pineda
having a history of major shoulder surgery, and the Yankees' bats struggling to produce fewer runs (633) than they had in 25 years. As a result, the team managed just 84 wins, its lowest total since 1995.
But Cashman disputes the notion that this year's offseason represents any sort of philosophy change by an organization that has always operated under the Big Bang Theory of baseball. He said the reason the Yankees built through barter rather than bucks this season was strictly due to circumstances.
"It's a by-product of not having a lot of money coming off the payroll, and of having Alex Rodriguez's money coming back on," Cashman said. "Last year we had a lot of money coming off, which is why we signed all those guys. This year and next year, that's not the case. We're locked into a number of guys, for better or worse."
Cashman also said an improvement in the Yankees' farm system -- which is much maligned and has not produced a significant everyday player since Gardner, who was drafted 10 years ago -- made it easier for them to make trades this winter.
"We haven't always had a lot of tradable parts," he said. "Because of our system becoming stronger we had the ability to interact more on the trade market. You can't be too creative when you have no ammunition to shoot."
[+] Enlarge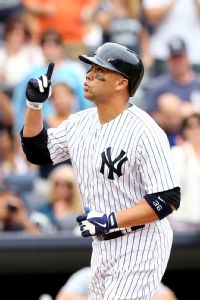 Elsa/Getty ImagesWill the Yanks get more than 109 games and a .233 average from Carlos Beltran in 2015?
But he also hinted owner Hal Steinbrenner may not have been keen on committing another $400 million-plus this winter as he did last year. "The dialogue was, this is the amount of money we have to deal with," he said.
After flirting with the idea of keeping the 2014 payroll below $189 million to avoid paying the luxury tax, the Yankees wound up spending $203 million in 2014, without having to pay Rodriguez's $25 million salary. According to Cot's Baseball Contracts, the Yankees are committed to about $197 million for 2015, including $21 million for A-Rod.
That should be enough to keep them second on MLB's list, behind the L.A. Dodgers, who in 2014 usurped the Yankees as the biggest-spending team with a $235 million payroll, the first time the Yankees had relinquished the top spot since 1998.
But still, some say the Yankees are spending too little, not too much.
"It's like they went to an earthquake class in California," said a baseball agent who has dealt with the Yankees. "When you have earthquakes, you can either rebuild your building or find a table to hide under. The Yankees didn't rebuild their building this winter. They just bought a coffee table to hide under."
It is in any agent's interest, of course, for the Yankees to spend money, and lots of it. But some scouts who spoke to ESPNNewYork.com on condition of anonymity were divided on how effectively the Yankees went about fortifying their roster this winter.
"I like what they did," said one scout. "They are retooling, not rebuilding. [But] even with all the moves, it will come down to the pitching and if Teixeira can carry his weight. Can McCann stay healthy? And where is Beltran's health?"
"I think this is a starting point," said another. "Brian has wanted to get younger and more athletic for a few years but the system hasn't allowed him to do that. Are they at the top of the perch? No, but this is a step in the right direction."
"The end of the Jeter Era is a significant thing," said a third, a former GM who believes the Yankees' attempt to build a roster out of veterans and young, often unproven players is the right way to go. "You can't call up only minor leaguers and you can't go just with veterans. You have to combine the two."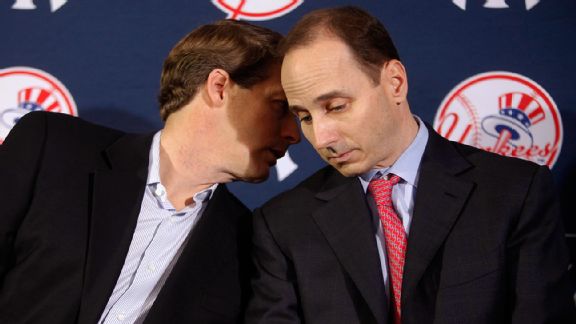 Seth Wenig/AP PhotoHal Steinbrenner's payroll limitations have forced Brian Cashman to get creative.
The agent, however, believes the Yankees should still be conducting themselves like the Yankees, buying up every top free agent, regardless of cost.
"Cashman is acting like he's the GM of the Oakland A's, and Hal can't keep using that $200 million payroll as a shield," he said. "Because of that, the Yankees are not going to be a playoff team this year, and probably not next year either. There's going to be a lot of empty seats in New York this season."
Yankees attendance was slightly up by about 1,500 fans per game in 2014, but is still down by about 300,000 since 2009. At the prices the Yankees charge for tickets, fans have come to expect a winner. Or, at least, a team that gives the appearance it might develop into one.
Cashman admits he can't guarantee the former but he believes he has accomplished the latter.
"We had a whole number of areas to think through and address," he said. "I think that in the position I'm in, you can never be happy. We're always best to be concerned. But I think we've addressed our needs to the best of our abilities. We were able to retain all or most of our high-end prospects. And I think the major league club has been improved."
And Cashman rejects the notion that a wholesale changeover in team personnel will mean a long period of mediocre, October-less seasons.
"I'm not trying to win a beauty contest here," he said. "I'm trying to win ballgames."
January, 7, 2015
Jan 7
11:31
AM ET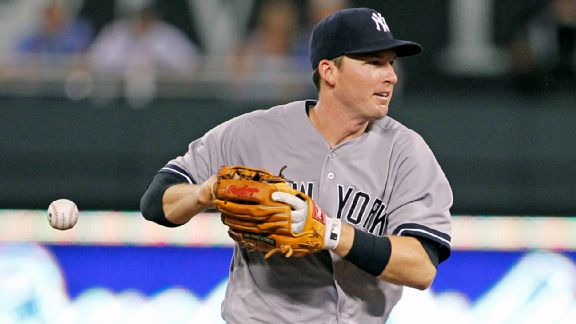 AP Images/Colin E. BraleyStephen Drew is far from a fan favorite. But the Yankees see value in him.
The Yankees
are finalizing a one-year contract
with
Stephen Drew
that will pay him $5 million. If he plays a lot, he can push his salary to $7 million. The deal could be done by the end of the week.
Drew is not popular with the Yankees fan base, but here in January the Bombers see value in a player who was originally looking in the $8 million-plus range.
Competing:
When camp opens next month, Drew will be competing with Rob Refsnyder and Jose Pirela for the second base job. He also will offer insurance at short with Sir
Didi Gregorius
and
Brendan Ryan
.

At second, Drew should be the favorite, if he shows he hasn't completely forgotten how to hit. He batted .162 last year with the Red Sox and Yankees, striking out an incredible 75 times in 271 at-bats.
While the Yankees will likely present the competition as a race without a lead horse, Refsnyder probably would be aided by spending more time at Triple-A learning second. Refsnyder and Pirela could be utility guys on the big club. I would give Pirela a slight edge to break camp with the Yankees.
Depth:
Drew offers protection and competition for Gregorius. If Gregorius struggles, then Drew could step in at short -- if, again, he can hit. Drew can play second, short and third. The Yankees' middle infield defense will be much improved with Gregorius, Drew and Ryan.
If Drew plays well, but the Yanks don't ...
If Drew bounces back but the Yankees are not in contention this year, they could trade him. He could become an asset and eventually could be exchanged for a younger player. That plays into the Yanks' logic.
But he stinks:
Yes, yes, I know, Twitter followers, you do not think Drew is very good. He gave you little reason to believe he can be a regular with how he performed last year. His excuse of not having a spring training is now gone and he will need to produce. It should be pointed out, though, he turns only 32 in March.
But no, he really stinks:
If he does, the Yankees will simply let him go. Hal will be $5 million and some luxury change lighter in the wallet and you can go on with your life.
Doubling down:
The Yankees' worst-case scenario at shortstop this winter was to sign Drew. The Gregorius trade presented itself so the Yanks were prepared to move on. Now, at a $5 million base, the Yankees decided to add Drew, too. Drew can make some more money, if he plays well.
Stephen Drew's incentives in his deal with the Yankee: $500K at 450 plate appearances, $500K at 500 PAs, $500K at 550 PAs.

— Buster Olney (@Buster_ESPN) January 7, 2015
Left-handed compliment:
Buster Olney has an interesting Insider blog
about how left-handed the Yankees are, which could be an advantage with the lack of top lefties in the AL East.
The lineup:
I'm sure Joe Girardi will be very forthcoming on the first day of spring training (yes, sarcasm), but here is what I would say for right now.
Alex Rodriguez
, of course, is the wild card, but I'm going to put him in there because, why not?
1.
Jacoby Ellsbury
, CF
2.
Brett Gardner
, LF
3.
Carlos Beltran
, RF
4.
Brian McCann
, C
5.
Mark Teixeira
, 1B
6. Rodriguez, DH
7.
Chase Headley
, 3B
8. Gregorius, SS
9. Drew, 2B
Garrett Jones
or Pirela could be the DH instead of A-Rod. Headley and McCann could be in different spots in the order, but that is what you are likely looking at to start 2015.
Are the Yankees done?
It sort of looks as though they are pretty much set. However, they have acquired so many players that new trade possibilities could come up between now and Opening Day.
Question:
So what do you think?
October, 28, 2014
10/28/14
12:00
PM ET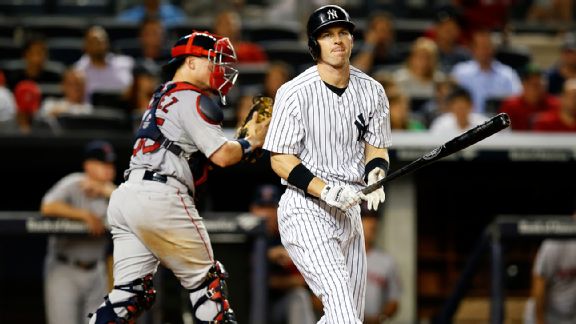 Kathy Willens/AP PhotoStephen Drew couldn't hit in 2014. But he'll be (relatively) cheap -- and he'll bounce back, right?
This Yankees offseason has no $189 million goal, nor does it appear a half-billion-dollar spending spree is in the offing, but the team will likely make a few moves. As always, we like to be helpful at ESPN New York, so once again, we will aid the Yankees' decision-makers with a little game we like to call "Spend Hal's Money."
Today's Candidate:
Stephen Drew
Position:
SS
Age:
32 in March
Height:
6-0
Weight:
190
2014 numbers:
$10.1M salary, .162, 7 HRs, 26 RBIs, .536 OPS
PROS:
From 2010 to 2014,
Derek Jeter
's OPS was .713. His batting average was .283. His on-base percentage was .340.
Over that same span, Drew's OPS was .723 with a .243 batting average and a .319 on-base percentage. Those numbers aren't as good, but with Drew being a far superior fielder to Jeter, Drew very well could be more productive in 2015 than Jeter was his final four seasons.
Will he be the legendary Jeter? Of course not, but the Yankees have to improve incrementally to play meaningful games in October next season. If Drew is their shortstop, their defense will be markedly better.
His offense?
After holding out for more money and missing all of spring training, Drew was horrible last season. This is actually a good thing for the Yankees, because, though he should still be in the prime years of his career, his price tag will have to be reasonable, even with Scott Boras doing the negotiating.
It is a buy-low option for the Yankees, who have wanted to acquire Drew for a couple of years. Now, he could be all theirs for a discounted price.

CONS:
Drew could not hit last season. He was so bad that Yankees fans -- well, the ones who follow me on Twitter, at least -- seem to absolutely hate him.
There is a chance they are right about Drew. He wasn't a major league hitter in 2014, and the idea of him being the Yankees' everyday shortstop could be a huge mistake.
THE VERDICT:
It is rare for a baseball player to just forget how to play; especially at 32. It is possible that Drew's hitting skills are doing something of a Steve Blass. But, there is a pretty good excuse for why Drew was not able to find his swing in 2014 -- he missed all of spring training. In the two previous spring trainings, concussions and an ankle issue limited him. So three years without spring training could be the reason for his woes.
This is where Brian Cashman, signed to a fresh three-year contract, has to show his evaluation skills. Is Drew better than what he displayed in 2014?
I think he is, and I would try to sign him on the right deal, because
the shortstop market is not a great one
. There are some trade possibilities, like
Didi Gregorius, Jose Iglesias and Alexei Ramirez
, but there are holes in all of their games and they would cost prospects.
If you want to think big, there is
Troy Tulowitzki
, but his injury history and his large contract, plus the further diminishing of the farm system, doesn't seem like a great option.
If the Yankees sign Drew to a one-year deal, it leaves their options open. If he is very good again -- remember the Red Sox gave him the qualifying offer after 2013 -- they can make a decision if they want to go longer-term. If not, they are not locked in.
As unpopular as it may be, Drew makes a lot of sense for the Yankees. Ultimately, though, Cashman's eye is going to have to see the future. It is on Cashman to know if Drew's weakness at the plate can be excused, or, as the GM is prone to say, there is a "market correction" coming in 2015.
October, 9, 2014
10/09/14
2:28
PM ET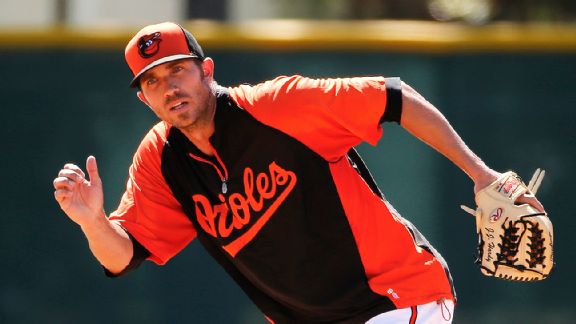 AP Photo/Gene J. PuskarJ.J., we Hardy knew ye.
J.J. Hardy
is the first name to be crossed off the
Derek Jeter
replacement list. Hardy has agreed to a
three-year, $40 million extension with the Orioles
.
This close to free agency, you don't usually see players sign deals because they can have a better opportunity to maximize their value on the open market. Hardy apparently didn't care what the Yankees had to offer.

I don't think it's a great loss. Hardy, 32, is a pretty good player, but his OPS was just .682 this year (higher than Jeter's, granted, but Jeter was 40 and playing in his final big league season).
So where does that leave the Yankees?
I think
Stephen Drew
is the favorite to be the club's next shortstop. The Yankees have liked Drew for a while. They finally acquired him at the deadline and he didn't hit. However, it is easy to imagine the Yankees telling themselves that Drew, after missing all of spring training as he waited for the right offer, was rusty.
If Drew had a full spring, the Yankees could see him returning to something close to the .777 OPS guy he was in 2013 (plus a .253 average, 13 homers and 67 RBIs in 124 games). He will turn 32 in March. And even with superagent Scott Boras, Drew is in a position where he has to compromise -- so a one-year, $6 million or $7 million deal, with incentives for more, could make sense for both sides.
In the
Who's Going to Replace Jeter?
post I wrote at the end of last month, Drew was already the favorite, even if the fans seem to have a huge distaste for him.
Hardy was second on my list.
Hanley Ramirez
and Jung-ho Kang were two other free-agent possibilities. It is unclear if Kang will be a shortstop in the majors.
August, 4, 2014
8/04/14
9:00
AM ET
BOSTON -- It could be just a mirage -- the
Boston Red Sox
, after all, have one of the worst records in the AL and their pitchers gave the
New York Yankees
12 free baserunners over the past two nights -- but it certainly appears as if the Yankees trade deadline acquisitions have revitalized what was looking like a tired, beaten roster just a couple of days ago.
Sunday night,
Stephen Drew
, a player no one seemed to want all winter and one the Red Sox gave up just four days ago, knocked in four runs, and
Esmil Rogers
, cut loose by the
Toronto Blue Jays
around the same time, threw three nearly spotless innings to earn his first win since last Sept. 8. Throw in
Chase Headley
, who has played a better than good third base since being acquired in a trade for
Yangervis Solarte
on July 22, and the Yankees look like a better team than they were even at the beginning of the season, when all the shiny, new, expensive toys in their roster were healthy and functioning.
[+] Enlarge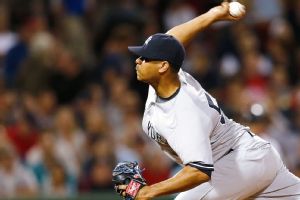 Jim Rogash/Getty ImagesNew Yankees, such as Esmil Rogers, look like they have revitalized the Yankees.
Whether they make enough of a difference to sweep the Yankees into October, or at least keep them in the race long enough for help, in the form of
Michael Pineda
and maybe even
Masahiro Tanaka
, to arrive, remains to be seen.
But for the first time all season, the Yankees seemed to have plugged a few of the holes in both their lineup and their infield.
Drew, who was hitting just .176 after missing the first three months of the season while waiting for some team to acquiesce to Scott Boras' demands for a multi-year deal, had an RBI double, a two-run single, and a groundout that drove in a fourth run in the Yankees 8-7 win over the Red Sox in the series finale. And for a guy who hadn't played second base since he was a 10th grader, Drew has looked better than adequate there, as well.
"This is a good player," Joe Girardi said, and Drew is more than that. He is a good player playing for another free-agent contract, and the Yankees will need a second baseman next year. That's motivation aplenty.
Same goes for Rogers, whose fastball touched 95 mph Sunday night on strikeouts of
Mike Napoli
and
Xander Bogaerts
, and whose 86 mph slider completely fooled
Yoenis Cespedes
in the seventh inning. Rogers, who had been a starter last year for Toronto but control problems and HRs sent him to the minors this May. The Yankees dusted him off, and in his first outing, he gave them more than they probably could have hoped for.
Now, with
David Phelps
probably missing at least one start with inflammation behind his right elbow, the Yankees might even ask more of him.
"He's obviously built up," Girardi said when asked if Rogers might be the man to make an emergency start. "Obviously we've got some time to think about it."
"I was starting in Triple A, and I'm healthy," Rogers said. "I'm just here for the opportunity, no matter what. Doesn't matter what I'm gonna be, I'll be ready."
[+] Enlarge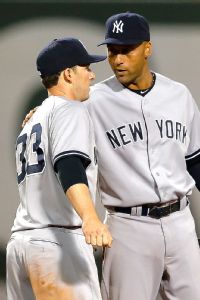 Jim Rogash/Getty ImagesStephen Drew has been a standout at second base.
Rogers admitted to feeling "like some butterflies" when he realized he would be going into a game the Red Sox were leading, 7-4, after four innings, but when asked if he was nervous on the mound, he said, "No. Why?"
Like Drew, Rogers has nothing to lose over these next 52 games, and everything to gain.
Martin Prado
, perhaps the best of the Yankees' trade-deadline additions, has yet to start hitting -- he was 0-for-3 Sunday night and has one hit in his first eight at-bats as a Yankee -- but made an excellent running catch on a fifth-inning
Daniel Nava
drive to right, a position he had played for all of two innings in his previous nine seasons.
But it has been Drew who has been the standout so far, playing second base as if he hadn't really been a shortstop his whole life, and making more impact with his bat in three games than it seemed as if
Brian Roberts
had in the previous 107.
"I feel like my timing is coming around," said Drew, who tried to stay sharp during his three-month exile by hitting against high school kids. "My numbers for the last three weeks are better. I don't even worry about looking at the board, I'm just trying to have consistent at-bats."
On the whole, the just-completed Texas-Boston road trip was not a success -- splitting six games against two last-place teams is unsatisfactory, especially since the Yankees desperately need wins and the Red Sox quite publicly ran up the white flag on their season on Thursday by dumping three of their starting pitchers -- but they head home now for a tough four-game series against the Tigers, and their three former Cy Young-winning starters, on the mini-roll of a two-game winning streak.
"Obviously we would have loved to do better," Girardi said. "But it could have been worse, too."
Without the help of three players with something to prove, it surely would have been worse, a lot worse.
Now, for the first time in months, the tired blood pulsing through the Yankees roster looks as if it might have gotten a shot of adrenaline.
The trick now is to make it last another 52 games.
August, 1, 2014
8/01/14
6:42
PM ET
BOSTON -- Contrary to popular belief,
Stephen Drew
-- the career shortstop picked up by the Yankees from the Red Sox in exchange for
Kelly Johnson
on Thursday -- has played some second base.
"I played two months in 10th grade at second base on varsity," Drew said on Friday. "It was kind of ironic."
Or, at least, coincidental. Because for the next two months, Drew will be the Yankees' everyday second baseman as they attempt to sneak into the postseason spot after their final 55 games.
Yankees infield coach Mick Kelleher, whose responsibility it will be to help Drew become a second baseman, called Drew's new assignment "O-J-T" -- which is, of course, shorthand for "on-the-job training," something that is not normally done in Major League Baseball, and almost never by teams making a playoff push.
"There's different throws, different angles, different breaks, different reads off the bat. Double plays, pivots, cuts and relays, shifts. All that stuff," said Kelleher, a former infielder who played 160 of his 622 big-league games at second base.
"He's a really good shortstop, so I don't anticipate him having too much problems," Kelleher said. "But I guarantee you'd sure like to get him on the field for a little practice."
Drew got precious little practice before his first game as a Yankee -- just a few grounders on the infield before Friday night's series opener at Fenway Park.
"I think just getting adjusted over there playing second, it's going to be a challenge a little bit because I've been playing short my whole big-league career," Drew said. "I took pride in defense all my life, and being a really good shortstop I think for the past three years, top-rated there in fielding and everything else, it will be a challenge, but I don't think it will be an issue. I think I'll be able to do it."
Drew, of course, missed more than a third of the season after entering free agency and failing to get an acceptable multi-year deal in the offseason. Since coming back in June, Drew has hit just .176 with a .583 OPS, but has performed better the past two weeks.
Although Drew said he would not have done anything differently, he did acknowledge that the layoff hurt him in his second go-round with the Red Sox.
"It does affect [you]. It's not normal for a guy to come in, and these guys basically have three months of the year already going," he said. "I'm kind of just getting out of spring training."
Drew said he worked out extensively during his absence, although in a rather haphazard fashion.
"You don't hit against big-league pitchers, obviously, so I was trying to make due with anything," he said. "High school pitchers, college pitchers if they had a chance. And that wasn't every day. I had to try to find a mix of guys coming in, and were they able to throw to me? It might have been three times a week, four times a week."
He also took between 80-100 grounders a day, seven days a week. But not one of them at second base.
He'll probably get his first one Friday night.
February, 14, 2014
2/14/14
2:07
PM ET
TAMPA, Fla. -- There has been some Internet chatter that in light of the
Derek Jeter
retirement news, the
Yankees
might go after
Stephen Drew
.
The idea is that Drew could play second and third base this season and then become Jeter's replacement in 2015. As a hypothesis goes, it is not terrible.
However, a source told ESPN New York the Yankees still aren't interested in Drew. It didn't sound as if they are going to change their minds, either.
The Yankees could hope that hitting coach Kevin Long can turn the slick-fielding
Brendan Ryan
into a better hitter. If that doesn't work, they could always go into free agency (
J.J. Hardy
after this season) or make a trade for
maybe someone like
Troy Tulowitzki
or
Jose Reyes
.
Maybe Drew signs a one-year deal and the Yankees go after him after the upcoming season.
Numbers never lie
:
Robinson Cano
's No. 24 will be worn by nonroster invitee Scott Sizemore.
I'm no Mo
:
David Robertson
made it clear he is not trying to live up to any legendary expectations. He might be the next Yankees closer after
Mariano Rivera
, but he is not replacing the all-time saves leader.
As Robertson praised Jeter, he drew the comparison to the to-be-determined 2015 Yankees shortstop and his position now.
"Obviously, they are not going to be Derek Jeter," Robertson said. "Whoever takes over, they'll have big shoes to fill. It is kind of like my situation with Mo. I don't expect to step in and be Mariano Rivera. I'm not. Everyone knows that."
Robertson played down the idea that there is much of a difference between pitching the eighth and the ninth. While on a technical level each require three outs, many baseball people -- including Yankees GM Brian Cashman -- believe the final ones come with a different set of mental hurdles.
"If you make mistakes in the ninth, it costs you the game. If you make mistakes in the eighth, it costs you the game," Robertson said. "It is nice to know sometimes you can get away with making a mistake in the eighth and Mo can come in and close it."
As for Jeter, Robertson echoed the universal praise.
"Right now, I'm thinking about the first time I saw him do his jump throw," Robertson said. "We were playing the Florida Marlins, and I come in the dugout and I'm like, 'I can't believe he got to that ball, jumped and threw it.' And I got to see it in person and I'm on the field with him. It [is] memories like that that I'm going to hold on to and cherish."
Robertson added Jeter said hi to him as a rookie, which made him feel a little more at ease in the clubhouse.
Impressions
:
Michael Pineda
looks as if he is in great shape -- a huge contrast from two years ago. He will compete for the No. 5 spot in the rotation. …
Alex Rodriguez
's
locker is vacant
.
Tanakapalooza
:
Masahiro Tanaka
was given the honor of taking Rivera's old locker. Tanaka said he didn't know if he were worthy. Tanaka also said he will try to adapt to the American way of doing things. That will be part of his transition to the majors. Tanaka said that
Hiroki Kuroda
just advised him to be himself.
McCann can't
:
Brian McCann
was cordial in his first spring training meeting with the media, but he didn't say much. He did express that he doesn't think he will be the next face of the Yankees after Jeter.
My best prediction for that honor is Tanaka because of his youth and the fact he has not played for any other major league teams. Plus, if you look at the next five seasons of the Yankees, he might be the most important player -- well, until they spend their next half billion or so.
October, 25, 2013
10/25/13
10:00
AM ET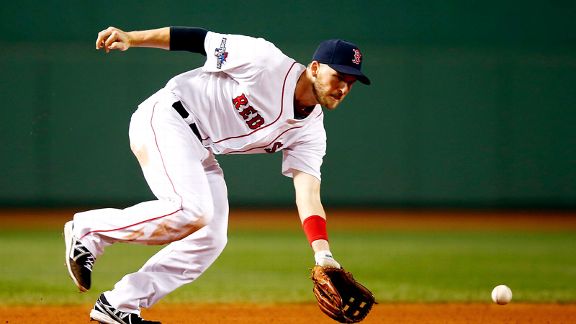 Jared Wickerham/Getty ImagesWould Stephen Drew want to deal with the drama in the Yankees' infield?
Hal Steinbrenner's "serious goal" is to have the Yankees' payroll fall below the $189 million salary threshold. With that in mind, here at ESPN New York, we are going to examine potential free-agent and trade candidates in a feature we call "Spend Hal's Money."

Candidate:
Stephen Drew
Position:
SS
Age:
30
Height:
6-0
Weight:
190
2013:
.253, 13 HRs, 67 RBIs, .777 OPS
SHOULD THE YANKEES SPEND HAL'S MONEY?:
Last winter, Stephen Drew reportedly accepted less money to join Boston instead of becoming a Yankee. Drew would have had to move to third in place of a then-injured
Alex Rodriguez
. He also would have provided insurance for
Derek Jeter
.
Instead, Drew chose the Red Sox and their $9.5 million offer because he wanted to be a shortstop. So now, even if the Yankees went after him hard, why should anyone think Drew would want any part of the Bronx?
The Yankees, an official with knowledge of their plans said, are going to target the left side of the infield, realizing they still have great uncertainty in that area. But Drew would need to have a high tolerance for drama if he was to sign with the Yankees.
Drew would have to deal with the Jeter and A-Rod situations. Jeter plans on coming back and playing a lot of shortstop. If he can, Drew would not be able to play the position he covets. If Jeter is unable to go out there, Drew would have to deal with being the guy who replaced Jeter. Why would he want to do that, if he has options?
What could really make Drew a nonstarter for the Yankees is if the Red Sox were to give Drew a qualifying offer. He would then cost them a first-round pick, which would add to his price tag.
With a lagging farm system, the Yankees can't afford to lose a high draft choice for what is essentially a luxury item.
VERDICT:
Pass. Drew is a good player, but he is a Plan-B guy, in my opinion. If the Yankees strike out on
Robinson Cano
and have a lot of money to spread out, maybe he comes into the picture as the team tries to put together a more complete roster. Until then, I don't see it.