New York Yankees:

Texas Rangers
November, 21, 2013
11/21/13
11:31
AM ET
What would you think if:
1.
Your original list
of
Robinson Cano
's potential suitors had the
Texas Rangers
on top of the charts.
2. The Rangers just traded their second baseman,
Ian Kinsler
, for
Prince Fielder
in
the biggest blockbuster of the offseason
.
Wouldn't you think this further raises the possibility that the Rangers could become players for Cano? Our colleague, Dave Schoenfield,
certainly does
:
I've been saying all along that I believed the Texas Rangers were the sleeper team in the Robinson Cano sweepstakes; swapping Ian Kinsler for Prince Fielder is a move that helps increase the likelihood of that happening.

Yes, the immediate reaction is that this merely opens the door to play Jurickson Profar at second base; but I think Rangers CEO Ray Davis and general manager Jon Daniels have something even bigger in mind.
At the least, he Rangers could provide Jay Z/Creative Artists Agency the leverage to at least raise the Yankees' bid a little, if not just outright steal him from the Bronx.

You'd have to think everyone in baseball likes Cano as a player. But not everyone in baseball has called the Yankees in the past asking to trade for him. Awhile back, we reported that this conversation between Texas and the Yankees took place and the Bombers quickly said they were uninterested in a deal. Still, what does that tell you? It tells you the Rangers thought that if they were to deal for Cano, they would have the dough to sign him. The Rangers -- thanks to a new cable deal -- have tons of money.
Meanwhile, the Rangers, just like the Yankees, are in heavy on
Brian McCann
. The catcher may end up
getting six years and $100 million
because two of the biggest spenders on the market -- the Yankees and the Rangers -- both want him.
B.B. Abbott, McCann's agent, told ESPN New York a "handful" of teams want McCann. Everyone knows that handful includes the Yankees and the Rangers. McCann's ability to catch, play first base and DH are very appealing -- but especially to clubs in the AL.
Meanwhile, McCann and his wife are both from Atlanta, and it is all they have known. They have two young children. They may want to stay in the South.
So the Yankees'
grand plans of keeping Cano and signing McCann
could be thwarted by Texas. Oh, and the Rangers are in on
Carlos Beltran
and maybe even Masahiro Tanaka.
The Rangers' deal shows how motivated Texas is this winter. The Rangers have the money to match the Yankees. At the very least, they will drive up the prices. At the very worst, they will take the players the Yankees really want.
July, 24, 2013
7/24/13
11:05
PM ET
ARLINGTON, Texas -- Miracles are in short supply this season, and the
New York Yankees
might have had their miracle for the week Tuesday night when they pulled out a 5-4 win in the ninth inning. On Wednesday, they got another excellent starting-pitching performance, this one by
Andy Pettitte
, and another nonperformance by their offense to lose to the
Texas Rangers
3-1 at The Ballpark in Arlington.
What it means:
That the Yankees have now lost four of the six games they've played since the All-Star break and six of their past eight overall. It also means that the off-field nonsense involving
Alex Rodriguez
remains a far more compelling story than the on-field struggles of this lifeless team.
Murphy's Law:
Shawn Kelley
kept the ball away from Rangers pinch hitter
David Murphy
for seven pitches, running up a 3-2 count, but he allowed the eighth to leak back over the plate. When it came down, it was 425 feet from home plate, and the Rangers had a 3-1 lead in the eighth inning.
No, really, after you:
A funny thing happened in the seventh inning after Pettitte allowed a single to
Craig Gentry
to give the Rangers runners on first and second with none out. Joe Girardi emerged from the Yankees' dugout, apparently about to remove Pettitte. But he suddenly stopped and retreated because Rangers manager Ron Washington came out to argue with plate umpire Lance Barksdale. Girardi waited patiently on the warning track in front of the Yankees' dugout until Washington was finished, then continued his trip to the mound, lifting Pettitte in favor of Kelley, who put out the fire by getting
Ian Kinsler
and
Elvis Andrus
to pop out. After walking
Nelson Cruz
to load the bases, he got the dangerous
Adrian Beltre
to fly out to center.
Getting better:
Pettitte, who had lost four of his past six decisions coming in, turned in his best outing in more than a month, holding the Rangers to just two runs over six-plus innings. But, once again, he left without getting a win because the Yankees trailed 2-1 at the time of his departure.
Andy, meet Sandy:
Pettitte's strikeout of
Mitch Moreland
in the second inning tied him with Hall of Famer Sandy Koufax at 2,396 career strikeouts; when Pettitte struck out the next hitter,
Geovany Soto
, he vaulted into 39th place all by himself. Of course, it took Koufax nearly 1,000 fewer innings than Pettitte to reach that number.
Howdy, pardner:
In his first appearance as a Texas Ranger,
Matt Garza
earned a standing ovation when he left the mound with one out in the eighth, having stifled the Yankees on just five singles and one unearned run over 7⅓ innings. Garza walked none and struck out five, and it was a throwing error in the sixth that led to the Yankees' only run.
Golf shot:
Just moments after the Yankees had tied the game at one, the Rangers took a 2-1 lead when
A.J. Pierzynski
went down to his shoe tops and golfed a 1-2 slider from Pettitte into the right-field seats. It was the third homer Pettitte had given up in his past two starts and 12th allowed this season.
First blood:
Pettitte allowed a run in the first inning and was lucky to get off that easily as the Rangers had three hits in the inning. Pierzynski's two-out single scored Kinsler, but Pettitte got
Jeff Baker
to ground into an inning-ending forceout.
First dud:
The Yankees had two hits and two stolen bases,
Brett Gardner
's 17th and
Ichiro Suzuki
's 15th, but failed to score when both
Robinson Cano
and
Lyle Overbay
struck out and
Vernon Wells
grounded out to third.
Costly error:
Garza turned what should have been a routine groundout by Gardner into a single, a two-base error and an unearned run when he bobbled Gardner's sixth-inning comebacker. Garza then fired into right field, allowing the speedy Gardner to motor all the way to third, and, for a brief instant, consider trying for home when the ball bounced away from catcher
Geovany Soto
on the throw to third. Garza got the next hitter, but Cano lined one over a drawn-in infield to score Gardner and tie the game at one.
What's next:
The Yankees try to avoid losing three of four to the Rangers in Thursday's series finale.
Hiroki Kuroda
(9-6, 2.65 ERA) opposes lefty
Derek Holland
(8-5, 3.10). First pitch is at 2:05 p.m.
June, 27, 2013
6/27/13
12:13
AM ET
NEW YORK -- The Yankees wound up losing to the
Texas Rangers
by three runs, 8-5, at Yankee Stadium, but it was only a one-run game when Joe Girardi made what seemed to be the decision of the night: Removing
Ichiro Suzuki
, currently his hottest hitter, from the lineup in the eighth inning and replacing him with
Austin Romine
, who is hitting .138.
Girardi had looked like a genius in the seventh, sending
Vernon Wells
up to hit for
Chris Stewart
. Wells singled and Ichiro followed with a home run for the second night in a row -- he won Tuesday's game with a ninth-inning walk-off -- forcing Girardi to find a spot for Romine, the only other catcher on his roster. He chose to pull Ichiro rather than
Zoilo Almonte
, who was coming up to bat second in the eighth inning.
[+] Enlarge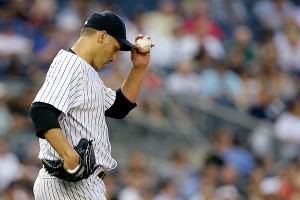 AP Photo/Kathy WillensA struggling Andy Pettitte on his performance Wednesday night and of late? "It hurts."
Girardi's reason? "If you don't get a base hit, Ich is not gonna hit. So the hope is you're going to get a hit, but there's no guarantees and Ich's spot never came up."
In other words, the manager of the
New York Yankees
did not think his team would get another hit in the game, so what difference did it make?
It turned out Girardi was right -- the last six Yankees went down in order, leaving Romine on deck at the final out -- but there was also a residual effect. Almonte's inexperience and enthusiasm in left field might have contributed to
Brett Gardner
's ninth-inning error, when he seemed to hesitate slightly going after
A.J. Pierzynski
's line drive to the gap, which led to two more runs and put the game out of reach. Earlier, a
Jayson Nix
throwing error had led to an unearned run against
Andy Pettitte
.
In the clubhouse afterward, Ichiro, who has hit .364 on this homestand (12-for-33, seven RBIs) did his best to appear on board with the move.
"As a player, you just accept it," he said through his translator, Allan Turner. "Of course, there's a reason behind it, so all I can do is prepare for tomorrow and that's what I've started to do."
Asked if he could explain exactly what the reason was, Ichiro said, "I think we all understand the reason. Obviously, I understand the reason. I'm not going to ask him why, and I don't think he needs to explain it to me. We're all big leaguers here, and we understand the game. I understand the reason why. You are trying to make it difficult, but even if you throw some hard questions at me I'm still going to answer it in a way you probably don't want to hear."
• Pettitte, who lost for the fourth time in six starts and his third in a row for just the fifth time in his career, seemed puzzled over why what worked so well for him early in the season doesn't seem to be working now. "It hurts," he said. "I pride myself on making big pitches. Just right now, it's not happening for me. It'll turn, there's no doubt about it. I just want my body to continue to feel good. And if I keep throwing it where I am now, I know it's gonna turn around. I just have to stay positive and keep going out there. It ain't nothing I haven't been through before."
•
Lyle Overbay
's solo home run in the second inning gave the Yankees an early 1-0 lead. It was Overbay's first home run at Yankee Stadium since May 4.
• Wells, who appears to have lost the left-field job to young Almonte, might have found his niche as a pinch hitter. His seventh-inning single made him 3-for-7 (.429) as a pinch hitter this season.
June, 26, 2013
6/26/13
10:40
PM ET
NEW YORK -- For the second night in a row, there was some bite in this toothless Yankees offense. Only tonight, the lineup came up a couple of teeth short as the
Texas Rangers
beat the Yankees 8-5.
What it means:
That the Yankees must rely on the struggling
Phil Hughes
in tomorrow afternoon's series finale to avoid losing the series and finishing 4-5 on this homestand.
Cruz Control:
Nelson Cruz
belted the first pitch he saw from
Joba Chamberlain
into the visitors bullpen with one on in the seventh to extend the Rangers' lead to 6-3 after the Yankees had cut it to a run the previous inning. It was Cruz' 20th home run of the season, which makes five straight seasons for him with at least 20 dingers.


Job-Booooo:
Chamberlain, once a fan favorite here, was loudly booed off the mound after facing six hitters and allowing four hard hits, including Cruz's homer, a double into the right-center gap by
Adrian Beltre
and a single by
Lance Berkman
that failed to score a run when Rangers' third-base coach Gary Pettis chose to hold Beltre at third rather than test
Ichiro Suzuki
's arm.
Slender Slugger:
Ichiro, who won Tuesday night's game with a walk-off homer, drew the Yankees to within one run with a moon shot into the second deck in right with
Vernon Wells
(pinch-hit single) aboard to cut the Rangers' lead to 6-5. And somehow, Joe Girardi chose to pull Ichiro, the hottest hitter in the lineup, the next inning and insert the weak-hitting
Austin Romine
into his lineup spot.
Boot Gardner:
Brett Gardner
was charged with a two-base error in the ninth when he allowed
A.J. Pierzynski
's long fly to bounce off his glove, but he might have been distracted by
Zoilo Almonte
, who strayed into his airspace from left field. The error led to two unearned insurance runs against
Shawn Kelley
, who gave up an RBI single to
Lance Berkman
and a sac fly to
Mitch Moreland
.
Deep-sixed:
The Yankees had a golden opportunity to tie the game -- or even take the lead in the sixth inning -- getting four consecutive hits, including a double by Ichiro, but came away with a disappointing two runs when, after cutting the Rangers lead to 4-3,
Lyle Overbay
struck out. After Almonte walked to load the bases,
Jayson Nix
rapped into an inning-ending double play.
Lyle Overwall:
The Yankees got on the board in the second inning when Overbay hit his ninth home run of the season off
Justin Grimm
. So who needs
Mark Teixeira
?
Death by bunts:
The Rangers went bunt-crazy on the Yankees in the third, reaching base on two, one of which nearly resulted in an injury to
Andy Pettitte
. In scrambling to field
Leonys Martin
's leadoff bunt, Pettitte got his left arm hung up on Nix trying to make the throw and fell to the ground in apparent pain. He then walked
Ian Kinsler
, after which
Elvis Andrus
laid down another bunt, and this time Nix's high throw pulled Overbay off the bag at first, which loaded the bases. After Pettitte struck out Cruz, Beltre lined a two-run double off the left-field fence to give the Rangers a 2-1 lead, followed by a Pierzynski single that scored two more to make it 4-1.
Foul Play:
The inexperience of the left side of the Yankees defense -- Nix at third,
Alberto Gonzalez
at short and Almonte in left -- was on display in the seventh when all converged on Pierzynski's foul pop behind third base and let it fall among them. It seemed as if Nix pulled up, thinking either Gonzalez or Almonte would handle it. It made you long for the return of
Alex Rodriguez
and
Derek Jeter
, or even
Eduardo Nunez
.
What's next:
The series finale against the Rangers. Hughes (3-6, 5.09 ERA), possibly pitching for his rotation spot, faces left-hander
Derek Holland
(5-4, 3.43 ERA). First pitch is at 1:05 p.m.
June, 25, 2013
6/25/13
3:42
PM ET
NEW YORK -- Here's the lineup for tonight's game against the
Texas Rangers
and
Yu Darvish
, first pitch at 7:05 p.m.:
Brett Gardner
, CF
Ichiro Suzuki
, RF
Robinson Cano
, 2B
Travis Hafner
, DH
Lyle Overbay
, 1B
Zoilo Almonte
, LF
Jayson Nix
, SS
David Adams
, 3B
Chris Stewart
, C
Hiroki Kuroda
, P
August, 12, 2012
8/12/12
6:12
PM ET
TORONTO -- If you're wondering why, with the Yankees down by three runs in the ninth inning and a right-hander pitching for the Blue Jays, Joe Girardi went to Ichiro Suzuki as a pinch-hitter rather than the more-powerful Eric Chavez, the explanation is simple.

And somewhat disturbing.

Playing four games in a row against right-handed starters in Detroit left the oft-injured Chavez "not feeling great," according to Girardi.

Translation: Chavez's back, which has limited him to 90 games or fewer in each of the last six seasons, is acting up again.

"His back's been a little sore," Girardi said. "He hasn't been a player for me this series."

With the Blue Jays starting three lefties, it really wasn't an issue, and honestly, not many noticed that Chavez did not take batting practice with the team here in Toronto. But with Texas starting right-handers Ryan Dempster on Monday and Scott Feldman on Wednesday, the hot-hitting Chavez's availability becomes very much an issue. Playing in place of the injured Alex Rodriguez, Chavez has 14 hits in his last 30 at-bats (.466).

"He's gotten better every day," Girardi said. "So I think I'll have him tomorrow."

"I'm a little sore, but I'm fine," Chavez said. "I can play tomorrow."
August, 12, 2012
8/12/12
6:00
PM ET


TORONTO -- Joe Girardi was customarily circumspect before Sunday's game, and with Phil Hughes imploding after just four innings, it appeared his caution may have been justified.

But it turns out that David Phelps will start against the Texas Rangers in place of CC Sabathia on Monday after all.

"I'm looking forward to it a lot," said Phelps, who started two games in May and one in July. "Hopefully I'll go out there, learn from what I did last time and give us a chance to win. It's a huge series."

Asked about the adjustment of going from AAA starter to major-league reliever to emergency starter, Phelps said, "It's not too bad. It's the same thing over and over again; just going out and trying to get guys out, regardless of what your role may be."

Phelps has a 2-3 record and 2.42 ERA. He has made 19 relief appearances in addition to his three starts. It is expected he can give the Yankees 75-80 pitches on Monday, when he will face Ryan Dempster, newly acquired by the Rangers.
April, 24, 2012
4/24/12
10:49
PM ET
Recap
|
Box score
|
Photos
What it means:
That the Yankees can still get out of dodge with a series win over the team with the best record in the AL if they can beat
Scott Feldman
-- a pitcher they have never faced -- on Wednesday night. But there was no way they were beating
Yu Darvish
, another pitcher they had never faced, on Tuesday.
Yu for real?
It sure looked like it tonight, as Darvish held the Yankees to seven hits, struck out 10 and walked only two in 8 1/3 shutout innings. He escaped from a bases-loaded, none-out jam in the third with a strikeout and a double play, and stranded
Robby Cano
after a leadoff double by striking out
Mark Teixeira
and
Nick Swisher
and getting
Raul Ibanez
to tap out.


The Yankees never could work the count against Darvish who, after struggling with control early, threw all his pitches -- and he has seven of them -- for strikes and had the Yankees swinging as if they were trying to kill bees with a sledgehammer. Hit 96 on the gun with his second-to-last pitch of the night. Most impressive.
Hiroki better than OK:
After suffering through a miserable but mercifully brief outing last time out,
Hiroki Kuroda
deserved better than he got in this one, generally stifling the powerful Rangers lineup all night but having the misfortune to run into the Whirling Darvish on an exceptional night. Kuroda allowed a mammoth (439 feet) homer to
Ian Kinsler
in the first inning, and an RBI single to
Josh Hamilton
in the third, and that was about it. Five hits in total, two walks and five K's in 6 2/3 innings. Still, on a night the Yankees couldn't do anything with Darvish, two runs was two too many.
Somebody hose down Jeter:
Because The Captain is still on fire. This is how hot
Derek Jeter
was tonight: Even when he tries to make an out, he gets a hit. With runners on first and second and no out in the third, Jeter tried to lay down a sacrifice, but the perfect bunt became a base hit when Darvish failed to field the ball. Jeter followed with a double down the third-base line in the fifth, one of only two hard-hot balls off Darvish all night, to raise his average to .421. But Darvish made him look bad his fourth time up, getting him to flail at a splitter on the outside corner that was unhittable even for Jeter, who finished the night at a mere .416.
What's coming:
I will explore the question in every Yankees fan's mind tonight -- why isn't Darvish in pinstripes? Also, Hiroki's hard-luck night, and whatever else of note comes out of the post-game clubhouse.
What's next:
The series concludes Wednesday night with
Phil Hughes
(1-2, 6.75) facing RHP
Scott Feldman
(0-0, 0.00), first pitch at 8:05 p.m.
December, 19, 2011
12/19/11
11:28
PM ET
The Yankees lost out in their bid for Yu Darvish. The Rangers bid nearly $52 million, according to Yahoo Sports!, which presumably was much more than what the Yankees put forth. We don't know yet what the Yankees' number was, but, as we and others have reported, it was expected to be modest.

Now, we probably will move to Cuban outfielder Yoenis Cespedes. Despite reports the Yankees are high on Cespedes, the same insiders that said the Yanks weren't going to be big players for Darvish are parroting the same words on Cespedes. We'll see.

For now, though, the news is Darvish is eventually going to be a Ranger.
September, 24, 2011
9/24/11
11:04
PM ET
The Yankees clinched the American League's home-field advantage through the ALCS when Detroit lost 6-5 to Baltimore.

Here's how it breaks down:

• The Yankees, who routed Boston on Saturday, are 96-61.

• The Tigers are 91-67 with only four games left. The best they can do is finish with 95 wins, one shy of the Yankees' current total.

• The Rangers, who beat Seattle on Saturday, are 92-66 with four games left. They could match the Yankees' win total if they win out and New York loses its five remaining games. But New York would still clinch by virtue of winning its season series with Texas, 7-2.

New York could conceivably catch Philadelphia (98-60, currently mired in an eight-game losing streak) for the best record in the majors … but it wouldn't matter. The National League won the All-Star Game, securing home-field advantage in the World Series for the NL champion.
April, 17, 2011
4/17/11
11:12
PM ET
Recap
|
Box score
|
Photos
What it means:
That these Yankees are more powerful than the 1932 Yankees, the Murderers' Row Yankees of Ruth, Gehrig, Dickey, etc. ... Not really, but three more homers gives them 27 in 14 games, three more than that '32 team had, and two more than the 2003 team that went to the World Series.
Robinson Cano, Russell Martin
and
Curtis Granderson
all went deep off
Alexi Ogando
, who came in 2-0 with a 0.00 ERA and left with a 2.33.
The Good: Eric Chavez,
who makes the most of every chance he gets to play, had two hits, including a clutch RBI single in the eighth to give the Yankees a 6-5 lead; Martin (two-run HR, single); Granderson (HR No. 4, a number he didn't reach last year until June 8 in AB No. 116);
Rafael Soriano
(a scoreless eighth despite pitching in the kind of cold, windy conditions he detests).
The Bad: Joba Chamberlain,
who came in with bases empty and one out in the seventh and promptly gave away a 5-4 Yankees lead by walking
Ian Kinsler
and surrendering a ringing double to
Michael Young,
who hits in Yankee Stadium as if he were
Babe Ruth.
The Ugly: Brett Gardner,
who returned to the lineup after a two-day "rest.'' Dropped to ninth in the batting order -- the first time he hasn't led off against a right-handed starter this season -- Gardner hit in a DP and struck out before being lifted for pinch-hitter
Andruw Jones
in the seventh. Gardner's BA is .140, his OBP .222.
What's next:
Off-day Monday, then a two-game series in Toronto.
A.J. Burnett
(3-0, 4.67) opens against TBA Tuesday night;
Bartolo Colon
(0-1, 3.97) makes his first big-league start since July 24, 2009, on Wednesday.
August, 11, 2010
8/11/10
5:52
PM ET
11:54: Vlad bounces to a-Rod and an incredible game comes to an improbable end. Yankees come back for a 7-6 win in 3:45

11:52: Mo goes to 2-0 on Hamilton, then gets lucky as one-hopper comes right back to him. Tow out, Vlad Guerrero representing the last hope for Texas

11:51: Kearns, who just moved from left to right, snowcones Young's blooper for the first out, Andrus has to hold at third

11:50: Andrus starts it off wiht a drive into the nook in right-center field, legs it fo a triple as Kearns bobbles it

11:49: Mo on to try and nail it shut, will face Andrus, Young and Hamilton

11:46: Cano joins the K Krew, strikes out to end the ninth and run the Yankees total to an incredible 17 for the game. They've struck out 10 times since the sixth inning but scored six runs to take the lead

11:41: Yankees have now struck out 16 times tonight as A-Rod flails at a 3-2 fastball. That's it for Ogando; LHP Matt Harrison coming to to face Cano with two out

11:40: With Yanks in lead, Mariano Rivera warming up to pitch bottom of the ninth

11:36: Thames singles past third baseman Young to plate go-ahead run and after having been behind 6-1, Yankees have crawled all the way back to take the lead

11:31: Swisher Ks for the fourth time tonight; that;s 15 Ks for Yankees tonight. Feliz coming out, Alexi Ogando coming in to pitch to Thames

11:29: Jeter bouncer up middle threads the needle between Francisco and Andrus, single scores the tying run, sends Gardner to third

11:28: With Jeter showing bunt, Francisco throws one to the backstop, both runners move up

11:25: Gardner slices one inside LF line for a single, Yankees have two on, none out for Jeter trailing by a run in the ninth

11:19: Good, patient at-bat by Berkman to draw a leadoff walk; Granderson, who can;t hit, can still run, goes in to PR for Berk

11:14: Rangers down in the eighth, closer Neftali Feliz coming on to close out vs. Berkman, Gardner, Jeter

11:01: Just when Rangers were on the ropes, Yankees let them off again as Kearns raps into inning-ending DP

10:57: Posada gets a break on 1-2 pitch from HP ump Paul Emmel, then works out a walk, Yanks have first and second, one out and Kearns coming up

10:52: Cano walks and Posada, fitting himself for the sombrero, comes up

10:49: A-Rod fans and that's 14 Ks for the Yankees tonight

10:47: Thames crushes Francisco's 1-2 FB deep into the LF seats and it's a 6-5 ballgame

10:46: Cano and Berkman are the only two Yankees who have not struck out tonight. Posada and Swisher 3X each

10:43: Jeter turns a neat 6-4-3 DP to end the inning; RHP Frank Francisco coming on to pitch the eighth for Texas, will face Thames, Rodriguez, Cano with a two-run lead

10:41: Guerrero singles to left and Rangers have two on, one out for Cruz

10:40: Hamiton picks up his third hit of the ninth with a one-out single off Wood

10:35: Kerry Wood coming on to pitch for the Yankees in the bottom of the seventh

10:34: The Other Darren strikes out Swisher and that does it for the seventh. Yankees have struck out 13 times tonight.

10:29: Jeter practically slams his bat down in frustration after striking out; O'Day departs, LHP Darren Oliver coming in to face Swisher with two out

10:27: Gardner steals second and suddenly, the tying run is in scoring position

10:21: Gardner singles up the middle, scoring Kearns, Berkman holds at third and it's now 6-4 Rangers, Lee coming out of the game after 6-1/3, incredibly, his shortest outing of the year. RHP O'Day coming on to pitch to Jeter

10:18: Texas outfield lets Lee down as Cruz and Hamilton allow Berkman's long fly to drop between them on the track, scoring Cano, 6-3, but ball bounces into seats, keeping Kearns at third

10:16: Kearns singles, Cano to third, Berkman coming up. Lee is at 97 pitches and Darren O'Day warming in the pen

10:13: Posada strikes out for the third time tonight, first time swinging

10;11: Cano leads off the seventh with a double to right

10:07: The combination of Cliff Lee and his future teammates sells out the Ballpark at Arlington, 48,676 in the house tonight

10:07: A 1-2-3 sixth for Mitre

10:02: Lee has struck out 5 of the last 7 batters he's faced

10:00: Yankees have to settle for one as Lee strikes out the next three batters, Swisher, Thames and Rodriguez, to give him 10 for the night

9:55: Jeter scores on a wild pitch to Swisher, 6-2 Texas

9:54: Jeter leads off the sixth slicing a triple into the RF corner

9:53: Vazquez' 4-1/3 IP is his shortest outing as a starter since May 1 vs. CWS

9:49: Mitre needs two pitches and one great throw by Swisher to end the inning on a DP, 9-5, Cruz was out by at least a yard trying to go form second to third on Molina's fly out to right

9:45: Murphy singles up the middle, Rangers get two more runs and we get Sergio Mitre coming on in relief of Vazquez. 6-1 Texas with one out in the fifth and runners on first and second

9:43: Yankees botch a rundown on Cruz' grounder to A-Rod--Posada held the ball too long before firing to Jeter, too late to tag Young--and Rangers have bases loaded, one out for Murphy

9:42: Guerrero grounds out to the pitcher and the runners have to hold'

9:41: Hamilton smokes one past Berkman and it's 4-1 Rangers, runners at second and third with none out for Vladdy

9:38: Young singles to center, andrus goes t third, Hamilton up with none out

9:37: Andrus leads off the fifth with a single to right, whch came off a Vazquez fastball clocked at a disturbing 86 MPH

9:33: Another 1-2-3 for Lee, incl. two more Ks, one looking at a fastball by Gardner.

9:24: Two runs score as Berkman can't keep Moreland's smash from going through the infield, 3-1 Rangers

9:22: Vazquez unintentionally walks Molina and Rangers have the bases loaded for Moreland

9:18: Vazquez gets the next two outs but Yanks opt to walk David Murphy and pitch to Bengie Molina

9:15: Josh Hamilton leads off the fourth with a double off the base of the centerfield fence

9:11: Lee closes out the fourth by catching Posada looking at a curve for his second looking K of the night. Lee has 5 Ks, four of them looking

9:05: Much to the displeasure of the crowd, A-Rod doubles over the head of CF Josh Hamilton, Thames scores, game tied at 1

9:01: Lee had retired 10 straight before Thames singles with one out in the fourth

8:56: Vazquez pitches his first 1-2-3 inning of the game

8:47: Lee pitches another 1-2-3 with help from RF Cruz, who makes good running catch to flag down Gardner's liner into the gap

8:41: Vazquez allows a leadoff single to Nelson Cruz but sets down the next three batters, including a looking K of Mitch Moreland on a 3-2 breaking ball

8:31: Lee pitches an overpowering second, catching Posada and Kearns looking at 1-2 fastballs

8:25: Vazquez gets through the inning without further damage but an ominous sign is that several of his fastballs clocked at just 85 MPH

8:21: Rangers take a 1-0 lead as Michael Young smacks Vazquez' 3-1 fastball and tucks it just inside the RF foul pole for a one-out HR

8:16: A-Rod bounces out and that's the inning

8:13: Lee catches Thames looking at a beautiful curve

8:12: Lee fires a fastball past Swisher for the first out

8:09: Jeter lines the second pitch in front of Nelson Cruz in right for a leadoff single

8:08: Cliff Lee's first pitch is a ball to Jeter in 99 degree weather

Pre-Game Chatter: Robinson Cano is back in the lineup after a one-game respite with a head cold, but when I asked him if he was better, he said, none-to-convincingly, "A little bit.'' Jorge Posada, on the other hand, says his throwing shoulder, which Joe Girardi described as "irritated'' Tuesday night, is "fine, no problem.'' He returns behind the plate. Marx Teixeira, who left the team for the birth of his son, will return tomorrow night in in Kansas City. And Curtis Granderson is not in the lineup despite being a career .300 hitter against Rangers starter Cliff Lee for reasons explained in depth in my story on the website. . . . Alfredo Aceves "was not sharp'' in pitching 2/3 of an inning (2 walks, one K) Tuesday night for Triple A Scranton. Aceves, on the DL since May 12 wiht a lower back strain, will throw again on Friday . . . Andy Pettitte (groin strain) is scheduled to throw tomorrow and then pitch in some sort of a rehab game either Monday or Tuesday of next week.

Here are tonight's lineups, first pitch at 8:05 p.m.:

Yankees

Jeter SS
Swisher RF
Thames DH
Rodriguez 3B
Cano 2B
Posada C
Kearns LF
Berkman 1B
Gardner CF
Vazquez P

Rangers

Andrus SS
Young 3B
Hamilton CF
Guerrero DH
Cruz