New York Yankees:

Trenton Thunder
August, 3, 2013
8/03/13
11:50
PM ET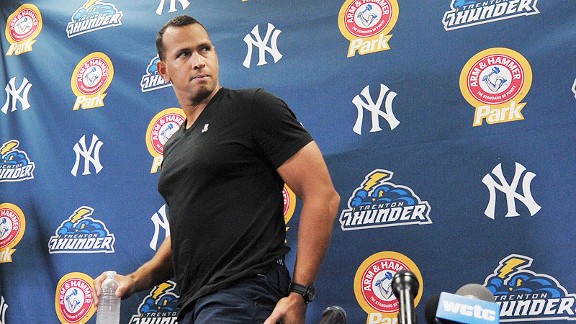 Drew Hallowell/Getty ImagesAlex Rodriguez said he is going to join the Yankees in Chicago on Monday, suspension or no.
TRENTON, N.J. -- Even in the face of a pending suspension,
Alex Rodriguez
remains defiant.
With MLB preparing to suspend Rodriguez on Monday
likely through the 2014 season
for his involvement in the Biogenesis scandal, Rodriguez said he expects to play for the
New York Yankees
that day against the
Chicago White Sox
. He added that he would fly to Chicago even if MLB levied a suspension on Sunday.
Rodriguez walked four times in his second rehab game with Double-A Trenton on Saturday night against Reading.
"Excited to be playing tonight and even more excited about Monday," Rodriguez said. "I can't wait to see my teammates. I feel like I can help us win. I can help us be a better team. I haven't seen a lot of my brothers in a long time."
ESPN's "Outside the Lines" is reporting that Rodriguez, and about 12 other players, will be suspended on Monday, according to sources, with Rodriguez receiving a 214-game ban. A source told "Outside the Lines" that MLB refused a meeting between the union, MLB, the Yankees and Rodriguez's camp, and that MLB commissioner Bud Selig was "furious" with Rodriguez for saying that he wasn't going to negotiate a suspension.
Friday night, Rodriguez said that others were finding "creative ways" to cancel his contract, and called the alleged attempts by the Yankees to keep him from the field the "pink elephant in the room." Rodriguez did not say on Saturday whether he regretted those comments.
"I played on the field for the last 5 1/2 hours. I haven't heard anything or seen anything," Rodriguez said. "My focus has been to play baseball, get ready to play tonight."
When asked if he reached out to the Yankees on Saturday regarding a potential buyout or settlement, Rodriguez said no before delegating the question to his legal team.
"As far as -- no -- as far as any of that stuff I'm going to let those guys take care of what they need to take care of," Rodriguez said. "I'm not going to address anything like that."
Rodriguez will work out Sunday at an undisclosed location, although he nodded his head when asked if the workout will take place in Trenton. The Yankees play in San Diego on Sunday and then head to the Windy City, where Rodriguez will join them, although it remains to be seen whether he can play.
"I'm flying to Chicago," he stated.
The embattled third baseman wrapped up his two-game rehab stint with Trenton on Saturday night by walking in all four of his plate appearances, seeing a total of 24 pitches. He walked on three full counts and made three plays in the field while failing to make another one. He also moved gingerly on the basepaths, and didn't try to score on a double in the first inning.
"I felt great. It was great to see a lot of pitches," Rodriguez said. "Back-to-back days, felt pretty good. Got some action at third base, which was nice. Ready to go."
In a recent Sports Illustrated article, Rodriguez told the magazine that he wants to be a role model for his two daughters. When asked what he would say to his daughters if they asked him if he cheated, Rodriguez said he will eventually give his side of the tale.
"I plan to sit my girls down with [ex-wife] Cynthia and we're going to have a lengthy conversation. And I'll have the opportunity to tell it all at some point," Rodriguez said. "I'll have that platform. And when the time is right I'll tell my full story."
August, 3, 2013
8/03/13
9:46
PM ET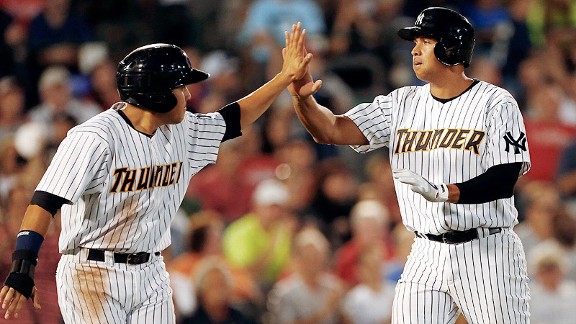 AP Photo/Rich SchultzAlex Rodriguez walked and later scored on a three-run homer in the fifth.
TRENTON, N.J. -- If Saturday marked
Alex Rodriguez
's final at-bats until 2015, he will head into his lengthy hiatus knowing he still has a good eye.
With MLB on the verge of
likely suspending Rodriguez through the 2014 season
, Rodriguez walked four times against Reading in a rehab game on Saturday night with Double-A Trenton.
Rodriguez played seven innings and made three plays in the field.
Saturday's game was supposed to be Rodriguez's final tuneup before a potential return on Monday, but baseball appears ready to drop the hammer on A-Rod before he can suit up.
FIRST AB:
Rodriguez worked a walk in a seven-pitch at-bat in the first inning. He fouled off a pair of low 90s fastballs, and battled back from a 1-2 count to earn the base. The opposing starter, Brody Colvin, kept pounding the outside corner, but Rodriguez laid off the fastballs.
On the basepaths, Rodriguez didn't exactly test himself. Slade Heathcott followed him with a double, and while Rodriguez had to wait to see if the ball was caught, once it hit off the wall Rodriguez continued his run to third in what could be described as a comfortable jog. He didn't turn on the jets.
SECOND AB:
Rodriguez once again reached on a walk in the third inning. Colvin missed away badly on a 3-2 pitch to walk Rodriguez, which brought some boos from the crowd. Rodriguez fouled off one pitch in the at-bat.
THIRD AB:
Yup, another walk in the fifth. Rodriguez got ahead 3-0 and then swung through a fastball down the middle before earning a free pass. None of the balls were particularly close. Rodriguez later scored on a three-run homer that put the Thunder ahead, 5-4, in an eventual 7-5 win.
FINAL AB:
Rodriguez, once again, walked on a full count in the seventh inning. Rodriguez heard boos as he trotted down to first as the fans were likely frustrated he didn't put a single ball in play. He went to second on a wild pitch, although he didn't move too quickly.
TOTAL:
In his two games on Friday and Saturday, Rodriguez went 1-for-2 with one homer, two RBIs, five walks and two runs scored.
DEFENSE:
Rodriguez got tested early with a soft liner/blooper that he caught to start the game, and he finished the first by starting a 5-4-3 double play.
In the second, Rodriguez threw high to second after going to his right on a grounder and couldn't get the out. It would've been a tough play to make, but one he probably should have made. An inning later, he cleanly fielded a one-hopper and ended the frame with a nice throw across the diamond.
CROWD:
A mixture of boos and cheers for Rodriguez. The cheers usually won out, but the boos were noticeable. Prior to his first at-bat, the boos were more discernible than the applause. He gave his batting gloves and bat away after the seventh inning.
WHAT'S NEXT:
A workout on Sunday at an undisclosed location. Rodriguez's status on Monday, though, is the big question. Will he be in the Yankees' lineup or suspended?
August, 3, 2013
8/03/13
6:33
PM ET
TRENTON, N.J. -- Out of sight, out of mind.
[+] Enlarge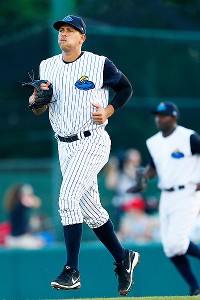 Rich Schultz/Getty ImagesTrenton manager Tony Franklin said he thought Alex Rodriguez ran smoothly and moved well in the field on Friday night.
That's apparently the Yankees' stance when it comes to embattled third baseman
Alex Rodriguez
.
Double-A Trenton Thunder manager Tony Franklin said Saturday that none of the Yankees' brass checked in with him about Rodriguez after the veteran's rehab game Friday night. The only questions came from the training staff to see how the 38-year-old held up after playing five innings.
"If you're asking if I got a call from [Yankees GM Brian Cashman] or anyone from New York -- that I didn't, no," Franklin said before Saturday's game against Reading.
Rodriguez played in his first rehab game Friday night since being diagnosed with a Grade 1 quad strain July 21, going 1-for-2 with a homer and a walk. Franklin said he thought Rodriguez ran smoothly and moved well in the field and liked his swings.
Franklin noticed improvement from Rodriguez's previous stint with Trenton, as the third baseman rehabbed with the team in July before suffering the quad strain.
"Running better, running more fluidly," Franklin said. "Of course, he didn't have to run out any balls last night, but during batting practice, he did some sprints after he took some swings in the cage. His gait was smooth. The first time he was here he was pressing a little bit in his run. But his gait was smooth yesterday during batting practice, and his swing, it looks like it has less rust on it."
Franklin said the plan for Saturday is for Rodriguez to play seven innings, possibly eight, and to accumulate four at-bats. Rodriguez is 9-for-42 in 14 games in the minors with three homers and 10 RBIs. He is scheduled to work out Sunday and possibly return to the Yankees' lineup Monday against the White Sox.
Rodriguez might not rejoin the Yankees, though, as Major League Baseball is aiming to suspend Rodriguez on Monday for his involvement in the Biogenesis scandal, according to T.J. Quinn of ESPN's "Outside the Lines."
Franklin didn't want to say whether he believed Rodriguez was ready to play with the Yankees.
"What I can tell you is that I think his swing is getting better. I think he's doing the baseball things OK right now," Franklin said. "I don't think he'll be surprised by anything on the baseball field, despite anything going on in Alex's life and what's going on now.
"Alex knows how to play baseball. He has always done that, and that will never change. He's one of the best baseball players I've ever seen. I think once he goes there, once they decided he's ready to go back, I don't think he'll have any problem adapting at all."
Trenton expected a sellout crowd Saturday night, and more than an hour before the 7:05 p.m. scheduled start, fans were lining up outside the Thunder dugout in hopes of catching a glimpse of Rodriguez. Trenton, however, didn't have its batting practice on the field.
Rodriguez did not meet with the media before the game but is scheduled to talk afterward. A tarp was on the field but has since been removed. Rain is in the forecast for later Saturday night.
August, 2, 2013
8/02/13
3:02
PM ET
[+] Enlarge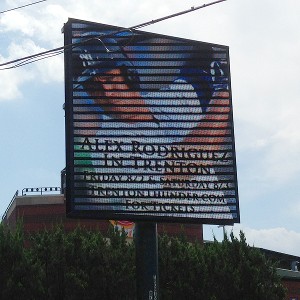 Willie Weinbaum/ESPNIt's standing-room only for A-Rod's Friday appearance in Trenton.
TRENTON, N.J. --
Alex Rodriguez
will play third and bat second in his minor league rehab game for the Trenton Thunder against the Reading Fightin' Phillies on Friday night.
A sellout crowd is expected at Arm & Hammer Stadium. The Thunder are expecting 150 media members -- about 10 times more than what they usually have.
Rodriguez arrived at the park at around 3:30 p.m. in a white BMW.
Rodriguez, 38, is trying to return from his Grade 1 quad strain and his second hip surgery. He is playing with the specter of being
suspended hanging over his head
.
As far as the Biogenesis investigation, A-Rod seems to be digging in to fight any discipline. It is not only that A-Rod wants to keep as much of the nearly $100 million he is owed -- he wants to play baseball again. The two sides are not close to making a deal at the is time.