New York Yankees:

Tyler Austin
May, 29, 2013
5/29/13
6:32
PM ET
By
Jerry Crasnick | ESPN.com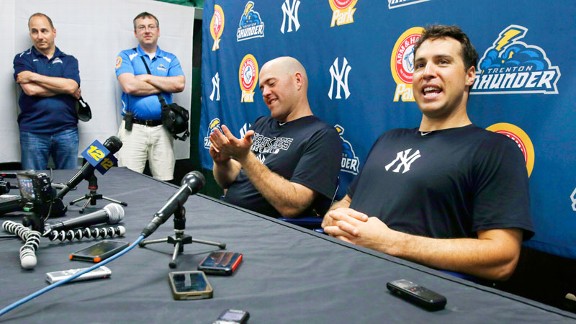 AP Photo/Mel EvansBrian Cashman didn't get much of a show from Kevin Youkilis or Mark Teixeira on Wednesday, but he got a kick out of some of the Yankees' prospects.
TRENTON, N.J. --
Mark Teixeira
and
Kevin Youkilis
didn't provide much exciting fodder for Yankees general manager Brian Cashman in their rehab start with Trenton on Wednesday -- although things did get interesting for a moment when Youkilis was taking a practice swing in the box and the Thunder's golden retriever mascot emerged in a flash to fetch the bat discarded by the preceding hitter.
While Teixeira and Youkilis were going a combined 0-for-4 with two walks, several Trenton prospects were making a more positive impression on Cashman.
Center fielder Slade Heathcott hit an opposite-field home run off Erie's Patrick Cooper in the fourth inning, and right fielder Tyler Austin launched a two-run homer in the sixth for the deciding runs in Trenton's 3-1 victory over the Seawolves. Catcher J.R. Murphy also had a nice moment when he made an impressive throw to cut down
Hernan Perez
on an attempted steal of second base.
ESPN's Keith Law ranked Austin 52nd on his top 100 prospects list this spring and slotted in Heathcott behind him at No. 57. Austin is hitting .266 this season, while Heathcott has recovered from a slow start to raise his batting average to .231.
"Obviously this is a new level for them both," Cashman said. "They're relatively young, and the weather hasn't cooperated for anybody here in the northeast out of the gate. Now it's the first real beautiful day here, and to see those guys turning up the heat when the heat turns up, it's great.
"It's nice to be able to tell people, 'These guys are going to play in New York.' It's nice to have that dialogue with our fans and point out different players and say, 'Hey, hey, keep an eye on this guy -- he's going to be special.' It's fun to do that."
February, 17, 2013
2/17/13
1:35
PM ET
TAMPA, Fla. -- It is really amazing how many players come into Yankees camp and talk about when they were nine or 10 and how they idolized
Derek Jeter
. Tyler Austin, one of the team's top prospects, is no different.
When Jeter
arrived in camp
, Austin met the captain for the first time.
"I just shook Jeter's hand for the first time less than five minutes ago," Austin said. "It was unbelievable. I could barely get his name out of my mouth as I tried to shake his hand. It was awesome."
Austin, 21, is one of the more exciting hitters in the Yankees' system. After compiling a .960 OPS in four leagues last year, he is slated to start the year in the outfield at Double-A Trenton.
February, 6, 2013
2/06/13
11:47
AM ET
It is amazing how quickly these lists can change. A year ago, Manny Banuelos was the talk of the Yankees, with
Dellin Betances
not far behind. Now, in Keith Law's Top 10 Yankees prospects, Banuelos is down to seventh, while Betances isn't even on the list. Banuelos slid because of Tommy John surgery, while Betances couldn't find the plate in 2012.
Still, there are plenty of youngsters to take their place in what Law ranks the 10th best farm system in baseball. Here are the rankings. In parenthesis is where the Yankees' top players fared in
Law's top 100
.
1. Gary Sanchez, C (18)
2. Mason Williams, CF (35)
3. Tyler Austin, RF (52)
4. Slade Heathcott, CF (56)
5.
Jose Ramirez
, RHP
6. Ty Hensley, RHP
7. Manny Banuelos, LHP
8. Jose Campos, RHP
9. Mark Montgomery, RHP
10. Angelo Gumbs, 2B
This is what Law writes:
The Yankees' system is top-heavy, with several elite prospects but not a ton of depth, led by the group of position players who started in low-Class A Charleston last year that could produce as many as three above-average or better regulars plus several other guys who'll have big-league value. The loss of Jose Campos for most of 2012 and for Manny Banuelos until 2014 hurts their pitching depth significantly, although the oft-injured Jose Ramirez was extremely effective when healthy this year.
To read more,
click here
(Insider).
February, 1, 2013
2/01/13
7:00
AM ET
We are now in February, just 11 days until Feb. 12, the day pitchers and catchers report to spring training -- and each day between now and then, Wallace Matthews, Mark Simon and I will present a list dealing with a specific issue facing the Yankees this season. Today, we look at the four guys who are the most exciting in the Yankees' system.
THE FOUR MOST EXCITING MINOR LEAGUERS IN THE YANKEES SYSTEM
To pick our four most exciting prospects in the Yankee system we enlisted Yankees VP of Player Development, Mark Newman, who was kind enough to give us his rave reviews. With Manny Banuelos out for the year with Tommy John surgery and
Dellin Betances
having regressed, the Yankees top prospects are in the lower levels of the minors, but Newman brings up names like
Mike Piazza
and
Bernie Williams
when discussing them.
In each description, we have the 2013 level that Newman expects them to begin the year.

1) MASON WILLIAMS
Position: CF
Age: 21
Height: 6-foot-0
Weight: 155
Throws: Right
Bat: Left
2012 A-Ball Stats: .298 average, .820 OPS
2013 Level: Single-A Tampa
Newman's Take:
"Bernie Williams-type He is an excellent defender. He is not a switch-hitter. He is a left-handed hitter. He can run and he can hit. He has hit well early in his career. We are going to try and have some patience with him."
2) GARY SANCHEZ
Position: C
Age: 20
Height: 6-foot-2
Weight: 220
Throws: Right
Bat: Right
2012 A-Ball Stats: .290 average, .829 OPS
2013 Level: Single-A Tampa
Newman's Take:
"We've got
Austin Romine
slated to start in Triple-A. We've got J.R. Murphy who caught in Double-A. Most likely Sanchez will start the season in Tampa. He has big power. He can really throw. I don't think there is a real easy comp on him. He is young. He can hit the ball a long way and he can hit the ball a long way to right field. Some of that stuff is similar to a [Mike] Piazza, but he's got big time arm strength. He's got a chance to be really special because of a couple of really significant tools and because of his age. He has performed well in leagues where he was two years, sometimes three years, younger than everybody else in the league."
3) SLADE HEATHCOTT
Position: OF
Age: 22
Height: 6-foot-1
Weight: 190
Throws: Left
Bat: Left
2012 Rookie/A-Ball Stats: .302 average, .841 OPS
2013 Level: Double-A Trenton
Newman's Take:
"He's in that A, Double-A. There is probably a better chance that he is going to start in Double-A. He's got power, great speed and is hyper aggressive. He plays as hard as you can play the game. He has to refine his skills, control his aggressiveness. He is a fun guy to watch. You don't find tools like this. He can fly. He can hit it up in the lights. He plays hard. He works hard. [Because of time missed due to injury,] I would not say that he is going to have any type of accelerated pace."
4) TYLER AUSTIN
Position: OF
Age: 22
Height: 6-foot-2
Weight: 200
Throws: Right
Bat: Right
2012 Rookie/A-Ball Stats: .320 average, .960 OPS
2013 Level: Double-A Trenton
Newman's Take:
"Austin was a third baseman, but now is an outfielder. The move was a combination of Austin's skills and where potentially we thought we could have a need on the major league level one day."
EXTRA POINT:
Coming Sunday, who are the minor leaguers who could help in the majors this year? Righty Mark Montgomery, who could have been on this list, leads the charge as a "
David Robertson
-type" reliever, to use Newman's words.

QUESTION: WHICH OF THESE PROSEPCTS EXCITE YOU THE MOST?
January, 31, 2013
1/31/13
6:22
PM ET
The Yankees announced who they are inviting to Major League camp. The most interesting names are Slade Heathcott, Cito Culver, Tyler Austin and Gary Sanchez. The Yankees have also signed
Travis Hafner to what is believed to be a major league deal
.
Here is the release:
The New York Yankees today announced that they have signed five players to minor league contracts with an invitation to Major League Spring Training: OF Matt Diaz, INF Dan Johnson, OF Thomas Neal, OF Juan Rivera and C Bobby Wilson. The club has also invited 39 additional players to 2013 Spring Training, bringing the total number of invitees to 44 (20 pitchers, six catchers, nine infielders and nine outfielders). The total number of players now scheduled to report is 84 – 17 more than 2012's total of 67.

The list of invites includes Yankees first-round draft picks OF Slade Heathcott (2009) and SS Cito Culver (2010), and 2012 South Atlantic League All-Stars OF Tyler Austin and C Gary Sanchez.

Diaz, who turns 35 on March 3, is a career .291 (543-for-1,863) batter with 211 runs, 97 doubles, 14 triples, 45 home runs and 225 RBI in 726 games over 10 seasons with Tampa Bay (2003-04), Kansas City (2005), Atlanta (2006-12) and Pittsburgh (2011). He is a career .324 (306-for-945) batter with 31 home runs against left-handed pitchers, and has appeared defensively at all three outfield position. Diaz grew up in Lakeland, Fla., played baseball at Florida State University and was selected by Tampa Bay in the 17th round of the 1999 First-Year Player Draft. His last name is pronounced Dye-ez.

Johnson, 33, has appeared in 413 combined Major League games over parts of seven seasons with Oakland (2005-08), Tampa Bay (2008, '10-11) and Chicago-AL (2012), batting .237 (313-for-1,320) with 59 doubles, 56 home runs and 194 RBI. He also played a season in Japan in 2009 with Yokohama. He spent most of the 2012 season with Triple-A Charlotte (.267, 127-for-476, 28 home runs), before appearing in 14 games with the White Sox as a September call-up (.364, 8-for-22). He hit three homers in the team's regular season finale at Cleveland. He was originally selected by Oakland in the seventh round of the 2001 First-Year Player Draft.

Neal, 25, made his Major League debut in 2012 with the Cleveland Indians, going 5-for-23 (.217) in nine games. He spent the majority of the season with Double-A Akron, batting .314 (127-for-405) with 77 runs, 24 doubles, 12 home runs and 51RBI in 117 games for the Eastern League champions. Among Eastern League leaders, he ranked third in on-base percentage (.400), fourth in batting average and tied for fifth in runs, appearing in games at all three outfield positions. Neal was originally selected by San Francisco in the 36th round of the 2005 First-Year Player Draft, and acquired by Cleveland on 7/30/11.

Rivera, 34, batted .244 (76-for-312) with 14 doubles, nine home runs and 47 RBI in 109 games with the Dodgers in 2012. He made 30 starts in left field, 39 at first base, five in right field and one at DH. Originally signed by the Yankees as a non-drafted free agent in 1996, Rivera appeared in 88 games with the Yankees over parts of three seasons (2001-03), hitting .262 (68-for-260) with eight home runs. He has collected 67 outfield assists in his career, tying for 12th-most among active players in the Majors since his debut in 2001.

Wilson, 29, has spent his entire career in the Angels organization, after being selected by the Angels in the 48th round of the 2002 First-Year Player Draft out of St. Petersburg College. He hit .211 (36-for-171) with five doubles, three home runs and 13 RBI in 75 games in 2012 with the Angels, and caught 15-of-60 stolen base attempts (25.0%) – the seventh-highest percentage among AL catchers. A native of Dunedin, Fla., Wilson is a career .208 (81-for-389) batter in 191 Major League games with a .994 fielding percentage behind the plate, and catching 23.0% of potential base stealers (29-of-126).

2013 SPRING INVITEES
OF Abraham Almonte
C Francisco Arcia
OF Tyler Austin
INF Greg Bird
RHP Corey Black
LHP Juan Cedeno
RHP Preston Claiborne
INF Cito Culver
RHP Matt Daley
OF Matt Diaz
OF Adonis Garcia
RHP Shane Greene
RHP Nick Goody
OF Slade Heathcott
RHP David Herndon
C Kyle Higashioka
INF Walter Ibarra
INF Dan Johnson
RHP Tom Kahnle
INF Addison Maruszak
RHP Jim Miller
RHP Bryan Mitchell
RHP Mark Montgomery
INF Luke Murton
OF Ronnier Mustelier
C J.R. Murphy
OF Thomas Neal
INF Jayson Nix
RHP Zach Nuding
LHP Vidal Nuno
RHP Mike O'Brien
RHP Kelvin Perez
RHP Branden Pinder
INF Jose Pirela
RHP Ryan Pope
OF Juan Rivera
INF Kyle Roller
C Gary Sanchez
OF Rob Segedin
LHP Josh Spence
LHP Matt Tracy
INF Gil Velazquez
RHP Chase Whitley
C Bobby Wilson