New York Yankees:

Yankees
June, 4, 2013
6/04/13
3:28
PM ET
Here is your Tuesday lineup against lefty
Scott Kazmir
:


Ichiro Suzuki
, CF
Jayson Nix
, SS
Mark Teixeira
, 1B
Robinson Cano
, DH
Vernon Wells
, LF
Kevin Youkilis
, 3B
David Adams
, 2B
Lyle Overbay
, RF
Chris Stewart
, C
David Phelps
, P
December, 11, 2012
12/11/12
3:10
PM ET
In a fun project, ESPN.com has put together the Top 100 players of all-time. I have a feeling a certain Yankee that wore No. 3 will end up No. 1, but we will have to wait and see.
On Tuesday, No. 76-100 and the list of snubs have been presented. Not making the Top 100 is none other than Mr. May, Dave Winfield, who, according to our experts, was not as good a baseball player as
Mark McGwire
, Gary Carter and
Mike Piazza
, to name a few. Winfield finished 104 in the voting.

Winfield is your classic compiler -- an excellent player for a long time (3,110 career hits) who led the league in any category in only one season (118 RBIs in 1979).

That lack of dominance, plus a career .208 postseason average that made George Steinbrenner call him Mr. May, is why he's outside the 100.
There is so much fun stuff that I'm just that I'm giving two links. First, the
initial list from 125-76
and then to the
MLB page
so you can read all the hot debates. Over the next two days, we will countdown to, I presume, The Babe.
September, 23, 2012
9/23/12
7:21
PM ET
Manager Joe Girardi hopes
Mark Teixeira
can return during the team's upcoming seven-game road trip.
The Yankees first baseman has been out since Sept. 8 with a strained right calf.
"I hope so. I can't tell you," Girardi said. "It really all depends on what happens in Florida and how well it goes. He's had more time (off) this time than the last time, and feels pretty good. I hope so."
Teixeira hopes to start ramping up his baseball activity at the team's complex in Tampa on Monday. He did jogging on Saturday.
"Grounders aren't going to be a problem, hitting's not going to be a problem," Teixeira explained Saturday. "It's when you have to accelerate, hit that first step, or maybe a jog to a run. If I overload it ... it feels a little tight, a little sore."
•
Hiroki Kuroda
wasn't Mr. Reliable on Sunday. The 37-year-old righty was tagged for five runs (four earned) on seven hits in 5 2/3 innings. He also tied his season-high with two wild pitches.
In four September starts, he's 2-1 with a 5.63 ERA. He has allowed at least four earned runs in each of his last three starts at Yankee Stadium.
"His command was off a little bit," Girardi said. "He left some offspeed pitches in the middle of the plate, which you don't want to do. But he's keeping us in the game, that's the bottom line."
• Girardi said that
Andy Pettitte
will be on an 85-90 pitch count on Monday night in Minnesota, but they could "push the issue" a little bit depending on how the 40-year-old left-hander performs and feels.
•
Brett Gardner
thinks he could be activated from the DL "soon."
"My body feels like it's March, but my mind feels like it's October," he said.
• Girardi was upset about first-base umpire Larry Vanover's missed call at first prior to Cliff Pennington's two-run homer in the second. Replays showed
Eduardo Nunez
appeared to throw out
Josh Donaldson
, but Vanover ruled him safe.
"It's one run, and we lost by one run," Girardi said. "I thought he was out by about a step. I didn't even think it was close. (Larry) thought he beat it. I never saw the replay, but you can hear the reaction from the crowd, and that usually tells you what the replay is, and it's unfortunate."
September, 19, 2012
9/19/12
11:34
PM ET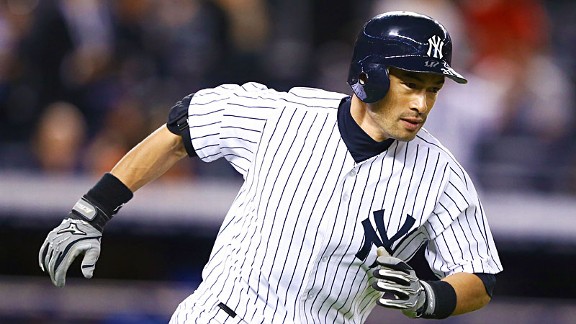 Al Bello/Getty ImagesIchiro Suzuki on Wednesday had his best day so far in pinstripes.
A game-saving catch during the day. A game-winning hit at night.
Ichiro Suzuki
must've felt like it was 2004.
In a throwback performance for the ages, the 38-year-old left fielder combined to go 7-for-8 at the plate in Wednesday's doubleheader, leading the Yankees to a sweep of the Blue Jays at Yankee Stadium.
"It was just an unbelievable day, and that two-out hit in the eighth just kind of capped it off," manager Joe Girardi said, referring to Ichiro's RBI single with two outs in the eighth inning that gave the Yankees a 2-1 victory in the nightcap. "We talked about it, he's been swinging the bat better. I've given him a day off here and there, which kind of helps him as well, but he was huge for us today.
"I know in facing him, I always worried when he came to the plate, so I feel good when he's up there. He's played extremely well for us and has been extremely versatile. You can't ask him to do any more."
In Game 1, Ichiro went 3-for-4 with a double and two runs scored. The Blue Jays were threatening and had the bases loaded in the eighth, but with two outs, Ichiro fought off the blinding sun to make a tremendous basket catch and preserve a one-run lead. The Yankees went on to win, 4-2.
"I'm glad I don't have a big belly because the ball might have hit the belly and popped out," he joked.
Then, in Game 2, Ichiro delivered just the second four-hit, four-stolen-base performance of his career. After
Curtis Granderson
walked, advanced to second on a sacrifice bunt and stole third, Ichiro knocked him home with a looper to left to snap a 1-1 tie in the eighth. The Yankees had been 2-for-12 with runners in scoring position at the time. His career-high-tying four stolen bases tied a franchise record as well.
"I haven't done anything different today, so I don't know what the difference was," Ichiro said. "I'm very sad that the day is over, but ... we definitely need to go after the game tomorrow and get prepared to play the game. It was a great day."
Ichiro is just the seventh Yankee since 1969 to record at least three hits in each game of a twin bill, joining
Derek Jeter
(2008),
Johnny Damon
(2006), Willie Randolph (1987), Dave Winfield (1983), Matty Alou (1973) and Roy White (1972).
"I go up to the plate thinking I'm going to get a hit every time I'm at the plate," Ichiro said. "Now, the results were different today. I'm not sure what the difference was, but I did go up with the mindset that I was going to get a hit every at-bat."
When they traded for him in July, the Yankees hoped that being in a pennant race for the first time in more than a decade would reinvigorate Ichiro. And it has. In 52 games since being acquired by New York, Ichiro is hitting .317 (52-for-164) with three homers and 19 RBIs.
"When you're swinging the bat well, you're swinging the bat well," Girardi said. "It's been going for a while now, so I hope it just continues -- for months."
Wednesday might in fact mark the day Ichiro not only became a "True Yankee," but an everyday Yankee as well.
"I think it's possible," Girardi said. "It helps when we can give him a day. I think it keeps him [stay] fresh. He was outstanding, but no, I think it's very possible, yes."
The Yankees got five important innings out of
Andy Pettitte
in his return to the mound on Wednesday.
Even more important, perhaps, they seem to have unearthed another weapon in Ichiro.
"I came here in the middle of this season and have always just wanted to contribute, to help in this pennant race, and today was a great day," he said.
April, 20, 2012
4/20/12
7:00
AM ET
It is the 100th anniversary of Fenway Park. The Yankees and Red Sox will be wearing cool, old-school uniforms. But it is something that you can't see that makes the rivalry extra special.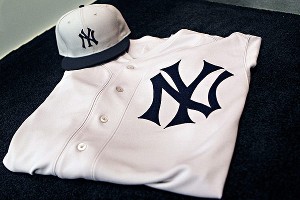 New York YankeesThese are the uniforms the Yankees will wear Friday in Boston for the 100th anniversary of Fenway Park.
"I love playing Boston because of the intensity,"
Russell Martin
said. "It makes you forget about everything. It is just about winning games when you play them. I love that atmosphere. That is how it should be all the time. But when you play Boston, the only thing you care about is playing good baseball. So that is the mindset."
The intensity is what makes the Yankees-Red Sox rivalry so much fun. It is why
Bobby Valentine
, who may be hated more in Boston than he is in the Bronx right about now, adds to the festivities. Valentine's words and actions are a new chapter in the century of games at Fenway. The players care because they love the added energy, which starts with people like you, who read this blog.
"It starts with the fans," Martin said. "It has that playoff atmosphere."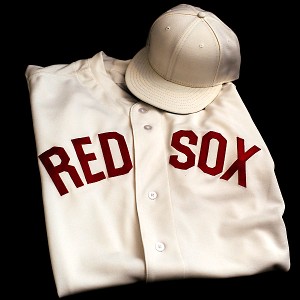 Boston Red SoxThese are the uniforms the Red Sox will wear.
Martin even went as far as to say last year that he hates the Red Sox.
"Do I still hate them?" Martin said. "I never really hated them. It made for good paper."
Valentine said the
same thing
at the Winter Meetings in the offseason. It made for good copy. Now, they play for the first time in 2012. Enjoy.
UP NOW:
I detailed
Curtis Granderson's
night,
the anti-Reggie's big night
.
Johnette Howard
says the Red Sox
are like the Boss' Yankees
.
The Binder
took a loss
in the first inning.
Matt Ehalt
goes into detail on
Phil Hughes
and
Derek Jeter
.
ON DECK:
The pitching matchups for the weekend series are as follows: Friday,
Ivan Nova
(2-0, 4.15 ERA) vs.
Clay Bucholz
(1-0, 9.82); Saturday,
Freddy Garcia
(0-1, 6.97) vs.
Felix Doubront
(0-0, 5.40); Sunday,
CC Sabathia
(1-0, 5.59) vs.
Daniel Bard
(0-2, 4.63)
IN THE HOLE:
We have you covered all day and night. At 9:40 a.m., I will post the most memorable moments from Yankees-Red Sox at Fenway. At 10:30,
Joe Girardi
will share his favorite moment from Fenway. Around 11,
Mark Simon
will have his What2Watch4.
Wallace Matthews
and
Ian O'Connor
will be in Boston. I will be joining them for Saturday's and Sunday's games. Let me say it is great to have Wally back, and if you haven't read his
touching column
about his father, you should.
QUESTION OF THE DAY:
Do you think the Yanks and Sox will be fighting it out for the AL East title come September?
April, 17, 2012
4/17/12
3:46
PM ET
Here's the lineup for Tuesday's game against the Twins, first pitch scheduled for 7:05 p.m.
Mark Teixeira
has been
scratched
because of flu-like symptoms, which caused
Joe Girardi
to shift his lineup, making Derek Jeter the DH and Nick Swisher the first baseman. Eduardo Nunez is now the shortstop.
Derek Jeter,
SS
,DH
Nick Swisher,
DH
,1B
Robinson Cano, LF
Alex Rodriguez, 3B
Mark Teixeira, 1B
Andruw Jones, RF
Curtis Granderson, CF
Andruw Jones,RF
Eduardo Nunez, SS
Brett Gardner, LF
Chris Stewart, C
CC Sabathia, P
October, 24, 2011
10/24/11
3:36
PM ET
Would you sign
CC Sabathia
? For how long and for how many years?
I just went into full detail about
how bad these long-term free agent pitching contracts almost always are
. So this is what I would do if I were Yankees GM
Brian Cashman
:
My initial offer would be for five years and $125 million. This is a fair starting point. It bumps Sabathia up to $25 million per year, giving him the highest average annual value ever for pitcher. It also tacks one more season on to his contract, making him a Yankee until he is 37.
If Sabathia wants to shop for a sixth year, I would tell him to go for it, but we want you. If Sabathia can find a six-year contract for the same money, I would match it. Sabathia has repeatedly said he loves it in the Bronx, this would be his chance to prove it.
Now, this is where it could get dicey and the column I linked to above gains more significance for me. If Sabathia gets a seventh year at $25 million per year, I would let him walk.
I just think having Sabathia at that dollar figure until he is 39 is not worth it. That money is an asset and I think you are buying too many potentially bad/injured seasons. Even at six, you might be only getting three good and three bad years. But, I would risk it at six, but the probability at seven is that you are going to get at least three average or below average seasons. At least.
If Sabathia walked, I would allocate that Sabathia money in other ways to try make up for what would be a huge loss; especially in the short term.There are many ways to build a championship team.
What do you think? What would be your plan if you were the Yankees GM?
May, 19, 2011
5/19/11
12:42
AM ET
In the 15th inning, Baltimore Orioles reliever Mike Gonzalez beaned Chris Dickerson in the helmet, sending the right fielder to the ground for about a minute as manager Joe Girardi and trainers looked him over.

Dickerson's helmet was cracked by the 93-MPH fastball. Gonzalez had just given up Robinson Cano's two-run double. He was thrown out of the game.

At first, Dickerson looked as if he would stay in the game, but instead A.J. Burnett pinch-ran for Dickerson, who was later taken to the hospital for a CT scan. Girardi thought Dickerson has a concussion, but even with a huge welt on the side of the head believed he would be fine.

"You have to assume he has a concussion," Girardi said.

The Yankees called up Dickerson on Tuesday after Nick Swisher became ill. Dickerson was a defensive replacement for Swisher on Wednesday.
August, 27, 2010
8/27/10
9:00
AM ET
By
Katie Sharp, ESPN Stats & Info
For whatever reason, there have been an abundance of interesting statistical nuggets to come out of Yankees baseball over the last seven days. Here at ESPN, we like to fiddle around late at night through
Baseball-Reference.com
, and ask our friends at the Elias Sports Bureau to help in checking them all out
For those who have missed it, here's a sampling of what we've found, both for better and for worse. Curious to see what will come up tonight in Chicago.
AUGUST 20
•
Felix Hernandez
is the third pitcher since 1920 with three games of an 8/9/1 line (eight or more innings, nine or more strikeouts, no runs, or one run allowed) against the Yankees.
The others are Hall of Famers
Lefty Grove
in 1926 and
Bob Feller
in 1941 (both with three such games).
•
A.J. Burnett
allowed three stolen bases vs the Mariners and now has now allowed 32 stolen bases this season. That is the second-most in a single season by a Yankees pitcher since 1920.
Roger Clemens
has the most by a Yankee in the Live-Ball Era, with 34 in 2001.
AUGUST 22
Besides all the stuff related to grand slams, which you may have
seen earlier this week
:
•
CC Sabathia
has won 15 straight decisions at home. Via the Elias Sports Bureau, that is the third-longest home win streak by a Yankees pitcher in franchise history, trailing only
Johnny Allen
(1932-33) and
Ron Guidry
(1985-86), with 16.
•Sabathia is now undefeated in his last 20 starts at home. Via Elias, that is the second-longest streak without a loss at home by a Yankees starter in franchise history, trailing only the 21 by
Whitey Ford
(1964-65).
• To complete our statistical triple crown -- Sabathia now has pitched 16 consecutive quality starts, the longest such streak by a Yankees starter in franchise history (earned runs became official in 1913).
AUGUST 25
•
Jorge Posada
had his 17th four-hit game as a catcher for the Yankees. That is now tied with
Thurman Munson
for the second-most four-hit games by a Yankees catcher since 1920. Hall of Famer Bill Dickey paces all Yankees backstops -- he had 36.
AUGUST 26
•
Phil Hughes
went just 3 2/3 innings but threw 102 pitches on Wednesday vs the Blue Jays. That is the most pitches thrown by a Yankees starter in less than four innings since
Tim Leary
threw 104 pitches on May 1, 1991 vs the A's.
•
Javier Vazquez
has now allowed a home run in eight straight games. That is the longest single-season streak by a Yankee since
Andy Pettitte
allowed a HR in eight straight games in 1999 (19 straight, combining 1999-2000).
Katie Sharp is a researcher for ESPN's baseball game telecasts
April, 4, 2010
4/04/10
2:58
PM ET
There are few things in the world I like more than matchups. Who is better? Who is worse? To me, that is why we love talking sports.
So when one of my first assisgnments on the new site was
matching up the Red Sox and Yankees
rotations, I was psyched. I gave the Red Sox the slight edge because of the three questions I asked execs.
If you could have one pitcher, whom would it be? If you have one rotation for the regular season, whom would pick? And if you could have one young starter from each team whom would choose?
I kept it to the regular season, because it is silly to talk about the playoffs when we have no idea about injuries or whom the teams will trade for by then.
CC
, to me, is clearly the best starter, but I did like what one GM said about
Jon Lester
possibly challenging him. Lester is by far the best young starter.
That leaves us with which rotation is better for the regular season. You could go either way, but I think the Yankees' rotation is a little more fragile and, while much deeper than last year, not as deep as the Sawx.