WHAT IT MEANS: St. John's lost the first game of the Steve Lavin era, 76-71 to Saint Mary's, in a game that tipped off just after 2 a.m. ET in Moraga, Calif., and ended at 4:28 a.m. ET. This was no big surprise -- Saint Mary's was a Sweet 16 team a season ago and returned three starters, while St. John's returned four starters from a team that lost in the first round of the NIT. Nonetheless, Lavin has to be a tad disappointed, considering his team led 31-28 at halftime, and 40-39 with under 10 minutes to play. The Red Storm certainly could have won this game.
Lavin said in the preseason that he scheduled this challenging opening game for a number of reasons: It put St. John's on national TV during the early signing period; it gave his team experience playing a tough road game prior to Big East play; and it served as a test, to see where his team is after several weeks of practice under a brand-new coaching staff. So win or lose, St. John's did accomplish some things via this game.
But remember, the Red Storm led at halftime in seven of their 16 losses last season -- including four games against top-25 teams. And despite the coaching change, they blew another halftime lead to start the 2010-11 season. So there's reason to be disappointed.
"We wanted to open with this sort of tough matchup, where you get a report card and you can really get to work. I liked our competitiveness and cohesiveness," said Lavin after the game. "Execution is where we struggled. We labored to score for some key stretches and allowed them to make some big shots. We like our basketball team and there are things we can do as a coaching staff to work on some things offensively, and clean up some things defensively with our zone and press."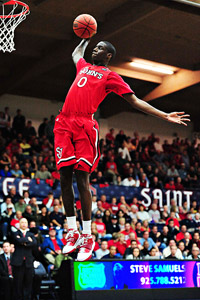 Kyle Terada/US Presswire
Dwayne Polee was St. John's best player in his first college game, with 16 points, including a highlight-reel slam.
POINT BREAK: Don't let the final score fool you -- this was a low-scoring affair until St. John's started fouling in the final three minutes. The Red Storm didn't score in the first five minutes of the second half, and made just two field goals in the first 15 minutes, 38 seconds of the half. D.J. Kennedy and Dwight Hardy -- the team's top two scorers a season ago -- had just two field goals in the game combined. It's going to be very difficult for St. John's to win games this season if that continues. Kennedy was 1-for-5 from the field, and Hardy was 1-for-6. Both collected some points at the foul line, but Kennedy in particular needs to be more aggressive in creating shots for himself.
THE BRIGHT SIDE: The lone St. John's freshman, Dwayne Polee, didn't wait long to host his coming-out party, leading the Red Storm with 16 points on the night. He used his long arms to create havoc on defense, with four steals and a blocked shot. He also knocked down a couple of 3-pointers, and had a fast-break dunk on which he practically jumped over the backboard. And unlike Kennedy and Hardy, Polee was aggressive on offense, taking 16 shots -- despite the fact that he is the only freshman on a team with 10 seniors. Polee is the real deal.
BODY BLOWS: The St. John's defense looked very good at times, swarming in its matchup zone and applying some full-court pressure. But the Red Storm lost track of Saint Mary's forward Clint Steindl time and time again on the baseline, and he destroyed them, connecting on seven of his 10 attempts from beyond the arc. That needs to be corrected going forward.
NOT SO FAST: Lavin had been touting senior forward Justin Brownlee as the team's most improved player from a season ago, inserting him into the starting lineup even though Brownlee started only three games last year. But Brownlee got into early foul trouble, and ended up being a non-factor in the game, scoring just a single point in 13 minutes of action.
WHAT'S NEXT: The Red Storm's flight home departs San Francisco International Airport at 11:45 a.m. on Tuesday, and is scheduled to arrive at JFK at 8:35 p.m. Tuesday evening. Less than 24 hours later, they'll play their home opener at Carnesecca Arena, versus Columbia.
It's a game that St. John's clearly should win -- but it's a very short turnaround. We'll see if there's any jet-lag effect, or any sort of letdown after the season-opening defeat.