December, 29, 2014
Dec 29
10:30
AM ET
LANDOVER, Md. --
Santana Moss
is ready to go -- but to where is the question. It could be off into the sunset, marking the end of a career. It could be into another season, extending a career that began in 2001.
Regardless, Moss will be ready.
"I can't predict it and I won't predict it," Moss said. "And I won't sit here and dwell on it. I'll enjoy my life and I'll be prepared for whatever happens in the offseason, whatever phone call I get.
"If I'm not allowed to play no more, then oh, well. But I know I can still play physically."
Moss
It's not that he wants to retire, it's that he might not have a choice. But Moss is OK if that's the case. His career began as a first-round pick of the
New York Jets
in 2001.
Multiple people in the Redskins' organization wanted him, but then-coach Marty Schottenheimer opted for receiver Rod Gardner instead. Moss went one pick later. But the Redskins got him four years later in a trade. In 10 seasons with Washington, Moss caught 581 passes with 47 touchdowns. For his career, Moss has caught 732 passes with 66 touchdowns.
But he's not one to brag about what he's done or discuss his impact on the organization.
"I won't never tell you," he said. "I'll let someone else tell you. That ain't my place."
The problem for Moss is that he's 35 and coming off a 10-catch season. He's a good player to have around the young wideouts, but it becomes tough to keep someone like that around for too long unless they're producing more.
What Moss doesn't want: hoopla. Or drama.
"I don't get into all that stuff," he said. "You all drag stuff on and make it bigger than what it is. When I'm done I'll be home and there will be no goodbyes. That's how I'll do it. I won't sit here and make it about what this is. I don't plan for nothing so whatever happens it'll happen on the go and happen how it's supposed to be. So at the end of the day I'll treat it as another season and prepare for whatever else is next."
Exiting off a 4-12 record (preceded by a 3-13 mark) is not the ideal ending for Moss or any other player.
"What player wants to go out the way I went out this year? Nobody does," he said. "I'll always be prepared to make it another run, but I'm trying to win, man. That's the only reason I'm still playing. All the accolades is in the past, it's been done. ... I never want to leave this place. Hopefully I'll continue to be part of this place. ... What [owner Dan] Snyder has meant to me and my family has meant the world. I love this organization. When I came here in '05, it was a blessing in disguise."
December, 29, 2014
Dec 29
9:30
AM ET
Rex Ryan's six-year run as head coach of the
New York Jets
is over. Here are the highlights and lowlights of a tenure that included consecutive trips to the AFC Championship Game, followed by a four-year playoff drought: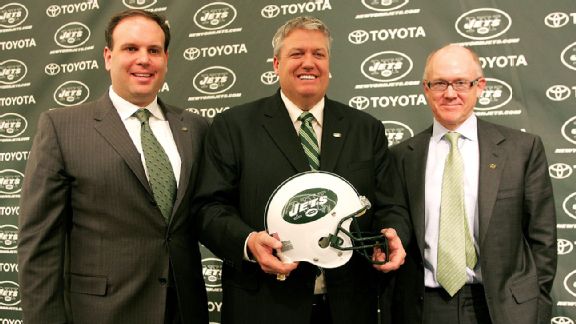 Andy Marlin/Getty ImagesGM Mike Tannenbaum and owner Woody Johnson introduced Rex Ryan as coach on Jan. 21, 2009. During the news conference, Ryan said he expected the Jets to meet President Barack Obama at the White House -- as Super Bowl champs -- "in the next couple years."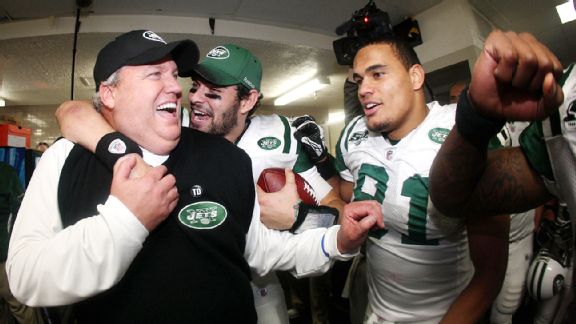 Al Pereira/Getty ImagesThe Jets reached the AFC Championship in each of Rex Ryan's first two seasons as head coach. Here, he celebrates with Mark Sanchez and Dustin Keller after a 17-14 victory over San Diego in the divisional playoffs on Jan. 17, 2010.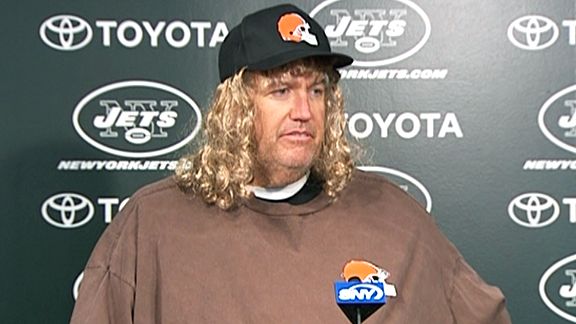 Courtesy of NY JetsThis much is certain: Ryan was never boring. On Nov. 10, 2010, for a news conference leading up to a game in Cleveland, Ryan dressed up as his twin brother, Rob, then the Browns' defensive coordinator.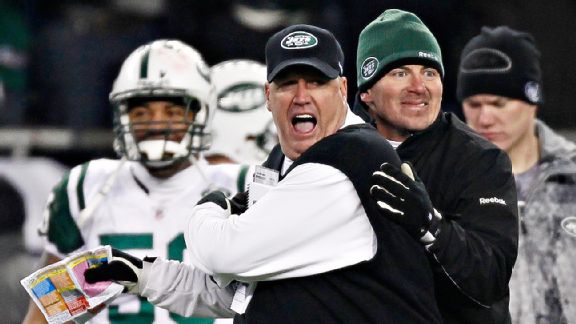 AP Photo/Winslow TownsonRyan was fired up on Jan. 16, 2011. That was the date of the a 28-21 victory over New England in the divisional playoffs -- the pinnacle of Ryan's tenure as the Jets' head coach. The team hasn't reached the playoffs since that season.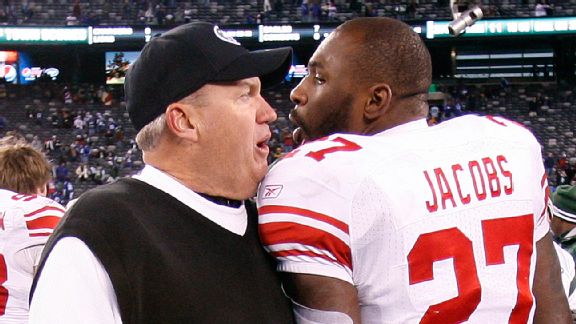 William Perlman/THE STAR-LEDGER/USA TODAY SportsRyan and Brandon Jacobs exchanged insults after the Jets' 29-14 loss to the Giants on Christmas Eve in 2011. (Jacobs referred to Ryan as a "very disrespectful bastard" during an on-field interview). The game sparked the Giants' march to Super Bowl XLVI.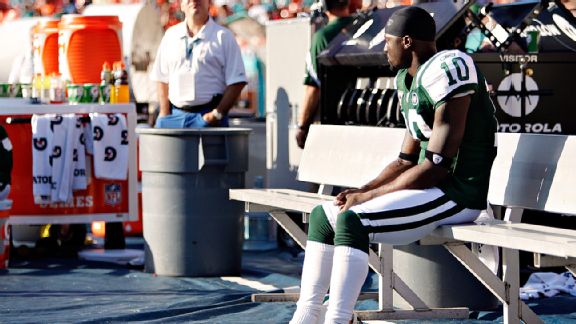 AP Photo/Lynne SladkyThe Jets melted down in Miami on Jan. 1, 2012, capping a three-game skid that eliminated them from playoff contention. Santonio Holmes, one of Ryan's team captains, was benched for the final minutes of the game after an ugly exchange in the huddle.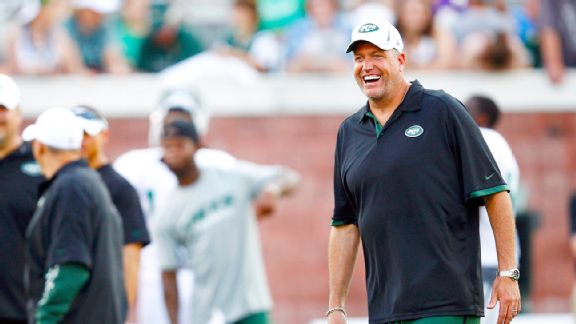 Mark L. Baer/USA TODAY SportsSporting a more svelte look, Ryan announced at training camp in 2012 that he had dropped 106 pounds during more than two years of gradual weight loss.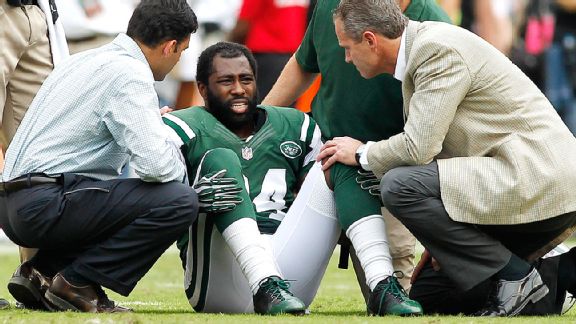 Robert Mayer/USA TODAY SportsRyan's defenses rely on quality play from the cornerbacks -- and nobody in the business is better than Darrelle Revis. But his Jets career ended with a knee injury on Sept. 23, 2012, in Miami. Ryan's record without Revis in the lineup was a paltry 19-30.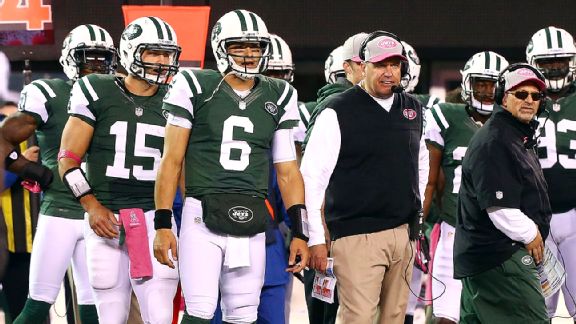 Jim McIsaac/Getty ImagesThe Jets' 2012 season was described -- often -- as a circus. Ryan and Tony Sparano never figured out how to integrate Tim Tebow (15) into the offense. QB Mark Sanchez (6), meanwhile, lost his job -- but not to Tebow. Greg McElroy took over in Week 16.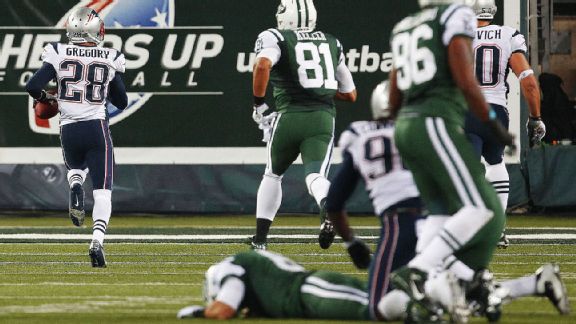 William Perlman/USA TODAY SportsThanksgiving 2012: The Patriots scored 35 points during a wild second quarter that included a play forever known as the "Butt Fumble." Mark Sanchez ran into Brandon Moore's posterior, and Steve Gregory returned the ensuing fumble for a touchdown.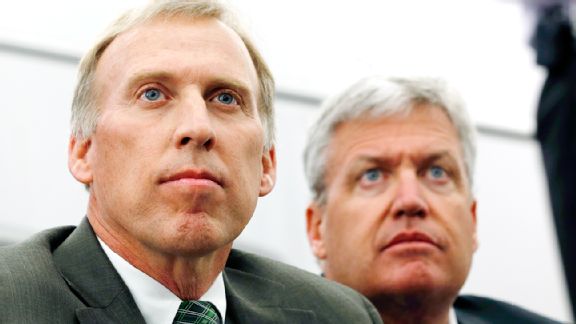 AP Photo/Julio CortezRyan was on hand when John Idzik was introduced as the Jets' general manager on Jan. 24, 2013. The partnership didn't work out for either man -- or the Jets.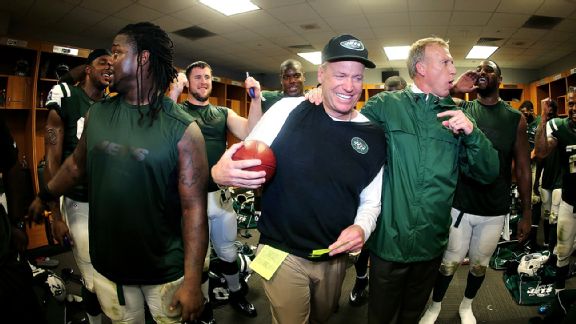 Al Pereira/New York Jets/Getty ImagesThe Jets improved to 8-8 with a season-ending victory in Miami on Dec. 29, 2013. The scene in the locker room was emotional when Idzik announced that Ryan would return as head coach in 2014.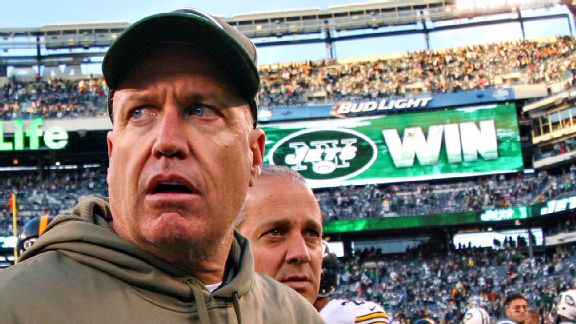 Ed Mulholland/USA TODAY SportsDuring the dizzying train wreck that was the 2014 season, Ryan looked stunned after one of the Jets' rare victories, 20-13 over Pittsburgh to snap an eight-game skid.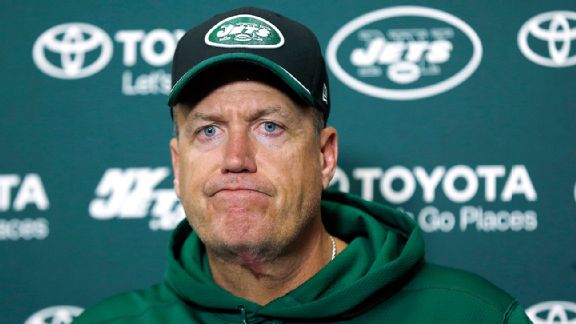 AP Photo/Paul SancyaOne of the low points of Ryan's final season was a 38-3 loss to a Buffalo team that had been displaced by a snowstorm. "We couldn't do anything," Ryan said. "We couldn't block, we couldn't tackle. Just an awful performance. I'm the guy responsible."
December, 29, 2014
Dec 29
9:20
AM ET
FLORHAM PARK, N.J. --
New York Jets
owner Woody Johnson released the following statement Monday morning:
"After extensive thought and reflection about the current state of our football team, this morning I informed Rex Ryan and John Idzik that they will not be returning for the 2015 season. Both Rex and John made significant contributions to the team, and they have my appreciation and gratitude for their efforts and commitment. Over the years, Rex brought the Jets a bold confidence and a couple of great post-season runs, which all of us will remember.

"I am beginning our search for new football leadership, effective immediately, with guidance and support from respected football experts, including Charley Casserly and Ron Wolf, two Super Bowl winners with decades of valuable experience.

"We will consider all options to improve the Jets.

"Getting the Jets back on track is my top priority, and today's decisions are important steps towards achieving our goals."
December, 29, 2014
Dec 29
8:43
AM ET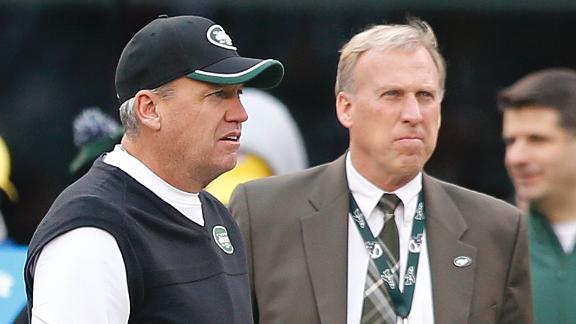 FLORHAM PARK, N.J. -- A few takeaways
on the firings
of
New York Jets
coach Rex Ryan and general manager John Idzik on Monday morning:
1.
Owner Woody Johnson is rebooting, and not a moment too soon. Not only did the Jets miss the playoffs for the fourth straight season, but there also was dysfunction within the organization. There were conflicting agendas and clashing philosophies -- coaching staff versus management, offense versus defense and run versus pass. The franchise needs a fresh start and a strong leader who can galvanize it.

Ryan
2.
Ryan never had a chance this season. He was handed a poorly constructed roster by Idzik, who failed to supply his head coach with the necessary tools to win. Isn't that the GM's job? Ryan coached most of the season with third-rate cornerbacks, hampering his ability to run his style of defense. It was gross mismanagement by Idzik.
3.
Ordinarily, you could argue that a GM deserves more than two years, but Idzik's mistakes were so profound that he deserved a quick hook. His stubbornness in free agency, coupled with a poor 2014 draft, resulted in serious damage to the roster. He also failed to find a long-term solution at quarterback. Idzik's micromanaging style created an unhealthy working environment at One Jets Drive. His return would have scared away potential head-coaching candidates.
4.
Johnson deserves plenty of blame, too, for hiring a former cap expert with a limited background in scouting and personnel. He also messed up by forcing Ryan on Idzik, an arranged marriage that backfired. Johnson has reached a crossroads in his ownership. He must seize this opportunity to re-establish the franchise's credibility because right now it's in the gutter.
5.
Ryan teased the Jets' fan base by starting out with two near-championship seasons, but he was a mediocre coach over his final four years -- a 28-38 record, including no winning seasons. It's too bad, because he was one of a kind, a larger-than-life personality with the goods to succeed on the New York stage. It's hard to find coaches like that. Ryan changed the perception of the Jets, blowing into town with his bold predictions and tough-guy swagger. He was the right coach at the right time, but the talent dried up.
6.
Ryan's blind spot for offense was his downfall. He went through three coordinators and two primary starters at quarterback during his tenure, cracking the top 20 in total offense only once. Ryan rarely meddled in the offense, letting his coaches coach. They appreciated the hands-off approach, but it created a split-squad perception. With Ryan's defense, the Jets didn't have to be great on offense. Average would have sufficed, but they never got to that level, failing to stabilize the quarterback position and develop any offensive stars. The Jets need an offensive-minded coach, or at least a star coordinator, who can help
Geno Smith
and/or The Next Hope at quarterback.
7.
The Jets didn't have playoff-caliber talent this season, but they could have stayed in the hunt longer if Ryan had reacted quicker to two issues. He stayed with Smith too long; he should have gone to
Michael Vick
at 1-4. Ryan was loyal to a fault when it came to his quarterbacks, although we will cut him some slack in this case because Idzik was no doubt pushing for Smith. Ryan's other mistake came on defense. Undermanned at cornerback, he adapted his scheme as the season progressed, blitzing less frequently and playing more zone than usual -- but it was too late. He stuck with his man-to-man schemes through the early part of the schedule and was shredded by the likes of
Aaron Rodgers
,
Philip Rivers
,
Peyton Manning
et al.
December, 29, 2014
Dec 29
8:31
AM ET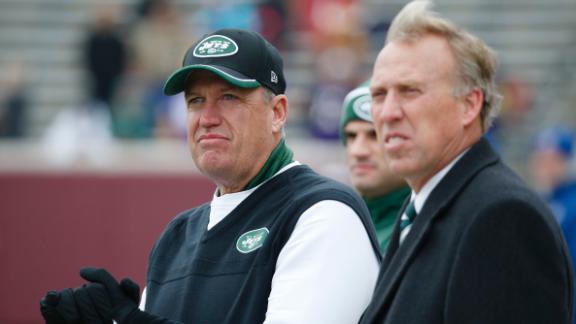 FLORHAM PARK, N.J. -- Coach Rex Ryan and general manager John Idzik were fired early Monday morning, the first casualties of the New York Jets' fourth straight year out of the playoffs.
Owner Woody Johnson made the decisive, if not surprising, moves after his team stumbled to 4-12, its worst record since 2007. Johnson recently called it the most difficult of his 15 seasons as the head of the organization.
Johnson said in a statement that he made the changes after "extensive thought and reflection about the current state of our football team."
"Both Rex and John made significant contributions to the team, and they have my appreciation and gratitude for their efforts and commitment. Over the years, Rex brought the Jets a bold confidence and a couple of great postseason runs, which all of us will remember," Johnson said in a statement.
He confirmed that former NFL general managers Charley Casserly and Ron Wolf, whom he called "two Super Bowl winners with decades of valuable experience," will help him find a new GM and coach. Johnson hasn't hired a coach-GM tandem since 2001.
"We will consider all options to improve the Jets," Johnson said. "Getting the Jets back on track is my top priority, and today's decisions are important steps towards achieving our goals."
Ryan's fate was sealed several weeks ago, as the Jets were mathematically eliminated from postseason contention before Thanksgiving. In recent days, he had been telling friends he expected to be fired.
"I'm not afraid of what lies ahead, I can tell you that," Ryan said Sunday after the Jets beat the Miami Dolphins.
Until recently, the decision to fire Idzik was less certain, if only because he was hired just two years ago. But news of the Jets' hiring Casserly last week was a clear sign that Johnson wanted to take the franchise in a different direction.
Idzik came under heavy criticism for his conservative spending, his poor 2014 draft class and a rambling, midseason news conference in which he seemed out of touch with the sorry state of the team. It prompted a group of disgruntled fans to raise money to purchase a "Fire John Idzik" billboard near MetLife Stadium.
Ryan and Idzik, paired by Johnson, spent two seasons together, raising expectations after a surprising 8-8 finish in 2013. Ryan received a contract extension -- guaranteed money through 2015 -- but the 2014 season was undermined by poor quarterback play and a glaring lack of depth at cornerback.
The Jets lost eight straight games at one point, resulting in what Ryan called an "awful" season.
Ryan finished with a 46-50 record in six seasons, the third-longest tenure among Jets' head coaches. He won more postseason games (four) than any other Jets coach.
So ends one of the most entertaining eras in team history.
The outspoken Ryan, whose brash style and Super Bowl guarantees turned the Jets into a national fascination, was a media sensation from day one.
In his first news conference, he predicted a celebratory visit to the White House, and he came close to delivering one with back-to-back trips to the AFC Championship Game in his first two seasons. But he wasn't able to sustain the success, as the Jets went 26-38 over his final four seasons.
Ryan was brash to the bitter end, vowing last week, "One day, I'm going to win that thing" -- meaning the Vince Lombardi Trophy.
His downfall was instability at the quarterback position. The defensive-minded Ryan started two rookies during his tenure, Mark Sanchez
December, 29, 2014
Dec 29
7:00
AM ET
A look back at the good and the bad from the
New York Jets
' 37-24 victory over the
Miami Dolphins
:
RISERS
FALLERS
Chris Ivory/Chris Johnson, running backs – The Dolphins were trampled in the previous meeting, so they weren't about to let it happen again. Ivory and Johnson were stopped cold, combining for only 49 yards on 23 carries. It may have been Johnson's final game as a Jet. He's under contract for next year, but he's "not sure" if he'll be back. With his age and cap charge ($5.2 million), he probably won't be.
The run defense – Specifically, it was the run defense on one particular player, Lamar Miller's 97-yard touchdown run. Consider: The Jets yielded only 93 rushing yards per game this season. Rex Ryan was so disgusted that he said it took him a full quarter to recover from the play, the longest run allowed by the Jets since Garrison Hearst's 96-yard run in 1998. Safety Calvin Pryor slipped in the hole and Miller was out the gate.
December, 28, 2014
Dec 28
11:27
PM ET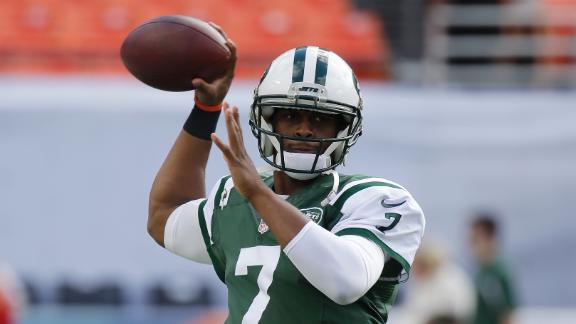 New York Jets owner Woody Johnson is now prepared to move swiftly Monday and fire general manager John Idzik and coach Rex Ryan, according to league sources.
Johnson is expected to remove any doubt about Ryan's fate, even though a source earlier suggested the owner could wait for a new general manager to make the call on the popular coach.
Instead, the owner has decided an immediate house cleaning is necessary for both Ryan and Idzik, sources said Sunday night.
Jets owner Woody Johnson declined comment after his team's 37-24 win over the Miami Dolphins on Sunday. A team official says that Johnson has not internally revealed any decisions he is prepared to make.
Ryan cleaned out his desk this week at the Jets headquarters but sources say he has not been told he is out as the team's coach despite his belief he is done.
Ryan evaded questions about his future after the Jets' win. He said he hasn't spoken to Johnson about his future.
When asked if he'd like to know his fate Monday, Ryan said, "You know, I guess.
"I don't think it's the appropriate time to talk about my situation," he said. "Just understand that I'm not afraid of anything. I'm not afraid of what lies ahead. I can tell you that."
The postgame scene was a stark contrast to last Dec. 29, when Johnson sparked a raucous locker room celebration by announcing to the team that Ryan would return in 2014. This time, Johnson walked briskly out of the locker room, declining to comment. He's expected to hold a news conference Monday, when he will announce the changes.
December, 28, 2014
Dec 28
10:20
PM ET
MIAMI GARDENS, Fla. -- Rex Ryan was in a nostalgic mood for what likely was his final game as coach of the
New York Jets
. We're talking really nostalgic.
On the their first play from scrimmage Sunday, they used the same play the Joe Namath Jets ran to open Super Bowl III. That, too, took place in Miami, so Ryan figured, "Why not?"
In case you're wondering, it was an unbalanced line, with
Chris Ivory
running off left end for seven yards.
"I thought it was appropriate coming down here to Miami," Ryan said after the
37-24 victory
over the
Miami Dolphins
. "I told the team it would work for three yards; it went for seven. Who says I don't know anything about offense?"
Richardson
Fatten up those stats:
The Jets' front seven finished with a big game, sacking
Ryan Tannehill
seven times. Linebacker
David Harris
, who will be a free agent, led the way with 2.5 sacks and a forced fumble. Linebacker
Quinton Coples
recorded two sacks, finishing with a career-high 6.5. The Jets have until May to decide whether to pick up the fifth-year option on his rookie contract. Right now, he's signed through 2015.
Defensive tackle
Sheldon Richardson
(one sack) finished with a team-high eight sacks, but he didn't finish the game. He suffered a head injury in the second quarter and didn't return.
Richardson was tweeting during the game
from the locker room, which means he could be subject to a league fine. Players aren't supposed to tweet during games.
Smith
A dubious mark:
The Jets finished with only 13 takeaways (six interceptions, seven fumble recoveries) -- the fewest number of takeaways in team history. The previous low was 15, set last season.
Numbers game:
With a monster game in the finale,
Eric Decker
finished just shy of 1,000 receiving yards -- 962 yards on 74 catches. ...Chris Ivory (821 yards) finished as the leading rusher. ... Quarterback
Geno Smith
finished with 13 touchdown passes and 13 interceptions, with a 77.5 passer rating. That represents a fairly significant improvement from last season, when his numbers were 12, 21 and 66.5, respectively.
Perfect game
: Smith finished with a perfect passer rating -- 158.3. He became the first Jets quarterback since Ken O'Brien in Week 16 of 1990 to lead his team to victory and finish with a perfect rating. He also set new single-game career-bests in yards (358) and tied a career-best with three touchdown passes, and third-best in completion percentage (20-of-25, 80.0 percent).
Chris who?
Wide receiver
Chris Owusu
, whose role increased with
Percy Harvin
inactive, had a terrific game. He scored on a 23-yard run and finished with 161 total yards, including an 87-yard kickoff return. With 3:11 remaining in the first quarter, he scored his first touchdown as a Jet, and first-career rushing touchdown.
December, 28, 2014
Dec 28
9:50
PM ET
MIAMI GARDENS, Fla. -- For their pain and suffering, the
New York Jets
were rewarded with the
sixth pick in the draft
.
The Jets went into the final week holding the fourth spot, but their win over the
Miami Dolphins
proved costly in terms of draft position. Based on
Mel Kiper Jr.'s latest Big Board

, it's possible the draft's three marquee offensive players will be gone -- quarterbacks
Marcus Mariota
(Oregon) and
Jameis Winston
(Florida State) and wide receiver
Amari Cooper
(Alabama). All three are underclassmen and have yet to declare their intentions.
What are the chances of trading up for a quarterback? Slim. At least three teams ahead of the Jets, including the
Tampa Bay Buccaneers
at No. 1 overall, figure to be in the quarterback market.
Kiper's rankings:
1. Mariota; 2.
Leonard Williams
, DE, USC; 3. Cooper; 4.
Randy Gregory
, DE, Nebraska; 5.
Shane Ray
, DE, Missouri.
6. Winston; 7.
Brandon Scherff
, OT, Iowa; 8. DeVante Parker, WR, Louisville; 9.
Melvin Gordon
, RB, Wisconsin; 10.
Landon Collins
, S, Alabama.
The draft order:
1. Tampa Bay Buccaneers (2-14)
2.
Tennessee Titans
(2-14)
3.
Jacksonville Jaguars
(3-13)
4.
Oakland Raiders
(3-13)
5.
Washington Redskins
(4-12)
6. New York Jets (4-12)
The last five picks at No. 6 overall:
2014 --
Jake Matthews
, OT,
Atlanta Falcons
2013 --
Barkevious Mingo
, OLB,
Cleveland Browns
2012 --
Morris Claiborne
, CB,
Dallas Cowboys
2011 --
Julio Jones
, WR, Atlanta Falcons
2010 --
Russell Okung
, OT,
Seattle Seahawks
December, 28, 2014
Dec 28
9:14
PM ET
December, 28, 2014
Dec 28
8:30
PM ET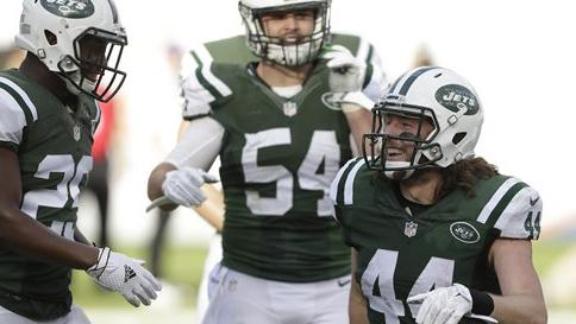 MIAMI GARDENS, Fla. -- Rex Ryan walked out of Sun Life Stadium a 4-12 coach, facing the likelihood of a Monday morning pink slip from his boss. To hear his players, you would've thought it was Lombardi leaving the building. The players love the man, and we're not talking about fake admiration. It's real. To a man, they want owner Woody Johnson to grant a stay of Rex-ecution.
But it's not happening, and they have no one to blame but themselves. If they care for him so much, why didn't they play this well in September and October, when the games still mattered? The
New York Jets
beat up the
Miami Dolphins
37-24
with
Geno Smith
and
Eric Decker
enjoying an all-day game of pitch and catch -- too little, way too late.
"It's a results-based game," linebacker
Calvin Pace
said. "If you don't win, bad things happen."
Those things will start happening Monday morning, when Johnson is expected to fire general manager John Idzik and Ryan. Johnson needs to take care of business, and get it done quickly, so they can proceed with their searches for a general manager and coach. Those are competitive situations, and the Jets can't afford delay-of-game penalties in the offseason. We've seen enough this year.
Bottom line: Ryan is toast. Some of his players spoke of him in the past tense, wishing it didn't have to be this way.
"He's going to be missed," guard
Willie Colon
said. "I mean, if he goes. Obviously, I don't know the outcome."
They played hard for Ryan to the bitter end, outclassing a Miami team that's supposed to be on the upswing with Joe Philbin returning for a fourth season. On this day, the Dolphins were the dysfunctional team in the stadium, with wide receiver
Mike Wallace
arguing with coaches and pouting on the bench -- shades of
Santonio Holmes
in the 2011 season finale.
Despite tremendous adversity, the Jets stuck together and showed heart. But, as Ryan would say, it's a winning business and the Jets finished 4-12, missing the playoffs for the fourth straight year. That gets coaches fired.
"Four-and-12, that's as bad as I've ever been around," said Ryan, who refused to dwell on his uncertain future after the game. "That was tough. The record was awful. You are what your record says you are, but we're a hell of a lot better than that."
Well, maybe a couple of games better, but we're not talking about a team with playoff-caliber talent. Ryan deserves plenty of blame because this certainly wasn't his finest season. He made plenty of mistakes along the way -- including a few Sunday -- but the Jets were competitive in 14 of 16 games despite glaring weaknesses at quarterback and cornerback. It makes you wonder what he might have done if Idzik had supplied him with enough talent.
Idzik, the man in the figurative black hat, actually showed up Sunday wearing a black suit -- a fashion faux pas. Who wears black in 80-degree South Florida heat? It looked like he was dressed for a funeral, and he probably was -- his own.
A grim-faced Idzik was one of the last people out of the locker room, probably hoping the swarm of reporters wouldn't stick around for his appearance. His was wrong. The embattled executive, showing no emotion whatsoever, resembled a zombie as he walked briskly to the team bus.
"I'll catch you guys later," he said.
Idzik gave Ryan a poorly constructed roster, and Ryan wasn't able to work a miracle. Sunday was an aberration, as the Jets scored a season-high 34 points, recorded seven sacks and watched Smith play the best game of his career. His posted a perfect passer rating (158.3), only two months after his Blutarsky rating against the
Buffalo Bills
(0.0). Decker finally played like a $7 million-a-year wide receiver, racking up 221 receiving yards -- only seven yards shy of Don Maynard's team record.
The Jets needed that against the
New England Patriots
. And the
Denver Broncos
. And so on. What they accomplished Sunday amounted to nothing more than a going-away present for their beloved coach.
"It's hard not to be somber," Colon said.
Right tackle
Breno Giacomini
: "I walked into the locker room pretty sad."
Ryan didn't reference his job status in his postgame address to the team. Surprisingly, he wasn't emotional, according to several players. He tried to keep it upbeat, promising a game ball for every player.
"We love Coach Ryan," Smith said. "I'd love to play for him for my entire career."
True love means never having to say you're sorry.
December, 28, 2014
Dec 28
7:30
PM ET
By
Walter Villa, Special to ESPNNewYork.com
MIAMI GARDENS, Fla. -- If only
Geno Smith
could play every game in his hometown, the
New York Jets
might actually have something worth keeping at quarterback.
Last season, Smith, who went to Miramar High in Miramar, Florida, and grew up within minutes of Sun Life Stadium, completed 17 of 27 passes for 190 yards (no interceptions) in a season-ending
20-7 win
against the Dolphins. His QB Rating was 90.7, his best effort of his rookie season.
On Sunday, the Jets again closed their playoff-less season with a
37-24 win
against the Dolphins, and Smith was spectacular this time. He completed 20 of 25 passes for a career-high 358 yards and three touchdowns. He was not intercepted, and his QBR was a career-best 158.3, which is a perfect passing rating.
[+] Enlarge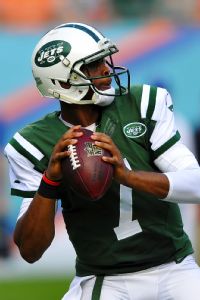 Steve Mitchell/USA TODAY SportsGeno Smith passed for a career-high 358 yards and 3 TDs in the Jets' season-ending win.
Smith, who was ridiculed a couple of weeks ago for saying he has shown "flashes" of being a Pro Bowl passer, was asked about that statement after Sunday's game.
"When I talk about my improvement and where I need to go as a player, what I was speaking on was just being more consistent," Smith said.
"At the time I was saying that, I had to be more consistent. I believe in myself. I have complete confidence in myself. But consistency is what I'm working on, and that's a work in progress."
Smith has been far from consistent this season.
Who can forget his nightmare
home performance against Buffalo
? He completed just 2 of 8 passes for five yards and had three interceptions before getting benched.
He was also 4 of 12 for 27 yards in a
31-0 loss to San Diego
.
In fact, he passed for less than 100 yards four times this season, contributing mightily to the Jets' 4-12 season.
Even in Sunday's stellar performance, Smith reminded observers of "Bad Geno" when he tried a bootleg run, held the ball loosely in his left hand and lost a fumble at the Jets' 21-yard-line.
"That was pitiful," Smith said without even being asked about the play.
In a sense, that comment by Smith represents almost as much progress as his performance on the field on Sunday. Too many times this season, Smith has made bad plays -- such as taking a sack last week against New England -- and has failed to be truly accountable in his comments to the media.
As for his on-field play, Smith improved his accuracy this season, from a 55.8 completion percentage as a rookie to 58.2. His interceptions were down, from 4.7 to 3.8 percent. And his touchdowns went up, from 2.7 percent to 2.9.
But other stats are telling, too. His yards per pass attempt went down from 6.9 to 6.3. And his record as a starting quarterback went form 8-8 last season to 2-10.
"A ton of adversity," Smith said when asked to sum up the Jets' season. "But the way we stuck together, says a lot about this team."
With changes likely coming at the top of the Jets' organization, it's impossible to say if Smith will be back next season or if this was his last game with the franchise.
Given that, Smith was asked if his performance on Sunday was a "message" to the Jets that he should be retained.
"It's not about sending messages," Smith said. "I just tried to go out there and play a clean game."
December, 28, 2014
Dec 28
6:50
PM ET
By
Walter Villa | Special to ESPNNewYork.com
MIAMI GARDENS, Fla. -- Not even
Peyton Manning
got this many yards throwing to
Eric Decker
.
Instead, Decker got his career day catching passes from
Geno Smith
.
Decker was targeted 11 times in Sunday's season-ending
37-24 victory
against the
Miami Dolphins
and came up with 10 receptions for a career-high 221 yards and one touchdown. His 10 catches tied a career high.
[+] Enlarge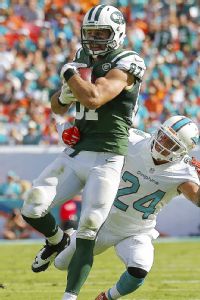 Chris Trotman/Getty ImagesEric Decker saved his best for the Jets' last game of the season.
"We did a good job sticking with the run, and once there were some chances where there were blitz zero, cover one, we took advantage," Decker said. "Geno made some nice throws, and we connected."
This was surely the kind of day Decker was hoping for when he signed a five-year, $36 million deal with the Jets in March.
Instead, he has battled through nagging injuries, missing one game and being less than 100 percent in some others.
He also dealt with the Jets' inadequate quarterback play. The Jets started the season with Smith, benched him in favor of
Michael Vick
, and ultimately went back to Smith.
The Jets finished the season 4-12, missing the playoffs for the fourth straight year, and face an offseason of uncertainty at key spots -- quarterback, coach and general manager.
"Obviously, there will be change next year," Decker said. "We just have to keep getting better."
Decker's best plays on Sunday came over the top of the Dolphins defense.
In the second quarter, he caught a 40-yarder pass that was floated over the head of cornerback
Cortland Finnegan
, leading to the Jets' second touchdown.
In the third quarter, Decker caught a 74-yard touchdown pass in similar fashion, beating Finnegan over the top.
Later in the third, Decker beat Pro Bowl cornerback
Brent Grimes
on a 50-yarder.
"Decker did a phenomenal job getting open," Smith said.
Decker briefly left the game late in the third quarter after being hit by safety
Jordan Kovacs
, but he returned to catch two more passes, showing his toughness.
For the year, Decker finished with 74 catches for 962 yards, five touchdowns and a 13.0 yards-per-catch average in 15 games.
It was also Decker's lowest totals in terms of receptions and yards since 2011, when his quarterback in Denver was Tim Tebow.