December, 9, 2013
Dec 9
12:30
PM ET
By
Kevin Weidl
| ESPNNewYork.com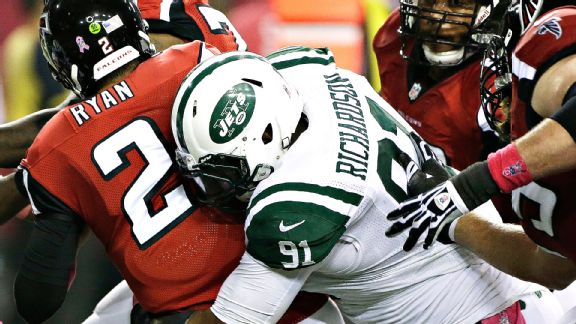 AP Photo/John BazemoreRookie Sheldon Richardson has made a positive impact for the Jets' D in 2013.
Heading into Week 15, the
New York Jets
are currently ranked 11th overall in total defense but hold the 29th ranking in total offense ahead of Dallas, Tampa Bay and Jacksonville (and Dallas plays the Bears on "Monday Night Football"). It's not hard to figure out the disparity between the two units.
First, head coach Rex Ryan holds a defensive background leading from his days as the defensive coordinator in Baltimore. Looking back at the Jets' drafts since Ryan took the reins in January 2009, New York has used five of its six total first-round picks, including five straight, on the defensive side of the ball. QB
Mark Sanchez
has been the lone offensive player drafted by the Jets in the first round since Ryan's first draft in 2009.
Recently, the Jets have had a heavy focus on the defensive front line. In fact, they have used a first-round pick on a defensive lineman in three consecutive drafts. In 2011, they selected DT
Muhammad Wilkerson
(Temple) with the 30th overall pick while also selecting DT
Kenrick Ellis
(Hampton) in the third round. A year later, the Jets selected
Quinton Coples
(North Carolina) with the 16th overall pick.
To continue reading this article you must be an Insider
December, 9, 2013
Dec 9
10:30
AM ET
FLORHAM PARK, N.J. -- A look at the key drive in the
New York Jets
' 37-27 win over the
Oakland Raiders
:
The Drive:
Geno Smith
threw a 25-yard touchdown pass to
Jeremy Kerley
in the first quarter, giving the Jets a 10-0 lead. It was a three-play, 58-yard drive.
Smith
The Situation
: This was huge on a few levels. On the previous possession, Smith threw his 20th interception. Rex Ryan later said he was muttering to himself on the sideline, "You've got to be kidding me." The crowd was booing; the pro-
Matt Simms
contingent was getting ready to be heard again. The Jets had gone eight-plus quarters without a touchdown. These were desperate times.
What Happened:
The Jets began the drive by throwing out of a run formation -- a play-action out of a three-tight end package. Smith rolled to his right and hit
Kellen Winslow
for 30 yards, taking a hit from linebacker
Sio Moore
in the process. After a run by
Bilal Powell
, the Jets employed a seldom-used personnel grouping -- no running backs, one tight end and four wide receivers. Smith threw into the end zone for the 5-foot-9 Kerley, who played big by winning a "jump ball" play for the touchdown.
The Impact:
Big, big, big. It was Smith's first touchdown pass since before Halloween. The offense had 129 plays and 141 minutes, 19 seconds in elapsed time without a touchdown. It sparked the team, which went on to one of its better offensive days of the season.
December, 9, 2013
Dec 9
10:05
AM ET
FLORHAM PARK, N.J. -- Former
New York Jets
tight end
Hayden Smith
apparently has given up on the NFL.

Smith, cut by the Jets at the end of the preseason, has returned to his former rugby team in England, Saracens. He played there before signing with the Jets in April 2012. It was a terrific story because he had no prior experience in organized football. He ended up playing in five games in 2012, catching one pass for 16 yards.
"It's fantastic to be back," Smith told a London newspaper. "I learned a huge amount in the NFL, various elements that will help me become a better rugby player, but there is nothing like the Saracens environment and I am now completely focused on working hard and helping the squad achieve all our goals."
Smith made an impact in the Jets' locker room, helping to caffeinate his teammates. He kept a portable coffee maker in his locker, serving espresso and cappuccino. A good dude, Smith.
December, 9, 2013
Dec 9
9:00
AM ET
An analysis of the
New York Jets
' snap counts from their
37-27 win
against the
Oakland Raiders
:
OFFENSE (Based on 58 snaps)
Quarterback --
Geno Smith
58.
Running back
--
Chris Ivory
29,
Bilal Powell
28,
Tommy Bohanon
23,
Alex Green
2.
Wide receiver
--
David Nelson
54,
Santonio Holmes
42,
Jeremy Kerley
27,
Greg Salas
11.
Tight end
--
Jeff Cumberland
46,
Kellen Winslow
19,
Zach Sudfeld
6,
Vladimir Ducasse
3.
Offensive line
--
D'Brickashaw Ferguson
58,
Brian Winters
58,
Nick Mangold
58,
Willie Colon
58,
Austin Howard
58.
Offensive analysis
: Winslow, who openly wondered about his playing time after last week's loss, didn't see a significant spike. He played in 33 percent of the snaps, up only three percentage points. ... Holmes, healthy, played in 72 percent of the snaps. Kerley returned to the lineup in a situational role. It was easy to divide the reps because
Stephen Hill
was inactive. It might get tricky when Hill returns. ... This was the first time since Week 7 that Ivory played more than Powell.
DEFENSE (Based on 69 snaps)
Line --
Muhammad Wilkerson
67,
Sheldon Richardson
56,
Damon Harrison
34,
Leger Douzable
18,
Kenrick Ellis
14.
Linebacker
--
David Harris
69,
Quinton Coples
63,
DeMario Davis
62,
Calvin Pace
53,
Garrett McIntyre
18.
Secondary
--
Dawan Landry
69,
Antonio Cromartie
66,
Dee Milliner
65,
Ed Reed
46,
Kyle Wilson
25,
Antonio Allen
25,
Jaiquawn Jarrett
7,
Josh Bush
3.
Defensive analysis
: The news here is that Reed played a season-low 67 percent of the snaps. He averaged 92 percent in his first three games. Rex Ryan defended Reed's performance last week, yet still cut his playing time. It's not hard to read into that. The beneficiary was Allen, who played more snaps than he did in the previous three games combined. ... Cromartie played nearly the entire game despite a head injury, the team announced afterward. ... McIntyre returned after missing three games with a knee injury.
December, 9, 2013
Dec 9
8:00
AM ET
EAST RUTHERFORD, N.J. -- An examination of the four hottest issues from the
New York Jets
'
37-27 win
over the
Oakland Raiders
:
[+] Enlarge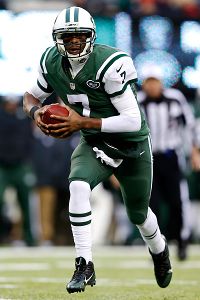 AP Photo/Kathy WillensThe Jets are 4-0 when Geno Smith runs for a TD, as he did Sunday.
1. They ain't dead yet:
Sunday could've been a really, really big day for the Jets, but the two teams they're chasing for the second AFC wild-card spot -- the
Baltimore Ravens
and
Miami Dolphins
-- squeezed out late, come-from-behind victories. That leaves the Jets (6-7) one game behind them, but it's really two games because they lost to both teams, meaning they'd lose a head-to-head tiebreaker. They still have a game with the Dolphins, in the season finale, but the Jets might be eliminated by then. But, hey, it's Week 15 and they're still alive. Hear that,
Kellen Winslow
?
2. Run, Geno, run
:
Geno Smith
is "definitely known as just trying to be a gunslinger," fellow quarterback
David Garrard
said, but the rookie has the ability to make plays outside the pocket. He showed it against the Raiders, rushing for 50 yards, including an 8-yard touchdown on a read-option play. What took so long? Smith has been reluctant to embrace the idea of becoming a running quarterback, but he needs to understand he can spark the offense with his athleticism. Offensive coordinator Marty Mornhinweg also did a better job of calling designed runs and rollouts, allowing Smith to throw on the run. If you have a weapon, use it. The Jets are 4-0 when Smith scores a rushing touchdown.
3. Disappearing defense:
Rex Ryan's defense usually gets stronger late in the season, but this particular unit is backsliding. The Jets allowed a
fourth
-string running back --
Marcel Reece
, who actually plays fullback -- to rush for 123 yards. Are you kidding? In the past two games, their once-feared run defense has allowed 275 yards. Part of the reason is because they're playing fewer eight-man boxes -- they need a second safety to help in pass coverage -- but they're also missing far too many tackles. Frankly, the tackling has been atrocious. They got away with it against the bad team like the Raiders, but they have no shot next week against the
Carolina Panthers
if they allow short gains to turn into big plays.
4. Special K's:
Jeremy Kerley
's return to the lineup sparked the slumping offense, which scored more points than it did in the previous three games combined. Another "K" player, Kellen Winslow, also provided a boost. For a change, Winslow played a significant role in the passing game, finishing with three catches for 61 yards. In recent weeks, he had become after afterthought, partly because of his chronic knee. But it also seemed like the coaching staff had phased him out. Well, he was phased in against the Raiders. Winslow knows how to get open, a big help to a rookie quarterback. He could be a key down the stretch.
December, 8, 2013
Dec 8
9:30
PM ET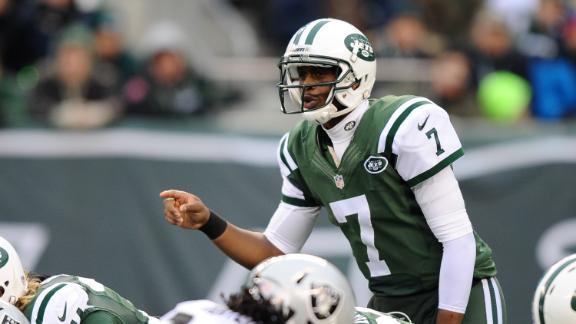 EAST RUTHERFORD, N.J. -- Rex Ryan's first victory occurred an hour before kickoff, when his owner, Woody Johnson, said in a radio interview
he was "pretty happy"
with the direction of the franchise -- and that was with a three-game losing streak.
One can only imagine the boss' giddiness Sunday after the
New York Jets
got done with the "Bad News Bears," as safety
Charles Woodson
described his
Oakland Raiders
. Johnson might have been ready to draw up papers for a long-term contract extension for his coach.
Kidding, of course. But clearly, Johnson has modest goals for 2013. He recognizes this is a rebuilding year and -- unless he was blowing smoke during his ESPN New York 98.7 interview -- he wants to make it work with Ryan, who deserves another shot in 2014 if he can squeeze another victory out of this season and remain competitive in the final three games.
The Jets haven't quit on Ryan, who is 40-37 in four-plus seasons. That was the biggest takeaway on a cold, gray day at MetLife Stadium, where the Jets' feeble offense scored not one, not two but three touchdowns in a
37-27 win
-- the team's highest point total since the 2012 opener.
"It felt like we hadn't won in a century," tackle
Austin Howard
said.
It was 35 days, to be precise. In the NFL, a drought that long can destroy a team, especially when the team gets outscored 79-20 over a three-game losing streak. Finger-pointing begins, fissures form in the locker room and the rats take over the ship.
That could've been the Jets, but they showed they still have a pulse -- or at least a stronger pulse than the Raiders (4-9), a woefully undermanned team that dropped its 13th straight game in the Eastern time zone.
"I'll be the first to stand on the soap box and scream, 'Keep him!'" guard
Willie Colon
said, alluding to the speculation about Ryan's future.
In Ryan's eyes, the Jets are 1-0. He said last week he wants to be judged on how the team finishes the season, meaning how it performs at full strength. Coaches usually don't get to make the ground rules, but it looks as though Ryan will get that chance.
Finally, his offense was nearly whole, with
Jeremy Kerley
returning from a serious elbow injury and providing an early spark with a 25-yard touchdown catch.
Santonio Holmes
, coming off a two-snap cameo in last week's Miami debacle, was healthy and played his best game in more than two months.
For a change, the Jets looked like a real offense, reaching the end zone for the first time in three games.
[+] Enlarge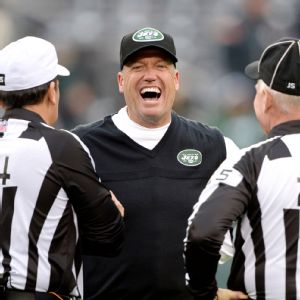 Robert Deutsch/USA TODAY SportsIt was good to be Rex Ryan on Sunday.
For a change,
Geno Smith
looked like an NFL quarterback, playing instinctively and -- surprise! -- using his legs.
For a change, the Jets were able to win on a day in which their defense didn't play well.
The Jets improved to 6-7, equaling last season's win total. If they finish 7-9, with a roster comprised largely of rookies and one-year stopgaps, Ryan should get a one-year extension. If they finish .500, it would be a major accomplishment.
"You have to judge us for the whole season, and I understand that -- that's the way it should be, absolutely -- but to get an accurate opinion on who we are, especially offensively, let's get some of our guys back," Ryan said Sunday.
Translation: Ignore the three-game losing streak, Woody.
Apparently, he did.
Beating the Raiders is no great feat, but it was hardly a gimme for the Jets, considering the recent waves. Ryan navigated a tough week, making the right choice by sticking with Smith. He responded with a solid game, throwing his first touchdown pass since Oct. 20 and running for a score.
Ryan's offensive coordinator, Marty Mornhinweg, cooked up a clever game plan, employing a no-huddle for a good part of the game and accentuating Smith's strengths by moving the pocket and calling designed runs.
Then there was the motivation part. That's Ryan's strength.
"He bleeds green and he believes in this team even sometimes when we don't believe in each other," Colon said of Ryan. "So many times he stood up in front of us and cried and did everything to show us that, if we stay together, it can get done.
"He gives us his heart. He gives us his fire."
Ryan didn't turn into a paranoid dictator last week, the way some coaches get when the heat is turned up. He gave the players their space, some said. Out of that mindset came a players-only meeting in which
D'Brickashaw Ferguson
and
David Harris
addressed the team.
Ryan praised his team's preparation, claiming the Jets worked extra hours during the week. As a result, they avoided their first four-game losing streak in the Ryan era.
"Whew! We needed that in the worst way, to say the least," a relieved Ryan said.
He offered the team a day off -- Victory Monday -- but the players rejected the idea, claiming this is no time to relax. Say this for the Jets: They're ready and willing.
Able? We'll find out over the next three weeks.
December, 8, 2013
Dec 8
8:45
PM ET
EAST RUTHERFORD, N.J. -- Having a full complement of receivers ended up making a big difference for the
New York Jets
, who had
Jeremy Kerley
,
Santonio Holmes
and tight end
Kellen Winslow
Jr. available at the same time for the first time since Week 4.
The Jets defeated the
Oakland Raiders
37-27, their first win in four weeks and the first week back for Kerley. In his first quarter back, the slot receiver had the first touchdown reception from
Geno Smith
since Week 7 with a 25-yard catch.
"I just up and got it," Kerley said. "It felt like backyard football. I knew it was going to come to me based on the coverage. [Smith] threw it up and it seemed like it stayed up there forever. I caught it when I was coming down. It was a good throw, a big catch and it got us some points."
That was the start of a strong offensive performance, with Winslow and Holmes both contributing big catches as the Jets gained steam. The Jets won the game and are still technically in the hunt for a post-season berth.
"If anyone's down right now they should probably be slapping themselves in the face," Holmes said. "Seriously."
Winslow speculated that more no huddle offense might have helped the Jets. Winslow had wondered why he wasn't playing more, and capitalized on the 19 plays he saw out of a possible 58. The snap totals are unofficial.
"We're all playmakers and we need more time together I guess," said Winslow, who had three catches for 61 yards.
Holmes (41 snaps) added 3 catches for 55 yards. The receiver has been hit or miss with a foot and a hamstring injury, but said he felt fine on Sunday. Kerley, who did not wear padding on his elbow, said he took contact but it wasn't as painful as he anticipated. Kerley played in 27 snaps.
"We looked a lot better," Winslow said.
Smith was asked if having the receivers back together made a difference, but said that wasn't the only reason.
"Well, it's great to have those guys back and to have them in the rotation," Smith said. "But that's not the reason for the mistakes that were made in those three games and any of those games. It all comes down to my decision-making and accuracy."
December, 8, 2013
Dec 8
8:35
PM ET
EAST RUTHERFORD, N.J. -- Rex Ryan tossed his players a bone after Sunday's
37-27 win
over the
Oakland Raiders
. They tossed it back.
The
New York Jets
' coach announced a Victory Monday -- an off day -- but the idea didn't gain much traction in the locker room.
Willie Colon
said he looked at
D'Brickashaw Ferguson
, and, speaking on behalf of the rest of the players, they decided to make it a work day.
"We realized, 'Hey, this is no time to relax,'" Colon said. "You give us two days off and we have to go down (to Charlotte) and play a lot that's kicking a lot of tail right now" -- the
Carolina Panthers
. "We have to put our foot on the gas."
Ryan said he was impressed with the players' attitude.
"Everyone was like, 'Yeah, let's go to work,'" Ryan said. "And that's what we have to do."
You call this defense?:
This wasn't a good game by the defense, which allowed a season-high 150 rushing yards. Fullback
Marcel Reece
, the Raiders' fourth-string running back, ran for 123, including a 63-yard run in which he outraced cornerback
Antonio Cromartie
. The Jets let
Matt McGloin
, an undrafted rookie, pass for 245 yards and two touchdowns. His favorite target was receiver
Rod Streater
, who caught seven passes for 130 yards, including a 48-yard touchdown.
Ryan didn't sound that alarmed.
"We had a couple of amazing plays, which don't happen against us very often," he said. "We have a couple of things to fix. It's not something I'm overly concerned with."
Nice gesture
: After the game, Ryan made a presentation in the locker room to general manager John Idzik, giving him the game ball. Idzik is mourning the death of his father, John Joseph Idzik, who died last Tuesday after a long illness. He was 85.
What the Hill?:
Reciever
Stephen Hill
was inactive with a knee injury. He was a full practice participant last Friday, but was a late addition to the injury report, listed as questionable. It was his first missed game of the season.
Ryan said Hill has been bothered by knee swelling for several weeks.
"The young man has been competing his tail off, but he's just not himself," Ryan said. "He's not able to burst out of cuts. Quite honestly, as much as he wants it, it's best for us to make the decision to deactivate him this week."
The Jets used a four-receiver rotation, with
Santonio Holmes
,
David Nelson
,
Jeremy Kerley
and
Greg Salas
.
Injury Report:
Cornerback Antonio Cromartie suffered a head injury, according to the team. He collided with teammate
Ed Reed
with 6:26 left in the third quarter, but he remained in the game.
Odds and Ends
: Ferguson became the first player in Jets history to start the first 125 games of his career. ... The Jets scored a season-high 37 points and produced their third-highest yardage total, 352. ...
Antonio Allen
blocked
Marquette King
's punt and recovered it in the end zone for a touchdown. It was Allen's second touchdown of the season (he scored on an interception return) and second blocked punt. Before leaving the locker room, Allen said he asked to no one in particular, "Who's going to give us that spark?" It turned out to be him. Allen became the first Jets defensive player to score multiple touchdowns in a season since safety
Dwight Lowery
in 2010. ...
Nick Folk
made three field goals, increasing his season total to 28-for-29.
December, 8, 2013
Dec 8
8:10
PM ET
EAST RUTHERFORD, N.J. -- It started with the long snapper.
In their preparation leading up to Sunday's game, the Jets noticed that Oakland long snapper
Jon Condo
didn't perform proper drops after his snaps. The Jets believed they could capitalize on this and worked all week on exploiting that tendency.
[+] Enlarge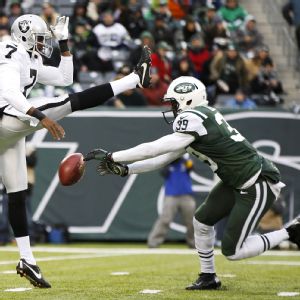 AP Photo/Kathy WillensAntonio Allen blocked his second punt of the season.
In the second quarter Sunday, that preparation resulted in
Antonio Allen
getting a free path to Oakland punter
Marquette King
. Allen knew a game-changing play was about to happen.
"We about to make money off this," Allen thought.
Allen blocked the punt and recovered it in the end zone to help the Jets to their
37-27 win
over the Raiders on Sunday at MetLife Stadium. It marked Allen's second blocked punt of the season (his first was on Oct. 7 against the Falcons).
"It feels good to make a play on special teams. I've been trying to get out there and make whatever happens with my playing time," he said. "It's big for me and big for the team, and we got the victory."
Oakland has been susceptible to blocked punts in MetLife Stadium this season as they also had one blocked and returned for a score when they visited the Giants on Nov. 10. The Giants too said they saw something in Oakland's formations they believed they could take advantage of.
According to Allen, the Jets swung cornerback
Ellis Lankster
in front of Condo, and Allen shot the A-gap to get his free shot, knocking the ball down toward the Oakland end zone. He tried to pick it up, but Allen couldn't corral it and just fell on top of it in the end zone. Allen's touchdown marked his second of the season, and he's the first Jets' defensive back with multiple touchdowns since 2010.
"It felt weird, they just let me loose" Allen said. "I was surprised I thought the tackle was going to give me some kind of push but he didn't touch me, he just let me go right through. It was big for us."
As Allen made the big play on special teams, he also was more involved in the defensive game plan after three straight games of sparse playing time. Since the arrival of
Ed Reed
, Allen, who has shown promise in his sophomore campaign, has seen a reduction in his playing time to the point that he barely plays.
Jets coach Rex Ryan said he had made a mistake not playing Allen more and he aimed to remedy that Sunday. Allen played just 24 snaps in the previous three games, and he was in that neighborhood of snaps against the Raiders. He played extensively in the first half.
Allen, who believes he was having a "productive" season before Reed arrived, was down on himself after the game for not making an interception during Oakland's final drive.
"That's a play I got to make," Allen said. "With the defensive plays I do get I got to maximize my play time and make something happen."
December, 8, 2013
Dec 8
6:52
PM ET
EAST RUTHERFORD, N.J. --
Ed Reed
knew he was stuck on 61 career interceptions.
The 12-year veteran had recorded at least one interception in each of his previous 11 seasons, but entering Sunday's game against Oakland, Reed had yet to tally a pick this season.
[+] Enlarge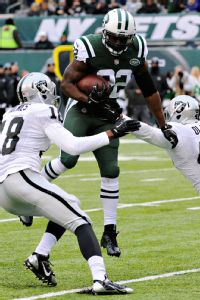 AP Photo/Bill KostrounEd Reed got his first interception of the season against the Raiders.
"I felt good coming into this game," Reed said. "I wasn't worried about it because I don't worry about what would happen in the game. You just play and try to do your job to the best of your ability."
In the second quarter, Reed finally notched No. 62. And the streak lived on.
Reed has 12 straight seasons with at least one interception after he picked off
Matt McGloin
in the Jets' 37-27 win over the Raiders on Sunday at MetLife Stadium. Reed is now tied for eighth all-time with 62 career interceptions, matching
Dave Brown
and Dick LeBeau.
With the Jets' win, Reed also participated in his first victory of the year. Reed had been 0-10 this season in games he played spanning his time with the Texans, and 0-3 as a Jet entering Sunday.
"I'm happy to have it," Reed said of the interception. "Happy to have 62. Happy to have a pick. More important -- just to get a win and give ourselves a chance going forward."
With the Jets ahead 10-3 in the second quarter and Oakland facing a third down at its own four, McGloin tried to sneak a pass to
Andre Holmes
. Reed jumped the route and returned it to the four-yard line. The Jets ultimately kicked a field goal to go ahead 13-3.
"I just knew it was coming. Sooner or later Ed's going to be Ed. He's always around the ball," said Jets safety
Dawan Landry
, who played with Reed in Baltimore. "One of the best ball hawkers to ever play the game. You knew it was going to come and I'm just glad he got one today."
Sunday provided a rare positive day for Reed in a season that perhaps has been the toughest of his career. He's had little effect in the 11 games he's played with the Jets and Texans, which ultimately led to the Texans releasing him midseason. With the Jets, he's failed to upgrade the secondary. He also went more than half a season without experiencing a win.
"I've won plenty of games in my life and I know one thing that you don't do about yourself -- it's a great team victory," Reed said of his first win. "We battled the last few weeks since I've been here and last week we fought hard to stay focused and maintain great work ethic and we did that as a team and came out and got a good victory against a good team."
While Reed previously had been playing almost every defensive play with the Jets, New York cut his snaps against Oakland. He was removed in the first half when quarterback
Terrelle Pryor
entered for a series, and didn't play every snap when McGloin was the quarterback. In the second half, however, he splayed his usual snaps.
Reed had no qualm with his reduced role.
"Coach just wanted to keep a good rotation of the safeties, like he has been," Reed said. "I'm alright with whatever coach wants to do. I played a lot of football. So for me to get a rest at any point it's welcomed, but at the same time you want to compete, you want to play. I know those guys want to play and we all watch film together. I know we all can do it."
December, 8, 2013
Dec 8
6:40
PM ET
EAST RUTHERFORD, N.J. -- The Jets had a high-profile trio pay a visit to the team locker room after the
37-27 win
over the visiting Raiders.
Republican donor and team owner Woody Johnson hosted former New York City Mayor Rudy Giuliani, former Vice President Dick Cheney and Republican presidential candidate Mitt Romney. They watched as coach Rex Ryan addressed the team after the win.
Former VP of the United States Dick Cheney emerges from the Jets locker room after Rudy Giuliani. #jets #nfl pic.twitter.com/x95jZvryTA

— Jane McManus (@janesports) December 8, 2013
They didn't officially engage with players, but backup quarterback
Matt Simms
recognized the group.
"I made it a point for myself to walk over there and say hello to them, especially Mayor Giuliani," Simms said. "He was the mayor during a lot of tough times in NYC and I truly appreciate it because I grew up with all those situations because I always looked up to him as a high-profile figure."
Simms admitted it was a little out of context to see them at MetLife Stadium.
Johnson was a financial contributor to Romney, and during the campaign told a CNBC reporter that he'd rather see Romney win the presidency than the Jets have a winning season.
"Well, I think you always have to put country first," Johnson said.
Ultimately, he didn't get either. Romney lost the election to incumbent Barack Obama, and the Jets went 6-10.
December, 8, 2013
Dec 8
6:24
PM ET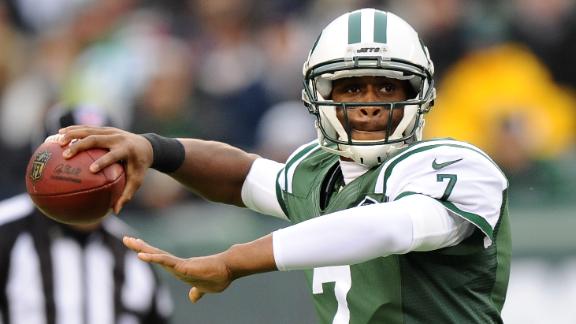 EAST RUTHERFORD, N.J. -- New York Jets cornerback Antonio Cromartie suffered a head injury in a 37-27 win over the visiting Oakland Raiders, the team announced after Sunday's game.
The Jets' starter came out of the game briefly after he collided with safety Ed Reed in the third quarter on a play that led to a 48-yard touchdown for Raiders wide receiver Rod Streater.
"I didn't see Cro until the last second and I'm glad I jumped or else we'd have probably went helmet to helmet," Reed said. "I was breaking on a ball, saw it, and when I realized [Raiders quarterback Matt McGloin had] overthrown the guy in front of me I saw Cro. Come to find out the guy scored on that play, it's crazy. Just glad we came out the win and Cro's all right and I'm all right."
Cromartie was never announced with an injury during the game. He made two tackles late in the fourth quarter.
Last week, Cromartie was a game-time decision with a recurring hip injury. Although he played the entire game against Miami, he was not as effective as he has been. Against the Raiders, he had a tackle and two pass defenses.
December, 8, 2013
Dec 8
6:09
PM ET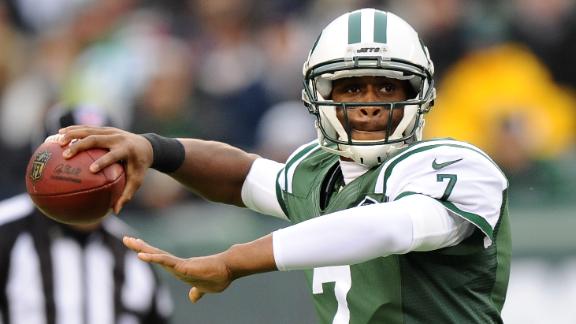 EAST RUTHERFORD, N.J. -- Geno Smith had not delivered a touchdown pass since October, so it was high time to look sideways at the guy who couldn't throw it straight. His NFL career already in peril a dozen games in, Smith was desperate for something, anything, that would grant him a reprieve.
More than anything, he was desperate for a team like the Oakland Raiders to line up on the other side of the ball.
Smith had been benched for a half against Miami, and he might've been on the verge of surrendering his job for keeps. A home loss to the 4-8 Raiders, who hadn't won in the Eastern time zone since 2009 (2009!), could've inspired general manager John Idzik to seriously consider replacing his second-round draft pick with a first-rounder next spring.
Even though the New York Jets had been outscored by 59 points during their three-game losing streak, it would've been too early to give up on Smith. That doesn't mean the Jets wouldn't have given up on him, of course, and ignored the long history of successful NFL quarterbacks who played like bums in Year 1.