March, 26, 2015
Mar 26
9:00
AM ET
DALLAS -- One by one, the All-Stars from the Phoenix Suns' "Seven Seconds or Less" era are riding off into the sunset.
First, Shawn Marion announced that he'd retire at this season's end, the Matrix's 16th in the league. Then Steve Nash officially called it a career, his 41-year-old body failing to allow him to play his 19th season.
But Amar'e Stoudemire, the 13-year veteran whose best seasons came when he was running and gunning with Nash and Marion in Phoenix, isn't remotely close to being ready to consider hanging up his Nikes.
[+] Enlarge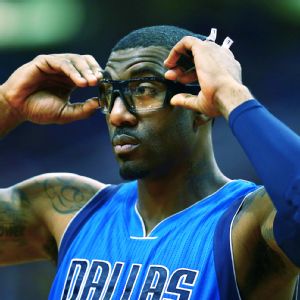 Mark J. Rebilas/USA TODAY SportsAmar'e Stoudemire believes he has several years left in the tank. Will Dallas be his long-term home?
"I'm the last man standing," Stoudemire said with a smile while stretched out on the floor of the visitors locker room with a pair of compression boots during the Dallas Mavericks' recent trip to Phoenix. "I plan on standing for a while, by the way.
"No, no, there's no way. There's a lot of youth in these legs. I have a lot of competitive juices still flowing in me. There's no way I'm ready to be the next man."
At 32 with chronic knee issues, Stoudemire is no longer the athletic freak he was during his high-flying Phoenix days, when he routinely soared high above the rim to catch lobs from Nash and finish in highlight fashion. But Stoudemire remains plenty capable of providing scoring punch off a playoff team's bench and plans to continue doing so for a long time to come, speculating that he could play five or six years with the proper maintenance.
The Mavs -- who signed Stoudemire for the veterans minimum after he received an All-Star break buyout from the final season of his five-year, $99.7 million contract with the New York Knicks -- will be among the teams expressing interest in him this summer. He's been productive as the Mavs' backup center, averaging an efficient 9.8 points and 3.4 rebounds in 15.8 minutes per game.
Owner Mark Cuban has made it clear that he'd like Stoudemire to stay in Dallas, comparing him to Vince Carter, another former perennial All-Star who contributed in a reserve role for the Mavs.
"I love Amar'e -- love, love, love the guy," Cuban said. "There's not enough superlatives. He's just a great guy on the court and off. I just love his physicality. He just wants to win and is a great guy."
Stoudemire chose the Mavs over several other suitors last month, so clearly there's mutual interest. Money, minutes and maximizing the chances of winning his first championship -- not necessarily in that order -- will likely be the biggest factors in Stoudemire's decision this summer.
The Mavs will probably offer Stoudemire a significant piece of their midlevel exception. Stoudemire, who says he can "compete at a high level for years to come," will likely request a multiyear deal.
But there will be plenty of time this summer to have those kinds of conversations. And, as much urgency as he feels to contend for a title now, Stoudemire is certain he has plenty of time left in his career.
"This isn't it for me, for sure," Stoudemire said. "There's a lot of basketball left. There's a lot of high-level basketball left in me. I feel competitive. I have faith in my body, what I can do on a basketball court on a consistent basis.
"The next step should be the best step, because I want to make sure I leave the game on a high note. That's the ultimate goal."
March, 25, 2015
Mar 25
9:11
PM ET
NEW YORK -- Doc Rivers doesn't allow his assistant coaches to speak to reporters.
In an effort to maintain one public voice, every request to speak to Los Angeles Clippers assistant coaches is quickly declined. Rivers made an exception on Wednesday.
Before the Clippers took on the New York Knicks at Madison Square Garden, Rivers stepped aside to let Mike Woodson take the spotlight with the media. After the Clippers blew out the Knicks 111-80, Rivers suddenly came down with a "stomach ache," allowing Woodson to address reporters again.
Woodson was fired as the Knicks coach last April after Phil Jackson took control as team president. Woodson guided the Knicks to a 54-win regular season and a division title in 2012-13, in addition to their first playoff series win in 13 seasons, but the team's 37-45 record last season fell well short of expectations.
Then again, 37 wins would be a massive improvement over the 14-57 Knicks, who not only have the worst record in the league but are nearing the end of the worst season in franchise history. At least the Knicks ended last season on a 15-6 run and missed the playoffs by one game.
[+] Enlarge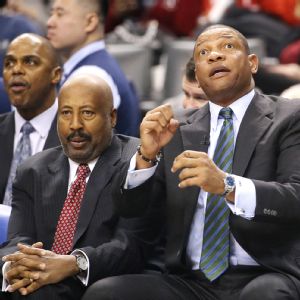 Tom Szczerbowski/USA TODAY SportsTwo season removed from leading the Knicks to a 54-win season, Mike Woodson returned to New York as Doc Rivers' assistant.
Woodson said that if he were still coach of the Knicks he wouldn't have changed the roster. Shortly after Jackson fired Woodson, he traded Tyson Chandler and Raymond Felton to Dallas for a package centered around Jose Calderon.
That trade hasn't worked out well for Jackson, as the Knicks are well on their way to the first 60-loss season in franchise history.
"Had I stayed on board I probably would have pushed to keep Tyson and keep that core group together because that's what won the 54 games two years ago," Woodson said. "But people change and you've got to live with it and it's what it is."
Woodson, however, wasn't in any mood to gloat at the current state of the Knicks even after they let him go last year.
"I've kind of moved on," Woodson said. "Two years ago was a great run for our ball club and a lot of things have changed since then. All I can say is that I wish them nothing but the best, and I truly mean that when I say that. I don't wish losing on anybody as a coach, as a general manager, president, Mr. [James] Dolan especially, who gave me an opportunity to come here and coach. So I'm just happy I'm in the position I'm in to be able to continue to coach."
Woodson deflected questions about Rivers giving him a platform to speak before and after the game on Wednesday saying, "This is not about me, this is about the Clippers and the fine team that Doc put together."
Clippers players said Woodson's homecoming to New York did mean something to them.
"Absolutely, we're all sticking up for each other," Griffin said. "It was probably not how everybody wanted it to end here. So, it's good to get wins like this to help support guys and get rest for everyone."
Chris Paul smiled when he learned Woodson addressed reporters postgame instead of Rivers. "Woody is an amazing guy. He's a great coach. I've enjoyed playing for him," Paul said. "Obviously, we're family here. He's with us. Obviously it was an unfortunate situation here in New York. So, it was good to get this win."
About three months after being let go by the Knicks, Woodson joined Rivers' staff in Los Angeles after Alvin Gentry left for Golden State and Tyronn Lue left for Cleveland. Rivers and Woodson had never coached on the same staff, but just two years ago Woodson eliminated Rivers' Celtics in the first round of the playoffs.
"Things change quickly," Rivers said. "I'd love Woody to still be coaching. He is, but with me. He's a head coach, and he'll be a head coach again. We know that. Things have changed here. They had to make a decision. You do. If you're building in the right direction, you keep building. If not, you try to tear it up and get it right. I think that's what they're doing and that's what they're going through. It was probably the right decision."
While Woodson believed he deserved to keep his job, he knew Jackson was going in a new direction when he took over. He was going to bring in his coach -- Derek Fisher -- and take the team in a new direction. That direction hasn't been a positive one in the short-term but Woodson doesn't hold any ill will toward Jackson for what he did.
"I think when Phil came in, he had his mind made up based on what he wanted to do, and I can respect that," Woodson said. "There's nothing I can say bad about Phil. Phil has had a hell of a career as a coach and he had other ideas in terms of the direction he wanted to go, and I respect that."
As Woodson spoke to the assembled New York media, calling individuals out by name as he did ushers and security guards he walked past at the arena, he still smiled when talking about the 2012-13 season. His tenure with the team didn't go as planned but that season will go down as not only his best but the best the Knicks have had in more than a decade.
"I'm not going to downplay what we did," Woodson said. "I mean, I'm pretty happy about our play and the style of play we had here. It's not easy winning 54 games in this league and the fact that along with Glen Grunwald and Mr. Dolan to put a solid group together that year ... you can't take anything away from that team. That team was very competitive and won a lot of games for us."
Woodson is used to experiencing disappointment after success. He finished his six-year run as the Atlanta Hawks coach by leading them to three straight playoffs and was fired after a 53-win season and a berth in the conference semifinals, the best season the franchise had enjoyed before this season.
"I had an opportunity here and I didn't get it done, I guess, so I had to move on," Woodson said. "I'm happy as hell to be in L.A. with Doc, a friend of mine who I've known for many, many years. He's given me an opportunity to help him try to get the Clippers to the [NBA] Finals and perhaps win a title. That's what it's all about.
"It was a good three years for me. I was blessed to be able to come in here and get an opportunity. This is where I was drafted and played my rookie year and to be able to circle back and be given an opportunity to be a head coach of the team, it was fantastic. I just tried to make the most of it and sometimes things work out and sometimes they don't. I have no hard feelings toward anybody in New York. I mean, it was a good run."
As much fun as Woodson is having this season in Los Angeles, his goal is to become a head coach again, perhaps as early as next season.
"Absolutely," Woodson said if he wants to be a head coach. "I'll push in that direction one day. We'll figure it out and see if I'm able to get back in the driver's seat again."
Ian Begley of ESPN New York contributed to this report
March, 26, 2015
Mar 26
12:00
AM ET
ESPN.com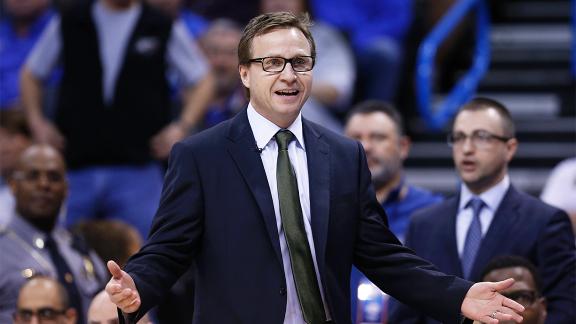 March, 25, 2015
Mar 25
9:39
PM ET
Associated Press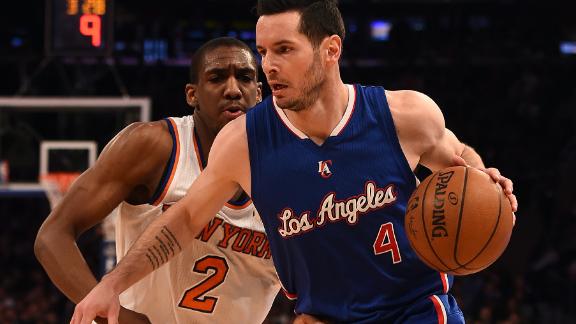 NEW YORK -- DeAndre Jordan raised the NBA's best shooting percentage above 71 percent by making all seven shots and scoring 14 points, and the Los Angeles Clippers pounded the New York Knicks 111-80 on Wednesday night.
Shooting all night from either right at or above the rim -- and once right on top of Jason Smith -- Jordan hiked his season average to .713, which would be second only to Wilt Chamberlain's .727 in 1972-73.
Chris Paul added 11 points and 16 assists for the Clippers, who won their fifth straight and improved the fourth-best record in the Western Conference to 47-25. Austin Rivers scored 21 points in 19 minutes off the bench.
The only negative for Jordan was grabbing only 10 rebounds -- the Clipper starters played less than 30 minutes -- to end his streak of games with at least 14 rebounds at 19.
March, 25, 2015
Mar 25
8:22
PM ET
NEW YORK -- New York Knicks guard Alexey Shved will likely miss the rest of the season due to a rib fracture.
The team announced on Wednesday night that Shved has "an incomplete fractured rib." He will be reevaluated in 2-3 weeks.
Given that timetable, it is unlikely that Shved would return prior to the Knicks' final regular season game on April 15.
Shved suffered the injury when he kneed by Toronto's Patrick Patterson on March 22.
The 26-year-old has been one of the few bright spots for New York this season.
In 26 games, Shved averaged 14.8 points per game, 3.6 assists and 4.6 rebounds. The Knicks acquired Shved at the trade deadline in late February in a deal with the Houston Rockets
Shved will be a free agent this summer, one of 10 on the team's roster.
Knicks president Phil Jackson said that he plans to re-sign several free agents from this year's team and Shved would seem a likely candidate.
March, 25, 2015
Mar 25
12:16
PM ET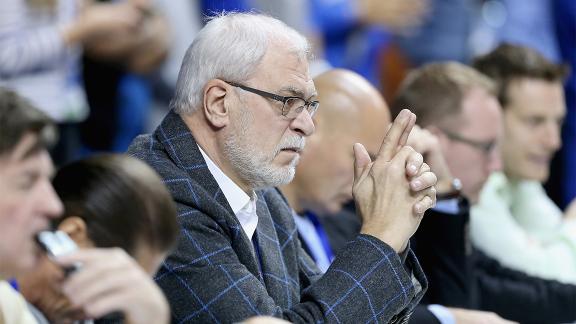 March, 25, 2015
Mar 25
9:18
AM ET
Associated Press
CANTU, Italy -- Former NBA All-Star Metta World Peace has signed for Italian team Pallacanestro Cantu for the remainder of the season.
After a series of teasing tweets from the 35-year-old World Peace -- such as "whatever you can do I Cantu better" -- Cantu confirmed the news, calling it "the coup of the century."
World Peace, who changed his name from Ron Artest, was playing for the Sichuan Blue Whales in the Chinese Basketball Association after a long NBA career that included stints with the Chicago Bulls, Indiana Pacers, Sacramento Kings, Houston Rockets, Los Angeles Lakers and New York Knicks.
"When Daniele (sporting director Daniele Della Fiori) told me about the possibility of signing Metta World Peace, I thought that this could be the right shock to boost the squad at a crucial time in our season," Cantu president Anna Cremascoli said. "Metta will bring a wave of enthusiasm to the whole of Italian basketball and not just to Cantu."
World Peace, 35, averaged 19 points and six rebounds in 15 games for Sichuan -- where he also changed his name to "The Panda's Friend" -- but with the Chinese season over, he has turned to Italy.
World Peace won the NBA title in 2010 with the Lakers, where he also spent a season with Darius Johnson-Odom, who has been at Cantu since August.
"I'm happy, obviously," Johnson-Odom said. "I've spoken to Metta on the phone and he's very excited about this new adventure. I'm sure he will give us a great contribution, because we're talking about an absolute champion."
March, 25, 2015
Mar 25
9:09
AM ET
ESPN.com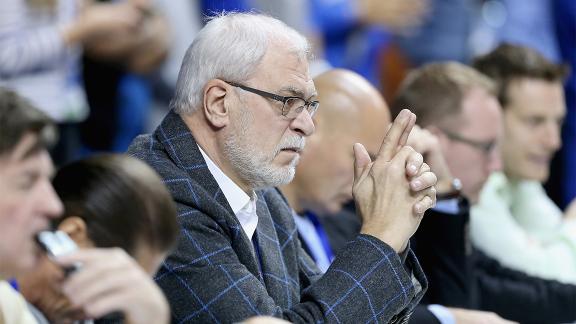 March, 24, 2015
Mar 24
3:08
PM ET
A fan who was fired from his job as a trader as a result of the fallout from screaming "You stink!" at New York Knicks star Carmelo Anthony said in a court filing Monday that Madison Square Garden's defamation of his name directly resulted in his termination.
Lawyers for Anthony Rotondi, who previously sued Madison Square Garden, where he watched the Knicks play the Pistons on Jan. 7, 2014, filed an amended complaint that detailed a conversation that took place the day after the game between MSG vice president Courtney Jeffries and an employee of ING, where Rotondi worked.
Jeffries, according to the lawsuit, told that employee that Rotondi was disorderly, interfered with the game and refused to leave after he was ejected with 6.7 seconds remaining in the game.
Jeffries later sent an email to the same ING employee saying that Rotondi was ejected for "excessive verbal abuse" and "offensive language towards Knicks players."
It is the details of this conversation, which Rotondi claims isn't true, that he alleges led to his firing.
"The amended complaint contains dramatic new details including a bombshell email from MSG to ING," Rotondi's lawyer said, in a statement provided to ESPN.com. "It clearly shows the lengths MSG went to intimidate ING that directly led to Anthony's termination. This is MSG overreaching at its most invidious way, directly resulting in personal and professional damage to Anthony."
Kimberly Kerns, a spokesperson for Madison Square Garden, said in a statement that MSG has filed a motion to dismiss the "frivolous" lawsuit and was considering a countersuit.
March, 23, 2015
Mar 23
10:21
PM ET
Associated Press