Doug Glanville and Alex Cora discuss the second consecutive impressive performance by Mets phenom Jacob deGrom.
With the game on the line in the ninth inning, Alex Torres closed out the Mets' 5-4 win over the Marlins.
Saturday's New York Mets Minor League report highlights Noah Syndergaard's performance at Triple-A Las Vegas.
Jacob deGrom has the longest scoreless streak in the majors, and the Mets have the longest winning streak.
Jacob deGrom extended his scoreless innings streak to 18 1/3, and the Mets extended their winning streak to seven games.
Travis d'Arnaud and Wilmer Flores each homered, and the Mets withstood a late rally to beat the Marlins 5-4 and move within a game of a sweep.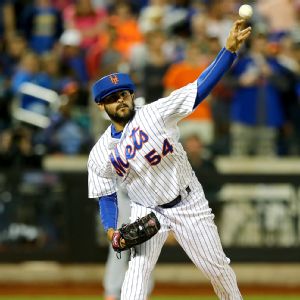 Mets reliever Alex Torres, the only major leaguer to wear the first MLB-approved padded pitcher's cap last year, on Saturday became the first to receive and wear the new approved version.
5h
ESPN Stats and Information Group
The division-leading Mets have won six straight
Manager Terry Collins said Saturday afternoon that he plans to give both Jeurys Familia and left-handed specialist Jerry Blevins the night off
Jacob DeGrom will start for the Mets against Mat Latos of the Marlins.
10h
ESPN Stats and Information Group
Since September 1 last year, five of Stanton's six home runs have come against the Mets
This morning's New York Mets Briefing ponders whether Jacob deGrom can lead the Mets to a seventh straight win.
Friday's New York Mets minor league report is highlighted by a comeback victory by Double-A Binghamton.
Bartolo Colon drove in a run for the second straight game, this time tying it up with a sacrifice fly to help his own cause.
Mets outfielder Juan Lagares received his Gold Glove award, then showed off the skills that got him recognized in the first place.
Apr 19, 2015

,

1:10 AM ET
DeGrom dazzles again