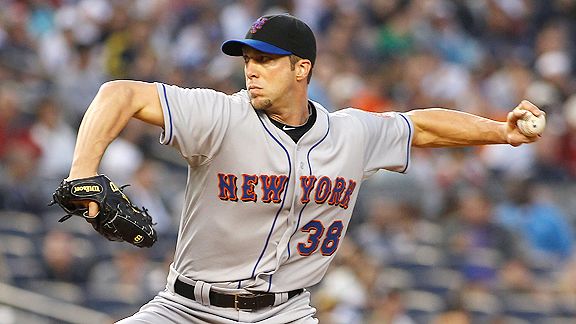 Mike Stobe/Getty Images
Chris Capuano allowed a career-high four homers on Saturday night to the Yankees.
After allowing a career-high homer total in the Yankees' 7-3 win against the Mets on Saturday, Chris Capuano described the feeling this way: "Any time you give up four home runs, you kind of feel like you're a little punch drunk -- like you're in a prize fight. These guys are strong. I think I threw probably too many strikes, if that's possible, especially when I got ahead in the count. When I've gotten hurt this year, it's been not throwing good-enough finishing pitches -- working hard to get ahead and not expanding the zone."
In that respect, Capuano particularly regretted the solo homer by Curtis Granderson, on an 0-2 slider. The shot gave the Yankees a 5-3 lead in the sixth.
"I kind of went to the well one too many times there," Capuano said. "I threw a couple of good sliders to get ahead. And I threw that one off the plate, away from him. It was a little more up than I wanted it. He was on it, went out and got it. I've seen him hit that pitch before. In retrospect I would have chased him in with a good fastball before I went back to that."
Capuano acknowledged there is a distinct difference between the way the ball plays at Citi Field versus Yankee Stadium. Still, after Derek Jeter flied out to deep center to open the bottom of the first inning, Capuano was heartened that he could have success if he kept the baseball in the middle of the field.
"I think we are a little spoiled at Citi. Especially me, I tend to give up more fly balls," Capuano said. "I think we know how good we have it there."
That's not to suggest each of the Yankees' long balls was a cheapie.
"Russell Martin really hit his good. That was a no-doubter," Capuano said. "I thought I made a pretty good pitch to [Mark] Teixeira first pitch. And A-Rod, too -- I threw a good changeup away from him. Those guys are strong."
As for the Martin shot, Terry Collins concluded: "When Chris' changeup is down, when it's got the sink, it's very, very effective. And he left that one up. It flattened out. Russ got it. ... I told Dan [Warthen] in the dugout. I said, 'You know, he's made about maybe seven bad pitches all night, and they've hit four of them out.'"
Collins knew the Mets could not get into a slugfest with their city rivals.
"I knew coming in we had to keep the ball in the park," the manager said. "We can't match them slug for slug. We've got to pitch. We've got to keep the ball down. We're going to get hurt if we continue to let the ball fly out of here.
"It's tough to catch up. We've got some guys who can hit some homers, but we don't have a lot of them in the lineup. If Carlos [Beltran] or Jason [Bay] doesn't get them, we've got to peck away. That was where I was hoping Fernando [Martinez] would get some pitches to hit, maybe be the one guy who could do some damage here. Falling behind by a lot of runs and trying to catch up getting singles is hard."