December, 28, 2014
Dec 28
8:25
PM ET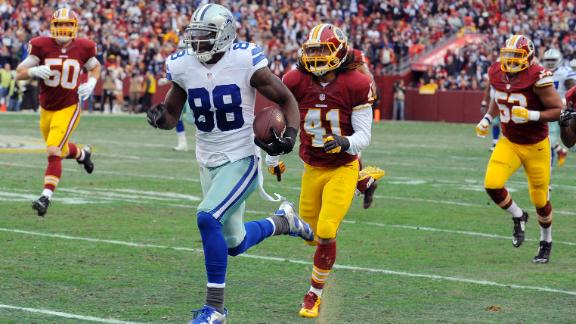 LANDOVER, Md. -- The difficult part now for the
Washington Redskins
is knowing where to begin. So many areas deserve attention. When you finish with four wins, a year after winning only three games, no quick fix exists. That's the first thing the Redskins must realize.
If the Redskins think there is a quick solution, that a good free-agent class and draft will make all the difference, then they'll delude themselves into thinking, once again, that they're at a level they're clearly not. They need to finally build a foundation that can lead to consecutive winning seasons, something they haven't had since 1996-97. They can start the process this offseason. But it won't be a quick one because it's something they haven't succeeded at in the recent past.
After the Redskins
lost 44-17 to Dallas
on Sunday, wrapping up a 4-12 season, coach Jay Gruden was asked how far they were from the Cowboys -- the best in the NFC East.
"They're 12-4 and we're 4-12, so right now, we're far away," Gruden said. "They're going to the playoffs, we're not. We're not very close to them right now."
Yes, the Redskins beat Dallas earlier in the season. But after that game, Washington lost six straight and seven of eight. This isn't about splitting a series with a team, it's about consistency week in and week out. And the Redskins just don't do anything consistently. Not in a positive way, that is.
They began the season wondering what sort of coach Gruden would be, and what sort of quarterback Robert Griffin III would be. They end the season with the same questions. Gruden may or may not grow into a good coach; this season did not show that he would. What it did show is that he needs more help, whether from the roster or his staff.
Griffin didn't show what the Redskins needed, either. Now he'll enter the last year of his rookie contract with serious doubts about the future. But his issues have been documented, and all this season showed was that he's not the answer. He's far from the only problem. And Griffin isn't the one building the roster.
The Redskins have an offense that is transitioning between systems, from what Mike Shanahan used to do to what Gruden would prefer. He wants a more power-oriented attack but has an O-line that was built for something else.
The team ended the year with no real identity. There were a lot of returning starters (all but one spot) from a team that went 3-13. The reality was that it wasn't just the previous staff that wasn't good enough, it was the roster. That's why players are dreading this offseason, knowing there could be a turnover approaching half the roster.
"That's a scary thought," Redskins tight end
Logan Paulsen
said.
But it's also a necessary one.
"We do have to face a lot of things," Gruden said. "It's a matter of a whole team retool, and looking at everybody and everything and figuring out what we can do."
This season turned out to be one long preseason as Gruden figured out what these players were about, who he wanted to keep and what he wanted to add. Thing is, the organization -- those here long before Gruden -- felt this was a roster worthy of something entering the season.
"We have to go to the drawing board and figure out who we'll be on offense and who we'll be on defense and who we will be special teams-wise," safety
Ryan Clark
said. "Once we figure that out, then you know what you need to accomplish that goal. That's tough on your first year as a coach. You get what's already there. Now you can start trying to put your imprint on the team and make it your team, and that's what Jay will try to do."
The other issue involves defensive coordinator Jim Haslett. Yes, there's doubt about his future. It's not about this year, one in which the defense had a lot more to overcome. It's about the last five. You don't have a four-win season without some sort of scapegoat. Again, there's fear among assistants over what might happen. Gruden will meet with general manager Bruce Allen at some point and go over the coaching staff and decide what must be done. It'll take a little time.
So much needs to change in Washington. But not all the players were downcast about the future.
"I'm not concerned," Redskins tackle
Trent Williams
said. "We have a very talented team. It was the first year in a new system. We definitely have the talent to turn it around and be one of the better teams in the league. But it's way easier said than done."
Do the Redskins really have that much talent, or do they just have some big-name parts that don't always fit together? The Skins have missed on too many free agents and too many draft picks and can't afford another offseason of the same. If it happens again, they'll be back in this same spot next season.