May, 10, 2014
May 10
5:50
PM ET
»
NFC wrap-ups
:
East
|
West
|
North
|
South
»
AFC
:
East
|
West
|
North
|
South
EAST RUTHERFORD, N.J. -- A wrap-up of the
New York Giants
' draft.
Click here
for a full list of Giants draftees.
[+] Enlarge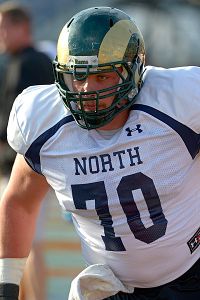 AP Photo/G.M. AndrewsWeston Richburg, a center out of Colorado State, should be in a good position to compete for the Giants' starting job this season.
Best move:
The Giants addressed an immediate and long-term need with the selection of Colorado State center
Weston Richburg
with the 11th pick of the second round. Richburg played multiple positions and in a variety of different offensive schemes in college, and his versatility, athleticism and intelligence make him a strong fit for the center spot in the Giants' new Ben McAdoo offense. I don't see any reason he can't beat out
J.D. Walton
for the job right away, and having a center who can handle a variety of responsibilities before the snap and after it should help the offensive line play on either side of him. Richburg's play can also offer the Giants a number of ways to jump-start a running game that never got going in 2013.
Riskiest move:
The selection of LSU wide receiver
Odell Beckham Jr.
with the 12th pick of the draft isn't "risky" in the traditional sense -- meaning, I don't think he's a threat to be a bust. I think Beckham is likely to be a very good player for the Giants. But passing on offensive lineman
Zack Martin
for a potential game-breaking receiver was a risky move. The Giants have let the offensive line decay too much in recent years, and Beckham's ability to separate from defenders isn't going to help them much if the line can't get the play blocked and
Eli Manning
doesn't have time to get him the ball. The Richburg selection mitigates things somewhat, but adding a first-round talent to the offensive line mix was the best move the Giants could have made in this draft, and they chose not to make it. There's a decent chance that will come back to bite them.
Most surprising move:
It was surprising that Boston College running back
Andre Williams
was still available for the Giants in the fourth round, but it's not surprising they took him. He'll fill a role right away as a power back who can fight for tough yards in the middle of the line -- doing the dirty work while
Rashad Jennings
and maybe
David Wilson
get the highlight-reel work. The biggest surprise was the selection of Syracuse defensive tackle
Jay Bromley
in the third round, with the No. 74 pick. This was a clear reach for a player who mainly had fifth- and sixth-round grades. And, although the Giants cited his 10 sacks from an interior line position in his senior season and the fact he was a team captain as support for the pick, even Bromley said he was shocked to be picked on the draft's second day.
File it away:
San Diego State safety
Nat Berhe
was the Giants' pick in the fifth round, at No. 152. It's the second year in a row they took a safety with the No. 152 pick (
Cooper Taylor
in 2013). Berhe was also a reach but also a team captain/leader type, like almost everyone they picked. Scouting director Marc Ross said the Giants can envision Berhe as a hybrid safety in what Ross called a "
Deon Grant
role" in the defense. He wasn't necessarily talking about this year, but if Berhe develops, he could have a path to playing time. Taylor is the only Giants safety under contract beyond 2014 at this point.
Antrel Rolle
is in his final year;
Stevie Brown
is coming off ACL surgery; and
Will Hill
is facing a third drug suspension in as many years.
May, 10, 2014
May 10
12:02
AM ET
By
Andy Jasner
| ESPN.com
PHILADELPHIA -- The
Philadelphia Eagles
made a major upgrade at wide receiver.
It just took a day longer than most people expected.
The Eagles entered the second round of the NFL draft with the No. 54 overall pick, but they must have sensed that Vanderbilt wide receiver
Jordan Matthews
wouldn't last. So they worked out a trade with the
Tennessee Titans
to move up to No. 42 while sending the No. 122 overall pick in the fourth round to Tennessee in the process.
Then, at No. 86, the Eagles picked wide receiver
Josh Huff
, a former standout at the University of Oregon under coach Chip Kelly.
After releasing wide receivers
DeSean Jackson
and
Jason Avant
, the Eagles seemed to have a need at this position. That much was evident by their actions on Friday.
"I think the one thing we talked about is man coverage," Kelly said of Matthews' ability. "The one thing he does is catch the ball in traffic. He made an unbelievable amount of contested catches. You know, he's got such a wingspan and will go up and get it and can play both inside and outside. We're probably going to start him inside. If we've got
Jeremy Maclin
on one side and (
Riley Cooper
) on the other side and throw [Matthews] inside, and he has experience. So I think the kind of thing that would separate him from some other people is he does have experience.
"Only a couple guys in the draft that we felt you could at least see on film that played both inside and outside. Some are inside receivers, some are exclusively outside receivers. We felt he was one of those guys that could do both. He's got the speed to play on the outside. He's got the size. He can do a lot of the different things that we can do. The big thing for us is the intangible things that Jason Avant brought playing inside that slot receiver, being a physical guy, and I think he can do that along with exploiting man coverage."
Matthews is stepping into an ideal situation with the Eagles since they're a bit thin at wide receiver. Matthews had 1,477 yards receiving last season, the third-highest total ever by an SEC receiver.
Many of those catches came in the middle of the field with defenders hanging all over him.
"My coaches always tell me, 'If you want to be a big receiver, you have to play big,'" Matthews said on a conference call. "That was always my mindset I took into my game. I always made sure I watched big receivers and watched how they scored in coverage and got open and caught the ball. I try to apply that to my game and make sure I can be a top receiver."
Huff was a top receiver at Oregon while accumulating 62 receptions for 1,140 yards and 12 touchdowns as a senior. He averaged an impressive 18.4 yards per catch last season.
"He was the highest-rated guy we had [on the board]," Kelly said.
May, 9, 2014
May 9
11:20
AM ET
IRVING, Texas -- When the NFL draft's first round ended Thursday night,
Dallas Cowboys
' officials were pretty happy with their work.

Martin
In the war room, there was national scout Walter Juliff pumping his fist with what was accomplished: The Cowboys selected Notre Dame tackle
Zack Martin
with the 16th overall pick in the first round.
While the Cowboys had wanted to upgrade their defense, three players projected in the middle portions of the first round were gone. UCLA linebacker
Anthony Barr
, Pittsburgh defensive tackle
Aaron Donald
and Ohio State linebacker
Ryan Shazier
were off the board.
The Cowboys took the next best player in Martin.

"We basically look at draft strategy, what was in the best interest of the team," Cowboys owner/general manager Jerry Jones said. "It's no secret we'd like to have some defense in this draft, but as I think I mentioned the other day, I keep going back to that, you have to have an outstanding draft and you have to have an outstanding player or two in it. If in fact the right one drops down there and is at the right price, and helps us out a lot, and we needed help in our interior."
Jones said he spent approximately nine minutes talking with other teams about potential trades, none for quarterback
Johnny Manziel
, who slipped out of the top 10 and later went to Cleveland at No. 22.
Instead of going for a need pick, the Cowboys didn't try to force the issue and went with the best player available. With Martin, the Cowboys have a player who will start at guard his rookie season before moving to tackle in the future.
Coach Jason Garrett said he likes to create competition at several positions and doing it for the offensive line only enhances the team's depth, as well as the roster.
"We felt like we had needs going into this draft," Garrett said. "You want to address your needs, but you want to address your needs with the best players available. We felt like we did that (Thursday night)."
May, 8, 2014
May 8
12:32
PM ET
IRVING, Texas -- Well isn't all this
Johnny Manziel
stuff just so much fun?
ESPN Insider
Todd McShay has Manziel coming

to the
Dallas Cowboys
with the 16th pick in the first round. So does Mike Mayock in his mock draft.
What kind of reaction would that have? Talk about a ratings bonanza. Talk about a ton of interest in a team that already has a ton of interest despite one playoff win in nearly two decades. Talk about an interesting quarterback room with Manziel and
Tony Romo
. Talk about how this would do nothing for a head coach needing to win in 2014 to make sure he's coaching the team in 2015.
I'll take you back to Jerry Jones' comments after the Cowboys'
37-36 loss
to the
Green Bay Packers
last December: Aren't you entertained?
If that's the reasoning people are using to connect Johnny Football to the Cowboys, then this franchise is doomed. If it's because Manziel is a future franchise quarterback, then fine.
In Tuesday's pre-draft news conference Jones said, "I will go as far as to say it is not our primary goal in the first round to be looking at a quarterback. We've got a good one."
I guess we can parse the "primary goal" part. I guess we can just believe Jones was smokescreening us all. But why can't we believe all this Manziel stuff now is just smokescreening? If Manziel does fall to No. 16, don't you think the Cowboys would love to drive up the price for a team that would be willing to trade up to that spot to get him?
Heck yeah.
On some levels it makes sense to draft Manziel, if the Cowboys are convinced he is a franchise quarterback. Romo is 34 and coming off his second back surgery. If you're going to find a replacement for Romo, then doing it in the early rounds makes the most sense. Since 2006, there have been 59 quarterbacks drafted in Rounds 3-7 and two have become starting quarterbacks:
Russell Wilson
and
Nick Foles
.
But let's look at the salary cap as a reason for why selecting Manziel wouldn't make sense.
If the Cowboys wanted to cut Romo after this season, it would cost them $9.635 million in cap space with his cap figure ballooning to $37.4 million. Romo is already guaranteed $7.5 million of his 2015 base salary. Another $7.5 million is guaranteed the third day of the 2015 league year.
With how fiscally responsible the Cowboys were this offseason when it came to free agency, would they wipe out a huge chunk of cap space? If they used a June 1, 2015 cut on Romo, then it would save $17 million against the cap, but then Romo would be on the books in 2016 for $21.635 million. Again not prudent.
If the Cowboys want to cut Romo after the 2015 season, then they would take a hit of $1.5 million, provided they let him play that season with a preposterously high $27.773 million cap figure. It is a virtual lock the Cowboys will restructure Romo's contract again in 2015, which would increase the proration amounts in 2016-19. Again not prudent.
So the most financially beneficial way to part ways with Romo is after the 2016 season. By that time Manziel would be going into the final year of his contract and the Cowboys would have to make a decision on whether to pick up his fifth-year option without having seen him play if Romo operates at a high level and does not get injured again.
Bottom line, I just don't see Manziel to the Cowboys happening. It would be great for a lot of people, including the media. It would make Valley Ranch -- or whatever we're going to call their new home in Frisco -- an even more interesting place.
Thankfully, the draft starts here soon.
It can't get here fast enough.
May, 7, 2014
May 7
1:45
PM ET
IRVING, Texas -- The
Dallas Cowboys
have drafted players with varying degrees of injuries over the years, hoping they found value where others saw risk.
They did it with
Sean Lee
and
Bruce Carter
in the second rounds of back-to-back drafts in 2010 and '11.
Morris Claiborne
had wrist surgery before the 2012 draft, and Dallas had no qualms trading up to get him.
Joseph Randle
was picked in the fifth round last year despite a thumb surgery that kept him out a good portion of the offseason.
Despite not wanting to use it as an excuse the past few years, the Cowboys often cite injuries as the major reason as to why they have finished 8-8. With just a little bit of luck in the health department, owner/general manager Jerry Jones hinted on Tuesday, the Cowboys would have been a playoff team and will be a playoff team this year.
So would the Cowboys be as willing to draft players with injury flags, such as Florida defensive tackle
Dominique Easley
, who tore both of his anterior cruciate ligaments in college?
"I think you have to always measure the value that you're getting, but at the same time I think one of issues at the top of the list the last couple of years have been injuries," executive vice president Stephen Jones said. "That was brought up in the draft room and we have to be cognizant of that injuries have been a little bit of what's put us behind the eight ball a little bit. We'll certainly have to take a long, hard look at that before we pull that trigger but that doesn't mean we won't do it. I wouldn't say it's out of the question."
May, 6, 2014
May 6
2:00
PM ET
By
Andy Jasner
| ESPN.com
PHILADELPHIA -- The
Philadelphia Eagles
are obviously looking for the most talented players in the NFL draft.
They'e also searching for players with character and integrity.
It can be a tricky balance.
"It's a judgment question," Eagles general manager Howie Roseman said in a predraft discussion with reporters last week. "For us, it goes back to when we look at social media. It's are they doing it [in a responsible way] now because they know we're watching them? What were they doing when they were freshmen, sophomores and juniors? Because, in this city, there's going to be a lot of distractions. How are they going to be able to handle that? The only thing you can look back [at] is their past actions. By the same token, we also all know that when you're 19, 20, 21, you don't always make the best decisions. Is that something that's just youthful indiscretions, or does that speak to their character?
"I think that's a much harder projection than is the play on the field, is seeing if a guy can meet their potential, because you don't know," Roseman added. "I'm sure that if we went around this room and talked about how all of us were, 21 and 22, and how we are now, it's much different. So when are these guys going to develop, when are they going to grow up? Are they going to come and realize, 'This is my job, this is my livelihood, this is a once-in-a-lifetime opportunity, I'm going to do whatever it takes'? There's no insurance for that."
Roseman said he likes the chemistry on the Eagles. And he wants to add to that culture with the draft.
"Culture's really important to us," Roseman said. "Culture and chemistry is a huge part of building a football team. When you talk about 53 guys trying to come together, which I think we saw towards the end of last year, the second half of last year, you're talking about people from diverse backgrounds, different parts of the country, and they're all trying to fit together. So getting that chemistry, this is the one sport where one guy is not going to make the difference. You need to have a team. It's very important to us when we talk about guys and having the right fits here in our building. We're really excited about the energy we have from our football team. So for us to go out of left field and bring someone in who doesn't fit, I look at it that our players look at us when we bring in draft picks. They look at who we put in front of that podium, and if that guy's not a fit for us, that's my responsibility. They're gonna look at me and say, 'We have a good thing going here. We have good chemistry. We have a good culture. Why would we ruin that by bringing in somebody who doesn't fit?'"
March, 6, 2014
Mar 6
11:00
AM ET
Todd McShay's third NFL mock draft for 2014 is out on ESPN Insider today.
The Philadelphia Eagles now seem quite set on the offensive side of the ball, but could go in one of many directions with their first pick to improve their defense. McShay had
Darqueze Dennard
going to Philadelphia in his previous mock, and the Eagles probably would love that scenario, but overall, taking the best defensive player regardless of position seems like the smartest move for the Eagles. They have set themselves up to get very good value throughout this draft, especially to reinforce their defense.
Whom does McShay have the Eagles drafting at No. 22?
Let's take a look at his pick and analysis

: