NFC East:

Carolina Panthers
March, 11, 2014
Mar 11
6:00
PM ET
Steve Smith
spent the early part of what many thought might be his last day as a member of the
Carolina Panthers
having fun in a Twitter exchange with Brian Blackmore, a fan who made up a "Save Steve Smith" T-shirt.
Man they making shirts like I got a case against me. I ain't going jail am I... @Jonathanstewar1 pic.twitter.com/6zHVThylvz

— Steve Smith (@89SteveSmith) March 11, 2014
Blackmore, 31, then shared that he once was released from his job, adding, "I'm pulling for you."
Responded Smith: "I love the shirt but it just made me laugh and smile. Everything that is going on I'm just humbled by the support."
Maybe the T-shirt worked.
At least for the first day of the NFL's new year, Smith is safe.
That doesn't mean the Panthers won't release him on Wednesday or the next day or the next. They've almost backed themselves into a corner since it was reported on Monday they were trying to trade their all-time leading receiver.
And maybe they still are. Since Smith is under contract, the Panthers didn't have to release him at 4 p.m. ET as most teams looking to dump a player did. They can talk trade for another couple of months in hopes of convincing a team to take on Smith's $7 million cap figure.
It's doubtful that will happen. Teams aren't likely to gamble that kind of money on a soon-to-be 35-year old, even one that has been as productive as Smith.
And it's not like this isn't the first time the Panthers have shopped Smith only to keep him. It happened a few years ago when Smith was disgruntled with the direction the team was headed.
To cut Smith without compensation makes little sense financially because the Panthers would have to pay him $3 million of the $7 million he is scheduled to count against the salary cap this season.
That's $3 million to play for somebody else.
It's also risky to cut Smith without assurance you're going to sign a proven veteran such as
Sidney Rice
or
Hakeem Nicks
to team with up-and-comers and a draft pick.
Brandon LaFell
,
Ted Ginn
Jr. and
Domenik Hixon
, Carolina's next three wide receivers from 2013, are now on the open market as free agents.
Of those, Ginn is the one Carolina would like to keep because he can return kicks.
Otherwise, the cupboard is bare.
It's also risky to keep Smith now that he knows the team was willing to move on without him. He's a proud and passionate player who surely will take this to heart.
I still think general manager Dave Gettleman ultimately will release Smith despite the support of Blackmore and a recent Charlotte Observer poll in which 84 percent of those that responded said the Panthers should keep him.
So now we play the waiting game.
For those following the Panthers in free agency, Tuesday was a lot like the recent Super Bowl between New England and Seattle. There was a lot of buildup and drama, but in the end not much to get excited about.
The biggest news of the day was offensive linemen
Geoff Hangartner
and
Jeff Byers
made official they are joining left tackle
Jordan Gross
in retirement. Hangartner has been saying this for months, so it really wasn't a surprise.
The second biggest news was special teamer
Jordan Senn
is headed to Chicago.
See what I mean.
Re-signing free safety
Mike Mitchell
remains one of Carolina's priorities, although with strong interest from Philadelphia and Washington the price may go beyond what Gettleman wants to pay with only $7 million in cap space.
After that the Panthers will scour the market for bargains at cornerback and offensive tackle. They let starting cornerback
Captain Munnerlyn
test the market, but even he can't be ruled out returning.
Munnerlyn tested the market a year ago and came back to Carolina for a one-year deal.
Gettleman's strategy is to let the feeding frenzy that occurs at the opening of free agency settle down and then find the diamonds in the rough.
He'll also have to deal with Smith at some point.
But at least for a day, Smith is safe.
September, 22, 2013
9/22/13
10:00
AM ET
By
ESPN.com staff
| ESPN.com
Join our ESPN.com NFL experts as they break down the New York Giants' visit to the Carolina Panthers. Contribute your thoughts and questions beginning at 1 p.m. ET. And, be sure to visit our
NFL Nation Blitz page
for commentary from every game, as well as fan photos and the latest buzz from Twitter. See you there.
September, 19, 2013
9/19/13
12:00
PM ET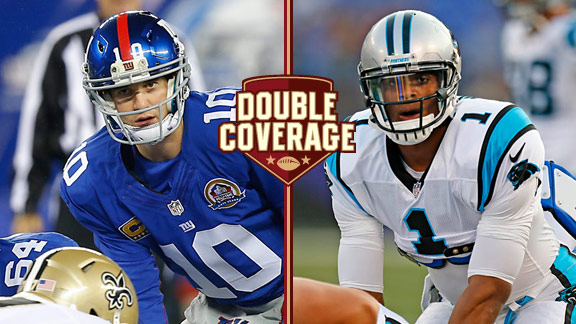 USA TODAY SportsEli Manning, left, and Cam Newton are both seeking their first victory of the 2013 season.
The
Carolina Panthers
are 0-2 and their coach is on the hot seat. The
New York Giants
are 0-2 and their two-time Super Bowl MVP quarterback supposedly is pressing.
"They're as desperate as we are," Panthers coach Ron Rivera said of the Giants.
The good news for both teams is that somebody will break into the win column. Giants team reporter Dan Graziano and Panthers team reporter David Newton are here to break down this not-so-epic showdown, set for 1 p.m. Sunday at Bank of America Stadium.
Let's get straight to the heart of this: Which team is the most desperate?
Newton
: No question, the Panthers. A loss to the Giants will increase speculation that coach Ron Rivera could be fired during the upcoming bye week. Eighty-one percent of more than 10,000 fans who voted in a Charlotte Observer poll already want Rivera gone. The Giants have proved they can rebound from an 0-2 start, going to the Super Bowl in 2007. They have a proven winner in quarterback
Eli Manning
. Carolina quarterback
Cam Newton
is 13-21 as a starter, so he has proved nothing. This is the fourth time since 2009 the Panthers have started 0-2. Their best rebound was 8-8 in '09. They went 2-14 in 2010 and 6-10 in 2011. Another loss and all hell could break loose.
Graziano
: Obviously, the Giants are in a bit of a different spot. They're not about to fire a two-time Super Bowl champ who might be the greatest coach in franchise history. And they're fully committed to the quarterback who was MVP of those two Super Bowls. This is the Giants' first 0-2 start since 2007, when they famously rebounded to win the first of Tom Coughlin and Eli Manning's titles. But if they can't recover from this one, Coughlin and Manning will miss the playoffs for the fourth time in five years. Not exactly burnishing the legacy. Manning is off to a tough start, having thrown seven interceptions in two games already. But David, my question for you is, given all of the injuries in the Carolina secondary, do the Panthers even have anyone back there to catch Manning's passes?
Newton
: If you're asking whether the situation is so dire that
I've
been asked to step in, no. But remember what happened in Week 3 last year? Carolina's secondary was healthy, and the team was 1-1. Manning didn't have running back
Ahmad Bradshaw
or wide receivers
Hakeem Nicks
and
Domenik Hixon
, who by the way has disappeared in the Carolina lineup. So what happened? Backup running back
Andre Brown
rushed for 113 yards, and
Ramses Barden
caught nine passes for 138 yards. Manning completed 77.1 percent of his passes, and the Giants rolled 36-7. My point is, does it matter? Carolina's only hope is that the defensive front seven keeps Manning under constant duress and he continues his interception tear. Speaking of interceptions, what's up with seven in two games from the two-time Super Bowl MVP?
Graziano
: The total is slightly inflated because the Giants have been playing from behind in the second half and Eli's been heaving it up for grabs out of desperation, but he'd be the first to tell you too many of the turnovers have come at critical times when the game was still in the balance. He has made some poor decisions, but it's all magnified by the complete lack of offensive balance. The Giants are first in the league in passing yards but dead last in rushing yards with only 73 in two games. Brown, whom the Panthers remember from last year, broke his leg in the preseason finale.
David Wilson
has had his role reduced since fumbling twice in the season opener.
Brandon Jacobs
and
Da'Rel Scott
are getting meaningful reps. And the biggest problem is that the line can't block for any of them. I do recall the Giants getting the run game together in that game in Carolina last year, but the Panthers' defensive front looks tougher to me this year. Is it?
Newton
: Without a doubt, the front seven is stronger. Rookie
Star Lotulelei
has proved to be a solid first-round draft pick.
Greg Hardy
has been a beast at end and tackle, even though he doesn't have a sack yet after suggesting he might get 50 this season. End
Charles Johnson
... heck, they're all playing well. Holding the Seahawks to 70 yards rushing was impressive. The Bills were able to break a few long runs, but most of those were after the secondary was decimated and the Panthers were making crazy kinds of adjustments. If the Giants' running game is as bad as you say it is, that would be Carolina's only saving grace. Having said all that, what do you think will be the key on Sunday?
Graziano
: Well, the Giants are going to want to throw, especially if they can get mismatches in the secondary, as it appears they will. So I'd say the key is ol' Eli Manning throwing the ball to the players on his own team as opposed to the other one. If he can keep the turnovers to a minimum Sunday, I don't see any reason to think he can't outscore Cam and the Panthers. The Giants' defensive front hasn't looked like itself from a pass-rushing standpoint, but, as
Jason Pierre-Paul
continues his recovery from offseason back surgery, that should improve. And it's not as though they haven't had success against Newton before. They should be able to force him to throw the ball, and, if it comes down to a shootout between Manning and Newton, the difference could be the quality of Manning's receiving corps. Should be fun, David. Look forward to seeing you there.
Newton
: Interesting use of the word "fun" since neither of these teams has had any this season. You're right, Manning has the edge if this becomes a shootout, and the Giants have an edge, regardless. But these teams are 0-2 for a reason, and I believe it'll be closer than you say with the Giants still prevailing. You mentioned Carolina's defensive front earlier. Well, I believe it's going to step it up and get to Manning three or four times. Pressure by the front seven is the only way the Panthers can help the makeshift secondary, and they've been challenged to rise to occasion. But in the end, I like Manning to outperform Newton to run Carolina's record in games decided by seven or fewer points under Rivera to 2-15.
September, 9, 2013
9/09/13
8:00
AM ET
CHARLOTTE, N.C. --
A examination of four hot issues from the Carolina Panthers' 12-7 loss to the Seattle Seahawks on Sunday at Bank of America Stadium:
[+] Enlarge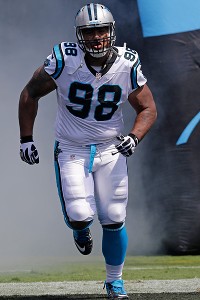 AP Photo/Chuck BurtonRookie defensive tackle Star Lotulelei had a strong first game.
As advertised:
The defensive front seven might be better than advertised. It held running back
Marshawn Lynch
to 43 yards on 17 carries and the ground game to 70 yards. Rookie tackle
Star Lotulelei
showed star potential with four tackles and good inside pressure. The secondary remains a question as advertised. Cornerback
Josh Thomas
lost containment on consecutive deep passes, the second resulting in a game-winning 43-yard touchdown in the fourth quarter. Quarterback
Russell Wilson
completed a gaudy 75 percent of his passes for 320 yards -- his first 300-yard passing game -- for a rating of 115.7. Holding the Seahawks to 12 points was solid overall, but not enough to overcome a worse-than-advertised offense.
Deep trouble?
Quarterback
Cam Newton
attempted only four passes beyond 10 yards, the second-lowest total of his career. He finished with a career-low 125 yards passing. Perhaps the play calling was conservative going against one of the best defenses in the NFL. Newton said the offense pretty much stuck to its game plan, but if this is the game plan of new offensive coordinator Mike Shula all season, the Panthers might be in deep trouble. They might be anyway with
Steve Smith
and the untouchables (only one player touched a pass outside of Smith) at wide receiver.
Brandon LaFell
, who was supposed to emerge as the second receiver, didn't catch a pass. He was targeted only once, and there was a hold on that play. Newton said Shula "did an unbelievable job calling plays," and the Panthers took what was given to them. He also said, "we have to be more aggressive and take the bull by its horns and go." The good news is they won't face many defenses as tough as Seattle's.
Close not good enough:
There's no such thing as a moral victory because you played arguably the best team in the NFC to within five points. Not when your record was 1-7 in games decided by seven or fewer points a season ago and when your head coach is 2-13 in games decided by a touchdown or less. Losing close games breeds more close losses. If this trend isn't reversed, it leads to a coaching search.
Missed opportunities and silly mistakes:
Marginal teams can't afford to miss opportunities or make silly mistakes. The Panthers, a marginal team, had both contribute to the loss. The most-glaring missed opportunity was
DeAngelo Williams
' fumble at the Seattle 8-yard line with the Panthers trailing 12-7 in the fourth quarter.
The silly mistakes? Backup defensive end
Frank Alexander
was disqualified for swinging at an offensive lineman after coach Ron Rivera warned his players the Seahawks get "chipper," his word for doing things to get you out of your game. Thomas had a punt go off his leg after
Ted Ginn Jr.
had called for a fair catch, which resulted in a turnover.
Armond Smith
was penalized twice -- yes twice -- for illegally going out of bounds and returning to the field on punt coverage. It all adds up to a loss if you're a marginal team.
November, 26, 2012
11/26/12
8:29
PM ET
By
ESPN.com staff
| ESPN.com
Join our ESPN.com NFL experts for the "Monday Night Football" match up between the Carolina Panthers and the Philadelphia Eagles.

Contribute your thoughts and questions starting at 8:30 p.m. ET. See you there.


September, 20, 2012
9/20/12
6:00
PM ET
By
ESPN.com staff
| ESPN.com
Join our ESPN.com NFL experts for Thursday night football as the New York Giants take on the Carolina Panthers.

Contribute your thoughts and questions beginning at 8:20 p.m. ET. See you there.


September, 20, 2012
9/20/12
4:00
PM ET

I hereby present my pick for tonight's game between the New York Giants and the Carolina Panthers. For entertainment purposes, obviously, because look: Last week's record: 1-3. Season to date: 2-5.
NFC EAST SCOREBOARD
Saturday, 12/20
Sunday, 12/21