NFC East:

Indianapolis Colts
September, 12, 2014
Sep 12
8:00
AM ET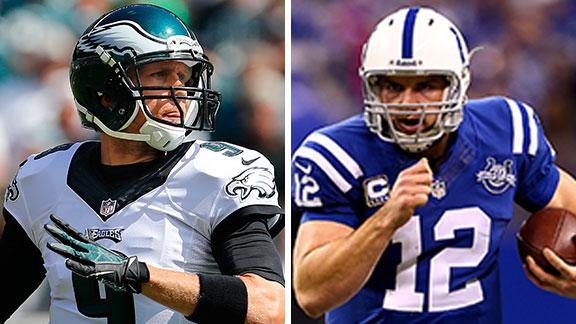 Both teams fell behind by double digits in their Week 1 game. Only one team was able to fight its way back to win the game. The other fought back but was stopped on fourth down in the fourth quarter.
The
Philadelphia Eagles
spotted the
Jacksonville Jaguars
a 17-0 lead before coming back and winning 34-17. The
Indianapolis Colts
trailed the
Denver Broncos
24-0 before coming back and eventually losing 31-24.
The Colts and Eagles meet Monday night at Lucas Oil Stadium in a battle between one team that is struggling to get a consistent pass rush, Indianapolis, and another team with offensive line problems, Philadelphia.
ESPN Eagles reporter Phil Sheridan and Colts reporter Mike Wells discuss the game.
Sheridan
: The Eagles will be coming into a dome with a banged-up offensive line. Without
Robert Mathis
, do the Colts have the defensive playmakers to take advantage of that?
Wells
: That's a question that nobody has an answer for yet. Counting the preseason, the Colts' starting defense has only three sacks in five games. That's not going to get it done when the NFL is a passing league. The Colts struggled getting pressure on
Peyton Manning
in Denver last weekend. Philly lost two offensive linemen to injuries this week, so Indianapolis has no excuse for not being able to get after
Nick Foles
, especially since Jacksonville sacked him five times.
Bjoern Werner
, who is starting in Mathis' place, has to mature quickly and not play like a second-year player. Werner needs help, though. Fellow linebacker
Erik Walden
and the defensive front have to do their part.
It's not always a smooth transition for college coaches making the jump to the NFL. That hasn't been an issue for Chip Kelly, with the Eagles making the playoffs last season. Why hasn't it been a tough transition for Kelly?
Sheridan
: I think he's fundamentally just a good football coach. Kelly likes to say that if you weren't in the room with Rockne and Stagg, you're just borrowing ideas from other people. He's a gym rat type of guy who enjoys nothing more than trying to figure out what works and why, then playing around with it until something new emerges. He does some things -- his practice approach, the up-tempo offense -- that are novel in the NFL right now, but all of them are based on sound, traditional ideas, not on throwing stuff at the wall to see if it sticks. Andy Reid was an NFL guy to his bones, but he was much more enamored with throwing every down and gadget plays than Kelly is. The other element is that Kelly came to the NFL from college just as the NFL was starting to embrace more of the ideas generated by college coaches. The players who are coming into the league often come from schools that ran spread offenses and didn't huddle, so the foundation is already set.
It's a badge of honor for quarterbacks to be able to bring their teams back to win late in games.
Andrew Luck
has already shown his knack for that. But wouldn't the Colts be better if they could start fast and avoid the whole late-rally thing?
Wells
: Getting off to quick starts is an issue the Colts have been talking about for more than year. And they've yet to solve that problem. They've even tried opening games in the no-huddle offense to try to change the tempo. All the comebacks make Luck look good because of his ability to overcome deficits with his no-quit attitude, but at some point the Colts aren't going to be as fortunate. That happened last weekend in Denver. The Broncos jumped out to a 24-0 lead and that was too big of a deficit for the Colts to come back from.
Speaking of slow starts, the Eagles spotted the Jaguars 17 points before scoring the final 34 points. Are slow starts something to be worried about going forward?
Sheridan
: I don't think so; at least not yet. The first game of a new season is always a little odd. You're not sure what the other team is going to look like. Were they showing their real offense and defense in the preseason or were they playing possum? I think Foles was thrown off just enough by the Jags' coverages and pass rush to hold the ball and disrupt the entire rhythm of the offense. My guess is that Kelly will make sure to find some plays that get Foles into a rhythm early against upcoming opponents. If Foles isn't able to take advantage, and if poor starts become a trend, then it will be time to worry.
In
Brent Celek
and
Zach Ertz
, the Eagles have a couple of playmaking tight ends. With injuries at linebacker and scorch marks from Denver's
Julius Thomas
, how can the Colts bounce back and minimize the damage from these two?
Wells
: No offense to Celek and Ertz, but the Colts are happy they don't have to see Thomas or New Orleans'
Jimmy Graham
this weekend. Graham lit the Colts up in the third preseason game. Tight ends with speed, like Thomas and Graham, give the Colts problems because they don't have linebackers capable of lining up out wide to defend them. D'Qwell Jackson doesn't have the speed to keep up with fast tight ends and fellow middle linebacker
Jerrell Freeman
is dealing with a hamstring issue. If Foles is smart, he'll take a page out of Manning's book from last week and find a favorable matchup and keep going to that player.
Offensive line problems are nothing new for the Colts. Luck has been sacked 76 times in barely two years. Jacksonville got to Foles five times last weekend. Do you think the Eagles have legitimate offensive line problems -- like the Colts -- or was it a matter of them facing a Jacksonville team with a strong front seven?
Sheridan
: The Eagles' line was one of their primary strengths last season, when all five starters played all 17 games, including the playoff loss to New Orleans. But right tackle
Lane Johnson
is suspended for four games for PED use, and two linemen went down in the first half against Jacksonville. One of them was Pro Bowl left guard
Evan Mathis
. So there are legitimate concerns about the Eagles' line going forward. There will be two new starters Monday night --
Dennis Kelly
at left guard and
Andrew Gardner
at right tackle -- dealing with crowd noise and the Colts' defense. It's important for the Eagles to establish
LeSean McCoy
and the run game early, putting the Colts back on their heels a little and quieting down that crowd.
July, 21, 2011
7/21/11
1:00
PM ET
»
NFC
:
East
|
West
|
North
|
South
»
AFC
:
East
|
West
|
North
|
South
Our divisional bloggers discuss one thing they'd change as commissioner for a day:
If I were NFL commissioner for a day, they wouldn't like me very much in Indianapolis or New Jersey. Because as much as I like both of those places, neither is the right place for a Super Bowl.
[+] Enlarge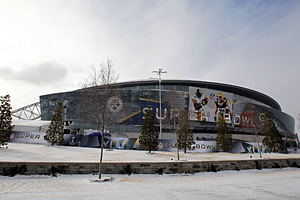 Ronald Martinez/Getty ImagesAn ice storm in the Dallas area made things challenging for Super Bowl organizers this year.
The Super Bowl should be in Miami or New Orleans or San Diego or even Phoenix -- places where February weather isn't going to have a chance to play havoc with the weeklong festivities that make it the most critical event of the year for the league. We saw what happened this year in Arlington, Texas, for goodness' sake, where the first-time host city botched every single aspect of its hosting responsibilities amid an ice storm for which it wasn't prepared. It shouldn't have had to be, and nobody in the NFL should be having to worry about similar weather in Indy next year or New Jersey in 2014.
It just doesn't make sense. This is the NFL's signature event. You fly in your biggest sponsors. You court big-name celebrities. You get a week's worth of international attention before the game even starts. Why would you want to hold all of that in a place where people might not want to go in February? Let alone a place they might not even be able to get to if they wanted to go?
And in the case of the New York/New Jersey Super Bowl, you're messing with game day itself. I live 20 minutes from the Meadowlands. The weather is awful here in February. Plain awful. Why, if you're the NFL, would you want even a 1 percent chance that a snowstorm or an ice storm or some miserable combination of both could mess up Super Bowl Sunday?
The whole idea is a byproduct of the inane notion that every NFL city should have a chance at hosting the Super Bowl. Hogwash. Was it that important to have one in Jacksonville? Places like Miami and New Orleans know what they're doing. There are good reasons it's been in those places so many times. Weather is a big one. The NFL has a winning formula in place for its biggest event of the year. It makes no sense to me why they insist on messing with it.
June, 28, 2011
6/28/11
11:55
AM ET
Tom Brady
or
Peyton Manning
? It's the debate of the moment in today's NFL. Which superstar quarterback is the best? Who, between that pair of excellent, future Hall of Fame signal-callers, would you pick if you had the choice? That's not the question that was asked of our Power Rankings panel this week, but it turned out to be the one we answered.
Yes, after weeks upon weeks of power-ranking everything we could think of in the NFL, we've decided to throw all qualifiers and designations out the window and make it very simple: Who are the best players in the league?
As was the case when our panel was asked to rank the league's top quarterbacks, Brady beat out Manning for the top spot in this week's power rankings. Six of the eight NFL bloggers polled ranked Brady No. 1 overall, and the two who didn't -- Mike Sando and Paul Kuharsky -- ranked him second behind Manning. The top four players in our rankings and seven of the top 10 (of the top 11, technically, since
Michael Vick
and
Andre Johnson
tied for the No. 10 spot) all play the same position -- quarterback -- which says a lot about the way we value that position.
"Quarterback is the most significant position on the field and can make the difference between a lopsided losing record and the playoffs," said AFC East blogger Tim Graham, whose ballot had quarterbacks in each of the first seven spots and eight of 10 overall. "It takes a truly special running back or defensive player to outweigh the importance of a quarterback. For example,
Adrian Peterson
is a sensational player. But without
Brett Favre
producing at quarterback, Peterson couldn't carry the Vikings to the playoffs."
So the question then became which quarterback was the best. The debate these days seems to be squarely between Manning and Brady, though two of our eight bloggers did rank Manning third on this week's list. We'll get to them in a minute. We'll start with the majority opinion -- that Brady is the best player in the league right now.
I was one of the six who ranked Brady in the top spot, and the main reason was that I think Brady has attained a level of excellence in New England that's beyond what Manning has been able to attain in Indianapolis. Brady's accomplishments in 2007, when he combined with
Randy Moss
to set all kinds of offensive records and went undefeated until losing the Super Bowl to the Giants, were all-time legendary. But what people may not realize (perhaps because of the ludicrous level at which Brady excelled that year) is that the past two seasons have been the second-best and third-best statistical seasons of Brady's career. If Brady hadn't hurt his knee in the first game of the 2008 season and missed the rest of that year, it's very possible he would be on the kind of run right now that would make a Brady-Manning debate seem silly.
After the Patriots traded Randy Moss in the middle of 2010, the question was whether they were giving up on the season. What they were doing instead was committing to a midseason overhaul of the offense that wouldn't have been possible without the confidence they had in Brady to manage it. All Brady did was muster the second-best completion percentage and second-highest touchdown-pass total of his career while throwing just four interceptions and winning at least 14 games for the fourth time.
Not everybody agreed, however.
"Manning is simply asked to do more than any player in the league is asked to do," Kuharsky said. "He's superb at it. I love Brady. But Manning can do more, is asked to do more, and has to do more. Jim Caldwell is an OK coach so far. Bill Belichick is an all-time great. The guy making up the gap in order to have the Colts stay in range of the Patriots is Manning."
But the Colts really weren't in range of the Patriots this year, and for that reason Manning's star has dimmed in the eyes of a couple of our panelists. NFC North blogger Kevin Seifert ranked
Aaron Rodgers
No. 2 and Manning No. 3. And NFC South blogger Pat Yasinskas ranked Saints quarterback
Drew Brees
in that No. 2 spot ahead of Manning.
"I'm not trying to diminish Peyton in any way. He's going to be a first-ballot Hall of Famer. But, if you look at his numbers and Brees' numbers over the last three or four years, they're similar and, in some ways, Brees' numbers are better," Yasinskas said. "Brees and Manning each have won one Super Bowl title. My argument is that, right now, Brees is even more valuable to the Saints than Manning is to the Colts. Times change and circumstances change. But right now I think Brees is the perfect quarterback for the Saints and is in the perfect situation with their offensive system and coaching staff. In fact, I considered voting for Brees No. 1 overall, but couldn't quite bring myself to rank him ahead of Tom Brady."
Steelers safety
Troy Polamalu
, who came in first in the defensive player power rankings, ranked fifth on the overall list. AFC North blogger James Walker ranked Polamalu fourth, and Seifert ranked him fifth. Walker's ballot was the most generous overall to defensive players, as he ranked Polamalu fourth, Cowboys pass rusher
DeMarcus Ware
fifth, Jets cornerback
Darrelle Revis
eighth and 49ers linebacker
Patrick Willis
ninth.
Walker and Kuharsky (who ranked him 10th) were the only ones who ranked Ware at all, and Kuharsky seemed a little chapped about it.
"If we rate these quarterbacks so highly, how can we not rate the guy we said was tops at disrupting quarterbacks highly too," Paul asked. "Makes no sense. I had him too low at 10. For six of you guys to leave him off entirely dents your collective credibility. Next I imagine you'll say the E Street Band isn't the all-time best backing band."
Paul is grouchy.
"I value pass-rushers, and no player has more sacks the past two seasons than DeMarcus Ware (26.5)," Walker said. "Getting to the quarterback is the best way to combat the league's increasing number of pass-happy offenses, and no one does it better right now than Ware."
The highest-ranked offensive player who wasn't a quarterback was Peterson, who came in sixth after being named on five of eight ballots. Sando, Walker and AFC West blogger Bill Williamson left the Minnesota running back off their ballots -- the third time in three tries that Williamson has ranked Peterson lower than most of the rest of us did.
"This is a quarterback league and that's how I built my top 10," Williamson explained. "There were only three non-quarterbacks on my top 10. After I constructed the quarterback rankings, I went to the best available non-quarterbacks, and the list was quite short. But to reiterate, this is the top 10. The best of the best. I think Peterson is probably a top-15 guy and that's pretty good in a league of 1,800-plus professionals."
Pretty good indeed. But as Bill said, it's a quarterback league. And for that reason, the debate about the best player in the league came down, once again, to Peyton Manning vs. Tom Brady.
June, 22, 2011
6/22/11
4:31
PM ET
I really don't have a lot to add to
this
. I think it just about stands on its own.
The mustaches, the haircuts, the predictable use of football clichés in almost every line of dialogue, the fact that Peyton's incredibly accurate throw is needed to save Eli's that just misses (but wasn't intercepted, as I'm sure some will point out)... I don't know whether it's brilliant or awful or just a couple of highly paid nerds who happen to be brothers and two of the best quarterbacks in the world having a goof in an ad for DirecTV.
I just know I'm going to watch it again. And maybe again.
"Guess no one told him justice was a team sport."
"What does that mean?"
I'll take this over the Oreo Double Stuf ads any day of the week.
May, 17, 2011
5/17/11
1:10
PM ET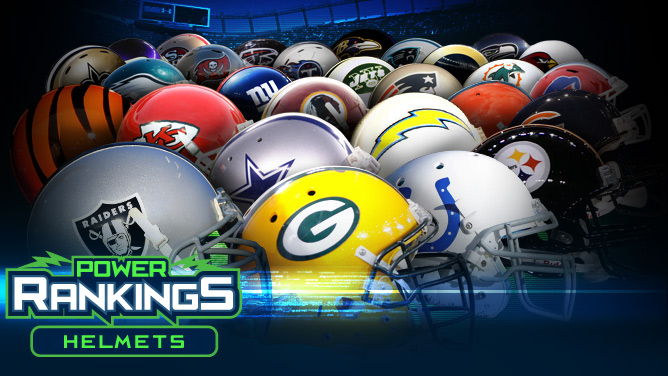 ESPN.com IllustrationOur writers break down NFL team helmets in the latest edition of ESPN.com's Power Rankings.
As we continue our Power Rankings series, it's time to look beyond the player and examine what's wrapped around his head.
Let's blow the lid off this NFL helmet caper, shall we?
The NFL helmet has long been an obsession. Whether it's the unmistakable star of the
Dallas Cowboys
, the beyond-the-gridiron meaning in Pittsburgh or the great helmet–change fiasco in San Francisco in the early 1990s, the NFL has been all about the helmet. After all, in football, we don't look at faces, we look at logos.
Come on, who hasn't spent a Saturday afternoon feeding countless quarters into a gumball machine full of worthless plastic all in the name of getting a complete set of NFL helmets?
So, we put our artistic eyes together (with the courtesy of professional help) and came up with our top 10 NFL helmets. Consensus? No, not even close. In a 2011 Power Rankings record, 26 lids collected votes. Eye of the beholder, folks.
Interestingly, two of the six teams that got no lid love received kudos from our guest judge. I'd take her word over mine. You should see what I'm wearing right now. Think John Belushi in "Animal House." Then take it down a few notches.
We've had our battles this spring when it came to ranking players, coaches and owners, but this task has to be the most subjective of all. It's vanilla or chocolate. Or, in this case, purple or red.
Still, there were several helmets -- traditional teams seemed to catch the imagination -- that received more votes than others.
Fittingly, the winning helmet is of a team that has been scoring big during this entire series: the
Pittsburgh Steelers
. The black helmet received 50 voting points, cruising to an easy win. Second-place Indianapolis, and its famous horseshoe, received 41 points.
AFC North blogger James Walker was the only person to vote for the Steelers, who received top-10 votes from six of eight voters, as the No. 1 helmet. Only NFC North blogger Kevin Seifert (he received big-league redemption -- we'll explain later) and AFC East blogger Tim Graham shunned the Steelers.
Walker explained that it was fitting for the Steelers' helmet to win because it represents a gritty, historic city.
"Most helmets have a mascot or the team's name or initials, but Pittsburgh's helmet actually has in-depth meaning," Walker said. "The colors of the diamond shapes each represent elements of steel, which was once a major industry in Pittsburgh. Also, Pittsburgh is the only NFL team with its helmet logo on one side. I think the uniqueness and tradition helps separate the Steelers."
Here's the rest of the top-10 list after the Steelers and Colts:
Oakland Raiders
(my first-place vote -- just look cool, baby),
Green Bay Packers
,
San Diego Chargers
, Cowboys,
Minnesota Vikings
,
Cleveland Browns
,
Chicago Bears
and
Miami Dolphins
.
Below are some key aspects of the vote:
Walking the Runway:
We are thrilled to have a celebrity presence this week. Former "Project Runway" contestant Peach Carr, a successful Chicago fashion designer and self-professed sports nut, lent her expertise this week.
Predictably, her opinion differed greatly from many of us slouches. Hey, sportswriters are rarely accused of being spiffy, snappy, hip or even presentable, so what do you expect?
The most telling of Carr's selections was her choice of the
San Francisco 49ers
at No. 2. They were among the six teams shut out by the rest of us. I'd listen to the Peach, San Francisco.
Carr went with the hometown Bears as her top choice. The Bears finished ninth in our poll. Major fashion buttons to Seifert. He was the only voter to agree with the professional. Reached for comment, Seifert had this to say: "Yesssssss."
Well said, Mr. Blackwell.
Carr placed the
Houston Texans
as her No. 6 helmet. It was also one of the six helmets the rest of us neglected.
You made it work, Peach. Auf Wiedersehen to the rest of us.
The Lone Vote State:
In an upset, the Cowboys' helmet finished sixth. Graham was the lone blogger to vote Dallas' helmet first.
"I was shocked to see nobody else put the Cowboys at the top of their ballots," Graham said. "That helmet is the most iconic of them all. The lone blue star is known immediately by grandmothers who never watch football. It's a classic look that strikes you whether you're watching from the stands or at home. There's no tiny print to read, no cluttered symbols to decipher. You see it, you know it. And it likely conjures a visceral reaction whether you're a fan or not."
Going traditional:
In addition to the 49ers and Texans, the
Tennessee Titans
,
Cincinnati Bengals
,
Atlanta Falcons
and
Arizona Cardinals
were the only teams shut out by the eight voters. The 49ers are the only team in the group that has a history-rich franchise. However, the top 10 is dominated by tradition-rich teams.
NFC West blogger Mike Sando saw a trend.
"My thought is that success helps a brand become appealing in a lot of cases," Sando said. "Would the Steelers' helmet really rank first if the team had tanked every year? I do not think so. Look at the Colts, Raiders, Packers, Cowboys, Browns ... all have storied histories."
Kicking it old school:
If the "throwback" helmets were allowed in the voting, I bet things would be different. My prized possession (probably says more about my collection of stuff than my sentiment) is my complete set of NFL throwback mini helmets. It is proudly displayed in my office.
There are some beauties in that collection. That's one of the reasons I went with the
New York Jets
' helmet as my No. 2 choice. I like the old-style look. My favorite helmet of all time is the old-school
New England Patriots
helmet. I love me some Patriot Pat and couldn't get enough of watching the Patriots when the league honored the AFL in 2009.
Put your thinking helmet on. What do you think is the most fashionable helmet in the NFL? Fill the comments section below with your thoughts.
March, 17, 2011
3/17/11
9:36
AM ET
By
ESPN.com staff
| ESPN.com
Dallas Cowboys
The NFL rules committee's
proposed special-teams changes
-- moving up the spot for kickoffs by 5 yards to the 35-yard line -- could hurt a strong-legged kicker such as David Buehler.
Randy Galloway of the Fort Worth Star-Telegram looks at
the numerous hits owner Jerry Jones has taken
in the past year.
New York Giants
The Giants have
arranged a pre-draft visit
with University of Georgia linebacker Justin Houston.
The team's website details former receiver
Amani Toomer's experience
running the New York City marathon.
Philadelphia Eagles
Eagles president Joe Banner was
shocked the NFLPA walked away
from negotiations without countering the owners' latest offer. "We thought we would be damn close to a deal. But to not even give us a counterproposal? That was really stunning," Banner said.
The Inquirer's position-by-position look at the team continues with
the defensive line
.
Washington Redskins
The Redskins have requested that The Washington Post
stop using the team's name
in its sports blogs.
November, 7, 2010
11/07/10
2:30
PM ET
By
ESPN.com staff
| ESPN.com
Join our ESPN.com NFL experts as they break down the match up between the Indianapolis Colts and the Philadelphia Eagles.

Contribute your thoughts and questions starting at 4 p.m. See you there.