NFC East:

Kansas City Chiefs
December, 6, 2013
12/06/13
10:00
AM ET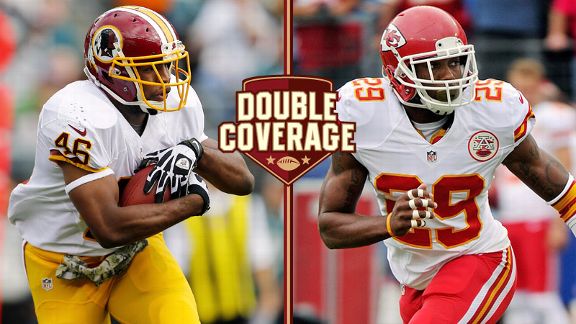 Getty ImagesWashington's Alfred Morris, left, and KC's Eric Berry lead teams trying to end losing streaks.
Fortunes have turned this season for the
Washington Redskins
and
Kansas City Chiefs
. The Redskins, who won the NFC East championship last season, are 3-9. After winning just two games last season, the Chiefs are 9-3 and can clinch a playoff spot Sunday if they beat the Redskins and either the
Baltimore Ravens
or the
Miami Dolphins
lose. But the Chiefs have lost three straight, and their chances for winning the AFC West are virtually gone after being swept in their two games against the
Denver Broncos
.
ESPN.com's Chiefs reporter Adam Teicher and Redskins reporter John Keim discuss Sunday's game:
Teicher:
This is a complicated question, but what's happened this season with
Robert Griffin III
? Still bothered by the knee? Feeling the effects of missing offseason practice?
Keim:
Yeah, it's complicated because there are a lot of issues that have added up to him having an inconsistent sophomore season. The knee played a factor early in that he wasn't going to run a lot and wanted to be more of a dropback passer (partly because he was fooled by last season's success). The knee brace restricts him a little, but he just hasn't regained his explosiveness. He's still fast, but that first-step burst isn't the same, and that hurts on some of the read-option or escaping trouble. Defenses are playing them different -- teams with good fronts can sit back and take away their play-action. They've seen coverages they didn't see a lot of last season, and a greater variety of stunts and blitzes (knowing Griffin might not hurt them as badly). Missing the offseason really hurt Griffin's ability to develop as a passer, and that has been a big issue. There are games when he looks solid, like against the Giants, but he also has had a couple of games that are as bad as any since he entered the NFL. Because he came from a much less complex passing system at Baylor, he needs a full offseason of work.
Adam, who would have thought
Alex Smith
would be the quarterback with the better team in this game? What sort of difference has he made for the Chiefs?
Teicher:
His stats haven't been great until the past couple of games, but he's actually had a pretty good season. He's been burned to some extent by dropped passes or his statistics would actually look a lot better. Through the nine-game winning streak to start the season, Smith played well enough not to mess up a good thing. He wasn't committing turnovers, and, although he wasn't making many big plays in the passing game, he was bailing the Chiefs out of some tough situations, whether scrambling or on the option or on a called play. Lately, they have needed more points and big plays, and he has delivered.
Kansas City has given up some yards via the running game this season. Give us a little scouting report on how Washington uses
Alfred Morris
and
Roy Helu
, and what there is to choose from between those guys. Also, do most of RG III's rushing yards come on the option, called runs or scrambles?
Keim:
The Redskins love to use a lot of stretch-zone and outside zone runs with Morris and Helu. Both can run inside. They will use some boot action off the stretch-zone, as well. Morris does a much better job than Helu of setting up defenders by pressing the hole and cutting. He gets linebackers to overflow, then cuts back. Morris is more patient than Helu, who hits holes as fast as he can run, and that often means he doesn't set up defenders and therefore doesn't create lanes for himself. He's a bigger threat in the open field as a receiver. Helu is used more as a third-down back, but he is capable of running and does have the speed to break a long run. But, again, just not patient enough, and therefore gets a lot of 2-yard runs. As for Griffin, he's averaging 5.46 yards per carry off zone-read runs (compared with 8.0 last season). His longer runs have come off scrambles -- but that also depends on whether a team plays a lot of man coverage. He's just not as explosive off the zone-read runs, but teams have adjusted to it -- they are more disciplined against it, and safeties are more aggressive coming up to defend.
Looking at the Chiefs' defense, how would you assess them at this point after such a dominant start?
Teicher:
Not very good. The Chiefs have allowed more than 400 yards in each of their past four games. They are going to give up some yards, given the style they play (pressure on the quarterback, cornerbacks frequently in one-on-one coverage). Kansas City gave up some yards and big plays early in the season. But now, the Chiefs are not getting to the quarterback often, are rarely forcing him into mistakes, and are not getting the turnovers and favorable field position that made them so successful early in the season. That is why I think Washington could move the ball and score some points against Kansas City. The Chiefs played against a series of journeymen, backups or inexperienced players at quarterback over several weeks and feasted against those guys. The past three weeks, though, they have faced
Peyton Manning
twice and
Philip Rivers
and haven't fared very well. Given Griffin's dual-threat abilities and Washington's running game, Kansas City has some things to worry about.
The Redskins have given up a ton of points. The run defense looks as if it has been decent, but Washington has been horrible against the pass. Pinpoint the problems areas in that regard for the Redskins.
Keim:
The Redskins have not generated enough pressure from their four-man rushes, although there are times when they get what they would consider good rushes but it's not making enough of an impact. I don't sense that quarterbacks are uncomfortable in the pocket. Sometimes it is because the coverage behind them is too soft, especially when they play zone. Washington has a lot of holes in its zone coverages, and quarterbacks can quickly find them. Makes it tough to then pressure. Cornerback
DeAngelo Hall
has been solid and made some big plays; he's much better now in tight man coverage. But the safeties as a group have struggled, sometimes because of injury, and other times because of performance. The Redskins have to upgrade here.
Brandon Meriweather
is OK, but he's one bad hit from a longer suspension. They have had to mix and match a lot at safety to try to make it work. But it's not just here; the inside linebackers have not had a strong season. Cornerback
Josh Wilson
plays the run well out of the slot but can be picked on. He's up and down. Rookie cornerback
David Amerson
can make big plays but also can surrender them (although some of that has subsided). It is an inconsistent group, and it is why defensive coordinator Jim Haslett is under fire. It is not all his fault, as there are times the calls aren't his, but that is life in the NFL.
How big a difference has coach Andy Reid made --- and are the Chiefs a legitimate contender?
Teicher:
He has made a huge difference. He has given direction to an organization that before had a lot of guys pulling in a lot of different directions. Reid came through the door for the first time with an impressive résumé, and players -- tired of the losing and the way things had been -- were more than willing to listen. He has been able to get a lot of guys to put aside personal goals for the greater good. But I don't see the Chiefs as being legitimate contenders, not this season. Even during their nine-game winning streak, there were some red flags everyone knew were going to be problems down the road. The two games against the Broncos, particularly last week's, showed a wide gap between the Chiefs and one of the league's premier teams.
.
September, 29, 2013
9/29/13
12:38
PM ET
By
ESPN.com staff
| ESPN.com
Join our ESPN.com NFL experts as they break down the New York Giants' visit to the Kansas City Chiefs. Contribute your thoughts and questions beginning at 1 p.m. ET. And, be sure to visit our
NFL Nation Blitz page
for commentary from every game, as well as fan photos and the latest buzz from Twitter. See you there.
September, 26, 2013
9/26/13
12:00
PM ET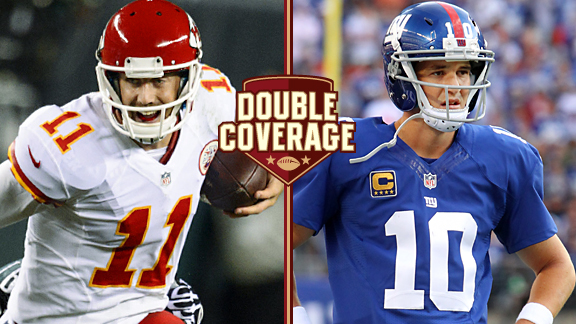 USA TODAY SportsThis matchup may hinge on which team gets more pressure on the quarterback.
The
Kansas City Chiefs
and
New York Giants
seem like two teams going in opposite directions. Kansas City is off to a 3-0 start for the eighth time in franchise history, while the Giants are 0-3 and coming off a lopsided loss to the Carolina Panthers.
ESPN.com Chiefs reporter Adam Teicher and Giants reporter Dan Graziano break down Sunday's matchup.
Adam Teicher:
Last week's blowout loss against the Carolina Panthers caught me by surprise. Is this another of Tom Coughlin's slow-starting teams, or are the problems really that deep that the Giants could be serious contenders for next year's No. 1 draft pick?
Dan Graziano:
Caught me by surprise, too, Adam. And I'm pretty sure it caught Coughlin by surprise. But the alarming thing on this end is that Coughlin's teams are not traditionally slow starters. He was 5-2 or better in his first seven games in each of his first nine seasons as Giants coach -- a streak that obviously ends this year. The only other time a Coughlin team has started 0-3 was 1995, when the expansion Jaguars lost the first four games in franchise history. So this is uncharted territory for Coughlin and many of his players. If there's a coach in the league who can hold things together through a time like this, even if turning things around is impossible, it's Coughlin. And starting in mid-October, the schedule eases considerably. But the issue is getting to that point. The Giants' next three games take place in a span of 12 days, and two of them are on the road against unbeaten teams, including this one Sunday. The Giants' offensive line was completely shredded Sunday by a very tough Carolina defensive front.
Having watched the Chiefs last Thursday, I'm expecting something similar this week. Do you agree?
Teicher:
The front seven for the Chiefs is playing very well. That group has controlled things for large portions of games this season. One thing that's helped is the Chiefs have played mostly with a lead. It would help the Giants if they can get off to a quick start and force the Chiefs to honor their entire playbook. The Eagles rushed for 264 yards against Kansas City last week, so the Chiefs could make some improvements in that area. Tackling at times was more sloppy than it has been all season. Another thing the Chiefs have done is pick on the rookie tackles. They mostly had their way with Jacksonville's
Luke Joeckel
and Philadelphia's
Lane Johnson
, so that is an issue for the Giants because they start a rookie,
Justin Pugh
, at right tackle. Outside linebacker
Justin Houston
leads the league in sacks with 7.5. He had three against the Jaguars and Joeckel and 4.5 against the Eagles and Johnson, so the Houston-Pugh matchup is one to watch.
Thirteen turnovers in three games is enough to choke any offense. Obviously, there are other problems, like a feeble running game. But assuming the Giants don't cough it up a bunch of times against the Chiefs on Sunday, isn't it reasonable to expect them to score some points?
Graziano:
Yes, the Giants' offense should be scoring points. With
Eli Manning
at quarterback,
Hakeem Nicks
and
Victor Cruz
at wide receiver,
Brandon Myers
at tight end and a very talented, if star-crossed,
David Wilson
at running back, they have the weapons to score against anyone. Some week, they will. However, the blocking problems up front are so significant right now that the offense is completely choked off. Manning did not even have time to get to his first or second read on most plays Sunday before he was getting hit, and Carolina's front four got into the backfield on running plays as well. I would expect the Giants to play around with formations a bit to try to help out the line -- maybe run more plays from the shotgun or the pistol. That could be a problem if center
David Baas
(who had an MRI on his neck Monday) is unable to play. The Giants sure look as though they're capable of outscoring the Chiefs, but they have to find a way to keep those Chiefs defenders off Manning long enough to give him time to throw the ball.
I'm curious about the Andy Reid Revenge Tour aspect of the game. The Giants hammered Reid's Eagles in Week 17 last year in his final game as Philadelphia's coach. Obviously, he had a dead team at that point and his fate was sealed. But Reid was 8-3 the past five years against the Giants, sometimes with inferior Eagles teams. Do you think ol' Andy's got something up his sleeve for his old rivals from New Jersey?
Teicher:
Hard to say what Reid will have the Chiefs do this week. The Chiefs had nothing special for another of his old division rivals, the Cowboys, two weeks ago. Dallas was the better team for much of the game. The Chiefs were able to survive that day with plenty of grit and the backing of a loud home crowd. But it appeared he coached with some inside knowledge against the Eagles last week. The Chiefs seemed to dial up consistent pressures that played to
Michael Vick
's weaknesses. Other than one long pass, the Chiefs were also able to eliminate
DeSean Jackson
as a threat. Regarding the Giants, I would think Reid would realize, as you point out, that New York is better equipped to win a scoring war than the Chiefs. It plays to Kansas City's strengths if the game is a low-scoring one. It may be instructive that the last two times while coaching the Eagles that Reid beat the Giants, neither team reached 20 points.
The Giants have allowed a ton of points this year, but how much of that is a factor of lousy field position given the 13 turnovers? The one thing I'm most surprised about with the Giants defensively is their lack of a pass rush, which is usually a staple for that team. The pieces still seem to be in place. What explains the inability to get pressure on the opposing quarterback?
Graziano:
That is, for me, the most significant issue facing the Giants. The Panthers had more sacks Sunday (seven) than the Giants have in their past eight games (six) dating back to last November.
Jason Pierre-Paul
, who had 16.5 sacks in 2011 and 6.5 in his first nine games of 2012, has only one in his past 10 games. He played with a back problem last year and had surgery to correct it in June, and he admitted last week that he hasn't been able to play like his old self because of the physical limitations. But he needs to, or else this Giants' pass rush will be ineffective and the defense will be ordinary as a result.
Justin Tuck
isn't what he used to be,
Mathias Kiwanuka
isn't consistently creating pressure and rookie
Damontre Moore
has not practiced enough because of a preseason shoulder injury. If the Giants aren't getting to the quarterback, they're not a good defense. And Pierre-Paul needs to elevate his game or else they're just too easy to stop.
What about that Kansas City passing offense? The Giants are familiar with
Alex Smith
from his recent San Francisco days and had some success against those teams. How do you describe the way Smith is functioning in Reid's offense?
Teicher:
Efficient is the best way to describe Smith. He's not making mistakes and putting the Chiefs in bad situations. He has four touchdown passes and hasn't thrown an interception or lost a fumble yet. In large part because of his solid work, the Chiefs were 5-for-5 scoring touchdowns inside the red zone. He has been able to identify some favorable matchups and take advantage. That changed last week against Philly when the Chiefs were only 1-for-6 getting a touchdown while inside the 20. The Chiefs have used mostly a short passing game, which plays to Smith's strengths. But most of their big passing plays have happened because the receiver made significant yards after the catch. Even at that, Smith is completing only 61 percent of his passes, a low number given the high-percentage nature of a lot of those throws. Smith has been able to put pressure on opposing defenses with his ability not only to scramble out of trouble but also to gain some yardage on the option and other running plays.
.
September, 19, 2013
9/19/13
8:25
PM ET
By
ESPN.com staff
| ESPN.com
Join our ESPN.com NFL experts for Thursday night football as the Kansas City Chiefs take on the Philadelphia Eagles.
Contribute your thoughts and questions beginning at 8:30 p.m. ET. See you there.
September, 19, 2013
9/19/13
12:00
PM ET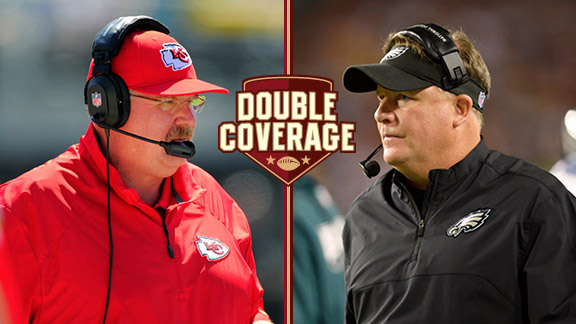 AP Photo Can Andy Reid slow Chip Kelly's up-tempo offense and nab a win in his much-anticipated return to Philadelphia?
You may have heard about a certain head coach returning to the city where he spent 14 seasons, revived a franchise, helped build a stadium and went to a Super Bowl.
Yes, Chiefs coach Andy Reid would love to beat his former team Thursday night at Lincoln Financial Field. And yes, Eagles coach Chip Kelly would like to make a statement by defeating his predecessor using the offensive stars Reid assembled in the first place.
Ultimately, though, the coaches will be sidebars on the sidelines once the ball is in the air. The players will determine whether the
Kansas City Chiefs
get off to a 3-0 start or the
Philadelphia Eagles
can get back into the plus column at 2-1.
Chiefs reporter Adam Teicher and Eagles reporter Phil Sheridan discuss this week's matchup:
Adam Teicher:
Once
Michael Vick
either passes the ball or hands it off, is there anybody for the Chiefs to fear besides
DeSean Jackson
and
LeSean McCoy
?
Phil Sheridan:
Those are clearly the most dangerous men on the Eagles offense, and among the most dangerous in the NFL. Washington played a lot of nickel coverage in Week 1, and McCoy went for 184 rushing yards. San Diego stacked the box and Jackson caught nine balls for 193 yards. But Kelly has some other options: rookie tight end
Zach Ertz
, as well as veteran
Brent Celek
, could be the next to break out with a big game. Meanwhile, when McCoy is winded, backup
Bryce Brown
is a very real threat to break a big play.
He may not open up about it until afterward, but how emotional do you think Reid is about coming back to Philadelphia -- especially with a chance to go 3-0?
Teicher:
You're right in that he didn't open up even the smallest of cracks about this publicly, but absolutely this is a big deal for him. He can't be human and not feel something after 14 seasons in Philadelphia. The other part is that with the Chiefs at 2-0, he's going back if not yet as a conquering hero than as much of a success as someone can be at this point of the season. He's good at compartmentalizing things. The death of his son last year is evidence of that. So I'd be surprised if this issue interrupted his preparation for the game Thursday night. I'll bet it hits him after the game and hits him with a ton of force. In that case, it's probably good the Chiefs don't play again after the Philadelphia game for almost a week and a half. But it is amazing how he can talk about the Eagles this week like how he talked about the Cowboys last week or the Jaguars the week before that. It's just as though they're another team.
Chiefs tackle
Eric Fisher
, the first overall pick in this year's draft, is off to a rough start. How is
Lane Johnson
, the tackle picked three spots behind him, doing for Philadelphia?
Sheridan:
The highs have been pretty high, the lows fairly low. Johnson had a tough time with
Dwight Freeney
on Sunday, which doesn't make him unique. And he was called for two illegal formation penalties -- he was off the line too far because he was concerned about Freeney -- and one of them negated a touchdown. But everything is relative. The Eagles have had plenty of first-round offensive linemen, from
Danny Watkins
back to Antone Davis, who have been disasters from day one. The Eagles liked Fisher a lot, but they are happy with Johnson's upside. He adjusts well, he's still adding strength and the coaches think he could eventually play left tackle, too.
Reid was infamous in Philadelphia for underutilizing his running backs (at least in the running game). How is he using
Jamaal Charles
this year?
Teicher:
Charles has touched the ball a total of 43 times this season (32 carries, 11 receptions) and on average that's probably close to what he can handle on a weekly basis. He's only about 200 pounds, so the Chiefs have to be careful about his workload. He also has had some injury problems this summer (foot, quad), though he looks fine physically. The problem is that the Chiefs don't appear comfortable with either of their backup running backs in all situations.
Cyrus Gray
comes in on a lot of passing downs. He's a better pass-blocker and the equal to Charles as a pass-receiver, but he's certainly not as good as a runner or as much of a big-play threat. Charles might have been given the ball more than he was last week against the Cowboys but he had only 8 yards on his first eight carries and Reid at that point decided to try to move the ball a different way.
The Eagles' defense is rated 30th overall and 31st against the pass. Is this a true measure of where Philadelphia is defensively or more a function of the fast-paced games the Eagles have played?
Sheridan:
Oh, it's a true measure. The Eagles were brutally bad last year against the pass (33 TDs allowed, just five interceptions). They made huge changes in their secondary, but are also switching from a 4-3 to a 3-4 base. The combination of new scheme, new players and suspect talent would create problems anywhere. Throw in Kelly's fast-paced offense and you get enough extra exposure to strain the defense even more. If you watch even the highlights from Sunday's 33-30 loss, you can see
Philip Rivers
had wide-open receivers on nearly every play. I'm surprised
Alex Smith
didn't fly to Philadelphia first thing Monday.
The Chiefs seemed to shut down the Cowboys offense. How are they equipped to handle Kelly's pace and unusual approach?
Teicher:
The Chiefs did a nice job against the Cowboys, with the exception of
Dez Bryant
. They were dominant the week before, albeit against the anemic Jaguars. Overall, they are third in the league in total defense and second against the run, so they look like they're for real. They have a lot of guys playing extremely well on defense. But the Eagles present a different kind of challenge, one that is compounded by having a short practice week. When the Eagles are in their hurry-up mode, the Chiefs may have to go to some default defenses based on personnel and formation. New defensive coordinator Bob Sutton has done a nice job of playing to the strengths of his players, so it will be interesting to see what he has cooked up for Philadelphia.
September, 15, 2013
9/15/13
10:00
AM ET
By
ESPN.com staff
| ESPN.com
Join our ESPN.com NFL experts as they break down the Dallas Cowboys' visit to the Kansas City Chiefs. Contribute your thoughts and questions beginning at 1:00 p.m. ET. See you there.
September, 12, 2013
9/12/13
11:55
AM ET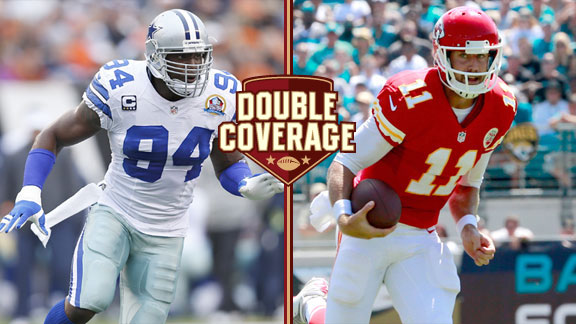 Getty ImagesDeMarcus Ware and the Dallas defense will work to prevent Alex Smith and the Chiefs from getting into a rhythm on offense.
The
Kansas City Chiefs
and
Dallas Cowboys
won their season openers last week in different manners. The Chiefs had an easy time against Jacksonville while the Cowboys won a wild shootout against the Giants. The teams, which haven't faced one another since 2009, play on Sunday at Arrowhead Stadium. ESPN Chiefs reporter Adam Teicher and Cowboys reporter Todd Archer bring you their Double Coverage preview.
Teicher:
The Chiefs had six sacks against Jacksonville last week. How healthy is
Tony Romo
and how ready is he to deal with what could be a strong pass rush?
Archer:
He'll be healthy enough and he won't wear anything more than his normal rib protector. He played through a cracked rib and punctured lung in 2011 and actually threw five interceptions in his first three games after that. Last week against the Giants he was sacked just twice, but the Cowboys used a lot of quick and underneath throws.
Miles Austin
,
Jason Witten
and
Dez Bryant
didn't average more than 8.8 yards per catch against New York. I think you'll see some of that as well to combat the Chiefs' pass rush. Jason Garrett said the pass protection against the Giants was the best the team has had in a long time, so considering that pass rush, I think the Cowboys will have some confidence going into Sunday's game. And perhaps they could add your old friend
Brian Waters
into the mix this week. He was inactive against the Giants but the feeling is that he will be ready for action this week. We'll see.
But speaking of quarterbacks, how is
Alex Smith
meshing with Andy Reid?
Teicher:
So far, so good. Reid called plays to Smith's strengths in Jacksonville last week. Mostly quick, short stuff. He completed 21 passes but for just 173 yards. Generally got the ball out of his hand in a hurry.
Dexter McCluster
averaged 14.3 yards per catch, but among the Chiefs' other eight receivers who caught at least one pass, none averaged better than 11 yards per catch. Smith was able to do what he did so well the past couple of seasons for the 49ers. He didn't commit any turnovers and completed more than 60 percent of his passes. Smith also managed the game well. He did a nice job of reading coverages and took advantage of some mismatches the Chiefs were able to create with their formation and their motion. But the Cowboys will present a more interesting challenge than the Jaguars did.
How is the transition to the 4-3 going for the Cowboys and do they have the personnel to make it work?
Archer:
The transition has gone pretty well, but the defensive line is a mess. When they made the move they envisioned
Jay Ratliff
as their
Warren Sapp
, to a degree, and he will miss the first six games while on the physically unable to perform list.
Anthony Spencer
could make his debut Sunday, but he hasn't been on the field since undergoing knee surgery July 25.
Tyrone Crawford
was supposed to be the top backup and he tore his Achilles on the first day of camp. But at least there's
DeMarcus Ware
up front. The Cowboys felt like
Sean Lee
and
Bruce Carter
could fit in any defense and added
Justin Durant
as a free agent to take the Sam spot. If Lee and Carter can stay healthy, then this defense has a chance to be really good. The secondary is going through a transition.
Brandon Carr
and
Morris Claiborne
are not the prototypical Tampa 2 corners, but the Cowboys say they will mix a lot of their looks the way Seattle did with its scheme. They don't have a
John Lynch
, if I'm staying with the Monte Kiffin theme, but they like
Barry Church
(forced fumble, fumble recovery for a TD in the opener) and have vet
Will Allen
in the other spot. Kiffin and Rod Marinelli are a good mix together. They have changed the defensive mindset when it comes to takeaways as you can see with the six last week. Marinelli had the "secret sauce" in Chicago and brought it with him here. The Cowboys gave up too many big plays against New York, but I think this will be a bend-and-don't-break defense, not one that eats up offenses.
We'll have to get used to seeing Reid in red Sunday, but how has his first year with the club been? I wondered if he would take a break after so many years with the Eagles, but he hopped right back on the bus.
Teicher:
He seems energized by the move to K.C. That was the question I had, as did a lot of other people, when he took the job: How much did he have left in the tank? But he really attacked the job from the day he walked through the door. He's not as involved with personnel decisions as he was his last few years with the Eagles. The Chiefs hired a general manager, John Dorsey, with extensive personnel experience in part so they could free Reid from some of those duties. He's the playcaller on offense and has been very hands-on at practice. From the GM to the coaching staff to the offensive and defensive systems to the starting quarterback and 29 other players who weren't with the Chiefs last year, there's a lot new in Kansas City but Reid has done a nice job so far of tying it all together quickly. Reid, along with Dorsey, has already changed the culture in the organization from one where a lot of people had their own agendas to one where everybody seems to be pulling in the same direction. And you're right, even to those of us who see him daily, he still looks weird in red.
The Cowboys have a difficult schedule with few breathers and play in a division that looks to have a lot of parity. Assuming they stay reasonably healthy, what's a realistic expectation for Dallas this season?
Archer:
On our prediction posts to kick off our NFL Nation blog, I said 10-6 and make the playoffs, so after they beat the Giants, I'm sticking with that. However, I must say the defense has me worried. I can't imagine the Cowboys getting six takeaways a game and they were shredded by
Eli Manning
. They have
Peyton Manning
,
Drew Brees
,
Jay Cutler
,
Aaron Rodgers
,
Robert Griffin
III,
Michael Vick
(or Chip Kelly),
Matthew Stafford
and
Philip Rivers
on the schedule with a rematch with Eli coming, too. The national types always talk about the talent level of the Cowboys, but I don't know if they really get beyond the top 10 or so players. Yes, at the top the Cowboys are strong, but it falls off pretty quickly in my opinion. I believe they'll get better with their pass defense because it can't get worse, but they'll need to mix things up. On offense, they've always put up yards but struggled with points. Now I think they'll be better in the red zone and that'll help. So I'm sticking with 10-6.
What are the Chiefs' chances? They seem to be a chic pick to be a postseason team.
Teicher:
I predicted the Chiefs to finish at 8-8 and even though they looked strong last week against Jacksonville, I'm not quite ready to back off from that until I see them beat a better team. The Chiefs are a talented team, particularly on defense. The Chiefs have a lot of new elements but they looked last week as though they've meshed them all very quickly. The Chiefs have a favorable early schedule and need to take advantage because it gets more difficult the second half of the season. The formula they used to beat the Jaguars is the one they'll need to be successful: strong defensively with the defense and special teams helping the offense in terms of favorable field position. Then, a most efficient offense.