NFC East:

New Orleans Saints
January, 5, 2014
Jan 5
3:53
AM ET
By
ESPN.com staff
| ESPN.com
January, 4, 2014
Jan 4
6:10
PM ET
By
ESPN.com staff
| ESPN.com
Join our ESPN.com NFL experts for playoff football between the New Orleans Saints and the Philadelphia Eagles on wild-card weekend.
Contribute your thoughts and questions beginning at 8 p.m. ET. See you there.
January, 3, 2014
Jan 3
11:25
AM ET
The way things have gone for the
Philadelphia Eagles
this season, you half expected to hear that
Drew Brees
fell down an elevator shaft or was hit by some space junk. But no, the
New Orleans Saints
' superb quarterback will not go the way of
Aaron Rodgers
,
Adrian Peterson
and
Tony Romo
the week before their teams played the Eagles.
Of course, that doesn't mean anyone knows which Brees will show up for the first-round playoff game Saturday night at Lincoln Financial Field. Will it be the Brees with the 8-0 record at home, or the Brees who has gone 3-5 on the road this season?
In search of the answer to this and other questions, ESPN.com reporters Mike Triplett in New Orleans and Phil Sheridan in Philadelphia exchanged insight and info.
Phil Sheridan:
Let's start with the obvious: the disparity between the Saints at home and on the road. Is it mostly Brees? The fast track at the Superdome versus grass fields elsewhere? Exposure to electromagnetic waves in the outdoors? Some combination?
Mike Triplett:
Shoot, if I had the answer to that question, I'd probably be interviewing for some of these head-coaching vacancies around the league. It really is a mystery. Of course, the most obvious answer is that it's harder for all teams to play on the road -- especially when weather conditions become a factor. And the Saints have had some road struggles in the past (including an 0-3 playoff record with Sean Payton and Drew Brees). But even in those playoff losses, their offense showed up. We've never seen a season quite like this, where they've had so much trouble scoring points on the road.
Honestly, it's really come down to the football stuff: Early turnovers that put them in a hole, drive-killing penalties, an inability to stop the run. I expect their offense will still put up plenty of yards and points in this game, but I'm curious to see if they can avoid those costly turnovers -- and if they can find a way to contain
LeSean McCoy
. Those are the trends they must reverse from their previous road losses.
While we're dwelling on the negative, what could be the Eagles' fatal flaw? If something goes wrong for them in this game, what do you think it will be?
Sheridan:
The Snowball Effect. While the Eagles' defense has done a remarkable job of keeping points low -- 11 of the past 12 opponents have scored 22 or fewer -- there is a persistent suspicion that the smoke could clear and the mirrors could crack.
Matt Cassel
hung 48 points on them two weeks ago, the most since
Peyton Manning
put up 52 in Week 4. Even Sunday night,
Kyle Orton
was only a couple of slightly better throws away from scoring another touchdown or two. Brees is obviously capable of making those throws. If the Saints can move the ball the way many teams have, plus translate the yards into points, it could force the Eagles to play catch-up. And we haven't really seen
Nick Foles
in a shootout-type game yet.
Jay Cutler
didn't show up two weeks ago when the Bears came to town, and a freak snowfall took Detroit's
Matthew Stafford
and
Calvin Johnson
out of their game.
The stats say Rob Ryan has transformed the Saints' defense from a farce into a force. Does that align with what you see when you watch them? Does Ryan have the scheme and the personnel to be physical with the Eagles' receivers while getting pressure on Foles?
Triplett:
That's absolutely true, Phil. Ryan has been an outstanding fit for this team. I know Philly fans didn't see his best results with the
Dallas Cowboys
the past two years. But it must have been a perfect storm here, where the Saints' defense had just given up the most yards in NFL history under former coordinator Steve Spagnuolo in 2012. The players were ready for a change -- and Ryan is all about change. He constantly adapts his approach from week to week, building around his players' strengths and tailoring game plans for certain opponents.
Several young players are having breakout years -- including pass-rushers
Cameron Jordan
and
Junior Galette
(12 sacks each this season) and cornerback
Keenan Lewis
, who is a true No. 1 corner. He's physical with long arms and plays well in man coverage. I imagine he'll be matched up a lot against
DeSean Jackson
.
From what I've read about Chip Kelly, it seems as though he's a kindred spirit of both Ryan and Sean Payton -- trying to create confusion and mismatches. Is it possible for you to boil down his philosophy to one or two paragraphs?
Sheridan:
Force the issue. That's the underlying principle. It's behind the no-huddle, up-tempo approach, and it drives many of the unusual things he does with formations and blocking schemes. Kelly wants to spread the field horizontally and vertically, forcing defenses to account for every offensive player and every square foot of grass. He'll line right tackle
Lane Johnson
out like a wide receiver, or left tackle
Jason Peters
at tight end on the right, or DeSean Jackson in the backfield, just to see how the defense responds. If he sees a mismatch, he'll exploit it until the defense corrects it.
It must be said that Kelly inherited a lot of offensive talent that was pretty darn good under Andy Reid. The line has been outstanding and, just as important, healthy. Jackson, McCoy and the other skill players are exceptional. The X factor has been the way Foles has mastered what Kelly wants to do. There are a lot of quick reads and decisions for the quarterback to make -- whether it's a zone-read or a package play with run/pass options -- and Foles has translated Kelly's dry-erase board to the field very well, leading the Eagles to a 7-1 record since they were 3-5 at the midway point.
Payton is a similar creative offensive mind with an NFL pedigree. The first time I met him, he was the Eagles' quarterback coach on Ray Rhodes' late 1990s teams, trying to win with Bobby Hoying and various Detmers. Is he any different or more driven since serving his one-year suspension? Is there a sense the Saints are back where they belong and determined to make a deep run?
Triplett:
I think it's a great comparison. Although the offenses don't look identical, the philosophies are the same -- create, identify and exploit mismatches. The Saints will actually rotate in a ton of different personnel groupings early in games, as well as mix up their formations, to see how defenses react.
Payton hasn't changed drastically this season. One of the things that stood out to me most early in the season was his patience in games -- how he'd stick with a methodical attack, settling for a lot of check-down passes, etc., to win games against teams such as Chicago and San Francisco. Lately, Payton's been a little stumped in similar-style games on the road, though.
Overall, the idea with him is that he is hyperfocused on every detail that can help this team win. Brees keeps saying Payton's leaving no stone unturned. It started with switching defensive coordinators on his second day back on the job, then things such as changing the team's conditioning program, then recently switching out the left tackle and kicker heading into Week 16.
I'll leave you with a quick question, Phil. Who are the one or two players we haven't talked about much who could have a big impact on this game? From my end, the answer would probably be those young pass-rushers, Jordan and Galette.
Sheridan:
I'm going to go with the Eagles' key pass-rushers, too --
Fletcher Cox
,
Trent Cole
and
Connor Barwin
. The Eagles didn't sack Orton at all Sunday night in Dallas. Orton is no Brees, but he does get the ball out quickly. So it might not result in many sacks against the Saints, but the defense has to disrupt Brees' rhythm as much as possible. Cole had eight sacks in the second half of the season. Cox has been outstanding at collapsing the pocket. Barwin is as likely to jam
Jimmy Graham
at the line of scrimmage as rush the passer.
But somebody from that group -- or maybe it will be
Brandon Graham
or
Vinny Curry
-- has to make Brees feel uncomfortable, or it's going to be a long night for the Eagles. As you pointed out, the Saints have made more mistakes on the road than at home. Forcing some of those mistakes, preferably early, could make the air feel colder and the wind feel sharper.
.
November, 10, 2013
11/10/13
6:30
PM ET
By
ESPN.com staff
| ESPN.com
Join our ESPN.com NFL experts as they break down the Dallas Cowboys' visit to the New Orleans Saints. Contribute your thoughts and questions beginning at 8:30 p.m. ET. And, be sure to visit our
NFL Nation Blitz page
for commentary from every game, as well as fan photos and the latest buzz from Twitter. See you there.
November, 7, 2013
11/07/13
10:00
AM ET
.
There might not be a more compelling game on this week's NFL schedule than the Sunday night showdown between the NFC South-leading
New Orleans Saints
(6-2) and the NFC East-leading
Dallas Cowboys
(5-4) at the Mercedes-Benz Superdome.
Both teams are jockeying for position in the NFC playoff race. They both offer offensive fireworks, led by the Saints'
Drew Brees
and
Jimmy Graham
and the Cowboys'
Tony Romo
and
Dez Bryant
. They've both got something to prove: The Saints will be focused on rebounding from their ugliest performance of the season in a 26-20 loss at the
New York Jets
; the Cowboys are looking to beat a team with a winning record this season.
There's even a revenge factor. Saints defensive coordinator Rob Ryan was fired by Cowboys owner Jerry Jones after last season. And he's never been shy about expressing his displeasure with that decision.
ESPN.com's Saints reporter Mike Triplett and Cowboys reporter Todd Archer break down the matchup.
Triplett:
Rob Ryan has been such a huge addition for the Saints. Players love playing for him. He's putting them in good positions to succeed, and his versatile schemes have worked great for the most part. What wasn't working for him in Dallas?
Archer:
Injuries played a big part in his demise here. He was down six starters at the end of the season and
DeMarcus Ware
was playing with one arm. He had them competitive. But, honestly, Ryan played a big part in it, too. He tried to junk it up with so many different looks and schemes and packages that the players couldn't just go play. They had to think. Maybe he felt like he had to junk it up because so many guys were hurt, but he left them unsound a lot of times. He was also way too emotional. He lacked poise when the defense needed it most. I think he was too worried about becoming a head coach. Maybe it has changed down there, or maybe Sean Payton has more control of him.
Is there any reason to think that what happened against the Jets could be the start of something for the Saints?
Triplett:
The Saints have had a few nagging issues that all seemed to creep up at once in that Jets loss. Their pass protection has been inconsistent. Their run game has been nonexistent at times. The run defense has been up and down. But I think it was rare for the Saints to have all of those things come up and bite them at once at New York, and they were a little out of their element in some chilly weather against a physical team. Playing at home against the Cowboys seems like a matchup that suits them better. They're more than happy to engage in a shootout.
What's the biggest threat the Cowboys pose? I assume Romo and Bryant are involved?
Archer:
Since they just don't want to run the ball, after just eight carries last week (the ninth was a Romo scramble), I'll go with Romo-to-Bryant, but the Romo-to-
Jason Witten
combination is pretty good. The Cowboys can throw the ball well even without a running game. They might be happy to get into a shootout as well. The last time the offense was good was a month ago, in their 51-48 shootout loss to Denver. Romo knows Brees is going to score points, so he'll have to match it. Remember, the last time the Cowboys were at the Superdome they ended New Orleans' run at perfection by being aggressive early. I can see them trying to do that again.
The Cowboys have allowed four 400-yard passers this season, and I'm penciling in Brees as the fifth.
Calvin Johnson
went for 329 receiving yards against the Cowboys a couple of weeks ago. What will Graham do?
Triplett:
You could have been talking about the Saints when you said they "can throw the ball well even without a running game." The Saints might try to establish the run a little bit since Sean Payton said that one of his biggest regrets in the Jets loss was that he was too unbalanced. But the Saints are always willing to exploit a shaky pass defense.
Some teams have been defending Graham with top cornerbacks (which worked for the Patriots but not for the Jets). But the Saints have clobbered teams whenever they leave Graham in single coverage. Meanwhile, if defenses sell out to stop Graham, Brees will happily throw to any open man. Two weeks ago, he completed passes to 10 different receivers. And it looks like
Darren Sproles
and
Marques Colston
may both be back from injuries Sunday.
Why has Dallas' pass defense been so bad?
Archer:
Mostly, it's taken time for the players to get a grasp of Monte Kiffin's scheme and it's taken time for the new defensive coordinator to know how to best use his players. They have man corners in
Brandon Carr
,
Orlando Scandrick
and
Morris Claiborne
, but they have played a lot of zone and been exposed. There have been just too many creases. The pass rush has not helped, either. They went into the season thinking
Anthony Spencer
,
Jay Ratliff
,
Jason Hatcher
and Ware would be their rocks. Spencer played in one game. Ratliff didn't play in any before getting cut. Ware has missed the last three but is set to return this week. Hatcher is having a career year with seven sacks. When they have played average quarterbacks they have held up. When they have played elite quarterbacks they have given up 400 yards. For the fantasy-football owners out there, go with Brees Sunday.
You get this every week, but play calling is a big topic here. How have things been different with Payton calling the shots again?
Triplett:
You're right to mention play calling in that question. Most people ask about Payton's leadership, which is obviously a huge deal; he instills a lot of confidence in this team and seems to press all the right motivational buttons. But his greatest strength is his offensive brain. He's so good at using a ton of different formations to find and exploit mismatches, usually with Graham and Sproles. The offense hasn't quite hit its peak like it did in 2011, but it has been excellent at times.
You mentioned Ware coming back. Will he be close to 100 percent? Folks around here won't soon forget how well he played in 2009, when the Saints didn't expect him to come back from injury so soon. He singlehandedly spoiled their undefeated season.
Archer:
I think so, but he has had a couple of nagging things this season (a stinger and strained back). Missing three weeks might have Ware as fresh as he has ever felt entering Week 10 of a season. They'll need him to be the Ware of that night in 2009 to succeed. He looked great in training camp, overpowering
Tyron Smith
in practice all the time, but he hasn't been as explosive when he has played. What he'll do is make the other guys around him better because he'll command so much attention.
Ware is making the move back to defensive end from outside linebacker. How has the Saints' defense transitioned from the 4-3 to Ryan's 3-4?
Triplett:
The transition has been outstanding, in large part because Ryan has adapted his 3-4 to fit the Saints' personnel (after a ton of injuries this summer, including one to former Cowboys linebacker
Victor Butler
). As a result, the Saints have actually spent most of the season in nickel and dime defenses with a four-man front. Ryan likes to use three safeties at once in versatile roles, disguising what they do and sending them on occasional blitzes.
End
Cameron Jordan
and outside linebacker
Junior Galette
are having breakout seasons as edge rushers. And veteran cornerback
Keenan Lewis
has been a great pick-up in free agency, too. He's a bigger, long-armed guy. I wouldn't be surprised to see him shadow Bryant on Sunday night.
We've hit on Romo, Bryant, Witten and Ware. Any under-the-radar Cowboys who might have a big impact on this game?
Archer:
I'll go with
Cole Beasley
. He might get stopped by stadium security before the game because he just doesn't look like an NFL receiver at 5 feet 8 and 180 pounds, but Romo loves the kid. He's a real threat in the slot. He's super quick, has a great feel for getting open underneath and knows how not to take a hit. He had six catches last week against Minnesota. The Cowboys' third-down offense has been pretty bad, but Beasley can take some pressure off Witten and Bryant in the slot.
.
December, 9, 2012
12/09/12
1:00
PM ET
By
ESPN.com staff
| ESPN.com
Join our ESPN.com NFL experts as they break down the NFC showdown between the New Orleans Saints and the New York Giants.

Contribute your thoughts and questions beginning at 4:30 p.m. ET. See you there.


November, 5, 2012
11/05/12
11:48
PM ET
NEW ORLEANS -- Some quick thoughts on
New Orleans Saints
' 28-13
win
over the
Philadelphia Eagles
on "Monday Night Football."
What it means:
After starting 0-4, the Saints have won three of their past four games and sit at 3-5 and in third place in the NFC South, well behind the 8-0
Atlanta Falcons
. The season isn't over for New Orleans, but with the way its defense is playing, it will be hard-pressed to go on a run.


For the reeling Eagles, this was their fourth straight loss and fifth in their past six games after starting the season 2-0. They now sit at 3-5, tied with the
Dallas Cowboys
for second place in the NFC East behind the 6-3
New York Giants
. This certainly isn't what Philadelphia owner Jeffrey Lurie had in mind. He said before the season started that a second consecutive 8-8 finish would be grounds to fire Andy Reid after his 14th season. The Eagles will have to finish at worst 6-2 to avoid a .500 record, and even that might not be good enough.
So what becomes of Reid?
NFL owners don't like to get embarrassed on national television, and that's what happened to the Eagles, who got behind early -- again -- and couldn't keep up with a Saints offense that can put points on the board. The Eagles trailed 21-3 at halftime. They showed signs of life in the third quarter with a strip sack that led to a 77-yard touchdown pass from
Michael Vick
to
DeSean Jackson
followed by a forced fumble on the ensuing kickoff.
But one of the Eagles' chronic problems continued. They couldn't score touchdowns in the red zone. Five appearances led to two field goals. Vick also threw a pick-six when a pass bounced off
Brent Celek
's fingertips and was returned 98 yards by
Patrick Robinson
for a touchdown that gave New Orleans a 7-0 lead.
As ugly as it's going to be in Philadelphia this week, where acute apathy has set in, I'd be shocked -- shocked -- if Lurie fired Reid midseason under any circumstances. That's not how Lurie operates. But it certainly seems like Lurie will be looking for a new coach in January.
Saints defense holds:
The Saints had been historically bad coming into the game this season. They had given up consecutive 500-yard games and had allowed at least 400 yards of offense in all seven games. They ranked 30th in scoring, 32nd in total yards allowed, 30th in passing yards allowed and 31st in rushing yards allowed.
While New Orleans allowed
LeSean McCoy
to gain 119 yards, 101 of those yards came on 13 first-half carries. They held the Eagles to 13 points even though they entered the game giving up 30.9 per game. They sacked Vick seven times and forced three turnovers.
Yes, they ended up giving up 400 yards in garbage time, meaningless yards that only padded losing statistics. The Saints have plenty of work to do on defense, but they made headway on Monday.
Eagles lose another lineman:
The Philadelphia offensive line has taken a beating this season, and against New Orleans the Eagles were forced to play the majority of the game without right tackle
Todd Herremans
, who injured his right ankle/foot late in the first quarter.
Herremans is the fourth starter on the offensive line to miss time with an injury, which is one of the major reasons the Eagles have struggled this season.
Saints' streaks continue:
New Orleans has not lost a November game since falling to Tampa Bay on Nov. 30, 2008, a streak of 12 straight games. They've now won 14 of their past 15 games in November. They've also won eight straight games on Monday night.
What's next:
The Eagles return home to an environment in Philadelphia that will be toxic, and they will host the Cowboys on Sunday. The Saints host the undefeated Falcons.
November, 5, 2012
11/05/12
7:30
PM ET
By
ESPN.com staff
| ESPN.com
Join our ESPN.com NFL experts as they break down "Monday Night Football" between the Philadelphia Eagles and the New Orleans Saints.

Contribute your thoughts and questions beginning at 8:30 p.m. ET. See you there.


November, 5, 2012
11/05/12
1:01
PM ET
Sunday's startling news that Sean Payton's contract with the
New Orleans Saints
has been voided raises more questions than it answers.
A purported extension between the coach and team, negotiated in September 2011, was nullified by the NFL, reportedly due to an impermissible escape clause allowing Payton to become a free agent in the event general manager Mickey Loomis were to exit, whether voluntarily or involuntarily (through suspension or firing).
No revision?
Like player contracts, coaching contracts require final approval by the commissioner's office. I negotiated dozens of coach contracts, and although I never had one disapproved, there were times I was required to change or revise language in a player contract prior to approval. That call from the league would lead to further negotiation with the player and agent to resolve the matter to the league's satisfaction.
This raises the question as to why the Saints and Payton did not, and apparently still have not, quickly and quietly resolved the matter to allow for contract approval.
With the disapproval having taken place more than a year ago, my sense is that either the relationship between Payton and the team may not be as close as it was or the presence of the now-suspended Loomis was so important to Payton that he would not agree to revise the clause. Or there is the possibility Payton would prefer free agency to remaining with the Saints.
Tying to Loomis
Why would Payton have a clause tying his continued allegiance to the team to Loomis? Certainly the two are close, but this type of language is uncommon. With the bounty inquiries going on over a three-year period, one wonders what Payton or his agent knew about potential issues concerning Loomis' continued presence with the team.
I learned firsthand that the NFL would not approve a player contract tied to another player. When negotiating
Aaron Rodgers
' rookie contract in Green Bay, we tried to project incentives and escalators in the future dependent on
Brett Favre
still playing for the Packers. I inquired about linking Rodgers' escalator thresholds to whether Favre had retired. I was emphatically told that I could not.
It is not known the reason the Loomis clause was disapproved, but it may revolve around the same theory of tying one employee's rights to another's.
Toll the bell?
There is also the question of whether the contract "tolls" for this season, meaning that although Payton is suspended, the contract is suspended as well, leaving a year left on the original deal. Any player suspended in the final year of his contract does not become a free agent after suspension; he would still have a year left. It is unclear why Payton's contract would not be similarly treated.
These are just a few questions raised by the Payton news. It is even more curious that we are discussing this in November 2012, when the NFL rejected the extension in September 2011.
Clearly, there is more to the story, which will play out when Payton comes off suspension after the Super Bowl. Stay tuned.
September, 9, 2012
9/09/12
11:00
AM ET
By
ESPN.com staff
| ESPN.com
Join our ESPN.com NFL experts as they break down the Washington Redskins visit to the New Orleans Saints.

Contribute your thoughts and questions beginning at 1 p.m. ET. See you there.


June, 28, 2011
6/28/11
11:55
AM ET
Tom Brady
or
Peyton Manning
? It's the debate of the moment in today's NFL. Which superstar quarterback is the best? Who, between that pair of excellent, future Hall of Fame signal-callers, would you pick if you had the choice? That's not the question that was asked of our Power Rankings panel this week, but it turned out to be the one we answered.
Yes, after weeks upon weeks of power-ranking everything we could think of in the NFL, we've decided to throw all qualifiers and designations out the window and make it very simple: Who are the best players in the league?
As was the case when our panel was asked to rank the league's top quarterbacks, Brady beat out Manning for the top spot in this week's power rankings. Six of the eight NFL bloggers polled ranked Brady No. 1 overall, and the two who didn't -- Mike Sando and Paul Kuharsky -- ranked him second behind Manning. The top four players in our rankings and seven of the top 10 (of the top 11, technically, since
Michael Vick
and
Andre Johnson
tied for the No. 10 spot) all play the same position -- quarterback -- which says a lot about the way we value that position.
"Quarterback is the most significant position on the field and can make the difference between a lopsided losing record and the playoffs," said AFC East blogger Tim Graham, whose ballot had quarterbacks in each of the first seven spots and eight of 10 overall. "It takes a truly special running back or defensive player to outweigh the importance of a quarterback. For example,
Adrian Peterson
is a sensational player. But without
Brett Favre
producing at quarterback, Peterson couldn't carry the Vikings to the playoffs."
So the question then became which quarterback was the best. The debate these days seems to be squarely between Manning and Brady, though two of our eight bloggers did rank Manning third on this week's list. We'll get to them in a minute. We'll start with the majority opinion -- that Brady is the best player in the league right now.
I was one of the six who ranked Brady in the top spot, and the main reason was that I think Brady has attained a level of excellence in New England that's beyond what Manning has been able to attain in Indianapolis. Brady's accomplishments in 2007, when he combined with
Randy Moss
to set all kinds of offensive records and went undefeated until losing the Super Bowl to the Giants, were all-time legendary. But what people may not realize (perhaps because of the ludicrous level at which Brady excelled that year) is that the past two seasons have been the second-best and third-best statistical seasons of Brady's career. If Brady hadn't hurt his knee in the first game of the 2008 season and missed the rest of that year, it's very possible he would be on the kind of run right now that would make a Brady-Manning debate seem silly.
After the Patriots traded Randy Moss in the middle of 2010, the question was whether they were giving up on the season. What they were doing instead was committing to a midseason overhaul of the offense that wouldn't have been possible without the confidence they had in Brady to manage it. All Brady did was muster the second-best completion percentage and second-highest touchdown-pass total of his career while throwing just four interceptions and winning at least 14 games for the fourth time.
Not everybody agreed, however.
"Manning is simply asked to do more than any player in the league is asked to do," Kuharsky said. "He's superb at it. I love Brady. But Manning can do more, is asked to do more, and has to do more. Jim Caldwell is an OK coach so far. Bill Belichick is an all-time great. The guy making up the gap in order to have the Colts stay in range of the Patriots is Manning."
But the Colts really weren't in range of the Patriots this year, and for that reason Manning's star has dimmed in the eyes of a couple of our panelists. NFC North blogger Kevin Seifert ranked
Aaron Rodgers
No. 2 and Manning No. 3. And NFC South blogger Pat Yasinskas ranked Saints quarterback
Drew Brees
in that No. 2 spot ahead of Manning.
"I'm not trying to diminish Peyton in any way. He's going to be a first-ballot Hall of Famer. But, if you look at his numbers and Brees' numbers over the last three or four years, they're similar and, in some ways, Brees' numbers are better," Yasinskas said. "Brees and Manning each have won one Super Bowl title. My argument is that, right now, Brees is even more valuable to the Saints than Manning is to the Colts. Times change and circumstances change. But right now I think Brees is the perfect quarterback for the Saints and is in the perfect situation with their offensive system and coaching staff. In fact, I considered voting for Brees No. 1 overall, but couldn't quite bring myself to rank him ahead of Tom Brady."
Steelers safety
Troy Polamalu
, who came in first in the defensive player power rankings, ranked fifth on the overall list. AFC North blogger James Walker ranked Polamalu fourth, and Seifert ranked him fifth. Walker's ballot was the most generous overall to defensive players, as he ranked Polamalu fourth, Cowboys pass rusher
DeMarcus Ware
fifth, Jets cornerback
Darrelle Revis
eighth and 49ers linebacker
Patrick Willis
ninth.
Walker and Kuharsky (who ranked him 10th) were the only ones who ranked Ware at all, and Kuharsky seemed a little chapped about it.
"If we rate these quarterbacks so highly, how can we not rate the guy we said was tops at disrupting quarterbacks highly too," Paul asked. "Makes no sense. I had him too low at 10. For six of you guys to leave him off entirely dents your collective credibility. Next I imagine you'll say the E Street Band isn't the all-time best backing band."
Paul is grouchy.
"I value pass-rushers, and no player has more sacks the past two seasons than DeMarcus Ware (26.5)," Walker said. "Getting to the quarterback is the best way to combat the league's increasing number of pass-happy offenses, and no one does it better right now than Ware."
The highest-ranked offensive player who wasn't a quarterback was Peterson, who came in sixth after being named on five of eight ballots. Sando, Walker and AFC West blogger Bill Williamson left the Minnesota running back off their ballots -- the third time in three tries that Williamson has ranked Peterson lower than most of the rest of us did.
"This is a quarterback league and that's how I built my top 10," Williamson explained. "There were only three non-quarterbacks on my top 10. After I constructed the quarterback rankings, I went to the best available non-quarterbacks, and the list was quite short. But to reiterate, this is the top 10. The best of the best. I think Peterson is probably a top-15 guy and that's pretty good in a league of 1,800-plus professionals."
Pretty good indeed. But as Bill said, it's a quarterback league. And for that reason, the debate about the best player in the league came down, once again, to Peyton Manning vs. Tom Brady.
April, 19, 2011
4/19/11
8:12
PM ET

Breakdown:
The
New York Giants
better keep their bags packed early. They open the season with three of their first four games on the road (against the
Washington Redskins
,
Philadelphia Eagles
and
Arizona Cardinals
). Granted, New York will face only one team with a winning record in its first seven games but that's still a rough way to start the season. Nobody wants to spend that much time on the road so soon.
If that isn't bad enough, the Giants will have plenty of tests from their non-divisional opponents. They've got road games against the
New England Patriots
,
New Orleans Saints
and the
New York Jets
and they face the
Green Bay Packers
in the first weekend in December. Correct me if I'm wrong but don't the toughest schedules go to the teams that actually make the playoffs? The Giants might want to remind the league's decision-makers of that if New York's fortunes go south this fall.
Complaint department:
The Giants' season will be heavily impacted by what happens in late November and early December. In that four-game stretch they'll face the winners of the last two Super Bowls (New Orleans and Green Bay) along with divisional rivals Philadelphia and Dallas. Good luck with that one.
Revenge factor:
The last time the Giants and Patriots met -- in Super Bowl XLII -- New York pulled off one of the greatest upsets in NFL history. This contest clearly won't have the same drama hanging over it, but it is the first meeting between these teams since that day. That alone should give it a nice storyline heading into what should be a fun watch.
Giants Regular-Season Schedule (All times Eastern)
Week 1: Sunday, Sep. 11, at Washington, 4:15 PM
Week 2: Monday, Sep. 19, St. Louis, 8:30 PM
Week 3: Sunday, Sep. 25, at Philadelphia, 1:00 PM
Week 4: Sunday, Oct. 2, at Arizona, 4:05 PM
Week 5: Sunday, Oct. 9, Seattle, 1:00 PM
Week 6: Sunday, Oct. 16, Buffalo, 1:00 PM
Week 7: BYE
Week 8: Sunday, Oct. 30, Miami, 1:00 PM
Week 9: Sunday, Nov. 6, at New England, 4:15 PM
Week 10: Sunday, Nov. 13, at San Francisco, 4:15 PM
Week 11: Sunday, Nov. 20, Philadelphia, 8:20 PM
Week 12: Monday, Nov. 28, at New Orleans, 8:30 PM
Week 13: Sunday, Dec. 4, Green Bay, 4:15 PM
Week 14: Sunday, Dec. 11, at Dallas, 8:20 PM
Week 15: Sunday, Dec. 18, Washington, 1:00 PM
Week 16: Saturday, Dec. 24, at NY Jets, 1:00 PM
Week 17: Sunday, Jan. 1, Dallas, 1:00 PM

April, 5, 2011
4/05/11
11:11
AM ET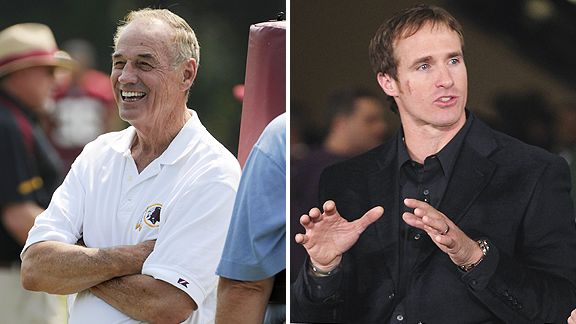 Icon SMI, US PresswireHall of Famer Sam Huff took exception to comments Drew Brees made regarding former players.
Even in a lockout, New Orleans quarterback
Drew Brees
is still taking hits.
This time it's from Hall of Fame linebacker Sam Huff, who previously took some shots at Brees back in 2009. That came after Brees, a member of the NFL Players Association's executive committee said some of the demands from former players weren't warranted.
"There's some guys out there that have made bad business decisions," Brees said then. "They took their pensions early because they never went out and got a job. They've had a couple divorces and they're making payments to this place and that place. And that's why they don't have money. And they're coming to us to basically say 'Please make up for my bad judgment.'
"In that case, that's not our fault as players."
Huff ripped Brees at the time and he did it again Monday. In
a letter Huff sent to the Washington Post
, he didn't hold back his venom for Brees.
"I was always taught that if a person could not say something good about someone, anyone subject to attention, they should keep their mouth shut,'' Huff wrote. "I have a struggle living up to that standard; especially when it comes to Drew Brees, I let it all hang out. He seems to belong to that group of younger generation who left their NFL history books at home.
Huff's letter then points out that he worked in the hotel industry for 27 years after his retirement from football. Huff then veers way off the point of the whole matter and lists in detail his impressive credentials as a player. Then, he really ripped into Brees personally.
"I think I know enough about the game to say something is wrong when I think it is wrong,'' Huff said. "I am not one of those retired players who, as Drew Brees insinuates, has begged for money, and I do not need to. However, I know about the players of the 50's and 60's, and they gave everything imaginable to make the game what it is today. Some of those players need help from the NFLPA. They deserve it, and Drew Brees needs better credentials before he makes such derogatory statements about those players.''
Listen, I totally respect what Huff did as a player. But I also think Brees has built some pretty strong credentials and will continue to do so. When all is said and done, Brees will be in the Hall of Fame.
The real point here is Brees' original comments about some retired players being in dire straits because they made mistakes and had to take their pensions early. Huff said he's not one of those guys and that's great for him and I think he's in the majority.
But Brees' original statement had some validity. There are some former players out there who have been very vocal about getting their pensions increased. Some of them were great players and made very good money (at least relatively speaking at the time they were playing) and they've run into financial trouble long after their playing careers.
I know one guy who took his pension in his early 40s because he was broke after a series of bad business decisions. He spends his time now selling rubber bands, signing autographs at card shows and making lots of noise about how former players should get more money.
I do believe the league and the union have some responsibility to former players, particularly those with health issues stemming from their playing days. Many others who were wise with their money all along should be able to get along just fine with a pension that's far better than most workers who retired from real-world jobs. But I also think Brees had a valid point when he said it's not the responsibility of current players to make up for bad judgment by some former players.
Brees wasn't talking about Huff. Maybe Huff shouldn't be talking about Brees.