NFC East:

Oakland Raiders
June, 24, 2014
Jun 24
8:00
AM ET
Join us today at 1 p.m. ET, 10 a.m. PT, for NFL Nation TV's Spreecast episode No. 11. Host Paul Gutierrez (
Oakland Raiders
reporter), co-host Coley Harvey (
Cincinnati Bengals
reporter) and guests John Keim (
Washington Redskins
reporter) and Scott Brown (
Pittsburgh Steelers
reporters) discuss a range of topics from the team nickname under fire in the nation's capital to the passing of a legend in Chuck Noll to
Michael Vick
thinking very highly of himself, among other timely issues. Viewers are encouraged to log in and ask the panelists questions as well as contribute in the chat feature.
December, 29, 2013
12/29/13
9:17
PM ET
OAKLAND -- And now, the waiting game begins.
A second consecutive 4-12 season for coach Dennis Allen, in which the
Oakland Raiders
lost six straight to end the season and eight of nine overall, would have spelled doom under the late Al Davis. But with Mark Davis as a more "patient" owner, and a general manager in Reggie McKenzie who has called Allen "my guy" from Day 1, you have to wonder.

Allen
Does Allen, who was a rookie coach as Oakland began its self-described two-year "deconstruction" period in 2012, deserve a shot at returning, despite his platform of progress and discipline being shelled since Thanksgiving?
"Deserve" might be too broad a term; "fair" might be more accurate.
Davis said this week he was going to take a "wait-and-see" approach, that no decision had been made and he wanted to see how the Raiders played this weekend.
In the Silver and Black spectrum, the Raiders outscored the
Denver Broncos
in the second half on Sunday, 14-3.
In the Silver and Blechhh spectrum, they trailed at halftime, 31-0 (which is when
Peyton Manning
left the game), and fell to the AFC's top seed, 34-14.
Allen anticipates sitting down with Davis and McKenzie in the very near future, and believes he "deserves" to return.
"Yeah, I do," he said. "I expect to be back, and I'm looking forward to the opportunity to come back. Those are decisions that somebody else is going to make, but yeah, I expect to be back."
Asked if he considered the possibility that he was done, Allen did not flinch.
"That's a decision that's made over my head. I fully expect to be back. I fully believe that I deserve the opportunity to come back here and get a chance to, as we said, go through the deconstruction phase. I want to be part of the rebuilding phase."
Said quarterback
Terrelle Pryor
: "Personally, I love Coach Allen. He's a great leader. He's a great leader. The thing I really liked about him, he didn't change. When we started losing, he didn't change one bit. A lot of guys crack under pressure. I think coach Allen handled himself. We look at that stuff (as players). I think he did a phenomenal job this year. I have a lot of respect for Coach Allen ... I respect coach Allen, but that's really not my call. That's Mr. Davis' and Reggie's, and really, Mr. Davis'."
Left tackle
Jared Veldheer
, who will be an unrestricted free agent, said he also endorsed Allen.
"One of the biggest things we need is continuity," Veldheer said. "It would be very tough to see massive turnover."
November, 28, 2013
11/28/13
2:30
PM ET
By
ESPN.com staff
| ESPN.com
Join our ESPN.com NFL experts as they break down the Oakland Raiders' visit to the Dallas Cowboys. Contribute your thoughts and questions beginning at 4:30 p.m. ET. See you there.
November, 27, 2013
11/27/13
7:00
PM ET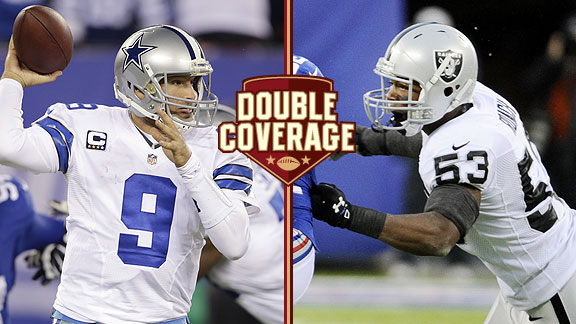 AP PhotoTony Romo's Cowboys host Nick Roach and the Raiders in a Thanksgiving Day duel.
IRVING, Texas -- For the second time in five years, the
Dallas Cowboys
and
Oakland Raiders
meet on Thanksgiving at AT&T Stadium.
The Cowboys won the 2009 matchup 24-7 with
Tony Romo
throwing for 309 yards and two touchdowns and
Miles Austin
catching seven passes for 145 yards. Since that game Austin has had more yards in a game just twice.
ESPN.com's Raiders reporter Paul Gutierrez and Cowboys reporter Todd Archer bring you this week's holiday version of Double Coverage.
Todd Archer:
The Cowboys are bad in most areas defensively, but they have given up 200 yards rushing in three games this season. The Raiders' strength, from afar, seems to be their running game. What makes it so good and how has it differed with
Terrelle Pryor
out?
Paul Gutierrez:
Hey, Todd, it's not just Pryor being out, but also
Darren McFadden
, who has missed three straight games and four overall with a strained right hamstring. He said Monday night he hopes to play after practicing (limited) for the first time since Nov. 1. The run game, though, has not missed a beat with underrated
Rashad Jennings
picking up the slack. In the past four games, he has run for 413 yards while averaging 5.7 yards per carry. In fact, the running game has been so surprisingly solid without McFadden and Pryor that the play-action pass game has picked up with undrafted rookie
Matt McGloin
under center.
Speaking of passing games ... no doubt Tony Romo can rack up stats, but has he decided to assume more of a leadership role yet as the QB of America's Team, or is that just not in his makeup?
Archer:
He has developed over the years as a leader, but there's no question that this has been "his" team the past three seasons. He is the veteran. He is the guy the Cowboys look to. The guys on this team now don't know of the Romo who burst on the scene in 2006 or had to deal with the
Terrell Owens
stuff. He's the guy who led the lockout practices and has been the big voice in the room. This year he has been given the added responsibility of being more involved in the game plan. The Cowboys' past two wins have come on last-minute drives led by Romo to beat Minnesota and the
New York Giants
. I don't think there's anybody questioning his leadership anymore. And if they did, well, the $106 million extension Jerry Jones gave him in the offseason should be more than enough proof to those guys that this is Romo's team.
Let's stick with the quarterback theme. Before the Cowboys lucked into Romo, they ran through a ton of guys after
Troy Aikman
's departure. Is there any reason to believe McGloin or Pryor can be a solution or do the Raiders need to go after one of these guys in next April's draft?
Gutierrez:
Well, the way I put it earlier in the season, before Pryor hit his purported ceiling and sprained his right knee, robbing him of his greatest strength (running) while accentuating his biggest weakness (passing), if Pryor was not the Raiders' Mr. Right, he was their Mr. Right Now. McGloin is a pure quarterback, a pocket passer whom Dennis Allen prefers for what he wants to accomplish offensively. It's hard to give Allen and GM Reggie McKenzie much credit for their evaluation of QBs, though, what with their misses on
Matt Flynn
and
Tyler Wilson
, not caring much for Pryor early on and then, similar to the Cowboys with Romo, stumbling upon McGloin. But it's hard to see them going all in with the undrafted rookie from Penn State, too. At least hard at the moment. Unless McGloin continues to improve and wins a few games, it would behoove the Raiders to draft another QB if they see one as a can't-miss prospect. I know, I know, they really wanted USC's
Matt Barkley
but Philadelphia traded in front of them so they traded back and selected Wilson. Oops. There is no doubt, though, that this Raiders regime prefers McGloin as a prototypical QB over the more electric Pryor.
No matter who is under center for Oakland, though, the Raiders' QB is going to have to keep an eye on
DeMarcus Ware
. Is he rounding back into shape as a dominant pass-rusher, or is he more decoy as he rehabs from his quad strain?
Archer:
I think he's still feeling his way through it. The fact that he made it through the Giants game healthy was a plus. He has been dinged up in just about every game with stinger and back strains earlier in the season before the quadriceps injury. We'll see how he fares on a short week, but the defense is a lot better with even the threat of Ware on the field.
Jason Hatcher
had two sacks against the Giants at least in part because of the attention Ware received. Ware has talked about wanting to make up for lost time. He has five sacks so far, his fewest this late in a season since his rookie year in 2005. Thursday would be a good time to look like the DeMarcus Ware of old.
This game is a homecoming of sorts for guys like
Mike Jenkins
,
Andre Gurode
,
Kevin Burnett
and Tony Sparano, but it's a real homecoming for Dennis Allen. How is he perceived in Oakland and will McKenzie be more patient with him than, say, Al Davis would have been?
Gutierrez:
The jury, so to speak, is still out on Allen in the streets of Silver and Blackdom. Of course, when the Raiders win a game, he's the man. When he loses, the fans turn on him and start pining for Jon Gruden ... again. But isn't that the nature of the beast? Even Allen himself said this was a results-oriented business. Of course, he was referring to the quarterback position at the time, but it still applies. Make no mistake about it, Allen is McKenzie's "guy" and he's going to roll with him and have patience with him. The plan coming in was to give Allen at least three years to right this ship and really, the only thing that could damage Allen's chances of lasting another year would be if the team quit on him, like it did last November before playing hard again at the end. Then again, it might not be McKenzie's choice. Owner Mark Davis is a more patient owner than his father and wants McKenzie to handle all football-related decisions. But a year after stating he was fine with just about anything but regression, Davis wants progress. Stagnancy won't cut it, either. So, stay tuned.
Sticking with the coaching theme, is Jason Garrett in Jerry World for the long haul, or was Jerry Jones' support merely the dreaded vote of confidence?
Archer:
Jerry has publicly backed Garrett, but he's also been a guy who's said, "Just because I say something, doesn't mean it's true." I do know this: He wants Garrett to be the guy. He desperately wants it to work. I really believe that. He believes in Garrett's approach and how he builds a team. Garrett will provide some blow-back to Jerry but not as much as, say, a Bill Parcells. Garrett knows what makes Jerry work and knows how to work around it to a degree or push Jerry in a certain direction. Honestly, Cowboys fans should want the Garrett deal to work out because it might be the best combination to mitigate the bad parts of Jerry and keep the good parts of Jerry.
November, 3, 2013
11/03/13
3:30
PM ET
By
ESPN.com staff
| ESPN.com
Join our ESPN.com NFL experts as they break down the Philadelpphia Eagles' visit to the Oakland Raiders. Contribute your thoughts and questions beginning at 4:00 p.m. ET. And, be sure to visit our
NFL Nation Blitz page
for commentary from every game, as well as fan photos and the latest buzz from Twitter. See you there.
November, 1, 2013
11/01/13
12:00
PM ET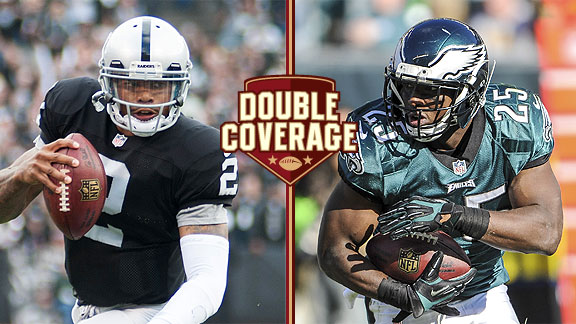 USA Today SportsEmerging Raiders QB Terrelle Pryor meets the NFL's leading rusher in the Eagles' LeSean McCoy.
The rebuilding
Oakland Raiders
were supposed to lay down for opponents this season. The retooled
Philadelphia Eagles
were supposed to revolutionize the NFL with their brand of offense. Both teams have dealt with crippling injuries while bucking expectations.
Meaning what, exactly? Well, Oakland (3-4) is looking to maintain momentum while the Eagles (3-5) are looking to break a two-game losing streak in which they've scored 10 points total.
ESPN.com Raiders reporter Paul Gutierrez and Eagles reporter Phil Sheridan break down the matchup at the O.co Coliseum, a venue in which Philadelphia is 0-3:
Paul Gutierrez:
Hi, Phil. Oakland is riding relatively high after
Terrelle Pryor
and the Raiders upended his childhood heroes last weekend in the
Pittsburgh Steelers
. Now the Western Pa. kid gets a shot at another team from his home state in the Philadelphia Eagles. He's sure to downplay any lingering feelings, but there's no downplaying the Eagles' quarterback situation. With
Michael Vick
and his strained left hamstring sidelined, how different is Chip Kelly's high-octane offense with
Nick Foles
at quarterback, or even rookie
Matt Barkley
, who was a Raiders target in the draft, under center than with Vick running things?
Phil Sheridan:
It's funny, Paul. If you ask Kelly or offensive coordinator Pat Shurmur, they swear blood oaths that the offense is exactly the same no matter who is playing quarterback. It sure doesn't look the same, however. Vick represents a running threat, obviously, that Foles and Barkley just don't. Defenses don't have to account for them when the Eagles run the read-option. But that doesn't mean the offense can't work without Vick. The offense had arguably its best complete game of the season against a pretty good Tampa Bay defense with Foles at the controls. He got the ball out quickly, made good reads and
LeSean McCoy
ran for 116 yards. If Foles is that guy Sunday, the Eagles' offense will be productive.
We all saw the highlight-reel run Pryor broke Sunday against Pittsburgh. Eagles defensive coordinator Bill Davis said he makes a coach say "Wow" a lot while watching the film. But how is Pryor developing as a complete quarterback?
Gutierrez:
The hot button topic in the Bay Area is this: Who is the bigger Raiders surprise thus far, Pryor or the defense, which has 10 new starters? Having seen Pryor's first NFL practice two years ago, and then watching him in the first OTA's this past spring, I'd say Pryor. He's always going to be a running threat -- he erased Bo Jackson's name from the Raiders record books with that 93-yard franchise-best gallop that had right guard
Mike Brisiel
calling him a "dadgum gazelle" -- but his development as a passer has been just as dramatic. True, offensive coordinator Greg Olson admitted the Raiders have changed the offense on the fly (remember, they acquired since-cut
Matt Flynn
to be the franchise QB) to become more zone-read oriented. Yet Pryor's pocket awareness has been a revelation for the Raiders. He still throws the occasional floater that begs to be picked, but he's also shown touch that did not seem possible two years ago. Much credit goes to Olson and QB coach John DeFilippo, but QB guru Tom House has also played a major role in getting Pryor's mechanics in check. But if one thing is off, the whole operation goes out of whack.
Jumping to the defensive side of the ball, the Eagles trading nose tackle
Isaac Sopoaga
to New England would seem, to the outsider anyway, as a sort of white flag being thrown up. Why is it not a sign a surrender?
Sheridan:
Sopoaga was one of a bushel of free agents signed when GM Howie Roseman knew he needed to facilitate a transition from a 4-3 to a 3-4. The Eagles just didn't have a nose tackle type on their roster at that point. They drafted
Bennie Logan
from LSU in the third round and have been pleasantly surprised by the play of
Cedric Thornton
and
Clifton Geathers
. Both of those guys are listed as ends, but Bill Davis moves his linemen around quite a bit. So I think the idea was just to go with the young guys and move the 32-year-old Sopoaga and his salary. Another way to put it: Sopoaga wasn't enough of a difference maker to qualify as a white-flag kind of transaction. He was a stopgap whose gap had closed.
While we're talking defense, you mentioned all the turnover among the Raiders unit. Eagles fans have seen that. How is that defense coming together and can it replicate the success the Giants and Cowboys had shutting down McCoy and, therefore, the entire Eagles offense?
Gutierrez:
Yeah, were it not for the development of Pryor, the Raiders' defense would be the talk in the streets of Silver and Blackdom. And to be fair, tongues are indeed wagging over this rebuilt unit. Consider: After strong safety
Tyvon Branch
went down to injury in Week 2, Oakland has 10 new starters on defense, and the only returner, defensive end
Lamarr Houston
, flipped from the left side to the right. And despite 10 new starters, the Raiders currently have the No. 10 overall defense in the NFL, No. 6 against the run. In fact, the Raiders are the only team to
not
allow a run of at least 20 yards. You could say defensive coordinator Jason "The Mad Scientist" Tarver was giving the finger to the entire league, rather than the refs on Sunday. But I digress ... Raiders coach Dennis Allen tracks what he calls "explosive plays," those that gain at least 16 yards through the air, at least 12 yards on the ground. The Raiders did not allow the Steelers a single explosive play on the ground. In fact, the Raiders have held three of their seven opponents to less than 40 yards rushing -- this after accomplishing that four times in the previous 10 seasons. So can the Raiders bottle up McCoy? Sure. Will they? That will depend on whether Foles can keep them honest through the air.
Speaking of being kept honest, Kelly set the NFL on its ear with his quick-strike offense, but it seems to have petered out a bit of late. Losing Vick to injury would seem to do that. And while it may be a small sample size, and perhaps a bit unfair, I wonder if Kelly is long for the NFL, or if his style of offense is better suited to college?
Sheridan:
Now that's the question that will define the Eagles as long as Kelly is here -- and longer, if he turns out to be another Steve Spurrier or Bobby Petrino. It would take time to recover from that. I'm not sure the answer is apparent yet. It is a small sample size, as you point out, but there is encouraging data in there, too. The Eagles became the first team ever to amass 425 or more yards in their first six games. The offense looked impressive for stretches. The past two weeks, it has been utterly terrible. That coincides with the injuries at quarterback. Vick pulled a hamstring. Foles played well for six quarters, then was just awful until being concussed against Dallas. The crash would be consistent with defensive coordinators figuring Kelly's offense out, but it could also be a result of the quarterback injuries. Or -- and this is the most likely theory -- Kelly does not have the quarterback he needs to win in the NFL and he's learning that the hard way. He seems like a smart guy. I think he can adjust and be successful. But I guess there is a chance he just doesn't like it here and wants to go back to the college game.
Here's a kind of big-picture question: The Eagles are struggling, but they have hope because their division is so bad. It's kind of the opposite for the Raiders, who are stuck dealing with 8-0 Kansas City and 7-1 Denver. What's the mood out there in the post-Al Davis era? Are fans and players feeling like there's a bright future or are the Raiders stuck in quicksand?
Gutierrez:
The mood, at the moment, is one of hope. Being competitive in every game but one -- the Monday Nighter at Denver -- as well as having a sudden Top 10 defense and Pryor, who is as popular here as any Raiders player in the past decade, will do that. Pryor predicted the playoffs after the loss in Kansas City. This week, he said the Raiders would get four wins, "easy," to equal last season's 4-12 mark. Sure, some have said such things in the past, but this feels like more than whistling past the graveyard. In fact, even as the Raiders sit at 3-4, fans are already angling to see where they stand from the second wild card standpoint. Premature, after 10 years of no postseason, let alone a winning record? Probably. But it answers your question ... the feeling among fans is there is a bright future, one that will glow brighter with every competitive game, let alone victory. And here's this to tie it all up: Pryor was Davis' last draft pick.
October, 31, 2013
10/31/13
8:00
AM ET
PHILADELPHIA – Chip Kelly made the trip to Jeannette, Pa. He just couldn't get
Terrelle Pryor
to make the trip to Eugene, Ore.
"Never got a chance to get him to come out and visit," Kelly said Wednesday.
[+] Enlarge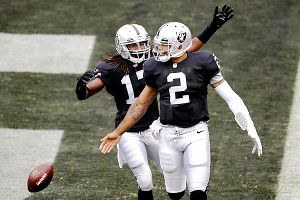 AP Photo/Marcio Jose SanchezTerrelle Pryor's 93-yard touchdown was the longest run by a quarterback in NFL history.
Kelly was the offensive coordinator, then head coach at the University of Oregon at the time. Pryor was a standout football and basketball player in Jeannette, a town about 30 miles southeast of Pittsburgh.
"I knew him pretty well," Kelly said. "I was in Jeannette about four or five times, watching him play basketball. Tremendous athlete."
Pryor chose Ohio State, within driving distance of his friends and family in Western Pennsylvania. He and Kelly met again in the 2010 Rose Bowl. It was Kelly's first bowl game as a head coach. Pryor led the Buckeyes to a 26-17 victory.
The two will cross paths again Sunday in Oakland. Pryor is the quarterback of the
Oakland Raiders
. Kelly is in his first season as a head coach in the NFL, and probably wishing he had a quarterback like Pryor to run his offense.
"I think the first thing that will strike you when you see him is just actually how big he is," Kelly said. "You watch him on tape, he had a 93 yard run, the longest run for a quarterback in NFL history. But when you see him you look like you're looking at a defensive end. There's two guys that I've had an opportunity to coach against,
Cam Newton
and Terrelle Pryor, that when you look at them they're kind of like an NBA power forward, but they can run, and that's kind of the thing that jumps out at you is his athleticism."
That 93-yard run came last week against Pittsburgh, the team Pryor grew up watching.
"The more film you watch, he makes you say `Wow' a lot," Eagles defensive coordinator Bill Davis said. "He's such a versatile athlete. He's big, he's strong, he can move, he can throw the ball and his escapability is probably the best we've faced."
Like a lot of young, mobile quarterbacks, Pryor is struggling to establish himself as an effective passer as well.
"I think he's really come along as a quarterback," Kelly said. "I think he's growing. You can see him gaining more confidence each week. He's really working on everything in his game. But I think the one threat that he's always had is his ability to kind of take the ball and tuck it and run, so you've got to be really conscious. When he escapes it might not be a six yard gain, it could be a 60 yard gain with the type of wheels that he has."
September, 29, 2013
9/29/13
4:20
PM ET
By
ESPN.com staff
| ESPN.com
Join our ESPN.com NFL experts as they break down the Washington Redskins' visit to the Oakland Raiders. Contribute your thoughts and questions beginning at 4:25 p.m. ET. And, be sure to visit our
NFL Nation Blitz page
for commentary from every game, as well as fan photos and the latest buzz from Twitter. See you there.
September, 27, 2013
9/27/13
12:00
PM ET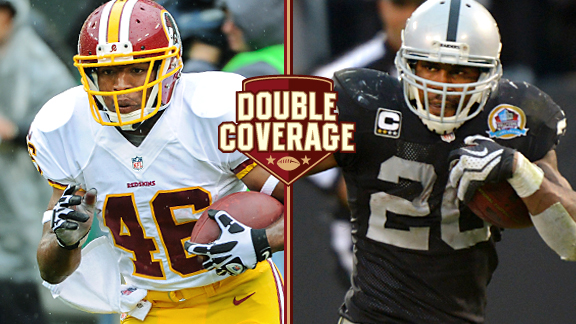 USA TODAY SportsAlfred Morris and Darren McFadden combined to account for three touchdowns in Week 3.
The
Washington Redskins
, with their still-healing franchise quarterback seemingly rounding back into shape, are 0-3 for the first time since 2001.
The
Oakland Raiders
, with their young quarterback in question after a concussion, are coming off a spanking on national television.
Something has to give Sunday at 4:25 p.m. ET in Oakland, right?
Washington team reporter John Keim and Raiders team reporter Paul Gutierrez break down this week's rematch of Super Bowl XVIII.
Paul Gutierrez
: John, there's a lot of uncertainty in the heart of Silver and Blackdom, what with
Terrelle Pryor
's first-ever concussion putting his availability to play Sunday in serious doubt. Many critics of running quarterbacks say this is the risk they take -- more hits. From afar, it seems the shine is off
Robert Griffin III
a bit, and not just because his team is winless and the catcalls have the young QB being called RG0-3. Is he already at a career crossroads, or are we simply seeing a young signal-caller dealing with adversity after a devastating injury?
John Keim:
I think it's a combination of both, Paul. Griffin does not want to rely on his legs as a quarterback, using them only as an occasional weapon. Eventually I think he'll get there, but he's not a refined passer just yet. So he still needs to evolve and that's where the injury comes in: He still needs his legs to be a dynamic player and because of the injury he's still not quite himself. When he was at Baylor they used a rather elementary passing game. I think he'll eventually blossom as a passer because he throws the ball well, is smart and works hard. But he's not at that point yet. Paul, along those lines, the Raiders' defense does not have good stats against the pass. Is that just because they've faced
Andrew Luck
and
Peyton Manning
in two of the first three weeks? Or are there real issues here?
Gutierrez
: True, the Raiders have faced Luck and Manning in two of their first three games and lost both. Yet stats-wise, Oakland is a middle-of-the-pack defense when it comes to defending the pass, ranking 16th in passing yards allowed per game. And really, at this stage, the Raiders will take it, especially after beginning the season with nine new starters on defense and then losing strong safety
Tyvon Branch
in Week 2 against Jacksonville on a blitz. What's really sticking in their craw is the lack of interceptions by the Raiders. As in zero. No picks. None. As
Charles Woodson
put it after the clinic Manning put on against them on "Monday Night Football," it's something the secondary especially has to make a concerted effort on this week. So I'd expect the Raiders to take a page out of Denver's defensive playbook by stacking the box and daring RG III to beat them through the air, rather than on the ground. If that is Oakland's strategy, might that backfire on the Raiders? Or does the threat of RG III turning the corner on a zone read actually open up the play-action pass?
Keim
: That's definitely the strategy I would take right now. Detroit did it last week, daring Griffin to beat them with his arm and not his legs. Actually, they weren't afraid of his legs. On one of the zone read runs he made Sunday, Detroit sent both the end and the linebacker at
Alfred Morris
. They were more worried about him running. It will be this way until Griffin shows that he not only can run, but can hurt a team while doing so. I will say that Griffin was really close to having a good game against Detroit. They were using more play-action -- and a 57-yarder off this play-action was dropped in the end zone. If not for that play and Griffin's late fumble off a 21-yard scramble, his game would look different. But even if the Raiders use eight in the box the Redskins will try to run. Everything works better when that's their focus and it sets up what was a lethal play-action game a year ago. What does your gut tell you about who will play quarterback this week for the Raiders? And could you break down where Pryor's game is, as well as Matt Flynn's? Obviously their offense would look much different with Pryor than with Flynn.
Gutierrez
: The gut, especially with Pryor having yet to be cleared to practice as of Wednesday, tells me that
Matt Flynn
will get the call. And the locals will not be happy. Pryor has become a huge fan favorite and his skills are as raw as he is electrifying. His pocket presence has improved as has his downfield passing. He simply does not look like the same scattershot guy who was a dark-horse favorite to be the Raiders' No. 3 quarterback after the draft. He has a presence about him that did not exist a few months ago and he is improving every week in this small sample size. Flynn, meanwhile, is the prototypical West Coast offense quarterback. He's accurate and mobile enough but needs time to let plays develop. He didn't get that in the exhibition season. He had a sore elbow and was under constant assault by the defense and had no time to pass. So the $6.5 million man was beaten out for the second summer in a row after signing a big-money deal. He admitted he was down but said it did not affect his preparation. And with Washington's defense giving up record-level points thus far, maybe the stars are lining up for the chosen quarterback, or the guy who was supposed to be the franchise quarterback. Then again, sometimes things don't go according to plan. Like Mike Shanahan and the Raiders. Hard to believe it's been a quarter of a century since he was hired by Al Davis in Los Angeles. Not so hard to think he still harbors resentment toward the Raiders. Has that come up at all during Raiders week? After all, he says Al Davis still owed him money.
Keim
: Mike talked about that today and says he had a lot of respect for Al, even though they had their differences. Knowing Mike, he'd still like to stick it to that franchise. He's a competitive guy who loves beating people or teams that he has a grudge with. He used to save articles when he was with Denver and then bring them out after the Super Bowl to remind the writers that they were wrong. And we all know the story about the time he was on the field before the game and one of his players threw a ball at Al (
Steve Young
, I believe). This is also the first time Shanahan has played an AFC West team since he left Denver. I'm sure those old feelings are still there; after all, he spent a brief time there and then spent a number of years wanting to beat them twice a year. Those feelings don't just fade away, especially in a guy like Shanahan. But right now, he has bigger things to worry about than any money Al Davis might have owed him. It seems like the Raiders have been without hope for a while. Where is the hope now -- and what should the Redskins be concerned with?
Gutierrez
: The hope, from the fans' perspective, resides in Pryor's arm and legs. Realistically, it's in the Raiders having some semblance of continuity. Consider: Since Jon Gruden was traded to Tampa Bay following the 2001 season, the Raiders have had seven coaches in 11-plus seasons in Bill Callahan, Norv Turner, Art Shell, Lane Kiffin, Tom Cable, Hue Jackson and now Dennis Allen. The message from general manager Reggie McKenzie is that he's getting closer to putting a product on the field that resembles his vision. The Raiders will have a lot of money to spend in free agency next year but McKenzie said he will not be shopping at Macy's. Hope and change -- you being in the District should be familiar with such talk, no? -- come with gradual improvement, and continuity being allowed to foster, so to speak.
.
May, 17, 2011
5/17/11
1:10
PM ET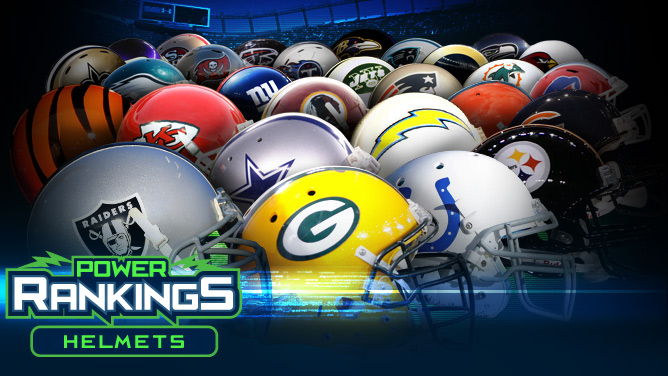 ESPN.com IllustrationOur writers break down NFL team helmets in the latest edition of ESPN.com's Power Rankings.
As we continue our Power Rankings series, it's time to look beyond the player and examine what's wrapped around his head.
Let's blow the lid off this NFL helmet caper, shall we?
The NFL helmet has long been an obsession. Whether it's the unmistakable star of the
Dallas Cowboys
, the beyond-the-gridiron meaning in Pittsburgh or the great helmet–change fiasco in San Francisco in the early 1990s, the NFL has been all about the helmet. After all, in football, we don't look at faces, we look at logos.
Come on, who hasn't spent a Saturday afternoon feeding countless quarters into a gumball machine full of worthless plastic all in the name of getting a complete set of NFL helmets?
So, we put our artistic eyes together (with the courtesy of professional help) and came up with our top 10 NFL helmets. Consensus? No, not even close. In a 2011 Power Rankings record, 26 lids collected votes. Eye of the beholder, folks.
Interestingly, two of the six teams that got no lid love received kudos from our guest judge. I'd take her word over mine. You should see what I'm wearing right now. Think John Belushi in "Animal House." Then take it down a few notches.
We've had our battles this spring when it came to ranking players, coaches and owners, but this task has to be the most subjective of all. It's vanilla or chocolate. Or, in this case, purple or red.
Still, there were several helmets -- traditional teams seemed to catch the imagination -- that received more votes than others.
Fittingly, the winning helmet is of a team that has been scoring big during this entire series: the
Pittsburgh Steelers
. The black helmet received 50 voting points, cruising to an easy win. Second-place Indianapolis, and its famous horseshoe, received 41 points.
AFC North blogger James Walker was the only person to vote for the Steelers, who received top-10 votes from six of eight voters, as the No. 1 helmet. Only NFC North blogger Kevin Seifert (he received big-league redemption -- we'll explain later) and AFC East blogger Tim Graham shunned the Steelers.
Walker explained that it was fitting for the Steelers' helmet to win because it represents a gritty, historic city.
"Most helmets have a mascot or the team's name or initials, but Pittsburgh's helmet actually has in-depth meaning," Walker said. "The colors of the diamond shapes each represent elements of steel, which was once a major industry in Pittsburgh. Also, Pittsburgh is the only NFL team with its helmet logo on one side. I think the uniqueness and tradition helps separate the Steelers."
Here's the rest of the top-10 list after the Steelers and Colts:
Oakland Raiders
(my first-place vote -- just look cool, baby),
Green Bay Packers
,
San Diego Chargers
, Cowboys,
Minnesota Vikings
,
Cleveland Browns
,
Chicago Bears
and
Miami Dolphins
.
Below are some key aspects of the vote:
Walking the Runway:
We are thrilled to have a celebrity presence this week. Former "Project Runway" contestant Peach Carr, a successful Chicago fashion designer and self-professed sports nut, lent her expertise this week.
Predictably, her opinion differed greatly from many of us slouches. Hey, sportswriters are rarely accused of being spiffy, snappy, hip or even presentable, so what do you expect?
The most telling of Carr's selections was her choice of the
San Francisco 49ers
at No. 2. They were among the six teams shut out by the rest of us. I'd listen to the Peach, San Francisco.
Carr went with the hometown Bears as her top choice. The Bears finished ninth in our poll. Major fashion buttons to Seifert. He was the only voter to agree with the professional. Reached for comment, Seifert had this to say: "Yesssssss."
Well said, Mr. Blackwell.
Carr placed the
Houston Texans
as her No. 6 helmet. It was also one of the six helmets the rest of us neglected.
You made it work, Peach. Auf Wiedersehen to the rest of us.
The Lone Vote State:
In an upset, the Cowboys' helmet finished sixth. Graham was the lone blogger to vote Dallas' helmet first.
"I was shocked to see nobody else put the Cowboys at the top of their ballots," Graham said. "That helmet is the most iconic of them all. The lone blue star is known immediately by grandmothers who never watch football. It's a classic look that strikes you whether you're watching from the stands or at home. There's no tiny print to read, no cluttered symbols to decipher. You see it, you know it. And it likely conjures a visceral reaction whether you're a fan or not."
Going traditional:
In addition to the 49ers and Texans, the
Tennessee Titans
,
Cincinnati Bengals
,
Atlanta Falcons
and
Arizona Cardinals
were the only teams shut out by the eight voters. The 49ers are the only team in the group that has a history-rich franchise. However, the top 10 is dominated by tradition-rich teams.
NFC West blogger Mike Sando saw a trend.
"My thought is that success helps a brand become appealing in a lot of cases," Sando said. "Would the Steelers' helmet really rank first if the team had tanked every year? I do not think so. Look at the Colts, Raiders, Packers, Cowboys, Browns ... all have storied histories."
Kicking it old school:
If the "throwback" helmets were allowed in the voting, I bet things would be different. My prized possession (probably says more about my collection of stuff than my sentiment) is my complete set of NFL throwback mini helmets. It is proudly displayed in my office.
There are some beauties in that collection. That's one of the reasons I went with the
New York Jets
' helmet as my No. 2 choice. I like the old-style look. My favorite helmet of all time is the old-school
New England Patriots
helmet. I love me some Patriot Pat and couldn't get enough of watching the Patriots when the league honored the AFL in 2009.
Put your thinking helmet on. What do you think is the most fashionable helmet in the NFL? Fill the comments section below with your thoughts.
April, 3, 2011
4/03/11
1:30
PM ET
The push is on for
Michael Huff
to sign with the
Dallas Cowboys
when the lockout ends.
There is a lot of dot connecting that could make Dallas a prime contender to sign Oakland's free-agent safety. Huff is from the Dallas area and he played at the University of Texas. The Cowboys need a safety and Huff played for new Dallas defensive coordinator Rob Ryan early in his career with the Raiders.
Huff recently acknowledged the thought of going to Dallas to the
Fort Worth Star-Telegram
while he attended Texas' pro day.
"That's home, but you never know what's going to happen," Huff said. "I've got to want to go there, but they've got to want me. There are a bunch of things that go into the process."
Huff, who made some strides in 2010, said that he wanted to play for a winner. The Raiders look to be headed in the right direction after going 8-8 in 2010.
"[Winning is] the only thing," Huff said. "Being here [at Texas], you get spoiled. You win all the time here and then you go there and have some tough years. Getting that Super Bowl ring is something they can never take away from you, like they can't take away the national championship ring. That's the next step, and I look forward to it."
Huff could always return to the Raiders, but it sounds like he's, at least, interested in testing the market.
Meanwhile,
Pat Kirwan of NFL.com believes
the Raiders could be a good fit for Washington quarterback Jake Locker. Oakland would likely have to trade up from No. 48 to grab Locker.