NFC East:

San Diego Chargers
December, 8, 2013
12/08/13
2:30
PM ET
By
ESPN.com staff
| ESPN.com
Join our ESPN.com NFL experts as they break down the New York Giants' visit to the San Diego Chargers. Contribute your thoughts and questions beginning at 4 p.m. ET. And, be sure to visit our
NFL Nation Blitz page
for commentary from every game, as well as fan photos and the latest buzz from Twitter. See you there.
December, 6, 2013
12/06/13
10:00
AM ET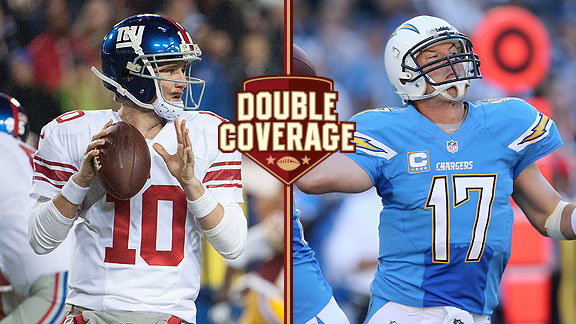 Getty ImagesWith their respective teams at 5-7, Eli Manning and Philip Rivers face a must-win game on Sunday.
Win or stay home for the postseason.
That's what is at stake for the
San Diego Chargers
and the
New York Giants
as they face off at Qualcomm Stadium on Sunday.
Both teams are 5-7. Winners of five of their past six games after an 0-6 start, the Giants will be eliminated from playoff contention this week if they lose to the Chargers, Dallas defeats Chicago and San Francisco beats Seattle.
The Chargers, losers of four of their past five games, would mathematically remain alive for a postseason berth even with a loss. But with a handful of teams competing for the last AFC wild-card spot, any realistic hope of
San Diego making a playoff run likely would be extinguished with a loss to the Giants.
"The team we are playing has been in this situation before and we have, too," San Diego quarterback
Philip Rivers
said. "There will be two teams with a great deal of effort and preparation, and we'll let it all out on Sunday."
ESPN.com Chargers reporter Eric D. Williams and Giants reporter Dan Graziano break down the matchup:
Williams
: Dan, the Giants have won five of their past six to climb within shouting distance of NFC East division race. What are the reasons for the team's turnaround?
Graziano:
They stopped turning the ball over as much, which the law of averages basically said they had to. The Giants committed 23 turnovers in their first six games and lost all six of them. They also forced only seven turnovers in those six games, which was another part of their problem. But in their past six games, of which they have won five, the Giants have committed only eight turnovers and have forced 13. Still not great, but when you factor in the reduced level of competition, it explains a lot. After the 0-6 start, they won four straight games in which the opposing quarterbacks were
Josh Freeman
,
Matt Barkley
,
Terrelle Pryor
and
Scott Tolzien
. The streak ended with a loss to
Tony Romo
, and they gutted out a comeback victory Sunday night against a battered-looking
Robert Griffin
III. They still have reached 28 points only once this year (the 31 they scored while playing catch-up in the season opener in Dallas), so the offense isn't where it needs to be. But it is protecting the ball better, and the improvements on defense have made the difference.
What's the biggest reason for Philip Rivers' resurgence this season? Is it as simple as a change in coaches, and if so, what specifically about Mike McCoy has clicked with Rivers?
Williams:
McCoy and offensive coordinator Ken Whisenhunt have done a nice job of creating a scheme based on what Rivers does well -- making quick decisions and precise throws in an up-tempo passing game. The result has been a career-high 70 percent completion percentage for Rivers, 23 touchdown passes and just nine interceptions. The playmakers around Rivers also are playing well. Tight end
Antonio Gates
is healthy. The Chargers have a good one-two combo at running back in
Danny Woodhead
and
Ryan Mathews
. And San Diego has some emerging young talent in receiver
Keenan Allen
and tight end
Ladarius Green
. However, during a rough stretch in which San Diego has lost four of its past five games, the offense has struggled to consistently score in the red zone.
Justin Tuck
had just 2.5 sacks before his four-sack performance against Washington.
Jason Pierre-Paul
has just two sacks this year, and the Giants are No. 30 in the NFL with 23 sacks. What's going on with New York's talented defensive line?
Graziano:
I think Tuck's had a pretty strong season, even before Sunday. He's graded out consistently well against the run, where the Giants were strong even when they were losing every week. The sacks may have been a matter of time. But overall, they haven't pressured quarterbacks well enough. They seem to gear up to stop the run, and the strength of their defensive line is in the middle. But Pierre-Paul spent the first half of the season recovering from offseason back surgery and now has a shoulder injury that kept him out of Sunday's game and likely will keep him out of this week's as well. Rookie
Damontre Moore
hasn't progressed yet to the point of reliability, and the Giants lack the depth they've had at defensive end in years past.
The Giants' passing game has struggled all year to get going, largely because it hasn't been able to protect
Eli Manning
. The Chargers have allowed the fifth-most passing yards in the league. What about their defense might the Giants be able to take advantage of?
Williams:
San Diego safety
Eric Weddle
said that the Giants have one of the most talented receiver groups in the NFL, so the Chargers face a stiff challenge on Sunday. Besides Weddle, San Diego has a young group in the secondary playing together for the first time this year. Because of that, breakdowns in communication have been an issue, leading to explosive plays. The Chargers also are inconsistent in making tackles in the open field, so receivers like
Victor Cruz
and
Hakeem Nicks
could shake loose for big gains. Finally, with edge rushers
Dwight Freeney
,
Larry English
and
Melvin Ingram
out with injuries, San Diego has struggled in generating a consistent pass rush, further exposing an inexperienced back end of the defense.
Manning has been sacked a career-high 31 times, and for the first time since his rookie season has more interceptions than TDs. What are the reasons for his dip in play, and does it mean anything to face the team he spurned in the draft a decade ago?
Graziano:
Manning bears a decent measure of responsibility for the issues the Giants have had in the passing game this year, but I think the problems start with the protection and expand to other areas beyond his control. The line has struggled all year in pass protection, and the Giants really miss the blocking help they got from running back
Ahmad Bradshaw
and tight end
Martellus Bennett
last season. Those guys were two of the best blockers in the league at their positions, and their abilities in that area likely covered up some issues with the offensive line. Add in a slew of injuries -- they're without starting RG
Chris Snee
and have lost two starting centers,
David Baas
and
Jim Cordle
, to IR as well -- and you have a situation in which the Giants' passing game can't really take the chances it used to take. It also hasn't helped that Nicks has played so poorly and tight end
Brandon Myers
has been unreliable. Even when he gets time, Manning's receiving options aren't what they used to be. As for playing in San Diego, Manning this week brushed off questions about why he didn't want to play there, complimented the city and its nice weather (which, by the way, I am told will NOT be greeting us this weekend!) and said he expected the fans to remind him of draft day 2004 in some way before and during the game. But as he does with most things, he downplayed that and said it was just a game the Giants have to win.
Manning hasn't played there since Week 3 of the 2005 season, when
Drew Brees
and LaDainian Tomlinson blew out the Giants in his 11th career start. Do you think the fans still care? Can Eli expect a chilly reception?
Williams:
Yes and yes. In a season filled with looming blackouts, questionable decision-making by a first-year head coach and expiring postseason hopes, Manning's return provides a rallying cry all Chargers fans can agree on. Expect Manning to hear some boos for spurning San Diego for the Big Apple in the 2004 draft, even though it's been almost a decade. The man who replaced him in the trade, Philip Rivers, is a beloved figure in San Diego who has had an exceptional career. But Manning has won two Super Bowls with the Giants, while the Chargers have a 3-5 postseason record with zero Super Bowl appearances during Rivers' tenure.
September, 29, 2013
9/29/13
2:30
PM ET
By
ESPN.com staff
| ESPN.com
Join our ESPN.com NFL experts as they break down the Dallas Cowboys' visit to the San Diego Chargers. Contribute your thoughts and questions beginning at 4:25 p.m. ET. And, be sure to visit our
NFL Nation Blitz page
for commentary from every game, as well as fan photos and the latest buzz from Twitter. See you there.
September, 27, 2013
9/27/13
12:00
PM ET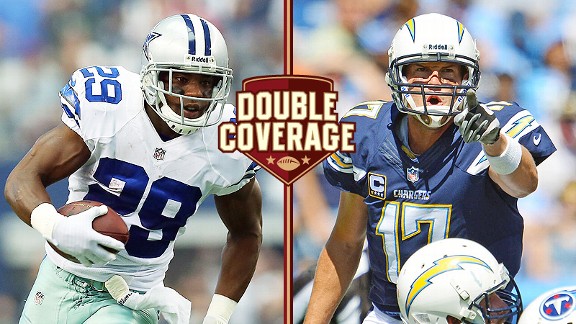 USA TODAY Sports, Getty ImagesSunday's game between DeMarco Murray's Cowboys and Philip Rivers' Chargers could show which team is a real contender.
The
Dallas Cowboys
travel to Qualcomm Stadium to take on the
San Diego Chargers
for the first time since 2005, when
Drew Bledsoe
served as the team's starting quarterback. The Cowboys hold a 6-3 edge in the series, but haven't defeated the Chargers in San Diego since 1995.
Cowboys running back
DeMarco Murray
is fourth in the NFL with 286 rushing yards through three games. Is this the year he finally stays healthy and provides some balance to that
Tony Romo
-led offense?
Todd Archer:
Like everything in the NFL, it's week to week. When Murray sees the Rams, he's very good. He has 253 and 175 yards against St. Louis in two games. He's kind of pedestrian against everybody else. The biggest difference last week was the commitment to the run. The Cowboys started the game well running the ball and stood by it. Will they stand by it when it doesn't start out as well? When Murray rushes for more than 100 yards in a game the Cowboys are 10-0. Clearly that helps Romo, who had to throw it only 24 times versus St. Louis and had three touchdown passes. What the Cowboys do best is throw the ball with
Dez Bryant
,
Jason Witten
and
Miles Austin
, but if the running game can do anything, then they become much more dangerous.
Are we seeing a rejuvenated
Philip Rivers
after he became a turnover machine the past few seasons?
Eric D. Williams:
It certainly appears that way. Head coach
Mike McCoy
and offensive coordinator Ken Whisenhunt's installation of an up-tempo offense emphasizing getting the ball out quickly has helped keep Rivers upright. San Diego's offensive line also has done a nice job of protecting Rivers. He has been sacked only five times through three games. Rivers was sacked 49 times last season, second only to
Aaron Rodgers
(51). Through three games, Rives has completed 70 of 100 passes (70 percent) for 798 yards, eight touchdowns and just one interception. His QBR of 116.2 is second only to
Peyton Manning
(134.7), and Rivers has spread the wealth, completing passes to 10 different receivers. Right now, Rivers is part of the solution in San Diego, and not the problem.
The Cowboys are holding teams to just more than 66 rushing yards a contest, and giving up only 18.3 points a game. How has new defensive coordinator Monte Kiffin helped stabilize that side of the ball?
Archer:
What Kiffin has done best is keep things simple. Under Rob Ryan, the Cowboys tried a lot of looks and wanted to disguise things. Oftentimes they were just confused and it showed. The 4-3 scheme isn't about tricking people. It's pretty straight forward. The guy who deserves a lot of credit is defensive line coach Rod Marinelli. He has
DeMarcus Ware
and
Jason Hatcher
playing well, and guys like
George Selvie
and
Nick Hayden
believing they are great players.
Speaking of coaching, how are things different for the Chargers with Mike McCoy after so many years under Norv Turner?
Williams:
Accountability and attention to detail are key buzz words at Chargers Park. Under the direction of new general manager Tom Telesco and McCoy, the Chargers are in the process of revamping the roster, with 21 new players on this year's team. Veteran holdovers such as Rivers, tight end
Antonio Gates
and safety
Eric Weddle
help provide some consistency, giving San Diego a chance to win each week. But in order to build a roster that can be a championship contender long-term, Telesco and McCoy understand that a talent upgrade is needed on both sides of the ball.
At 2-1, the Cowboys sit atop the NFC East. Is this the year the Cowboys finally put it all together and make a deep playoff run?
Archer:
I've been covering this team since 2003, and the one thing I've learned is just when you think they have it figured out they falter. So I can't say they have it all figured out. To me that's why this game is pivotal. The early part of the schedule is the easiest, so coming out with a 3-1 mark at the quarter mark is important. I will say this, though: The NFC East looks brutal, so the Cowboys should be in the race the whole year even if they don't win games early. But we know how this team has done in December over the years. If the Cowboys can, they want to have the business taken care of before they get to Week 17.
From the outside, the pass defense looks brutal in San Diego. What's the deal?
Williams:
Youth and inexperience are the key culprits here. Besides Weddle and cornerback Derex Cox, the Chargers are young in the back end defensively. On the Titans' go-ahead score last week, recent addition
Crezdon Butler
was forced into action because
Shareece Wright
and
Johnny Patrick
were out with hamstring injuries. Butler gave up a 34-yard touchdown to
Justin Hunter
at the end of the game. The Chargers have zero interceptions on the year. But the defensive backfield also needs to get more help from the front seven. San Diego has just six sacks in three games.
.
June, 28, 2011
6/28/11
11:55
AM ET
Tom Brady
or
Peyton Manning
? It's the debate of the moment in today's NFL. Which superstar quarterback is the best? Who, between that pair of excellent, future Hall of Fame signal-callers, would you pick if you had the choice? That's not the question that was asked of our Power Rankings panel this week, but it turned out to be the one we answered.
Yes, after weeks upon weeks of power-ranking everything we could think of in the NFL, we've decided to throw all qualifiers and designations out the window and make it very simple: Who are the best players in the league?
As was the case when our panel was asked to rank the league's top quarterbacks, Brady beat out Manning for the top spot in this week's power rankings. Six of the eight NFL bloggers polled ranked Brady No. 1 overall, and the two who didn't -- Mike Sando and Paul Kuharsky -- ranked him second behind Manning. The top four players in our rankings and seven of the top 10 (of the top 11, technically, since
Michael Vick
and
Andre Johnson
tied for the No. 10 spot) all play the same position -- quarterback -- which says a lot about the way we value that position.
"Quarterback is the most significant position on the field and can make the difference between a lopsided losing record and the playoffs," said AFC East blogger Tim Graham, whose ballot had quarterbacks in each of the first seven spots and eight of 10 overall. "It takes a truly special running back or defensive player to outweigh the importance of a quarterback. For example,
Adrian Peterson
is a sensational player. But without
Brett Favre
producing at quarterback, Peterson couldn't carry the Vikings to the playoffs."
So the question then became which quarterback was the best. The debate these days seems to be squarely between Manning and Brady, though two of our eight bloggers did rank Manning third on this week's list. We'll get to them in a minute. We'll start with the majority opinion -- that Brady is the best player in the league right now.
I was one of the six who ranked Brady in the top spot, and the main reason was that I think Brady has attained a level of excellence in New England that's beyond what Manning has been able to attain in Indianapolis. Brady's accomplishments in 2007, when he combined with
Randy Moss
to set all kinds of offensive records and went undefeated until losing the Super Bowl to the Giants, were all-time legendary. But what people may not realize (perhaps because of the ludicrous level at which Brady excelled that year) is that the past two seasons have been the second-best and third-best statistical seasons of Brady's career. If Brady hadn't hurt his knee in the first game of the 2008 season and missed the rest of that year, it's very possible he would be on the kind of run right now that would make a Brady-Manning debate seem silly.
After the Patriots traded Randy Moss in the middle of 2010, the question was whether they were giving up on the season. What they were doing instead was committing to a midseason overhaul of the offense that wouldn't have been possible without the confidence they had in Brady to manage it. All Brady did was muster the second-best completion percentage and second-highest touchdown-pass total of his career while throwing just four interceptions and winning at least 14 games for the fourth time.
Not everybody agreed, however.
"Manning is simply asked to do more than any player in the league is asked to do," Kuharsky said. "He's superb at it. I love Brady. But Manning can do more, is asked to do more, and has to do more. Jim Caldwell is an OK coach so far. Bill Belichick is an all-time great. The guy making up the gap in order to have the Colts stay in range of the Patriots is Manning."
But the Colts really weren't in range of the Patriots this year, and for that reason Manning's star has dimmed in the eyes of a couple of our panelists. NFC North blogger Kevin Seifert ranked
Aaron Rodgers
No. 2 and Manning No. 3. And NFC South blogger Pat Yasinskas ranked Saints quarterback
Drew Brees
in that No. 2 spot ahead of Manning.
"I'm not trying to diminish Peyton in any way. He's going to be a first-ballot Hall of Famer. But, if you look at his numbers and Brees' numbers over the last three or four years, they're similar and, in some ways, Brees' numbers are better," Yasinskas said. "Brees and Manning each have won one Super Bowl title. My argument is that, right now, Brees is even more valuable to the Saints than Manning is to the Colts. Times change and circumstances change. But right now I think Brees is the perfect quarterback for the Saints and is in the perfect situation with their offensive system and coaching staff. In fact, I considered voting for Brees No. 1 overall, but couldn't quite bring myself to rank him ahead of Tom Brady."
Steelers safety
Troy Polamalu
, who came in first in the defensive player power rankings, ranked fifth on the overall list. AFC North blogger James Walker ranked Polamalu fourth, and Seifert ranked him fifth. Walker's ballot was the most generous overall to defensive players, as he ranked Polamalu fourth, Cowboys pass rusher
DeMarcus Ware
fifth, Jets cornerback
Darrelle Revis
eighth and 49ers linebacker
Patrick Willis
ninth.
Walker and Kuharsky (who ranked him 10th) were the only ones who ranked Ware at all, and Kuharsky seemed a little chapped about it.
"If we rate these quarterbacks so highly, how can we not rate the guy we said was tops at disrupting quarterbacks highly too," Paul asked. "Makes no sense. I had him too low at 10. For six of you guys to leave him off entirely dents your collective credibility. Next I imagine you'll say the E Street Band isn't the all-time best backing band."
Paul is grouchy.
"I value pass-rushers, and no player has more sacks the past two seasons than DeMarcus Ware (26.5)," Walker said. "Getting to the quarterback is the best way to combat the league's increasing number of pass-happy offenses, and no one does it better right now than Ware."
The highest-ranked offensive player who wasn't a quarterback was Peterson, who came in sixth after being named on five of eight ballots. Sando, Walker and AFC West blogger Bill Williamson left the Minnesota running back off their ballots -- the third time in three tries that Williamson has ranked Peterson lower than most of the rest of us did.
"This is a quarterback league and that's how I built my top 10," Williamson explained. "There were only three non-quarterbacks on my top 10. After I constructed the quarterback rankings, I went to the best available non-quarterbacks, and the list was quite short. But to reiterate, this is the top 10. The best of the best. I think Peterson is probably a top-15 guy and that's pretty good in a league of 1,800-plus professionals."
Pretty good indeed. But as Bill said, it's a quarterback league. And for that reason, the debate about the best player in the league came down, once again, to Peyton Manning vs. Tom Brady.
May, 17, 2011
5/17/11
1:10
PM ET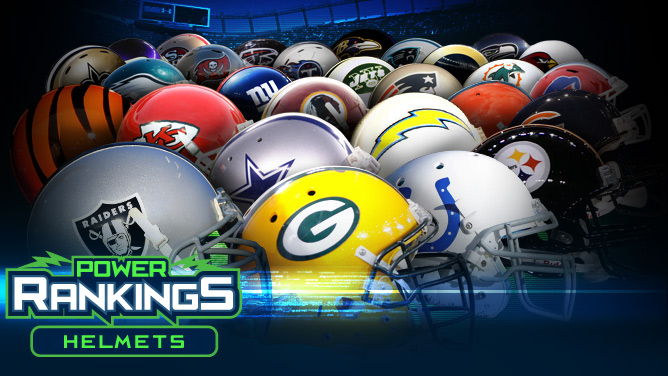 ESPN.com IllustrationOur writers break down NFL team helmets in the latest edition of ESPN.com's Power Rankings.
As we continue our Power Rankings series, it's time to look beyond the player and examine what's wrapped around his head.
Let's blow the lid off this NFL helmet caper, shall we?
The NFL helmet has long been an obsession. Whether it's the unmistakable star of the
Dallas Cowboys
, the beyond-the-gridiron meaning in Pittsburgh or the great helmet–change fiasco in San Francisco in the early 1990s, the NFL has been all about the helmet. After all, in football, we don't look at faces, we look at logos.
Come on, who hasn't spent a Saturday afternoon feeding countless quarters into a gumball machine full of worthless plastic all in the name of getting a complete set of NFL helmets?
So, we put our artistic eyes together (with the courtesy of professional help) and came up with our top 10 NFL helmets. Consensus? No, not even close. In a 2011 Power Rankings record, 26 lids collected votes. Eye of the beholder, folks.
Interestingly, two of the six teams that got no lid love received kudos from our guest judge. I'd take her word over mine. You should see what I'm wearing right now. Think John Belushi in "Animal House." Then take it down a few notches.
We've had our battles this spring when it came to ranking players, coaches and owners, but this task has to be the most subjective of all. It's vanilla or chocolate. Or, in this case, purple or red.
Still, there were several helmets -- traditional teams seemed to catch the imagination -- that received more votes than others.
Fittingly, the winning helmet is of a team that has been scoring big during this entire series: the
Pittsburgh Steelers
. The black helmet received 50 voting points, cruising to an easy win. Second-place Indianapolis, and its famous horseshoe, received 41 points.
AFC North blogger James Walker was the only person to vote for the Steelers, who received top-10 votes from six of eight voters, as the No. 1 helmet. Only NFC North blogger Kevin Seifert (he received big-league redemption -- we'll explain later) and AFC East blogger Tim Graham shunned the Steelers.
Walker explained that it was fitting for the Steelers' helmet to win because it represents a gritty, historic city.
"Most helmets have a mascot or the team's name or initials, but Pittsburgh's helmet actually has in-depth meaning," Walker said. "The colors of the diamond shapes each represent elements of steel, which was once a major industry in Pittsburgh. Also, Pittsburgh is the only NFL team with its helmet logo on one side. I think the uniqueness and tradition helps separate the Steelers."
Here's the rest of the top-10 list after the Steelers and Colts:
Oakland Raiders
(my first-place vote -- just look cool, baby),
Green Bay Packers
,
San Diego Chargers
, Cowboys,
Minnesota Vikings
,
Cleveland Browns
,
Chicago Bears
and
Miami Dolphins
.
Below are some key aspects of the vote:
Walking the Runway:
We are thrilled to have a celebrity presence this week. Former "Project Runway" contestant Peach Carr, a successful Chicago fashion designer and self-professed sports nut, lent her expertise this week.
Predictably, her opinion differed greatly from many of us slouches. Hey, sportswriters are rarely accused of being spiffy, snappy, hip or even presentable, so what do you expect?
The most telling of Carr's selections was her choice of the
San Francisco 49ers
at No. 2. They were among the six teams shut out by the rest of us. I'd listen to the Peach, San Francisco.
Carr went with the hometown Bears as her top choice. The Bears finished ninth in our poll. Major fashion buttons to Seifert. He was the only voter to agree with the professional. Reached for comment, Seifert had this to say: "Yesssssss."
Well said, Mr. Blackwell.
Carr placed the
Houston Texans
as her No. 6 helmet. It was also one of the six helmets the rest of us neglected.
You made it work, Peach. Auf Wiedersehen to the rest of us.
The Lone Vote State:
In an upset, the Cowboys' helmet finished sixth. Graham was the lone blogger to vote Dallas' helmet first.
"I was shocked to see nobody else put the Cowboys at the top of their ballots," Graham said. "That helmet is the most iconic of them all. The lone blue star is known immediately by grandmothers who never watch football. It's a classic look that strikes you whether you're watching from the stands or at home. There's no tiny print to read, no cluttered symbols to decipher. You see it, you know it. And it likely conjures a visceral reaction whether you're a fan or not."
Going traditional:
In addition to the 49ers and Texans, the
Tennessee Titans
,
Cincinnati Bengals
,
Atlanta Falcons
and
Arizona Cardinals
were the only teams shut out by the eight voters. The 49ers are the only team in the group that has a history-rich franchise. However, the top 10 is dominated by tradition-rich teams.
NFC West blogger Mike Sando saw a trend.
"My thought is that success helps a brand become appealing in a lot of cases," Sando said. "Would the Steelers' helmet really rank first if the team had tanked every year? I do not think so. Look at the Colts, Raiders, Packers, Cowboys, Browns ... all have storied histories."
Kicking it old school:
If the "throwback" helmets were allowed in the voting, I bet things would be different. My prized possession (probably says more about my collection of stuff than my sentiment) is my complete set of NFL throwback mini helmets. It is proudly displayed in my office.
There are some beauties in that collection. That's one of the reasons I went with the
New York Jets
' helmet as my No. 2 choice. I like the old-style look. My favorite helmet of all time is the old-school
New England Patriots
helmet. I love me some Patriot Pat and couldn't get enough of watching the Patriots when the league honored the AFL in 2009.
Put your thinking helmet on. What do you think is the most fashionable helmet in the NFL? Fill the comments section below with your thoughts.